The top copywriters in the world generate over $1,000,000 in gross annual income.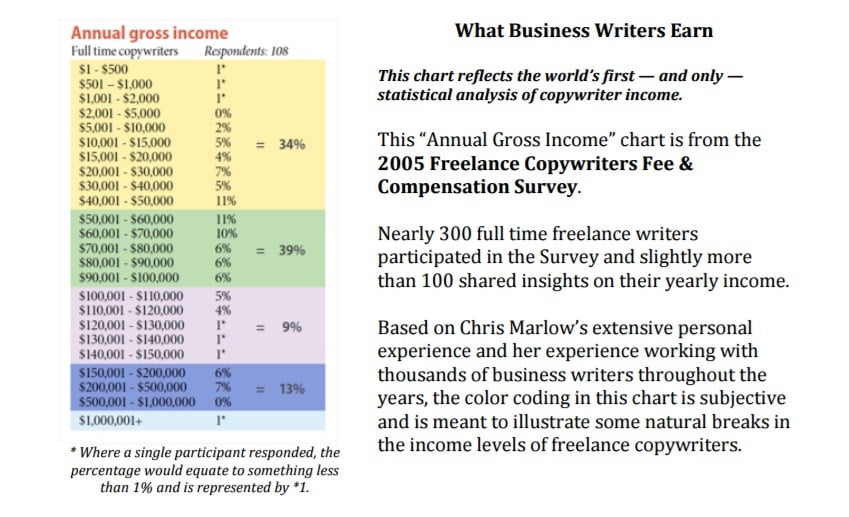 Not too bad, right?
Copywriting is one of the most in-demand high-income skills.
It is the art of using psychology, science, and words to craft compelling advertisements and business material that generates sales.
Most businesses and people think they are good enough to write their own copy.
Big mistake. 👎
It's an art that takes years to learn let alone master.
Writing sales copy without consistent practice and studying will make ads sprinkle money when they could be pouring.
If you want to learn copywriting online and make money from it, you're in luck.
I've been copywriting for 8+ years and am going to share with you how to learn copywriting from scratch.
Follow along! (Or watch below.)
What skills are needed to become a copywriter?
First thing first. What skills are you going to need to write excellent copy?
Organization and time management
When I begin a project for one of my copywriting or content writing clients, it always starts with organization and research. (More on the latter in a moment.)
You're going to have market reports, buyer personas, testimonials, reviews, and countless other documents scattered over your desk. (Or computer screen more likely!)
There's going to be deadlines … meetings … phone calls.
You will edit.
…And edit again.
…And again.
…And some more.
You get my point.
All of this means that to be a successful copywriter that you need to be a very organized person.
To start off, make sure you're using a basic tool stack like:
These will allow you to organize projects, files, and deadlines.
Next, get your time management together. I recommend reading the book Getting Things Done by David Allen. It's a life-changer.
Here's a summary:
I use most of the techniques and ideas from the book every day and I first read it five years ago. Yeah, it's that powerful.
However, I won't leave you hanging and only tell you to read a 300-page book.
Use the Pomodoro technique.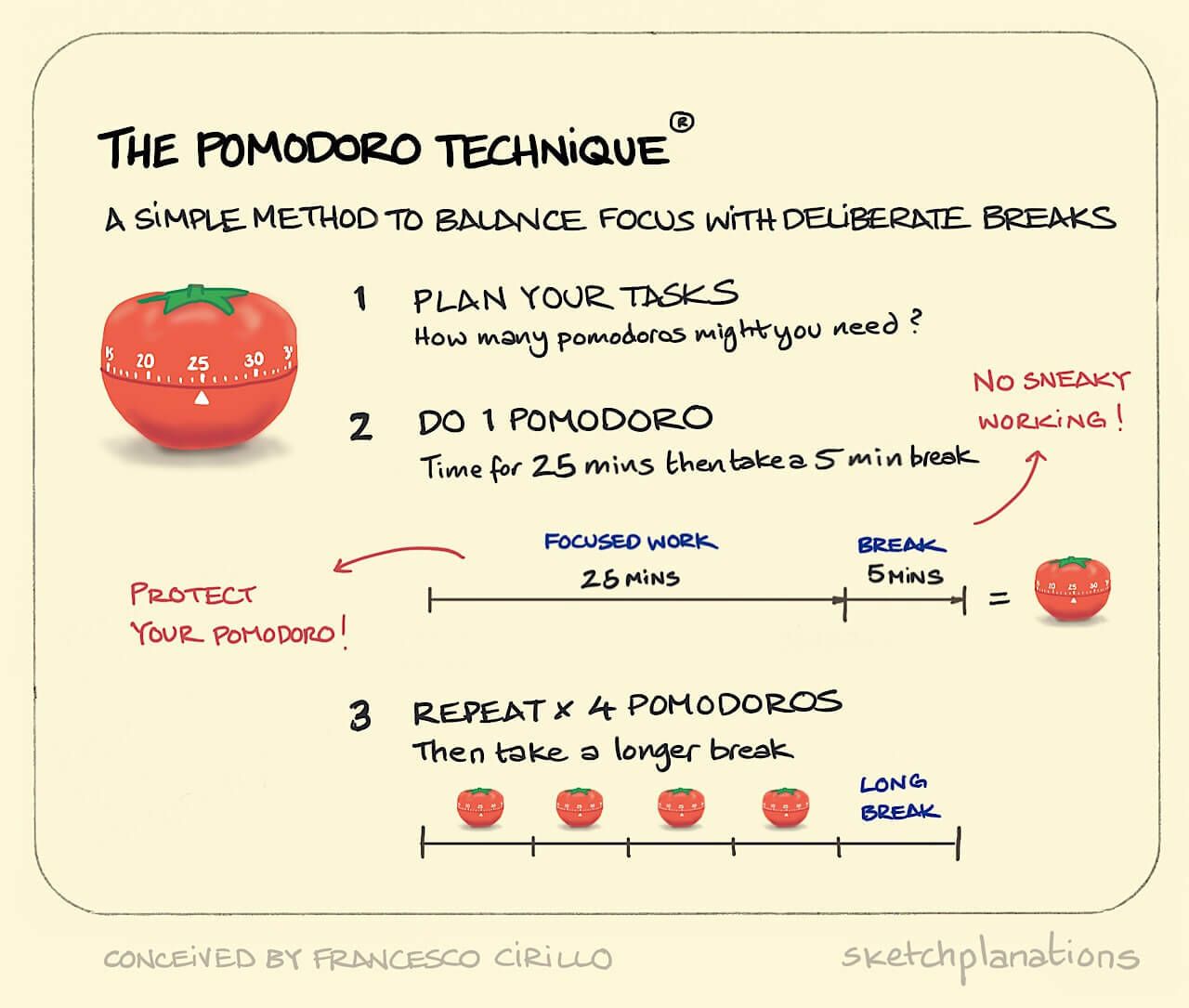 This is a classic time management practice of working for 25 minutes and taking a five minute break.
You then work again and take an increasingly longer break.
Clear your workspace too. A cluttered desk will lead to a cluttered mind.
I like to have all of the essentials in my office like:
A computer
Keyword
Mouse
Pen and pad
My phone
Whiteboard
A comfortable chair
A big desk
If you're working from home, put aside distractions like television, video games, and other things until you take a break.
Psychology and sales
People don't buy because of logic.
They buy because of emotions.
Whether you realize it or not, most of our decisions (especially purchasing related) are driven by emotion.
For illustration, are you buying that new BMW for the gas mileage and comfortable seats?
Hell no!
You're buying it for the roaring V8, having the wind in your hair, and to experience the eye-dilating speed as your heart pounds.
In other words, you're buying it for the emotions and experiences it brings.
Great copywriters are savvy psychologists.
They know what makes customers tick … what triggers them to buy … which elements create what emotions.
Read my article on copywriting psychology to learn the fundamentals.
Then, I want you to refresh by reading some marketing psychology books.
The first is Influence: The Psychology of Persuasion by Robert Cialdini.
Dr. Robert Cialdini used his 35 years of evidenced-based research to determine exactly what makes people moved to take action.
Hooked by Dir Eyal is a book that teaches marketers how to create user habits that stick and build products people come back to use again and again.
Lastly, go read The Psychology of Selling by Brian Tracy. This book covers the most important techniques and methods of selling that will directly translate into your copywriting.
Writing (obviously!)
It's a no-brainer that a copywriter will have good writing abilities.
But what do they need in particular?
Write as you speak
If you study the best material of all time (think sales letters, ads, etc.) you will notice that it tends to have the same tone of voice.
It sounds like a person talking … a friend speaking to a friend … the spoken word on paper.
This isn't by accident. ❌
It's done extremely deliberately.
You see, sales copy written in a casual nonchalant manner is easier to read, less intimidating, and makes you feel a connection with the writer.
Heck, I write everything including these blog posts in the same style.
It takes practice though.
Try writing something like your next project as you speak presuming it suits the material.
Say the words in your head as if you were saying them to a friend and let that flow onto the screen or paper.
Additionally, you can keep a buyer persona in mind and pretend you speaking to them.
Like any other skill, this becomes more and more natural as you do it often.
Effective style and communication
Writing is made up of dozens if not hundreds of tiny rules and elements.
Knowing these allows you to edit your own work more effectively, write creatively, and produce higher quality writing.
For example, do you know how to properly put punctuation within quotes and sentences?
Do you know the difference between an em dash and an en dash?
Do you understand sentence fragments?
Refresh on these rules by reading The Elements of Style. It's a classic book that will teach you how to enliven sentences and communicate more effectively.
Research like a private investigator
You need to research and study markets, customers, and products when writing sales copy.
You must become an expert on whatever you are writing about at the snap of a finger.
That's why research skills are an absolute MUST.
The first step is to get organized as I mentioned before. Take all of your buyer personas, product information, reports, and put them in a single location.
Map out customer questions, product benefits, unique value propositions, and other key selling points.
Take a look at what competitors are doing. What can you learn from their targeting, marketing, and messaging?
Study social media and discussion board conversations to get in the heads of consumers.
Dissect previous promotions like a tenth-grade science experiment.
All of this is done to understand the product and who is buying it to write the most effective copy possible.
I suggest using Google Scholar, NCBI, and ole trusty Google searches to find information and data while researching projects.
That brings me to my next point.
Is copywriting hard to learn?
Copywriting is like any other skill.
What you put into it is what you'll get out of it.
Keep the 10,000-hour rule in mind too.
It's been proven that it takes up to 10,000 hours to master anything.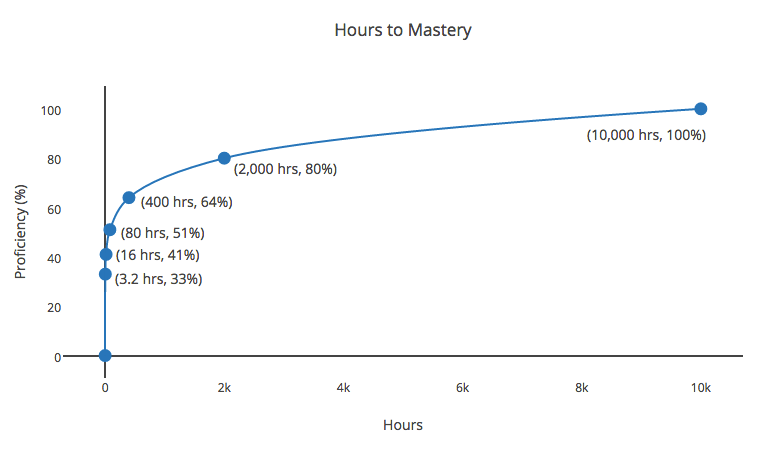 So don't think you're going to be the next David Ogilvy or Dan Kennedy in a week.
That isn't to say that you won't make drastic improvements quickly especially if you're not a naturally talented writer or dabbled in sales copy before.
You will pick up on strategies and theory that very few people know to begin with.
I once read an awesome self-help book called The 48 Laws of Power and one of the paradigms was sharpening the axe.
It means to be constantly learning and never stagnating. If you do, your skills will decline or never improve.
That brings me to my next point.
How to learn copywriting
Alright. Time for the fun stuff. These are the best ways to learn copywriting based on my eight years of experience.
Read all of the legendary copywriting books
If you barely know what copywriting is, you need to create a good base.
That means reading famous books on copywriting to understand the basic techniques and theories.
You see, what worked 40 years ago still works today.
A lot of the best copywriting books were written ages ago but remain as staple resources since psychology and consumer behaviour is universal.
The first I suggest reading is The Adweek Copywriting Handbook by Joseph Sugarman.
This was one of the first copywriting books I ever read and influences my copy on a daily basis. 👌
The author teaches you everything from researching markets to writing copy that practically prints money.
It has all of the fundamental knowledge you will need to know to be an effective writer.
Next, read Ogilvy on Advertising and Confessions of an Advertising Man.
David Ogilvy is the founder of the advertising agency Ogilvy.
He pioneered strategies and approaches decades ago that advertisers use to this day.
His books teach you how to grow an agency, find and keep clients, produce epic advertisements/copy, and how to be a pleasant vendor to other businesses.
Scientific Advertising was written by Claude Hopkins, another pioneer of advertising back in the 1800s. You will learn staple tactics for what contributes to successful campaigns and sales copy.
Other notable reads include:
The Boron Letters by Gary Halbert
The Copywriter's Handbook by Robert Bly
Breakthrough Advertising by Eugene Schwartz
But here's the thing, folks…
Don't just read the books and put them away to collect dust. 📚
Make sure that you take notes. Highlight important sections. Repeat strategies in your head.
That's how you laser it into your brain and make it a lifelong skill.
Practice … Every. Single. Day.
You can read all of the books you want and study, but nothing beats rolling up your sleeves and actually writing copy.
It's like any other skill…
You get better by doing it.
Eventually, it just comes to you. Almost like magic.
You write words and paragraphs without thinking that others are amazed by.
Begin practicing by writing blog posts.
This allows you to establish your own unique voice, talk about topics that you're passionate about, and share your expertise with the world.
It's how I get all of my copywriting clients so it acts as an investment too.
Start your own blog on Medium by registering for an account.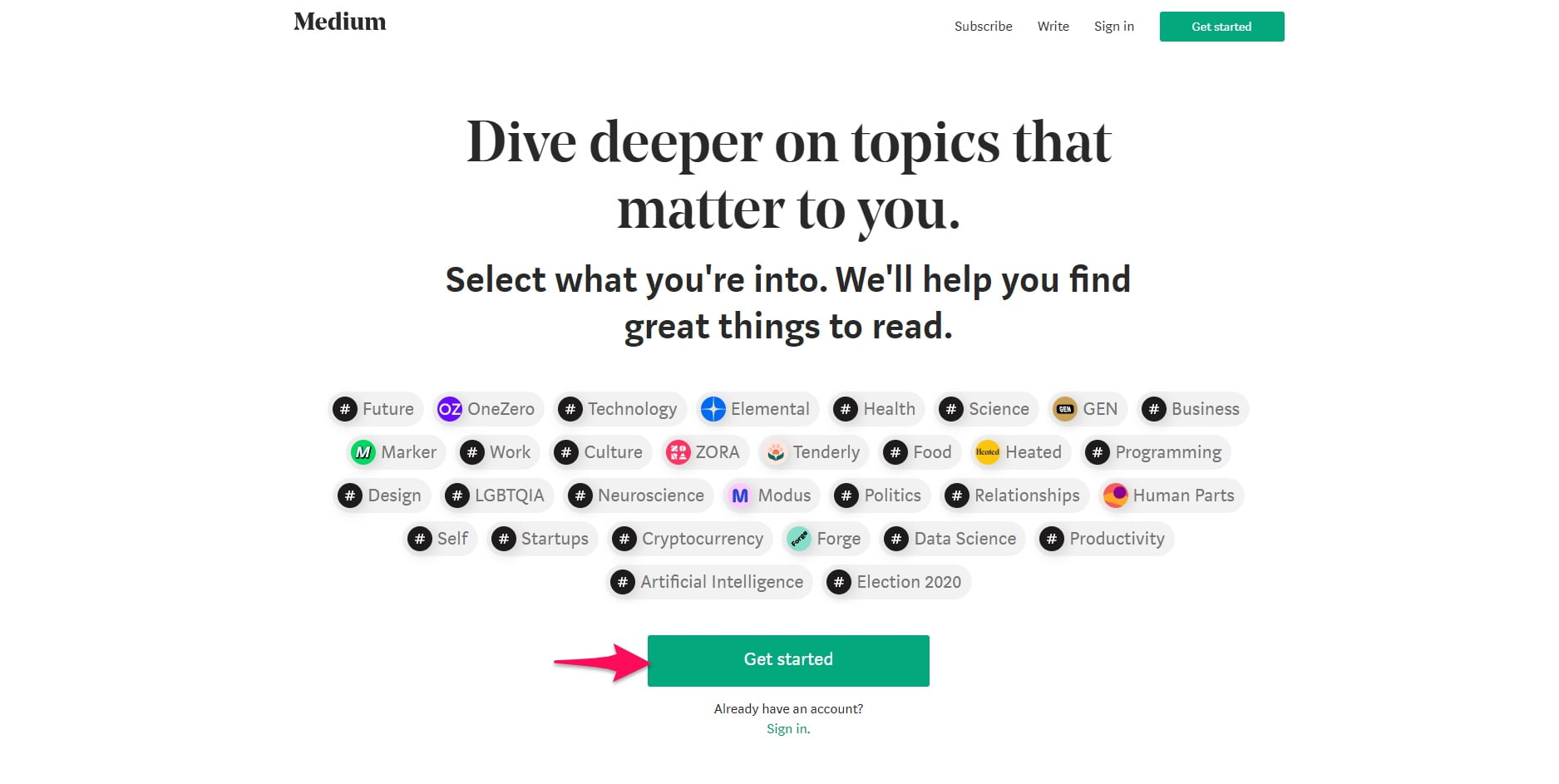 Click "Add story" from the dropdown menu on the top right.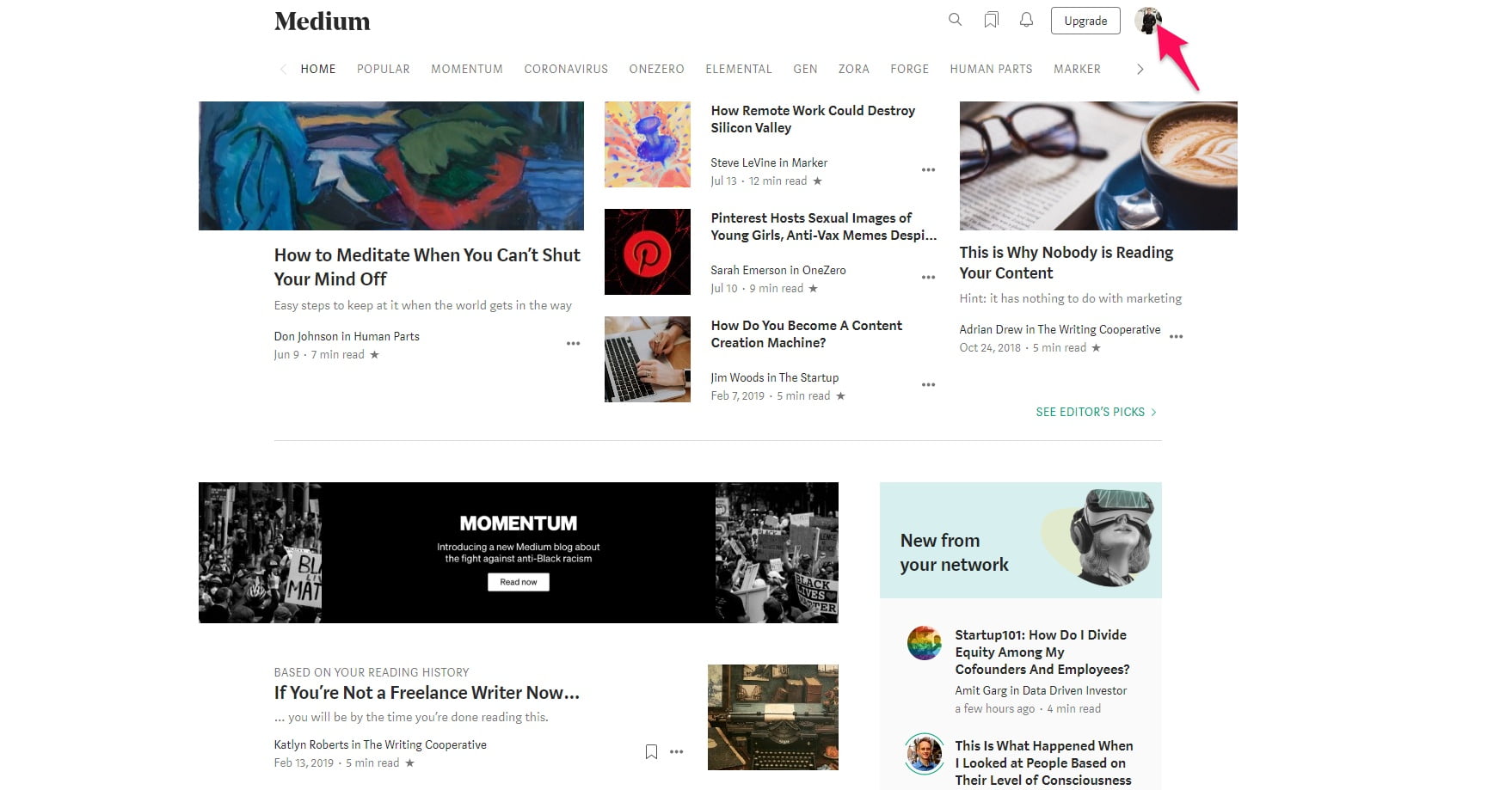 Add a headline and right the body below it.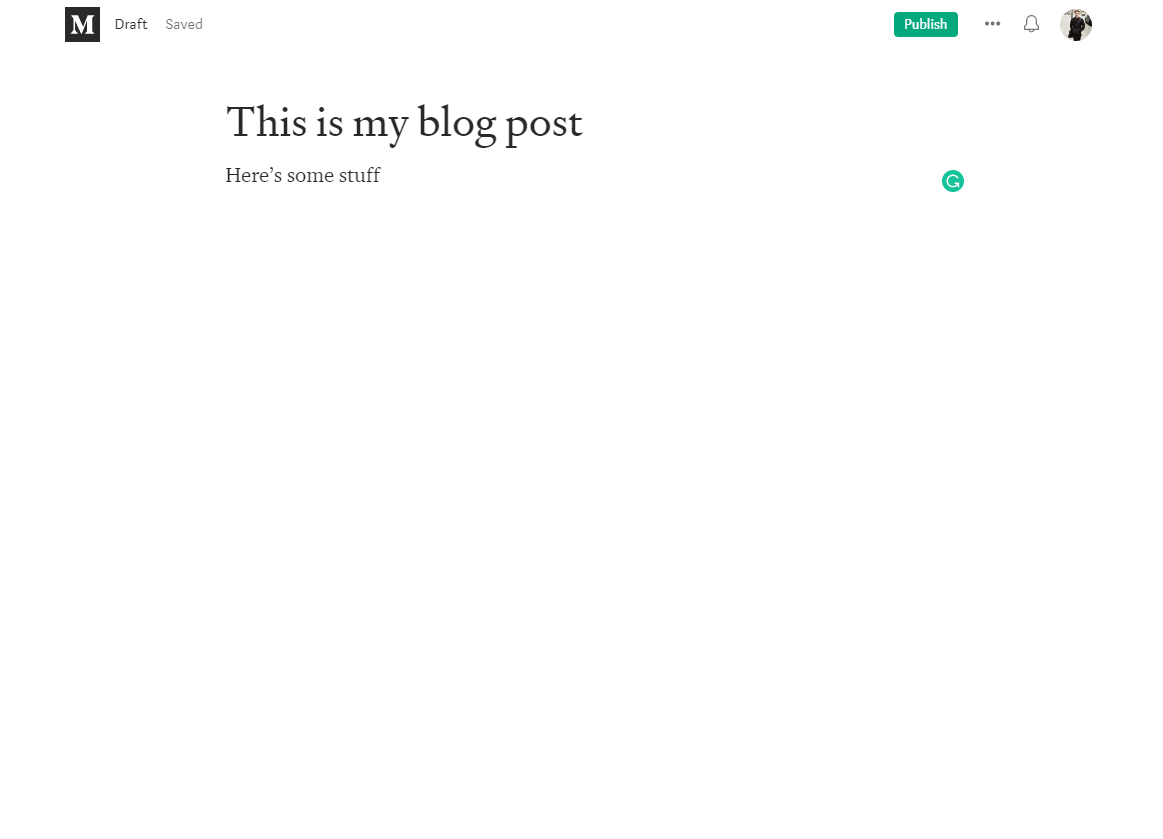 Publish the article with tags to help it get found by more people and edit the SEO metadata via the settings.
Secondly, write for other people. This will challenge you the most.
You have to learn their writing style. Their audience. Their goals.
If you are beginning from scratch, write copy for family and friends for free.
Hop on social media and make a post like this: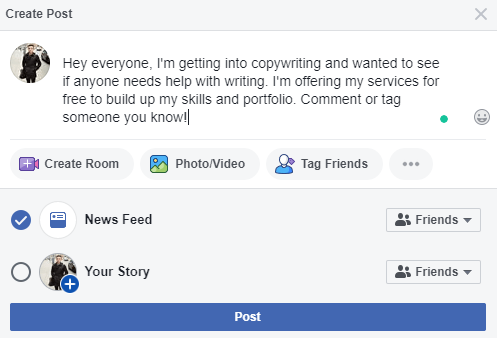 Explain that you're breaking into copywriting and want to build up your experience by writing for free.
You're guaranteed to get work this way.
Additionally, consider using subreddits to advertise free work. You will get bombarded more than a hotdog vendor at a baseball game.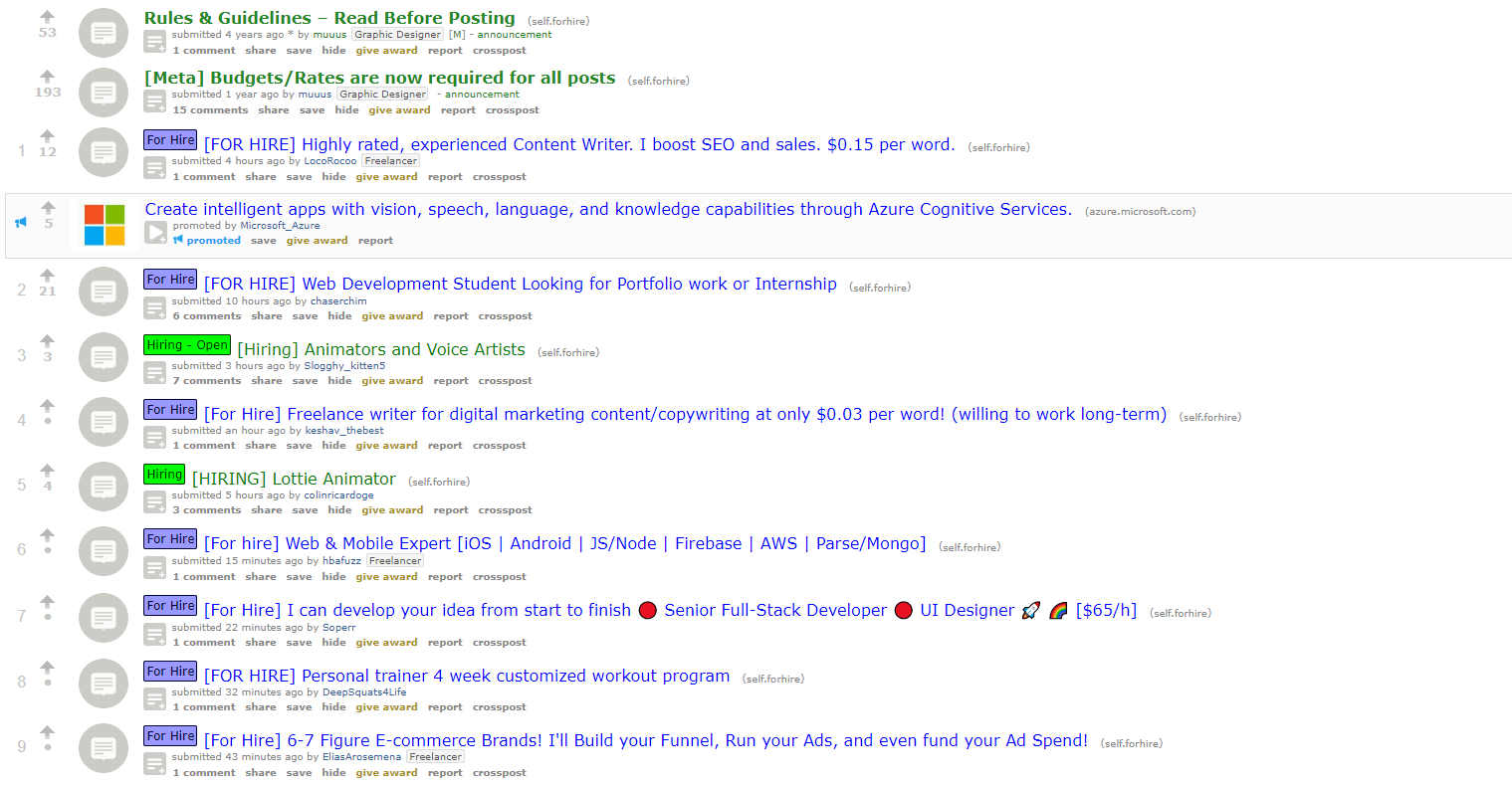 The third way to learn copywriting in this manner is by writing mock copy.
Pick a fictional product or a brand you love. Write a fictional advertisement, sales letter, or other promotion.
Study the consumer, market, and item like you would if it were real.
This also helps you build a portfolio and display your skill to future paid clients.
You can also use a website like Swiped.co to find famous advertisements and rewrite them.
What strategies do they use?
How is structured?
Take notes and make it into your own creation.
Invest in courses to learn from the best
Want to fast track your way to being a profitable and successful writer?
Invest in a course.
I know, I know.
They have a bad wrap some times.
A lot of charlatans sell courses and just try to get money out of people but hear me out…
Courses lead by instructors with real experience will save you years of effort by summing up exactly what to do and not to do in a continent course.
They're worth their weight in gold.
These online schools will teach you how to write great sales copy, land high paying clients, enhance your skills, manage projects, and more.
They include worksheets, PDFs exercises, office hours, and often give you direct contact with the instructor like a real school.
Avoid any courses that throw you in with the lions and expect you to fend for yourself.
I wrote an entire article on the best copywriting courses if you want to see a full list.
Take my free copywriting course as well.
Build a swipe file and use it as inspiration
Every copywriter has a library of ideas, ads, and headlines. It's called a swipe file.
This is used for inspiration every time you need a little help coming up with something fresh or getting over writer's block.
And boy, trust me, you WILL get writer's block at some point.
Being able to quickly pull up a spreadsheet with hundreds or thousands of ideas is priceless.
I suggest creating a swipe file with Google Drive so you can access it anywhere and on any device.
There should be columns for different items like headlines, sales letters, etc.
Any time you see interesting copy or advertisements, save a link or write down the main component in the swipe file.
Read more about how to create a swipe file in my previous blog post.
Get copywriting clients and work on real projects
Sure, you could work on mock projects all you want. However, nothing will test your writing skills than working with a real client.
…With real customers.
…And real pain points.
…And real money.
It's a whole different ball game.
Check out my course WiseCopy to get insider tactics on landing high paying clients.
Alternatively, you can get your feet wet with a job board.
These are websites that list the latest freelance writing gigs available on the internet.
I suggest pitching these on a regular basis to my students and mentees.
It's the easiest wait to begin generating income online as a writer.
But, it's not just the money that's valuable. It teaches you how to deliver sales copy, pitch prospects, manage deadlines, and so much more.
There's no shortage of job boards like Problogger, Bloggingpro, Flexjobs, etc.
Make it a habit to visit these every day or as often as possible.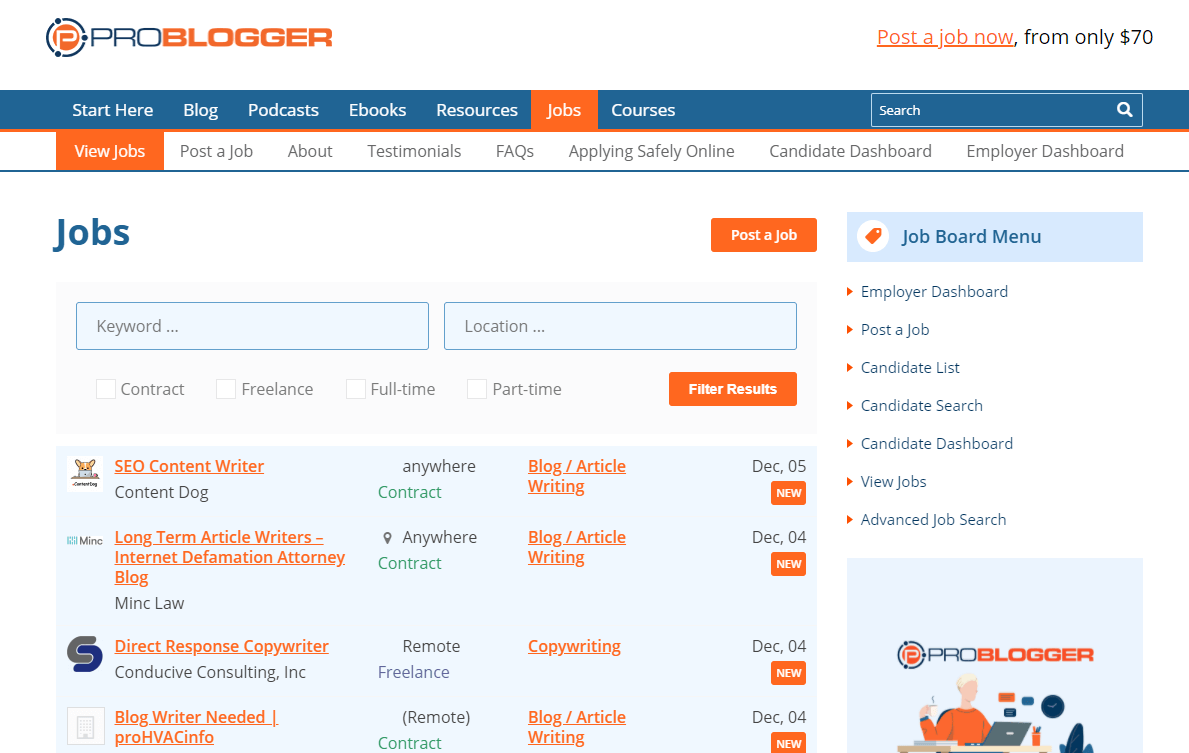 You can select any job listing to learn more about its requirements, responsibilities, and pay.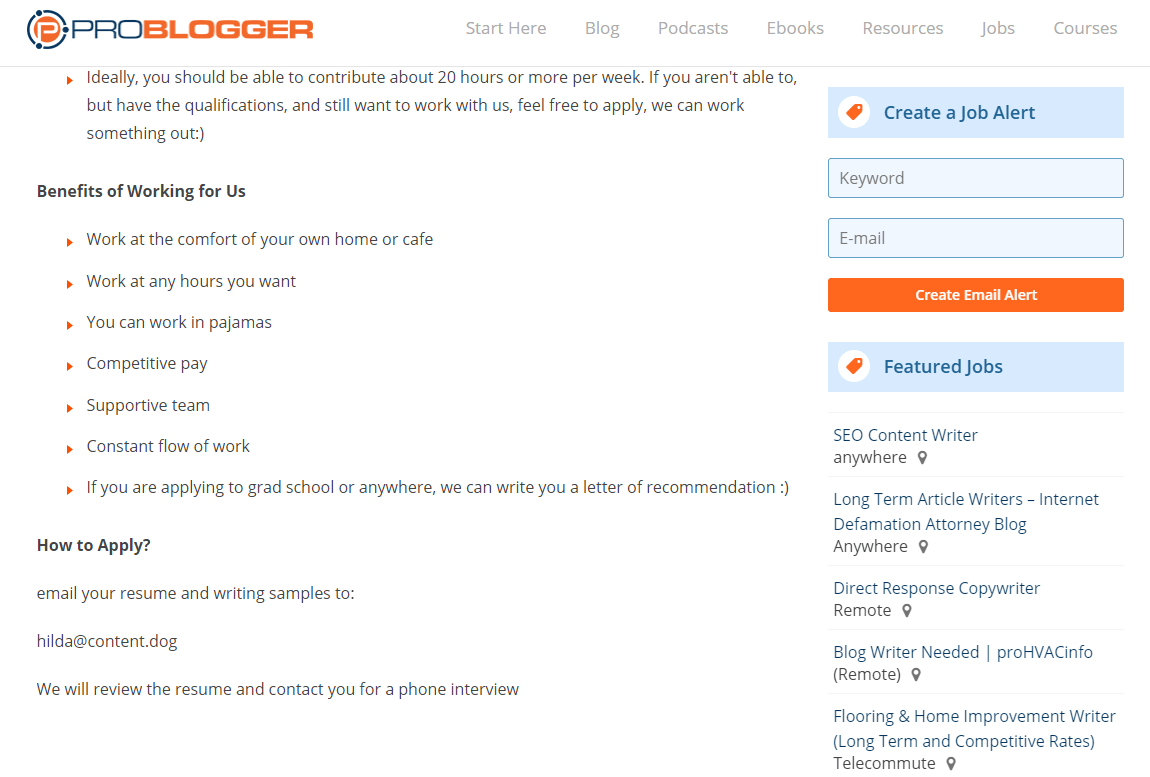 Read the listing carefully.
It will instruct you on how to apply.
Some use the built-in application feature (depending on the site), an email for resumes, or others will redirect you to another URL.
Keep the business in mind when applying.
That means pitching the benefits of working with you.
Can you drive more traffic? Are you great at meeting deadlines?
Positioning applications around these things will make you stand out and more likely to get gigs.
Watch YouTube copywriting channels
Who doesn't love kicking back and watching a nice video?
Two billion people to be exact!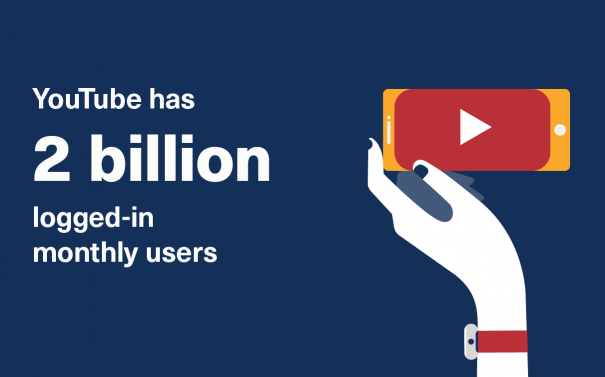 You can listen to them in the background while you study or work too.
There are numerous channels dedicated to copywriting that you need to check out.
The first is Alex Cattoni. She's a copywriter that's contributed to million-dollar campaigns and dropped out of law school to pursue her passion.
Alex's YouTube focuses on how to write better sales copy, find clients, and avoid common mistakes. She uploads on a regular basis so you'll have a constant stream of awesome content.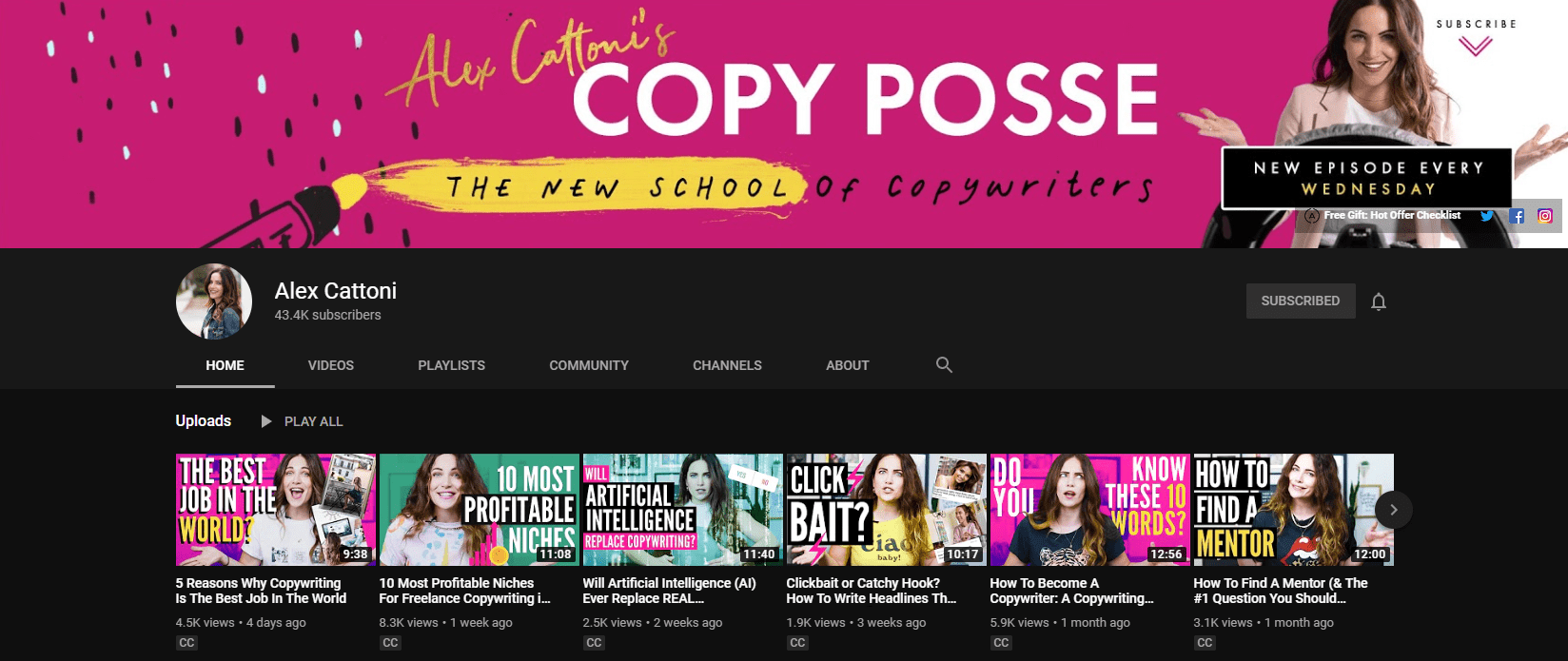 Copywriter and sales guru Dan Lok is another great channel to tune in to.
I know that he's gotten a lot of flack but there's no harm in absorbing his free content on copywriting because, frankly, it's great!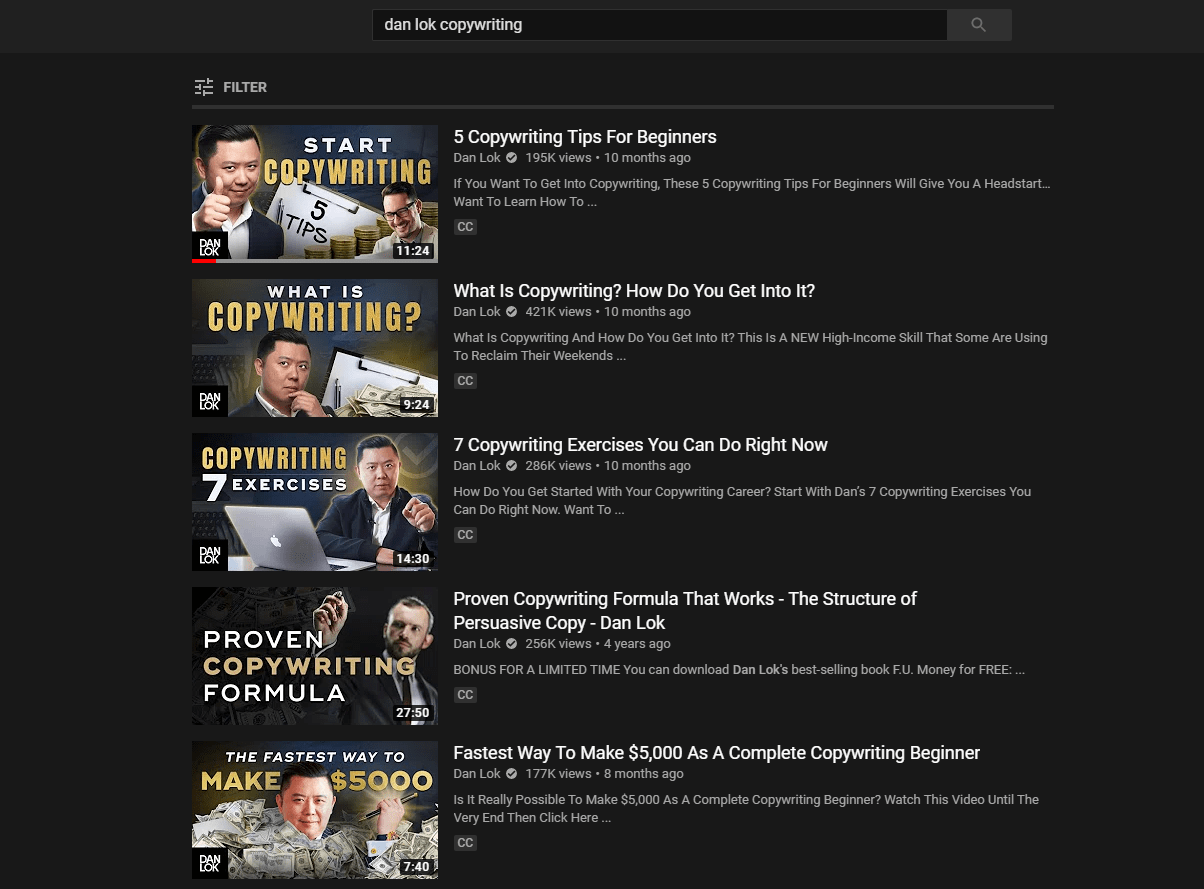 I especially liked his videos on properly setting copywriting rates, copywriting exercises, and the most in-demand writing niches.
Go through his channel and you'll find heaps of other videos related to these topics.
I have videos on copywriting you should watch too. I'll be getting into YouTube heavily this year so stay tuned for more. 🙂
Listen to copywriting podcasts
Last but not least, podcasts!
32% of American's have listened to a podcast in the last month.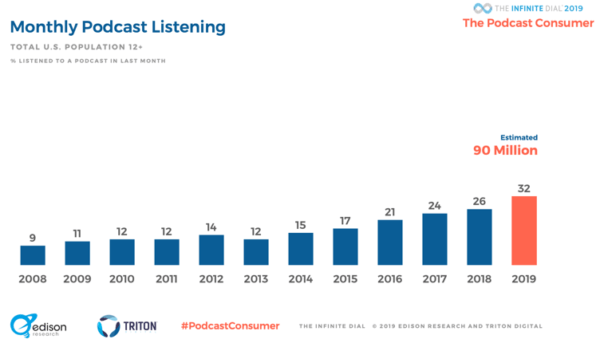 They're household.
It used to be very niche but thanks to huge influencers like Joe Rogan, podcasting has become mainstream.
I love listening to podcasts while working out, going or walks, and driving.
It's a great way to pass the time and learn valuable information passively.
Listen to The Wise Business Podcast run by yours truly to learn about copywriting, marketing, and business topics.
Other writing podcasts you should listen to are:
Final thoughts on how to learn copywriting
There's no shortage of ways to learn copywriting for free.
You simply have to know which resources to use so you don't spin your wheels.
I've been copywriting for eight years and can say that you should begin by reading all of the famous books on writing that I mentioned in today's post.
Then, hone your organization, sales, and research skills.
Practice by doing client work, mock projects, free jobs, and growing a blog.
Invest in courses like mine to learn from an experienced professional and fast track to success instead of moving at the pace of a turtle.
Consume copywriting YouTube channels and podcasts to keep sharpening the axe.
Build a swipe file while doing all of this to create a library of resources to use when you need some inspiration.
What are you waiting for? Start learning how to write copy!
---