Fashion is a tough industry.
Fun, but tough.
It's ultra-competitive and those who are at the top fight to keep their spot.
Think of high-end and designer brands.
They're not going away anytime soon and continue to grow, acquire, and scale.
In fact, it's estimated that the apparel industry will reach a size of $1.4 trillion by 2021.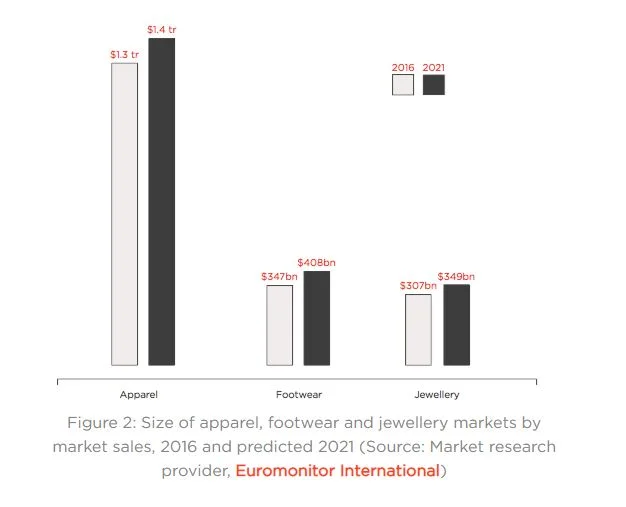 Fashion businesses also have some of the best copy in the world.
It's emotional, branded, exciting, and is good enough to make people spend thousands of dollars on a pair of shoes.
If you're a marketer or a copywriter, you'd be silly not to learn a thing or two from them.
That's exactly why I'm going to be showing you 5 fashion copywriting examples if you keep reading.
Check it out. 👇
Ralph Lauren's sale promotion
Everyone knows Ralph Lauren's legendary horse logo.
I'm a huge fan of their polo shirts, actually.
This is a recent promotion they were running for a 40% sale:

As soon as you land on their website, you're greeted by a massive image with the headline "Sale."
"Up To 40% Off" is placed under this to give customers an idea of how much they will save. Who doesn't want to save money?
There are links to main categories no matter what users are interested in, too.
Furthermore, "Free Fast Shipping On Orders $150+ | Free Returns |Details" is placed at the top.
This entices customers to spend more to get fast and free shipping, ultimately increasing Ralph Lauren's revenue.
Details and a chat option help clear up any confusion and questions, increasing conversions, as well.
If you want to write high-converting copy like Ralph Lauren, try out Jasper.ai. it's an artificial intelligence software that writes copy for you.
Email marketing is powerful.
Stupidly powerful.
Don't believe me?
Check this out: email marketing has been found that 81% of businesses use email as their main acquisition channel.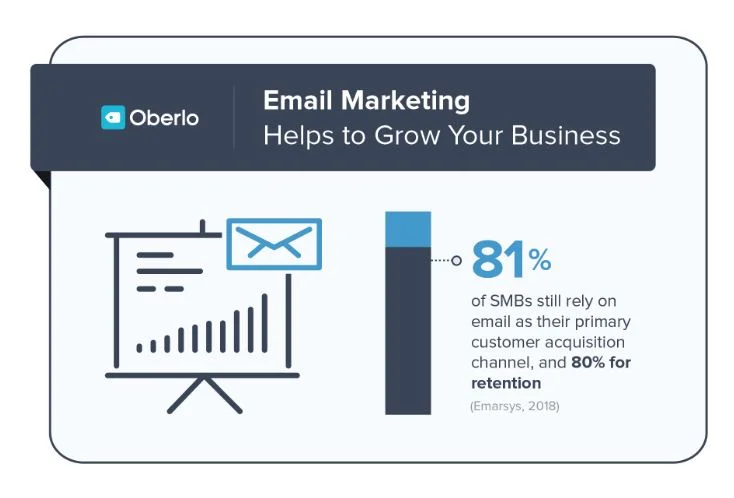 Visit any fashion website and I dare you to find one without a newsletter.
Look at Armani, for example: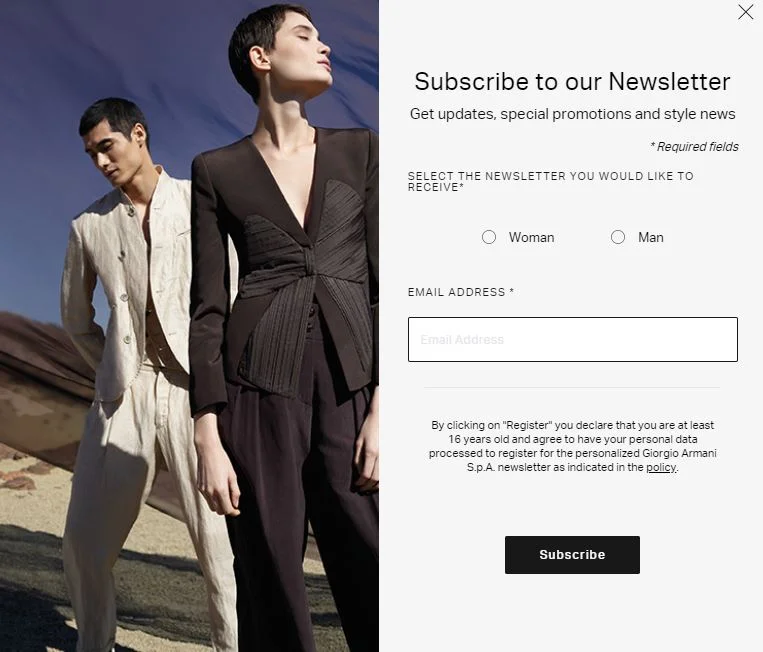 "Subscribe to our Newsletter" is a call to action. This prompts users to do something (sign up in this case) and improve engagement.
Some people might think "Why?" so Armani answers that with "Get updates, special promotions and style news."
Cool.
You can then select which newsletter you'd like to receive which helps them segment their lists.
They can send targeted offers and content to both men and women versus sending it to everybody.
I recommend using a tool like HubSpot to collect emails and segment them.
You should also check out my copywriting mastery course to learn about writing effective emails and other types of copy.
Dior's irresistible cologne
Cologne and similar products have exciting copy.
You always see things like "notes of leather, wine, and berry." Who wouldn't want that?
Check out Dior's product description to see what I mean:

The description reads:
Dior Homme Eau de Toilette is intriguingly powerful and appealingly fresh. Dior Homme holds the promise of an intensely woody masculinity that envelops and enfolds, and leaves a lasting impression. A man, yes, but a man of many nuances: confident in both his strength and his tenderness. A raw wood, hand-chiseled by Dior.
A.K.A it's a strong, fresh, and masculine scent that can give good impressions to others.
It also mentions strength, confidence, and handcraftsmanship which are also masculine words.
This paints a picture in the customer's head and helps them smell the product without physically having it.
After all, it's a tough product to sell otherwise. There will no doubt be customers who need to smell it and have it in their hands before purchasing it.
But, not everybody.
Try painting pictures through the use of vivid detail, imagination, and descriptive copy.
This helps customers feel like they have the product already, boosting the odds they buy it.
I love using Jasper.ai to quickly come up with descriptive copy like the one in Dior's ad.
Ferragamo's product categories
You can have a great product, but it doesn't mean that people will go crazy for it.
Great copy needs to accompany the product to maximize sales.
Look at Ferragamo's product categories page here: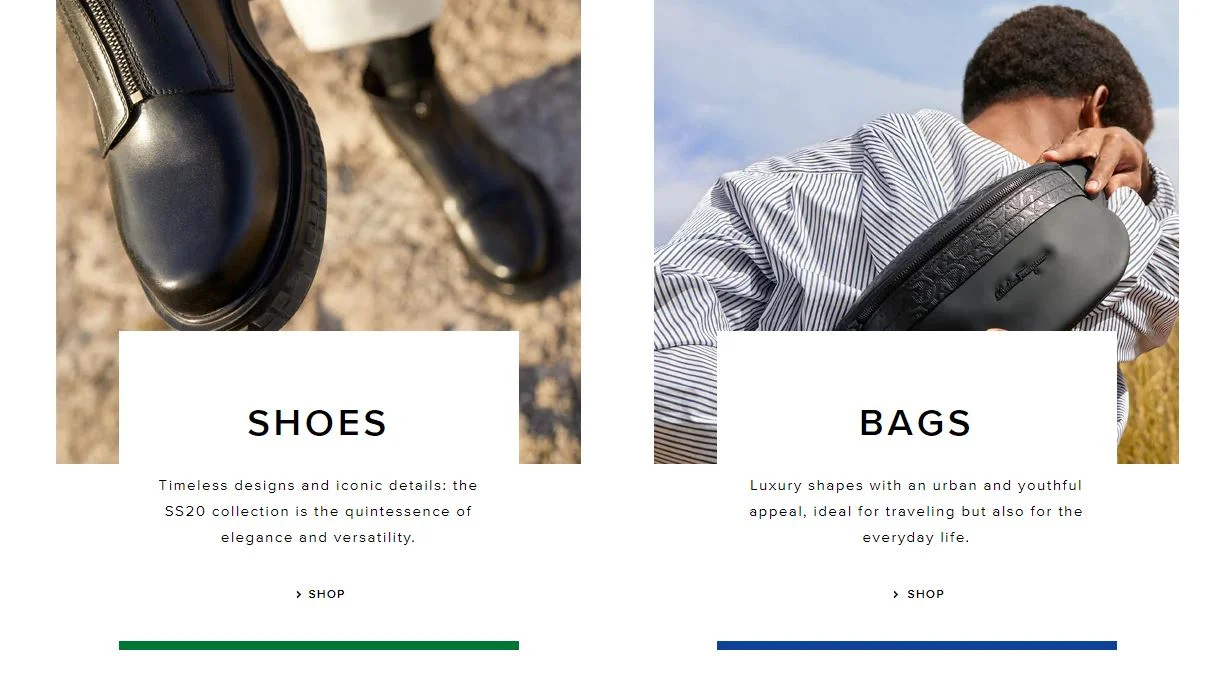 The shoe category uses words like elegance and versatility, implying that their footwear looks classy and can be worn in different ways.
Because, who wants a shoe that falls apart quickly and doesn't match anything?
Secondly, look at the bags category. "Luxury shapes with an urban and youthful appeal. Ideal for travelling but also for everyday life." tells us a lot.
In particular, it explains that Ferragamo's bags keep their luxury appeal while still being modern and young.
You can use them conveniently while travelling or going about your day.
They're functional. Not just for looks.
Copywriters can learn from this by making their copy descriptive and helping customers understand the value proposition.
What will they get out of buying the item?
You already saw Armani's newsletter.
Here's Versace's: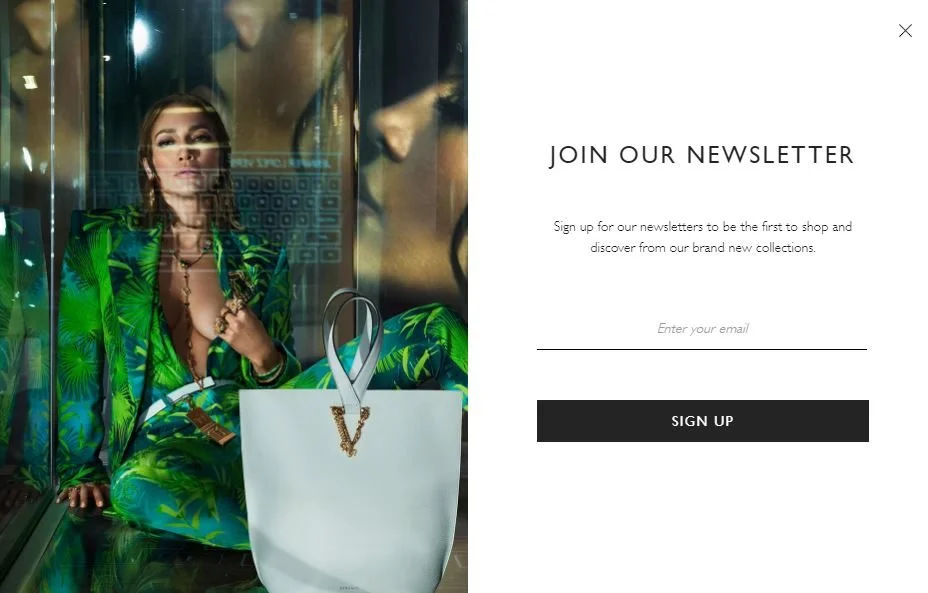 It's simple. Straight to the point. No fluff.
The pop-up has a call to action telling users to join the newsletter along with the benefit. And, that is being the first to shop and discover Versace's latest collections.
GQ outfit callout
GQ Magazine is the fiesta la resistance of men's fashion.
So, it should be no surprise they put an interesting twist on both the creative and copy of this ad here: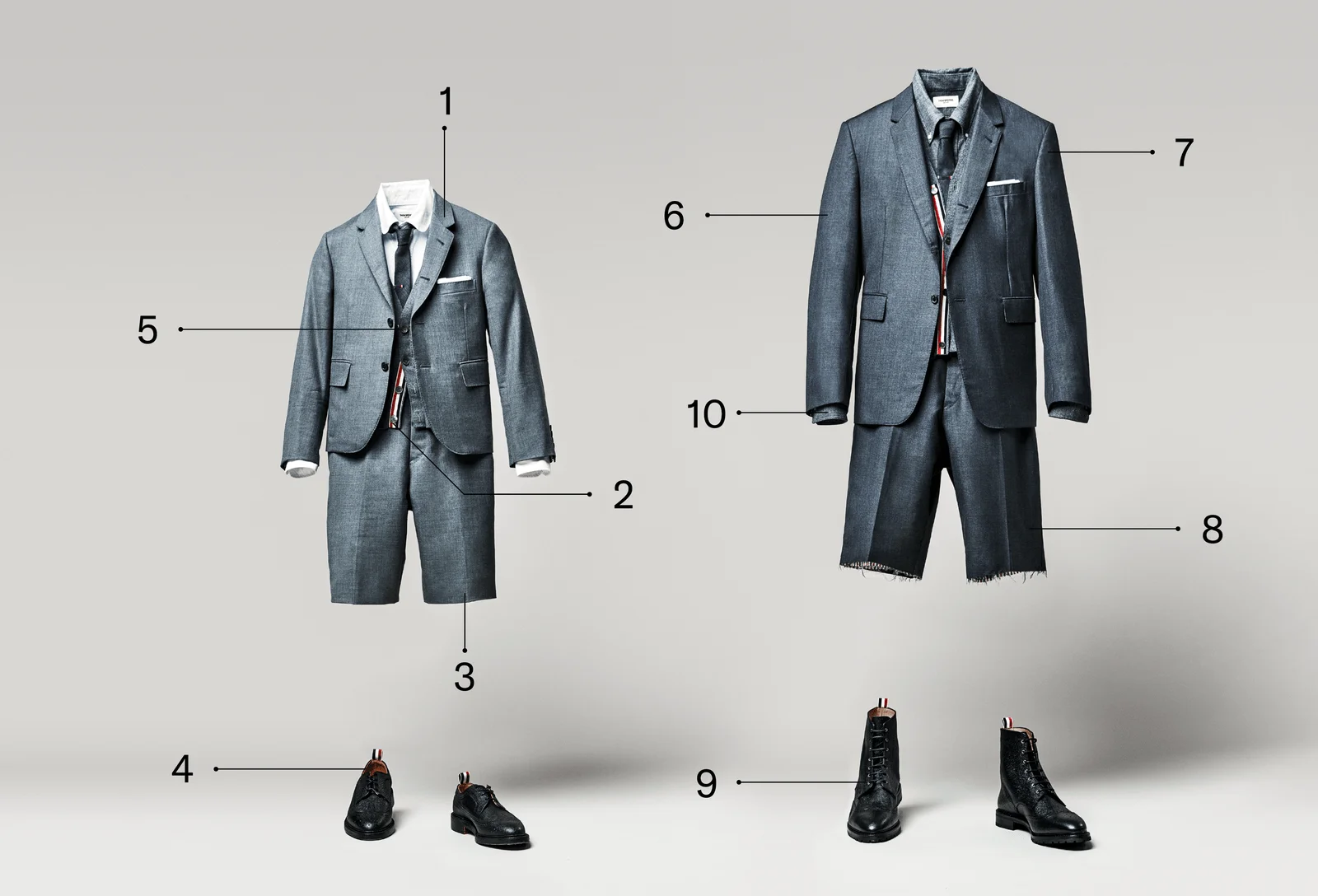 It has clothing without the traditional model which makes it eye-grabbing and intriguing.
Instead of the callout directly stating what the item is EITHER, they put it below the image so there's more space for the copy.

The copy goes into detail about every single fashion item, its history, and what inspired it.
It offers style inspiration for the readers while also showing them what Thom Brown and LeBron James look like compared to one another. (Since that's what the article is based on."
Find a fun and fresh way to use creatives to grab attention and bring the product to the forefront.
Take a nontraditional approach. Do something readers wouldn't expect.
Taft's Facebook ad
Taft is a boot retailer that sells unique and high-quality boots for consumers.
This was a Facebook ad they ran for one of their holiday promotions: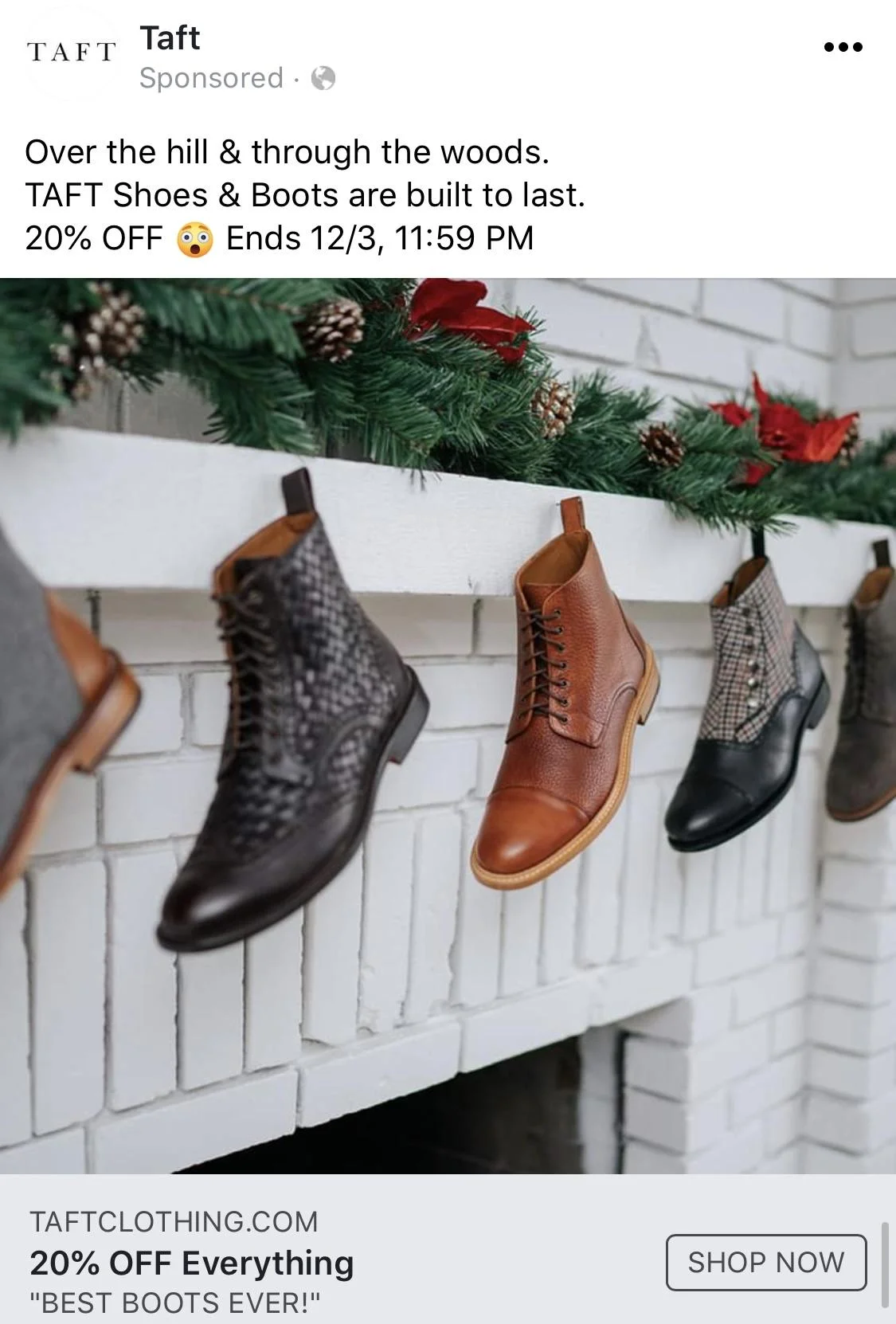 Let's start with the opening "Over the hill & through the woods."
This implies that their boots are durable and not going to fall apart when you step in a puddle.
Hence why they say "TAFT Shoes & Boots are built to last." next.
"20% OFF 😮 Ends 12/3, 11:59 PM" offers customers a cost savings value proposition while creating urgency because the deal is limited.
So, what can you do to mimic this ad?
Firstly, talk up the value proposition of the product.
What makes it better than anything else on the market? How's it going to change the customer's life?
Then, create a sense of urgency by creating limited-time promotions, discounts, and offers.
These entice customers to purchase soon or they will miss out.
The man in the Hathaway shirt
This list wouldn't be completely without the legendary advertisement created and writen by David Ogilvy.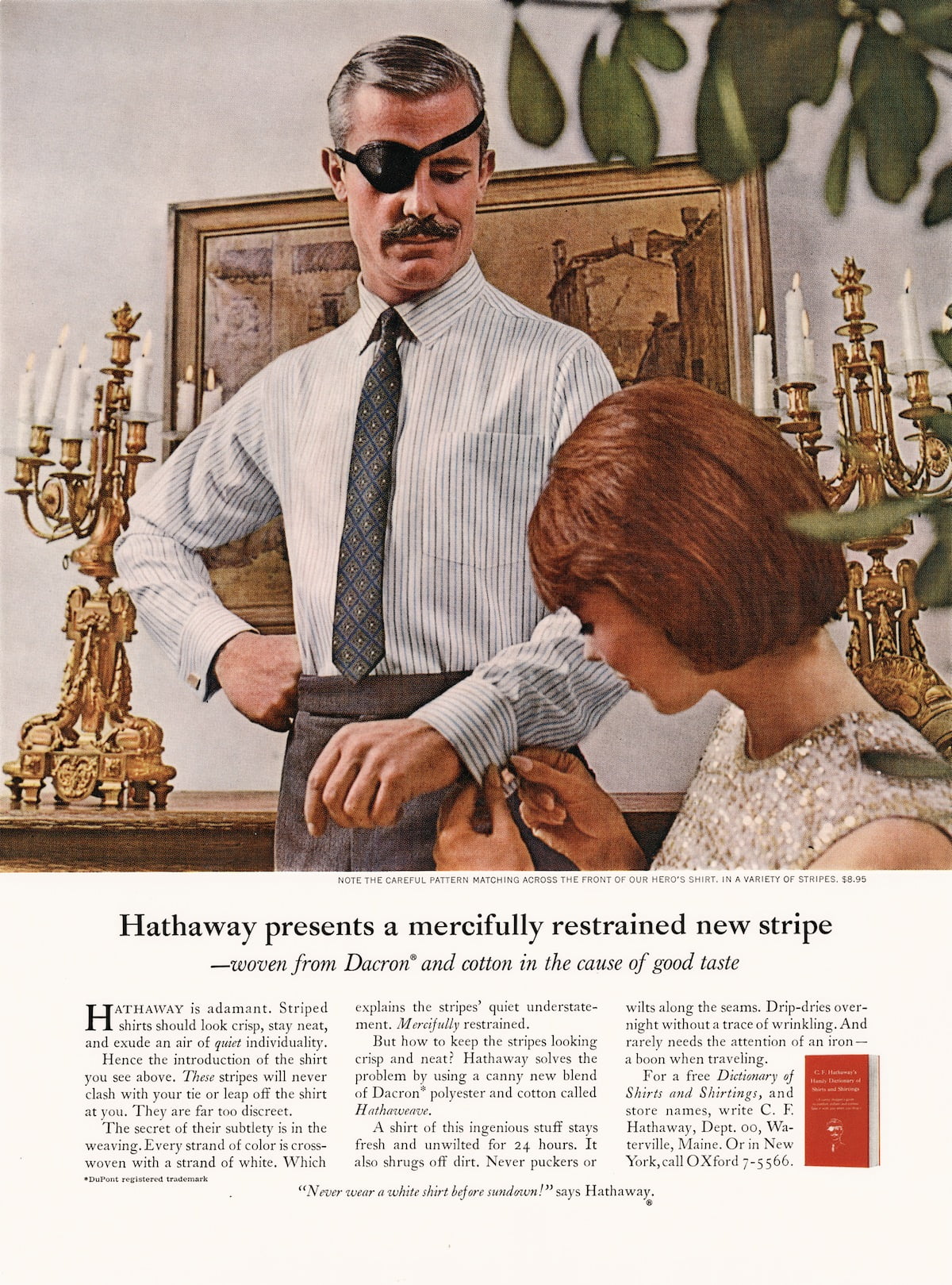 The first major component of this ad is the creative. The photo instantly makes you think, "Who is this man? Why is wearing an eyepatch? How does he look so good?"
Naturally, this leads into the sales copy.
The advertisement begins by stating Hathaway shirts "look crisp, stay neat, and exude an air of quiet individuality."
A.K.A they will keep the reader looking and feeling good all day.
"These stripes will never clash with your time or leap off the shirt at you. They are far too discreet." is another benefit that Ogilvy made obvious: it will always add to your attire, never take away from it. It's easy to look good in.
And here's one of the main value propositions: "Hathaway solves the problem by using a canny new blend of Dacron polyester and cotton called Hathaweave."
That means the reader can't get this material or shirt anywhere else. It's now or never.
The ad continues to elaborate on the benefits of the shirt, including that it's hard to wrinkle, stays fresh for 24 hours, and rarely needs an iron board.
This is a classic example of what an advertisement is all about: clearly selling the product, its benefits, and value proposition with a clear call to action at the end to buy.
Nothing gimmicky.
Wrapping up today's fashion copywriting examples
Fashion is a tough industry to succeed in, especially as a writer.
How do you explain to customers why a shirt or pair of shoes is special?
It takes specific strategies and understanding the customer like your best friend to succeed.
Let's summarize some of the main things I touched on from today's examples.
Firstly, always use calls to action. These are words or phrases that instruct users what to do next.
It avoids confusion and laziness.
Next, always explain why they should take action. What's the benefit or value proposition?
Help customers imagine what it would be like to wear or use the product you're selling.
Lastly, don't underestimate the power of email marketing as a fashion copy.
Use forms to collect emails and display a clear benefit of doing so. Then, send high-quality newsletters to educate subscribers and drive sales.
Segmenting user based on behaviour or traits can increase the performance of email campaigns, too.
Feel free to contact me if you require a fashion copywriter to help you produce performance-driven content or copy.
You can also enroll in my copywriting courses to learn proven strategies and tactics.