What's one of the biggest issues in the marketing industry right now?
Gurus…
While they've gotten a bad rep, they aren't all snake oil salesmen.
I like to give everyone the benefit of the doubt and do some good ole' research.
And, one of the most talked-about gurus right is Mr. Dan Lok.
I know it can be tempting to spend the money to buy courses, training, and similar services.
They're great.
You want to make six figures and crush it, right?
Well, slow your horses.
I'm going to give you a background on Dan Lok, his products, and more based on research and customer testimonials.
Check it out.
Who is Dan Lok?
Dan Lok is a Chinese-Canadian serial entrepreneur that lives in Vancouver, British Columbia.
And, we all know one thing: you're LOADED if you live in Vancouver because of the crazy house prices. 😂
Jokes aside, Dan was born in Hong Kong, China in 1981 (making him 39) and moved to Canada when he was 14.
Like all of us marketers, he started young and worked on many different projects.
In fact, he got into internet marketing as a teenager and failed 13 businesses before hitting home runs that made him a millionaire.
Dan founded the mastermind Dan Lok's Vancouver Entrepreneur Group in 2014 and launched High-Ticket Closer later.
He has authored a whopping 12 books like F.U. Money and Influence!
Lok's also killing it on YouTube with over 2.4 million subscribers.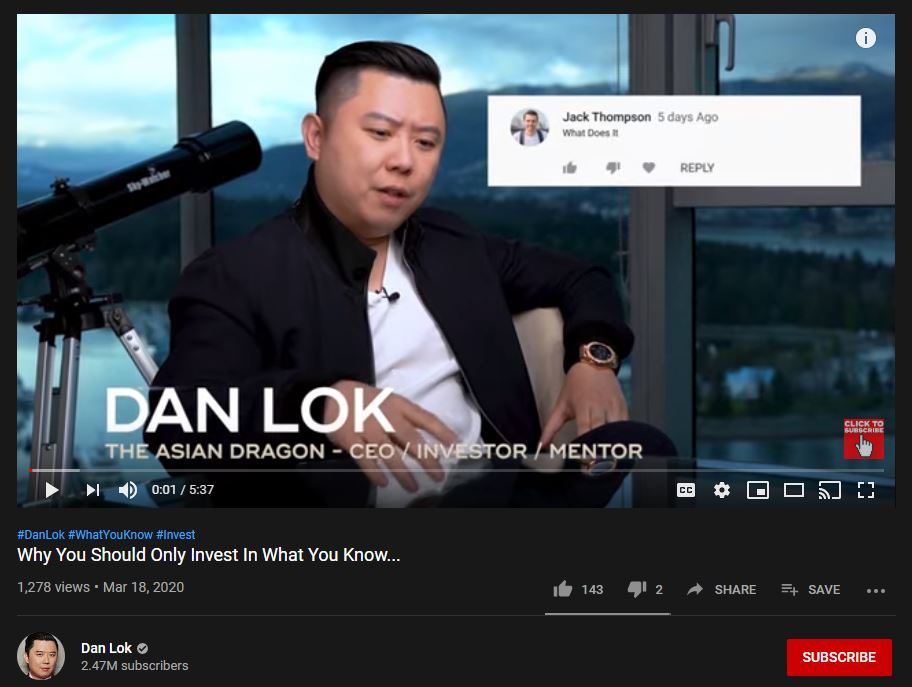 If you found this article, I'm sure you already know a lot about Dan, follow him on social media, and have your credit card out in anticipation.
So, let's talk more about his courses next.
How much does Dan Lok's course cost?
Dan has a couple of courses…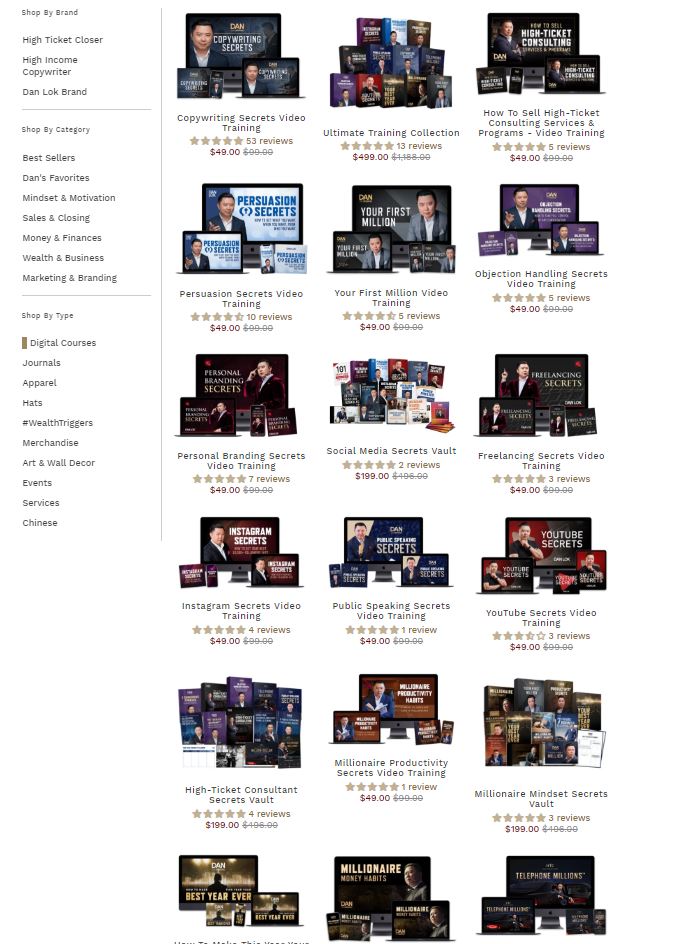 Yeah. Just a couple.
They range from $49.99 all the way up to $10,000!
So let's talk about the big enchiladas in particular.
Most people buy and talk about High Ticket Closer.
It comes in at $2,495 and the course runs seven weeks long.
However, High Ticket Influencer and Platform Closing Secrets are both $10,000.
Heck, I sell copywriting courses so I'm not opposed to these prices.
Because, here's how it works: if you sell a course to a customer for $497 and they are able to make many times that because of what they learn, it's extremely fair.
This is especially the case with business courses.
You're learning how to make more money, start a company, generate sales, etc.
And, the instructor (Dan in this case) has spent decades learning and failing. All of that knowledge is given to you in a neatly packaged product so you don't have to spend all of that time yourself.
So, I think it's all about perspective.
See it as an investment = great.
See it as a quick buck = bad.
Who is Dan Lok for?
Dan Lok is for entrepreneurs.
Salespeople.
Internet marketers.
Social media marketers.
And the list goes on.
You see, his courses and content touches on topics like:
Pay per click advertising
Social media
Email marketing
Influencers
Sales
Wealth building
Branding
Productivity
Public speaking
And that's just the tip of the iceberg!
So, I'd suggest his content to anyone looking to learn new strategies and ideas about business in general.
He publishes content for every field and interest.
However, his courses are different.
I suggest those if you're willing to invest in your future, career, and business.
Be willing to learn, be patient, and apply everything.
They're for serious hustlers and go-getters.
Don't buy it thinking you're going to be a millionaire overnight. It won't happen.
Is Dan Lok legit?
Some people ask "Is Dan Lok a scam?" and I would argue no.
Let me explain why.
Technically if you spend a few thousand dollars on a course, that was your choice.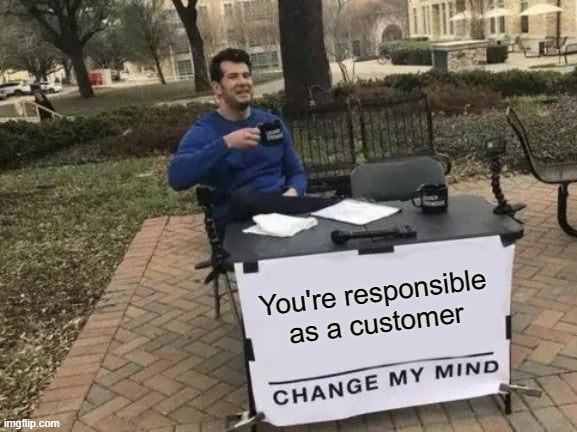 I know, I know.
A copywriter and marketer telling you that it's up to you to purchase something?
You're probably thinking "Isn't your job to persuade people to buy things?"
Here's the deal…
Ultimately it's up to you to purchase a product, research it, understand the refund policies, etc.
If not, you might be shooting yourself in the foot.
Here's a conversation from Reddit about Dan Lok's authenticity: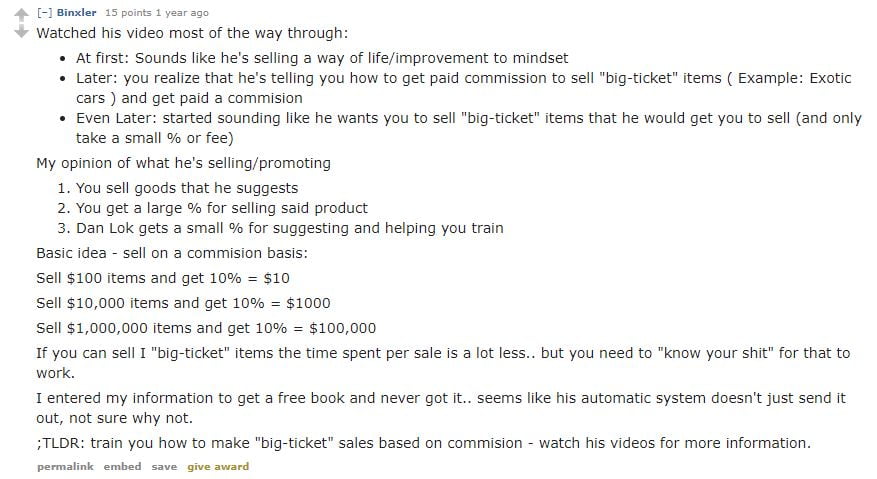 Many users had their choice of words, but this user made a good point.
Dan is selling a lifestyle about financial confidence, freedom, and happiness.
He teaches you how to get paid commissions on big-ticket items (affiliate marketing), and recommends those items so he also gets a percentage.
It's simple affiliate marketing, guys.
He's not doing anything sleazy in my opinion.
However, here's what a customer had to say:

They spent $3,000 on Dan's products and believes it's not worth the money.
There's lots of good value in the course, but it might not be for everybody.
And, at the end of the day, you can learn anything in a course for free with enough time and research.
I personally love Dan Lok's free content, but I probably wouldn't buy his products because I'm already doing very well for myself.
Here's what a satisfied customer said about the High Income Copywriter course:
In sum, he says it's a challenging course that teaches you a high-income skill.
But, you must be willing to put in the work.
He made his first $1,000 in 20 minutes by writing a Facebook ad for a client.
So, it works and there's good potential.
Summing up this Dan Lok review
Courses aren't for everyone.
And, they have somewhat of a bad wrap right now.
There are lots of charlatans who peddle courses to make a quick buck and leave customers hanging.
You know what I'm talking about: the guys with exotic cars, attractive women, and private jets in their videos.
Some people like to criticize Dan Lok, but I think you have to always hold yourself accountable, too.
Did you do your research?
Are you spending your last savings on a course?
Did you try your hardest with the product?
Have you ever done business before?
If you answered "No" to these, it's time to do some self-reflection.
Otherwise, I think any digital product and "Guru" has merit.
The product has to be used to its fullest potential, along with patience and dedication.
$10,000 clients won't land on your lap. (I wish!)
What's your opinion on Dan Lok?