Is dropshipping better than affiliate marketing?
The truth is that this is like comparing apples to oranges.
They are both very different business models with their own unique pros and cons.
Whether you're a newbie looking to jump into online marketing or a veteran setting up their next company, you're probably interested in starting one of the two, right?
It can be tough deciding which one is for you. I've personally run several e-commerce companies over the span of a few years and have grown affiliate marketing businesses for 7+ years to this day.
I'm going to give you my honest opinion and data-driven answers to determine what's better: dropshipping versus affiliate marketing.
Let's find out 🙂
What is dropshipping?
Dropshipping is a business model that has received a lot of attention and flack over the recent few years.
It involves outsourcing the production and manufacturing of products to a wholesaler. They handle creating the products and shipping them to customers.
Your job is to simply drive traffic and generate sales. You would then send the customer information to the wholesaler so they can fulfill the order.
It can be a little confusing to understand, so check out this infographic to learn exactly how it works: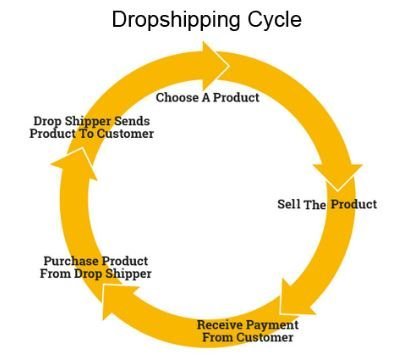 The process begins by setting up an online store and deciding what niche you'd like to enter.
You find wholesalers in that market or use a B2C marketplace like Aliexpress. Dropshippers then list products on their store for customers to purchase.
When a customer checks out, you manually or automatically through the use of software send their information to the wholesaler.
They fulfill the order and send you the tracking number to forward to the customer.
I always recommend new dropshippers to try out Aliexpress because you gain instant access to millions of products and the barrier to entry is very low.

There are plenty of entrepreneurs that earn up to six figures and beyond through Aliexpress, as well.
There are also plugins to instantly import Aliexpress products if you're on platforms like Shopify.
Is dropshipping worth it?
Based on my experience with dropshipping, I would say that it's 100% worth it if you find a good product, wholesaler, and don't mind the upkeep.
Unlike affiliate marketing, dropshipping requires a lot more maintenance. You will need to perform regular tasks such as:
Customer support
Fulfilling orders
Inventory management
Researching and adding new products
Look at a store like Wayfair, for example.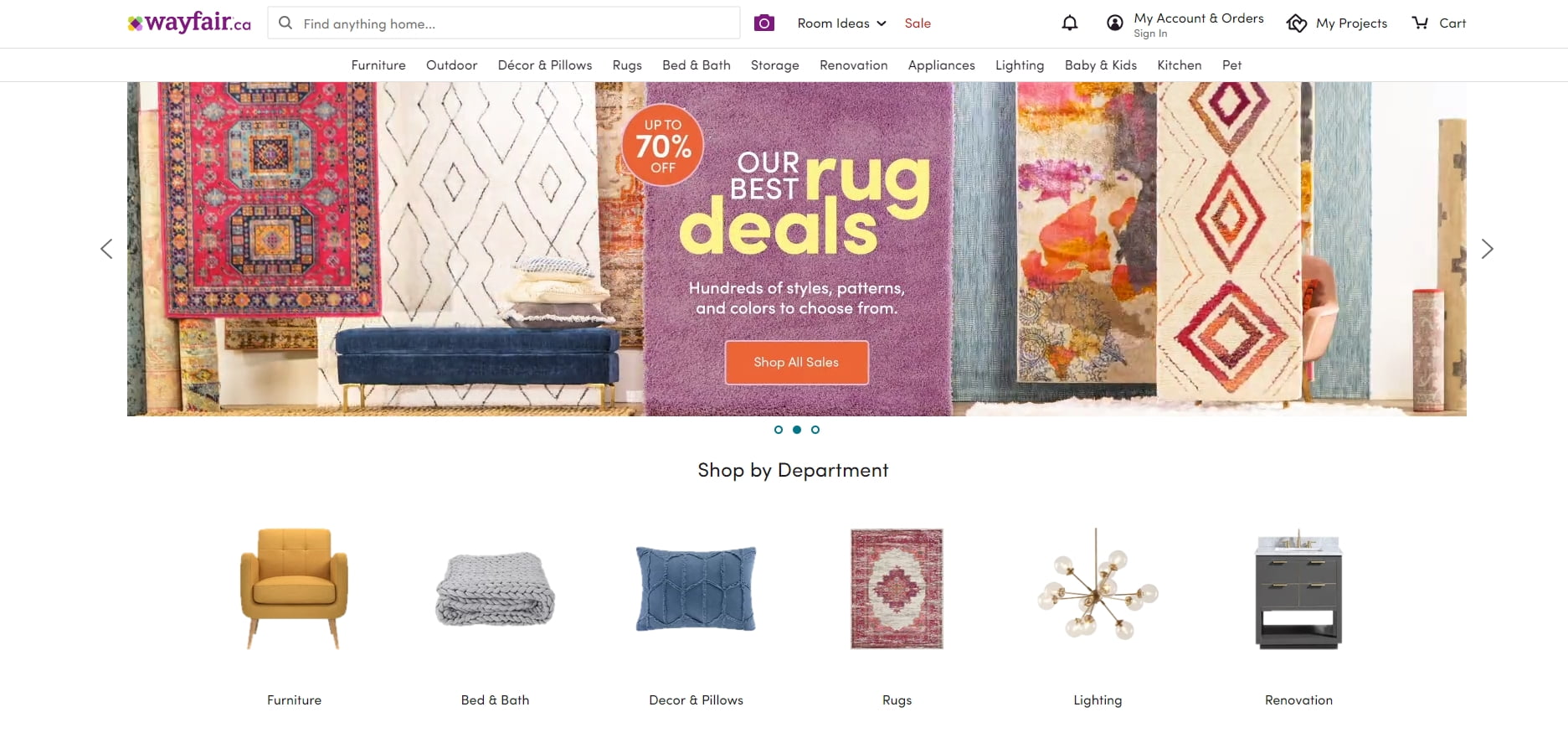 They do over $1 billion in revenue and only recently started selling their own products. It was completely dropshipping-based previously.
Their store is a great example of the potential scale and size a dropshipping company can be taken to.
So, yes, dropshipping is worth it if you are willing to put in the work and sell the right products.
Is dropshipping profitable?
The biggest factor that plays into the earning potential of a dropshipping business is the niche.
Sure, you can sell 1,000 kitty mugs with $5 profit margins every month or you could sell 100 products with $50 margins.
What do you think is better? The answer is obvious.
Dropshipping can be insanely profitable at both small and large scales.
Check out this case study by Tim Cock at Oberlo to see how he made $6,667 in only eight weeks to see what I mean.
Tim started small and used a modest budget to grow his online fashion store. It's a great example of not needing huge amounts of capital or secret strategies to succeed.
Additionally, the wholesale discount you receive from a wholesaler will also have a massive effect on profits.
I would never agree to work with a wholesaler that didn't offer me the industry-standard discount of 40%.
If you're being offered anything lower than that, I would recommend looking elsewhere.
Overall dropshipping is a very profitable business model when you choose the right niche, work with a fair wholesaler, and keep costs low.
Is dropshipping legal?
Yes, dropshipping is 100% legal. It's the path that a lot of very large companies are taking because of its efficiency.
The reality is that business is becoming more automated and outsourced on a daily basis.
It only makes sense.
Who doesn't want to make more money and save time?
This is precisely what dropshipping achieves.
You don't have to create the product, ship it to customers, or manage a warehouse.
Dropshippers simply make the sale and kick their feet up.
However, you need to ensure that you remain FTC compliant by not lying to customers.
Always be upfront and honest about where you source products from and whether or not you are the one producing them.
Claiming that you produce and ship products while the wholesaler does it is in fact illegal.
Is dropshipping dead?
There's always going to be a fad in business.
From dropshipping to digital marketing agencies and Forex, people will always look for a quick way to make money.
Here's the truth: dropshipping is not dead and no business model ever will be.
There is always going to be products to sell, customers that need a problem solved, and marketing strategies which convert.
If dropshipping was dead, companies that make millions and beyond wouldn't be around.
Here's a recent case study on someone taking a Shopify store from $0-100k in 25 days to prove my point:
At the end of the day, don't listen to anyone who claims dropshipping doesn't work.
Sure, it is DEFINITELY more saturated than it has been in the past, but that's the same for any market.
You can't get discouraged simply because there's competition.
There will always be competitors, and you can beat them with the right branding and marketing.
In fact, the e-commerce market is expected to do $4.9 trillion in sales by 2021.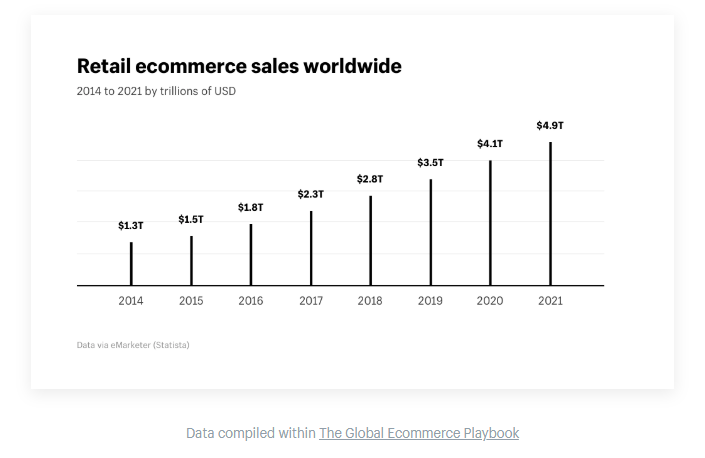 That means there will be more potential customers to acquire over time.
That sums up dropshipping, though. Let's touch on affiliate marketing next.
What is affiliate marketing?
If dropshipping is simple and hands-off, then affiliate marketing is dropshipping on steroids.
Affiliate marketing is a business model in which you promote other businesses products or services and receive a commission for sales you refer.
You can also look at it as referral marketing.
The percentage or flat commission you receive depends on the individual program and product you're promoting.
This business model is the epitome of passive income. There's no order fulfillment, selling products through an online store, or customer service.
You simply drive traffic to a landing page or insert affiliate links into content and watch the money roll in 🙂
Let me give you an example: NerdWallet.
They are a personal finance website that is monetized mostly through affiliate products.
When you click one of their special links for a credit card and successfully apply, they gain a commission.
Affiliate marketing is often very subtle and isn't invasive like many other forms of monetization.
Is affiliate marketing worth it?
I launch new affiliate businesses on a monthly basis. I believe it's easily one of the most practical business models currently available.
Anyone can jump into it and start generating passive income.
You don't have to worry about tasks like procurement, inventory, and customer service, either.
Affiliate marketers can earn serious money with the right niche and traffic sources.
I've met a gentleman that managed affiliates who earned five to six figures per DAY.
Yep. What I earn in an entire year they are getting in a single day thanks to affiliate marketing.
It can be that lucrative.
Is affiliate marketing profitable?
Here's the thing with affiliate marketing.
Going with the wrong program will make you some money, but limits earning potential.
Let me give you a real-life example.
I started an affiliate business one year ago and it earns me around $250 per month without lifting a finger.
It takes approximately 20 total commissions for it earn that much.
This year I started another affiliate site that is in a much more competitive and profitable niche.
Do you know how much it makes?
Roughly $500 per month via five commissions!
Think about that for a second. It earns twice the amount with a quarter of the conversions compared to the first site.
The difference is simply the program they are in. The first is a generic consumer affiliate program with low commission rates.
The second site promotes a flat $100 commission product.
There's no shortage of money to make in affiliate marketing, but make sure that you go after high paying products and networks to maximize income, though.
Is affiliate marketing legal?
Affiliate marketing, just like dropshipping, is completely legal.
You must legally state if you are partnered with a company and promote their products for commissions, however.
This is typically done through a message in the footer of the website or on a policy page.
The legal programs in affiliate marketing mostly come form not remaining FTC compliant, spamming email lists, and performing blackhat strategies.
Let me tell you a story related to this…
One evening this summer I attended a business mastermind group. It was in a dimly lit bar with live jazz music.
Copywriters, day traders, affiliates, and digital marketers all attended. It was great.
One man there I met was an ex-affiliate manager and he spilled the beans about the industry now that he was out of it.
He explained to me many top affiliates use cloaking software, dozens of LLCs, non-compliant landing pages, and other technique to earn insane income.
This comes at the cost of playing cat and mouse in which affiliate accounts, ad accounts, and website get banned or penalized.
The moral of the story is to keep affiliate marketing simple and within legal bounds. That way you can enjoy passive income for the rest of your life and not run into any trouble.
Is affiliate marketing dead?
Not even close.
Rakuten and Forrester Consulting performed a study in which they found that affiliate marketing spend is increasing year over year.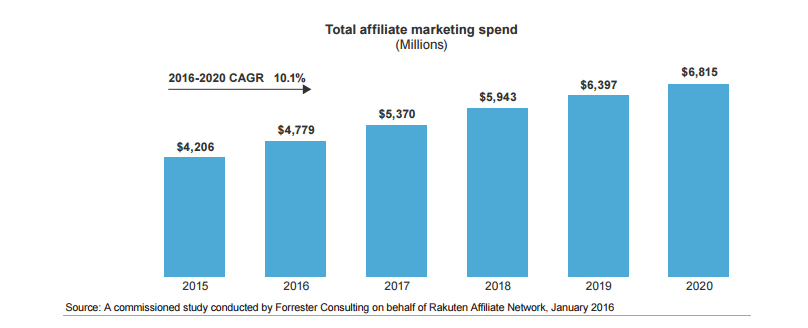 What does this mean for affiliates? That businesses are continually investing more into growing their own affiliate programs.
The bottom line on dropshipping versus affiliate marketing
Both dropshipping and affiliate marketing are great business models to try out at some point.
And that's what I highly recommend you do: try out both.
Dropshipping is ideal for entrepreneurs who want to start a company selling physical products. It will require more work and capital to pull off compared to affiliate marketing.
On the flip side, affiliate marketing is solid any those interested in passive income businesses. Affiliate businesses can always scale to selling products later, too.
What do you think is better in regards to affiliate marketing vs dropshipping?