Starting up a digital marketing agency is extremely exciting and nerve-racking at the same time.
Being able to work for yourself and earn a great living is everybody's dream, right?
Creating a marketing agency of any sorts has never been easier, but it has never been harder to get clients.
It's easily the biggest problem new agencies face, and many of them eventually quit because they don't get enough work.
50% of businesses close within the first five years as a matter of fact.
Don't be one of them.
Better yet, I'm going to show you how to generate digital marketing leads and scale your agency to the point you're swimming in money.
Keep reading if you want to experience that.
Step 1: Identify a buyers persona
You can't target leads randomly or have a vague idea about the companies you'd like to work with.
You need laser-like precision instead.
71% of businesses that exceed their revenue goals use buyers personas.
Don't you want to earn more money?
It makes sense, too. If you know specific types of companies you'd like to work with, you refine your pitch, services, and process to tailor their industry needs.
A buyers persona can be as simple as a bullet-point list saved in a Notepad file or as detailed as an infographic like below.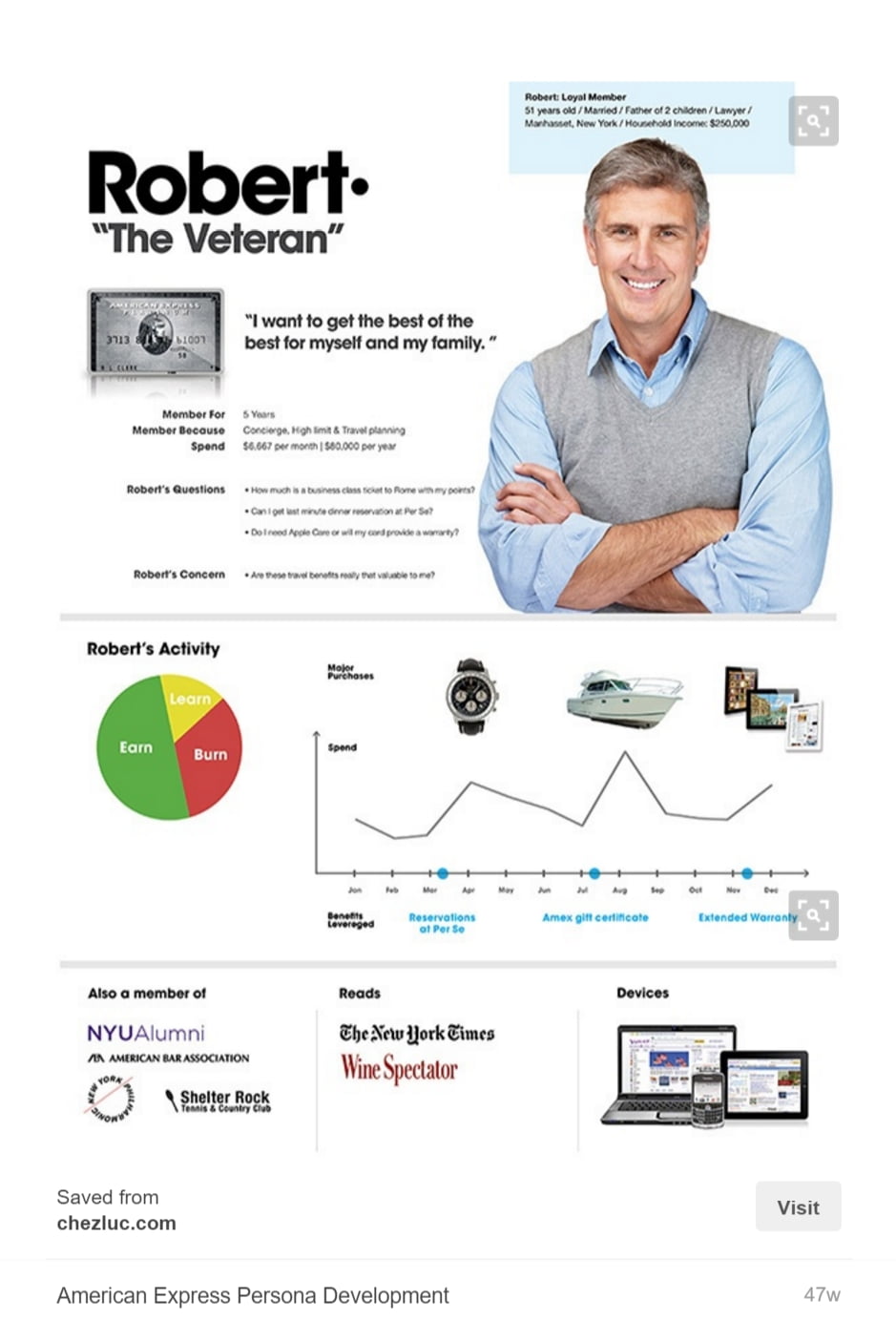 It should include information such as:
Demographics
Pain points
Values
A mission statement
Questions they ask
Industry
Revenue
Company size
Having a buyers persona like this allows you to target very specific businesses and decision makers.
You can't reach out to generic customer support if you're pitching social media marketing services, for example.
You would need to find the VP of marketing or a similar executive to speak within that case.
That's where having a buyers persona comes in handy because you already know beforehand which companies would make a good fit for your services and who to contact.
Don't worry if your buyers persona isn't extremely detailed or analytical just yet. You will refine it over time as you work with different clients and collect data.
The concept is to create some kind of persona before you begin generating leads for your digital agency.
Once you've completed this step, you can move onto the next one.
Step 2: 80/20 the channels that matter
Not every channel you use to generate digital marketing leads is going to be the same.
You may eventually notice that one or two channels are making up the bulk of where clients come from.
Inbound marketing and cold email campaigns are my 80/20, for example.
Yours might be physical networking, visiting conferences, or cold calling.
Whatever it is, ahead I'm going to touch on some proven strategies for finding digital marketing clients as brain food.
You NEED to do some form of inbound marketing
I believe any digital agency would be crazy not to take advantage of inbound marketing.
It doesn't matter if you want to produce videos, long-form blog posts, podcast episodes, or other forms of content.
Producing high quality and actionable content builds trust with users, forms you into a thought leader, and doubles website conversion rates.
Here's how to execute inbound marketing as an agency to get a flood of clients in your inbox.
Choose a format of content to focus on
I really love this talk by Joe Pulizzi of Content Marketing Institute where he touches on mastering a couple of channels is key to success in content campaigns:
You want to create an audience that regularly tunes in on your blog, podcast, YouTube channel, or wherever it may be.
Focusing on one format type at a time also allows you to develop better processes and skills in these areas.
If you wrote 100 blog posts, I'd bet good money you'd be 10x the writer by the time you're done, for example.
Additionally, this concept is very important in the sense it keeps things simple.
Agencies trying to produce ten different types of content will feel overwhelmed and disorganized.
This brings me to my next point.
Create a consistent publishing schedule
Once a day, once per week, twice per month. It doesn't matter.
While I would argue that agencies should produce as much high-quality content as often as possible, set an easy-to-meet publishing schedule first.
It can be tough to push out long-form articles or 15+ minute videos every day if you've never done it before.
Release content on a regular basis on the platform of your choice, and gradually increase it as you find necessary.
The more content you are able to push out, the faster clients and results will come, however.
Be patient!
Joe Pulizzi mentions that the average content marketing campaigns take 15-17 months to have an ROI in the video above.
This means that agencies need to be extremely patient as it will take well over a year to start seeing great results from inbound marketing efforts.
But, imagine the end result…
No more cold calling. No more dealing with flakey leads.
You will have high-quality clients reaching out to you on their own terms because they love your work, portfolio, and services so much.
I've noticed that the clients I get from this blog are some of the best people I've ever worked with.
Watch this video of Gary Vaynerchuk on London Real to get a better perspective on long term patience in business:
Get out of your shell at conferences
I know the feeling.
You show up to a networking event, you don't know anybody, and it can be a tad awkward walking up to strangers.
But let me tell you something: once you do it a few times you become a networking wizard.
Suddenly you've met tons of people in your industry that can use your services or they send you referrals.
This is exactly why I make sure to attend at least a single networking event every month.
There is no shortage of businesses that need help with web design, social media marketing, PR, etc.
I suggest that you join your local chamber of commerce because it allows you to get listed on their directory and invited to regular meetups.
Feel free to use websites like Meetup and Eventbrite to narrow down some local events to attend. I also suggest that if you're willing to invest some capital to look into larger ones like MozCon.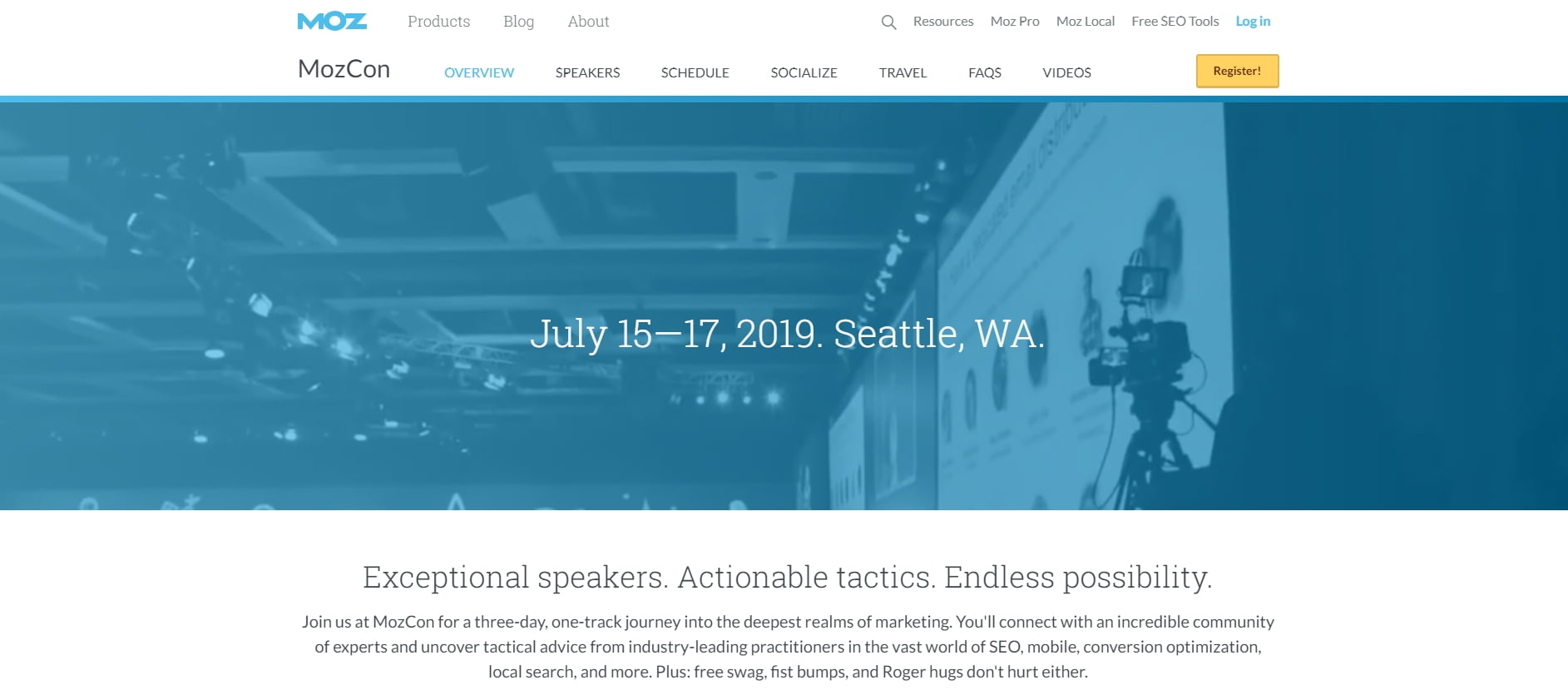 These type of conferences allow you to meet the best digital marketers in the world which can lead to incredible opportunities.
You will also become acquainted with top industry professionals that could be in need of your digital marketing services.
Here are some tips I have from my own personal experience to maximize networking events:
Dress the part: Wear a suit or business casual clothing at a minimum. If it's an outdoor event in the summer heat, then it makes sense to throw on some shorts and a polo. Dress appropriately but always look sharp to make a good first impression. I recommend investing in getting your suit tailored, as well.
Have business cards available: Don't be that guy running around shoving cards down peoples throats. It's annoying and insincere. Have them in your wallet to give out if they're asked for or it seems like the right move.
Be yourself: I firmly believe that charisma and a good attitude will take you extremely far in business. That's why you shouldn't put on a face when at these events. Be professional and courteous, but don't be afraid to crack jokes and be yourself.
Perform outbound sales for immediate clients
Let's be real.
Very few people have the time to wait one year or more before getting any clients.
You need work now.
That's why I always suggest new agencies to use outbound sales for acquiring clients quickly.
Cold email campaigns are my bread and butter, but cold calling can be very effective, too.
Remember the buyers persona I spoke about earlier? This comes into play more than ever with outbound marketing.
This is because you need to get in touch with the individual in charge of the services you offer.
Since I offer content writing services, I tend to find the VP of marketing, marketing director, or similar executive to chat with for example.
Here are my three best tips that will improve the results of any outbound sales campaign drastically based on my own experience:
Narrow down very specific companies that could benefit from your services.
Find the contact information of the decision maker using LinkedIn Sales Navigator, Hunter.io, or another similar service.
Send a personalized email that uses the lead's first name, company name, and a custom remark about their business. This is to ensure that you don't appear like a bot sending a copy and pasted message.
Follow up every couple of days to catch them at the right time. These are very busy executives, so your email won't be a high priority the first time around.
Use calls to actions to set meetings, phone calls, demos, etc.
Have a clear onboarding process mapped out that you can run every lead through.
Step 3: Outsource like Tim Ferris
A book that every entrepreneur needs to read is The Four Hour Workweek.
Admittedly I believe many people took the book out of context, so let me explain.
The main idea of the book is that businesses can save massive amounts of time and energy with automation and outsourcing.
This free time can then be dedicated to other business operations or personal ventures.
Outsourced services have consistently risen over the past 18+ years for these reasons as you can see from this graph: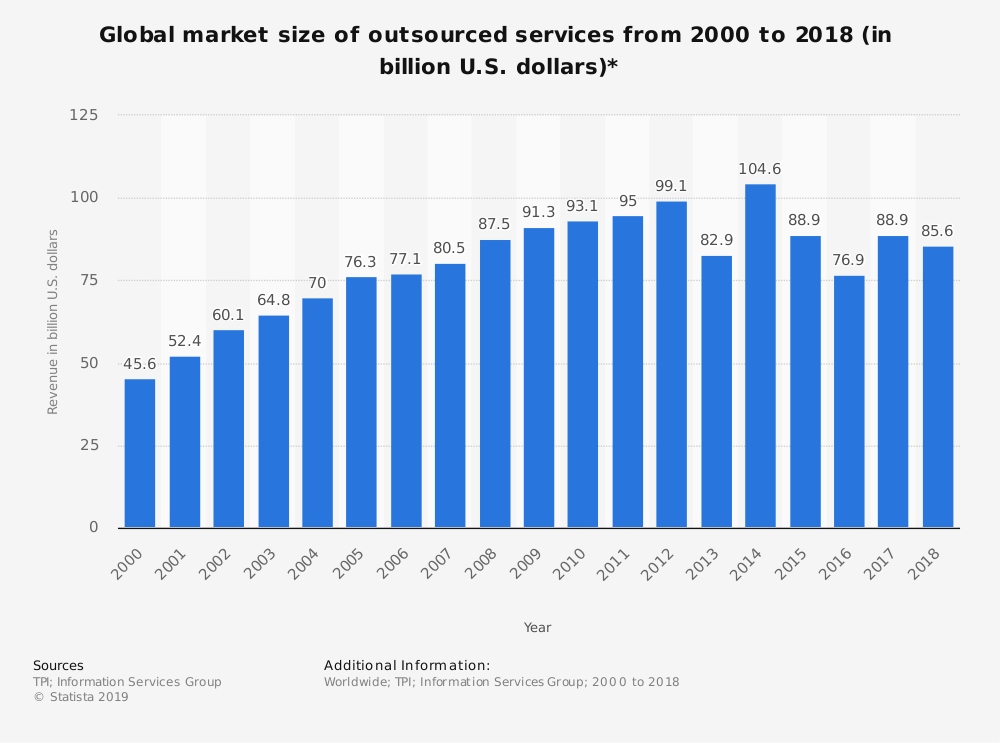 Many entrepreneurs interpreted the book as if they were going to learn how to literally work only four hours per week.
I think Tim Ferris is a genius and one of the pioneers of outsourcing tasks overseas which is insanely popular now with platforms like Upwork.
This applies to digital agencies because you should absolutely be outsourcing as soon as it makes economic sense.
You can outsource content writing, CRM management, social media, and any other routine procedures within your business.
This will allow you to scale your client acquisition strategies, ultimately driving more business to your agency 🙂
Final thoughts on digital agency leads
It seems like everyone and their mom is starting a digital marketing agency nowadays.
However, there's a big difference between successful agencies and the ones that flop.
The ones that come out on top simply have better strategies for generating leads.
It all begins with refining a detailed buyers persona. You should know the type of companies you want to work with and the people within them that you need to pitch.
This will serve as the foundation of both inbound and outbound marketing techniques.
Besides those, I really advise anyone involved with a digital agency to begin going to networking events.
Attending them will help you build a good reputation, find clients, get referrals, and meet like-minded people.
What's your #1 tip for growing a digital agency?