Sales is the most useful business skill you can have.
You can have the coolest product in the world, but if you don't know to sell it properly, you'll make no money!
It doesn't matter what industry or market you're in, either. Mastering the art of sales will improve any business tenfold.
Understanding sales trends, opportunities, and how consumers behave will set you ahead of competitors.
That's why I put together this article on sales stats for you.
If you read it all the way through, you will have the knowledge to generate more sales and improve processes to do so within your company.
Salespeople find prospecting to be the most difficult sales task (Source)
I wholeheartedly agree.
Ever since I began mastering cold email campaigns to land big clients, I quickly realized that prospecting was my biggest hurdle.
Constantly filling a pipeline and finding leads is the difficult part. Cold emailing, following up, etc is easy once you get a good system down.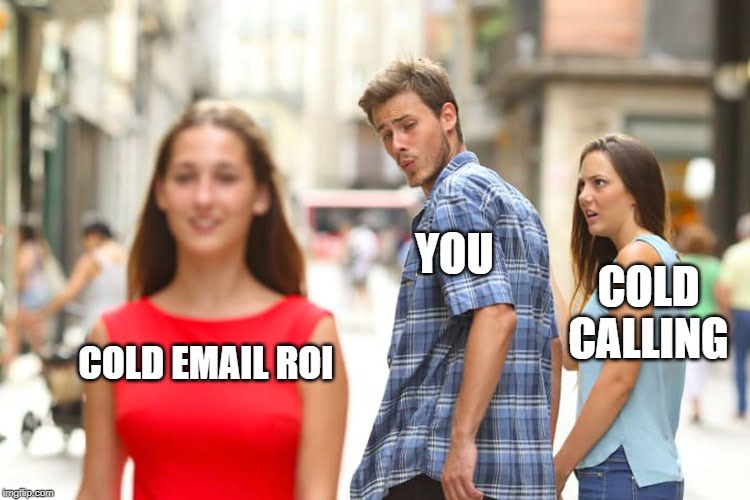 I recommend a few different resources to get past this hurdle. The first of which is a tool called Hunter. I've mentioned it several times in my content because it's a life-changer.
Hunter allows you to look up any domain and pull all of the associated email addresses from it.
This means that you can find a target website, find the decision maker's email, and plug them into your CRM.
Did I mention that it's free?
While I highly suggest upgrading to one of their paid plans for further searches, the free version will suffice for casual entrepreneurs.
Here's how to use it…
Using Hunter.io for sales prospecting
Visit Hunter's website and begin by entering the URL of a website you wish to pull emails from. I'll use IBM, for example.
Click the "Find email addresses" button after this.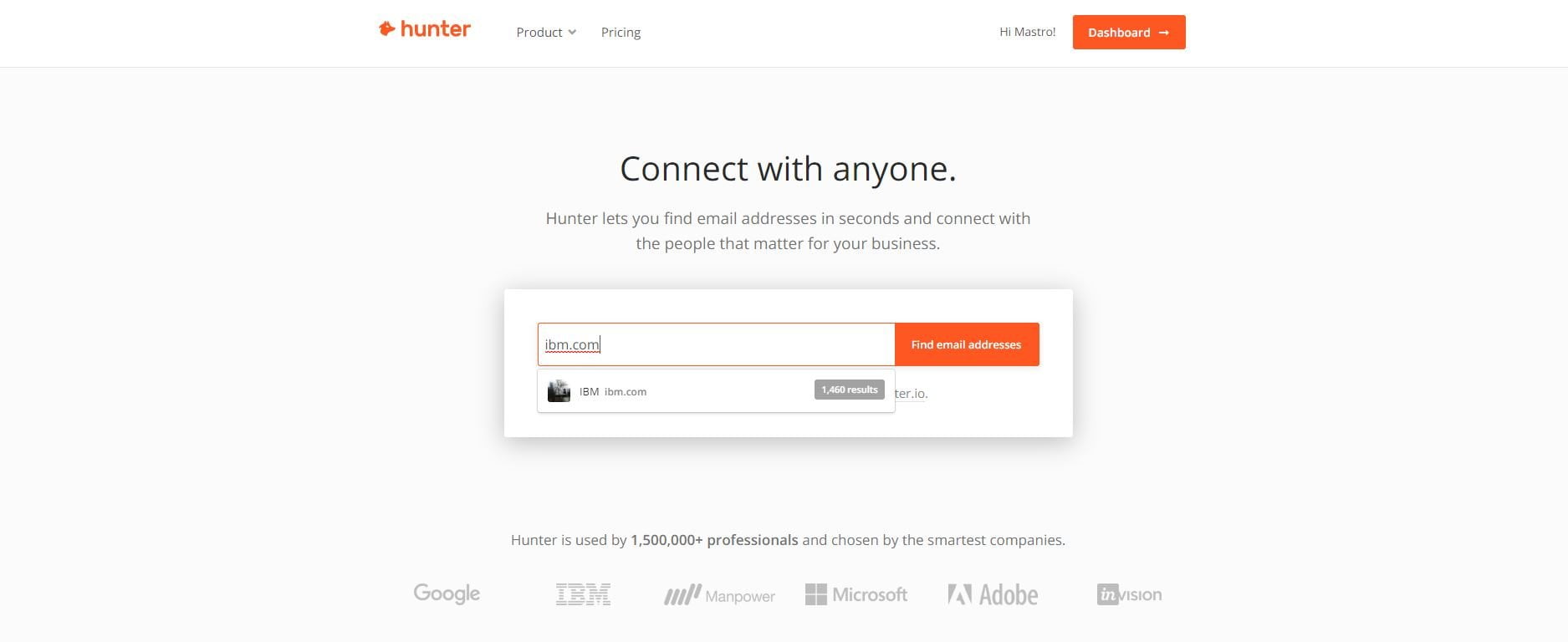 You will then be given a list of all of the contacts Hunter finds, along with their name, position, and other data.
Feel free to filter it by personal or generic emails, export the results as a CSV file, or search for a specific individual.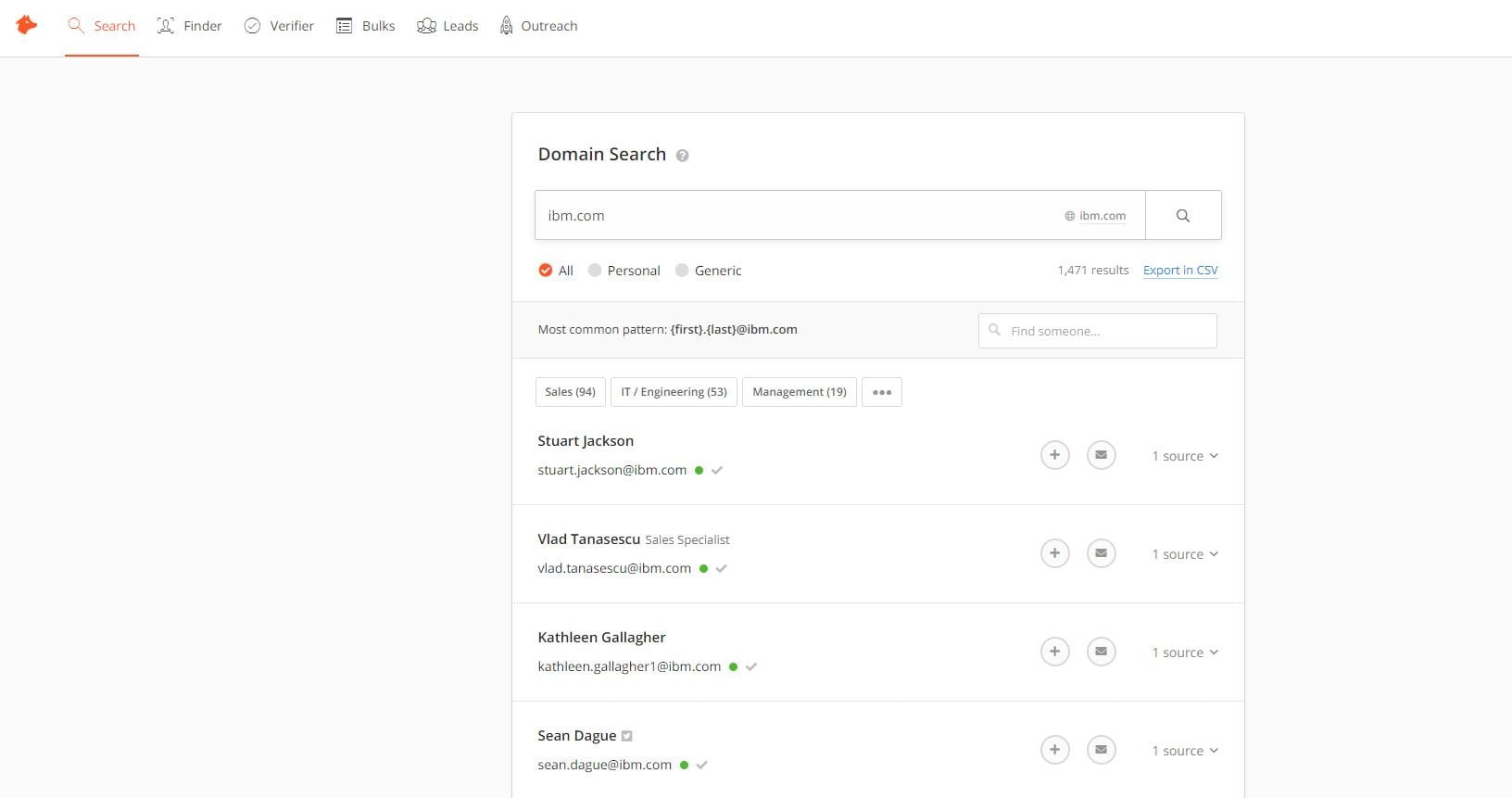 You might be thinking "Where the heck do I get a list of URLs to begin with?" and I have your answer: free databases.
If you have the budget to spend money, you'll get even better results, but there are plenty of free sites to take advantage of like Angel List.
This startup database has a collection of over 4.6 million different businesses!
Filter it with keywords, market type, and other preferences to find the exact companies you wish to target.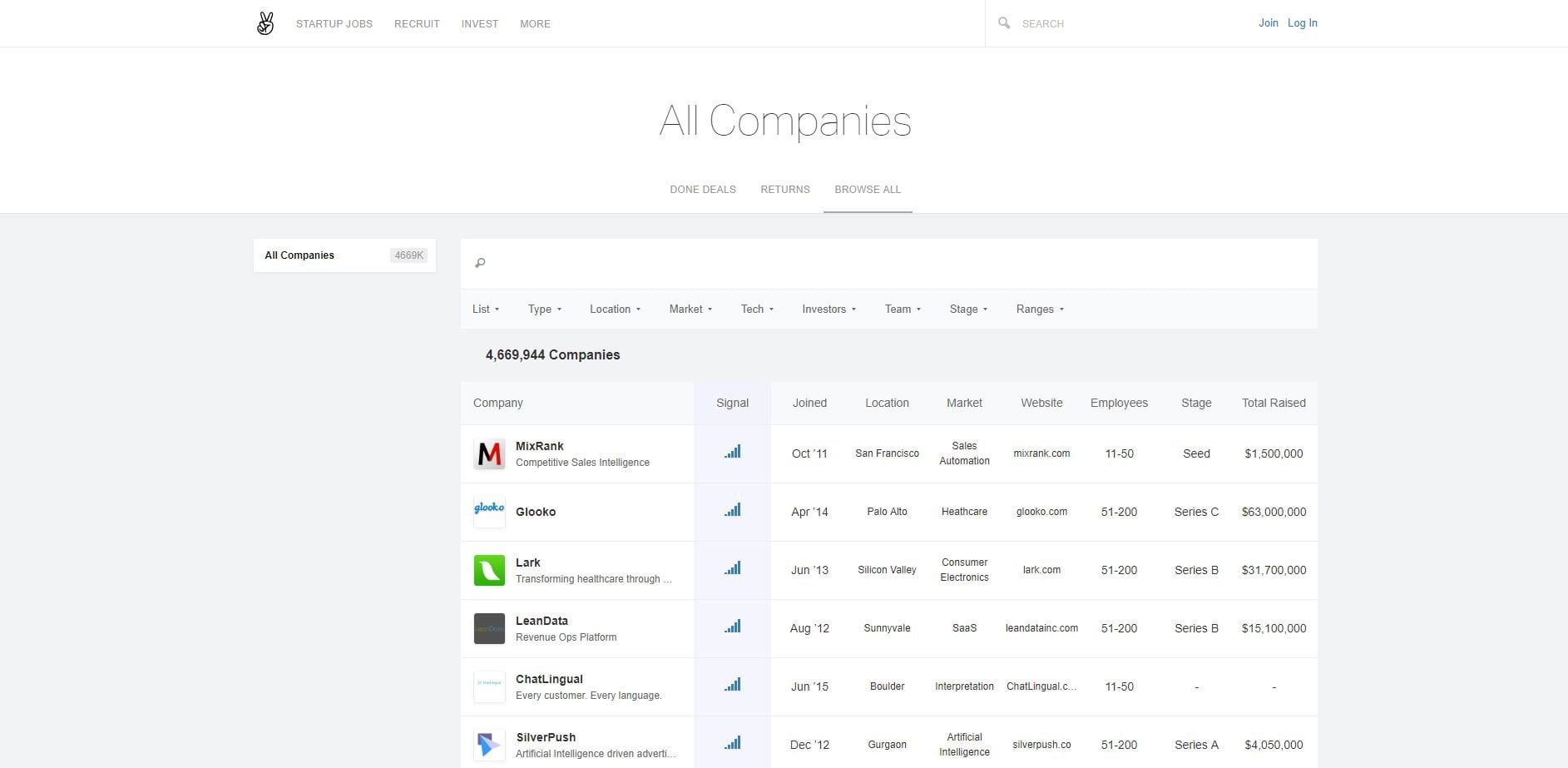 Organize these prospects into a spreadsheet, load them into your CRM, and let er' rip!
Make sure to consistently follow up, too. That's where most sales are made. If you want to learn how to write effective follow-up emails, read this blog post of mine.
40% of salespeople find that getting prospects to respond is becoming more difficult (Source)
Do you get poor response rates from cold email campaigns?
Don't you wish you could open your inbox and see a flood of replies?
That can be a reality. But, you must start making some changes to your outreach strategy.
I believe a large reason that markers aren't getting the response rates they want is because they're contacting people at the wrong time.
Check out this infographic from CoSchedule. It sums up the best times to email beautifully.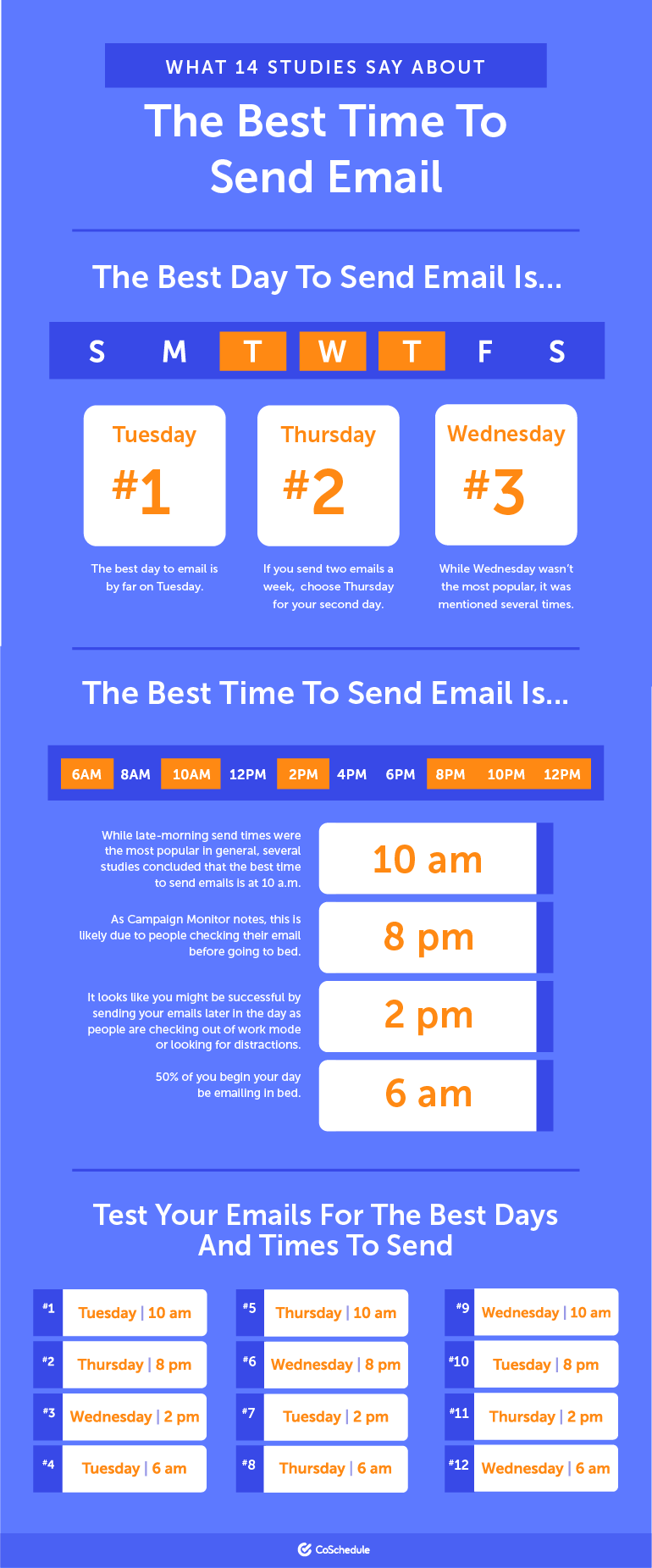 They took 14 studies and compiled their data to find the above information.
According to their conclusion, the best days to email are Tuesday, Wednesday, and Thursday.
I would like to mention that I personally believe Sunday is another great day.
This is because people are out of office, and you'll be one of the first emails they get when they come into work on Monday.
10:00am is the best time of day to send an email, as prospects will be situated and checking their inbox at this hour.
Additionally, 8:00pm was found to be effective because it's common to check emails one last time before calling it a day.
Another reason you may not be getting a high response rate is because you're emailing the wrong people.
Let's imagine that you're a SaaS company that offers an app development product. You would need to get in touch with a CTO or someone of a similar executive tech position to pitch.
It wouldn't make sense to email a customer service rep or the digital marketing manager.
With that being said, make sure that you've narrowed down the exact decision maker in a target company before beginning a sales campaign.
One last reason that response rates could be low is due to lack of personalization.
If you're sending all of your prospects a copy and pasted message, it's going to end up in the trash bin.
Instead, focus on doing the following:
Use the prospect's first name.
Use the prospect's company name.
Compliment them on a recent client, piece of content, or another achievement.
Research them on social media to make a personal comment.
Don't underestimate the power of social networks for prospecting and landing clients.
I use to be that way, too.
I only believed in cold email campaigns, using databases, and being fancy.
Then I started generating clients through LinkedIn and it changed my sales approach forever.
There's no difference between messaging someone on social media versus cold emailing or calling.
Either way, you can find your target audience and interact with them.
This is why I recommend businesses to begin using social media for outreach. LinkedIn is the best for this, of course.
However, make sure that you're engaging with people on Instagram, Twitter, and any other networks you're active on.
Better yet, think of social media channels as a part of your inbound marketing plan.

If you're producing content on a regular basis, which you should be, social networks are the ideal place to promote them.
Connect and follow accounts that you believe are good prospects and they'll have front row tickets when you make new posts.
I've generated many high paying clients this way and it's super simple!
62% of customers use search engines to learn more about a product, while 29% wish to speak to a sales rep (Source)
Who wants to talk on the phone with a stranger?
That's icky!
Only 29% of your customers to be exact.
The remaining use search engines like Google to research your company and product before purchasing it.
This is why it's crucial to set up a good funnel on your website that includes great sales copy.
Your product pages need to cover every piece of information a customer needs to know, and a way to get them closer to the sale.
Remember that consumers hold all of the power these days.
They have endless resources to make purchasing decisions, hence why less and less speak with sales reps.
Let all of your copy do the talking for you instead.
Here are some copywriting strategies I recommend using to convert more users that are researching your product:
Features versus benefits: I wrote an entire article on this strategy that you can check out, but the general concept is that you need to focus on the benefits of your product, not just the features. Features are factual pieces of information like sizing and color. Benefits are the emotions and experiences the customer gains by using the product/service.
Imagination: Create a picture in the customer's head of what using your product is like. This will create an emotional experience, and speak to what they're truly after. For example, if you sold courses on e-commerce you could say "Imagine waking up every day knowing you're your own boss, make six figures, and can work in your pajamas."
Pain points: What problems are your customers facing? Mention these in your sales copy to stimulate emotion, while positioning your product or service as the answer to solve them.
Perhaps the most important piece of copy on your website needs to be a call to action.
Look how Marketo uses several calls to action on one of their sales pages.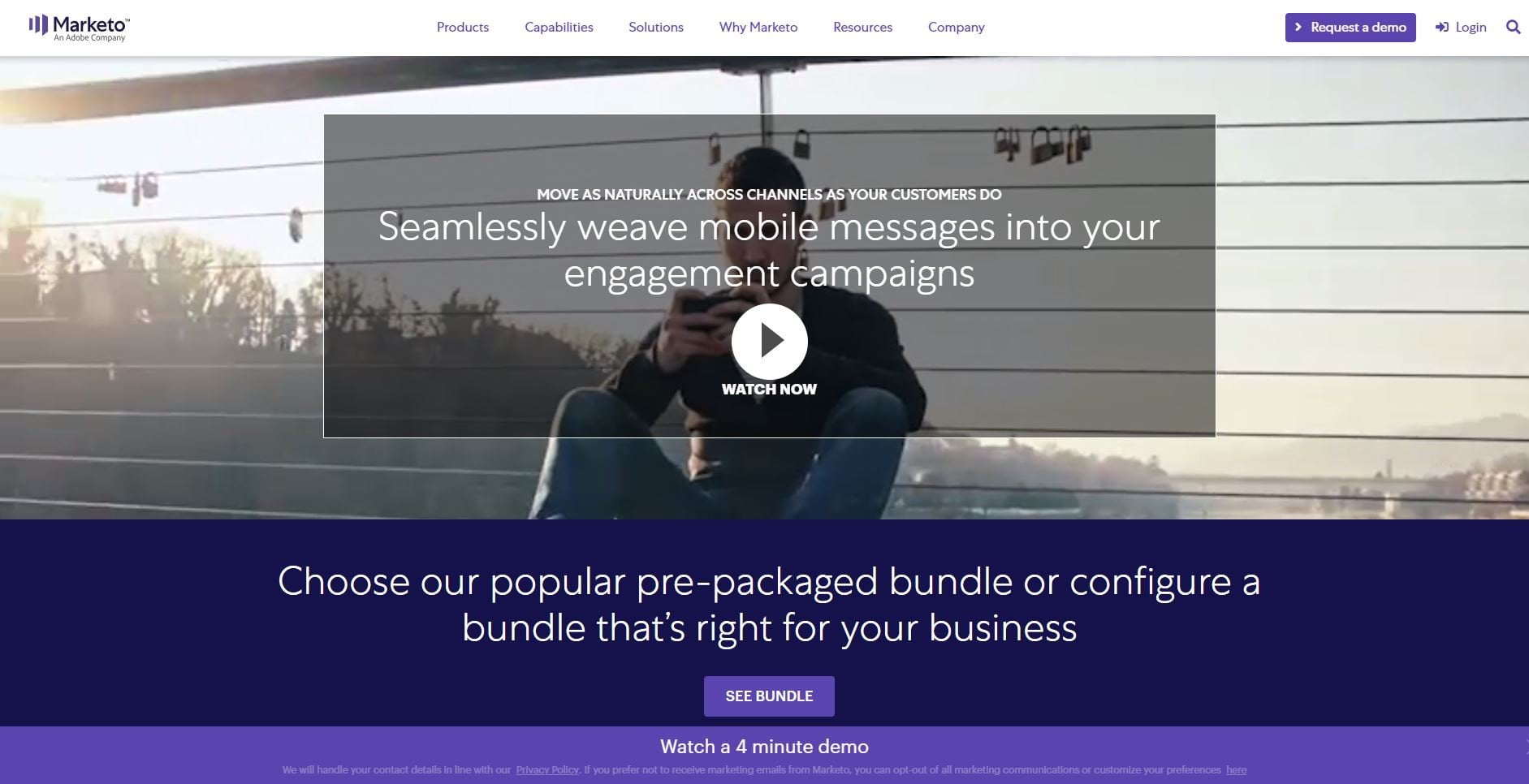 There is a call to action to watch a video about the product, one to see a product bundle, and another for a demo.
Calls to action work by telling users what to do next in the sales process, as some times they need help deciding.
Seeing as many of these users are coming from Google, it's also important that you have your search engine optimization game down pat. Read these previous articles of mine as refreshers:
92% of sales reps quit after the 4th call, but 80% of prospects will say no before they convert (Source)
Are you guilty of not following up on prospects or leads?
You're missing out on heaps of revenue if so.
It's been found that 80% of prospects take at least four touch points before finally converting into a sale.
However, 92% of sales reps are stopping before this point.
This is why you must create a follow up plan that can be consistently executed.
I recommend integrating the following ideas into your follow up emails and calls:
Asking if there is a good time to hop on the phone to chat.
Asking if you're speaking with the correct person.
Asking if they believe you and their company are a good fit.
Provide value by extending resources you've created.
Say you're touching base to see if they received your last message.
You don't want to be too pushy, either. The individuals you're pitching, especially if they're busy executives, have a lot on their plate.
Follow up every few days, and eventually, you'll get a response. It's a matter of time before you catch them at the right hour when they finally have breathing room to respond.
Remember that many businesses aren't disinterested in what you're pitching, but simply don't have the time to engage.
That's why following up and eventually hitting that sweet spot works so well.
Here's a quick video by Alex Berman on follow up strategies you should try out, too.
The average sales person generates one lead per 209 cold calls (Source)
Do you find that it takes a hundred or more calls to finally land a lead?
Don't worry.
That's average, so you're not under-performing by any means.
A fascinating sales prospecting statistic is the average sales person gets one interested lead out of 209 calls. That's roughly a 0.5% conversion rate.
If you could raise that an extra 0.5% to 1%, that'd be double the leads.
That means out of 1,000 cold calls, you would generate approximately 10 potential clients.
The same goes for cold emailing. However since you can email much quicker and easier than calling, companies can acquire more leads through sheer scale and time efficiency.
If your business is stubborn about cold colling, I recommend focusing on ways you can increase your conversion rate. These include:
Cleaning up the quality of prospects and leads you contact.
Narrowing down a specific buyer persona in terms of position, company size, etc.
Split testing different scripts to see what performances better.
Top sales people value CRMs, email marketing, and productivity apps (Source)
You need tools.
They help you speed up workflow, get more work done, and hit milestones sooner.
Not using tools in your sales process is like shooting yourself in the foot.
That's why this business sales statistic shouldn't be a huge surprise.
I suggest picking up a CRM like Hubspot or Zoho. There are many free CRMs available with paid upgrades at the moment.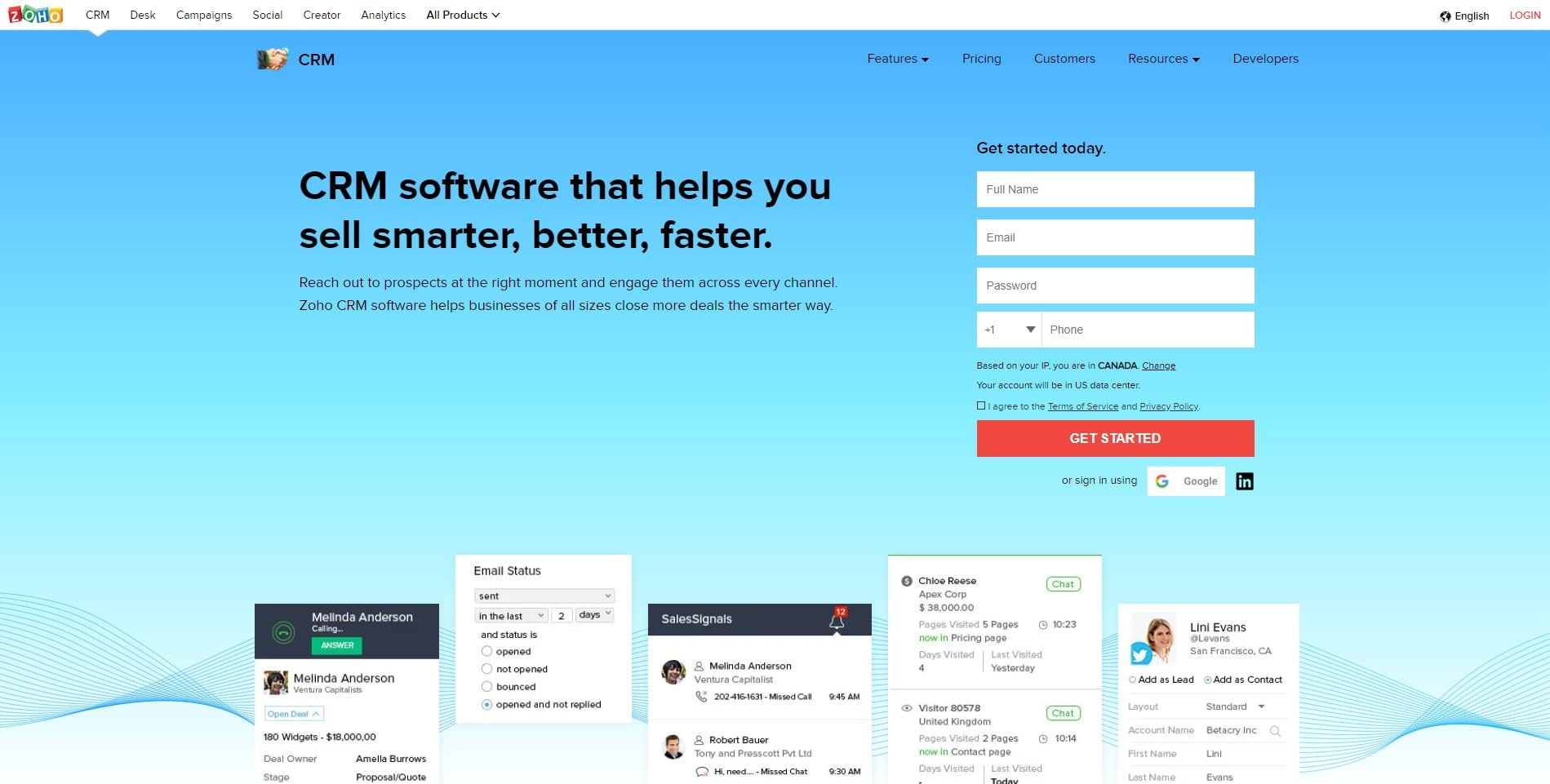 These help you manage your contacts, campaigns, and boost organization by an amount you wouldn't believe.
Some of them also have prospecting tools built into them, making it a suite more than anything.
Productivity apps include Trello, Slack, and similar services. These improve communication between teams, organize tasks, and keep you on track for success.
As I've mentioned before, I'm really big on cold emailing campaigns done in the right way. There's no way I could manage all of my leads, follow-ups, and processes without HubSpot.
We're in 2019, guys. Take advantage of software that takes most of the work out of your hands and enjoy the productivity increase 🙂
Wrapping up sales stats
I hope you enjoyed today's article on sales statistics.
If you apply what you learned today I guarantee that you will experience better performance from your sales campaigns.
Here are the main takeaways to summarize what I touched on.
Key takeaways
Use freely available tools and databases like Angel List and Hunter to make prospecting easier.
Target the right decision makers, email at the best times, and customize campaigns to experience higher response rates.
Experiment with pitching prospects through social networks to see if you can land clients that way.
Optimize your website for SEO, and ensure you have a clear funnel set up to capture users from search engines.
Keep following up until you receive an answer or you're going to miss out on a lot of money by quitting too early.
The average conversion rate for sales campaigns, specifically with cold calling, is low. Don't get discouraged if it takes upwards to 200 calls before acquiring a hot lead.
Use tools like a CRM and productivity apps to boost sales performance.