As I began to scale my outbound sales, I needed a tool that would help me with my email outreach process. I tried out a few, but none of them really clicked.
That's when I stumbled upon Hunter.io.
It's an email hunter tool that allows you to enter any domain and find all of the emails attached to it.
I've been using it for 12+ months on a daily basis, and it's had a huge impact on my business.
Here's my quick review of Hunter.io and what I think of it so far.
What is Hunter.io?
Hunter.io, A.K.A Email Hunter, is an email hunter tool that helps marketers find the contact information associated with any domain.
This is ideal for companies that use cold emailing as a way to fill their pipeline.
Furthermore, Email Hunter can be used to verify emails and do bulk tasks.
They've also recently integrated campaigns that allow you to perform outreach directly through the tool versus uploading the contacts to another CRM.
It's a convenient and affordable lead-generation tool that every business should have in its arsenal.
Hunter.io Features
This is what the dashboard looks like when you first log onto Hunter: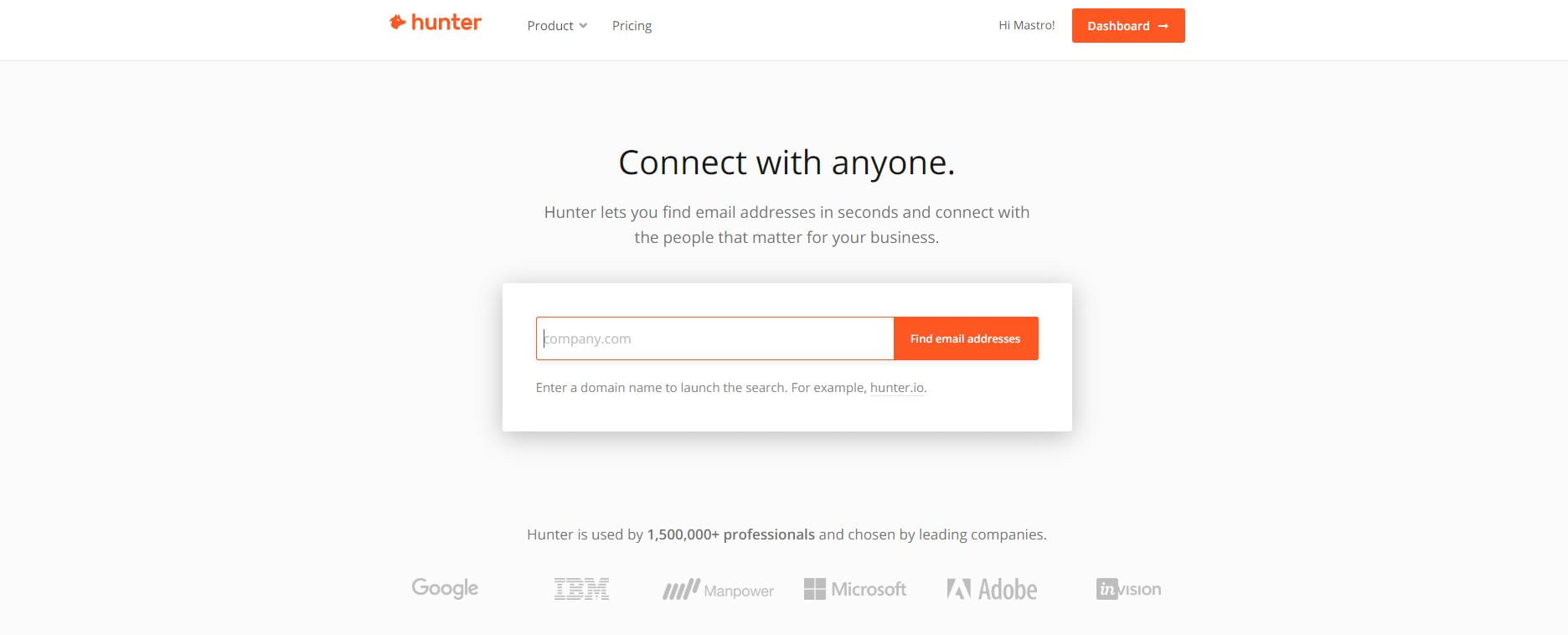 You have all of your tools on the top navigation and the search function right in the middle.
There's lots of white space, and it's really easy on the eyes.
Here's a run-down of the main features you'll gain access to when using this email hunting tool.
Hunter.io Search Tool
I find myself almost exclusively using the search tool, but I'll dive into the other features in a second.
The search function is amazing for finding the decision-makers in a business to start a conversation and get your foot in the door.
Imagine you want to find the VP of sales in a prospecting company. You type in the domain, and it will give you the individual's name, position, email, phone number, and even social media links.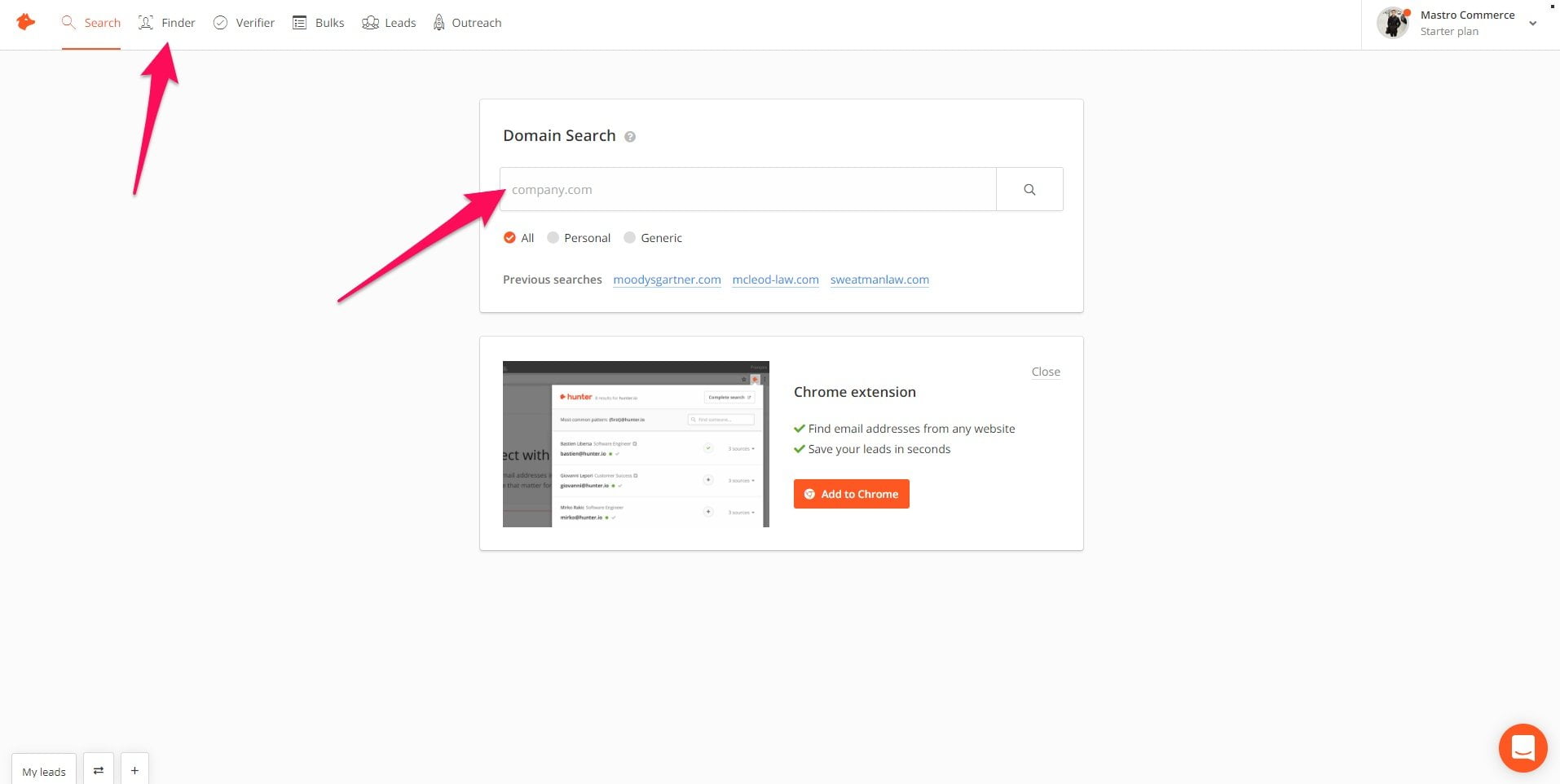 It even gives you sources for the emails that it finds to give you an idea of how fresh and accurate they are.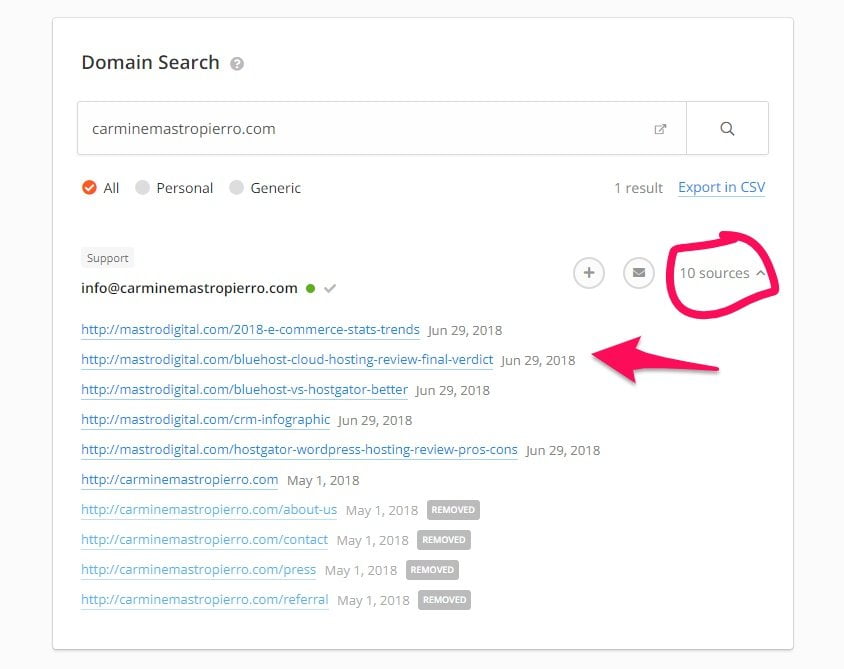 Export it out as a spreadsheet if you need to load it into a CRM or other software from the top right. Hunter.io actually has its own CRM we'll be looking at soon.
Try out the domain search feature for free.
Hunter.io Email Finder
Next up, there is the email finder feature. This is pretty similar to the search function, except that you're entering an exact name and domain to discover if it's real.
I jokingly looked up Joe Bob on Google, and apparently, he's a real person.

Hi, Bob!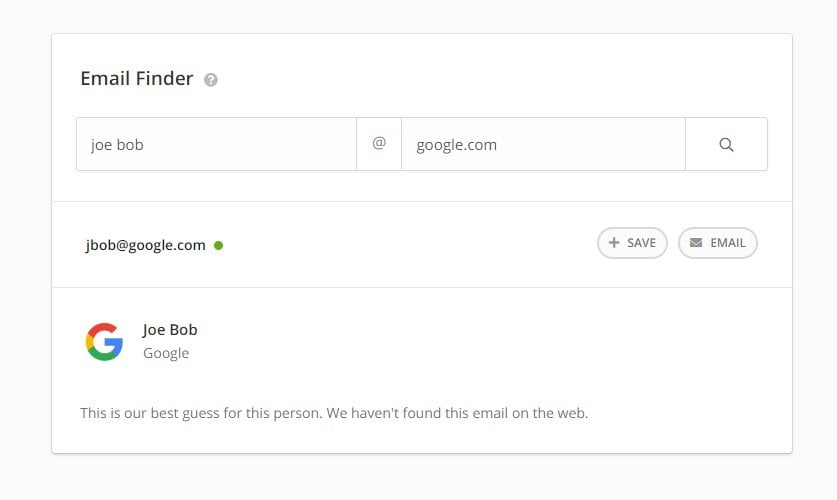 I've also heard some people ask, "Is Hunter.io legal?" and while it might seem like a silly question, it has some merit.
Hunter.io works by scraping the internet for results that contain the email you're looking for. This is perfectly legal, and as a user of the software, you are responsible for how you use the results.
I wrote about the CAN-SPAM law in my cold emailing guide, which covers what you're legally obligated to do when emailing businesses you've never been in contact with before. Give that a read to ensure that you won't land yourself in any legal trouble by emailing prospects.
Try out the email finder feature for free.
Hunter.io Email Verifier
Do you have an email and want to check if it will bounce or not? Because the email verifier tool will do just that.
Just type in the email you'd like to verify and click the button.

Apparently, this might actually be Bill Gates' email. Maybe I should pitch him a guest post?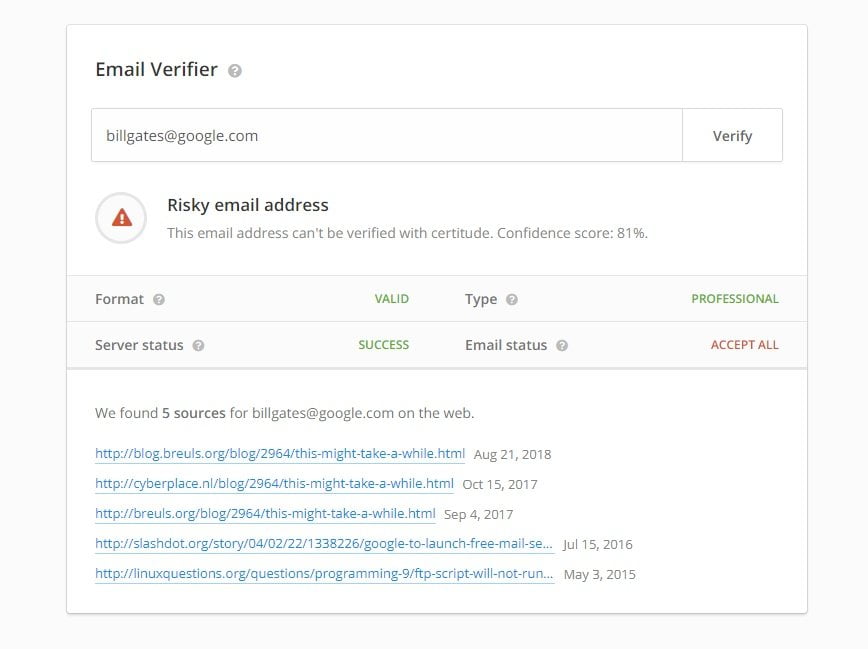 Try out the email verifier tool for free.
Hunter.io Bulk Tasks
Nowadays, it's all about automation and getting more done in less time.
Hunter.io has a bulk email finder, verifier, and domain search that you can use if you already have a list of leads.
If you need to generate clients for a digital agency, make sure to read my article on acquiring agency clients easily.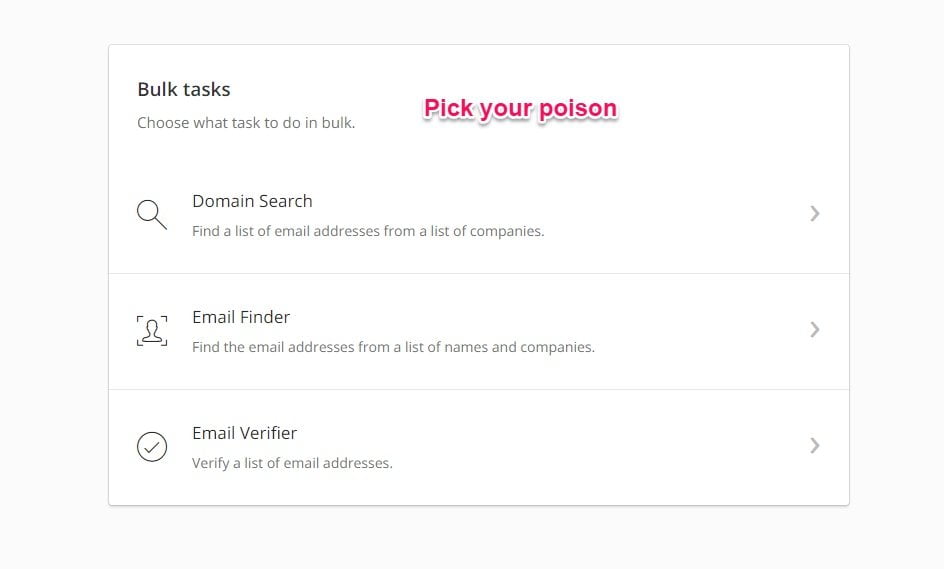 I'm going to choose the bulk domain search as an example. Upon starting a new bulk, I'm prompted to enter the following information:
A name for the list.
The list type.
The domain names or a CSV file.
Filters.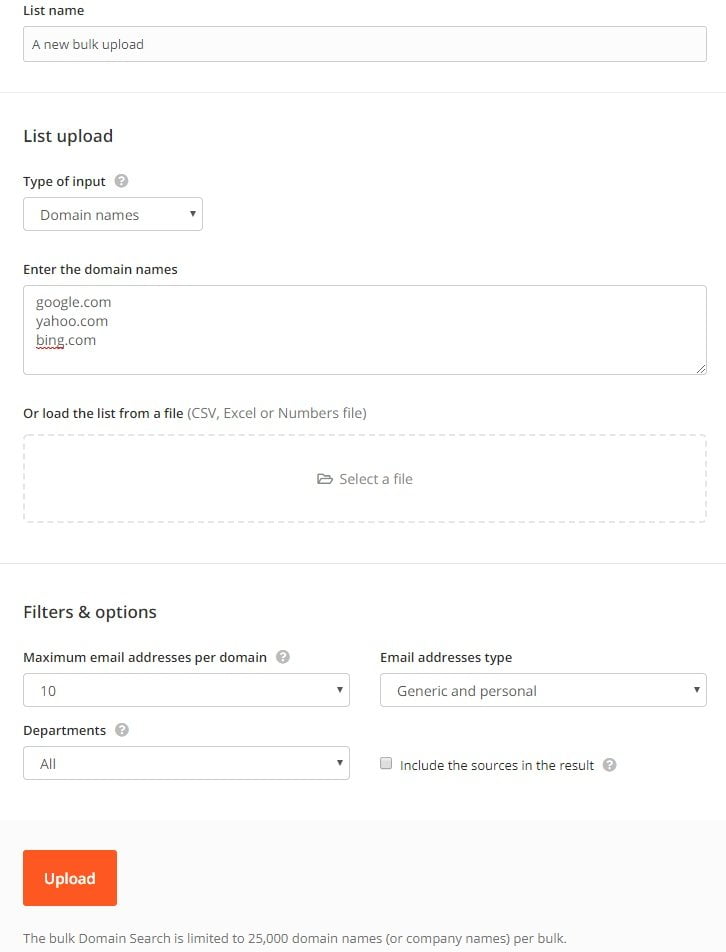 Hunter.io Leads
As I mentioned earlier, Hunter.io does have its own CRM built into the platform. It's very versatile and can save you money from investing in separate software if you're looking to bootstrap.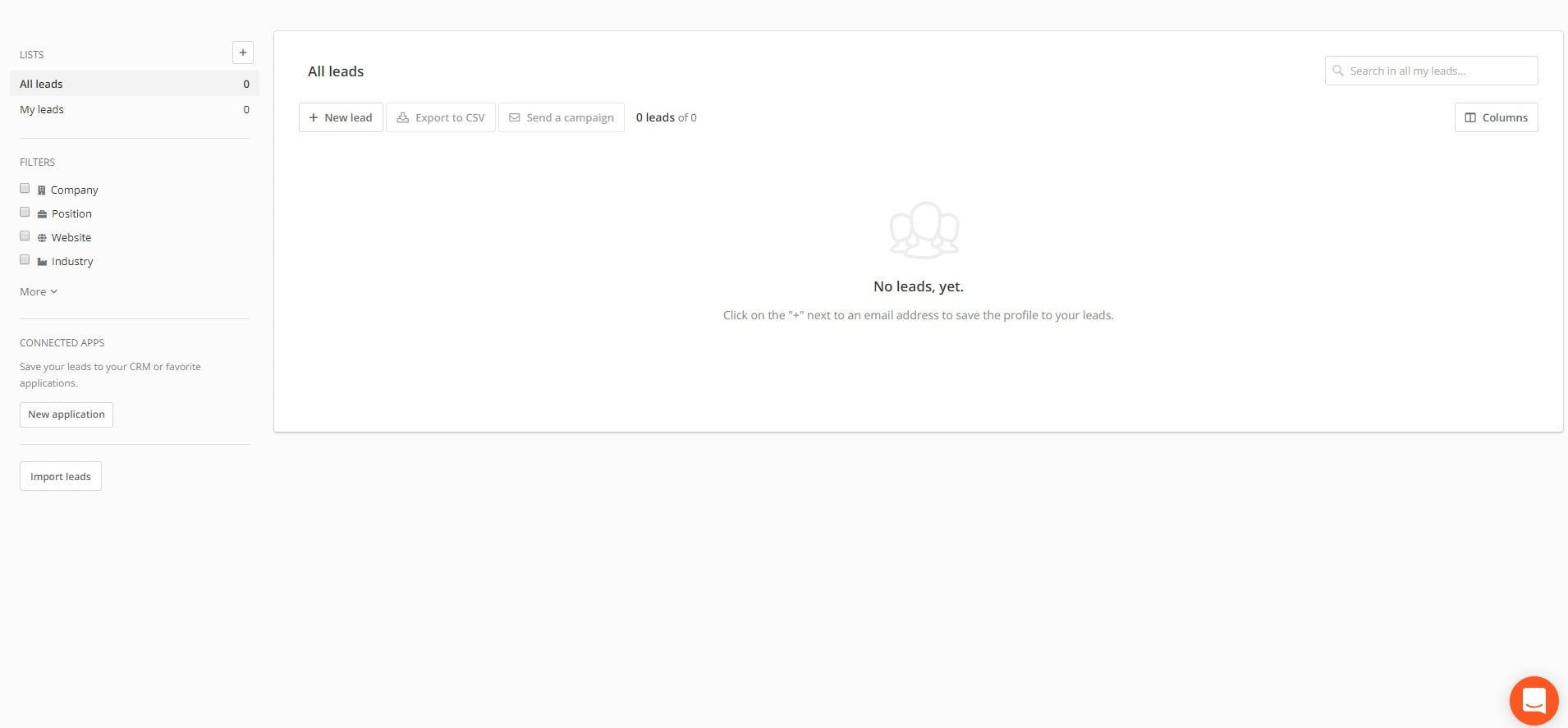 I'll be honest, though. I've yet to use it, and I probably won't because I primarily use Hubspot. But here are some things that it can do for you:
Add leads manually or import them.
Filter them by company, position, website, and industry.
Export them out.
Connects with other applications.
Hunter.io Outreach
Lastly, Hunter.io has an email outreach feature that you can connect to Gmail. If I used Gmail, I'd probably be testing this feature out, but I use a different email provider.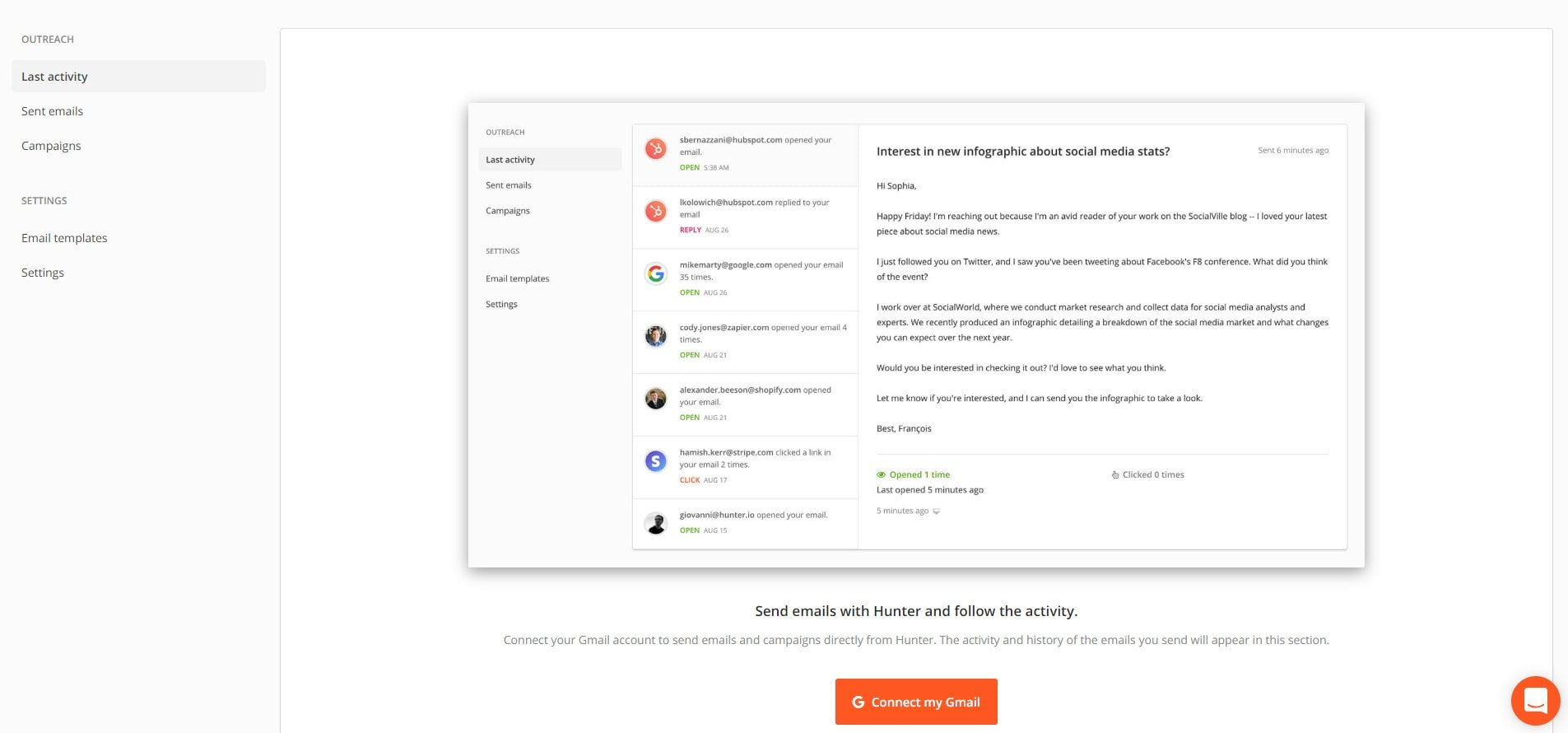 You can create email templates that speed up the outreach process, and it labels whether a lead opened, clicked, or replied to your messages.
The campaign function allows you to create individual campaigns to serve different purposes or to target specific leads.
Hunter.io Pricing
Is Hunter.io free? Yes, for the first 100 searches per month. Past that, you'll need to upgrade to a paid plan.
I chose the starter plan, which is $50/month. Seeing as it's landed me clients worth thousands of dollars, the ROI has been pretty decent.
With the starter plan, I also get 1,000 searches per month. I aim for about 250 outreaches per week so that works perfectly. When I begin scaling further past that, I'll need to upgrade.
These are the plans that they currently offer.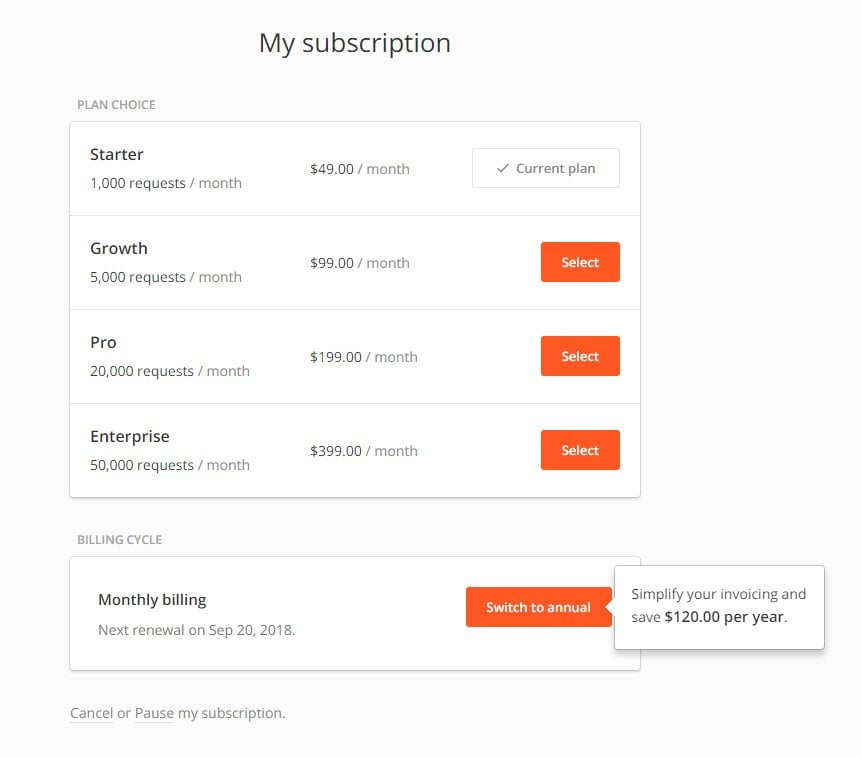 Like any other software, Hunter.io is a tool and will be only as good as you use it. I've had an awesome experience so far and have no issue paying the monthly subscription, and I'll definitely be upgrading in the future.
Ensure that you have some good cold emailing principles down before investing in a service like this; you don't want to pay the money and not get a good ROI.
Hunter.io Altneratives
There are many different tools out there that will help you generate leads by finding contact information.
Truthfully I still believe Hunter.io to be the best, but here are some alternatives for you to try out.
Snov.io

Snov.io is an email finder tool that allows you to find the associated emails of any domain. You can also bulk upload domains if you scrape or collect them for lead generation.
Snov features a database that users can navigate through to find emails based on company size, location, name, and more, too.
Their email verifier is useful for when you have existing emails, you'd like to ensure won't bounce. Simply plug in any address, and it will test it for you.
Lastly, Snov offers email drip campaigns that allow you to automate your outreach and other email marketing strategies.
Automation like this saves you tons of time from having to email manually, which you can dedicate to other tasks.
These are the four different plans you can choose from: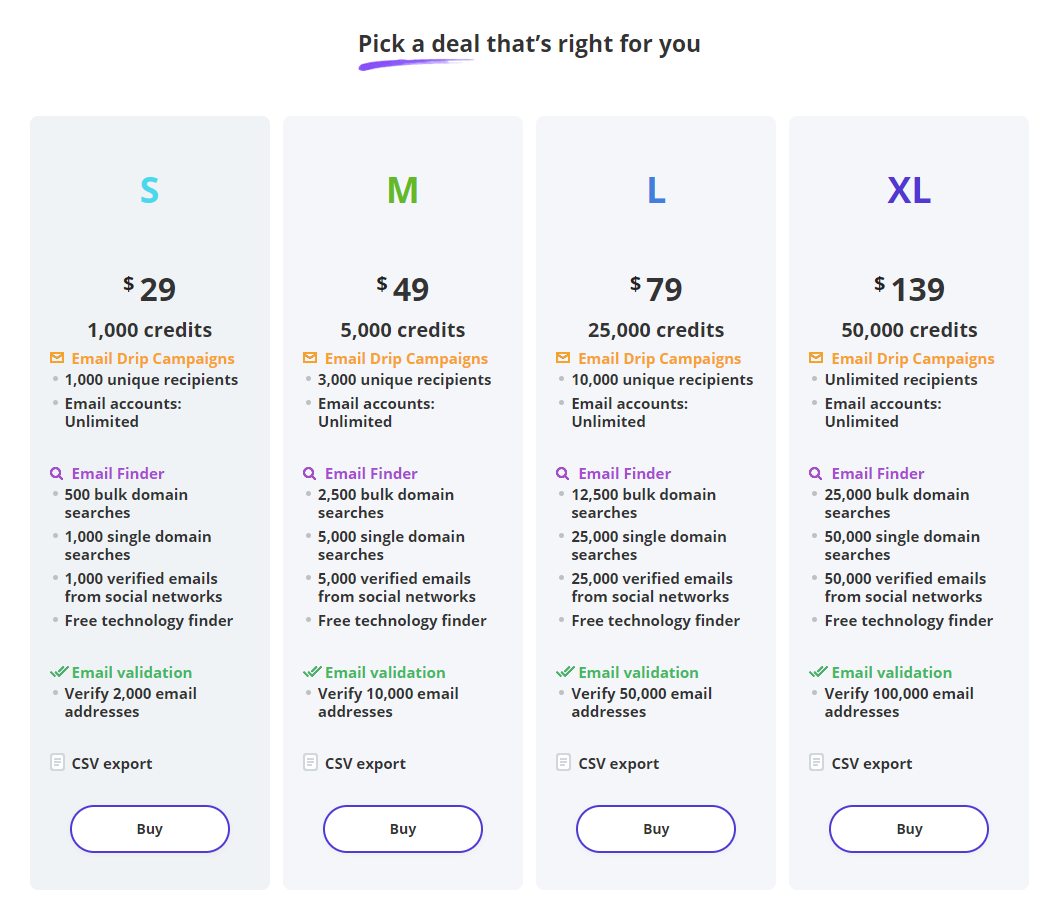 I appreciate that they have a variety of pricing because it reaches more people. For those with less intense email needs, the "S" package at $29/month is more than enough.
The more emails you need to find and verify per month will require you to upgrade continually.
Anymail Finder

Anymail Finder searches billions of pages on the internet to find emails from any domain you desire.
You only get charged for verified emails that they are certain won't bounce. If they aren't sure of this, you get it for free!
A unique feature of their platform is the API you will have access to, which can be integrated into new apps.
Below you can see their pricing plans.

The free trial gives you:
20 verified emails.
Unlimited unverified emails.
Access to all features.
Useable by teams.
I'd recommend giving the trial a shot to see if you like the platform and it aligns with your goals.
If so, you can upgrade to the $49, $99, or $149 per month plan afterward.
Silk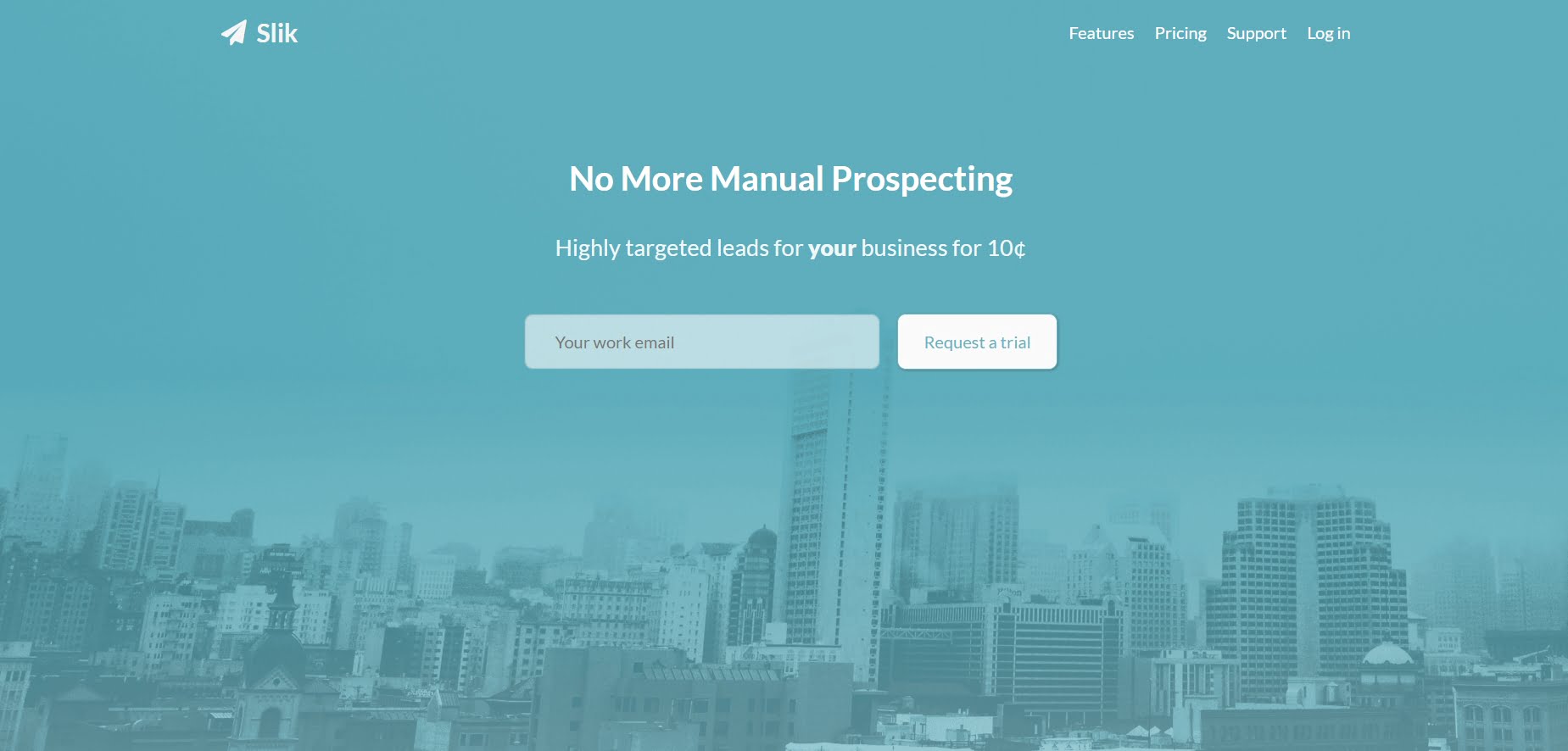 Say goodbye to manual prospecting with Silk, and look forward to high-quality leads for as little as $0.10!
This email prospecting tool is used by Google, IBM, Oracle, and other massive companies, which speaks to its effectiveness.
Silk boasts the highest email accuracy at 95%, and its database contains over 70 million contacts.
Here's what they currently offer in terms of paid plans: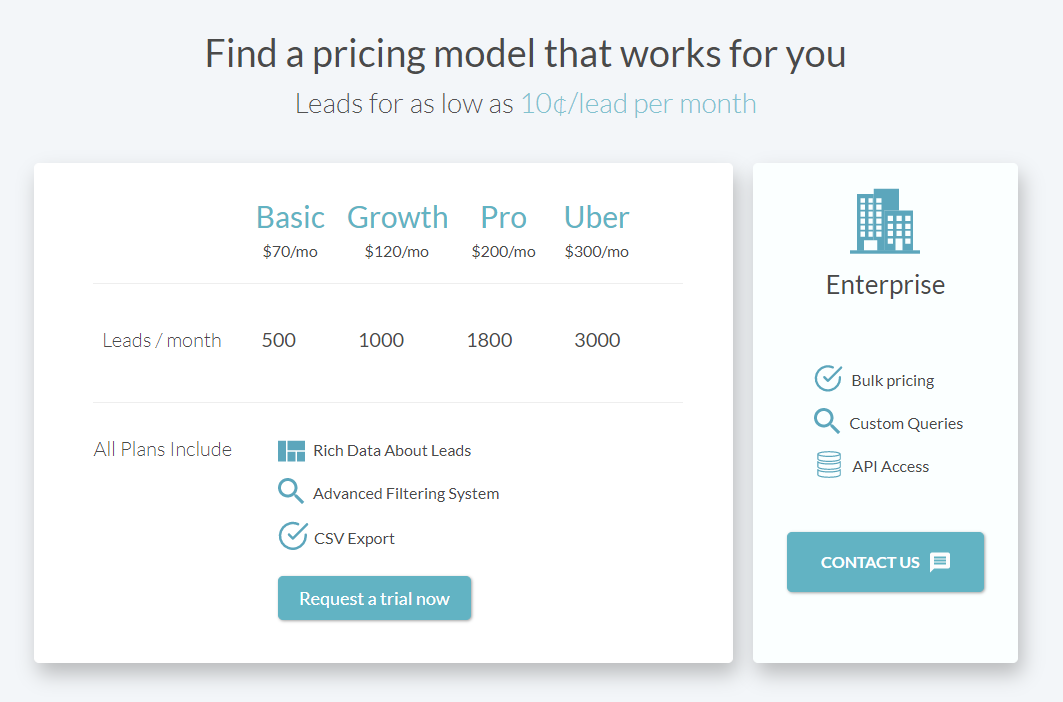 You can request a trial, but unlike Hunter, you can't instantly jump in and start using the software.
The cheapest plan is $70/month and offers up to 500 leads per month. The most powerful plan, Uber, is priced at $300/month and will give you access to 3,000 leads per month.
I suggest beginning by requesting a trial and determining if the platform is right for you before investing any capital.
Wrapping Up This Hunter.io Review
Overall, Hunter.io is an awesome tool, easy to use, and will be in my toolbox for years to come.
Try it out today for free and get 50 searches.
I seriously couldn't perform my outbound sales without it.
I recommend it to any sales teams, freelancers, or companies that are interested in ramping up their lead generation.
Being able to plug in any domain and find the precise executives to email is an insanely powerful tool.
If you want to master writing emails, check out my online courses.