Want to get started making money online? You're on the right website! I know it can be confusing trying to figure out how to make money online, but I have 10+ years of experience generating six figures and a full-time living online.
In this article, I'll teach you how to get started making money online, 15+ favourite methods of mine, and steps for each one.
Enjoy the extra income!
1. Learn Copywriting
I've had five-figure months as a freelance copywriter. Copywriting is a great skill to learn if you want to make money online for this reason. They are hired by companies, blogs, and websites to write content that promotes their products or services. It's essential for businesses to have good copy in order for readers to be interested in what they're selling.
For example, you can watch me write sales emails in this video for inspiration:
However, copywriting isn't an easy craft, and it does take some time and practice to get better. But if you master the basics, you can make a lot of money with this skill. The easiest way to start learning is through reading professional writers' work, whether it's blog posts, marketing emails, or sales pages. You can also look up tutorials on my YouTube channel and read other posts on my blog.
The pros of freelance copywriting are that it has huge income potential and you have a lot of freedom in terms of the types of projects and clients you can work with. The downsides are that it takes a lot of time to master writing and learning how to get clients. However, if done right, you can make a great income as a copywriter.
You can enroll in my copywriting courses to quickly learn how to write sales copy and make a living online.
Once you get the basics down, make social profiles, and create a free website using a platform like WordPress. You can then start promoting your services and finding clients who are in need of a copywriter. There is no limit to how much you can make as a copywriter, it really depends on how much work you put in and the type of projects you take on.
That brings me to my next point.
2. Offer a Freelance Service
Similar to copywriting is freelancing. Freelancers are independent contractors who are hired to complete specific projects for their clients. Depending on the type of freelancer you become, you can have a ton of different types of jobs ranging from web design and translation to virtual assistant work and social media management.
One great thing about freelancing is that you don't need any special skills or qualifications to get started. All you need is a laptop, an internet connection, and some basic knowledge in whatever field you choose to freelance in. You can also find great learning resources online that can help you build your skills in no time.
You can start today on websites like Fiverr. Watch my video to learn how to sign up and get started.
3. Make Money Online With Surveys
Survey-taking can be an easy way to make some extra money. You're not gonna get rich but hey, it's some beer money! Companies are always looking for feedback from their customers and surveys are a great way for them to get it. All you need is your computer or smartphone and an internet connection, and you're ready to start making money online with surveys in no time.
The pros of survey-taking include the fact that you don't need any special skills or qualifications, it's free to do, and there is no limit to how much money you can make. The cons include having to answer personal questions about yourself, dealing with low payouts per survey, and waiting for the occasional survey invite.
If you want to make money online by taking surveys, sign up for websites like SurveySavvy or SwagBucks. Most survey websites will ask you to fill out your profile so that they can match you with surveys that are relevant to you.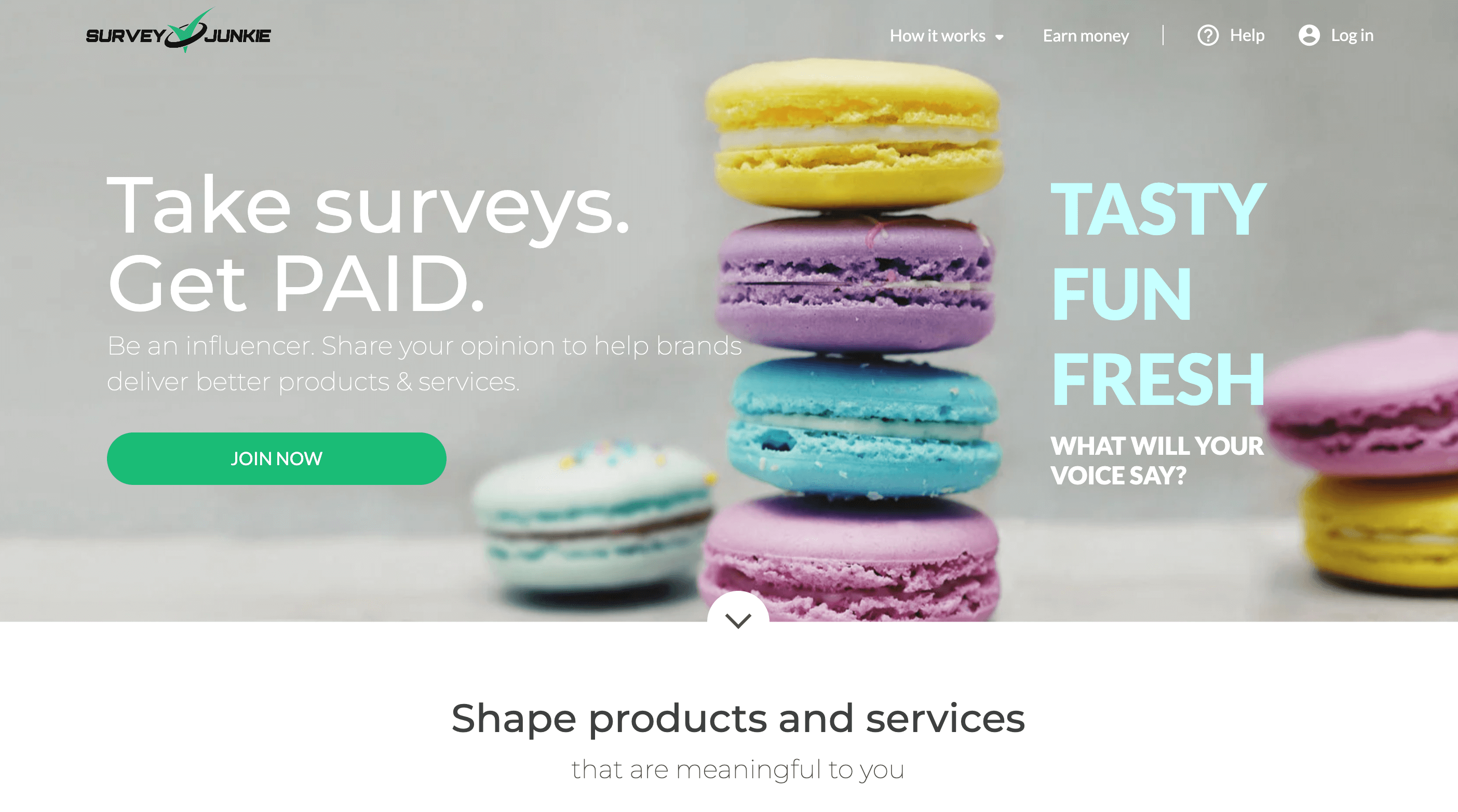 Once you start getting invites, make sure to respond as quickly as possible since surveys do have limited spots, and it's on a first-come, first-serve basis.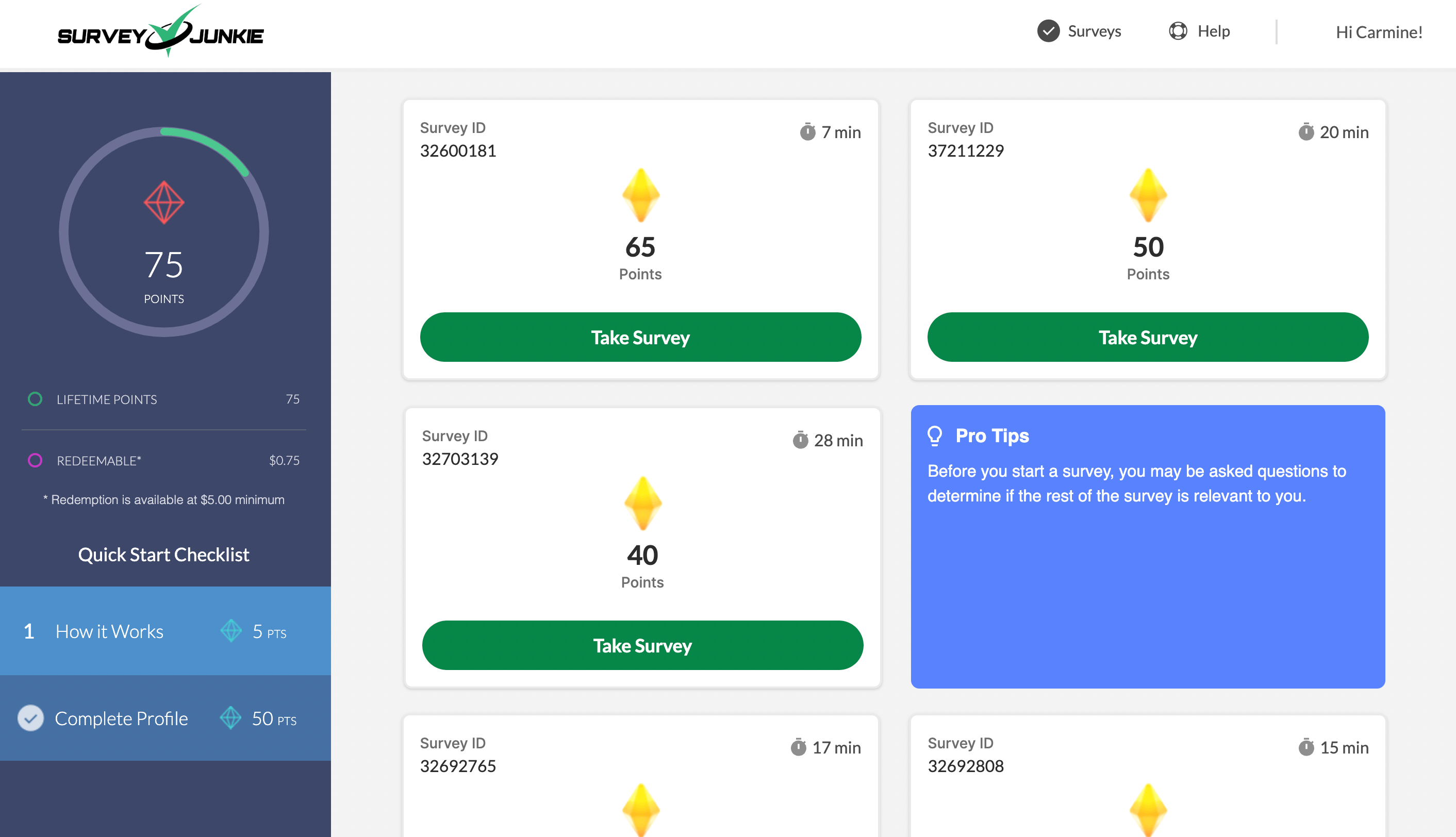 How much money you make on each survey will depend on the length, complexity, and type of survey. So make sure to do your research before taking any surveys!
4. Publish and Sell E-Books
Something I'm getting back into more is writing books. I love writing, it's a lot of fun, and a great way to generate passive income. That's why the e-book global market is expected to reach $25.08 billion by 2028.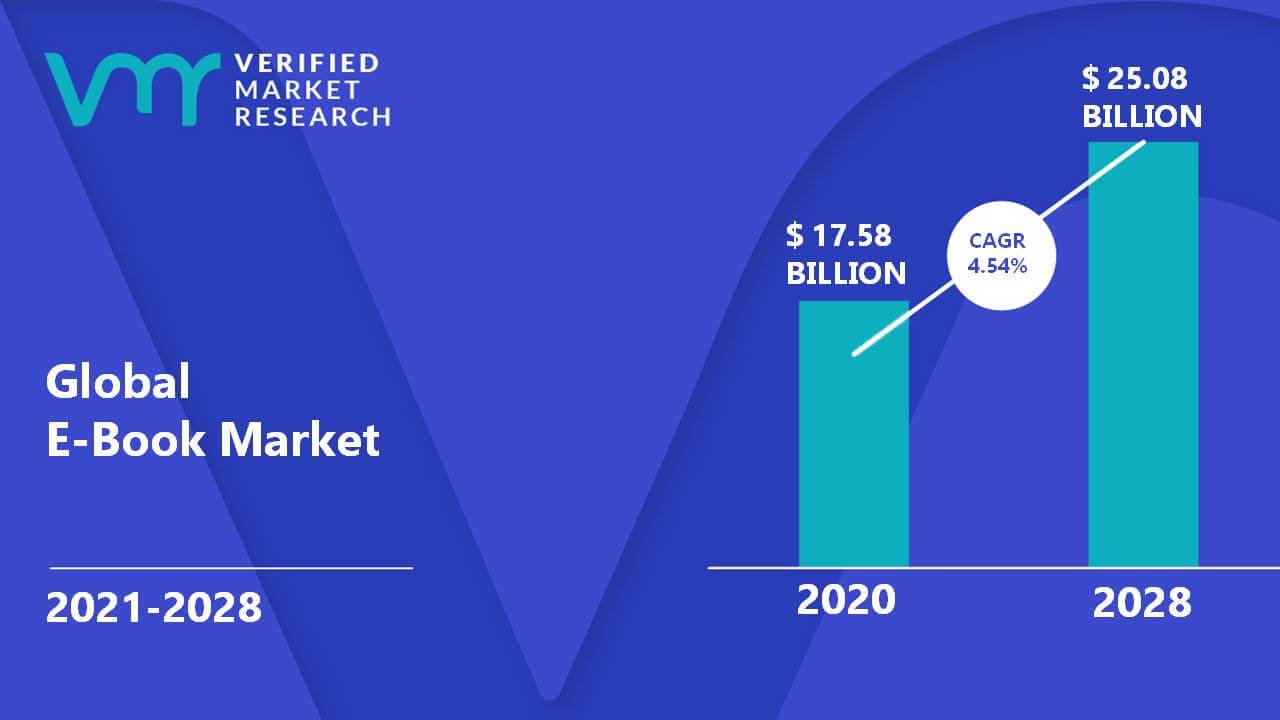 If you have some knowledge in a certain field, you can always write an e-book and make money online. All you need is a laptop and an internet connection. Plus, there's no limit to how much money you can make with e-books. It all depends on the content of your book and how well it sells online.
The pros of writing an e-book include that once the book is written, published, and made available to purchase, you will receive passive income each time someone buys your book.
The disadvantages are that it takes time to write your book and then properly promote it for maximum sales impact. You may also need help from editors or publishers in order to make sure everything looks professional before releasing it.
I personally recommend Amazon KDP to publish your books. This distributes it to Amazon's audience and gives you the tools to be a successful self-published author.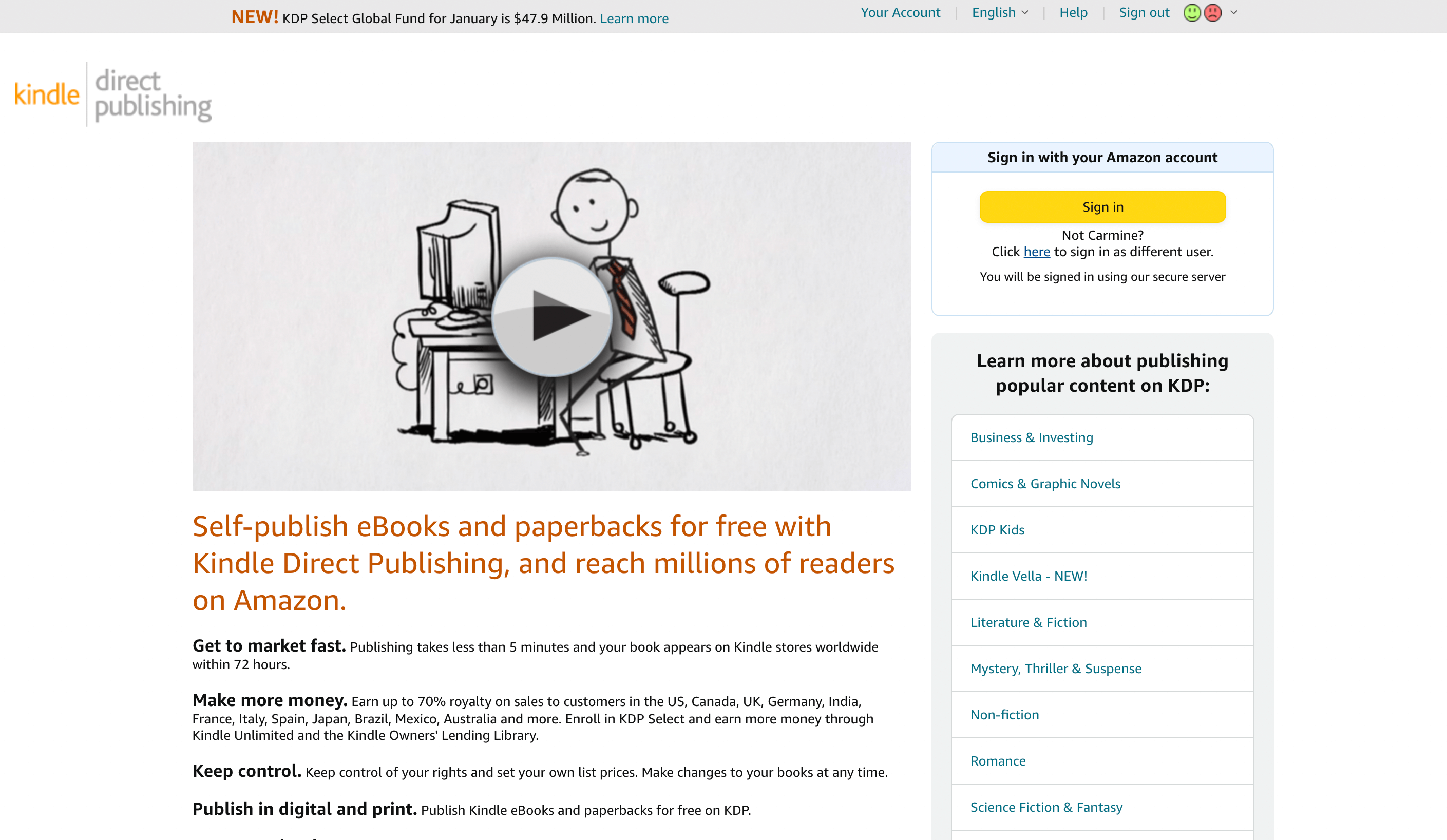 You can add books you write via the "Create" button.
It will prompt you to add the manuscript, cover, pricing, and other information after this. It's pretty straightforward.
When it comes to the actual writing process, I suggest starting with an outline. Map out all of the chapters you want in the book and bullets under each one. The bullets should contain the ideas and points each chapter will cover.
Then, it's time to write your first draft! Don't try to make it perfect. It'll have mistakes, and that's okay. Just write as fast as you can and get everything on paper (or screen for that matter!)
This could take days, months, or more than one year depending on the length and complexity of the book.
You can then start revising and editing your writing at this point. Edit to improve structure, clarity, grammar, and to get your points across in a better manner. You may even hire an editor at this point.
Once you're done, follow the steps I covered for uploading your book to KDP and enjoy the passive income.
5. Start an E-Commerce/Dropshipping Store
E-commerce is a great way to make money online. You can start your own e-commerce store using platforms like Shopify to open an online shop without any technical knowledge. And with e-commerce sales rising year over year, there are consistently new opportunities to find customers.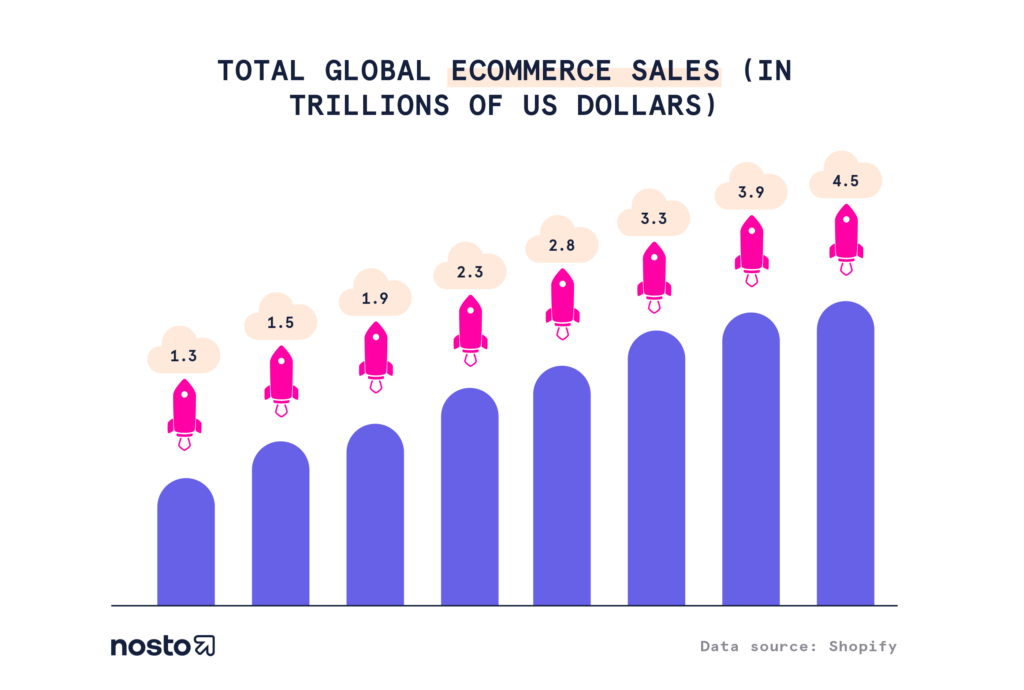 The advantages of starting an e-commerce store is that you have full control over what products you sell, how much you charge for them, and who your customers are. Plus, it allows you to tap into the global market and reach customers all around the world. The cons include the fact that setting up an e-commerce store takes time and effort.
You need to figure out which products to sell, how to price them, create marketing campaigns, manage customer service inquiries, accept payments from customers, etc.
Try Shopify's free trial if you want to get started selling physical products online. You'll get access to a drag-and-drop website builder, unlimited hosting, payment processing services, and more.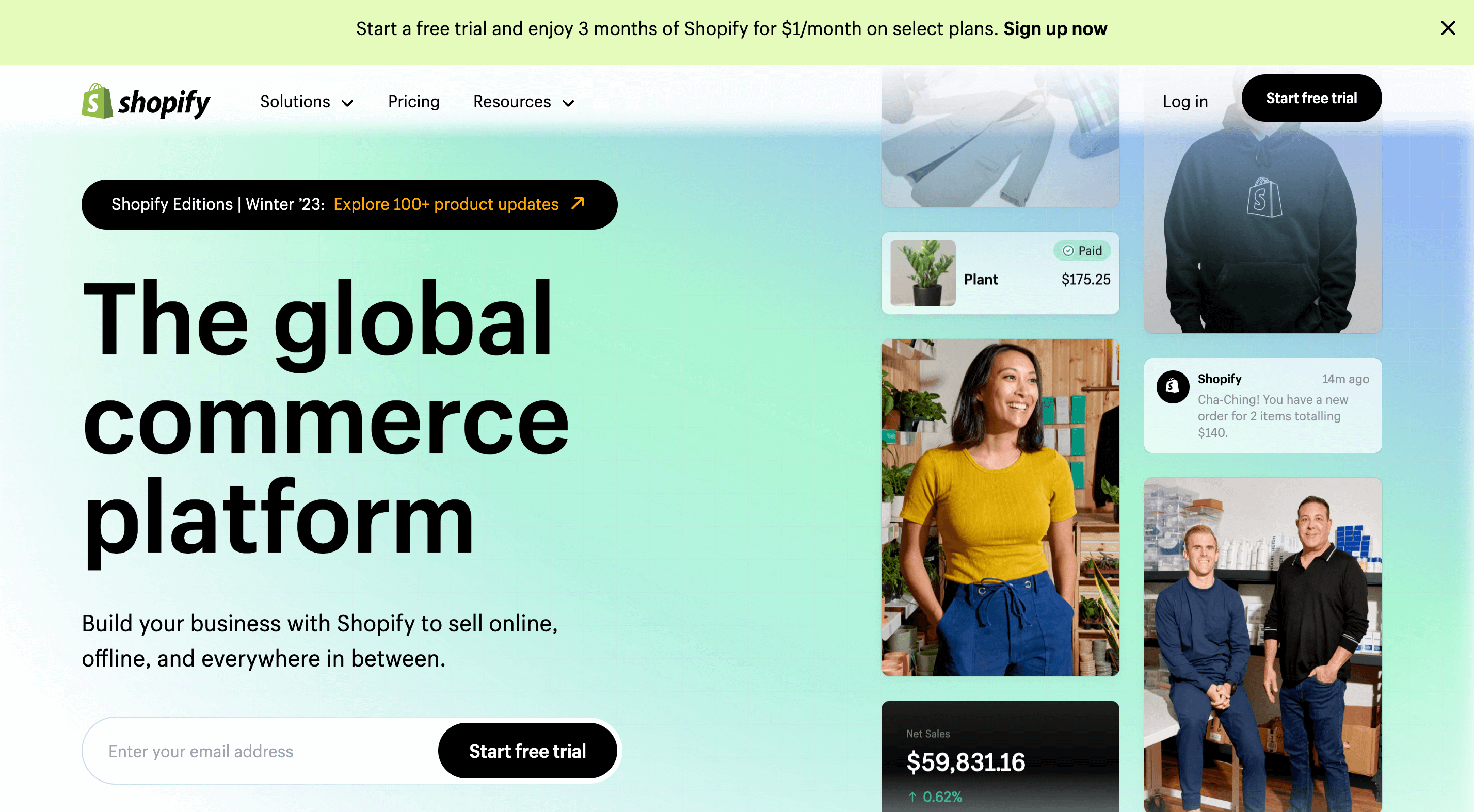 Shopify will ask you a couple of quick questions about your needs and experience selling online. This will help set up a better experience for you. Once it's complete, your store will be ready to customize!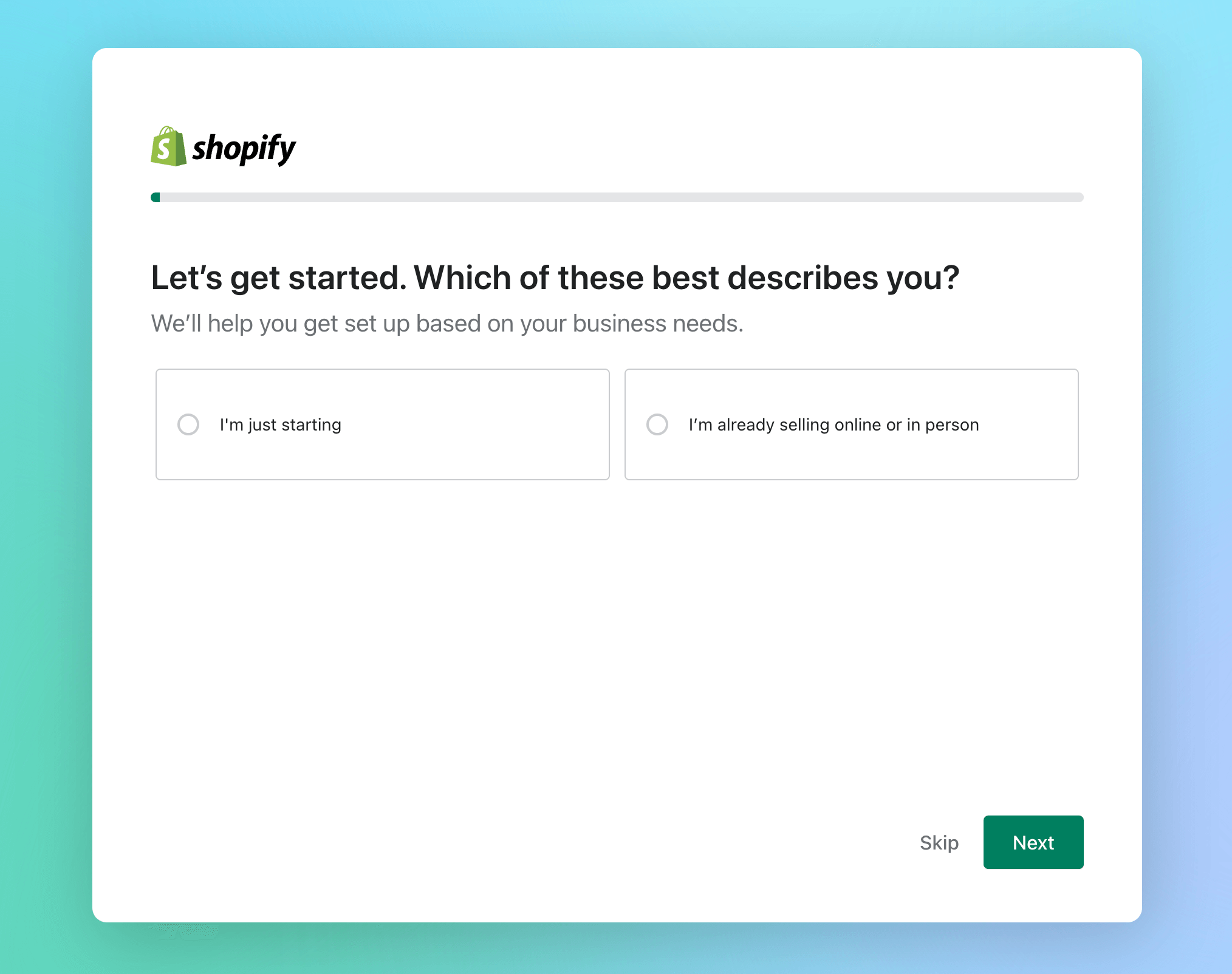 Follow the setup steps to add your first product, payment processing, and more.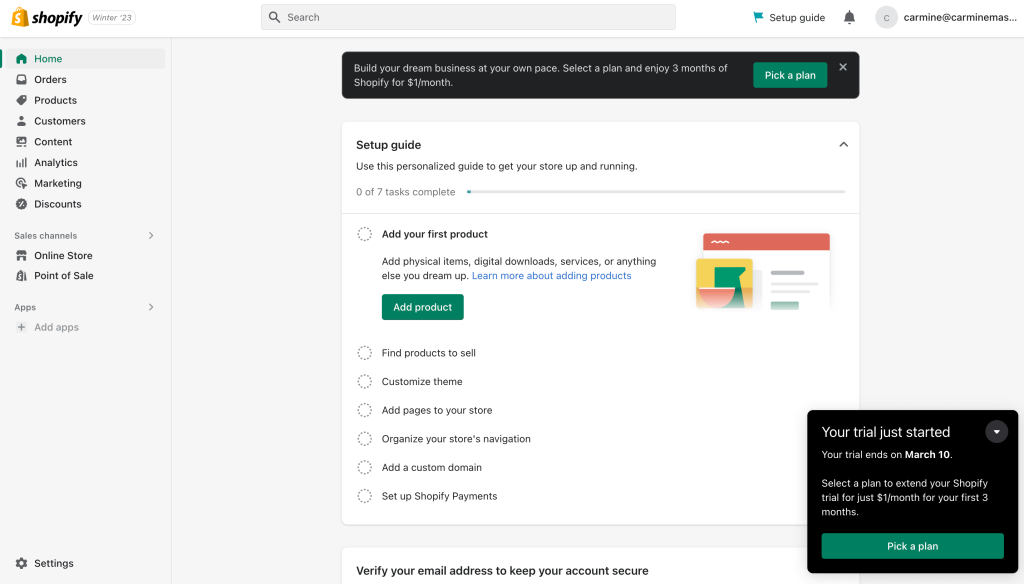 Congratulations, you officially have an online store you can use to make money online!
6. Passive Income With Affiliate Marketing
Another one of the best ways to get started making money online is through affiliate marketing. There are affiliates who literally make millions of dollars per year. Not bad, right?
The upsides of affiliate marketing include low costs and no limit to the amount of money you can make. The downsides are that it's a very competitive field, so you'll need to have great content or access to a large network in order to be successful.
If you want to get started making money through affiliate marketing, there are tons of platforms out there, such as Amazon Associates, Clickbank, Rakuten Advertising, and Shareasale.
All you have to do is sign up for an account with any of them (they're all free) and start promoting products on your website or blog. For example, sign up for Amazon's affiliate program here.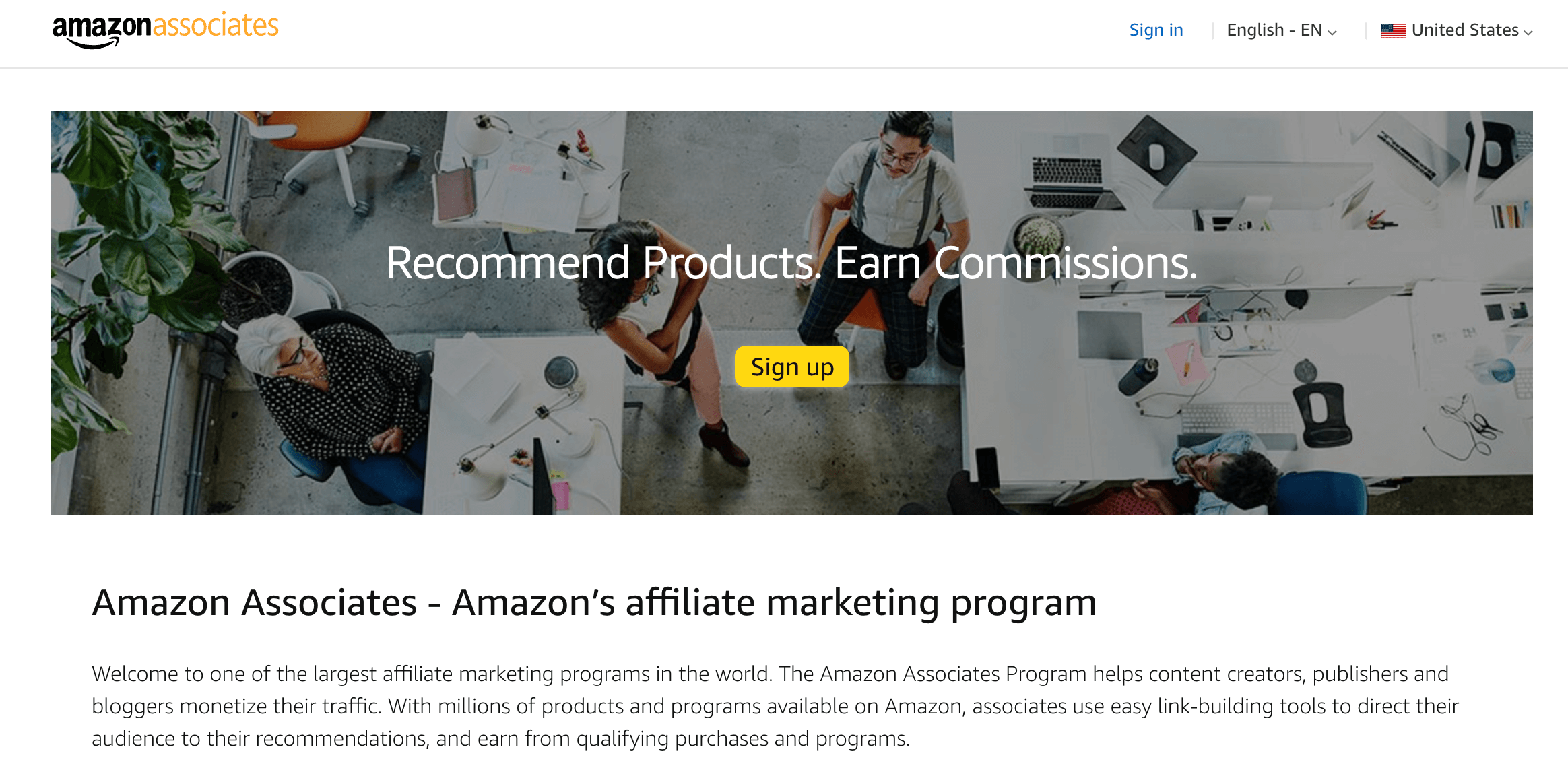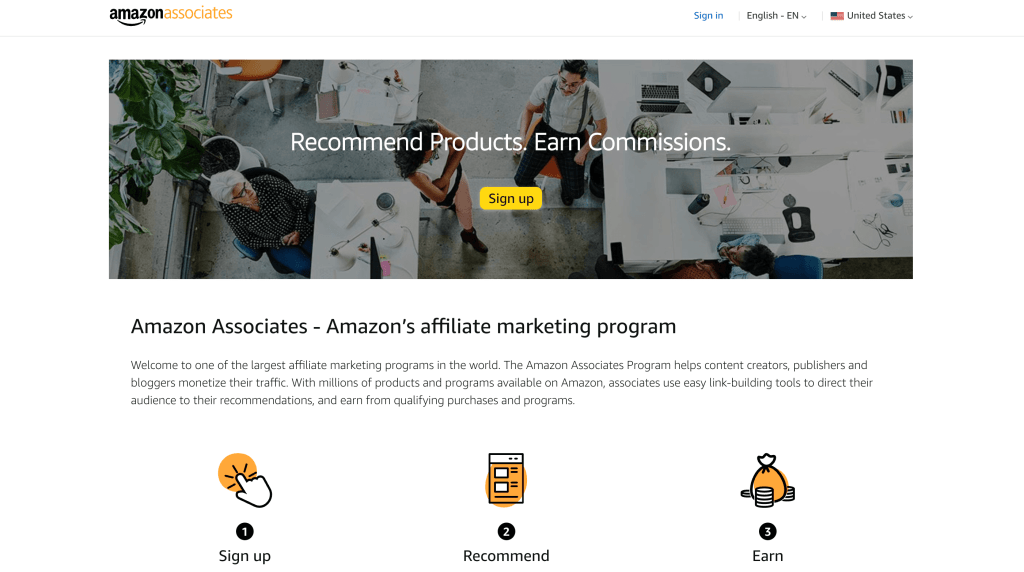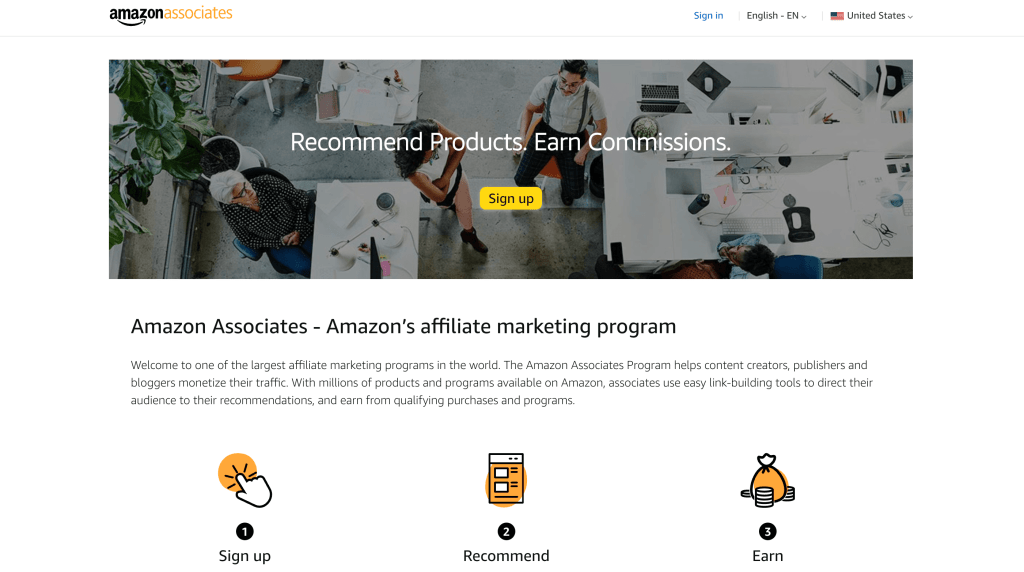 Once you're signed up, you can visit any Amazon product page and get an affiliate link from the top navigation. You will get a commission for every customer you refer through the special link.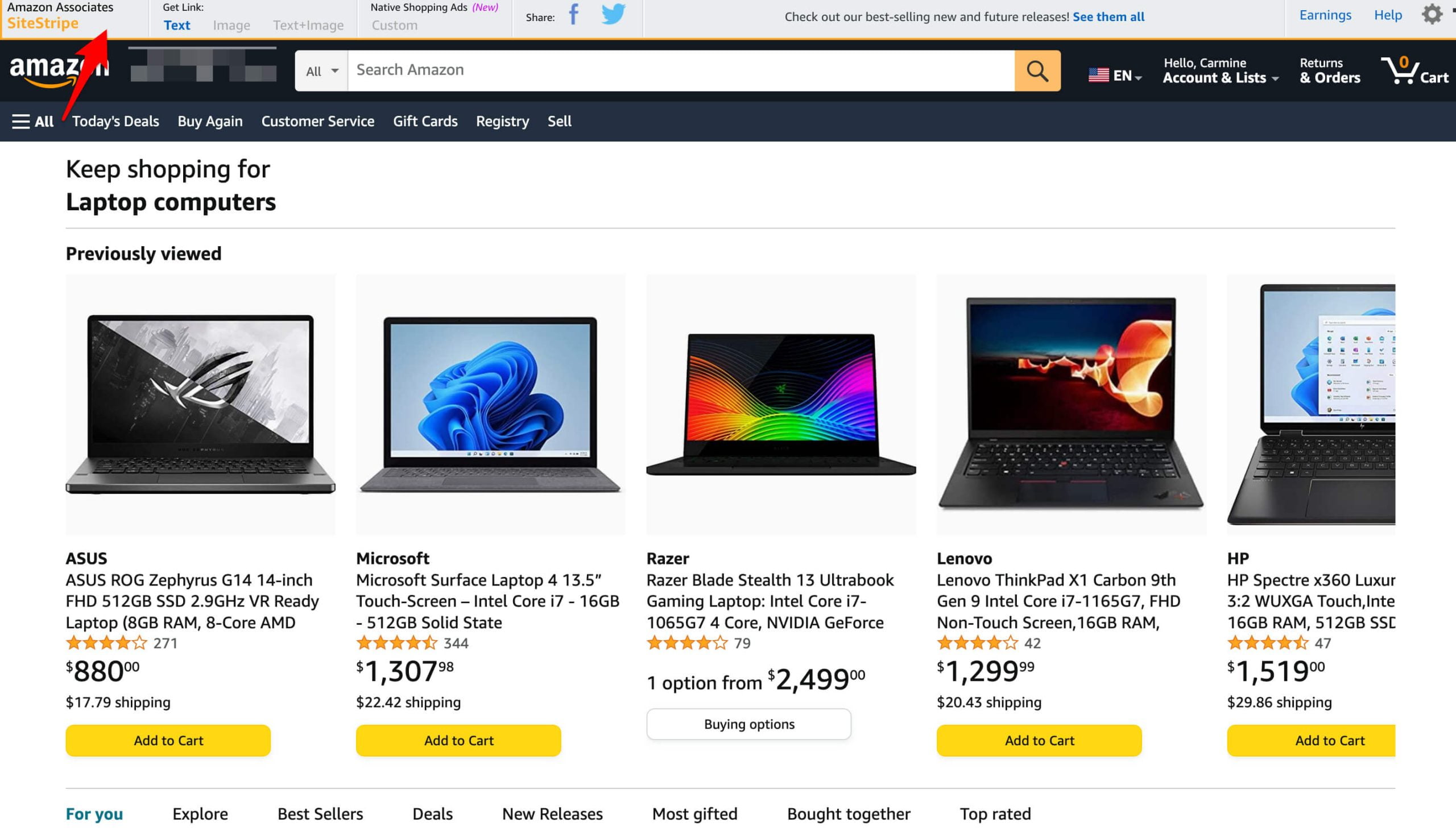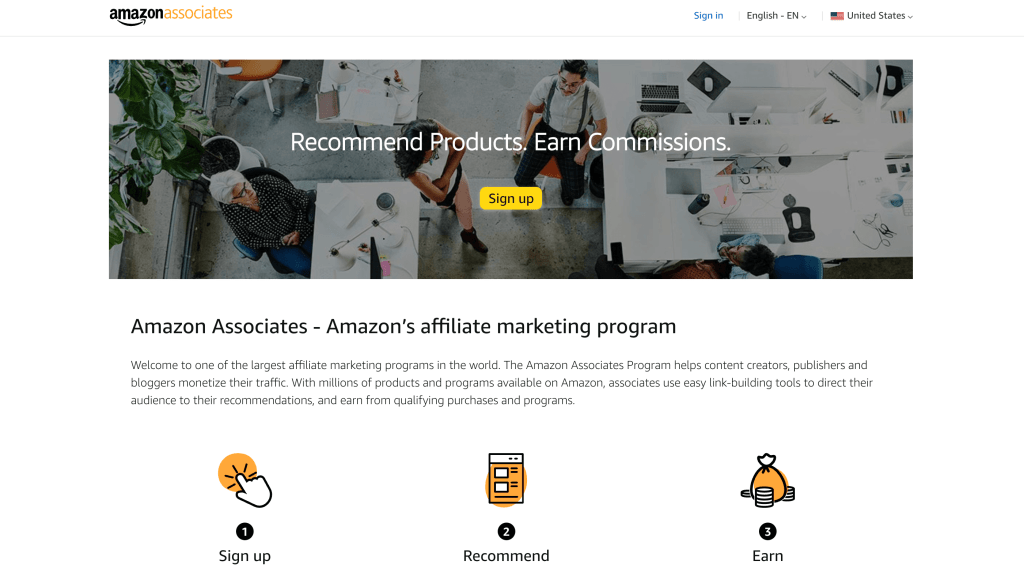 The next step is driving traffic. The first way is through content marketing and SEO. You want to create helpful content and make sure your website is optimized so that it shows up in search engine results.
The second way is through paid advertisements on social media or PPC (pay-per-click) campaigns. Both are effective ways to get more eyes on your affiliate links and help increase conversions.
7. Grow a YouTube Channel
If you enjoy making videos and have things to share, YouTube is another source of making money online. You can start a YouTube channel, upload videos, and generate income from advertising revenue. Sponsorships and affiliate marketing are other ways to monetize a YouTube channel.
Look at channels like Sony SAB. According to Social Blade, they earn anywhere from $500,000 to $8 million per month!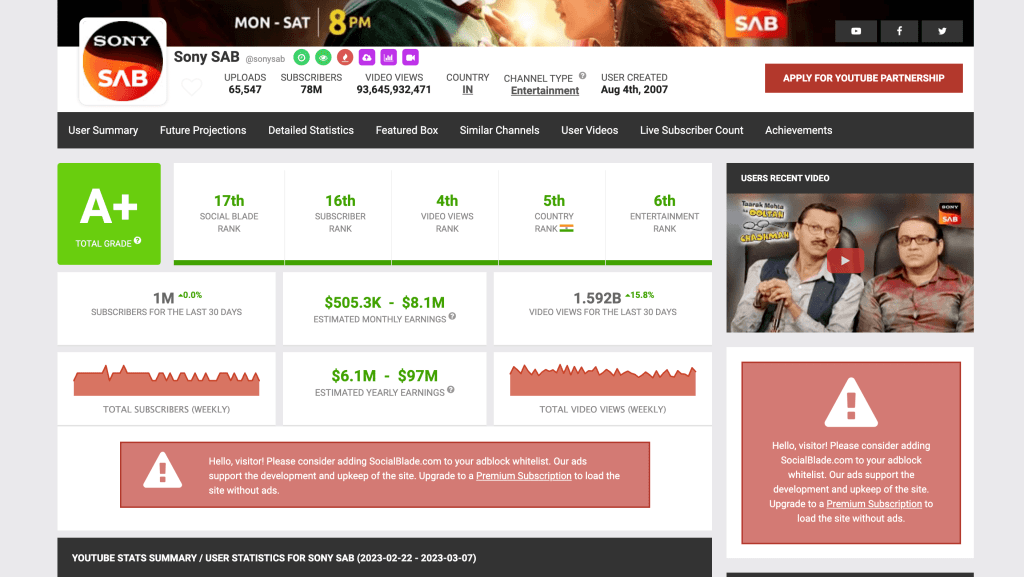 Growing a YouTube channel means you don't need to invest any money upfront, and the potential for earning is limitless. If you have a laptop and smartphone, you're ready to record videos! The downsides, however, include the fact that you'll need to come up with creative ideas for content and promote your channel in order to gain subscribers.
If you want to get started, first create an account on YouTube, then think of topics or areas you're interested in and create videos around them. Make sure to optimize your videos with SEO keywords so they can be found easily by viewers.
Once you meet the requirements, you can join the YouTube Partner Program which allows you to earn money through ads placed in your videos.
8. Start Your Own Podcast
Similar to a YouTube channel is growing your very own podcast. These have boomed over the last few years and are easier to start than you might think. In fact, revenue generated in the podcast market is expected to be $4.4 billion by 2024. Don't you want a slice of that pie?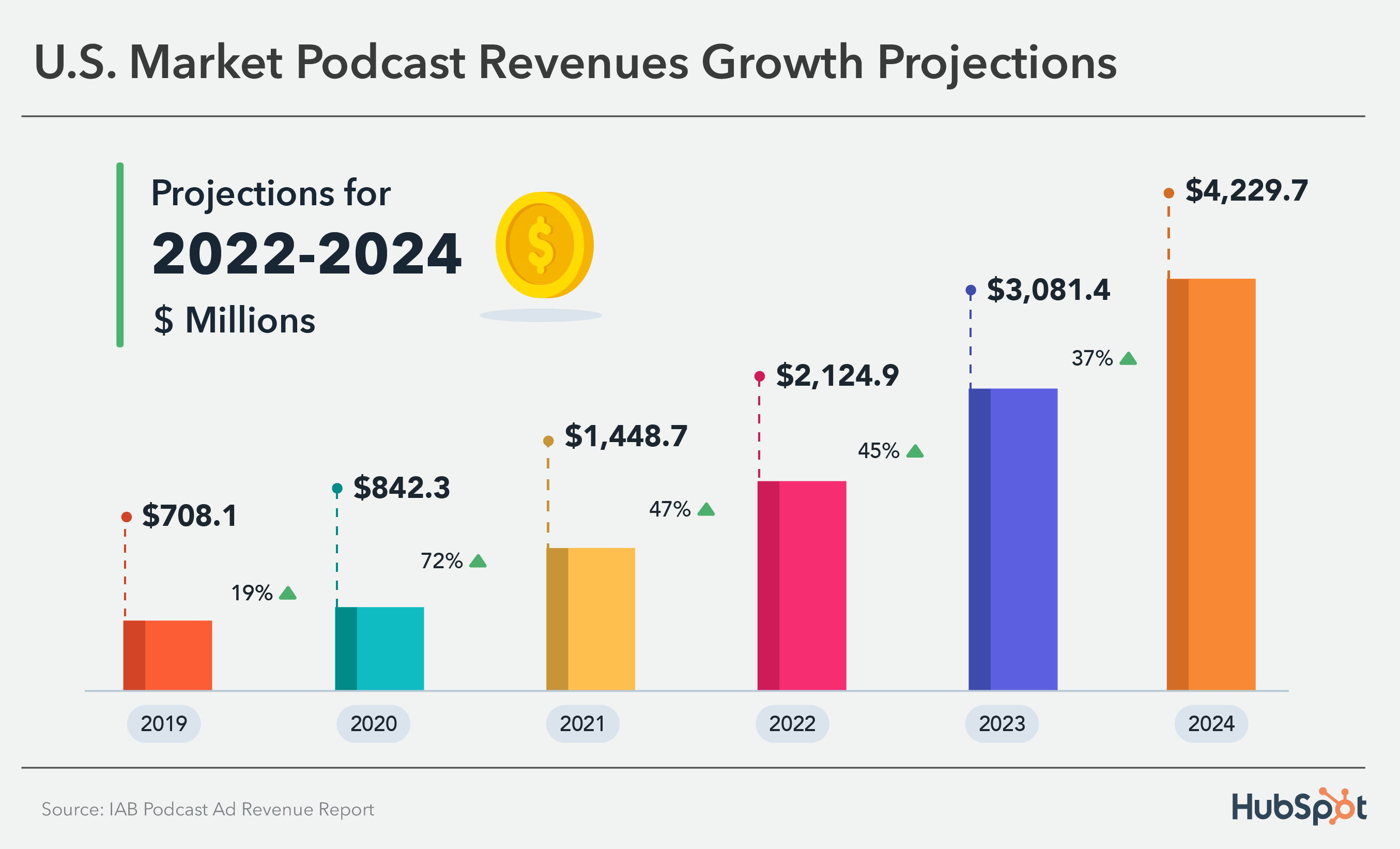 With podcasting, you can reach a wide audience and it's less time-consuming compared to creating videos as your episodes don't have to be heavily edited. However, it takes a bit more effort to promote and grow an audience for your podcast.
Look at someone like Joe Rogan for inspiration. That guy took a deal with Spotify that paid him north of $100 million for his podcast!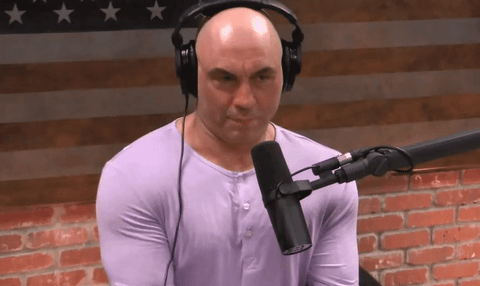 To get started, you will need to decide on a topic and format for your podcast, then create several episodes in advance so that you can launch with content already available.
You'll also want to sign up for hosting services like Podbean or Libsyn, upload your podcast onto iTunes and other platforms, set up social media accounts, and start promoting your show.
9. Monetize a Blog With Ezoic
If you have a knack for writing, starting a blog is definitely one of the best ways to make money online. You can monetize your blog with Ezoic and start earning income from ads placed on your posts.
The pros of blogging include the fact that it's very easy to get started and you don't need much capital. It's also pure passive income. The cons are that SEO is time-consuming and a skill that takes a long time to master.
To begin blogging, choose a domain name, sign up for hosting services such as Bluehost, install WordPress onto your site, then start creating content around topics you're passionate about.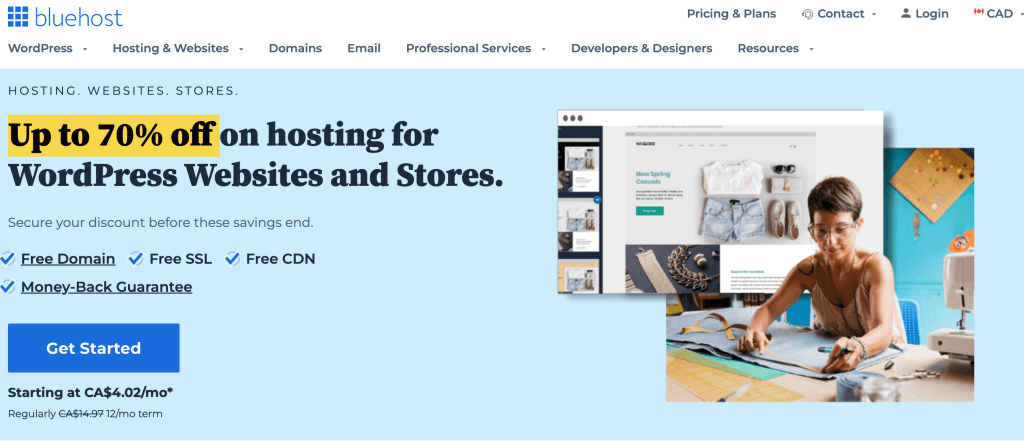 You can also optimize your blog posts with keywords for better search engine visibility. Finally, sign up for an Ezoic account and add the code to your blog so you can start earning from your posts.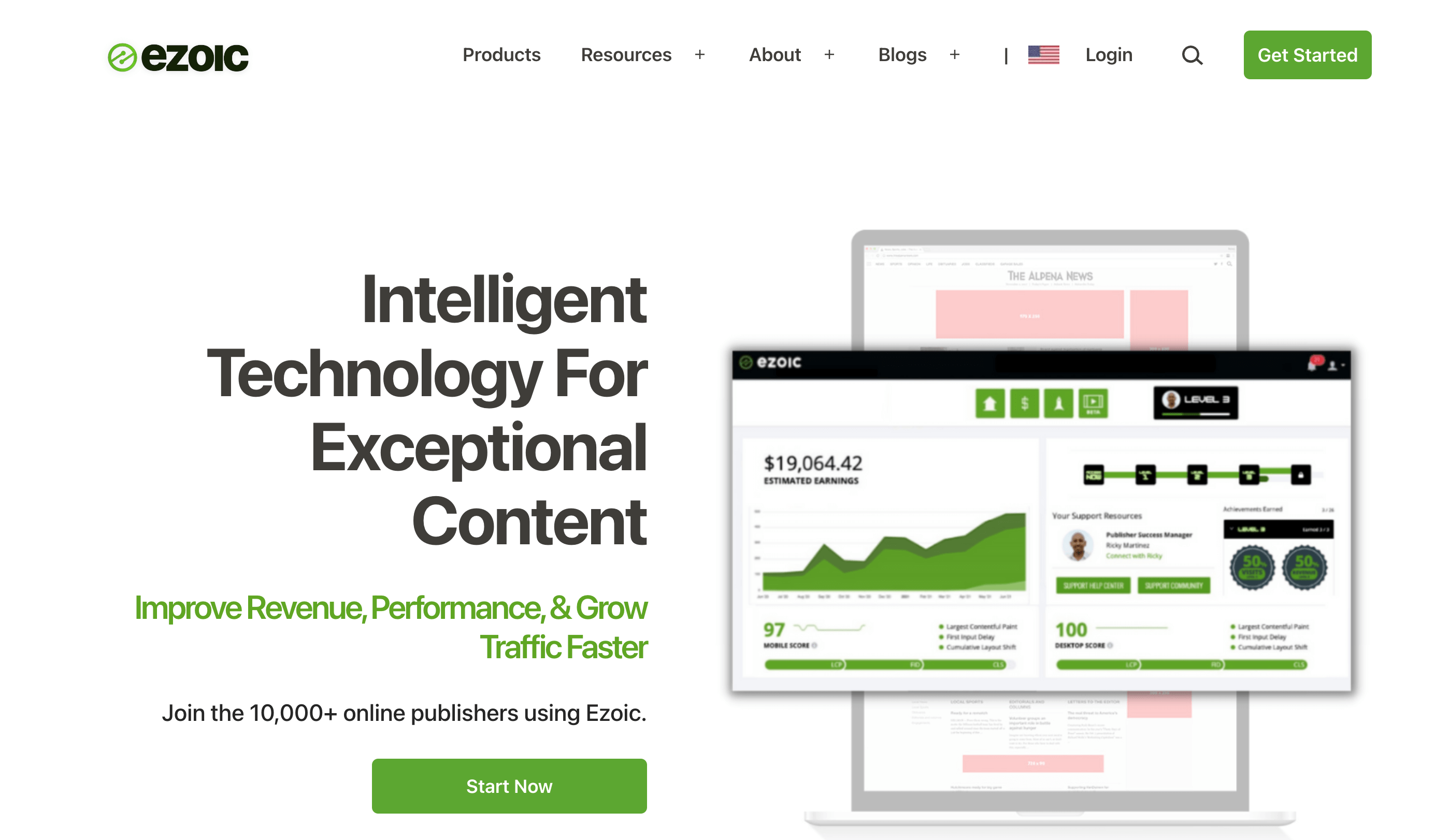 You can also read my article on Ezoic vs AdSense.
10. Resell Thrifted and Garage Sale Items
Here's a different idea for making money online; resell items from thrift stores or garage sales. This requires very little capital and can be a great way to make some extra income. I know people that do it as a hobby on weekends and they have a lot of fun. Heck, 18% of American's thrift every year.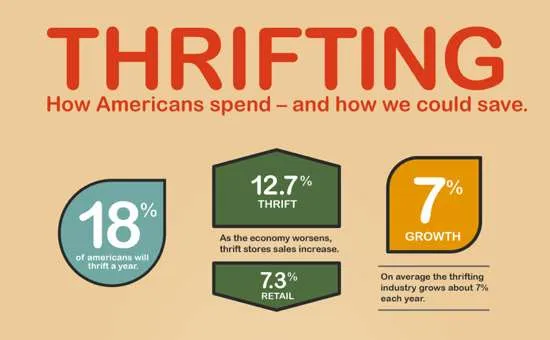 What's nice about this money making method is that you don't need any technical knowledge or experience, and it's easy to find cheap items to buy and resell at a profit. But, you have to invest time into researching the best deals, as well as creating listings on websites like eBay.
To get started, begin researching different thrift stores, garage sales, estate sales, flea markets, etc., in your local area. Keep an eye on popular products and trends to make more profit as well. Once you've found something you like, put it on websites like eBay, Craigslist, and Kijiji. Done!
11. Try Amazon FBA
Another great way to make money online is through Amazon FBA. This stands for "Fulfillment by Amazon" and allows you to send products to Amazon's warehouse, which then takes care of shipping, returns, and customer service for you. Currently, there are over 60,000 sellers on Amazon that make $1 million.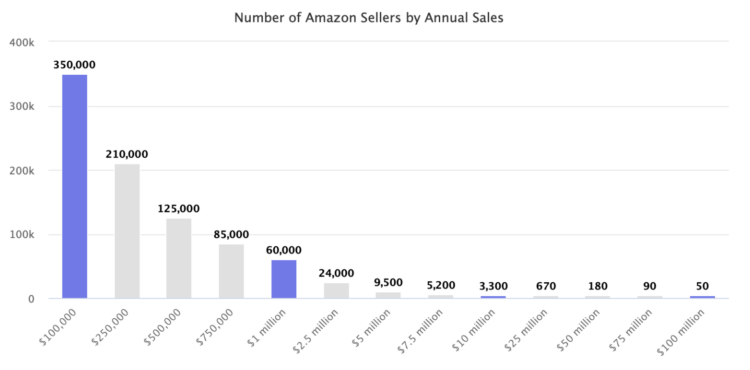 Running an Amazon FBA business means you're able to work from anywhere with just an internet connection, and you don't have to handle inventory management or shipping. The disadvantages include that it can be time-consuming to source products and manage inventory, and you need capital to begin.
To get started with Amazon FBA, first set up an account on their website and research what types of products you would like to sell.
You'll also need to find a supplier in order to source those products, then create listings for them on Amazon. Finally, you'll have to choose a shipping option, manage returns and customer inquiries, and keep your inventory up-to-date.
12. Trade and Invest With Robinhood
Investing and trading in the stock market are easier than ever. With Robinhood, you can trade stocks and ETFs with no commission fees. Plus, you'll get access to real-time market data so you can make informed decisions about your investments.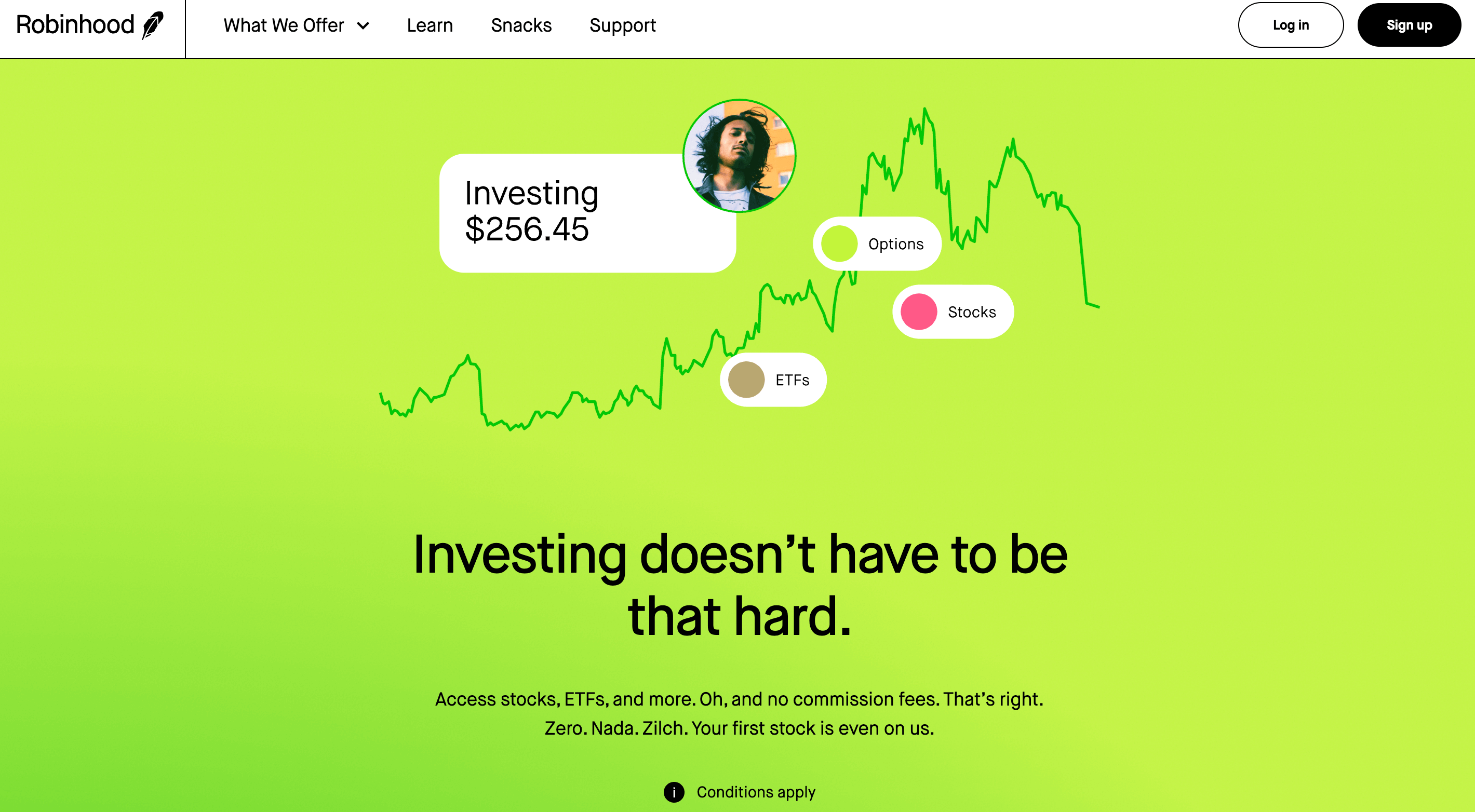 The nice thing about trading with Robinhood includes the fact that it's easy to start investing without any prior knowledge or experience, and there are no additional fees for making trades. The cons are that there is risk involved in investing, and the stock market can be volatile.
To get started, sign up for a Robinhood account, transfer money from your bank account or debit card into the app, then begin researching stocks and ETFs that match your investment goals. Once you're ready to start trading, simply place an order on the app and watch your investments grow!
13. Do Influencer Deals
Do you enjoy social media and have a sizeable following? If so, you could make money doing influencer deals. This involves companies or brands paying you to post about their products and services on your channels.
It's easy to get started, there are no upfront costs, and the earning potential is high. The thing is that you need a huge following since most advertisers require you to have at least 10,000 followers before they even consider a deal.
To get started, create social media accounts in areas where you are knowledgeable and post engaging content often. Once your following has grown to an appropriate size, look for companies or brands that may be interested in partnering with you and make sure to reach out.
I recommend signing up for platforms like Collabstr. They will connect you with brands and help you get deals without having to manually research and find businesses.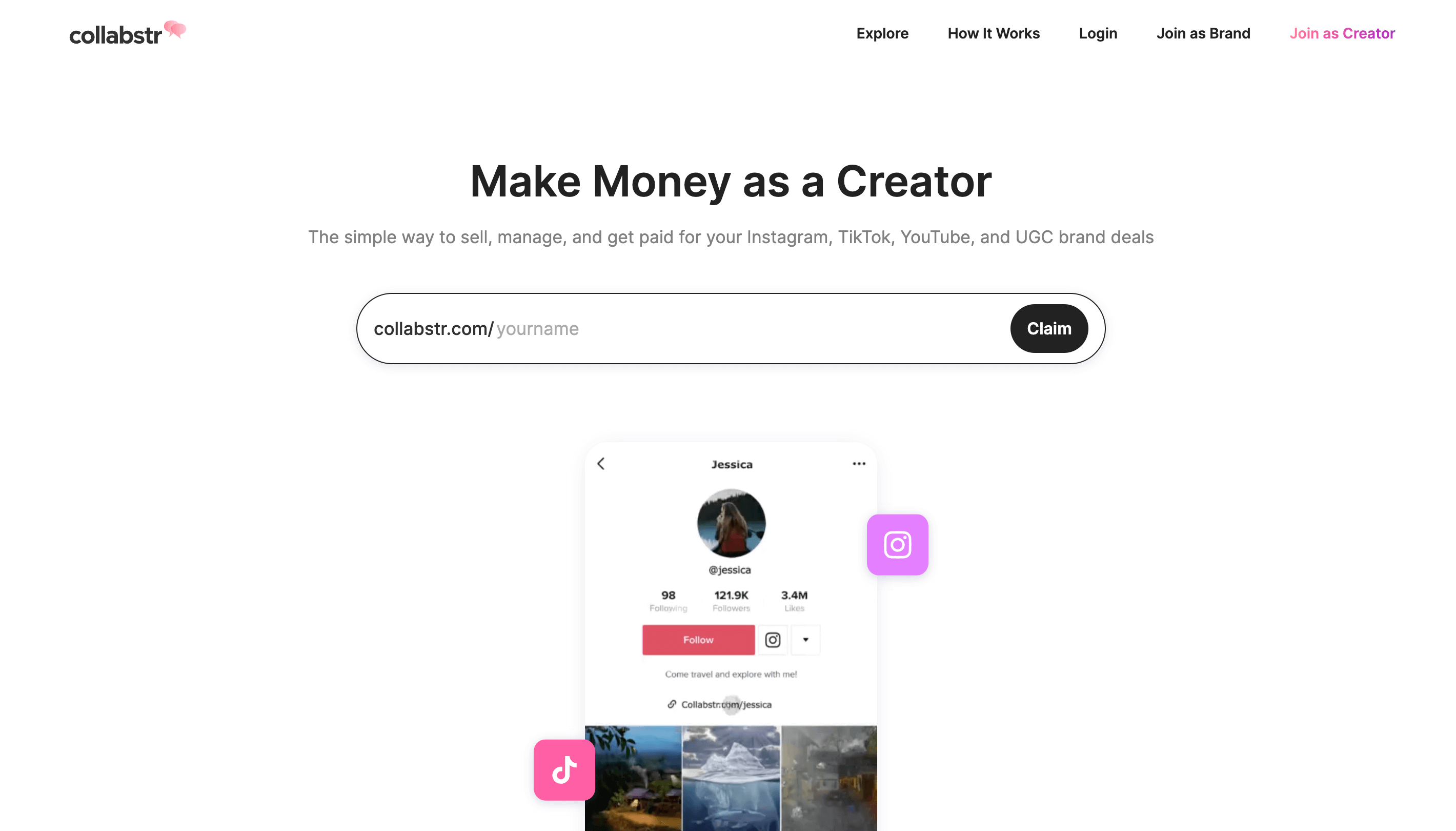 14. Develop Apps
If you have technical skills, you can make money online by developing apps. This requires coding knowledge and an understanding of how the app world works, but if done right it can be a great source of income.
You can create something from nothing and have full control over your product. There is a time investment that's required to develop an app, as well as the cost of hiring developers and designers if you're not doing it yourself.
To get started with developing apps, research which platforms to target (iOS, Android, etc.), brush up on coding, or hire a developer or design team, then create a prototype of your app. Finally, launch it to the app store and start marketing your product!
Check out Codecademy's mobile app development courses if you want to learn the skills yourself. You can also sell it as a freelance service once you're comfortable enough.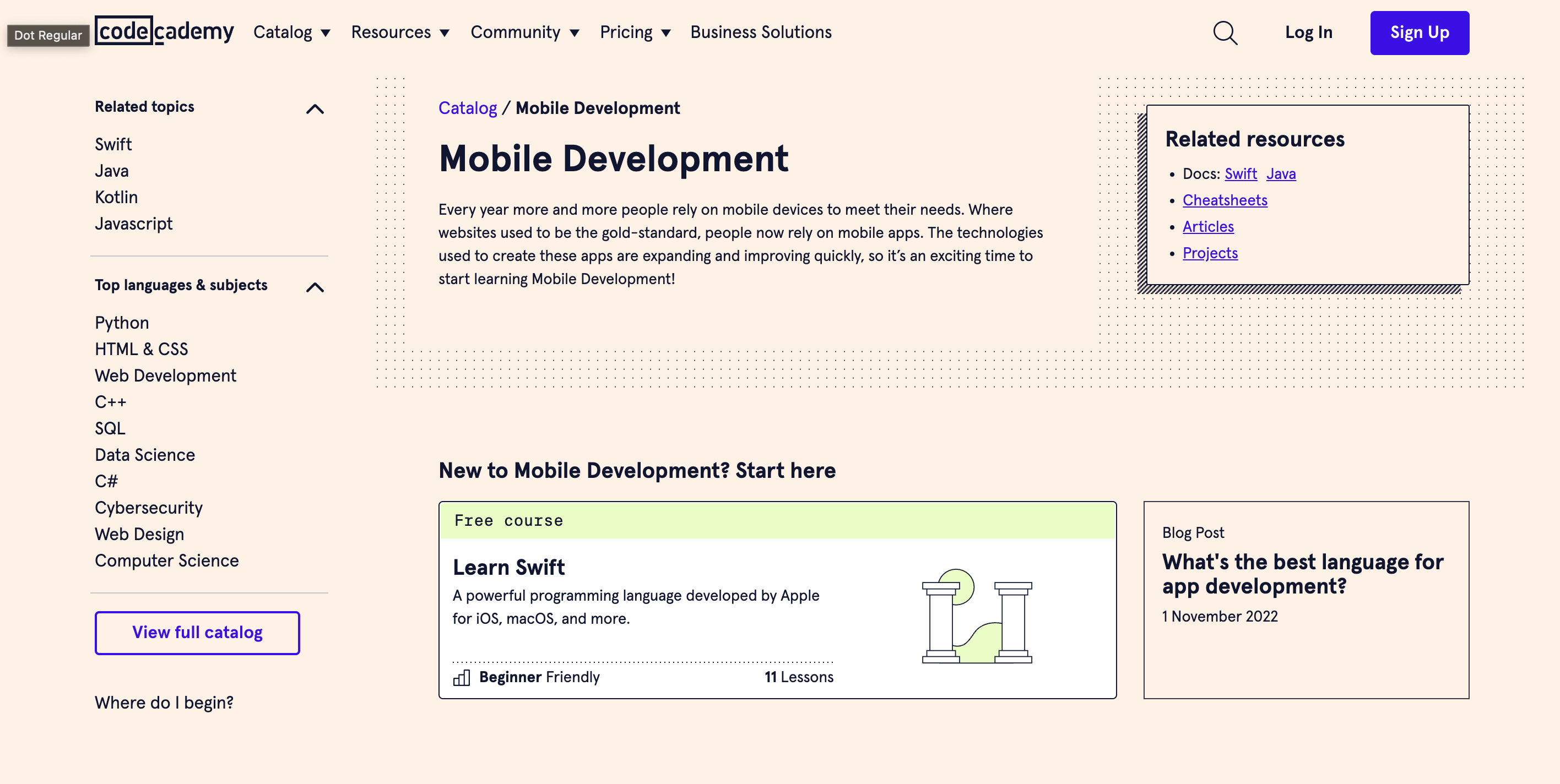 15. Create an Online Course
Creating an online course is another way to make money online. It's becoming increasingly popular because it offers people the opportunity to learn from experts in their field without having to attend physical classes or lectures. This also saves time and money for students who cannot afford to take courses in person.
Creating an online course requires some knowledge and expertise in a certain topic, as well as the ability to create engaging video content or written materials.
You can start by writing down the topics you would like to teach on, creating outlines for each lesson, and then creating the actual material, such as videos, slideshows, quizzes, and more.
Once your course is complete, you can upload it to platforms like Udemy or Teachable where people will pay for access to your course information.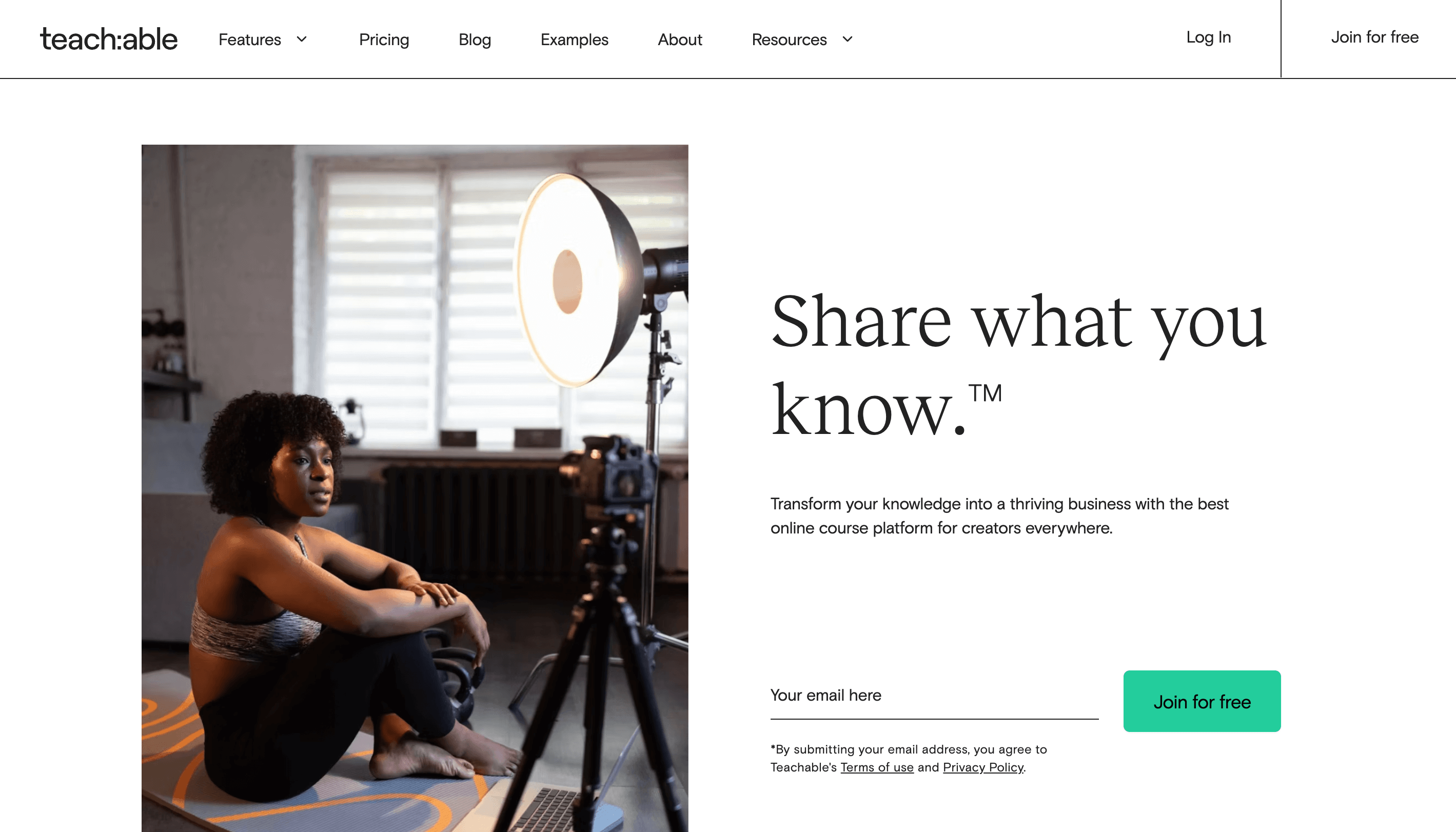 The earning potential for creating an online course is unlimited. How much you make will depend on how many people purchase your course, so it's important to do some research into what topics are popular and in demand before investing time into creating a course.
Wrapping up How to Get Started Making Money Online
If you try to learn how to make money online, it can be confusing and intimidating. There is no shortage of ways to make money which makes it tough to decide where to start. From my 10+ years of experience earning online, I recommend the following methods that I covered in this article:
Copywriting
Freelancing
Affiliate marketing
Dropshipping
Online surveys
Self publishing
YouTube
Podcasting
Blogging
Resell thrifted items
Amazon FBA
Trade and invest
Influencer marketing
App development
Online courses
Want to learn more about these business models and get mentorship from me? Check out my online courses.