Do you sell on eBay?
Trying to figure out how to drive more revenue?
Then you need to write great sales copy. Plain and simple.
The reality is that there are hundreds of thousands of eBay listings that aren't optimized.
And they wonder why they don't get sales!
Sound familiar? Don't worry.
I'm going to be showing you how to write eBay listings to make more sales if you keep reading.
How to write eBay titles
What's one of the first things customers will see when browsing eBay?
The title of your listing.
This is why it's easily the most important piece of copy you will write when selling on eBay.
It's too easy to write a generic and boring title, hit the save button, and expect money to roll in.
It just isn't going to happen. 🚫
That's why you need to try out some of the following headline writing strategies to craft epic eBay listing titles.
What's the benefit of using the product?
I'll be elaborating more on how to use this strategy within an eBay description, but it's also incredible for titles.
While I'm sure the products you sell have awesome features, it's not why customers are truly interested in buying something.
They actually desire how the product will benefit them.
The benefit of any given product will depend on the exact item and the audience buying it.
Check out the title for this bed set, for example:

Why would someone want to purchase a new duvet and pillow set?
To stay comfortable.
That's precisely why "Ultra-Soft" is used in the title.
You don't have to ramble about all of the benefits of what you're selling as a couple of words can increase click-throughs and get users interested.
Here's another example except from a laptop listing:

Using "Portable Lightweight Laptop" appeals to students and professionals who need a computer they can carry on-the-go.
Anyone that works remotely or moves around knows who annoying lugging around a heavy laptop can be.
So, a lightweight design that's easy to carry is one of the main benefits of this ASUS model.
Take the time to research why your customers are buying from you and include relevant keywords that some up these reasons in listing titles.
This is one of the fastest ways to make your eBay title stand out.
Offer as much detail as possible
The title for your eBay listing is an excellent opportunity to let customers know product details before they click.
This will help attract more serious buyers as some users may click-through to read the description which you can summarize beforehand in the title.
Additionally, creating a detailed title is much more interesting and captivating.
Check out the title to this listing for a gaming PC to see what I mean:

They list the various specs of the computer in the title to give customers precise information about the model.
This avoids users clicking through and not taking any action because they realize it wasn't the specs they wanted afterward.
Similarly, you can add details like size, colour, or material because customers are regularly searching for those things.
That brings me to my next point.
Add brand names and keywords for SEO
Many people will search eBay for very specific brands that they enjoy.
This is why you want to ensure that the brand name of any products you sell are clearly stated in the title.
It doesn't matter if you're dropshipping, selling a proprietary product, or reselling thrift store items. All of these can include brand names.
But search engine optimization doesn't end there.
You're not just optimizing for Google but eBay's internal search engine, too.
That's why every listing regardless of its nature needs keywords.
These are words and phrases that you want to be recognized for.
While they can be brand names and specific products like I just mentioned, they can be higher level too.
Think:
"Men's brown oxford shoes"
"Office desk name plate"
"Women's hair brush"
Etc.
I suggest using a tool like Moz to find keyword ideas and data. Simply begin by entering a term related to what you're selling.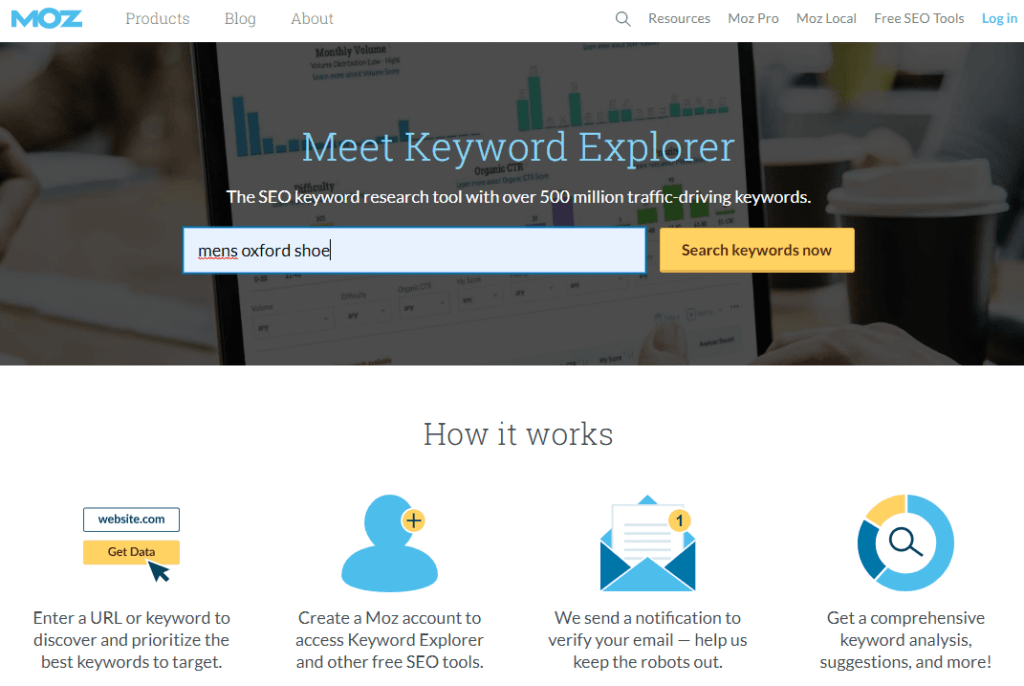 This will display data like search difficulty, volume, and suggestions.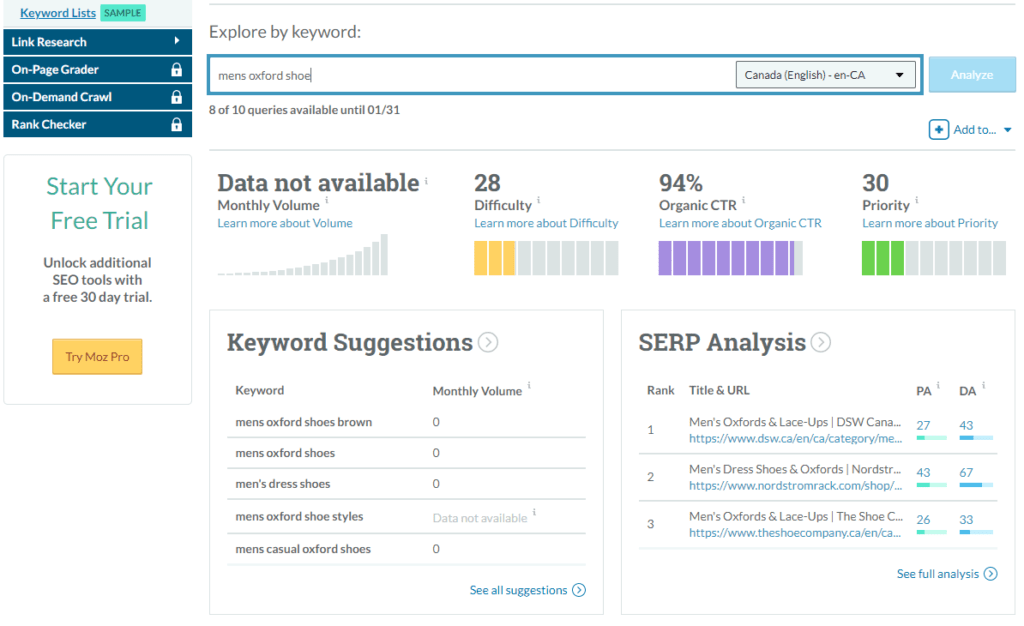 Once you've written a great eBay listing title, it's time to move onto the description.
This brings me to my next point.
How to write eBay listing descriptions that are irresistible
Imagine being able to write descriptions so good that your customers would be drooling at the mouth waiting to buy…
That can be a reality.
You simply have to use the correct strategies to hook emotions, make your product stand out, and push customers along the sales funnel.
Here's how.
Benefits are more important than features
Features are the factual pieces of information about a product.
Think sizing, color, fabric, etc.
Customers need to know features so they can purchase the correct item, but it's not what inspires the purchase.
There are much deeper and primal desires that force people to buy things. These are the benefits.
Here's the description for an expensive pair of dress shoes. Can you spot the benefits?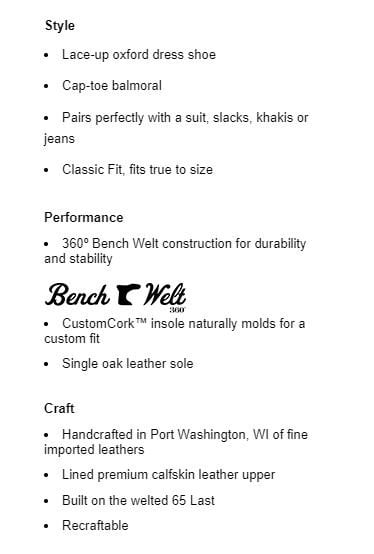 If you need some help, the main benefits include:
Being able to pair the shoes with a suit, slacks, khakis, or jeans.
An insole that naturally molds to your foot for a custom fit.
Recraftable which means customers can get the shoes easily fixed instead of replacing them.
While I would argue as a copywriter that there was plenty of room to elaborate, they did a good job and much better than the average listing.
Here's another example. This is the eBay description for a laptop: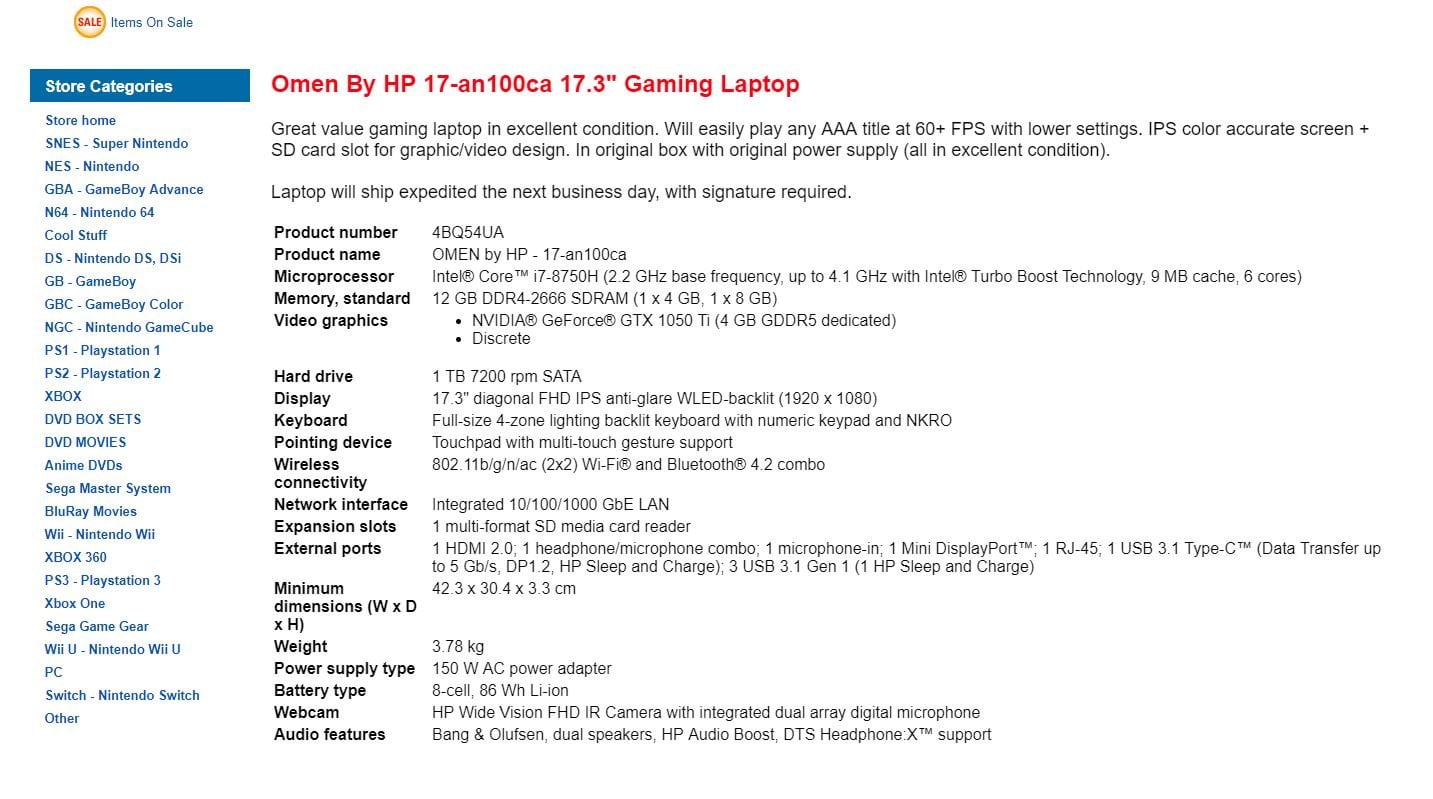 This used laptop can "easily play any AAA title at 60+ FPS" which appeals to gamers looking to play their favorite games smoothly.
If I wrote the description for this listing, I would've also touched on:
The battery life can last through long gaming sessions so you never get interrupted.
The backlit keyboard ensures that you can type, work, and game easily in the evening.
The large 17.3″ high definition screen makes any movie, video, or game more enjoyable.
See where I'm going with this?
You always want to elaborate on the experience a feature will give because that's what customers actually care about.
Use a call to action
People are lazy.
We like being told what to do whether we realize it or not.
This is because it takes thinking out of the equation and lets us move to the end result faster.
It is especially apparent in e-commerce and most forms of advertising.
Heck, there's even this amazing book on user experience I read one time called Don't Make Me Think.
The general principle is that you want to make your sales funnel, your eBay listing in this case, as brainless as possible for the user.
They shouldn't have to question anything or feel confused as that slows down the process of them adding to cart and reaching checkout.
This is also why a call to action is so effective.
These are phrases or words that tell customers to take the next step.
You can see this used on a banner within the following eBay listing:

"Shop Now" is a simple call to action that entices users to click through to see special offers.
You can use CTA's in this way or place it as text within the description. Some call to action ideas include:
Buy now
Order now
Add to cart
Don't wait
Get it before it's too late
Order while supply lasts
Change your life today
Stimulate the customer's pain points
Why do people buy products?
To solve a pain point or problem.
Buying something is very emotional (if not irrational) and is usually to prevent or stop something from happening.
Seldom do we even realize this is happening.
According to a Harvard Professor, 95% of the purchasing process is emotional.
Nonetheless, it's extremely effective to address consumers' pain points within your eBay copywriting for this reason.
It helps them realize that you understand them while getting relevant emotions boiling.
Read my guide on the PAS formula for a full walkthrough.
Look at the eBay description for this skincare product:

Within a few bullets, they address the readers' pain points of having clogged pores, acne marks, and fine lines.
Anyone suffering from these symptoms will be instantly intrigued to learn how the product can take away their insecurities.
Use bullets and easy-to-read formatting
You can have the best damn eBay sales copy in the world, but if people struggle to read it, revenue will sink to the bottom of the ocean.
Let's avoid that.
How?
Though proper formatting and structure.
One of the simplest (but effective) things you can do is use bullets.
Summarize features, benefits, value propositions, and pain points with bullet lists.
They are easy to read and scan, quickly communicating the most important information to the consumer.
This listing for a Ferrari uses bullets alongside an image to conveniently provide details.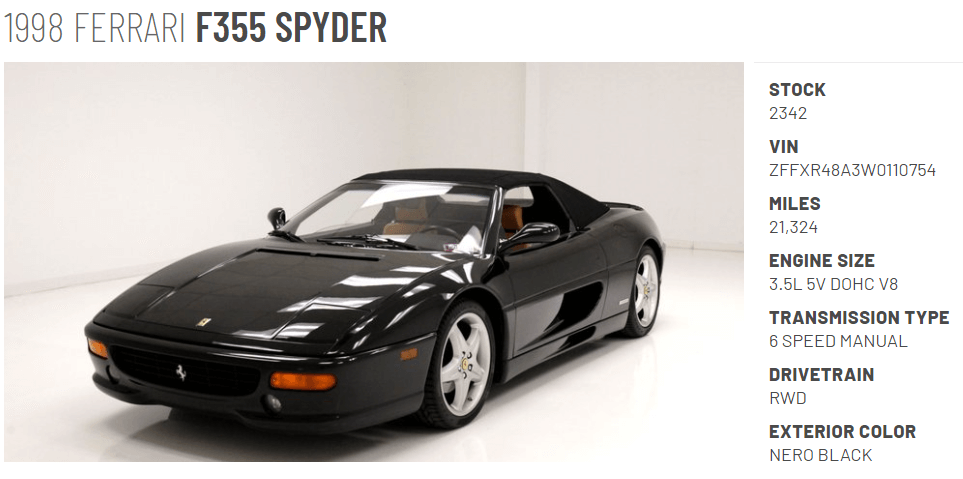 I also want you to use short sentences and paragraphs. Try not to overwhelm people with giant blocks of text.
A few sentences per paragraph is more than enough.
Every sentence and paragraph should focus on on selling point or idea.
Additionally, headers helps separate the sections of the page so it's easy to scroll through and find what they need.
Watch this video on eBay listing templates to learn more:
High-quality images must accompany the copy
Images and sales copy go hand-in-hand.
Think of it like steak and wine. 🥩 🍷
Photos strengthen eBay copywriting by pairing a visual with the information. (Vice versa, as well.)
In fact, 75% of consumers rely on product photos when deciding on a purchase.
You must include high-resolution images from multiple angles.
No questions should go unanswered about the product's appearance.
…Which is also why it's essential to show the product in action.
How is it used? What does it look like?
Use a person that is as close as possible to your target audience.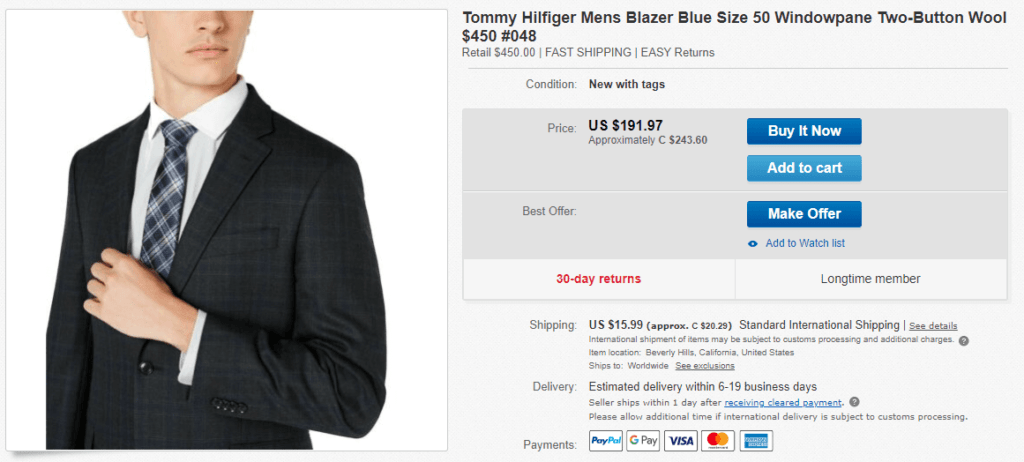 This will help them see themselves in the photo.
If you're not a huge brand name, you are going to face an uphill battle with eBay.
But that's okay.
It makes sales and growth that much more rewarding.
Being in a David vs Goliath situation allows you to differentiate your brand too.
That's precisely why I recommending winning people's trust with testimonials and social proof.
88% of consumers trust reviews as much as recommendations from friends and family. Yeah, let that sink in.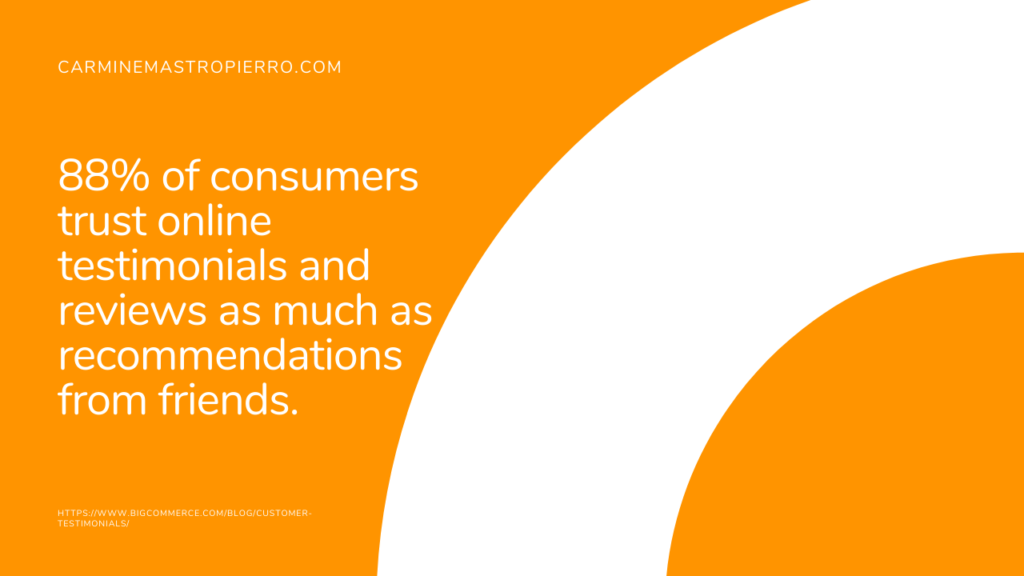 Customers are going to naturally object and be skeptical of a brand they haven't engaged with before.
"Can I trust them?"
"Will they take my money?"
"Is the product any good?"
These are a few questions going through their head when shopping with you.
Use testimonials and reviews to get around this. Provide excellent service and testimonials will naturally manifest but you can also take it into your own hands. 👏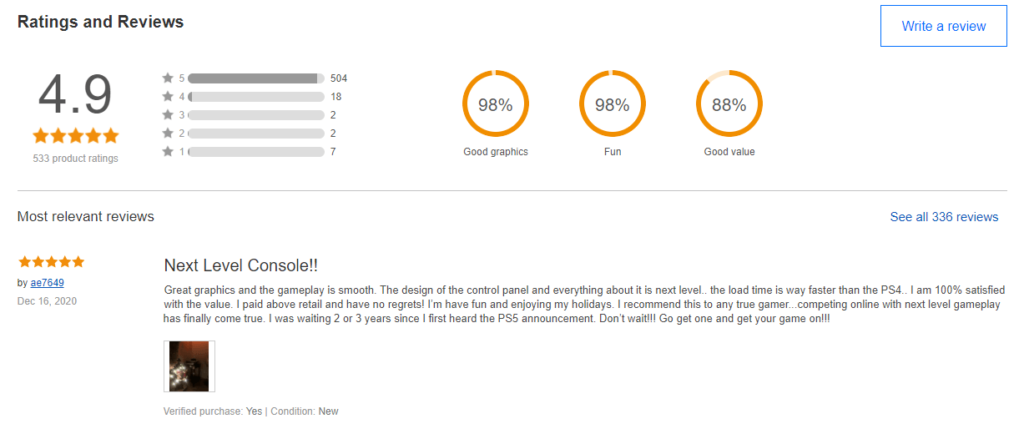 Contact customers and ask them to leave a review if they enjoyed the product.
Include sales copy within the description that asks for a review after purchasing.
Final thoughts on eBay copywriting
eBay is a great platform to expand an e-commerce business because you sell products on it for free.
However, you need to write excellent copy if you wish to drive serious sales.
It all begins with the title of your listings.
Focus on making them descriptive, benefit-oriented, and don't neglect brand names as it's effective for SEO.
Next, write descriptions that elaborate on the product benefits, the pain points it solves, and use calls to action.
If you need an eBay copywriter to take care of this for you, reach out to me.