Product descriptions will make or break whether or not a customer wants to buy from you.
It's very common for businesses to write boring and generic descriptions without realizing their importance.
This results in less sales. Fewer clients. Lagging commissions.
But, if you take the time to write good product descriptions, you can look forward to a better conversion rate.
How, you ask?
By mastering the art of features versus benefits.
If you can grasp this copywriting strategy, you are guaranteed to see better performance from product and service pages. (Heck, all pages for that matter!)
Follow along as I explain what this technique is, how to use it, and present real examples.
What are product features?
Product features are factual pieces of information about what you sell. Think about sizing, color, fabric, or dimensions.
These are the details that make up a product, and sure, they have to be stated.
However, you will notice that most businesses only mention the features.
Harvard professor Gerald Zaltman wrote a book called How Customers Think: Essential Insights into the Mind of the Market, which covers his belief that 95% of purchasing is emotional.
There are many emotional, primal, and frankly irrational beliefs that go into buying products.
Consumers are smarter than they have ever been, with infinite amounts of resources, reviews, and information at their fingertips.
But Zaltman has studied consumers' unconscious behaviors while shopping and noticed that there are many contradictions about what they say versus do.
Gerald believes this is because many unconscious urges and feelings drive us to make purchasing decisions.
Let me ask you something that'll hit home.
Have you ever purchased something and barely used it later?
Maybe it was clothing. Food. Anything.
You threw it away, or it sat somewhere collecting dust.
Why would you spend your hard-earned money on a product and treat it like that?
Because it was an emotional decision.
…Maybe a shirt was 50% off, the store was about to close, and you felt rushed.
…Maybe you were in an iffy mood, came across a tub of Ben & Jerry's, and never finished it.
This brings me to my next point.
What are product benefits?
Product benefits are the emotions and experiences that a customer will gain from using your product.
This is what customers are truly after.
Do you think they care about the polyester fabric and v-neck shape of a t-shirt?
Probably not.
However, customers would more than love to hear about how that t-shirt will match any outfit, boost their confidence, and not lose any color after being washed.
What I just listed are the benefits.
Additionally, 86% of consumers are more likely to purchase something when a business makes it easy to do so.
If they have to constantly scratch their head wondering what they will get out of the transaction, the sale probably won't happen.
Let's look at some real-life examples of features vs benefits copywriting in action next.
You can also explore my copywriting courses to learn more about this topic and others.
Examples of features vs benefits
These are examples of products and services that nail this strategy.
Nordstrom shoes
These are a pair of men's suede dress shoes available on Nordstrom. The description states the following:
Bologna construction means flexible, breathable comfort in a charming monk shoe built from hearty Italian suede.
Instead of only mentioning the construction method used to make the shoe, Magnanni made sure that customers understood it results in flexible, breathable, and comfortable footwear.
Fashion is an industry that is especially important to write good descriptions because it's difficult to display a value proposition.
I use to run a men's shoe e-commerce company, and I'd recommend anyone in that space or similar to focus on comfort, confidence, and similar attributes when writing copy.
Consumer Acquisition services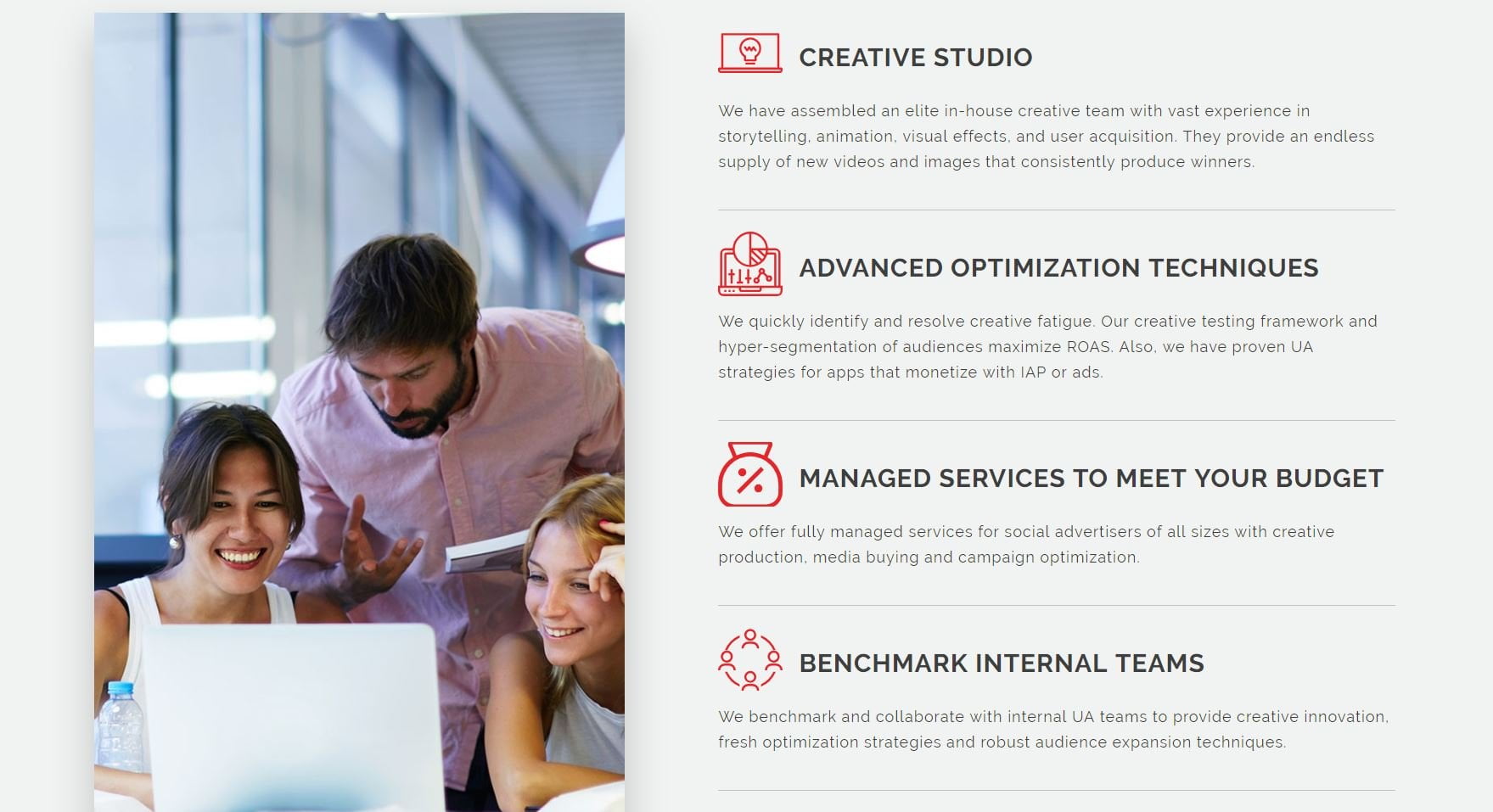 Consumer Acquisition is a business that helps mobile app companies improve the results of their Facebook and Google UAC campaigns.
Let's break down how they use features versus benefits on their managed services page, beginning with:
We have assembled an elite in-house creative team with vast experience in storytelling, animation, visual effects, and user acquisition. They provide an endless supply of new videos and images that consistently produce winners.
The first sentence describes the features of their creative studio tool, which includes a team of in-house creatives that have experience with animation and user acquisition.
What's going to be the first thought that runs through someone's head reading that?
"What's in it for me?"
Hence why the second sentence elaborates on the benefits, including an endless supply of creatives that produce winning campaigns.
Under the advanced optimization techniques header, Consumer Acquisition has the following copy:
We quickly identify and resolve creative fatigue. Our creative testing framework and hyper-segmentation of audiences maximize ROAS. Also, we have proven UA strategies for apps that monetize with IAP or ads.
The feature is creative testing and segmentation with the benefit of maximizing return on assets and better monetization strategies.
Notice how it also uses language that their ideal customer profile would understand, like "ROAS" and "UA."
Fossil watches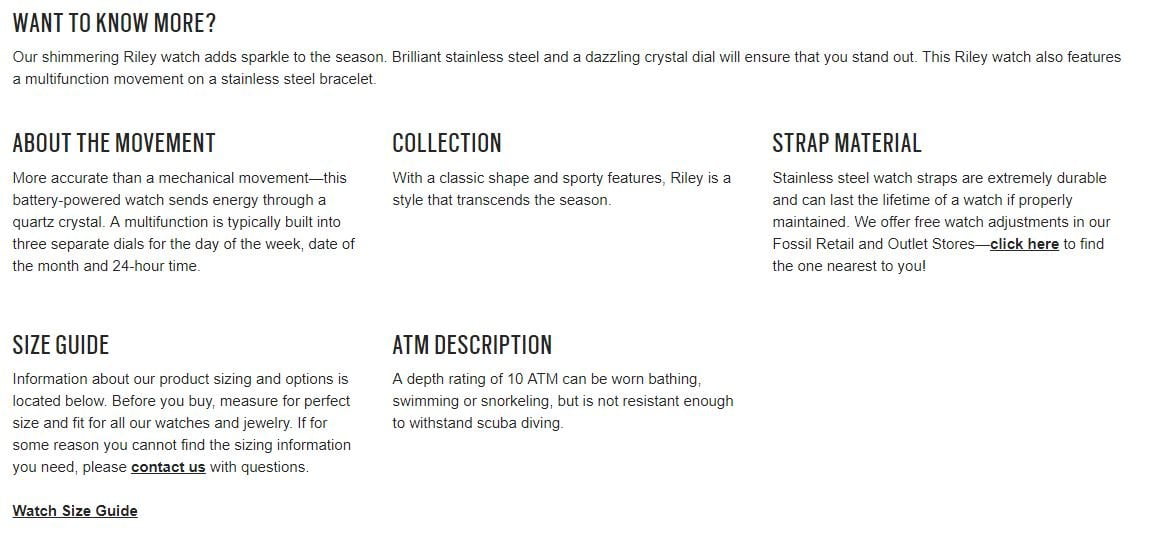 The above image is the description of a women's Fossil watch.
Under the "Want to know more?" section, you will notice that they describe the Riley model and state the "dazzling crystal dial will ensure that you stand out."
Style is all about expressing your feelings and looking unique so Fossil aligned their product description with this benefit of their watch.
While usually the more benefits the better, sometimes a single larger benefit is enough to convert customers.
Hootsuite
You should know what Hootsuite is unless you've been living under a rock.
In the case you're like Patrick from Spongebob Squarepants, Hootsuite is a social media marketing tool that makes the lives of entrepreneurs much easier.
I want to use the scheduling feature of their website as an example, beginning with the following: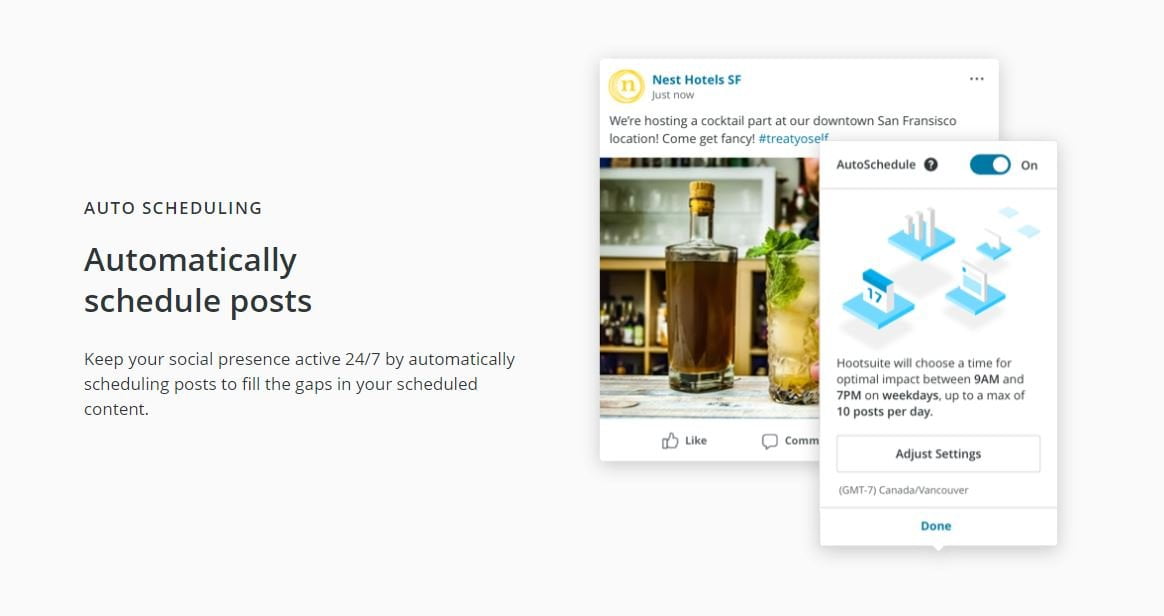 Auto-scheduling posts to social media is the feature users will have access to, and the benefit is "automatically scheduling posts to fill the gaps in your scheduled content."
This is what researchers discovered in 1991 and what we call loss aversion today.
Most consumers are more afraid of losing something than gaining its counterpart.
Social media marketers don't want to have lulls where content isn't being published, as it reduces the performance and return of their pages.
Naturally, "posts to fill the gaps" will pique their interest because of this.
Scrolling down the page, Hootsuite directly mentions why their bulk scheduling is beneficial by explaining to users it will save them time.

Every time you're writing a product or service description, ask yourself, "What does this actually do for the customer?" and you will always find the benefit to elaborate upon. This is a great features vs benefits exercise.
Hootsuite also offers a mobile app. While they could've ended it there, they made sure to speak about the convenience of using it anytime, anywhere.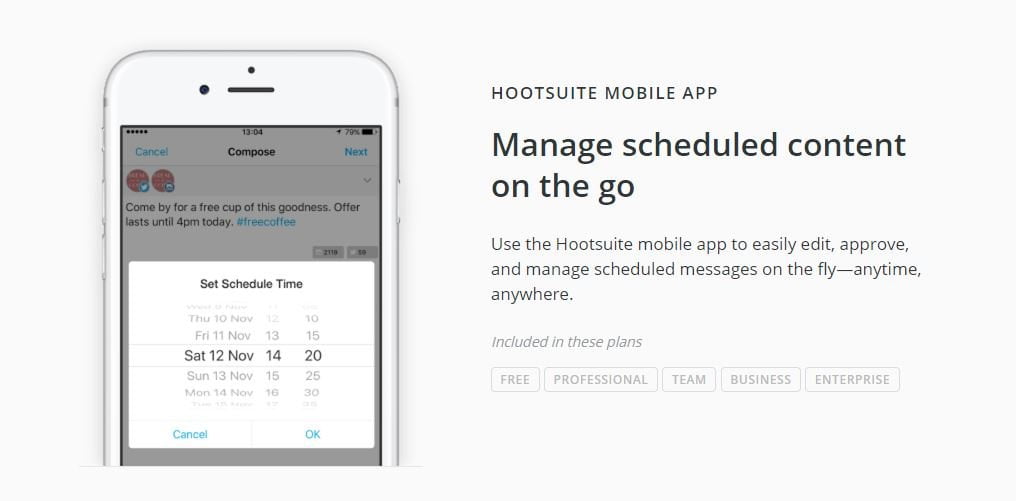 Learning how to translate features into benefits is as easy as explaining how each feature helps the customer.
Amazon Bluetooth receiver
This is a screenshot from the product page of a Bluetooth receiver on Amazon. There are tons to learn from their copy that I wanted to share with you.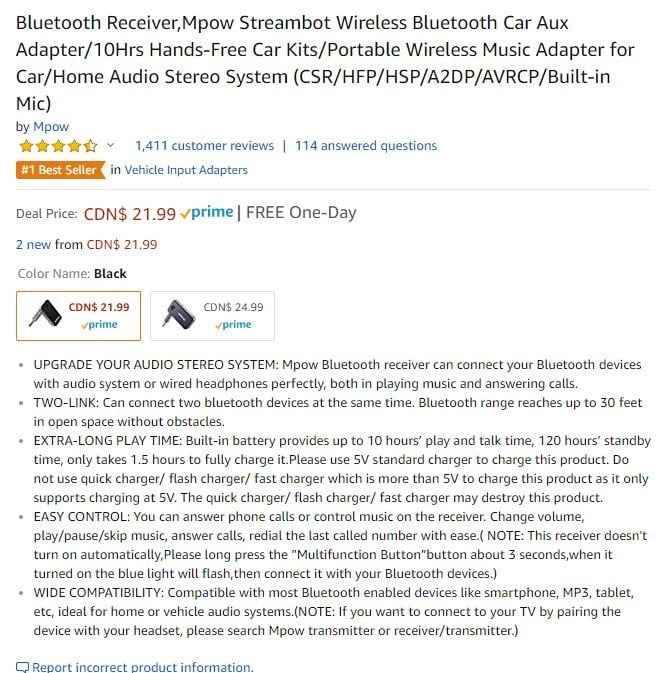 UPGRADE YOUR AUDIO STEREO SYSTEM: Mpow Bluetooth receiver can connect your Bluetooth devices with audio system or wired headphones perfectly, both in playing music and answering calls.
The first bullet point tells customers that they will be able to enjoy music and answer calls, effectively upgrading their car's audio system. Older models don't come equipped with Bluetooth built into them, which is a great benefit of this item.
TWO-LINK: Can connect two bluetooth devices at the same time. Bluetooth range reaches up to 30 feet in open space without obstacles.
A concern a customer may have with this product is the range. Mpow resolves this by saying the receiver can reach 30 feet and connects up to two devices at the same time.
EXTRA-LONG PLAY TIME: Built-in battery provides up to 10 hours' play and talk time, 120 hours' standby time, only takes 1.5 hours to fully charge it.
I don't know about you, but I know that when I'm purchasing electronics, I'm always curious about battery life.
This is why Mpow ensured to cover battery life, standby time, and how long it takes to charge.
EASY CONTROL: You can answer phone calls or control music on the receiver. Change volume, play/pause/skip music, answer calls, redial the last called number with ease
Last but not least, the product description explains the feature of easy controls.
What are the benefits of this? Answering phone calls, controlling music, changing volume, and more effortlessly.
Features vs benefit chart
Here is a free feature vs benefits chart you can save or print to use as practice: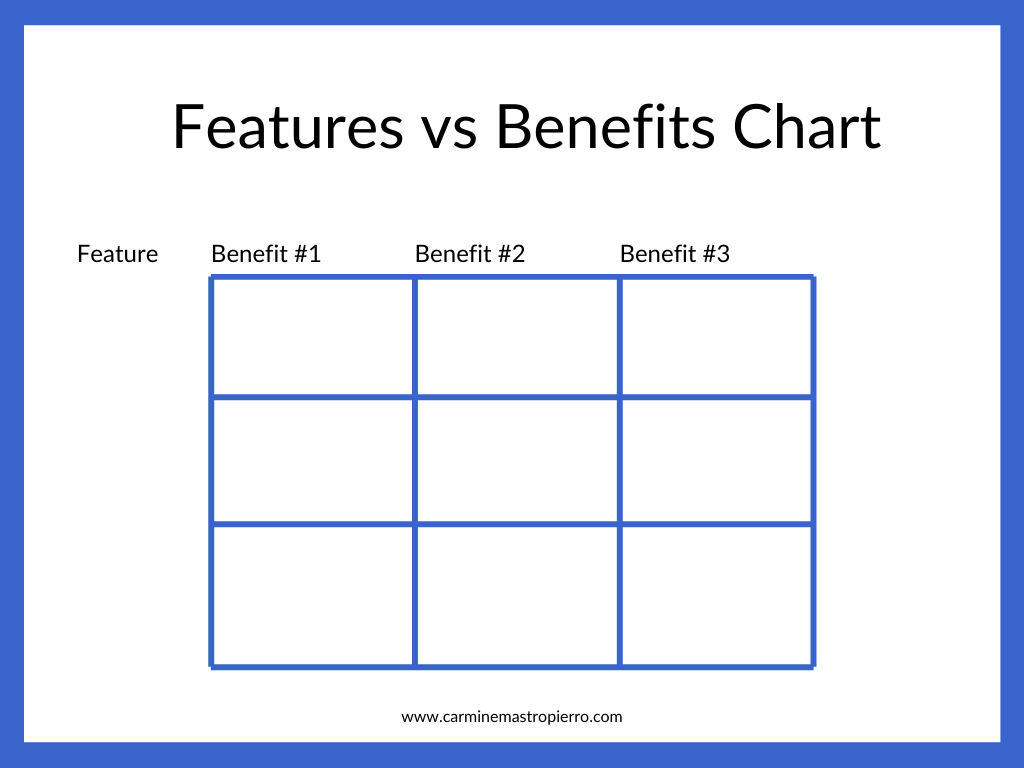 Write the feature on the left side and fill out three benefits that it provides.
Ask yourself, "So what?" when you write a feature.
This will prompt you to explain why it's beneficial.
Final thoughts on features vs benefits copywriting
Understanding features vs benefits in copywriting is crucial for all marketers.
It is a fundamental component of producing product or service descriptions that convert.
Here's a wrap-up of the main takeaways from today.
Additionally, you can get mentorship and coaching from me in my copywriting courses.
Key takeaways
Features are the factual pieces of information about a product. Sizing, color, and material are examples of such.
Benefits are the emotions and experiences a customer gains from using a product.
The purchasing process is very emotionally driven, hence why benefits need to be stated. They interest customers, grab their attention, and speak to their needs.
Every time you are writing copy for a product or service, ask yourself "What does the customer get out of this item or feature?"