The heart of good SEO campaigns is proper keyword research.
Targeting the right search terms will drive a huge amount of traffic to your website that you wouldn't get without prior research.
That's why you need a keyword research tool.
But with so many on the market, it can be tough to pick one.
Welcome to Keyword Shitter.
It's a free keyword research tool that spits(for lack of a better term) out keyword ideas in the press of a button.
I like using it when I need a little bit of extra inspiration and ideas for content.
Here's a quick guide on how to use this free tool and get the best results with it.
Keyword Shitter Guide
Step 1: Enter in keyword ideas
Visit the Keyword Shitter homepage and enter in a search term, or several, into the white text box.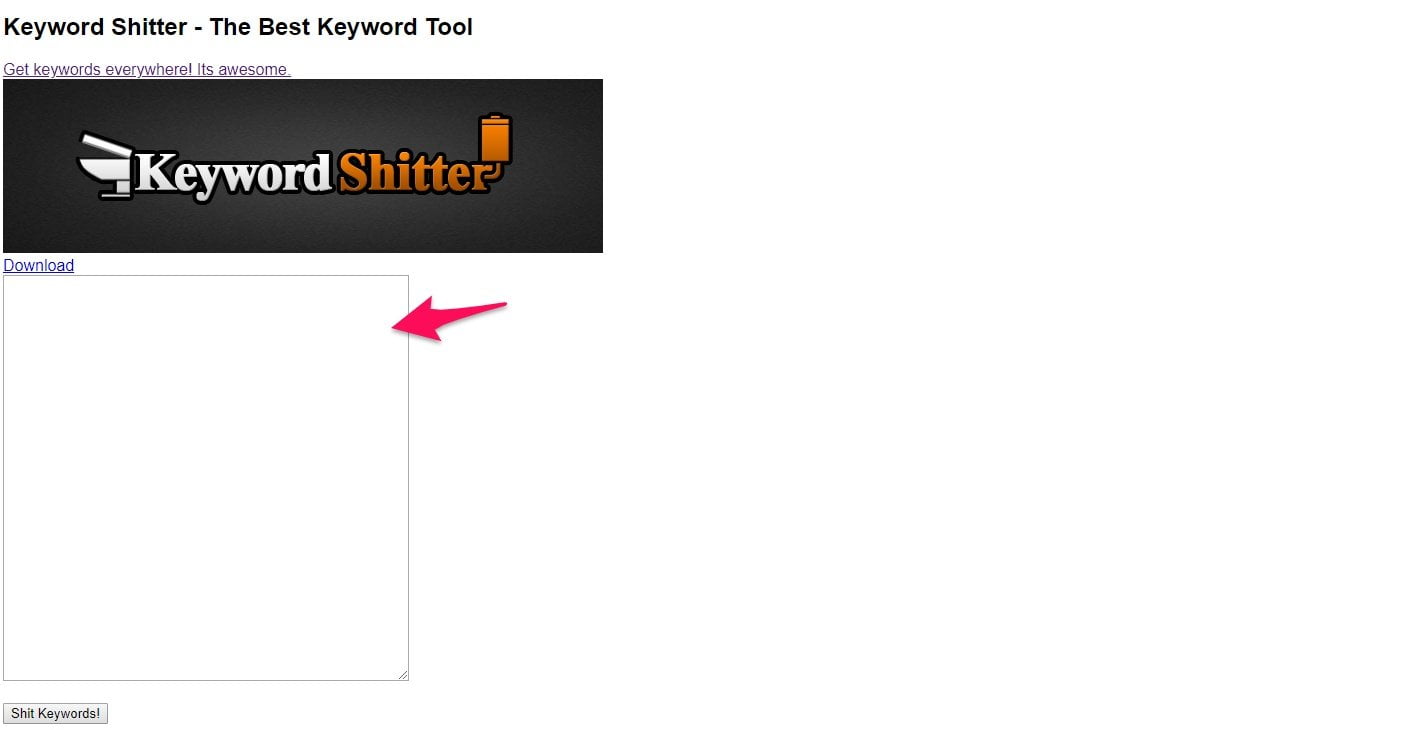 Step 2: Add positive and negative filters (Optional)
If you wish to receive results that contain a certain keyword, you can add a positive filter by the above text box.
Additionally you are able to add negative terms if you want to remove certain terms from the list this tool will generate.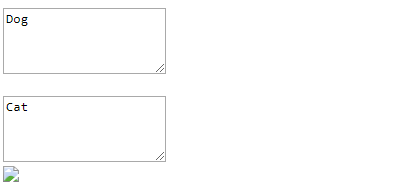 Step 3: Let it Sh!t
Click the "Shit Keywords!" button once you are satisfied with your settings.
You can hit "Stop Job" at any time if there are enough
After this you must click the blue download button to get your results.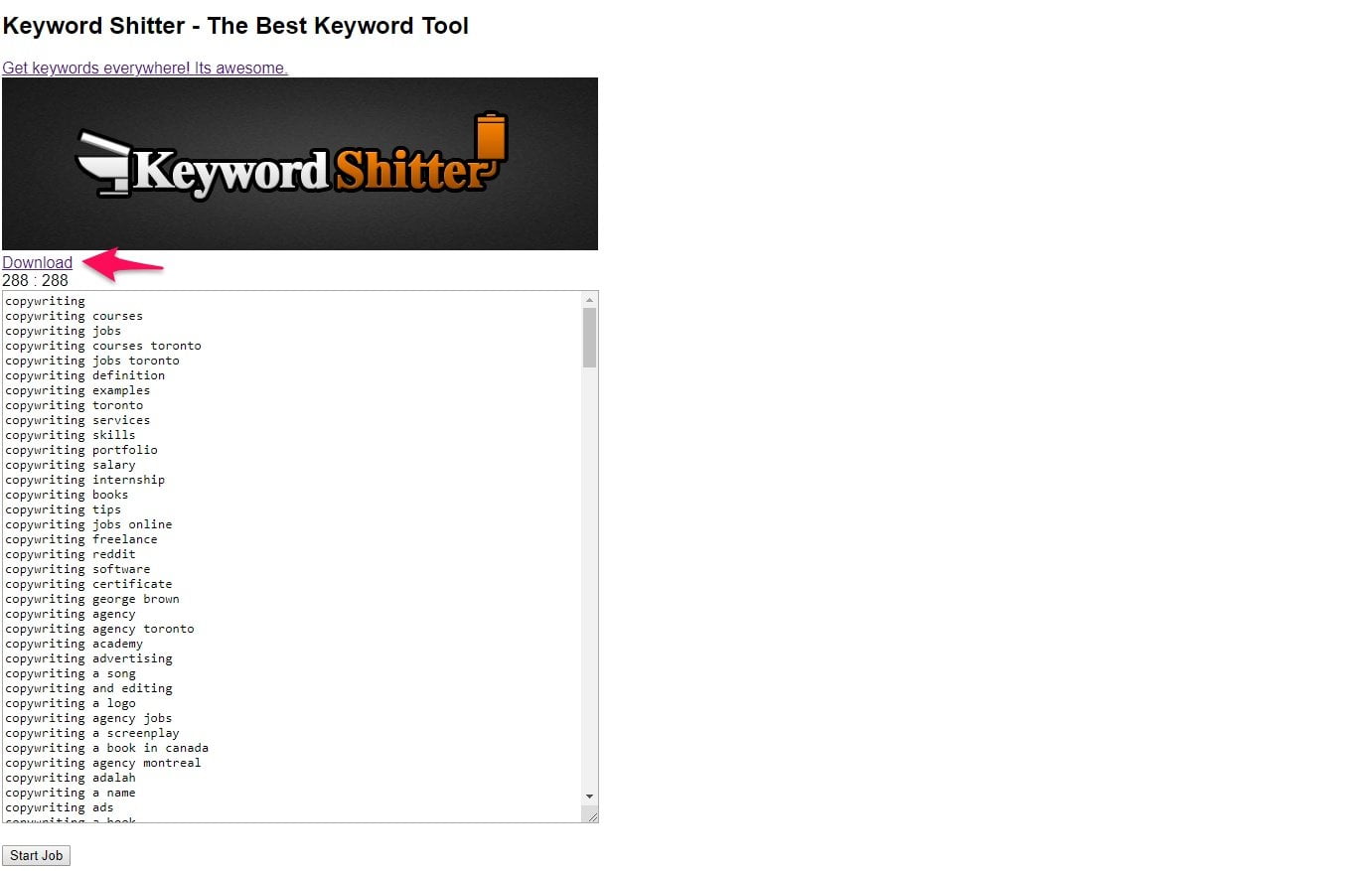 Alternatively you could copy and paste from the text box to a spreadsheet or other tool.
Keyword Shitter alternatives
For a free and quick tool, Keyword Shitter gets the job done easily if you need some keyword inspiration.
However, what if you want to perform backlink analysis, spy on competitors, or monitor rankings?
You'll need a more powerful tool.
Here are some alternatives you should consider if you need a bit more power behind your SEO.
SEMrush
SEMrush is a full SEO suite that offers up to ten searches per day.
These searches can be for domain overviews, keyword analytics, and more.
If you wish to gain access to further searches, results, and features, you will have to upgrade, however.
Here are some of the main features of SEMrush:
Domain analytics: Get an overview of any website's keyword rankings, organic traffic, paid traffic, engagement metrics, and more. This is priceless for tracking your own performance or snooping on competitor's to see how they're doing.
Keyword analytics: Find new keyword ideas and discover high value search terms to target in new content. SEMrush provides trend, volume, competition, CPC, and other data for any keyword you enter.
Projects: Launch individual campaigns for websites to analyze on-page SEO, backlinks, brand mentions, content performance, and more.
These are their current plans: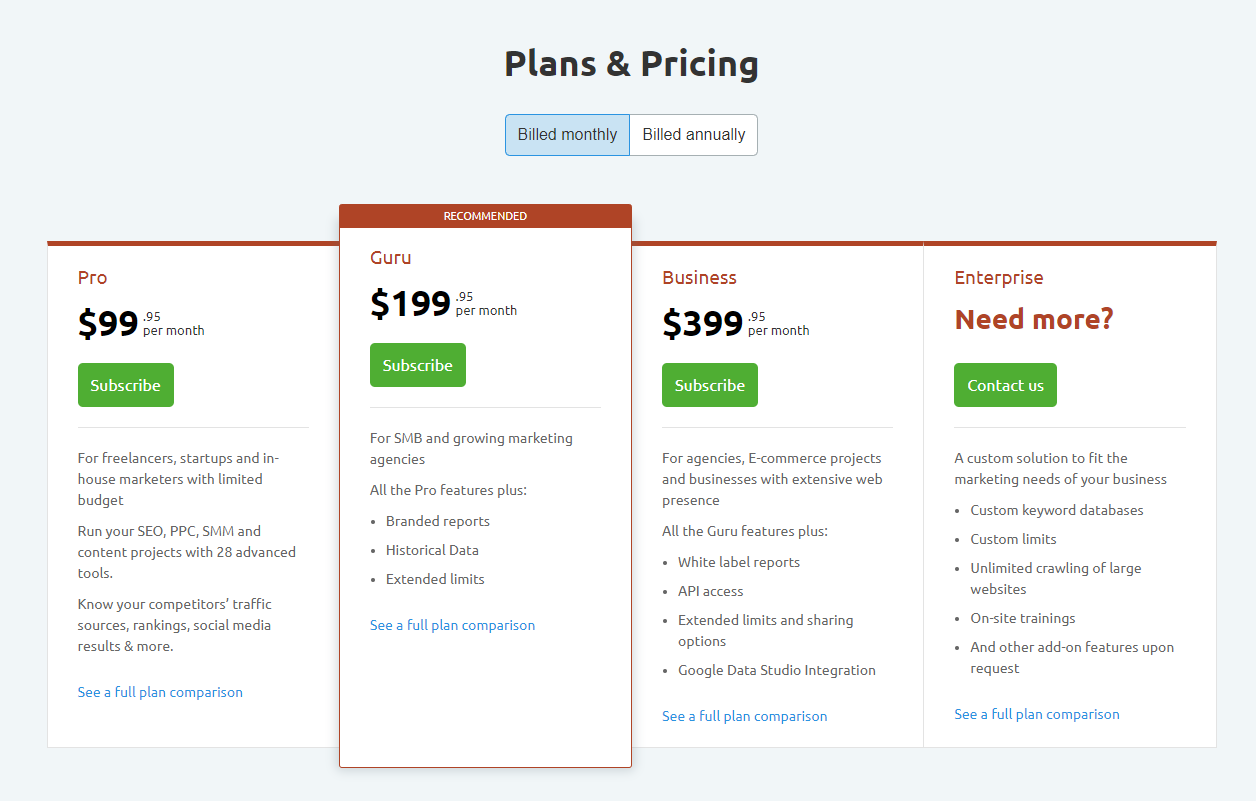 Many of you might find the free version to be more than enough if you use it casually like me.
Majestic
Majestic boasts the largest backlink database in the world, and it's used by some of the best affiliate marketers, specialists, and SEOs.
Their tools are used for tasks like increasing website traffic, analyzing competition, monitoring brand mentions, and building high quality links.
They receives roughly one billion URLs per day, and constantly refine their database to give you better results.
The main features of Majestic include:
Site explorer: Get the low down on how any website is performing in seconds. You will gain access to data like trust flow, topical trust flow, backlinks, referring domains, anchor text, and more. Use this to gauge how well your website is growing.
Bulk backlink checker: Wouldn't it be nice to know exactly which websites are linking to yours along with metrics like citation flow? Majestic's link checker allows you to paste in 400 URLs or up to one million URLs via file upload to do exactly this.
URL submitter: Who wants to manually crawl URLs in Google Search Console when you can enter up to 100 URLs to be crawled at once on Majestic? This nifty feature will help you become more easily discovered on search engines.
Here's their pricing: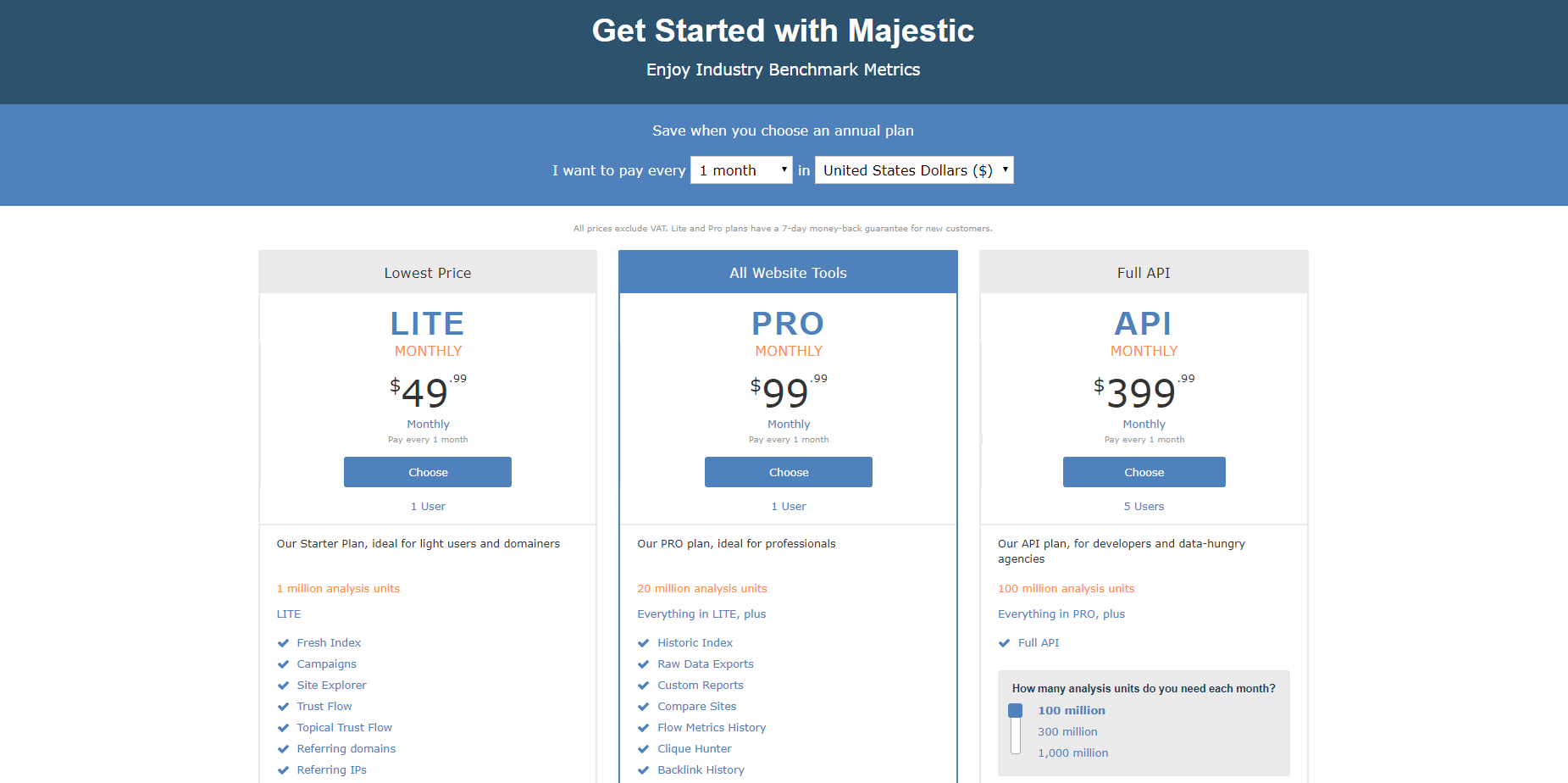 Google's Keyword Planner
Another classic SEO tool is from the big boys themselves… Google.
I've always said that they are way too nice to us marketers.
Google freely gives away piles of tools and resources to improve our businesses, and the Keyword Planner in the Google Ads platform is one of them.
Paired with the free Chrome extension Keywords Everywhere, it becomes more powerful, too.
Once you've signed up for a Google Ads account, you can access this tool via "Tools & Settings" then "Keyword Planner."
You will be prompted to choose between finding new keyword ideas or receiving volume and forecasts.
The first route will bring you to the keyword ideas page.
Here you can filter the results based on keyword text, CPC, and other metrics.
You can also download the keywords or grouped ideas as CSV files to import into other software.
The second function of the Keyword Planner helps marketers discover trends and patterns in keywords along with paid advertising estimates.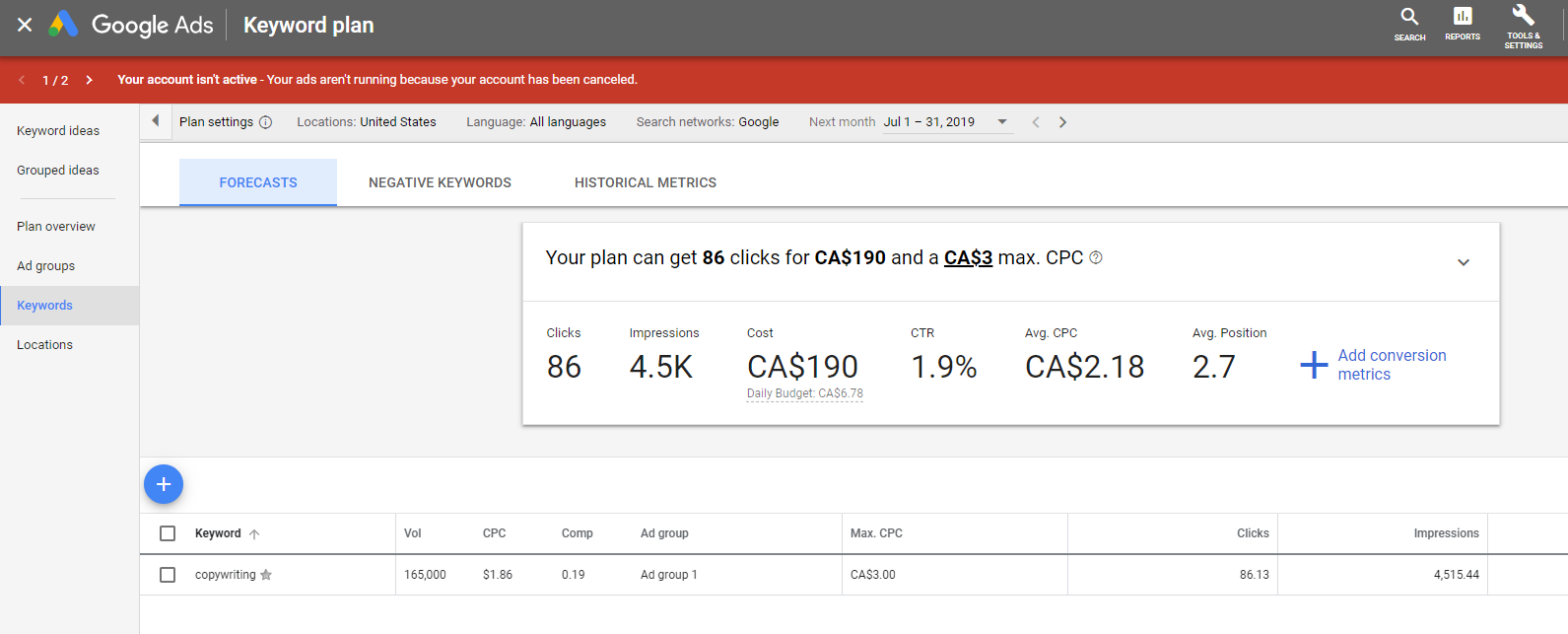 Overall you should definitely have this in your arsenal along with Keyword Shitter since they're both free.
Understanding the different types of keywords
When you get the results from Keyword Shitter, they're not organized or delivered along with any metrics.
That's why it's critical that you understand how different keywords should be used.
They are broken down into three categories:
Informational: These search terms have the end goal of learning something. Use these for tutorials, guides, and how-to style articles. Think "SEO basics" or "How to perform content marketing."
Transactional: Users entering these search terms are interested in purchasing something. "Best shoes under $100" and "Affordable CRM software" are examples.
Navigational: Once your brand grows enough, users will begin searching for your business name in the form of a navigational keyword. The goal is to navigate to specific website or app, hence the term.
Final thoughts
I've been using this web app recently for coming up with new keyword and content ideas, so I wanted to share it with you.
It's not the most popular tool out there, but I think every marketer needs to bookmark it and have it in their tool belt.
I suggest that you take the results and plug them into Google's Keyword Planner or another tool to study their individual metrics.
What's your favorite SEO tool?