Online surveys are becoming increasingly popular as a way to make extra money from home. The appeal of making money through online surveys lies in their flexibility as you can do them anytime, anywhere.
Plus, many survey sites offer rewards for completing surveys, ranging from cash payments to gift cards and more. It's also an easy way to supplement your income without having to invest a lot of time or energy into it.
In this blog post, I'll teach you how to make money online with surveys, the best websites to use, and how to maximize your income.
Let's jump into it!
What Are Online Surveys?
Online surveys are a type of market research used by organizations to learn more about their customers and potential customers. Companies use online surveys to collect feedback on products, services, advertising campaigns, customer satisfaction, and other topics that can help them better understand their target audience.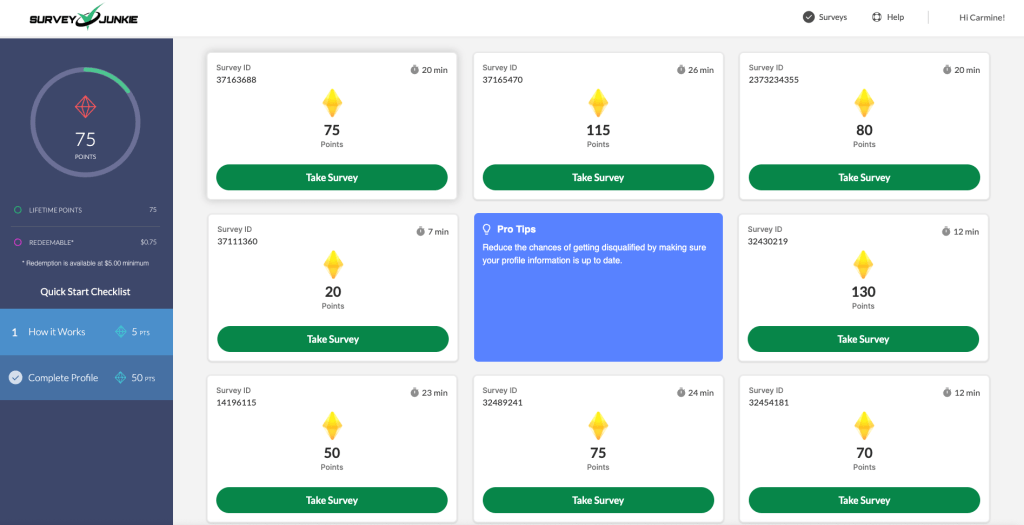 Typically, survey companies will pay participants for their time in the form of cash or gift cards. This means that you can make money from taking surveys from anywhere in the world as long as you have access to an internet connection!
How Do Online Surveys Work?
The process is fairly simple: sign up with a survey company (also known as "panel"), fill out your profile information so that they know what kind of surveys you qualify for, and wait for the survey invites to roll in.
Once you receive an invitation, you'll typically be asked to fill out a questionnaire and answer some questions about yourself. Depending on the type of survey being conducted, it could take anywhere from 5 minutes to several hours to complete.
Once you've completed the survey, your reward will usually be credited to your account within a few days or weeks (depending on the company). It's as simple as that.
How Can I Find Legitimate Online Survey Websites?
There are a lot of survey sites out there, so it's important to do your research and make sure that the ones you sign up for are legitimate. Look for reviews and ratings online to get an idea of what other users think of the site.
Also, be sure to check out the privacy policies and terms & conditions to ensure that they aren't asking for too much personal information or collecting data without your permission.
I recommend sticking to the big and popular survey websites, as you know you can trust them, and you're guaranteed to get paid. Swagbucks is a great choice.
How Much Money Can I Make Through Online Surveys?
The amount of money you can make with online surveys depends on a variety of factors, including how many surveys you complete, what rewards are offered by each survey panel, and the number of market research companies that are targeting people like yourself.
Generally speaking, most survey sites pay between $0.50 and $5 per survey, with some surveys paying up to $25 or more.
For illustration, you can see surveys that pay up to $4.50 on ySense that only take a few miuntes of your time!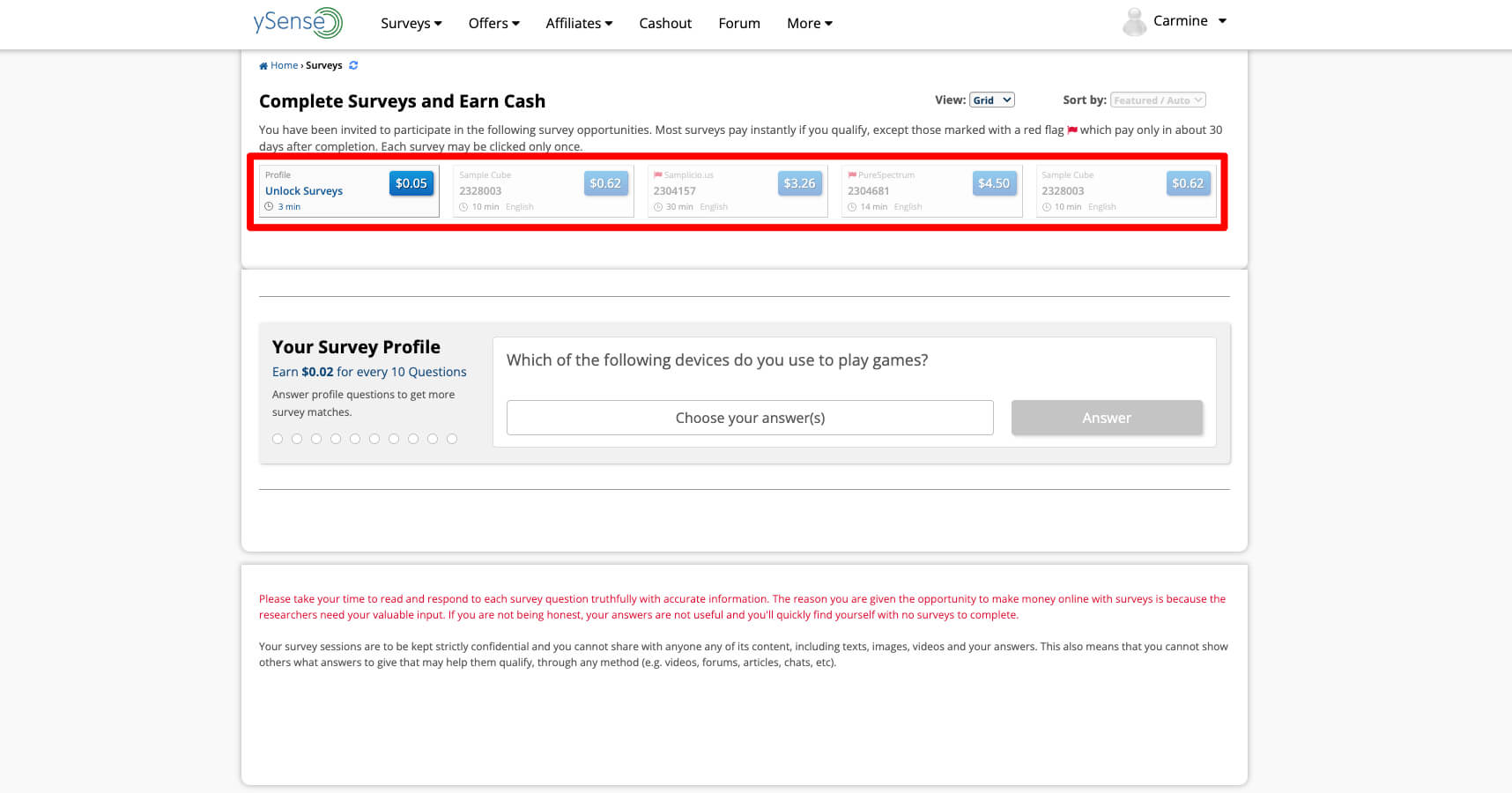 That being said, it's important to remember that you won't get rich taking online surveys–the money you make is intended to be pocket money or extra income, not a full-time salary. It's a great way to monetize your downtime, however! And, it doesn't require any special skills or requirements. Just some free time.
Related readings:
How Do I Get Started With Online Surveys?
Alright, now let's talk about getting started with making money online with surveys. The first step is to find a reputable survey website or panel. As I mentioned earlier, look for reviews and ratings online before signing up. Once you've found one (or more!) that you like, simply sign up with your email address and create a profile.

Once your profile is set up, the company will send you surveys based on the information in your profile–so make sure everything is filled out accurately! Then all you have to do is wait for survey invitations to arrive in your inbox or via text message.
That brings me to my next point.
How Can I Maximize My Earnings From Online Surveys?
If you want to make the most money possible from online surveys, there are a few things you can do to maximize your earnings. First and foremost, be sure to fill out your profile accurately and completely. This will help ensure that you are sent the surveys most likely to pay for your time.
It's also important to be honest when filling out survey questions – this will go a long way in helping companies get accurate data about their products and services. Finally, signing up with multiple survey panels can help you increase your earning potential by giving you more opportunities to take surveys and earn rewards.
Let me elaborate on these ideas more.
Sign Up for as Many Survey Website as Possible
So if you're serious about making money online with surveys, I recommend signing up for as many survey websites and panels as possible. This will give you access to more surveys, allowing you to make the most out of your free time. If you only stick to a couple, you'll reduce the amount of money you could be making.
Make It a Daily Habit to Make Money Online With Surveys
Finally, if you really want to make sure that you're making money with surveys, I recommend making it a daily habit. Set aside an hour or two each day (or whatever works best for you) to search for and complete surveys. Over time, this effort will add up and you'll start to see your earnings grow.
Remove Distractions When Completing Surveys
One final tip: do your best to remove distractions while completing surveys. The last thing you want is to lose focus and accidentally answer questions wrong, which could lead to disqualification from a survey or even having your account suspended altogether. So find yourself a quiet spot free of distractions and take the time to complete each survey accurately.
Listen to Music, an Audiobook, or Podcast to the Pass the Time
Also, if the surveys get boring or tedious, don't be afraid to listen to some music, an audiobook, or podcast while filling them out. Just make sure you're still paying attention and answering questions correctly! When I used to make money online with surveys, throwing on a podcast was one of my favourite things to do.
Survey Sites I Recommend to Make Make Money Online
There's no shortage of survey sites to sign up for. Which ones are worth your time and legit? These are a few.
Each of these sites has been proven to pay out their members and have cool rewards, so you can be sure that your time spent taking surveys will be worth it.
Main Takeaways For How to Make Money Online With Surveys
Online surveys are a great way to make extra money. With a few simple steps, you can sign up for reputable survey sites and start receiving invitations to participate in surveys.
Depending on the type of survey and the company offering it, you could earn anywhere from $0.50 to $25 or more per survey. While it won't make you rich, taking online surveys is a great way to monetize your downtime and earn some extra cash.
To maximize your earnings, be sure to fill out your profile accurately, be honest when answering questions, and sign up with multiple survey panels. With these tips in mind, take the plunge today and start making money with online surveys!
If you want to learn more about making money online, explore my online courses.