Do you want to make some extra money? Are you interested in learning a new skill? If so, copywriting may be the perfect side hustle for you! Copywriting is the process of writing persuasive and interesting content for marketing purposes.
It can be a great way to make some extra money, learn new skills, and network with other business owners. I've been copywriting for 10+ years and have made consistent six-figure income from it.
Keep reading if you want to learn about copywriting as a side hustle and how to get started.
Can copywriting be a side hustle?
Absolutely! Copywriting can be a great side hustle if you have the right skills and know-how. It's important to understand that copywriting is different than content writing, which focuses more on providing information rather than making a sale. For example, the average copywriting salary in Canada is $50,000 and you can easily make that or more as a side hustle.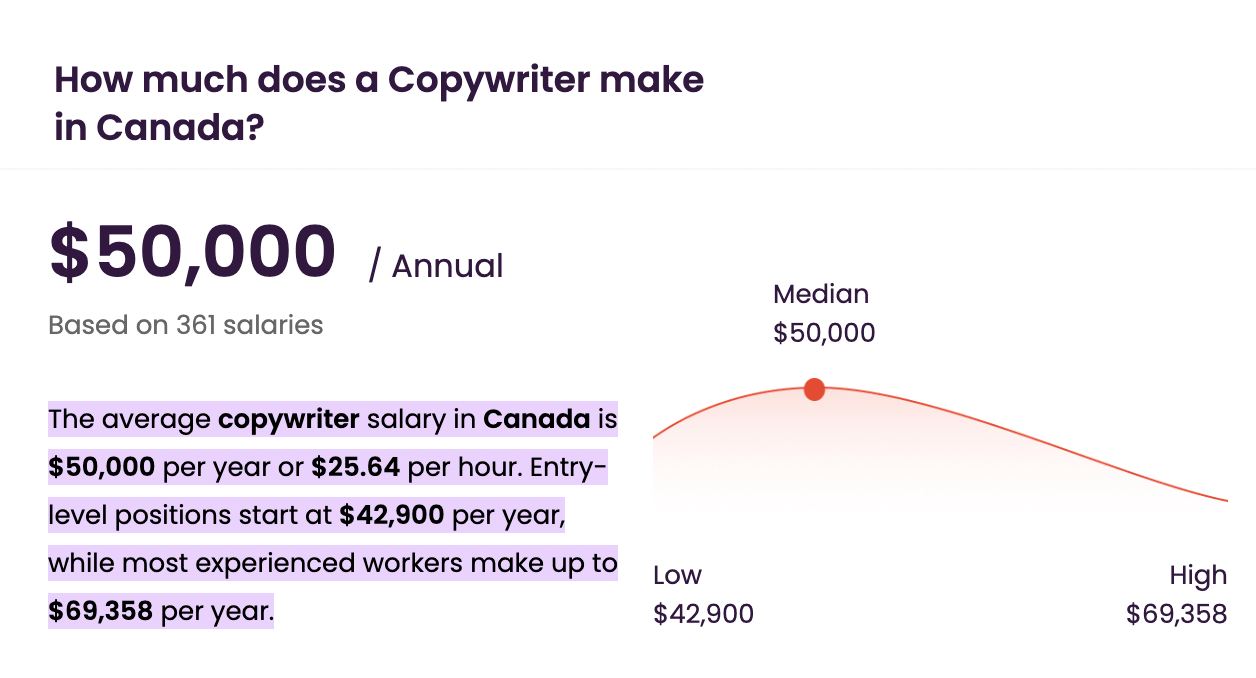 Copywriters need to write compelling and persuasive content that encourages readers to take action. This could include clicking on a link, filling out a form, or making a purchase. To be successful at copywriting as a side hustle, you'll need strong research and communication skills and an understanding of marketing principles such as psychology, audience targeting, and SEO (search engine optimization).
What type of copywriting is most in demand?
The type of copywriting that is most in demand right now is online marketing copy. This includes copy for websites, emails, social media posts, and advertisements. With the rise of digital marketing, businesses are increasingly looking for skilled writers to create compelling content that drives engagement and conversions. Read my guide on copywriting niches to learn more.
Other popular types of copywriting include sales letters, white papers, press releases, and case studies. All these require different skill sets but can be equally profitable as a side hustle if you have the knack for it! As you pursue your copywriting side hustle, you'll write different types of material and find what you're most passionate about.
Can you do copywriting with no experience?
Yes, you can do copywriting even if you have no experience. That said, the best way to learn and hone your skills is to practice copywriting as much as possible. Start by writing sample pieces of copy so you can get used to the format and flow. You should also research popular blogs, websites, and social media accounts in your niche to get an idea of what kind of marketing strategies are working for others.
You'll want to read books and articles about copywriting too. Copyblogger and Copyhackers are great places to start. In terms of books, I suggest:
Ogilvy on Advertising
The Boron Letters
Scientific Advertising
The Copywriter's Handbook
How to start copywriting as a side hustle
Alright, now, let's get into the steps you can take to start copywriting on the side of your job!
The first step is to create professional social media profiles. This will help you build a network of clients and potential customers. The main platforms I recommend are LinkedIn, Twitter, and Instagram. Make sure to include your copywriting experience in your profile bio so that people can easily find you!
2. Launch a copywriting portfolio website
The next step is to create a portfolio of your work. You can start by writing sample pieces for yourself or for sites like Upwork and Fiverr. As you gain more experience and confidence, start advertising your services on freelance websites such as PeoplePerHour or Guru. It's also important to set up an online portfolio website where potential clients can view samples of your work quickly and easily. I suggest using WordPress with a host like Bluehost. Elementor is a great drag-and-drop builder as well.
3. Start writing for free to build samples
It's important to build a portfolio of samples to show potential clients. To do this, you can reach out to friends, family, and other contacts who need copywriting services and offer your services for free in exchange for feedback. This will not only help you gain experience but also give you the chance to showcase your work. Once you have some samples under your belt, start taking on paid projects!
4. Pitch your network to find leads
Now that you have a portfolio of work and some samples, it's time to start pitching your services. Reach out to contacts in your network who may need copywriting services, as well as people in related fields such as marketing or design. You can also join groups on LinkedIn and other social media networks to find potential clients or connect with other copywriters for advice and collaboration opportunities.
5. Use writing job boards to get paid gigs
One of the best ways to start landing content writing and copywriting gigs is through writing job boards. I used these back in the day to secure a consistent freelance income. Make a routine of checking and pitching job boards every day, if not several times per day. The website I recommend includes:
Final thoughts as copywriting as a side hustle
I've been copywriting for 10+ years and can't recommend it enough as a side hustle. You can make some serious money and learn lucrative skills you can transfer over to a career or other businesses along the way.
To begin, create social media profiles specifically for your freelance copywriting. Use a host like Bluehost to start up a WordPress website to publish your portfolio and talk about your background. Then, start doing some projects for free for friends, family, or through communities on Reddit. With samples under your belt, tap your network for leads and use writing job boards to secure jobs!
If you want to learn more about copywriting and get mentorship from me, enroll in my copywriting courses.