You're typing away and creating a masterpiece.
Then, it happens.
Yeah. IT.
…Writer's block.
You can't think of any new ideas and productivity comes to a halt.
How do you get around this?
By using a trusty swipe file.
Every great copywriter has a swipe file on hand for this reason.
That's why I'm giving you the ultimate swipe file for copywriters today.
Below you will find a list of examples and resources for different types of copywriting.
Use them for inspiration and ideas. 🙂
What is a swipe file?
Let's get back to the basics.
A swipe file is a collection of advertisements, examples, and other references that a writer uses to improve their own work.
It's an insanely effective resource when you need ideas for headlines, copy, calls to action, or anything in between.
It helps you get past writer's block and mimic the pros to publish copy that prints money.
Using an AI copywriting tool like Jasper is also amazing for getting ideas.
But, let's talk about how to create a swipe file next.
How to build a swipe file
Follow these steps to build a swipe file of your own:
Step 1: Create a spreadsheet
I recommend that you create a swipe file in a cloud platform like Google Drive.
It will always be accessible no matter where you are or what device is being used.
Visit Google Drive and click "New" on the left sidebar followed by "Google Sheets."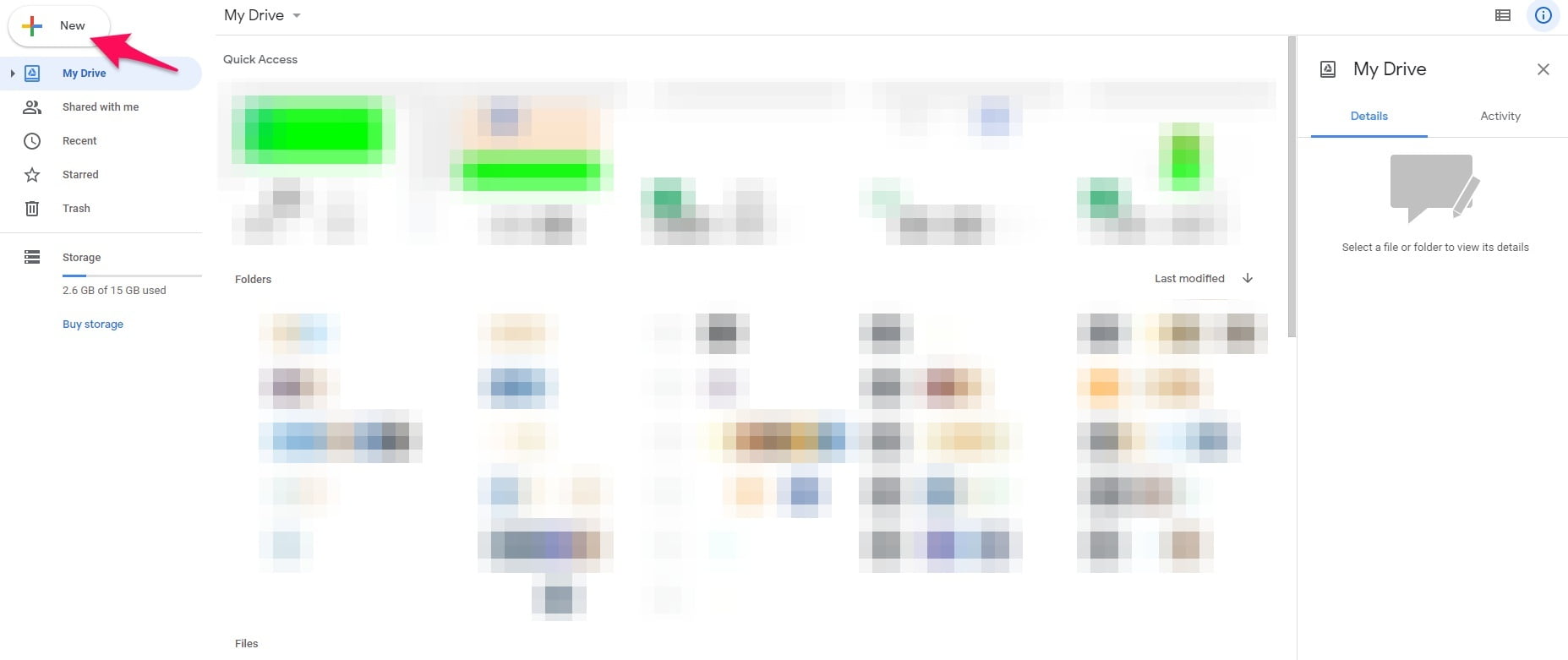 Move onto the next step after this.
Step 2: Determine your copy needs
Now you need to decide what you'd like to swipe as it will modify the swipe file itself.
For instance, I enjoy swiping headlines, blog post ideas, landing pages, and email newsletters.
Naturally, I'll make columns for these on my swipe file spreadsheet like this: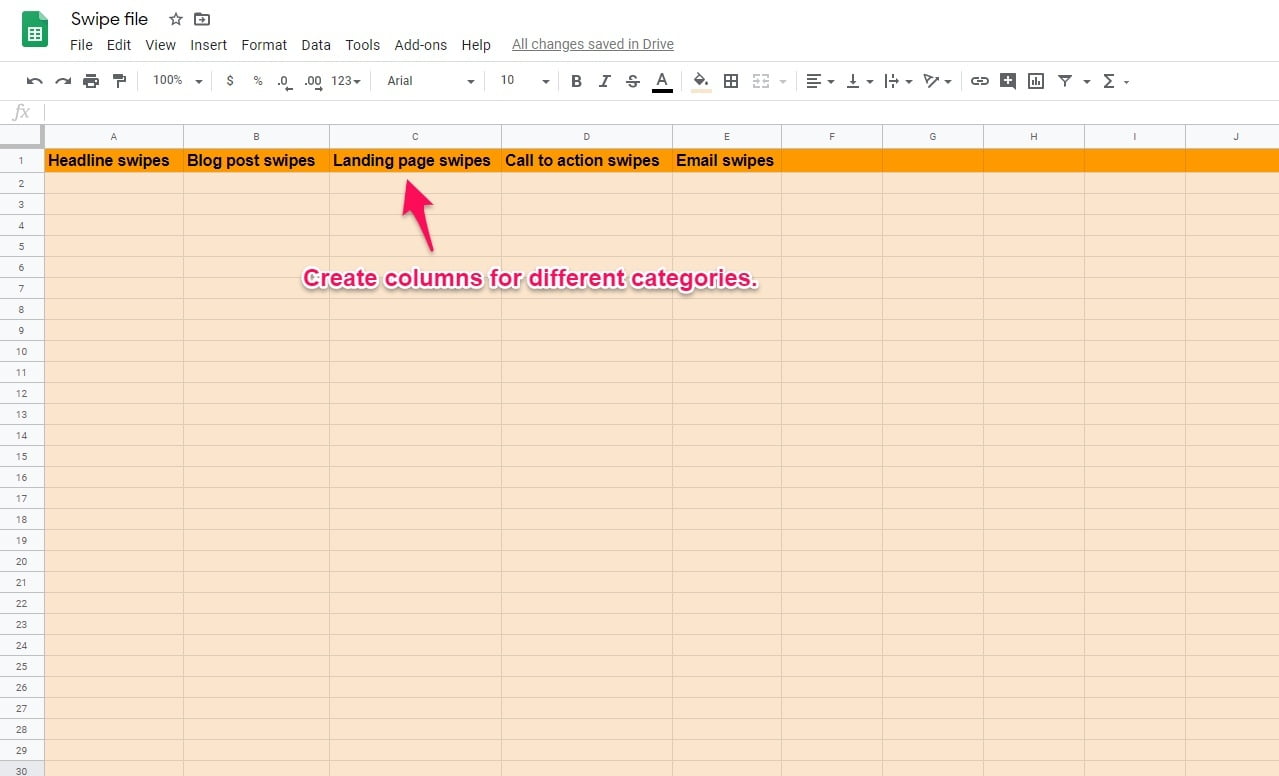 Once that's organized, follow me to step three.
Step 3: Start swiping!
It's time to swipe!
Check out all of the swipe files I'm giving to you for free below, but make sure to do swiping of your own, too.
I suggest that you:
Visit competitor's websites and save any ideas you find.
Screenshot display ads, social media ads, other advertisements, and save them.
Save any link to writing you could use later.
Check out my copywriting courses to learn more about building a swipe file and a freelance business.
Copywriter swipe file
Here's my treat to you: a large list of copywriting resources that can be added to a swipe file.
These will help you write better aspects of copy including headlines, landing pages, and direct mail.
Enjoy!
Headline swipe file
Landing page swipe file
Sales page swipe file
Email swipe file
Facebook ads swipe file
Lead funnel swipe file
Trello funnel swipe file: A public Trello board from Russel Brunson that contains lead funnels, quiz funnels, cart funnels, and more.
Lead funnel archives: A sizeable archive from Funnel Hack Secrets on winning funnels.
106 of the world's most successful lead funnels: Over 100 funnels that will teach you how to create landing pages, thank you pages, convert cold traffic, and more.
Direct mail swipe file
Gary Halbert's sales letters: The official website of Gary Halbert where you can find all of his legendary sales letters.
5 direct mail examples: Five postcards analyzed by Inkit that you can draw inspiration from.
47 creative direct mail examples: Inspire your next marketing campaign with these successful direct mail examples.
Product description swipe file
5 epic product description examples: Five examples and strategies for writing product descriptions from WordStream.
9 examples of product descriptions that sell: Examples of effective product descriptions from Shopify.
Product description examples and template: A template for writing high-converting product descriptions and examples from BigCommerce.
Final thoughts on copywriter swipe files
Every copywriter needs a swipe file.
In fact, you should be contributing to it daily.
Add links and resources when you come across them.
You never know when they might come in handy.
And, any time you hit writer's block or need fresh ideas, open the swipe file.
Create a unique swipe file of resources, templates, and use the links I shared today to create a foundation.
Learn more about copywriting in my online courses, as well.