How many tasks do you have on your plate every day?
Ten?
Twenty?
More?
That's not a surprise.
As an entrepreneur, you're busy.
That means time and project management is a necessity to succeed.
Otherwise, you become disorganized, projects get delayed, and you forget about certain tasks.
Not good.
A quick fix for this is using project management tools. Hence why 72.5% of businesses have a clear system for measuring productivity.
Two of my favorite are Slack and Trello.
These allow you to communicate with team members, share files, track progress, and more.
But, you don't want to juggle tools as that can cause more problems, too.
That's why I'm doing a Slack vs Trello review so you can finally decide which is right for your business.
Let's get into it!
Slack
Slack was founded in 2009 out of Vancouver, British Columbia, Canada.
Their collaboration hub has over 12 million daily active users and 65 of Fortune 100 companies use it.
Not bad, right?
Some of its customers include Starbucks, Oracle, BBC, and Panasonic. Impressive.
They are very well received and I'll let the 17,760 five star reviews on G2 speak for itself.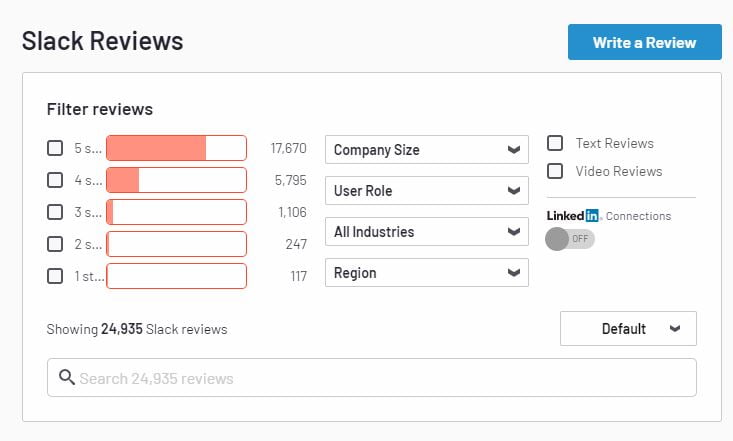 Slack also has over 1,500 apps and a comprehensive API, allowing teams to work more productively.
Say goodbye to confusing email chains and information slipping through the cracks.
Let's get into the nitty-gritty of exactly what Slack offers compared to Trello.
Slack features
These are some of the main features of Slack you can look forward to using.
Secure and organized conversations
Don't you hate having to juggle different modes of communication between your team?
Email…
Texting…
Phone calls…
You name it.
Slack takes all of a company's conversations and puts them in one location.
This makes it easier for everybody.
Channels are used to divide teams, topics, clients, or vendors.
Team members can join, leave, and be invited instantly. (You can't say that about email!)
Threads also keep smaller conversations separate so it doesn't derail an entire project.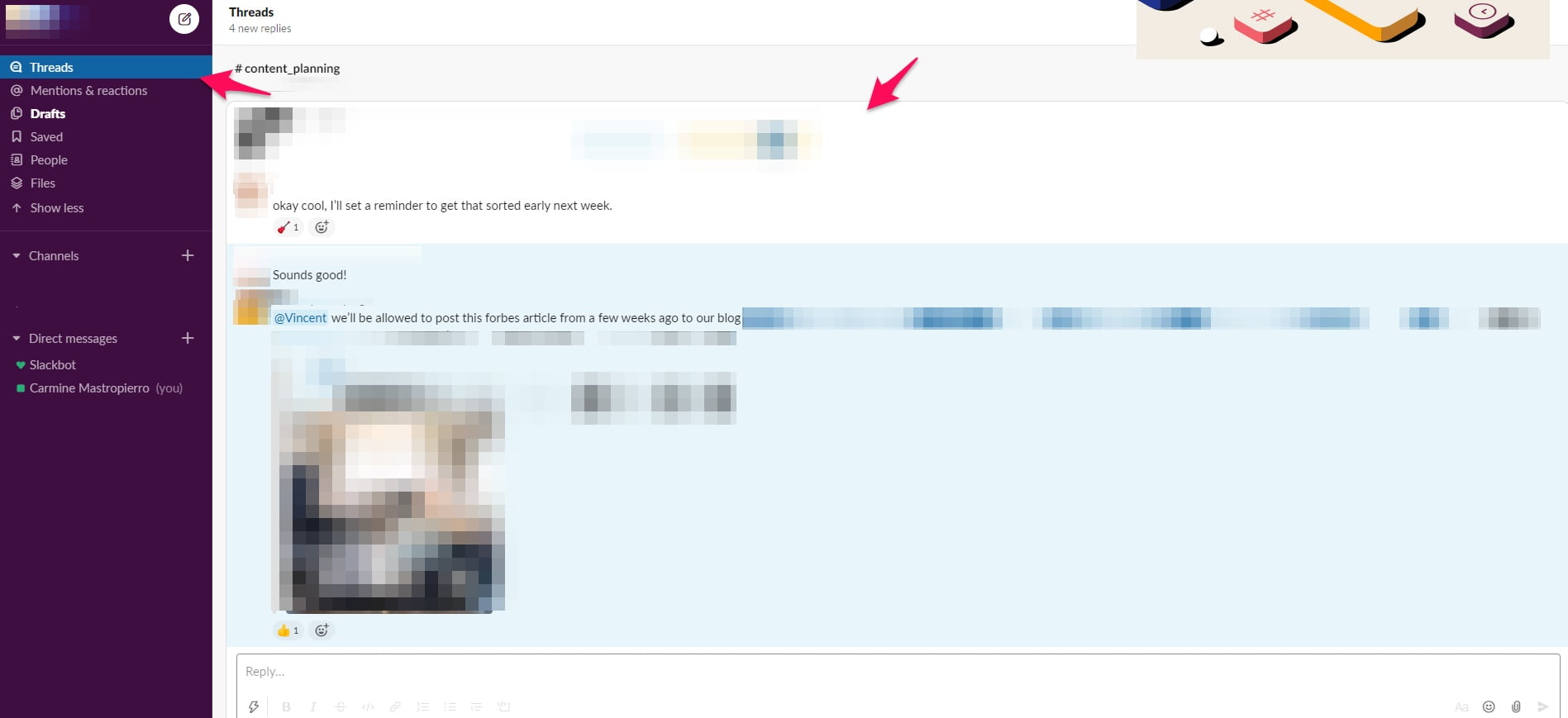 Long search history
Let me ask you something.
Have you ever had to look back months or longer in emails to find an attachment or file?
Yup. Me, too.
It sucks.
That's why I love Slack.
Search for any conversation or file to get in the loop, solve a problem, or find an attachment you need ASAP.
To do this, simply click the search button on the Slack dashboard to begin.

Then, enter a keyword, name, etc.
Click a link from the dropdown menu that appears or conduct a full search across Slack.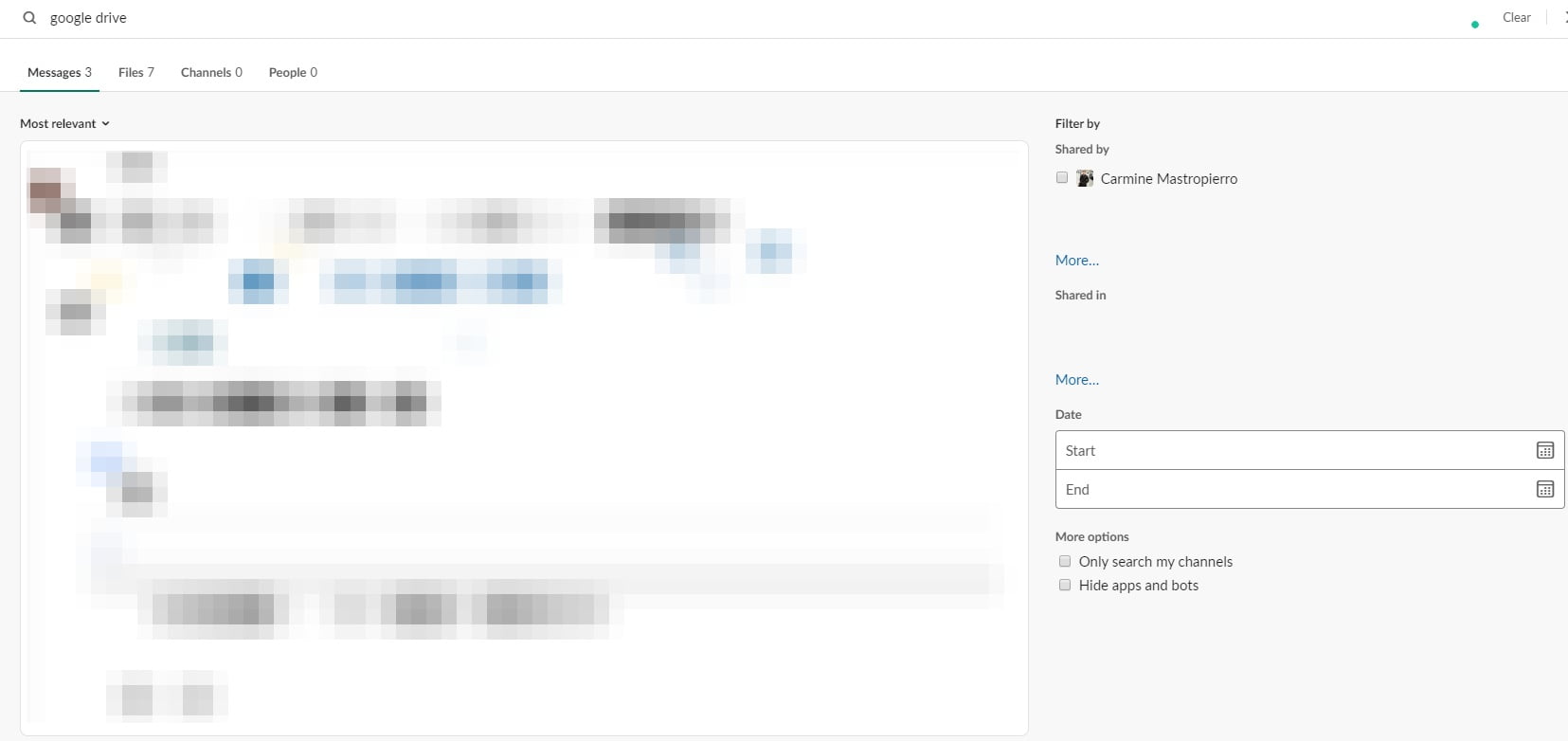 Easy as pie!
This is especially important as C-suite executives agree tools will enhance productivity by up to 46%.
Heaps of integrations
Being able to connect tools is like Legos for marketers.
Slack is great for this.
They have integrations with Zendesk, Salesforce, Zapier, and most other tools you're using.
This helps create automated sequences, extra functions, and overall fewer steps for your business.
You don't have to go in each tool and complete tasks as data can be sent directly to Slack.
This includes notifications, client information, meetings, etc.
Watch this video on Slack's Workflow Builder to learn more about how you can automate processes and save time:
Video and voice calls
What do you normally use for conferencing?
Let me guess…
Zoom.
Skype.
While I do sometimes, as well, Slack offers high-quality video and voice calls to—once again—keep everything on one platform.
This allows you to watch, listen, or speak in calls on the go, when you're at the office, or home.
Share your screen, add annotations, and draw on the screen to illustrate points and ensure everybody understands what you're speaking about.
Here's another video on Slack's conferencing feature:
Lightning-fast file sharing
Whether you're working with clients or team members, there are always things to collaborate on.
I'm talking about Google Docs, PDFs, Word Docs; you name it.
If you're like me, your Google Drive and desktop is loaded with folders and files.
Simply drag and drop any file directly into Slack to get feedback and keep everyone on the same page.
Once again, users are capable of retrieving any past documents in the snap of a finger with the search function, too.
Slack pricing
Alright. Now that you know what Slack has to offer, you're probably thinking, "How much does it cost?"
Let's touch on pricing next.
Slack has a free version that I suggest all companies test.
It gives you:
10,000 search messages.
Ten apps and integrations.
Two-factor authentication for security.
Overall, you get the basics.
It's enough to give it a trial run and see if it's right for you.
If so, Slack has the following paid plans: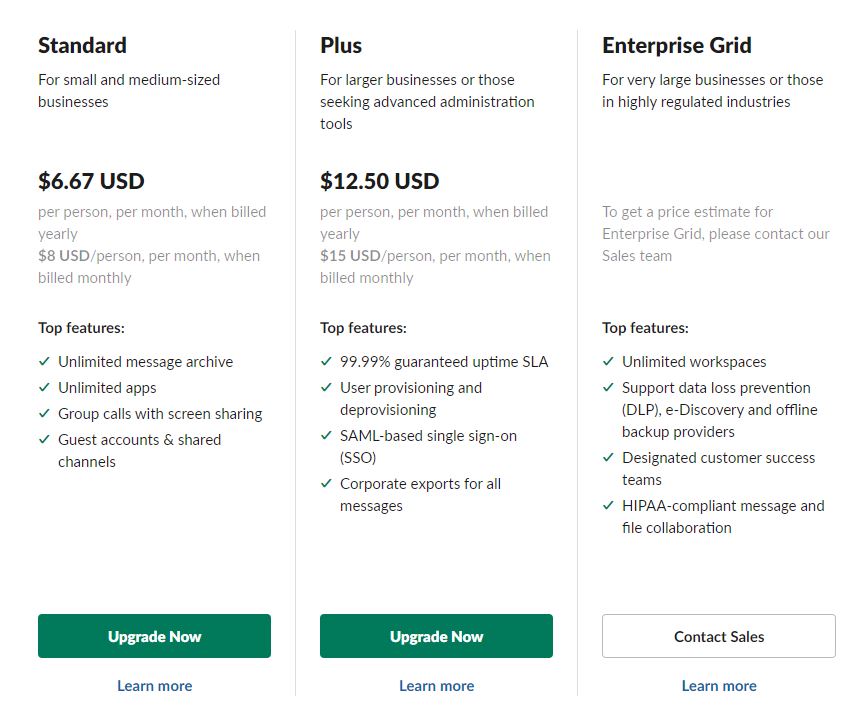 I'll go through each individually.
Standard ($6.67/month)
This is ideal for small and medium-sized businesses.
The top features include:
Unlimited message archive to retrieve any conversations.
Unlimited apps for convenient integrations.
Group calls with screen sharing when you need to host conferences.
Guest accounts and shared channels for clients, vendors, etc.
Every member receives 10 GB of storage which most will find feasable.
You can create custom retention policies for messages and files if you want them to appear for certain periods or individuals, too.
Custom user groups for specific teams and departments allows for further organization. Bigger companies will love this.
Lastly, you will receive priority support with this meaning that you get bumped up the line when help is requested. 💪
Plus ($12.50/month)
Larger businesses or those seeking advanced tools will benefit from choosing this plan.
It includes all of the features of the Standard plan, along with:
99.99% guaranteed uptime.
User provisioning to set permissions, capabilities, etc. Great for admin work, hiring contractors, and soforth.
Corporate exports for messages if they are needed elsewhere. (Meetings, memos, referencing.)
Every user receives 20 GB of storage which is double that of the Standard plan.
There is also a SAML-based single sign-on for increased security.
OneLogin, Okta, and Ping sync with the Plus plan, too.
That brings me to the big boy…
Enterprise Grid
Customers interested in the enterprise package have to contact Slack's sales team to receive a quote.
It offers everything in the Plus plan with:
Unlimited workspaces to accommodate hundreds to thousands of team members or more.
Data loss prevention and offline backups so your work is never lost.
Designed customer support teams solely for your organization.
HIPAA-compliant message and file collaboration to avoid issues.
That sums up Slack.
They offer packages for everyone from startups to Fortune companies.
I suggest trying the free version and getting a feel for the software.
Like it? Keep using it until you need to upgrade.
Not for you? Keep reading.
Trello
Trello is a visual collaboration platform that gives companies an easy way to organize projects, progress, team members, and more.
It is also very well received by customers, boasting 6,361 five star reviews on G2.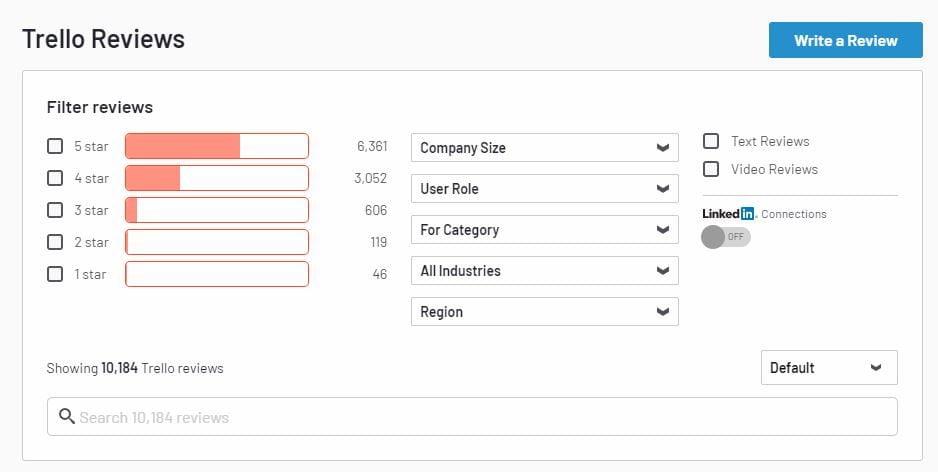 It's similar to Slack in many ways but has more emphasis on projects, tasks, and assignments.
Let me explain.
Trello features
These are the main features you'll gain access to when using Trello.
Boards, cards, and lists
Trello is composed of three main elements: boards, cards, and lists.
A board is dedicated to an entire business, department, project, or person.
Lists are—as you could guess—lists of a certain topic or subject.
Then, cards are individual tasks.
Here's what a board looks like: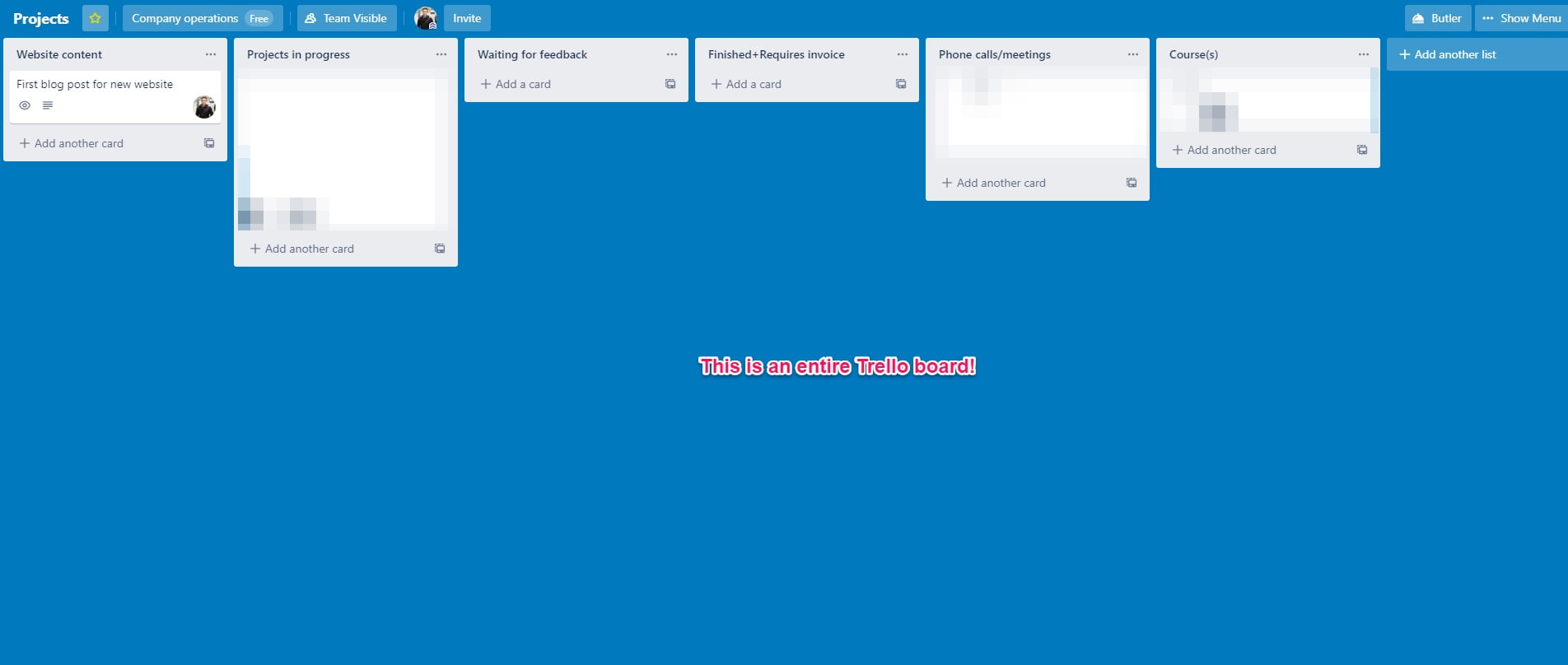 This is what a list with cards looks like: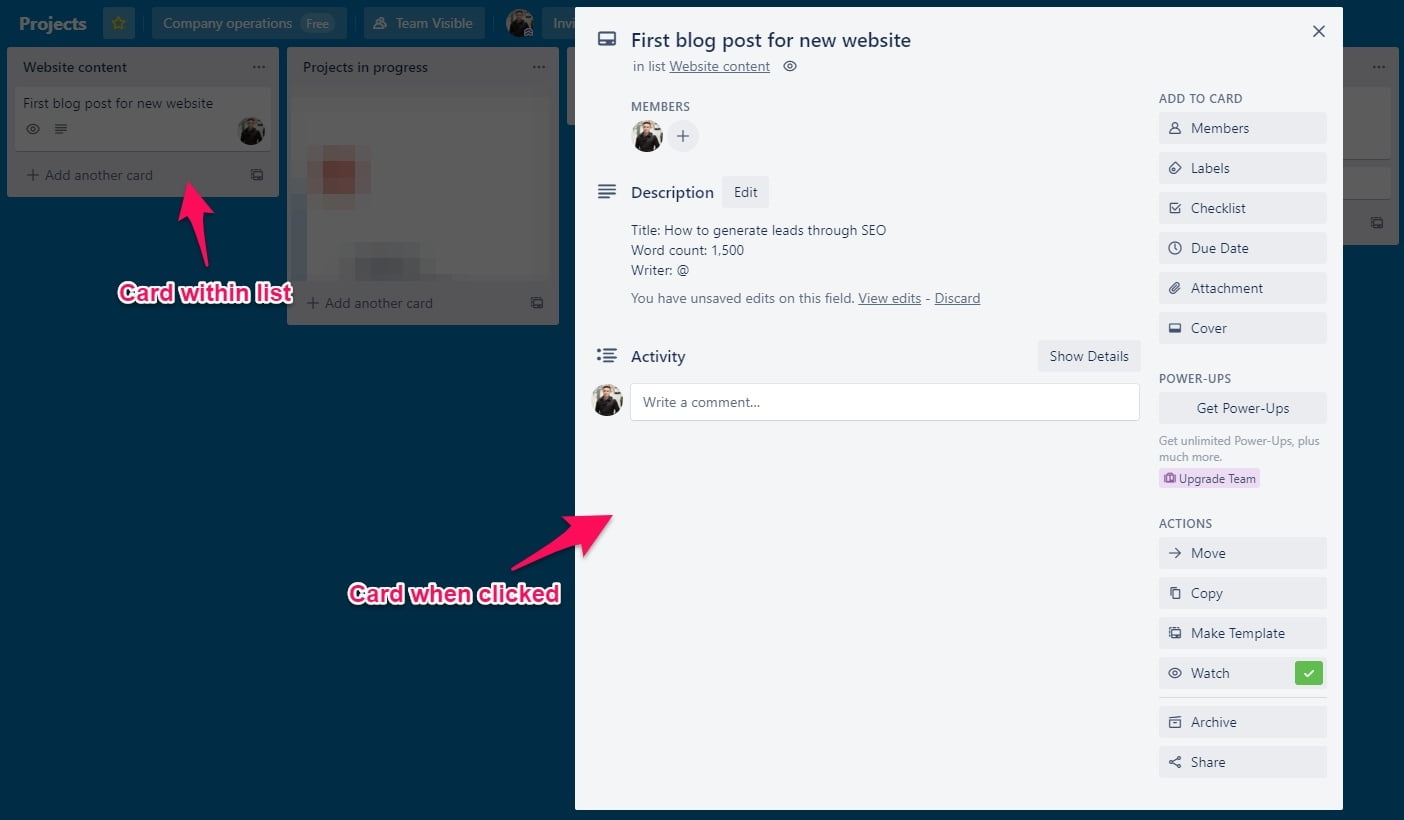 Get my point?
It's easy to navigate all of these elements, making it ideal for fast-paced project management.
This is the opposite of Slack where communication is at the forefront.
Automation and power-ups
Remember when you'd play Super Mario and got a mushroom?
You'd turn into big Mario who was much more powerful.
Yeah, Trello does something like that with power-ups.
These add extra customizations, automation, and capabilities to Trello boards.
Every board can enable one power-up for free but Business Class and Enterprise members have unlimited.
Power-Ups enable your team to turn Trello into a full-blown suite capable of doing anything.
And I mean anything.
For instance, businesses can connect Evernote and Google Drive with Trello's calendar power-up to create a convenient editorial calendar.
Or, how about a sales pipeline CRM?
Integrate a platform like Salesforce to import leads and opportunities as cards.
Then create custom fields for quotes, requests, and other information.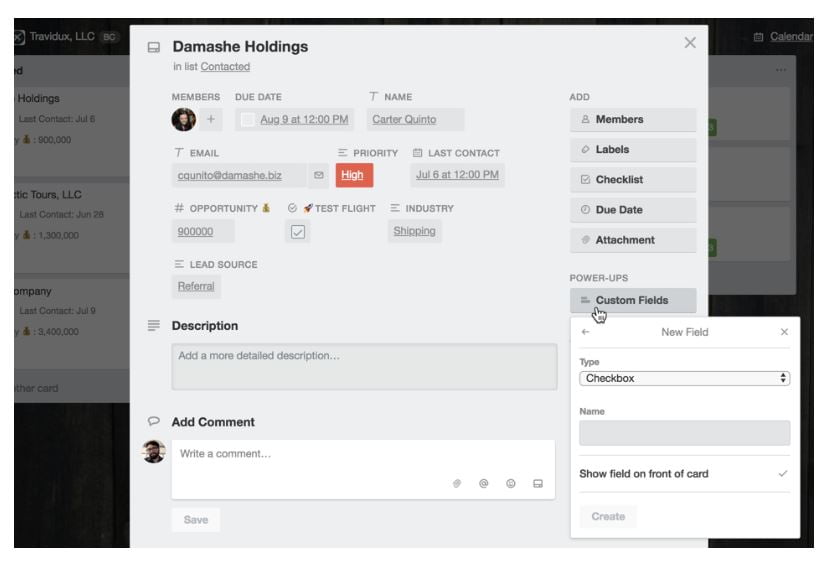 Track meetings through the calendar while you're at it.
If you can visualize it, you can make it happen with Trello.
That's one major upside to using their platform versus Slack.
Easy collaboration
As I touched on earlier, boards, lists, and cards are used for organization.
Furthermore, users are capable of leaving comments, attaching files, and tagging others to streamline communication.
Learn more in this official demo:
Alerts are sent directly to email so you never miss out on a conversation, either.
I would argue that Slack is better in terms of communication because it also offers video conferencing, voice calls, and it's more geared towards collaborating.
Trello pricing
Let's talk about how much you have to take out of your piggy bank to afford Trello.
Firstly, like Slack, there is a free plan.
That gives you all of the basic features to run a small business, freelance, or handle side-projects.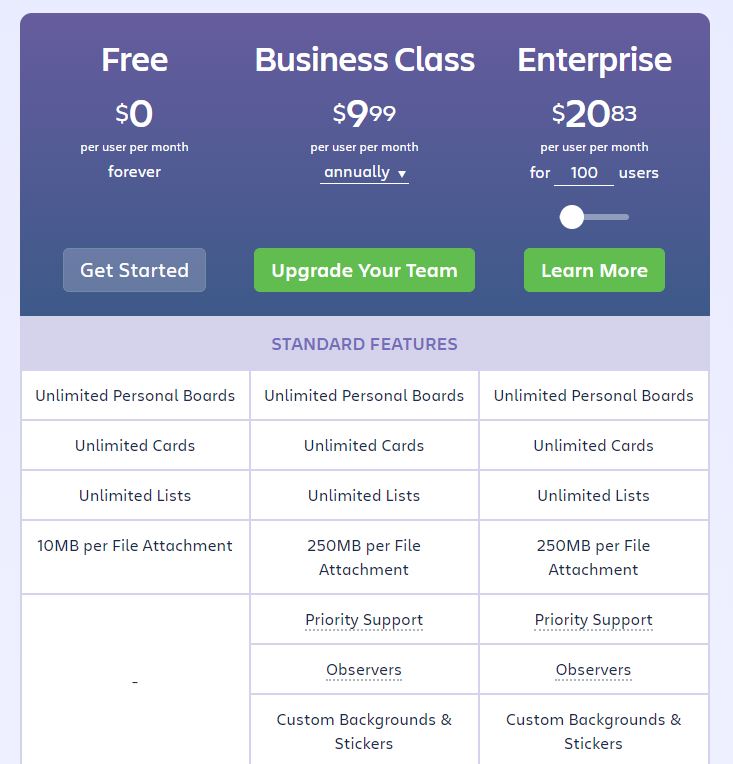 Let me cover each plan individually.
Business Class ($9.99/month)
The Business Class plan comes with all of the free features along with:
250MG per file attachment to send more resources to team members.
Priority support for faster help.
Manual user limits if you're bringing in a client, customer, etc.
Customer backgrounds and stickers. (Because why not?)
Unlimited boards, templates, group them together for the organization.
100+ app integrations to add much more functionality and features.
Keep in mind that $9.99 is cheaper than Slack's $12.50 plan, as well.
Enterprise ($20.83/month)
The Enterprise package is ideal for very large companies that have large amounts of employees, departments, and information to organize.
This plan offers all of the features of the Business Class option along with:
SAML single sign-on for top-tier security.
Admin control over power-ups.
Attachment restrictions.
Organization-wide permissions.
Organization visible boards.
Public board management.
While Slack doesn't publically display the price for their enterprise package, Trello's is very reasonable as some tools are hundreds to thousands for these types of packages.
Wrapping up Trello vs Slack
Slack and Trello are both powerful tools to improve communication and productivity.
It doesn't matter if you're a solo freelancer or the CEO of a big startup.
Both are useful for everyone.
But, here's the deal.
Slack is better at communication.
Trello is better at project management.
Both do a mix of both, but it's where the two excel at.
If you're a business interested in ensuring that everyone is one the same page, communicating, and staying on track, Slack is where it's at.
Trello, on the other hand, is much at overseeing projects, tasks, and progress.
But, hey. Who says you have to use just one?
There are free plans for both. Try them out and see what boosts performance in your business more.
At a minimum, use a paid plan for one and keep the other on the back burner when it's needed. 🙂