Have you tried deciding on a copywriting niche but feel stumped?
You're not alone.
There are hundreds of high paying copywriting niches you can choose from which makes it extremely difficult to pick one.
It's common to have an idea of what you want to do, only to change your mind five minutes later.
Let's put an end to that today.
I'm going to help you achieve clarity and finally make a decision about what copywriting niche you wish to pursue.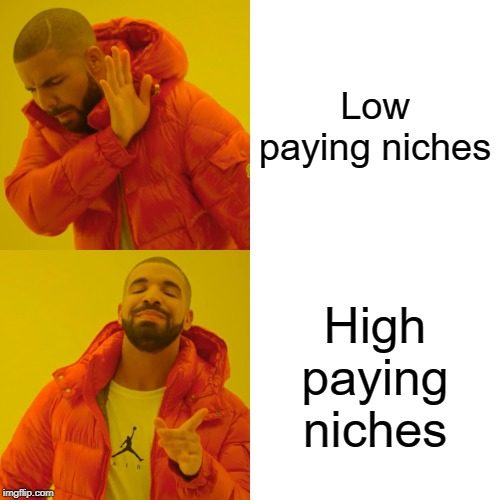 I've been around the block as a writer myself. I'm talking health, SaaS, fashion, blockchain, you name it. There isn't a niche I didn't touch.
With that being said, I know your struggle.
Ahead is a list of 11 of the top copywriting niches to choose from with examples and ideas to excel in each area.
Watch my YouTube video on this topic as well. 👇
1. Technical writing
Do you enjoy writing material like user manuals, help guides, and instruction booklets?
Then you need to pursue technical writing.
It is an area of copywriting which focuses on practical — and you guessed it — technical forms of writing.
Just about every business needs to have technical material produced at some point whether it's to help a user understand software, put together a desk, or otherwise.
Overall you can define technical writing as the documenting of processes.
This also means that technical writers will produce in-house material such as standard operating procedures, social media policies, executive summaries, and business briefings.
Technical writers excel at piecing together content that thoroughly explains how to achieve a specific outcome. Does that sound like you?
Additionally, technical writers need expertise in the following fields:
Technical sophistication: There will be many tools and software you'll have to learn on the fly. Are you able to use technology and adapt easily? If so, that's a huge benefit.
A love for learning: As a technical writer, you will be given products and information you may know nothing about. It's your job to learn about it as much as possible which brings me to the next point.
A thorough researcher: Remember all of those late nights chugging caffeine and studying for exams? That's about to come in handy as a technical copywriter because you will be doing mountains of research. Case studies, whitepapers, and market reports will be your best friend as you learn the product like the back of your hand.
Top-notch communication skills: Remember, at times you'll know zip about what you're documenting. That means you need to be able to contact and interview company employees and executives to learn as much as possible. Being a good listener and networker is key.
Graphic design wizard: Sometimes, but not always, a technical copywriter will be responsible for designing the content, as well. You will want to be proficient with Photoshop or other tools like Canva because of this.
Obviously money is a cool thing, too. Check out these average technical writer salaries to get an idea of the money you could be making choosing it as a career:

But, hey. Maybe that's not for you and you'd rather be a copywriter for hire like me. 🙂
In that case, here are some rough ideas of what freelance technical copywriters charge according to Upwork:

You should also read my guide to freelance writing rates to learn more.
2. Ghostwriting
One of the most profitable copywriting niches includes ghostwriting.
This is where you dress up as in a ghost costume when you write for clients.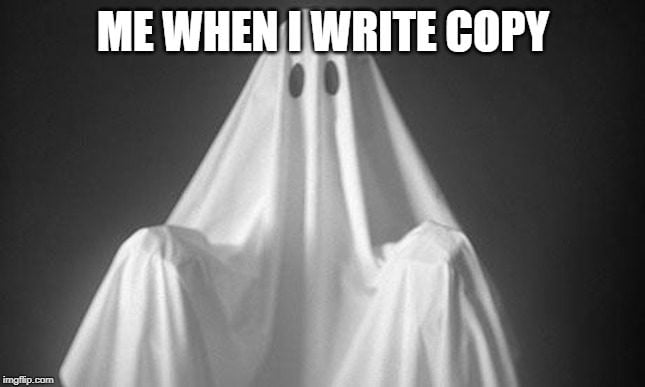 Kidding. Don't do that.
Ghostwriting is the process of writing copy or content for a client and not receiving credit or a byline. They publish the work as if they produced it themselves.
If you know one thing as a writer, the byline is your lifeline. It allows you to grow your name, brand, and generate leads.
That's why I'm a huge fan of guest posting and you should read my list of sites that accept guest authors. 😉
Continuing, you can technically ghostwrite in any industry and niche. It isn't a niche in itself.
Since you're getting credit for the work you've created, ghostwriters typically command much higher rates. I'm talking 2-3x normal rates.
If you charge $0.25/word for blog content, you could be charging at least $0.50/word for ghostwritten work, for example.
Read my guide on ghostwriting to learn more about how to become one yourself.
3. SEO writing
Search engine optimization and writing go hand-in-hand.
I've spoken to clients before that hired "SEO writers" who didn't know what title tags or meta descriptions were. I'm serious…
There's a big demand for talented search engine writers because they come dime a dozen.
That's also why I released my SEO copywriting course recently. It teaches you how to write content and copy that rank on the first page of Google.
SEO content mostly pertains to long-form blog posts that are focused on specific keywords to help client's websites rank highly in Google.
An SEO writer will have skills related to:
Keyword research and analysis.
On-page SEO and understanding what the algorithm looks for.
User experience and design.
Similar to ghostwriting, a talented writer in this field can charge high rates because the end results in increased organic traffic which ultimately can convert into leads.
That also brings me to my next point: SEO copywriters need to understand lead generation and sales funnels down to a science.
Because after all, what's the point of having a flood of traffic come to your website if it doesn't do anything?
I tend to write lead magnets for my clients and help them set up a basic funnel in some cases for this reason.
Look how Moz describes SEO writing's evolution over the years to understand the concept better: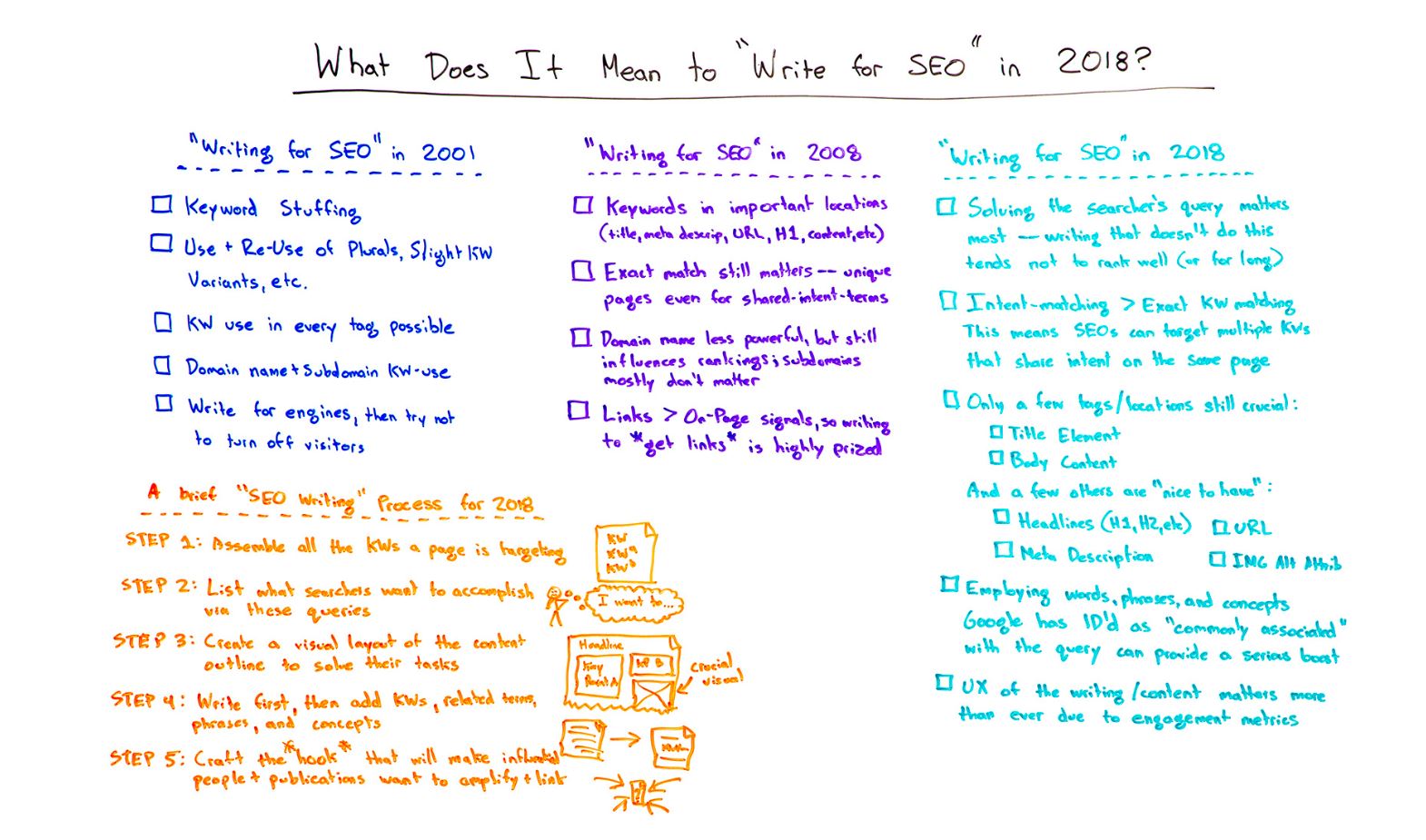 Check out my previous content related to SEO to learn more:
You should also learn how to use an search engine marketing suite like SEMrush. It will help you grow your own freelance business and provide an extra profitable service to clients.
4. Direct response copywriting
The big Mamacita.
If there's a single lucrative copywriting niche, it's DRC.
Direct response copy is writing sales copy which customers directly engage with.
Think landing pages, sales letters, product pages, brochures, etc.
Since a copywriter has the biggest impact on sales and campaign performance, direct response copywriting offers hands-down the largest earning potential.
It's not uncommon to charge into the five-figure range for a single sales letter. That's not to mention the passive income you'll generate from royalties!
For example, I charge $100/hour for DRC and that's not unreasonable. I have many clients who easily afford it and sometimes ask me to bill them more. I won't say no to that 😉
Here's one of the most famous sales letters of all time to get an idea of what level of writing is required: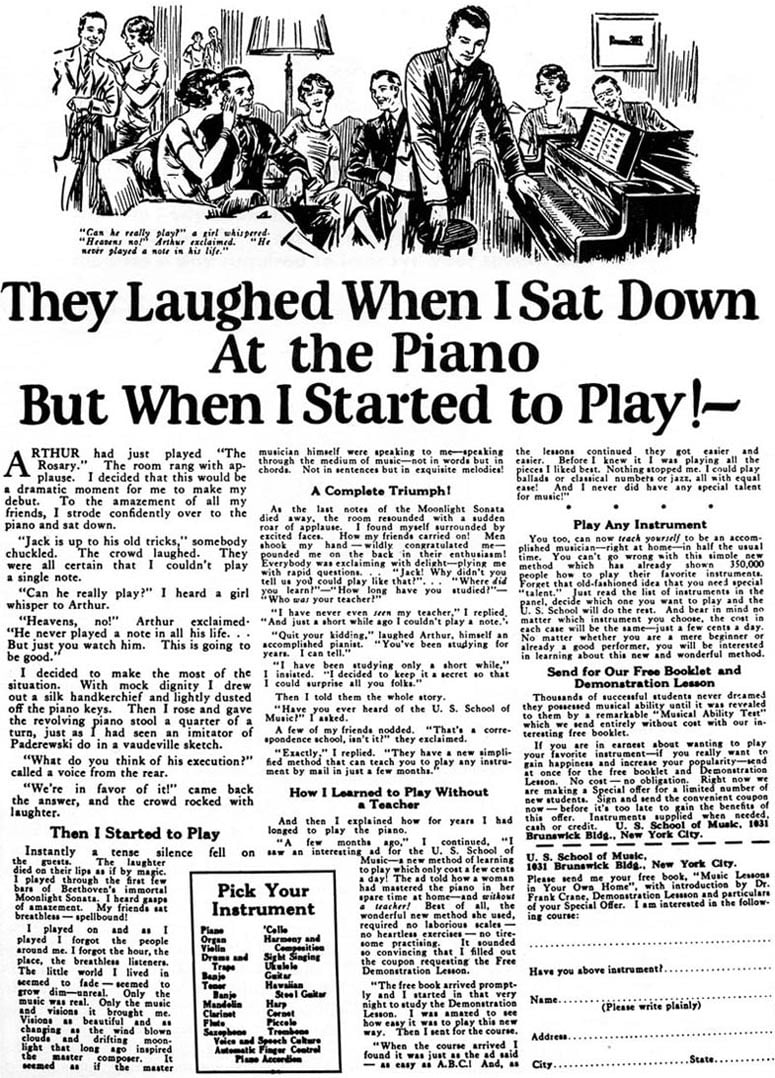 But, it doesn't come easy. Direct response copywriting is also the most difficult copywriting niche to break into and make a name for yourself.
The material itself also takes weeks to research, write, and polish.
You need to read my guide on how to establish a good writing process for that reason.
5. Magazine writing
Imagine being able to earn $1-3/word. That's possible thanks to magazines that pay freelance writers.
If you wrote a 2,000 word article at $2/word, that's $4,000! You could seriously be living off writing a single article every month.
Similar to direct response, it's a tough industry to break into but when you do, it rains money.
Check out my list of magazines looking for writers as it covers several industries for you to pitch.
Writing for magazines tends to involve publishing journalism-related pieces, short stories, poetry, and opinion based articles.
If you enjoy any of these areas, writing for magazines and large publications like The New York Times, Fortune, and others is made for you.
6. Digital marketing is massive
I mostly specialize in the B2B digital marketing and SaaS spaces as a copywriter.
I've had the pleasure to write for Neil Patel, Marketo, GoDaddy, and countless other huge brands in the industry.
And if there's one thing I've learned, is that it's an ultra-competitive space but lonely at the top all at the same time.
What I mean by this is that there are probably hundreds of thousands of digital marketing writers for hire, but few who are worth their rates.
I'm proud to say I've generated clients double to triple-digit traffic increase, double-digit increases in inbound leads, and similar results.
A lot of writers can't say that. This is also why I charge a premium as you can see on my content writing services page.
If you're interested in internet marketing, software, and everything in between, I suggest you try giving this industry a shot. If you're good, you'll be set for life.
You can learn about writing for these profitable industries and more in my copywriting mastery course.
7. Finance is always booming
The finance industry is growing to say the least. In fact, the global banking industry has experienced steady growth since the last financial crisis.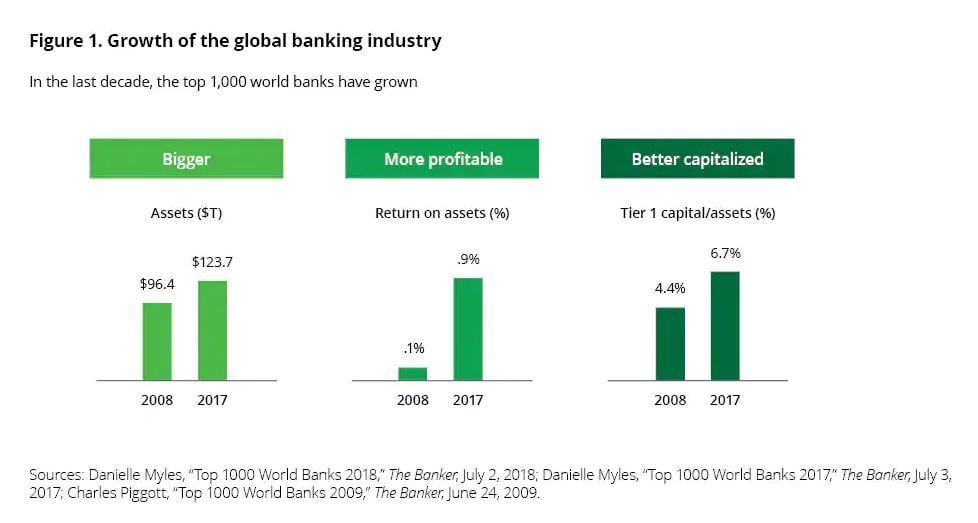 From day trading courses to financial services, the finance industry has always been one of the highest paying copywriting niches to be in.
Companies that flourish like Agora have huge budgets to dedicate towards marketing, advertising, and talented writers like yourself.
Check out this user from Reddit who landed Agora as a client and charged $8,000 plus royalties for a single sales letter:
If you wrote a single sales letter like that every month, you'd be making a hair under $100,000/year!
Keep in mind that "finance" is generic. You should always dig deeper to find little niches like:
Dividing investing
Day trading
Options
Forex
Mortgages
Financial independence
RRSPs
Passive income
Etc
8. Health and fitness
I love working out. I'm in the gym about seven days per week. I eat super healthy every day and get my eight hours of sleep every night.
I've noticed a lot of friends and family doing the same which made me wonder… how fast is the fitness industry growing?
That's precisely why I didn't want to leave out the health and fitness industry in today's article.
It's an incredible market to become a writer in thanks to its explosive growth.
There will be more and more opportunities for you to land jobs or clients as time goes on. It could be a wise move to jump on the trend and catch it like a surfer does with waves.
9. The tech industry is exploding
Think about how many companies you hear get "acquired" or receive "funding".
You practically can't read any business sites without hearing about the next Uber or Facebook.
It's not a bad thing, though. It's amazing.
When a startup is given millions of dollars or more from investors, they need to allocate that cash somewhere and do you know where a lot of it goes?
Marketing.
The name of the game now is growth. Tech companies pool oceans of money into marketing and advertising to scale as quickly as possible.
But all of that content and copy isn't gonna write itself. 🙂
Some of these companies have ridiculous budgets for writers and will pay you handsomely. I have a tech client right now that I could live off of alone thanks to them.
Watch my video on copywriting examples from Apple to get more inspiration!
10. Fashion and beauty
I've written sales copy for GQ Magazine and numerous fashion outlets.
I really enjoy style and grooming, so I was able to translate the passion into the content.
I'll be talking a bit more about how that will play a role in choosing a niche later in this article.
Similar to the other niches I've mentioned today, fashion and beauty are huge and what I call evergreen.
Just like an evergreen tree, they stand tall and withstand anything. They'll be around forever, thus making a secure copywriting career.
Will there ever be a time where we don't wear clothes or put effort into our appearance?
Will there be a moment where we stop putting time into skincare, hair, and beauty?
Probably not.
One issue I did find when going this route was the lack of publications. Sure, there's GQ, Esquire, Vogue, and all of the other big names, but that's about it!
It will force you to become very skilled at pitching editors and once you get the ball rolling you'll have a drool-worthy portfolio.
11. Legal
When you think of big-budget businesses, you'd be lying if you didn't say a law firm comes to mind.
They make five to six figures per client which means they'd happily pay a skilled writer to help them acquire more.
However, legal copywriters are hard to come by.
Admittedly this is a niche I have barely touched because I have the legal knowledge of a five year old.
Any time I have seen a law firm looking for a copywriter, they mention that expertise in their legal field is an absolute necessity.
It makes sense, too.
You don't want to write copy that gets them in legal trouble (oh, the irony) or miscommunicates their services.
If you've ever read a contract or NDA, you know that legalese is a complex language, thus firms need someone to speak it well.
Read more about copywriting for lawyers if this piques your interest.
How to decide on a copywriting niche
Alright, you know what some of the best copywriting niches are. Now what?
Time to decide on which one to focus on!
Here are a few things I'd consider that will help you finally conclude what copywriting niche is ideal for you.
What do you enjoy?
I'm a big fan of following your passion.
This helps writing content and copy a lot more enjoyable because you actually like what you're writing about.
I remember in the early days as a writer I'd get gigs for industries I could care less about.
One that comes to mind is this website about the country Andorra. I had never heard about the country and it was a struggle to open WordPress to create an article.
Sure, I learned tons about this country's visa requirements, tourism, etc, but watching paint dry would've been more entertaining.
I can't stress this enough: pursue copywriting careers and work that you love!
In the beginning, it can be a struggle to find clients and make money, so it makes sense to take any work possible.
However, once you get the ball rolling, be picky. I mean really picky.
Only take on clients and work in industries that make you feel excited and ecstatic.
Where's your education?
Whether it's formal or self-taught like me, where's your expertise?
I find that mine revolves around long-form, data-driven, SEO focused blog content and direct response copywriting in B2B markets.
I studied business in school and read insane amounts of material on digital marketing.
Audit what your skills are and what you're amazing at when choosing a copywriting niche.
You want to be able to produce high-level work that acts as a competitive advantage over other writers.
Similarly, when you're really great in a select area, the writing becomes easier because you have an archive of knowledge to leverage.
What skills do you have?
As I've mentioned previously, unique skills can bleed into your writing and change what market you're best suitable for.
For example, someone talented with SEO should test out writing blog content for clients to help them rank for chosen keywords.
On the flip side, an individual that loves learning and documenting would make an awesome technical writer.
A lot of this comes down to self-awareness.
Knowing your strengths and weaknesses helps you make the best decision as possible.
Watch this quick video from Gary Vaynerchuk to understand what I mean:
Wrapping up the best copywriting niches
I love copywriting and I'm blessed to make a living online from it. But, I'd be lying if I said there wasn't a struggle get to here.
One of the main problems copywriters like myself face at some point is deciding what niche to run with.
There are literally hundreds of different paths to choose from so it can become overwhelming.
You're constantly pulled in different directions and experience shiny object syndrome.
The best piece of advice I have is this: audit your skills, interests, passions, and choose one industry. Just one.
Become the best damn copywriter in that field and see if it works out. If not, move onto the next one.
Entrepreneurship of any form is a lot of failing, learning, and experimenting.
Finding a copywriting niche is no different.
Enroll in my high-income copywriting training and create a profitable online writing business or check out my other courses.