When you think of ways to reach customers, what normally comes to mind?
PPC ads, content marketing, and SEO are a few common techniques.
Not enough love is given to direct mail anymore, though.
It used to be a milestone in a marketer's career.
If you could launch successful mail campaigns, it was like a right of passage into marketing manhood.
In fact, 41% of Americans look forward to checking their mail every day.
And yes, I know. We have smartphones, email, and all of these fancy technologies, but nothing beats the old-school way of doing things.
Plus, I don't think mailboxes are going away any time soon!
That's why brochures are so effective.
For instance, do you remember the Sears catalog? It was practically a cultural norm to browse it with your family.
That's why I'm going to teach you how to write a brochure in today's article.
These can be used to sell services, increase brand awareness, and more.
Ready to be a pro at brochure writing? Keep reading!
What is a brochure?
A brochure is a thin book that is often folded into the shape of a pamphlet or leaflet.
It contains information about a business, product, or service—often containing a special offer, discount, and contact information.
Brochures can range from a single page in the form of a flier or dozens of pages in the style of a magazine.
It's used in marketing to promote new products or services and distributed through:
Newspaper inserts
Physically handing them out
Trade shows
Conferences
Brochure racks
There are also e-brochures that, as you can guess, are distributed via email, websites, and other online channels.
These offer the same benefits of a traditional brochure, except it's less costly to create and distribute.
Take Gaffey, for instance. The commercial and industrial water treatment companies became interested in using brochures as a way to educate customers.
They began working with a marketing agency to create a new identity, tone of voice, and design style.
The two sales brochures looked like this: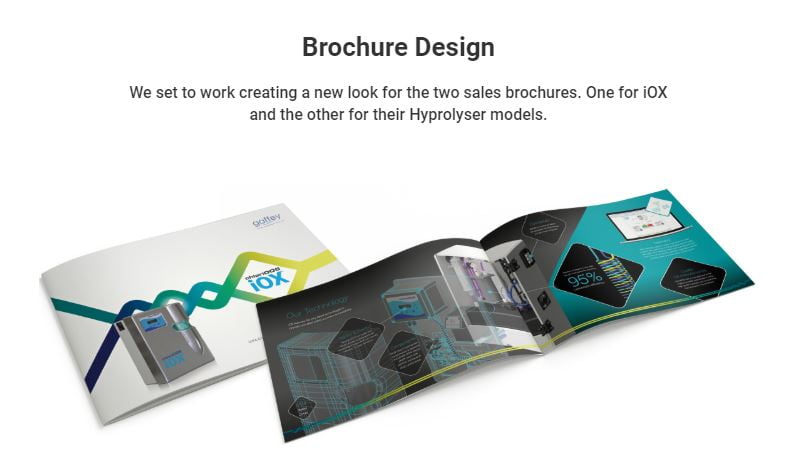 Gaffey's brand colors and design elements were implemented in the brochure to keep consistency across different channels. It also established a friendly but authoritative image.
The brochure copy was written in a non-technical way to make it more reader-friendly. Personality and emotion were injected to make it more approachable, as well.
The result?
Gaffey's customers loved the brochures, improving their experience and offering further feedback for improvement.
It's easy to get caught up in everything digital and forget that there are classic but proven strategies like brochure marketing.
Next, let's talk about how to write a brochure that converts like crazy.
How to write a brochure that sells
There are proper steps you need to take if you want your brochure to generate sales and achieve campaign goals.
Otherwise, people will think it's like any other spam mail and crumple it up.
Applying the following techniques will ensure that it comes out in perfect condition, resonating with your audience and maximizing its ROI.
Write a headline customer can't resist
The headline is the first thing a reader sees.
So, it doesn't need to be good. It needs to be great.
Because if they don't like the headline, they won't like the rest of the copy, right?
In fact, six out of ten people only read the headline of a piece of content.
Hence why the headline needs to grab their attention; it needs to be unique. It needs to create urgency.
Look at this brochure for a summer camp: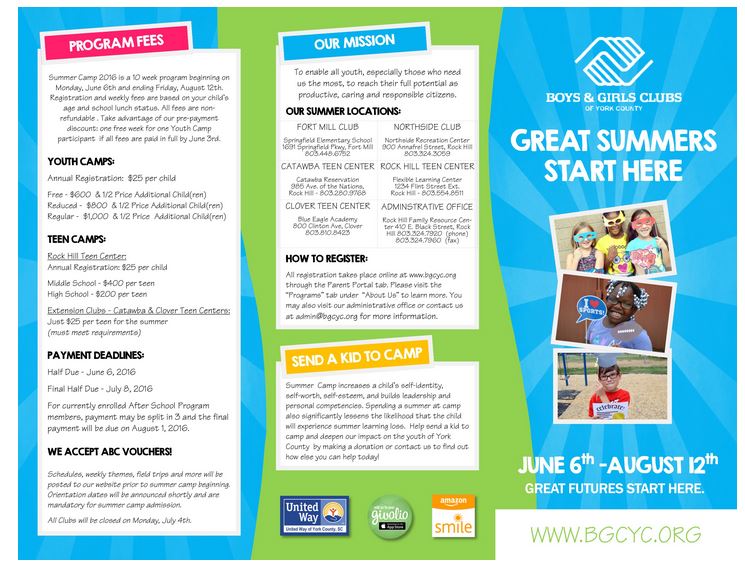 "Great Summers Start Here" sums up the experience children will get by spending at the camp—exactly what parents (The customers) would want.
Robert Bly, who is one of the greatest writers to live, suggests using the "Four U's" when writing headlines which are:
Urgency: Mentioning an offer will only last a specific amount of time creates urgency, for example. Likewise, telling the reader to act now or positioning the product as a bargain pushes readers to take action.
Uniqueness: The headline needs to be one-of-a-kind. It should jump from the page and not be like anything the reader has seen to make it that much more memorable. Analyze competitors and write a headline that stands out.
Ultra specific: Readers should know exactly what the rest of the brochure entails from the headline alone. Sum up the copy and value proposition.
Useful: State or imply a benefit that the brochure will bring to the audience.
Make sure to read my guide to writing headlines to learn more in-depth strategies that'll have readers begging for more.
Use the AIDA formula
The AIDA formula is a classic marketing method.
Every copywriter has it in their toolbelt and uses it on a regular basis. Do you?
AIDA is an acronym for attention, interest, desire, and action in case you didn't know.
The concept is that you grab the reader's attention, generate interest, make them desire something, and promote the next action.
This stirs up emotion, gets them glued to the page, and ultimately taking the next step towards the sale.
Here's how to pull it off.
Attention
Make a bold statement. State an interesting piece of data. Ask a question that relates to the reader's experience.
What do all of these achieve?
Generating attention.
You need to do something outside of the box to do that.
And, attention is one of the most underrated currencies right now.
See how this brochure grabs your attention with a bold (Literally and figuratively) title?
Once you do that, you can move on to the next step.
That's another thing to keep in mind: the AIDA principle can span across an entire brochure or be summed up in a couple of sentences.
Flex your creativity and copywriting muscles when using it.
Interest
They're hooked. Now what?
Time to create further interest.
You can do this by elaborating on the original point and introducing a unique value proposition or a new piece of information.
Do you have a special timely offer? Is proprietary technology being released?
Let it be known.
This brochure for Gold's Gym uses this approach by increasing interest by stating "Special Offers Inside!" on the front page.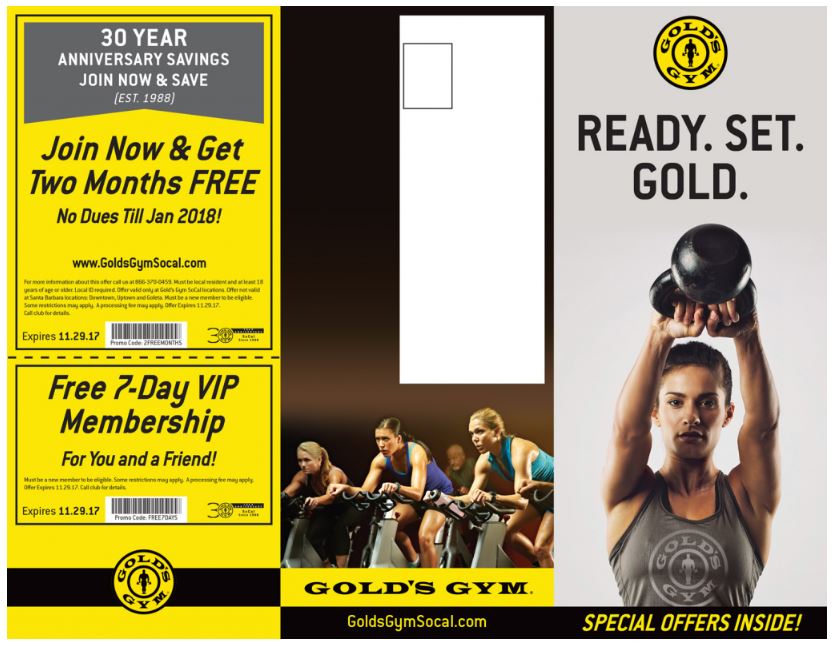 The inside provides two months free of membership along with a free seven-day VIP membership for the customer and a friend.
Hook, line, and sinker!
Desire
Desire is created through emotion. And, it's one of the most powerful emotions a human can experience.
Letting readers know what's in it for them is a surefire way to get customers to desire your offer.
How will the product or service you're promoting change their life?
Will it save them time? Make them happier? Increase their income?
Tell them and make it sexy.
Look how Finn Brothers, a digital marketing agency, pulls this off: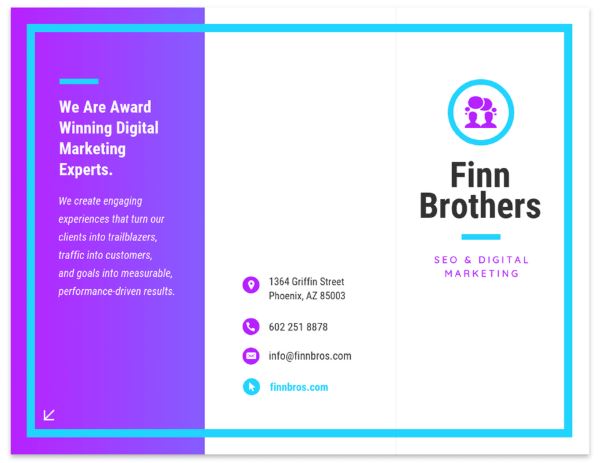 The text "We create engaging experiences that turn our clients into trailblazers, traffic into customers, and goals into measurable performance-driven results." is straight to the point.
Customers instantly know what they're getting out of the deal, which is more customers and SEO results.
Action
No business material is complete without a call to action, or CTA for short.
This is a word or phrase that tells readers what to do next.
It takes thinking out of the equation.
And, if they're emotionally invested in purchasing, it's often the last nudge they need to take out their credit card and swipe.
Use a call to action like:
Learn more
Buy now
Claims yours
Get a free consultation
Visit us today
Call now
Etc.
Check out my blog post on calls to action to learn how to use CTAs like a pro.
What's the benefit of your product?
Let's imagine that you're promoting a financial SaaS product through a brochure.
It helps people manage their finances, create budgets, and has similar features.
Cool. Customers don't really care much about those things on a deep level, though.
The benefits of these features are what they're truly interested in.
And, in the case of my financial SaaS example, includes fewer headaches, less thinking, and saving money.
That's why you need to ask yourself, "What's the benefit of my product?" when writing a brochure.
Don't get me wrong. You obviously have to state the features of your product. But, don't forget to state the emotions and experiences it creates.
That brings me to my next point.
Who is the audience and why should they care?
Writing effective brochures comes down to understanding the audience like your best friend.
You need to know their demographics, beliefs, and values to write the greatest possible copy.
That's where customer research comes into the picture.
Aligning with your target audience will improve conversions, sales, and branding all at once.
The first way to do so is to take advantage of market reports, government statistics, and public studies.
These are freely available for you to analyze and draw conclusions from.
For example, enter one of the following search terms into Google:
Your industry + market report
Your industry + statistics
Your industry + study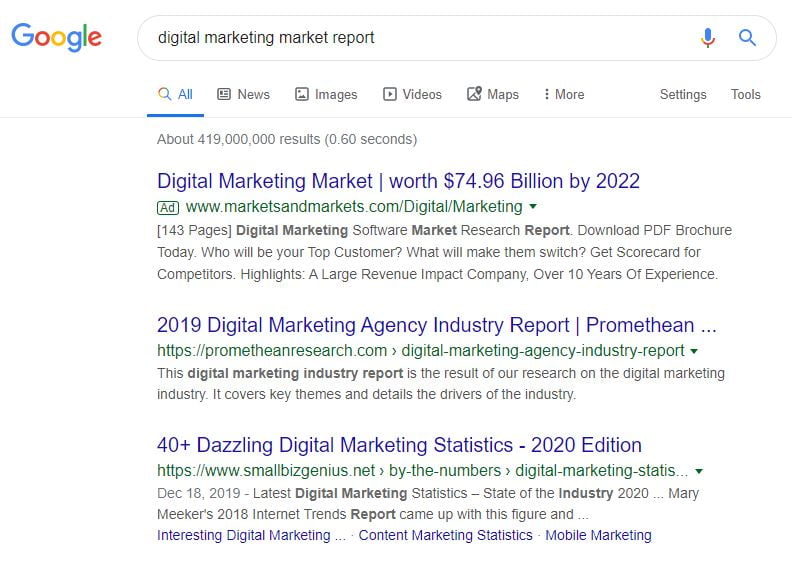 This will give you dozens or more resources to extract data from.
For example, this digital marketing report offers insightful data into my industry if I was writing a brochure.
You want to extract information such as:
Consumer behavior trends and patterns.
What problems consumers are facing.
Obstacles and opportunities within your particular industry.
Compile this information into a spreadsheet or document to reference while writing the brochure.
Make an outline of the brochure before you begin writing
The very first step before writing anything is creating an outline.
It is by far the most life-changing technique I've learned in writing.
Imagine this…
In the first scenario, you don't use an outline. You have to come up with every idea from the top of your head, wasting time and causing grey hair to sprout instantly from stress.
In the second scenario, you use an outline. You confidently and quickly write the first draft of the brochure, speeding up the project, all while not having the cortisol of a bull.
An outline should consist of:
A headline
Major points
Sub-points
A call to action
That's it!
In the copywriting space, we call these bullets. They are literally bullet-point ideas we later re-organize and shape into a rough draft.
The first step is getting the general idea onto paper. (Or Google Docs in most cases!)
Think of an outline as a skeleton of the brochure. It's like a blueprint or wireframe.
It's not pretty and you wouldn't want anyone to see it, but it acts as a North Star leading you in the right direction.
However, writing isn't everyone's cup of tea. So, feel free to reach out if you need a brochure copywriter to take care of the heavy lifting.
Final thoughts on brochure copywriting
The average direct mail campaign receives a 9% response rate which is very good compared to other channels like cold calling, email, etc.
It's also budget-friendly, making it very likely to yield a great ROI.
That's why you should consider using brochures in your marketing mix, but ensure that you write them well.
Because—you can have the Mona Lisa of designs—but if the copy stinks, it'll get thrown in the trash.
Apply the following main takeaways to maximize your brochure copywriting.
You can also enroll in my copywriting courses to master the art of writing sales copy and more.
Key takeaways
Write a headline that's unique, ultra-specific, urgent, and useful.
Apply the classic AIDA marketing formula to the body of the brochure.
Focus on the benefits of using your product or service to make it more emotionally appealing.
Study the audience through market reports, studies, and statistics to craft more effective copy.
Create an outline of a brochure before writing to remain organized.