Tone is how you say something.
Voice is your personality.
The tone of a piece of content will change like the wind.
However, voice remains consistent no matter what.
It's also extremely important to understand if you're a writer of any sorts.
This is because it allows you to create much more engaging, unique, and interesting material.
This is opposite of the boring and predictable content that's flooding the internet.
Yet, very few writers take the time to master tone of voice. Are you one of them? 🧐
No need to sweat bullets–just read the rest of this article and you'll learn everything you need to know!
What is tone of voice in writing?
Your message is what you're communicating.
But how you say it is tone of voice.
And, let me ask you this…
If you and your main competitor both wrote the exact same blog post, would customers be able to tell it apart?
Would yours have a unique sense of style, speaking, etc?
It's a small aspect that's commonly overlooked.
Developing a voice that only you have will ensure your brand cuts through the static.
What's the difference between tone and voice?
Let's go a step further.
It's easy to mix up tone vs voice since they're very similar.
Think about it like this: voice is a brand's personality that shines through their writing. Tone is how an individual message is said.
For instance, how you speak to readers in a casual blog post isn't how you would interact with them through a customer service page.
That's a change of tone.
But, how you write would still remain consistent. That's voice.
It's also been found that consistent branding across all channels increases revenue by 23%.
This may occur because customers can instantly recognize a business and feel comfortable no matter where the find them–reducing obstacles to take action.
Why is tone of voice important?
Alright, by now you're probably thinking "Why is tone of voice important, anyway?" and I'd like to explain that.
Here are a few reasons. 👇
1. It establishes your brand
When most people think of a brand, they think of a logo, slogan, or product, right?
One of the most subtle aspects of a brand is their tone of voice, though.
It's a unique writing style that stands out from the rest.
I think Neil Patel is one of the best examples of this.
I LOVE his writing style.
It's friendly, casual, yet authoritative. You can spot it from a mile away.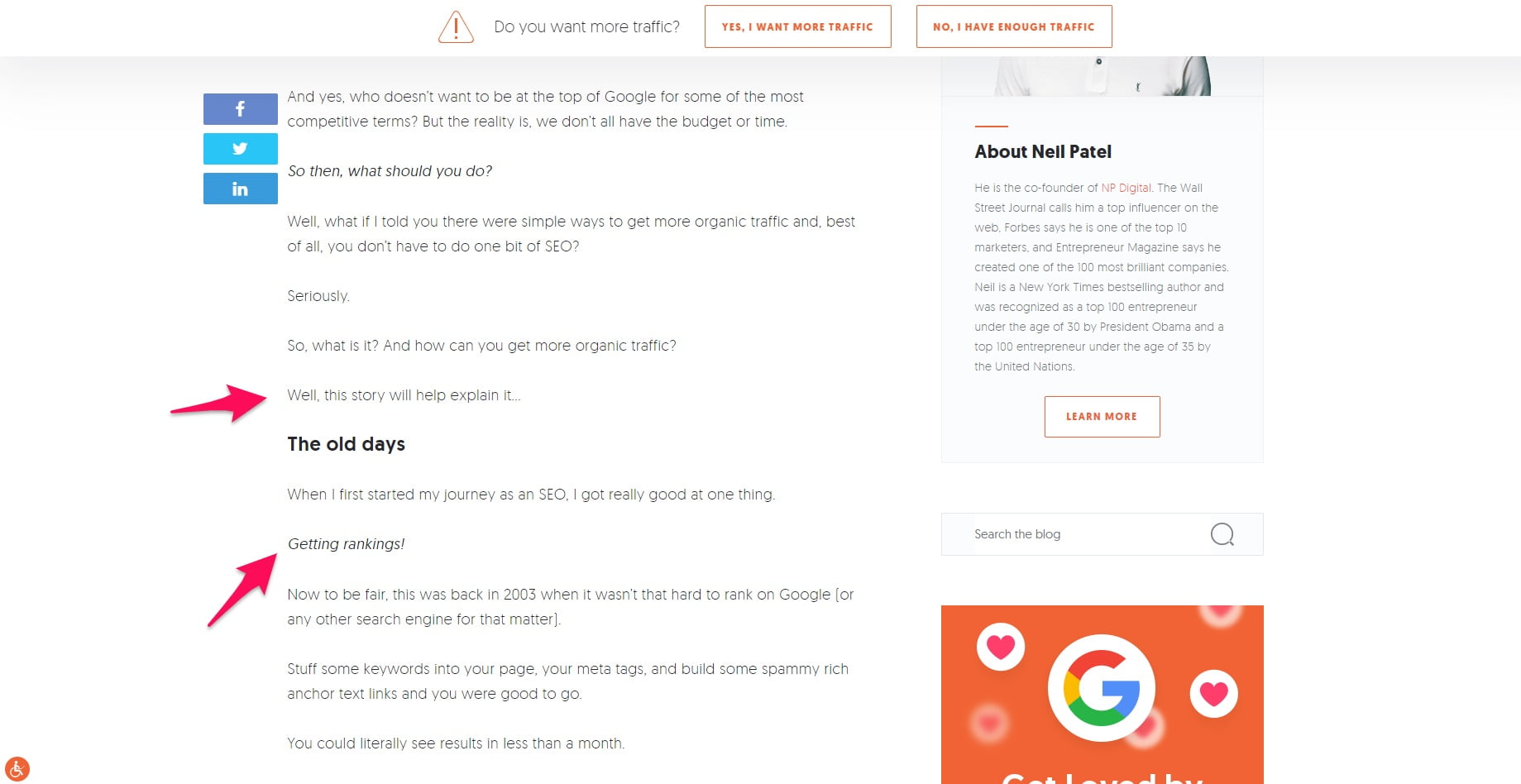 As I mentioned previously, if you stripped away the logo and all of the traditional forms of branding, would people be able to tell it's you?
Or would you blend into the sea of average content?
Tone of voice will help establish your brand and make it more recognizable.
It's also why 91% of consumers want to purchase from a company that's authentic.
Not stale. Not predictable. Not like everyone else. But rather unapologetically themselves.
That brings me to my next point.
2. Your writing won't taste like cardboard
If you could eat content, it should taste like Fruity Loops, Captain Crunch, or Sugar Crisp.
Not wet socks or cardboard. 🤢
One surefire way to spice up your writing and make it more entertaining than a Broadway show is to create a fun tone of voice.
Don't get me wrong–some situations and pieces of content call for a professional and academic writing style.
For instance, I wouldn't expect to see dad jokes and memes in a whitepaper on machine learning. Although that would be kind of funny…
However, creating a unique tone of voice and sticking to it makes your writing much more enjoyable. It feels like a friend speaking to a friend.
It's exciting, memorable, fun, and a small detail that makes a big impact.
3. You can create specific emotions
Emotions are powerful. They drive practically everything we do even when we don't realize it.
And–better yet–what's one of the main purposes of writing good copy?
To create emotion!
It should make readers experience a wide range of feelings and prime them for taking action.
You won't get that by making them yawn and fall asleep. 😴
This is why tone of voice is an insanely powerful tool in a writer's arsenal. You will be able to craft any emotion and perspective imaginable at the flip of a switch.
This keeps readers eyes glued to the page.
Additionally, consider for a moment that customers with an emotional connection to you have a three times higher lifetime value!
You could be generating 3x the revenue from customers by connecting with them through writing by simply being yourself.
How to improve tone of voice
Let's touch on how you can improve your brand's tone of voice. These are a few steps you can take right now, so apply them as soon as possible.
Create tone of voice guidelines
Documenting is key. I'm a huge advocate of staying organized and planning every little detail of what I do.
Because, as a seasoned copywriter, I know that it's easy to hit writers block and get brain fog.
Creating guidelines allows me to write effortlessly as I have a resource to constantly reference.
The same concept applies to tone of voice. You should create guidelines that sum up the speaking style you wish to use. It can include:
Grammar rules
Syntax rules
Allowed and non-allowed words
Etc.
Furthermore, try this out: come up with three words that sum up your business right now. Let those guide how you write.
For instance, imagine you chose the traits positive, helpful, and friendly. Your writing may sound like:
Hey everyone! We hope you had a wonderful weekend. Today we've got a special treat for you today–our 100th blog post 🙂
On the flip side, a more serious tone of voice would say that same sentence this way:
Today you will be learning how to achieve digital transformation in our latest article.
See the difference? It's the same message but said much differently.
Ask customers what attributes describe their experience
Who would know better about your brand than the ones engaging with it on a daily basis?
Customers are an amazing resource because of this.
You can survey customers with a tool like Google Forms to ask them how your branding can be improved.
Click "Go to Google Forms" on the Google Forms homepage to begin.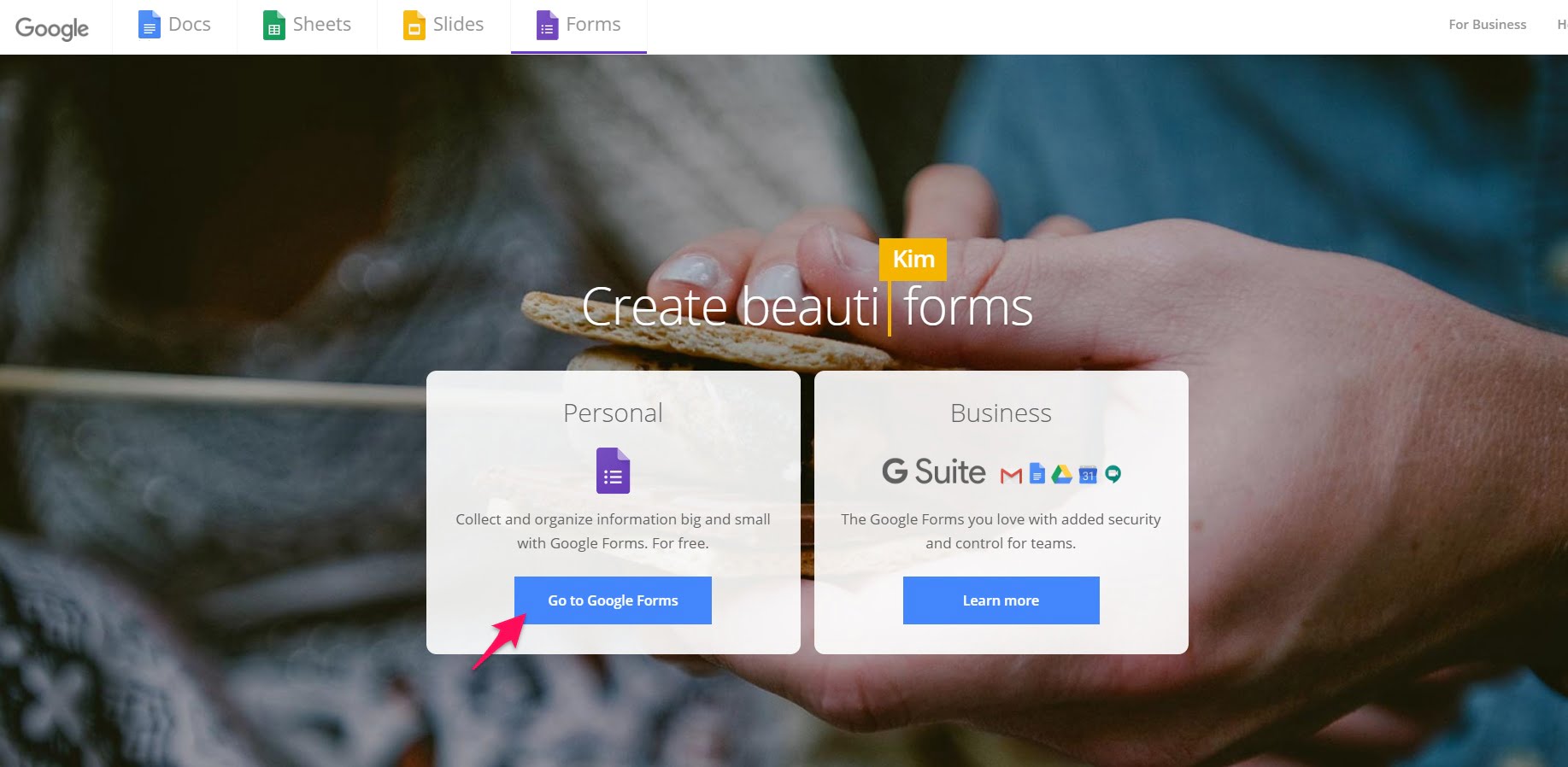 Then, choose the blank template to create a personalized questionnaire.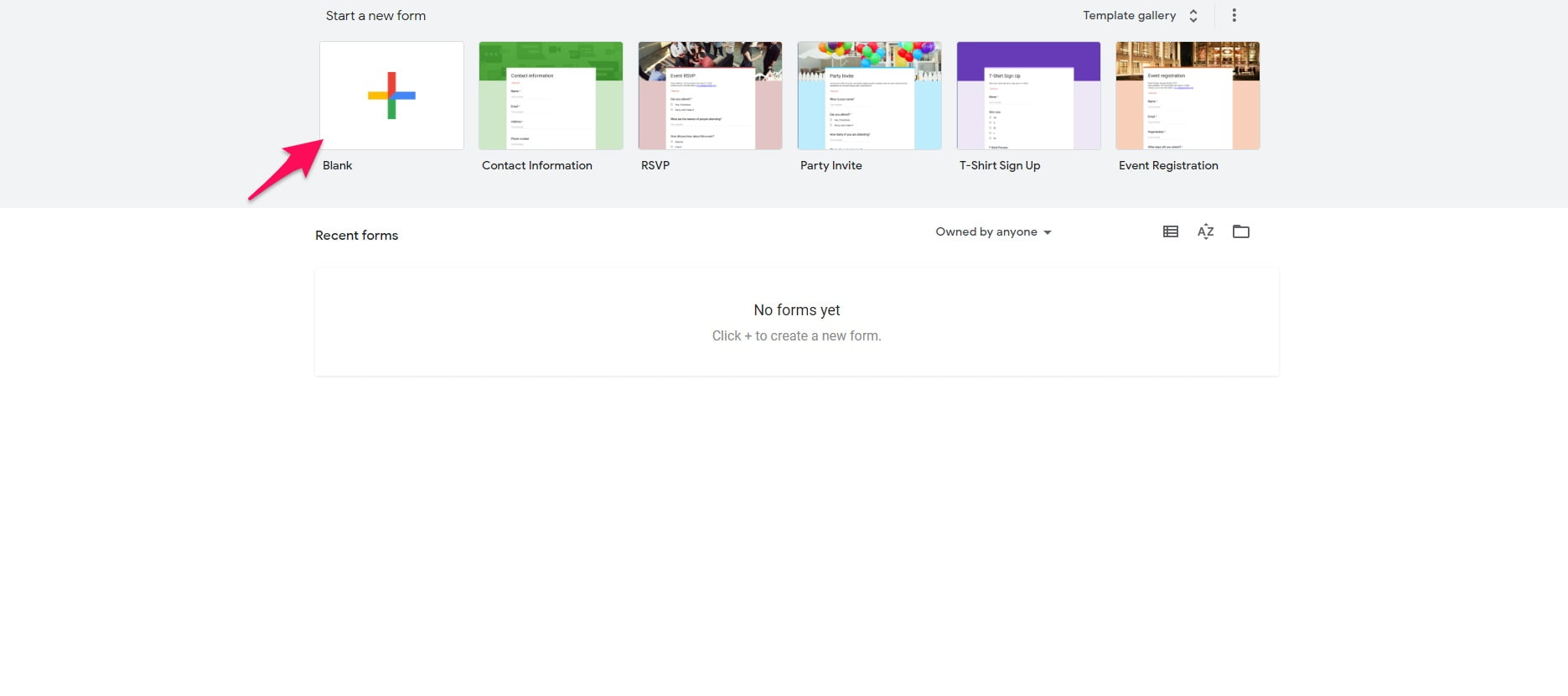 Customize the title, description, and questions of the form. The plus button on the right side allows you to add short form, multiple answer, and other styles of questions.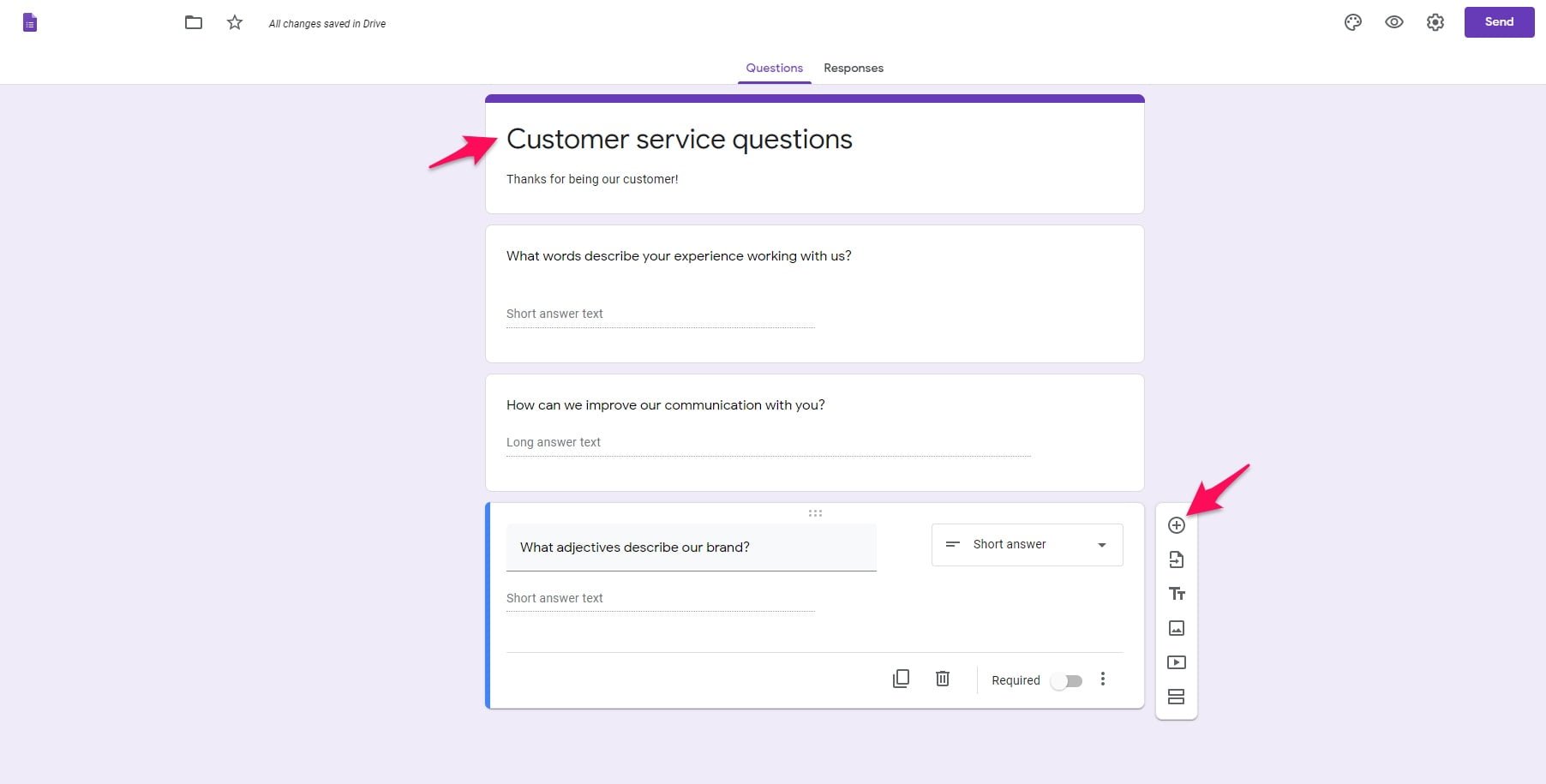 Send this to your customers via the "Send" button with the share link Google provides you.
Perform copywriting espionage
Many aspects of business are simply imitation mixed with innovation.
A.K.A snooping on your competitors and doing what they do but better.
Because, let's be real. We all need a little inspiration some times 😉
That's why one of the best ways to develop a great tone of voice is by swiping competing businesses.
Take notes on elements of their writing, such as:
What words they use and don't.
The vocabulary level they stick to.
Sentence structure and syntax.
Grammar and punctuation rules.
Metaphors, analogies, and humor.
Anything else that stands out to you.
Compile notes on several businesses and use this information to craft your very own writing style.
Remember, you don't want to copy. You simply want to learn from them to make your individual angle.
Tone of voice copywriting examples
Let's look at some examples of tone of voice. Use these as inspiration for crafting your own.
Buffer's casual and insightful tone
Buffer is a social media management software company that publishes blog content on a regular basis.
One of which is this article on using Pinterest for generating sales: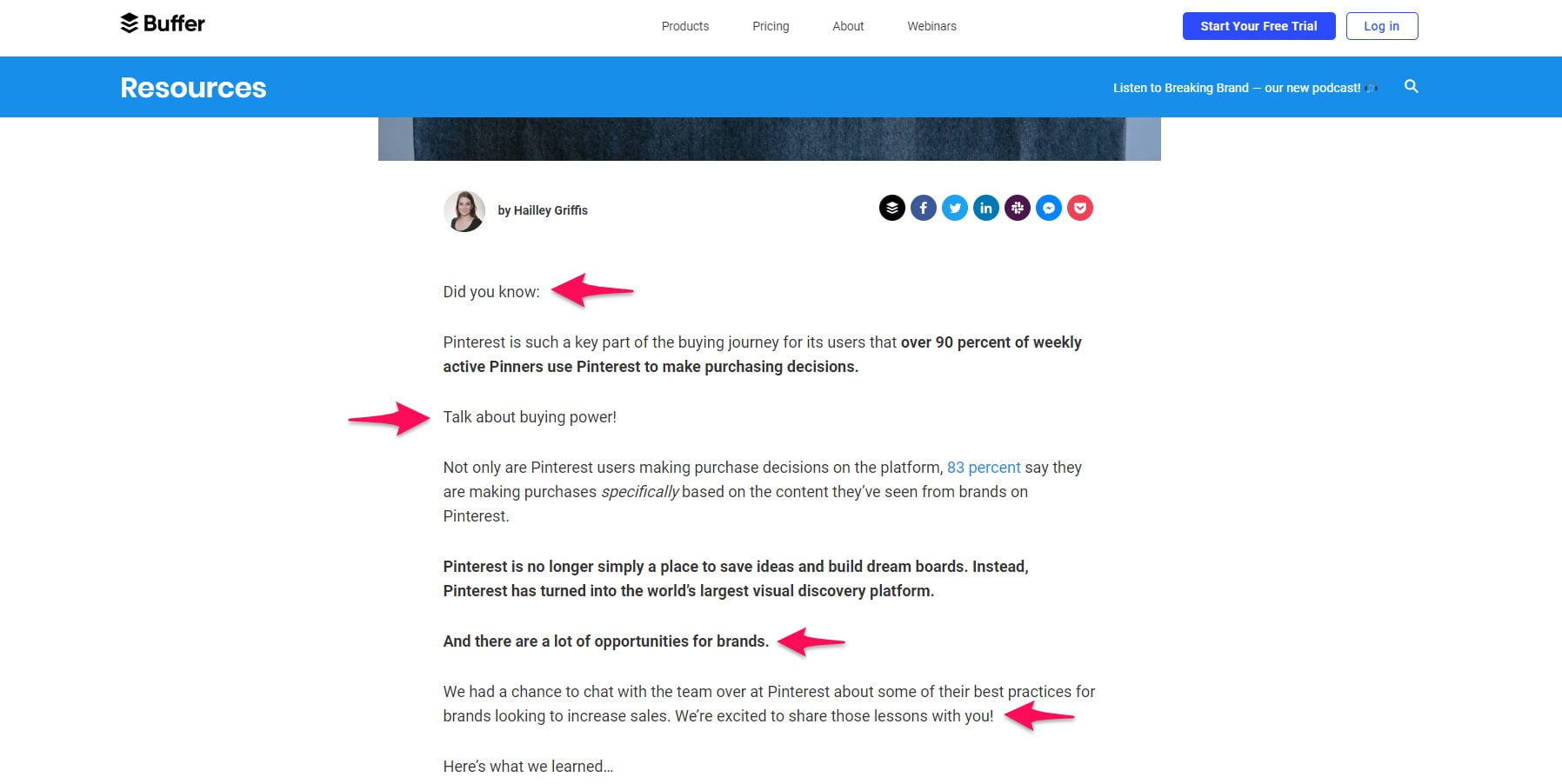 Note how the author, Hailley Griffis, uses short and snappy sentences to get points across quickly.
The writing style also uses bold and italicized words to make important information stand out.
Furthermore, it's spoken in first person and with a helpful voice.
This is a great style for any businesses that want to be authoritative while not intimidating readers.
That brings me to my next point.
HubSpot is the leading authority for inbound marketing. So, it should be no suprise that they use an authoritative and educational tone in their content.
Check out their blog post on achieving a work-life balance to see what I mean: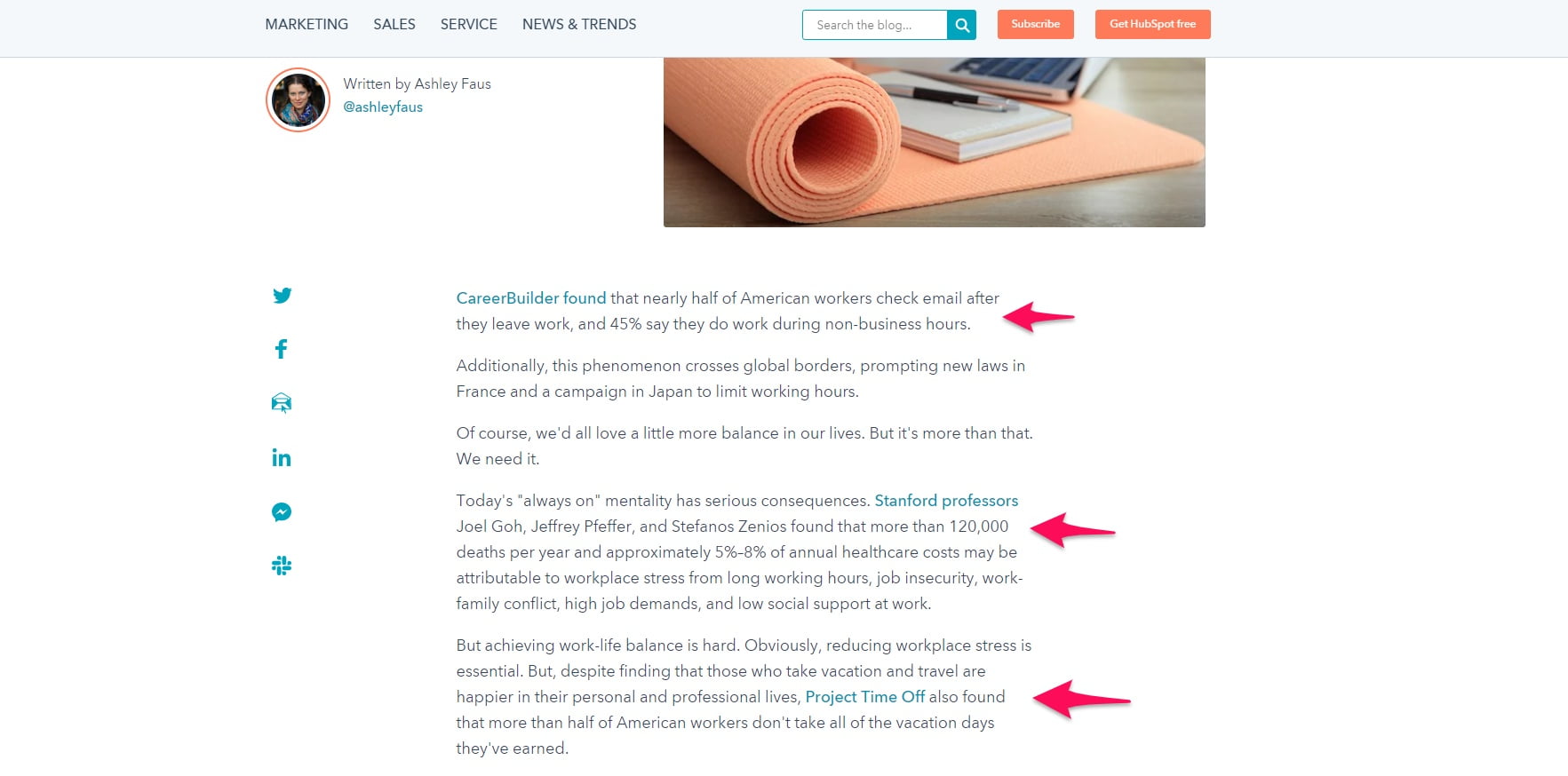 They cite several different pieces of data and studies to get their point across in the introduction.
It isn't overly friendly or casual, but isn't dry as a history textbook, either.
HubSpot strikes a nice middle-ground where they sound like an expert but without excluding any readers.
Scrolling through the article we see another example of this by leading readers step-by-step through achieving a goal.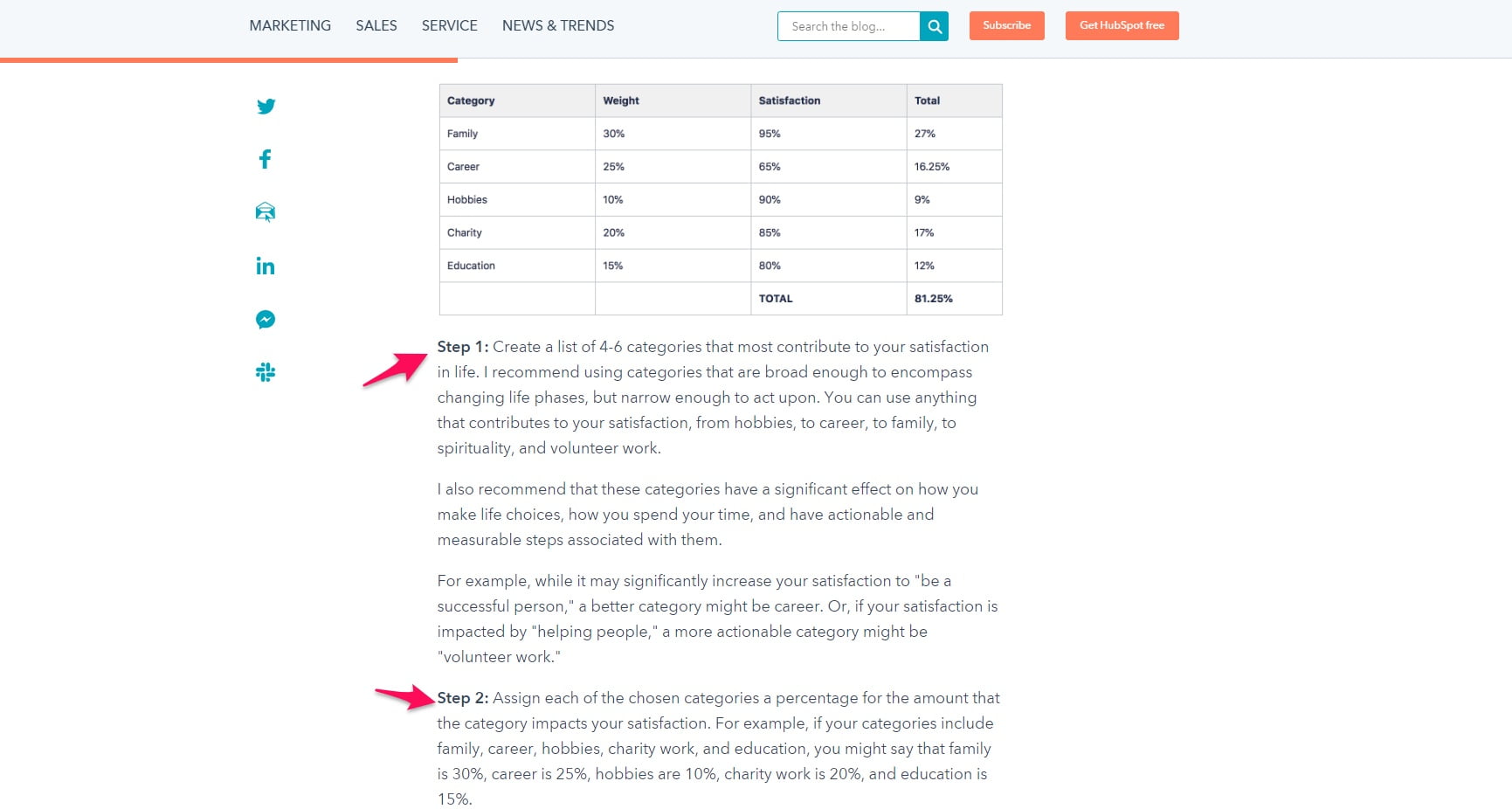 Nonetheless, not every brand is so rigid…
Kopywriting Kourse's one-of-a kind graphics and voice
Neville Medhora is the man. (Just in case you didn't know.)
He's the founder of Kopywriting Kourse, which is one of the largest copywriting blogs on the internet.
I love reading his content and he's a huge inspiration for me as a writer.
There's perhaps no person on the internet who has a more unique tone of voice and branding elements.
Take a look at this blog post he did on transition phases recently: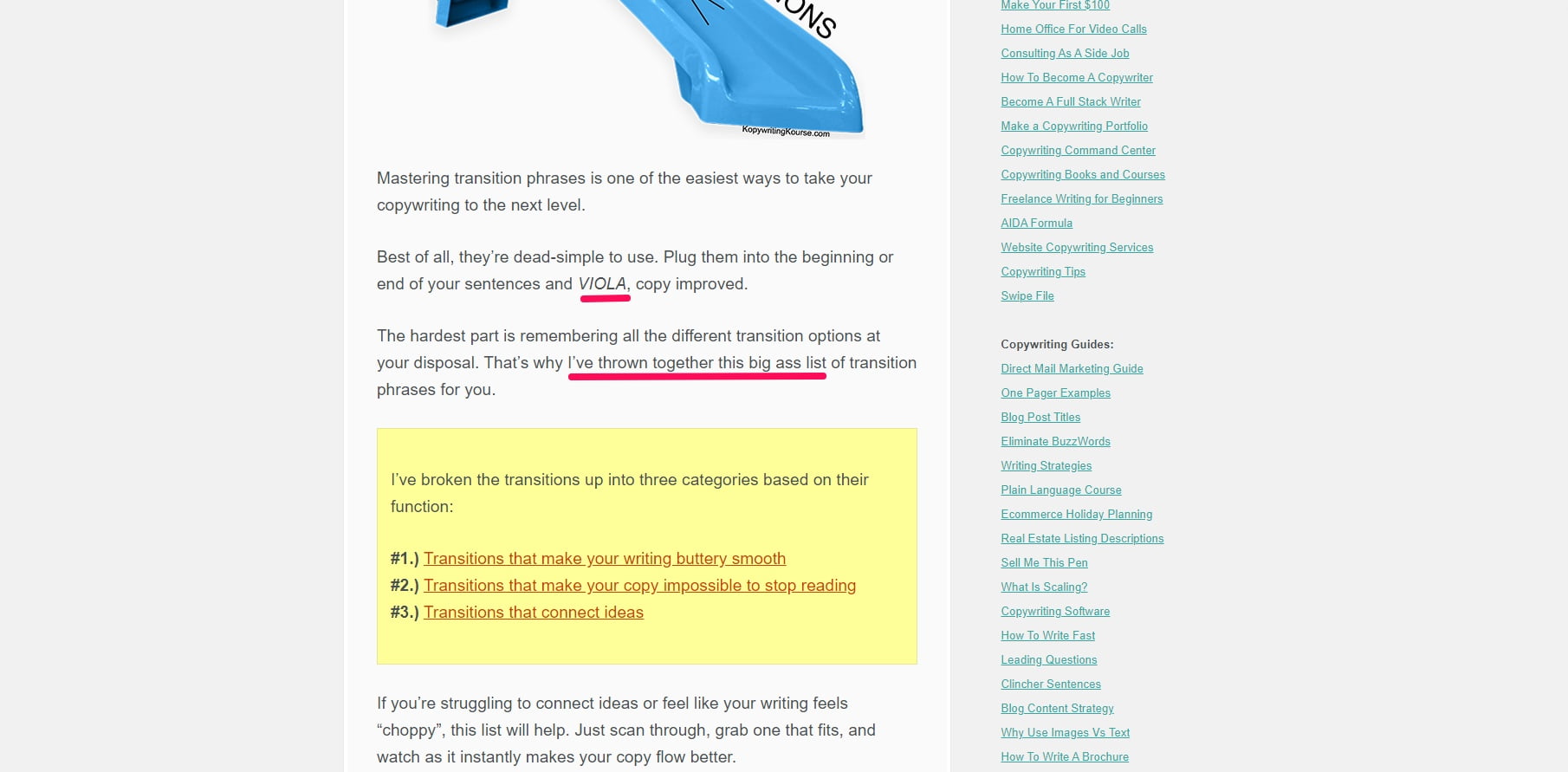 He's not afraid to curse, break grammar rules, or make certain words stand out from the rest.
That's not to mention his classic use of Microsoft Paint-looking characters.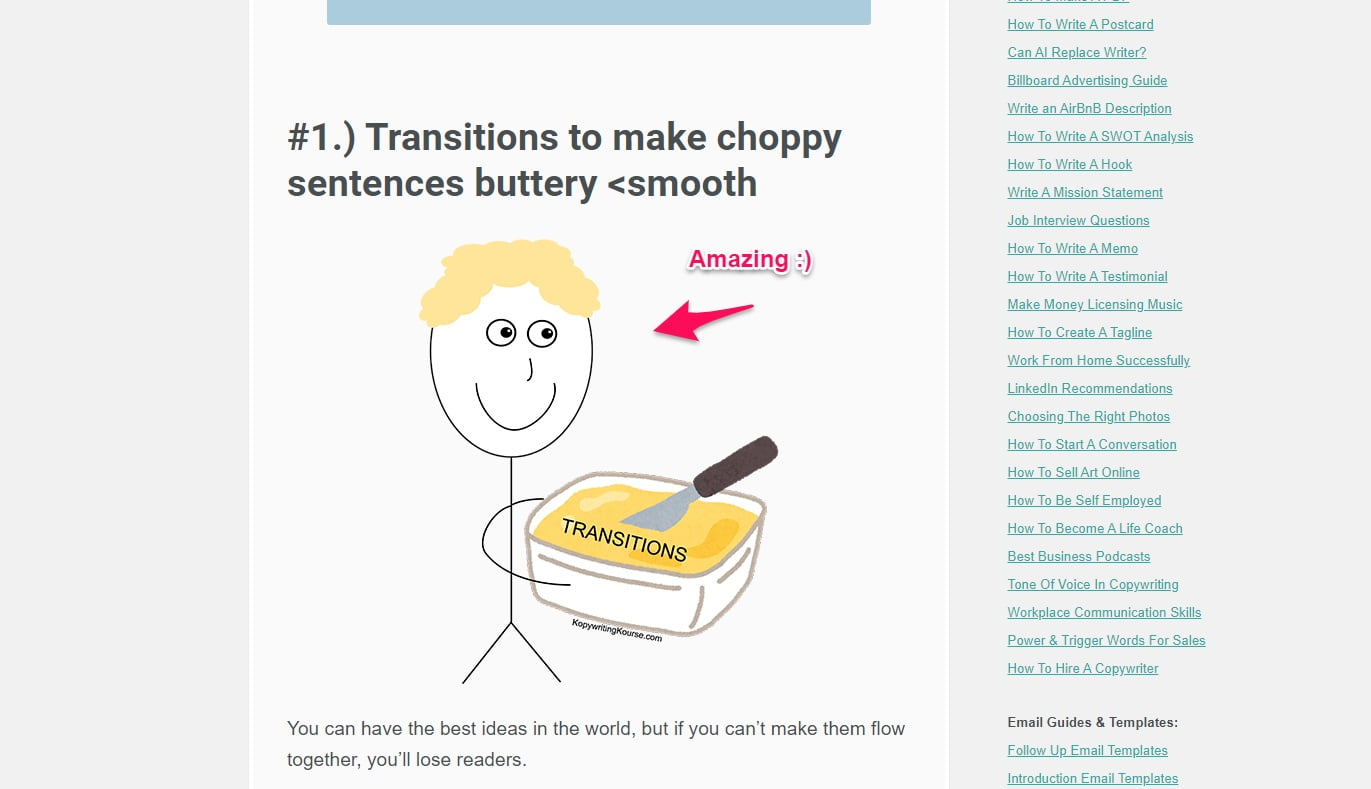 While it isn't writing per se, it plays a big role in his brand and something to consider yourself.
Final thoughts on tone of voice
There are so many things you have to keep in mind when writing content.
That's why it's so easy to forget how important tone of voice is.
It's one of the simplest ways to make your writing stand out and make readers wish there was more to consume.
Simply put, tone is how you say something and voice is the baseline personality behind it.
The voice is always there but the tone can change depending on the situation.
Learning to manipulate tone while writing allows you to brand yourself as a writer, create emotion, and make much more appealing content.
It's easier than you probably think, too.
The first step is to write down a few words you want to base your writing on. Perhaps it's friendly, casual, and insightful, for example.
I would then suggest surveying customers to gain their input on this matter.
It's also effective to take notes on how how other businesses write content and copy to learn from them.
So, what are you waiting for? Start developing a unique tone of voice and practicing it today. 📝