Whitepapers can help any business generate more leads and sales.
With so many definitions of what a whitepaper is however, it can be difficult to understand what they are and how to write one.
That's why today I am going to teach you about whitepaper writing, and provide some examples to learn from.
Download Your Free Copywriting Cheatsheet!
What is a whitepaper?
A whitepaper is a report that covers a very specific topic while presenting problems and solutions, and tries to persuade the reader into a new perspective.
While whitepapers were originally known to be common in congress and science fields, they have quickly become one of the best tools marketers can use to generate leads.
A whitepaper will educate your audience on a relevant topic to your business. This helps them understand why a certain strategy or idea is important, and it can be tied to your services.
Please remember that like all pieces of content, whitepapers are not for promoting your product or service entirely. Sure, it can be intertwined lightly or mentioned via a call to action at key areas, but avoid making it a sales pitch.
The average consumer already sees 5,000 ads per day. They don't need any more.
Provide the information, educate them about something important, and let them make their own decision.
It's also crucial to consider that whitepapers are much different than content you've produced in the past.
They are not blog posts or e-books.
This means that you shouldn't be using a casual and informal tone. They are professional and authoritative.
While articles and videos can take hours to make, whitepapers can easily take weeks to months to finish. Take your time and really polish it off before publishing it.
Whitepaper format
Now that you understand exactly what a paper is, let's move onto proper whitepaper structure. These are some of the main elements of a whitepaper you need to understand.
How long should a whitepaper be?
Like any piece of content, there is no cookie cutter length. This depends on the exact topic and industry you're covering. However, I would suggest that you don't make it any less than five pages to ensure that you can cover a healthy amount of data and information.
It's not uncommon to see whitepapers that are dozens of pages long or even upwards to one hundred.
Write as many pages as you think is necessary to present your ideas in a digestible manner.
Whitepaper voice and design
A whitepaper needs to sound serious, professional, and overall be very well written. There can not be grammar mistakes, spelling errors, and other hiccups or else it lessens the impact it will have on the audience.
Additionally, a whitepaper needs to look the part. Visuals are a huge component of how people judge things, as it reflects the quality of what's inside.
I suggest hiring a designer if you need help with the cover, infographics, or any other images. Otherwise you could use a free tool like Snappa.

Whitepaper file type
The most common file type for whitepapers is PDF. This helps convert it into a downloadable lead magnet, and easy to view on different devices.
Some businesses post whitepapers on their website as a blog post if you'd like to take that route, as well.
Case studies
Nothing backs up a point more than a case study. Case studies are real life examples of businesses experiencing a problem, how a strategy solved it, and what the readers can learn from it.
You have two ways you can approach case studies. The first is to present on case studies that you've conducted yourself. It's a great way to tie in the effectiveness of your product or service by showcasing the results you've generated for clients.
Secondly, you can source other case studies to use as references. This is just as good as using your own, as they still give merit to the subject you're educating the audience about.
Statistics, charts, and graphs
Whitepapers are very academic in nature. This means that it's key that marketers include statistics, charts, graphs, and studies to back up any claims.
If you're writing a whitepaper about lead generation, for example, you could search Google for terms like "lead generation statistics" to source.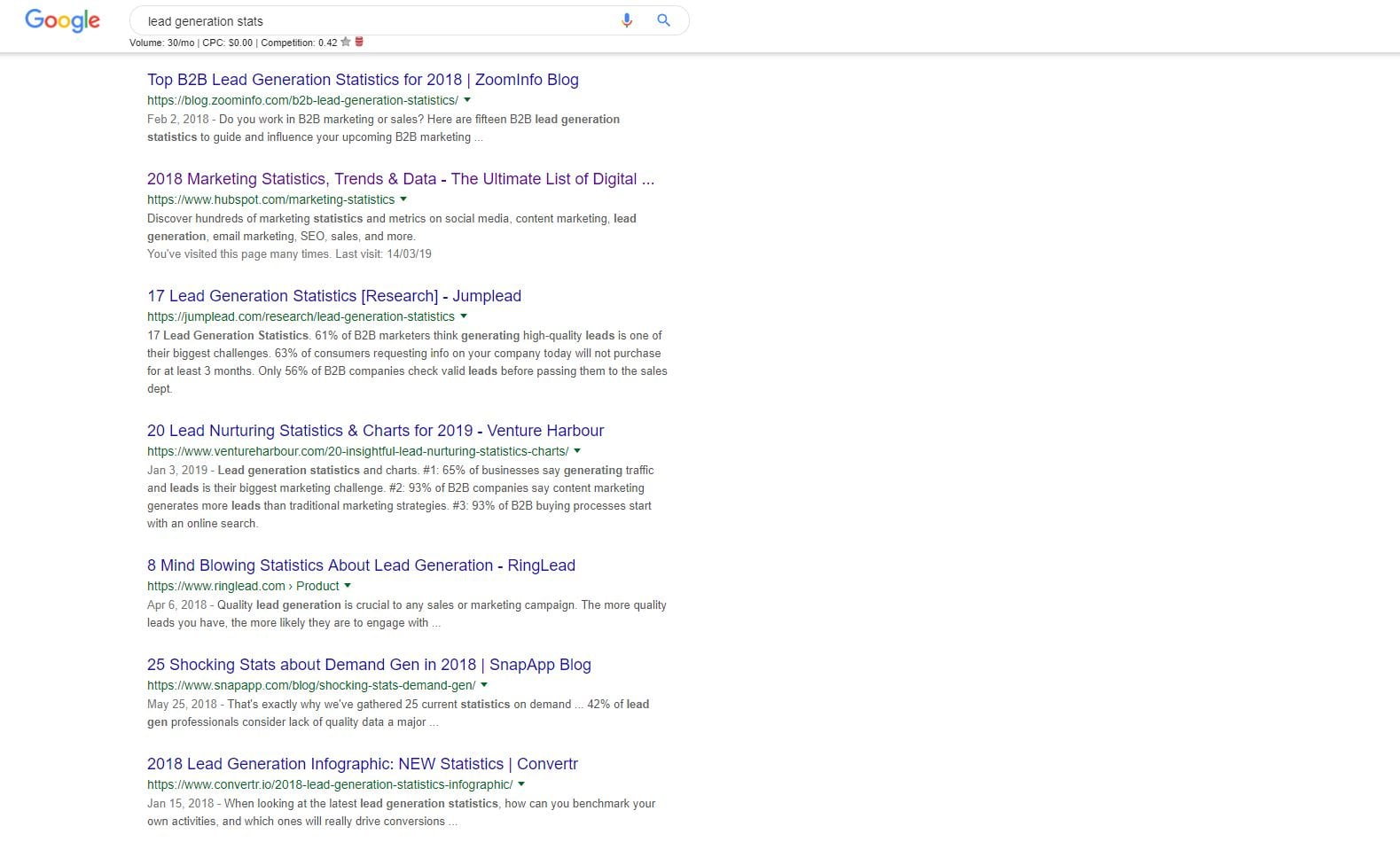 Similarly you can click onto the images tab, and find different visuals to source.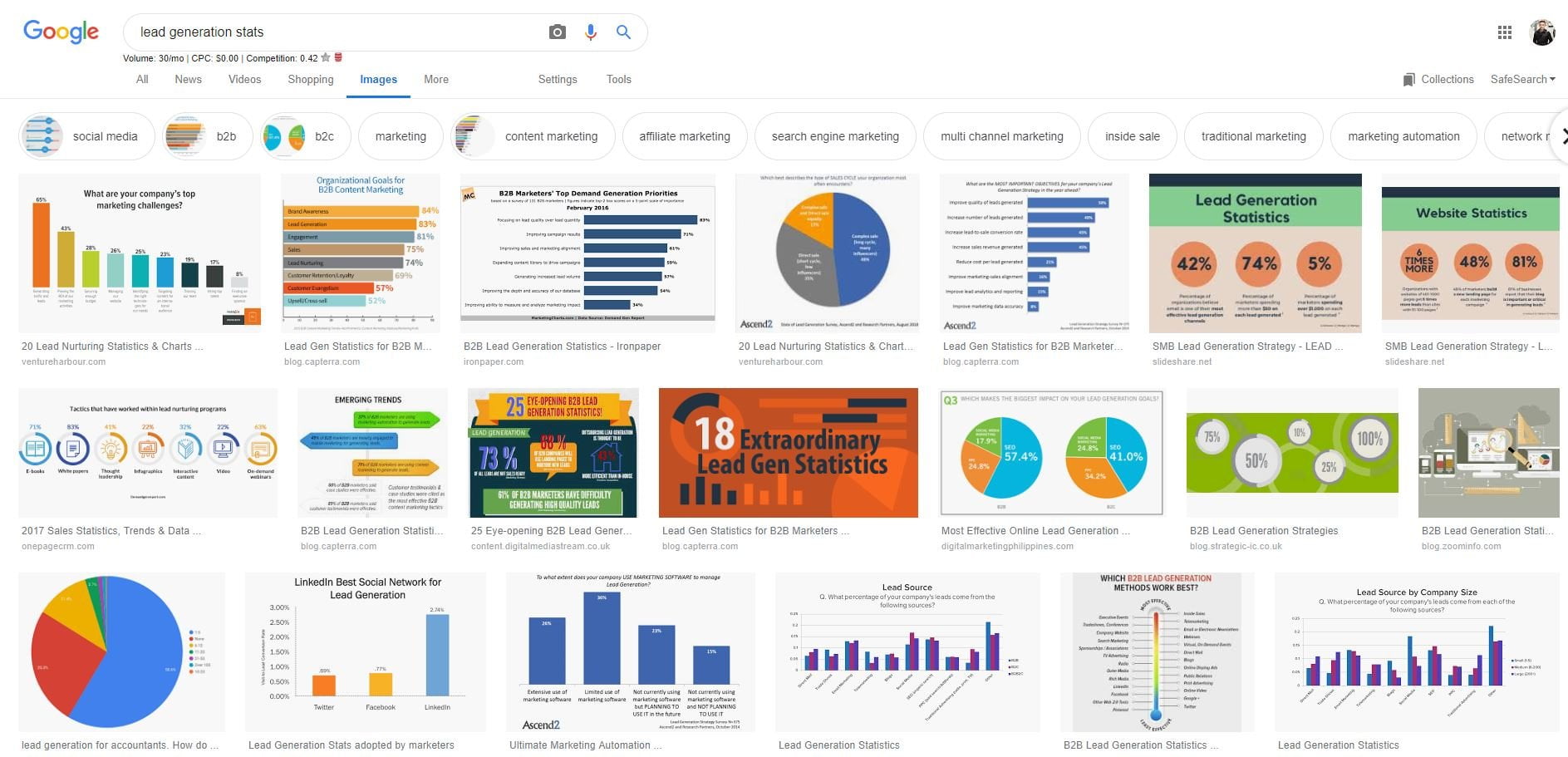 Whitepaper writing
Step 1: Idea generation
The first step when writing a whitepaper is to brainstorm. You should ask yourself the following questions:
Who am I writing for?: Identify the buyers persona that the whitepaper will be targeting. This will help you narrow down a specific niche, problem, and solution, which brings me to the next questions.
What problem am I solving?: Every piece of content, whitepaper or not, needs to help the reader. Revolve a whitepaper around an industry issue, or present an idea that could provide a better strategy.
What will I write about?: With a target audience and problem in mind, begin brainstorming topics you're an expert on to base the whitepaper off of.
Step 2: Planning
Once you have answered the above questions, it is now time to begin outlining the whitepaper. An outline will help smooth and speed up the writing process, preventing writer's block.
Map out all of the major points and ideas that you are going to speak about ahead of time, as such:
Introduction
First point
Second point
Third point
Fourth point

Subpoints
Expert opinions

Fifth point
Conclusion
Write as many ideas and thoughts under each section as you like. These will help give inspiration for when you begin writing.
Step 3: Research
The last step before you finally crack your knuckles and get this paper started is researching and collecting references.
I suggest looking into government databases to find interesting statistics. For example, I'm Canadian and the Government of Canada website has heaps of resources that could be easily used to spice up any whitepaper.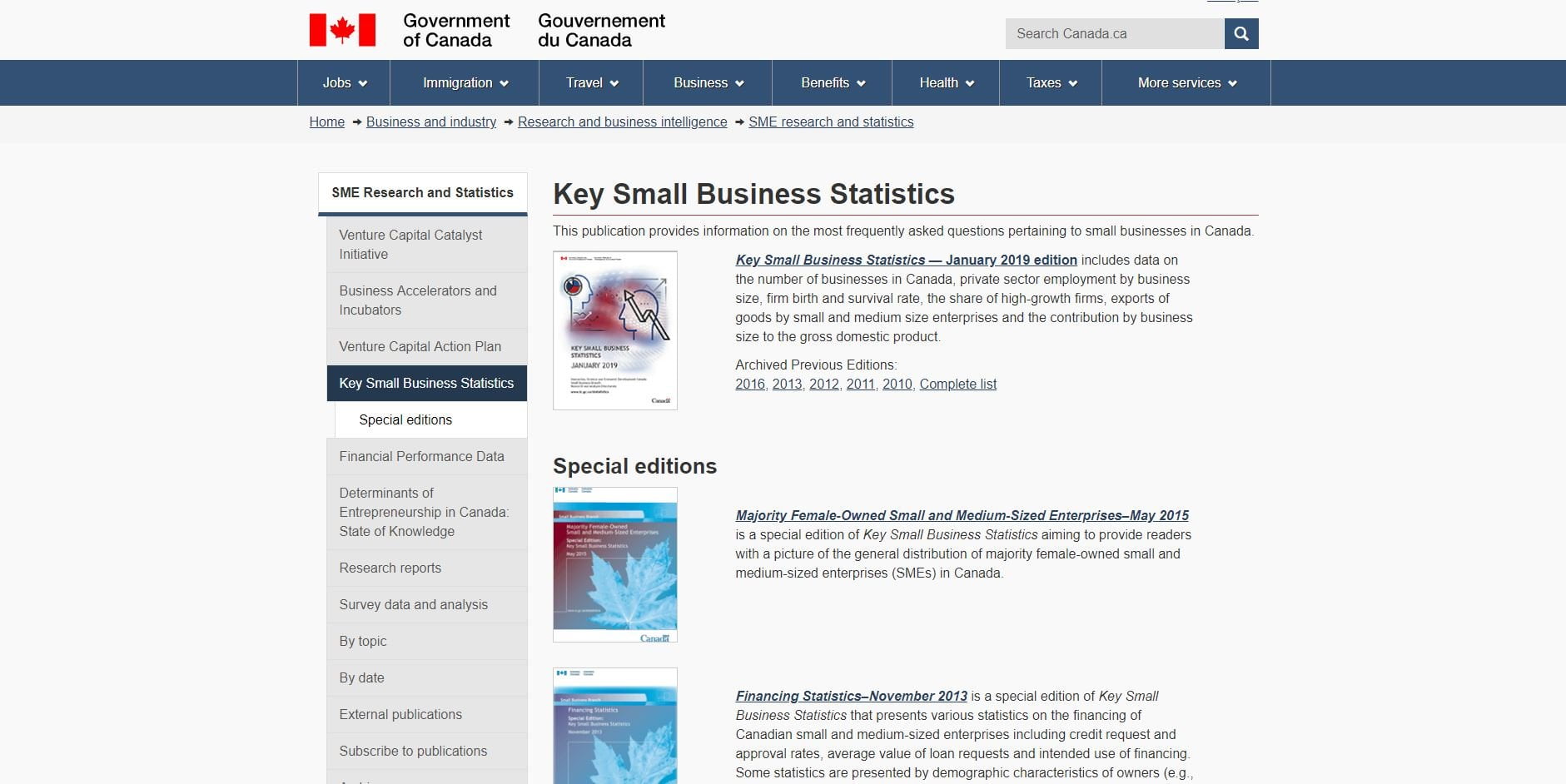 Furthermore, finding market or industry reports can give you deeper insight into any topic. I suggest using Statista for this.
A quick search for "ecommerce" nets tons of useful information that can be used in a whitepaper, for example.
Step 4: Writing
At this point you should have your whitepaper researched, planned, and enough resources to breeze through creating it.
You will want to begin by writing a headline that will get users interested before they have opened the paper.
A headline should convey a clear benefit, such as improving the performance of the reader's business, while also sounding professional and realistic.
Take notes from Google's whitepaper on predictable cloud financing below.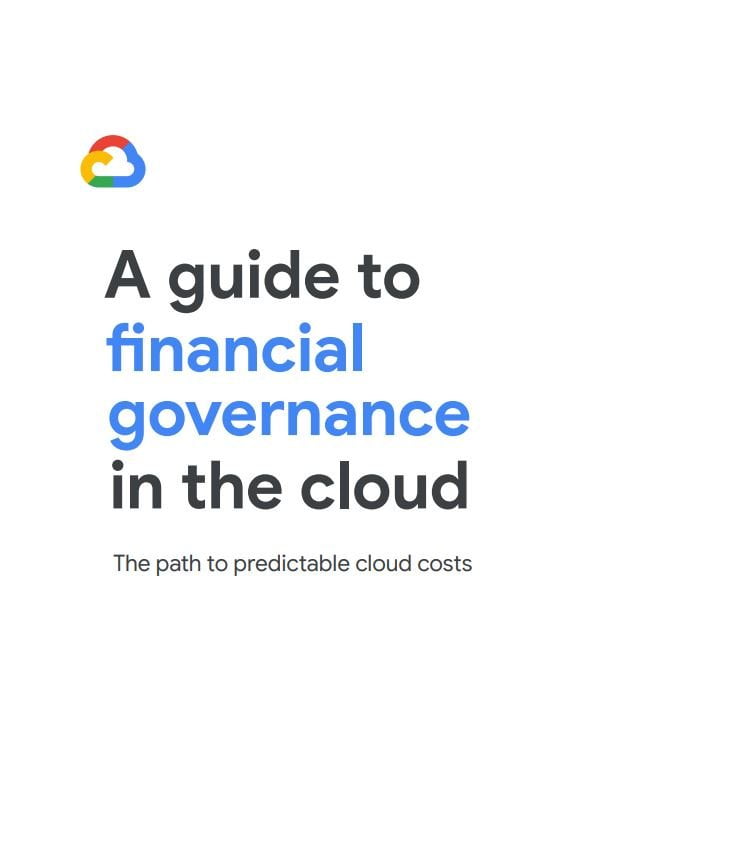 A reader wouldn't have to wonder what they will learn because it is clearly stated in the headline, and sub-headline.
Some other examples of whitepaper headlines include:
How Five SaaS Companies Increased Revenue by 47% in 6 Months
Why Content Marketing is Taking Over Business and How You Can Use It
The Definite Guide to B2B Lead Generation
The Future of Artificial Intelligence in E-Commerce
How Small Businesses Can Use Crowdfunding in 2019
Next, marketers will need to create a concrete introduction that explains what readers will learn in the whitepaper, while also grabbing their attention.
This can be achieved by citing an interesting statistic, making a bold claim, or saying something that goes against the norm of your industry.
You will then want to flesh out each section you have planned out previously. Remember to keep it professional and academic, but also practical to improve the lives of the audience.
Perhaps the most important step is to edit and proofread the whitepaper thoroughly. I suggest using the free tool Hemingway Editor.
Simply copy and paste any section of the whitepaper in to begin checking for improvements.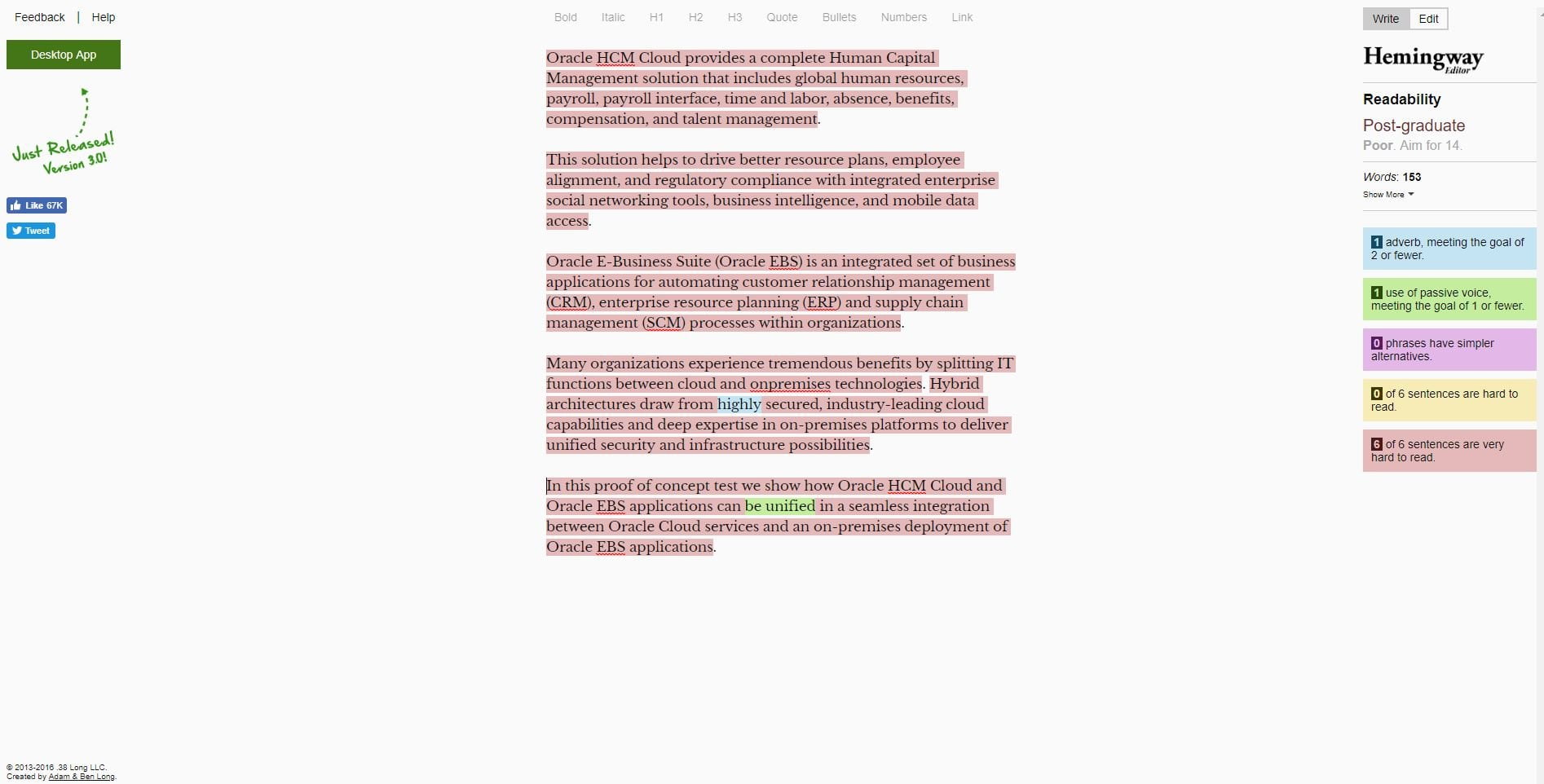 Any text highlighted in red is considered difficult to read. However, this isn't necessarily a bad thing.
That means that the sentence uses complex words and structure, which is exactly what a whitepaper should have.
Now if we were talking about a blog post, we would want a first grader to be able to read it and have as little red as possible.
Here's a great video I found on YouTube that guides you through Hemingway if you'd like to learn how to use it more extensively.
That's the general overview of how to write a whitepaper. Follow along as I dive into some examples of whitepapers, and what you can learn from them.
Whitepaper examples
Google's security whitepaper
This whitepaper was written by Google to inform individuals on the security of cloud systems.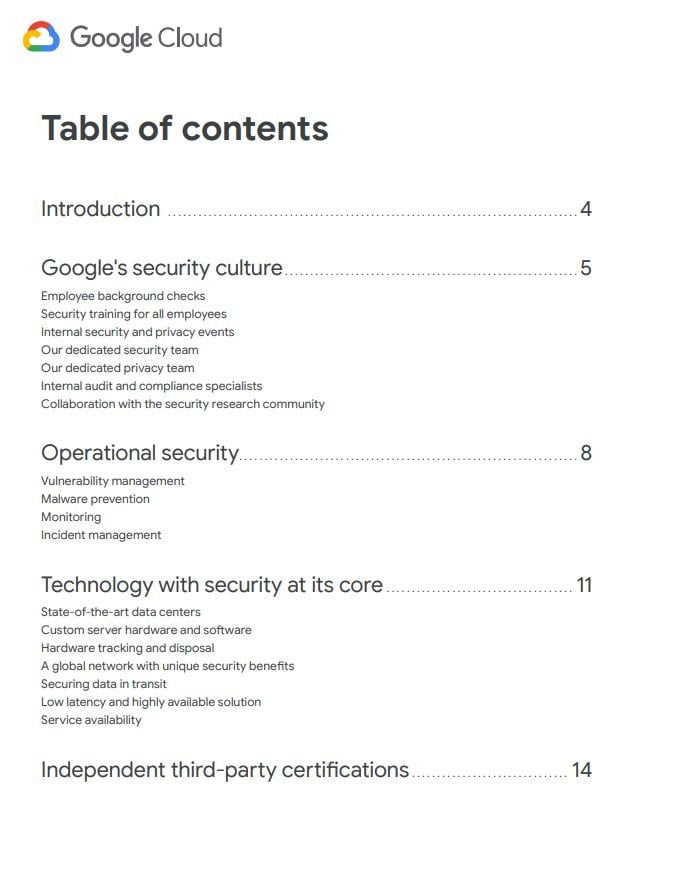 Note how it begins with a clean and easy-to-read table of contents. This allows people to browse through and get a preview of what they will learn ahead.
Scrolling further, Google includes a quick introduction that resonates with the target audience by saying the following:
Traditionally, organizations have looked to the public cloud for cost savings, or to augment private data center capacity. However, organizations are now primarily looking to the public cloud for security, realizing that providers can invest more in people and processes to deliver secure infrastructure.
This shows that they studied their buyers persona thoroughly enough to bring up what they value, which is cost savings, infrastructure, and security.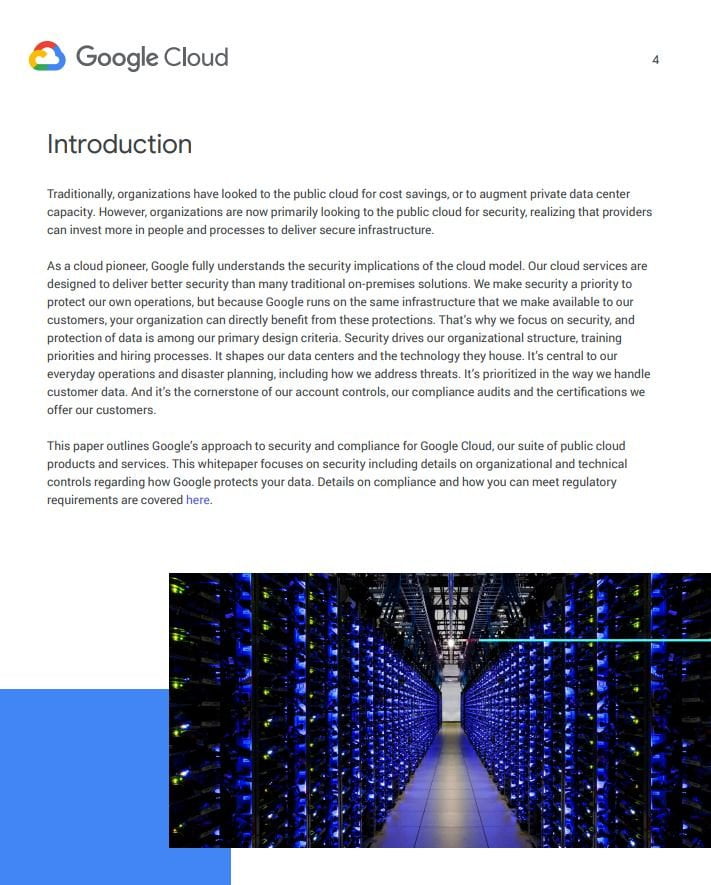 Make sure to mention the pain points, values, beliefs, or experiences of your target audience like this in the intro to hook their attention.
Furthermore, Google takes the advertorial approach by continuing with the content, but also intertwining their services.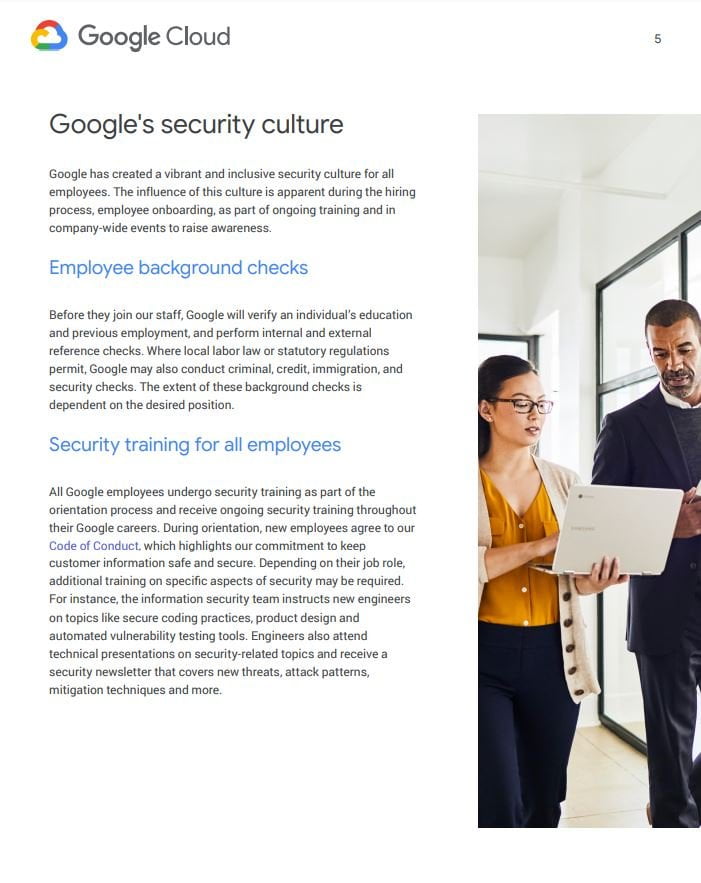 As I've mentioned previously, you don't want a whitepaper to come off too sales-forward or you risk turning off readers.
It's fine to add the odd call to action or elaborate on how your business relates to the topic of the paper, however.
Oracle cloud guide by IBM
IBM produces many different kinds of whitepapers, some of which are very technically oriented as they offer complex software.
This particular one, which is about setting up a hybrid cloud environment, is the perfect example of a practical paper.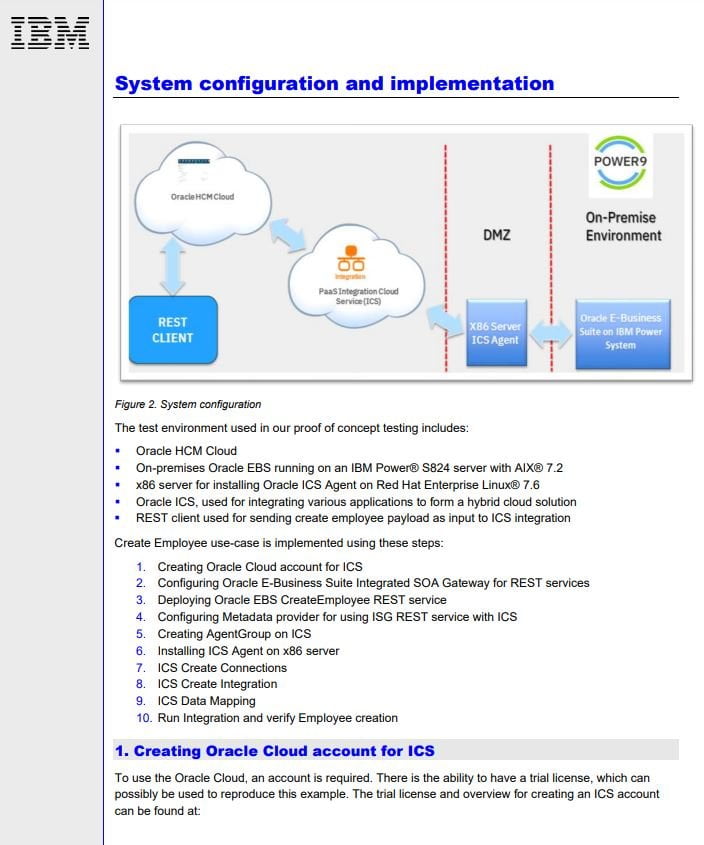 IBM leads users step-by-step through the various tasks needed to create a cloud environment, while using graphics to make the process easier.
Further in the whitepaper, IBM also elaborates on the benefits of one of their products called Oracle Integration Cloud Service.

Strategic placement of your products or services could very well lead to more customers, so take notes.
HP workstations
Did you know that HP originally made calculators and instruments before eventually becoming one of the worlds biggest computer brands?
They also offer their customers whitepapers based on the individual products they sell, such as mobile workstations.
I thought this was a very interesting twist to traditional paper because it educates the reader deeper about a specific product or category that HP offers.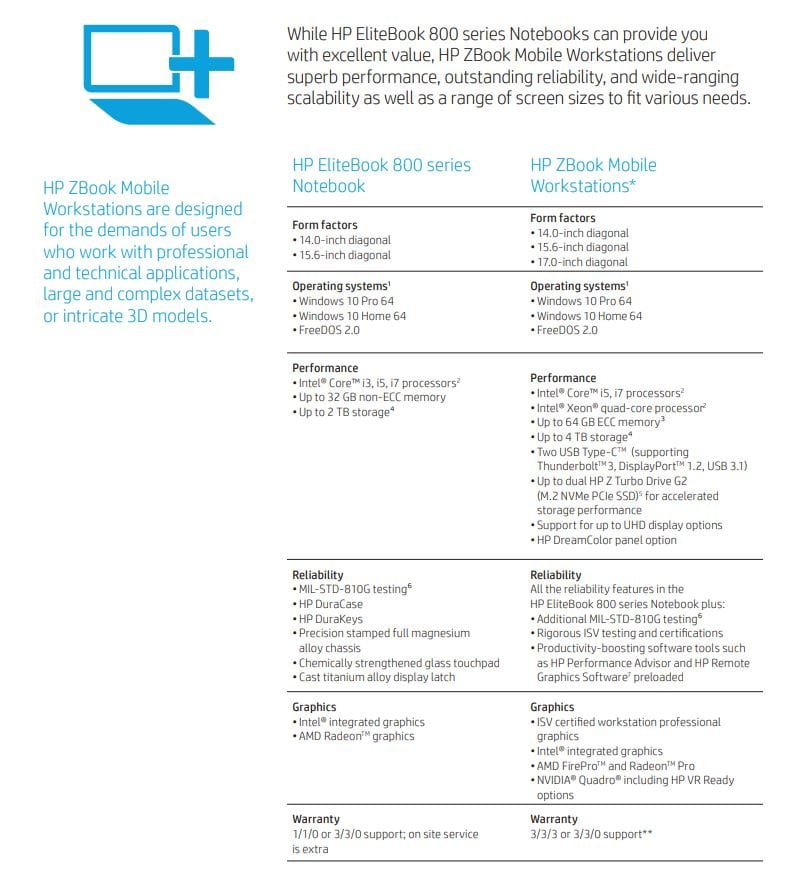 This could easily help anyone on the fence make a purchasing decision, as it explains the benefits of the computer, its specs, and how much effort HP has put into perfecting it.
I would recommend that marketers consider writing a whitepaper for their products that acts as both documentation and a sales letter like this example.
How to publish a whitepaper
So, you've written an incredible whitepaper that any client would die to read. What's next?
Publishing it.
Like any other piece of content, you can't let it sit around and collect dust. It needs to be read, right?
That's why I recommend you begin by publishing whitepapers on your company's website.
This allows organic traffic to get drawn back to your business and creates the opportunity to collect leads. Look how Salesforce does this effortlessly.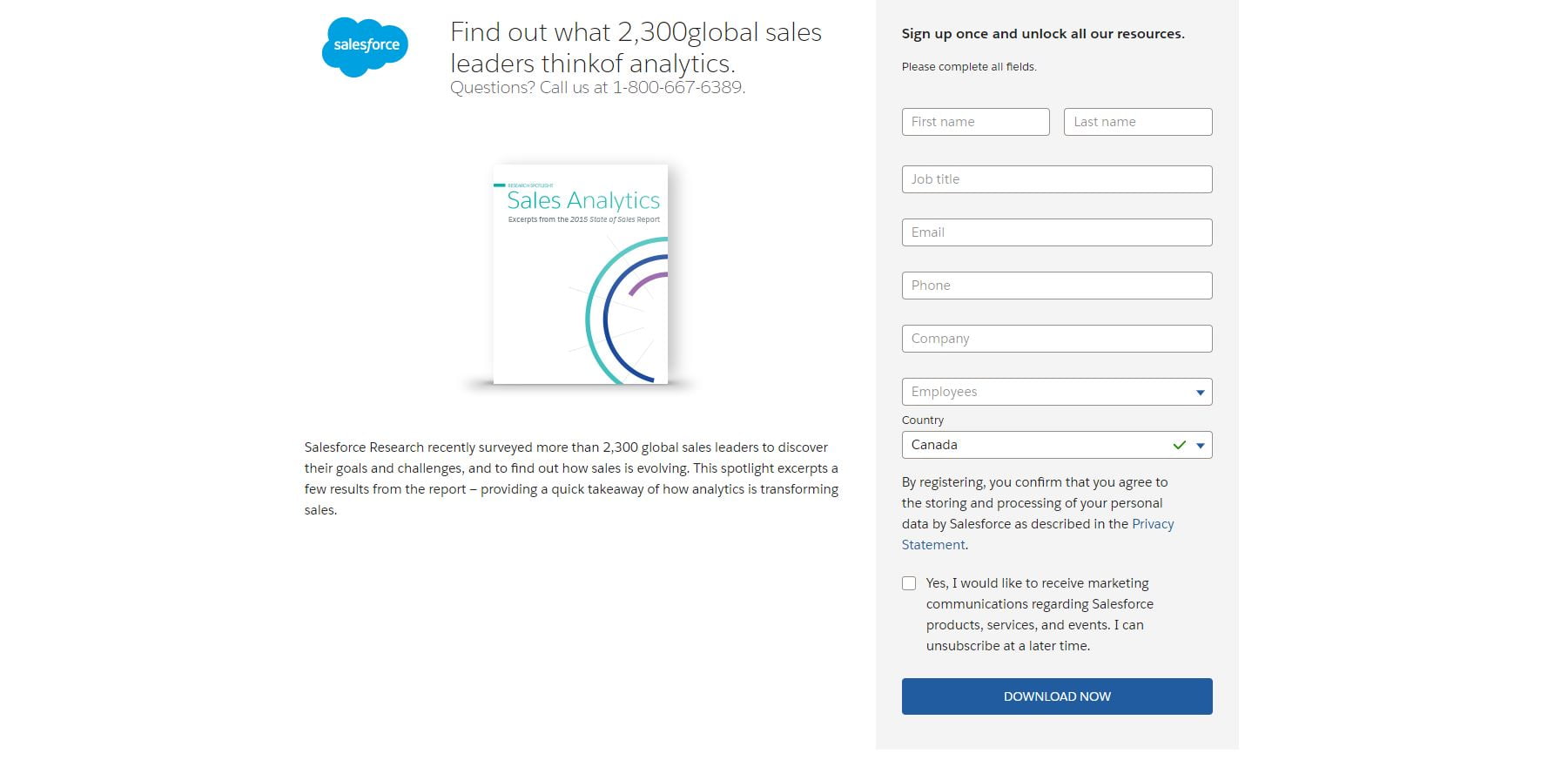 They offer mountains of free resources but simply ask for readers to enter their information before downloading them.
Make sure to promote your whitepaper on social media channels once it's published, as well. This will help notify followers and gain immediate traction.
Similarly, mail it out to email subscribers or create a newsletter promoting its release.
Next, businesses can publish whitepapers through online directories.
These are free and paid channels that allow you to upload whitepapers for users to find. Websites you can use to do this are:
While some services like these require you to pay, it can be an extremely good investment as you greatly increase your reach.
Wrapping up how to write a whitepaper
Whitepapers are great pieces of content to help generate leads, sales, and turn a business into an authority.
Marketers will want to begin by planning out their paper before writing it. This means fleshing out any points, sub-points, and ideas into a neat outline.
From there, they will need to research case studies, stats, and other forms of data to act as the foundation of the whitepaper.
You can then successfully begin writing, and eventually, move into the editing process afterward.
Use a formal tone throughout the paper, and take time to design an impressive cover.
Do you have any tips for writing whitepapers?