Do you regularly produce content to grow your business or plan on beginning?
Great 🙂
Because today I am going to cover some of the most interesting and inspiring content marketing stats.
They will give you insight into what's working, what isn't, and how to better execute your content strategy.
Let's jump into it!
Content marketing stats
These are general statistics on content marketing. I will touch on specific data like video and B2B afterward.
#1 – 60% of marketers produce a piece of content every day (

Source

)
Content marketing is all about consistency. It's a marathon, not a sprint.
This is why a majority of content marketers are creating a single piece of content every day.
Use this as a benchmark for your own content efforts. Are you making content every day? Three times per week? Less?
The more you produce, the more results you will experience.
Think about the nature of search engines, SEO, and indexing. Those producing consistent blog posts will rank for tons of search terms, driving mountains of traffic that can convert into leads.
Look at the website Copyblogger, for example. They have over 300 pages of content on their website!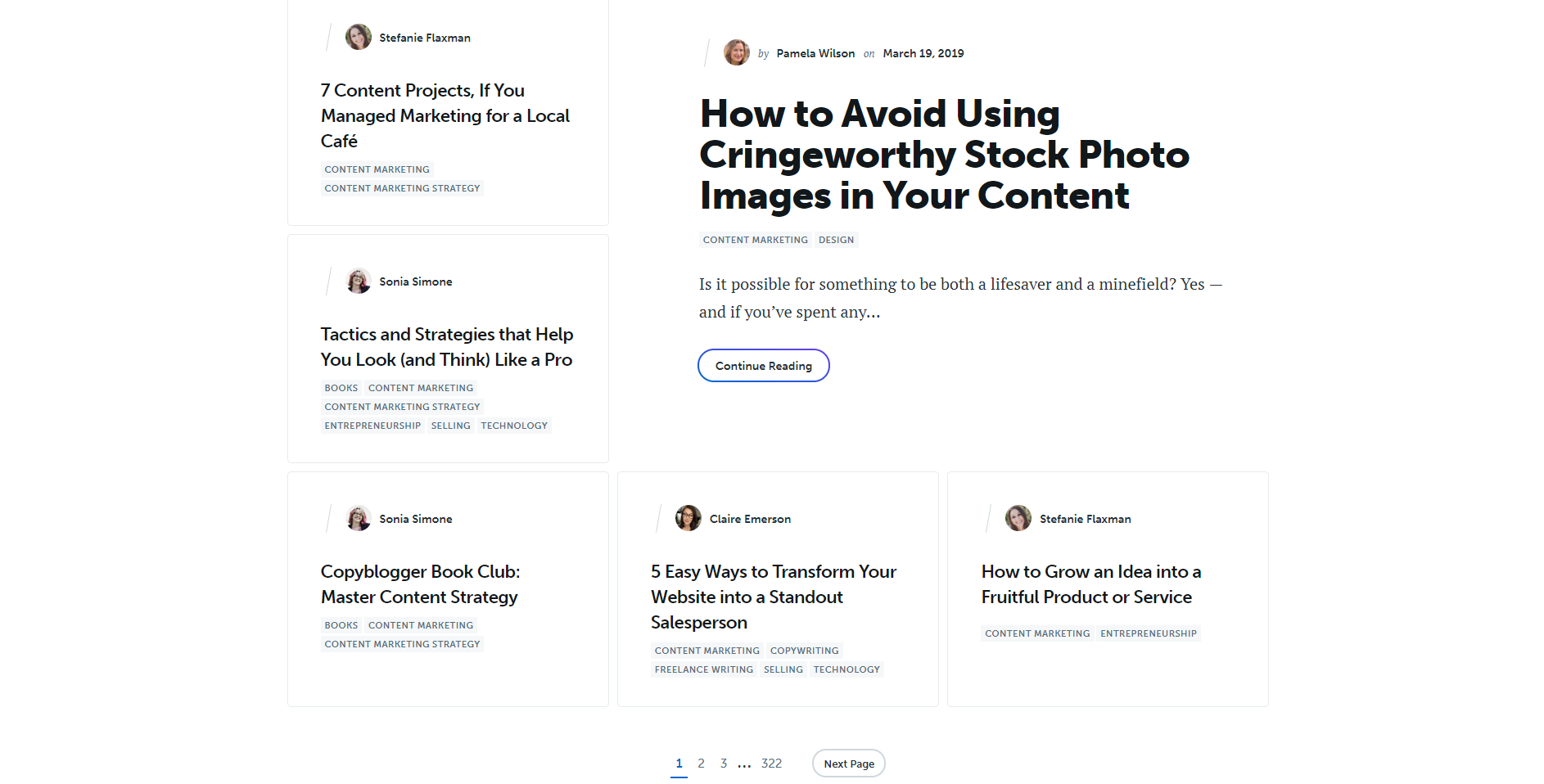 I'll let your imagination run wild about how many views they get per day 🙂
Make a pledge in 2019 and beyond to start producing content on a regular basis or more often than you already are.
#2 – Custom content has become the highest priority for content marketers (

Source

)
Buyer's personas are everything.
In fact, in an awesome presentation about content marketing by Joe Pulizzi, he mentioned that businesses that target several personas at once are most likely going to fail. Here's the full video.
Why is this so? Simply because you're spreading yourself too thin, and can't please everyone.
Let's imagine that you're a B2B lead generation agency that specifically targets healthcare companies.
Creating generic content about lead gen or other topics will bring low quality users to your website that won't convert into clients.
The best approach would be to stick to that narrowly defined niche and only produce content that's tailored towards them.
That would mean teaching them about healthcare web design, SEO, and related subjects.
Moving forward, ensure that you have a clearly defined buyer persona before ramping up your content marketing. Here's an example from Uxpressia of what one may look like.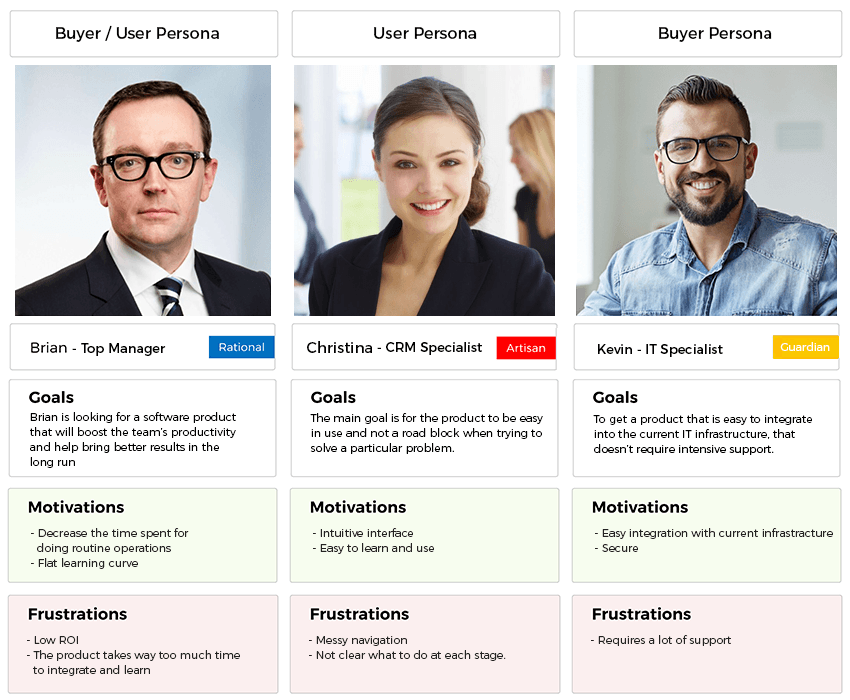 It needs clearly defined strengths, weaknesses, goals, and other crucial information that you find important to your specific business.
Through Google Analytics, market reports, questionnaires, and other research tools, you can gradually refine the persona over time.
Don't be afraid to whip up a quick idea of who you're targeting with the small amount of data you may have, as it's better than nothing.
#3 – Inbound marketing produces three times more leads and is 62% less expensive than outbound marketing (

Source

)
Imagine being able to generate more clients AND save money. It seems like the dream, right?
You can make that dream become a reality because content marketing, which is at the core of inbound, achieves both of these things at once.
Producing content is relatively inexpensive, even if you hire a freelance writer like myself.
Once a piece of content is published, it's on the internet forever. That means that it will permanently drive prospects to your website for years to come.
You can't say that about cold emailing, cold calling, or PPC. As soon as you stop doing those activities, results dry up.
This makes a lot of sense, too. When you produce high quality content that is tailored to a very specific audience, it will bring the most relevant people to your website.
This means more qualified leads, and less dumping money into ads that are becoming slowly less effective.
#4 – Brands that use content marketing experience 6 times higher conversion rates (

Source

)
Conversion rate is the number of users that visit your website relative to the amount that turns into paying customers.
That means you want the highest possible conversion rate. Interestingly, it's been found that businesses using content marketing experience an average conversion rate of 2.5% versus 0.5% of those that don't.
Valuable and practical content builds trust and authority, which would explain this finding.
Users will feel a connection to your brand, and be more likely to engage with you. Content of all times shows that you are an active business, and care about the well-being of your audience.
#5 – Long-form content is in! (

Source

)
Go visit Neil Patel, Backlinko, or any of the big players in the marketing space.
Heck, go check out an authority website in any niche for that matter.
If there's one single characteristic that all of their content shares, it's word count.
They often hit word counts of 3,000 or more. There are blog posts that are upwards to 10,000 on some sites.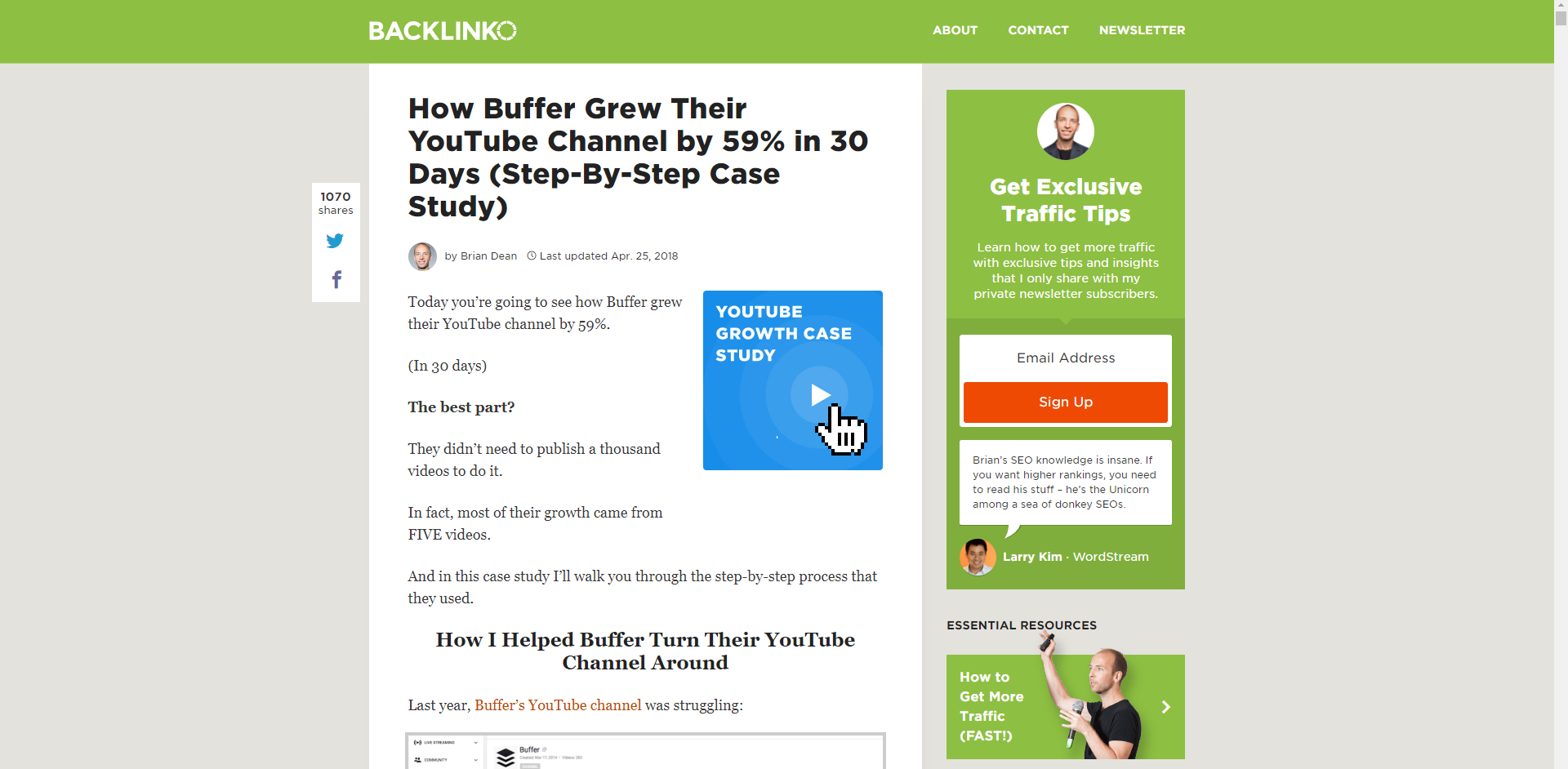 Why is this becoming a huge trend? Well, according to Orbit Media Studios, the average content length was 808 words in 2014. It jumped up to 1,054 words in 2016 and continues to rise.
This doesn't mean that short form content doesn't work. Look at news or weather websites. They use a few hundred words to get across the point, and that's what matters.
In most niches, especially marketing or business related, 300 words won't cut it.
Explaining information step-by-step, going over tools, case studies, and more will require you to write a couple of thousand words.
However, don't just beef up content with spam and low quality information. Focus on ramping up the word count with actionable and interesting resources.
#6 – Blog posts are the most produced format by 55% of marketers (

Source

)
You load up WordPress, start writing, and hit the publish button. It's as easy as that.
Okay, not quite. But you get my point.
Blog posts are the go-to style of content for most marketers because of the low barrier to entry and time efficiency of them.
Sure, you have to research, plan, and edit every article, but think about compared to something like a YouTube video.
It requires far more man and computer power to be made and also takes high levels of technical skills to make into something worthwhile.
If you're just starting off in your content marketing journey, focus on growing a blog.
It's how some of the biggest brands started off before venturing off into different avenues.
Articles are also easy to repurpose once you get the ball rolling. They can be turned into infographics, slideshows, podcast episodes, and more.
#7 – 45% of content is produced ad-hoc (

Source

)
Do you know what ad-hoc means?
It means that businesses produce content randomly and sporadically.
There's no content calendar, publishing schedule, or plan in general.
Don't be one of them.
This will lead to lackluster results, headaches, and a lot of disorganization down the road.
Those that truly want to be the kings of content marketing will need a solid plan.
Your content marketing strategy needs the basics, which consists of:
What formats of content you'd like to produce. Articles, videos, and podcast episodes are the best places to begin.
How often you'd like to release your content.
A buyer persona, as we touched upon earlier.
Key performance indicators, and clear goals for your content efforts. These may include social shares, leads generated, organic traffic, or backlinks.
#8 – 34% of consumers make unplanned purchases from businesses that make personalized content (

Source

)
Is this a surprise? Consumers buying from businesses that care about them and show that they understand their needs?
Nope!
Slightly more than one-third of buyers will make a complete unplanned purchase when custom content is involved.
This works because the content is tailored toward that exact buyer's emotions, questions, wants, and needs.
It will resonate with them more than probably anything they've read before. Pair that with relevant calls to actions and an optimized sales funnel, and there's a pot of gold at the end of the rainbow.
#9 – Only 24% of businesses are using partnerships as a way to promote their content (

Source

)
One of my favorite sayings is the following.
If you want to go fast, go alone. If you want to go far, go together.
It applies to all aspects of business and life, but especially content marketing.
You can make the most epic, cool, and unique piece of content, but if no one sees it, what good will it do?
This is why roughly a quarter of companies beginning to partner with others to help each other grow.
Imagine being able to leverage someone's email list, social media following, or blog traction.
It could instantly put your brand in front of an audience bigger than a packed football stadium.
This should be a wake up call for marketers like yourself to begin reaching out to others in your industry to work together.
Partnerships can be in the form of guest posting, reviewing one another's products, or shouting each other out on social networks, for example.
Continuing off of the last point, are you one of the businesses that publish content and do nothing afterward?
And you wonder why you're not seeing results, dummy!
A bit more than a quarter of marketers use syndication and promotional tools in their content strategy, and that number needs to go up.
Every time you publish an article, video, or anything else, use the following platforms to get the word out.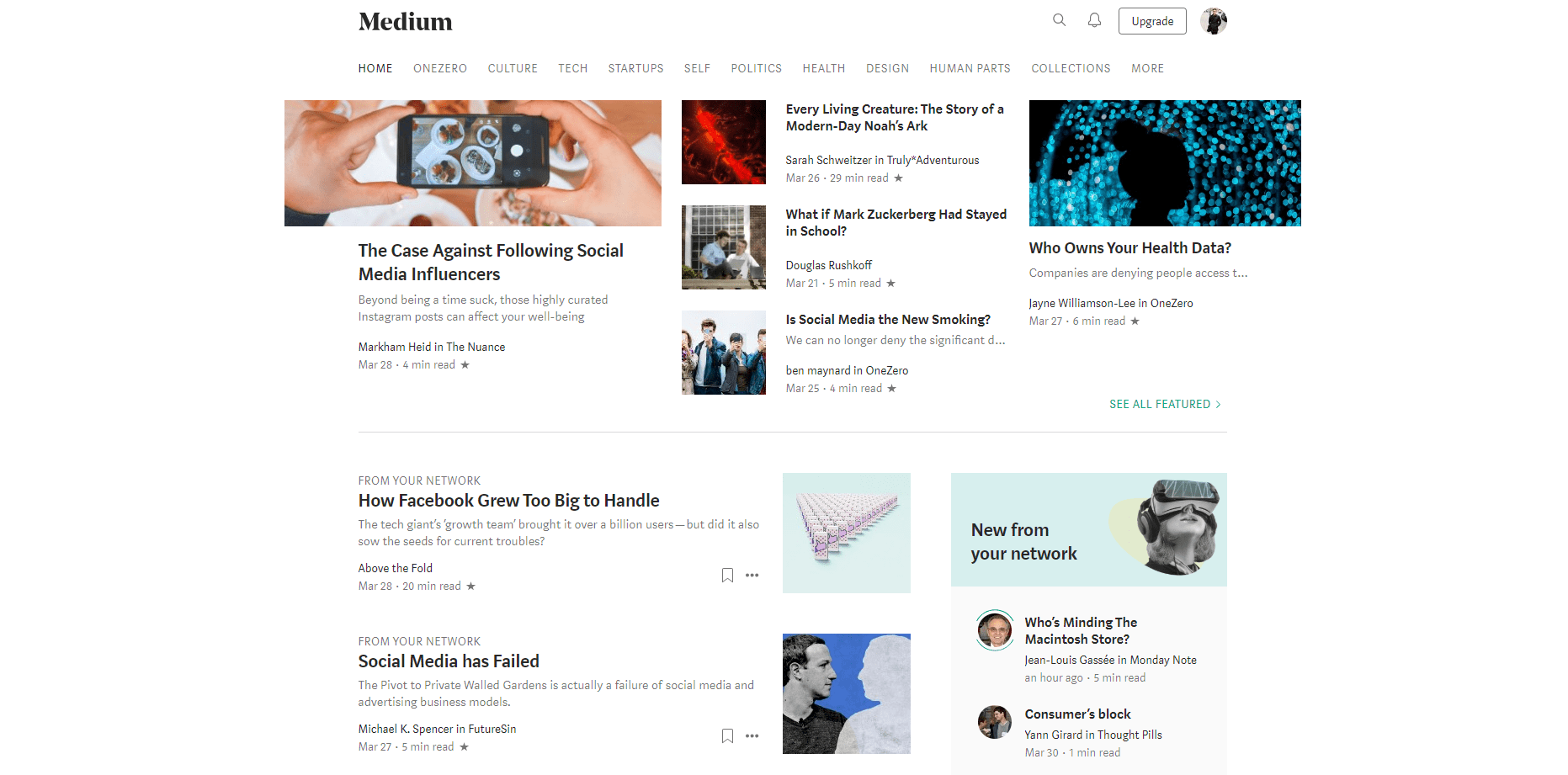 Medium is a free blogging platform that you can use to repurpose your articles or other forms of content.
Let's say that you publish an article on your main website.
you can post it again on Medium with call to action and link back to the original post.
If you produce videos or podcasts, use Medium as a platform to rework them into written content.
Make sure to follow other relevant users, and use hashtags in every post to reach a larger audience.
Quora is all about community and answering questions. This aligns perfectly with content marketing, hence why it's a priceless tool for any marketer.
Sign up for a free account, and search for topics related to your industry and niche.
Jump into conversations, and give your two cents about the topic. Link to pieces of content you produced, and don't forget to create a blog right through Quora.
Similar to Medium, you can repost your original content and include a link back to your website.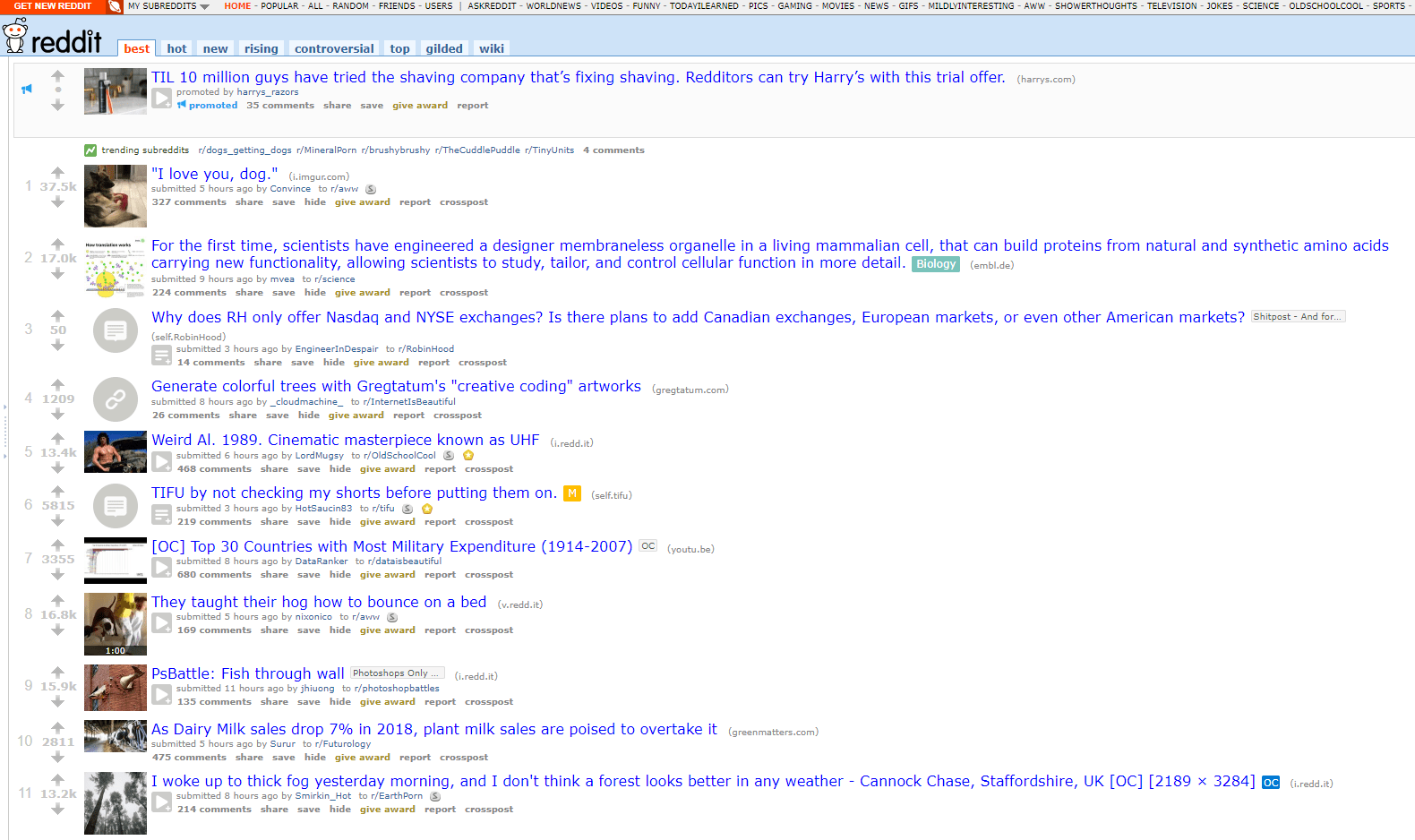 Isn't Reddit just a website for nerds?
Pretty much.
But it's also good for content syndication, so let's talk about that instead.
Reddit is THE most visited website on the internet, and there's a subreddit for any community imaginable.
This means that you can begin engaging with a target audience instantly, but you have to tread lightly.
Reddit has tight rules on spam, and users are ruthless when it comes to feedback. They will more than happily rip your article a new one and feel no remorse.
This is why marketers must only share very high-quality content, and respond to every comment they receive to get the most out of Reddit.
B2B content marketing stats
These are fascinating statistics about content marketing for B2B companies.
#11 – 93% of B2B companies are currently using content marketing (

Source

)
It's never cool to follow the crowd. Until now.
Practically all B2B marketers are taking advantage of content marketing, so don't be late to the party.
Otherwise, the competition will be zooming ahead of you.
Hootsuite performed a study in which they survyed over 9,000 B2B and B2C organizations acros North America, Europe, the Middle Easts and Africa, Asia, and Latin America.
They wanted to determine how organizations managed their social platforms, what they use it for, and what challenges they experience.
80% of respondents said that social media matters more than ever yet only 28% of CEOs invest in social.
The most used platforms were Facebook and LinkedIn for B2B companies. This makes sense.
LinkedIn, of course, is a network geared towards professionals and marketers.
I recommend using it to connect with a target audience, increase trust through sharing content, and contributing to groups.
Facebook works similarly.
You can create your own group to create a community while also connecting with other businesses and remaining active within groups.
#13 – 52% of B2B marketers believe blogging is the most effective channel for content marketing (

Source

)
According to Content Marketing Institute's 2017 benchmark report, 52% of B2B marketers say blogging contributes to the most content marketing success.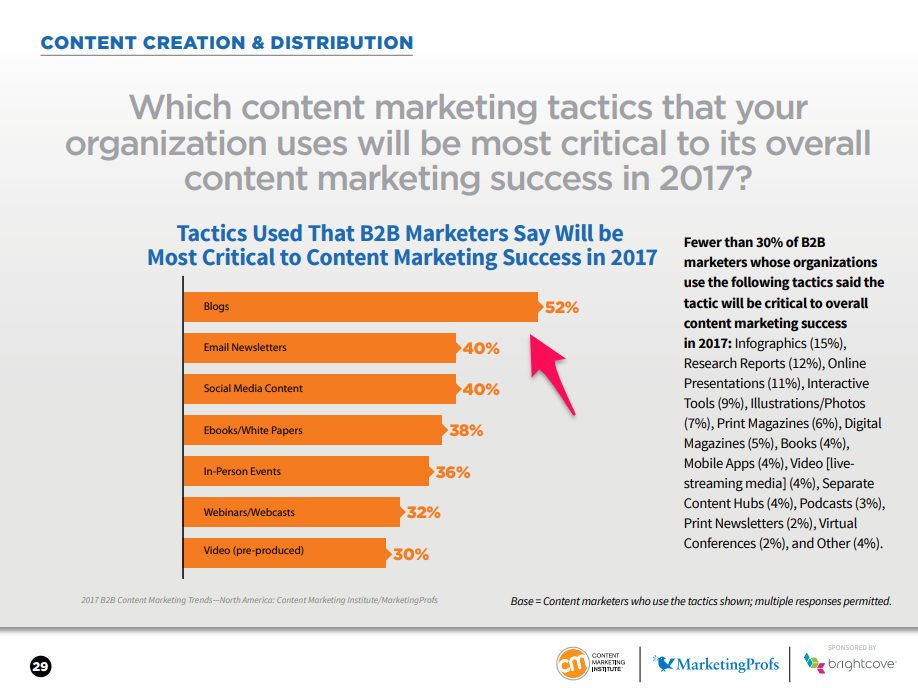 It's easy to see why.
Blogging can be done on practically any platform and a CMS isn't incredibly difficult to whip up.
Alternatively you can install WordPress in the click of a button.
You don't need crazy expensive cameras or studios either.
Just crack your knuckles, start writing, and hit the publish button!
Reach out to me if you need content writing services to help you climb the SERPs and generate leads.
#14 – B2B organizations who blog on a consistent basis generate 67% more leads (

Source

)
Blogging on a consistent basis increases trust with an audience, builds authority, and creates more touchpoints to convert them.
Hence why B2B organizations generate 67% more leads by simply increasing their blogging frequency.
Blogging once per week? Make it two or three.
Blogging three times per week? Make it four or five.
Repurpose it into different formats afterward as well.
This involves taking a blog article and reformatting it into a video, podcast, infographic, slideshow, and other formats.
Doing so maximizes the amount of traffic, exposure, and leads you drive from a single piece of content.
Email is decades old.
However, it still kicks ass!
That's why 77% of B2B companies use email newsletters as a regular part of their content strategy.
These are effective for sharing new content, news, or updates.
They can also be used to promote products or services but please keep the 80/20 rule in mind.
This means that 80% of newsletters should be informational and value-focused.
The reamaining 20% can be promtonal.
This respects the subscriber's inbox while still creating transactional value through the channel.
#16 – 66% of B2B marketers use paid promotion channels to distribute content (

Source

)
There's one deadly mistake marketers make over and over.
Do you know what it is?
Not promoting content.
Content will collect dust and have little impact if it isn't distributed correctly.
Social media, email, SEO, and syndication platforms are amazing.
Paid channels are also extremely effective, which is why 66% of B2B marketers use them for content distribution.
These include Facebook, Google, and LinkedIn examples for example.
#17 – 93% of B2B content receives zero links from other websites (

Source

)
Backlinks are necessary to rank highly on Google.
Think of them like a voting system.
More links = more votes that agree you're a useful website.
Naturally, Google and other search engines will rank you higher than other sites because you're a trusted resource.
I have some bad news, though…
93% of B2B content receives zero links.
There are tow mainculprits.
One: the content isn't unique or good enough to be worthy of links.
Two: companies aren't performing link building campaigns.
In the first case, you can spice up content by increasing word count, utility, and making it data-driven. I find this to attract natural links on a reglar basis.
In the second case, you need to learn about and execute guest posting, broken backlink building, link outreach, and other strategies.
Alternatively you can use my SEO services and I'll take care of the hard work for you.
Video content marketing stats
Below you will find stats on video content marketing as it's an effective channel to reach customers.
Webinars are live (or pre-recorded) presentations.
They are very popular right now as a way to generate leads and sell high-ticket products.
Here's one I did recently for instance:
These along with demos of product and traditional video content are the most demanded types of visual content on social media.
Heck, social networks are already visual to begin with.
Think about Instagram or Facebook. Videos are abundant there.
Consider sharing more video content on social media channels to increase engagement.
#19 – 54% of consumers say that want more video content from brands they like (

Source

)
Do you produce video content on a regular basis?
You should.
Her's why: 54% of consumers want MORE videos. It's as simple as that.
It's an easily digestible format and more convenient than reading a novel-length blog post.
Videos come in all shapes and sizes: vlogs, product tours, interviews, podcasts, tutorials, guides, etc.
Begin implementing more video into your content calendar if you're a B2C company and you may likely see a great return.
#20 – 67% of marketers report that YouTube is one of their top channels to distribute video content (Source)
Yes. There's Vimeo, Dailymotion, and many other video platforms sprouting up.
Nonetheless, YouTube remains the king. 💪
67% of marketers report YouTube as their top video distributional channel.
It's the second largest search engine behind Google making it an exceptional channel to reach more users.
Let's wrap this up
Content marketing is here to stay. But, you have to use it correctly. Here are the main takeaways from the content marketing statistics we looked at today.
Main takeaways
Begin producing content on a regular basis, or more often than you already do.
Create content that is tailored to one buyer persona, and avoid trying to appeal content to many different audiences at once.
Focus on making long-form content to rank for more keywords, while providing increased value to readers.
Have a clear strategy for content, including publishing schedules, formats, and KPIs.
Build partnerships with over businesses in your industry to reach a wider audience.
Use syndication and promotional tools to improve the effectiveness of your content marketing strategy.