Don't you love YouTube?
You just kick back, watch some videos, and… uh… two hours have passed.
Oops!
Well, you wouldn't need to feel bad if it was productive, right?
That's why I put together this list of the best copywriting YouTube channels.
These will teach you strategies for writing better copy, how to get high-paying clients, and work smarter.
Check them out!
1. Alex Cattoni
I'd say that Alex Cattoni is by far the best YouTube channel about copywriting.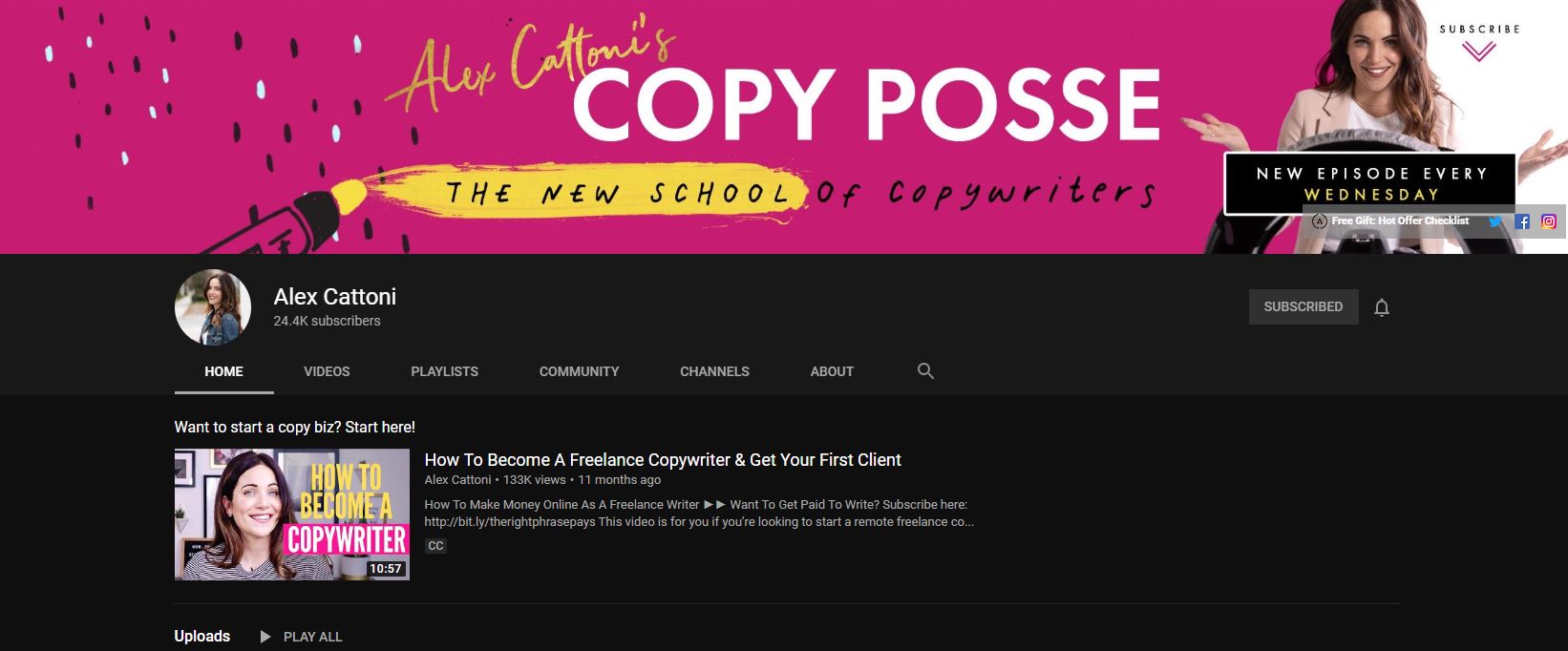 She has a cool story, too.
Alex put her law school education on hold in 2008 to move to Malaysia for a marketing job.
That started her entrepreneurial journey of launching successful brands and working with huge companies.
She's gone on to write high-converting sales copy and growing million-dollar brands.
As she says, "Needless to say, I never became a lawyer."
She also holds a mastermind group and does public speaking.
Her YouTube channel is a goldmine for anyone interested in copy, as well.
She covers topics like:
How to build a six-figure business
Money making side hustles
Copywriting strategies
Setting prices and rates as a writer
Etc.
She uploads a new video approximately every week.
2. Dan Lok
I know, I know.
Dan has received a lot of criticism lately, and I just did a review of his courses here.
However, I think Dan is a good resource.
Hear me out…
You don't have to buy expensive courses from anyone.
You don't have to pay crazy fees for consultations.
But, you know what you can do?
Extract value from their free resources and content.
There's no arguing that you can learn a lot from his YouTube channel.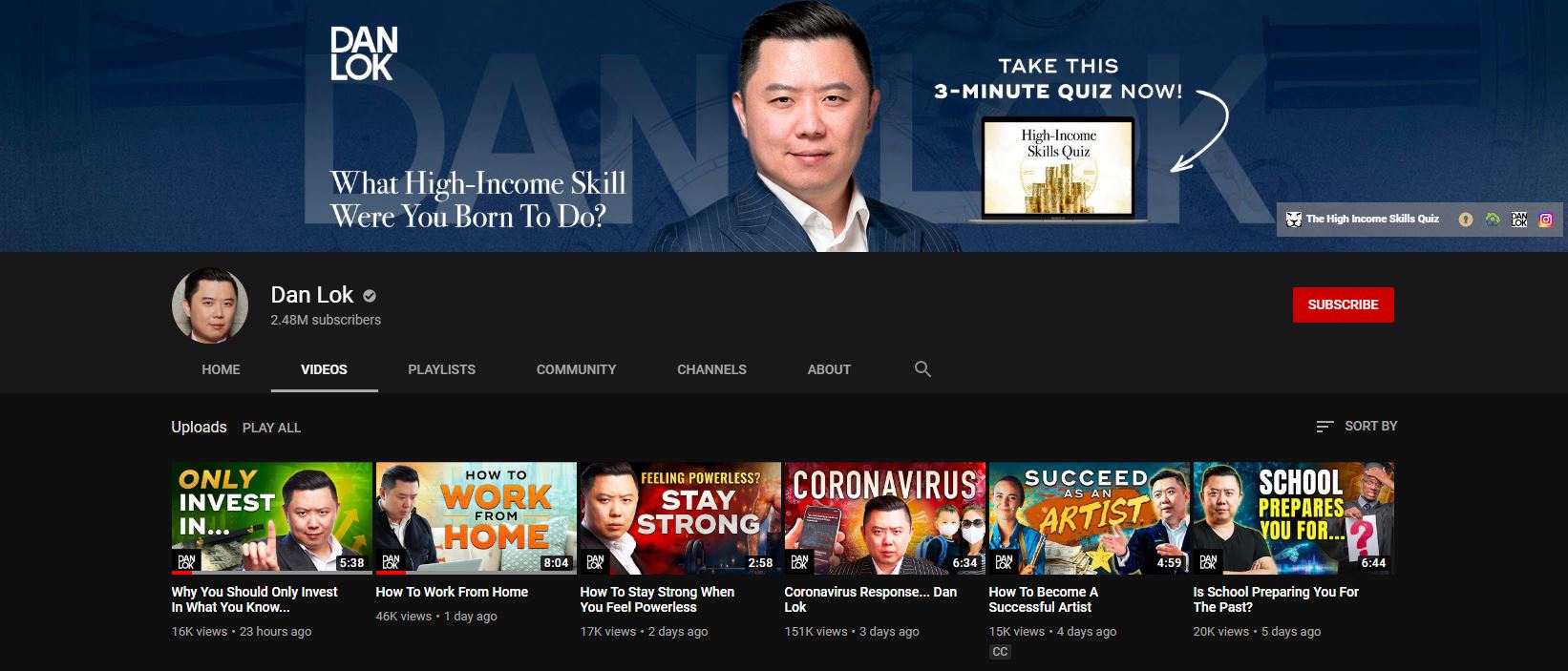 I know I have.
Dan publishes videos related to copywriting strategies, acquiring big clients, how to charge more, and becoming a copywriter in general.
Outside of copywriting, Dan touches on everything else related to business.
I'm talking about finances, wealth building, social media, PPC; you name it.
So, it will make you a well-rounded marketer and entrepreneur.
Give him a shot. You have nothing to lose.
3. Kopywriting Kourse
The copywriter OG!
Anyone on earth can recognize Neville's famous stick-figure characters from his content and website.

He has also made his way over to YouTube. (Along with the stick figures!)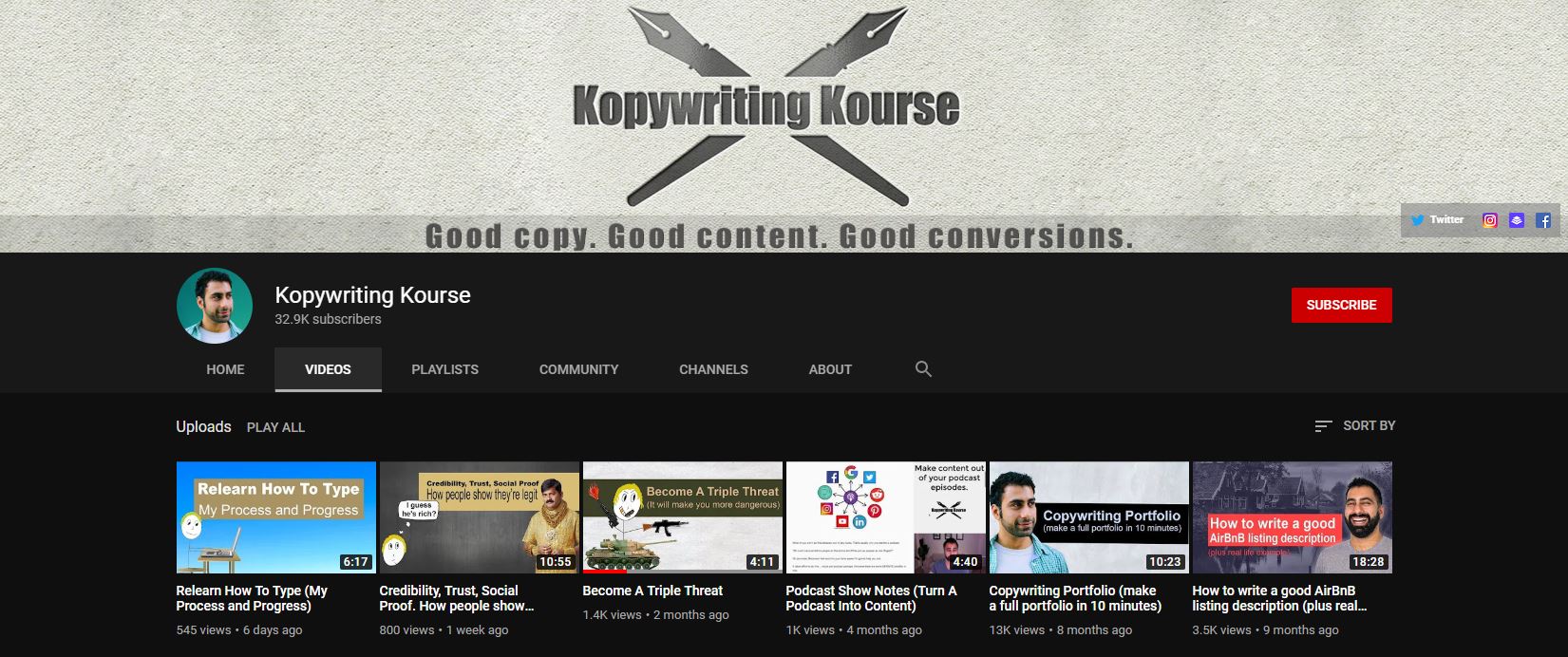 He appears to upload every couple of months.
But, that's expected.
Those stick figures take a long time to draw!
Nonetheless, if it's your first time on his YouTube, it's a nice archive of information-rich videos.
Neville talks about creating writing portfolios, being more creative, writing specific material (one-pagers, memos, etc.), and selling techniques.
4. AWAI
The American Writers and Artists Institute is easily one of the greatest resources for writers on the internet.
Their website is loaded with articles, reports, and courses to make you a competitive copywriter.
They also have one of the most in-depth copywriting courses available.
AWAI's YouTube channel is nothing to scoff at, either.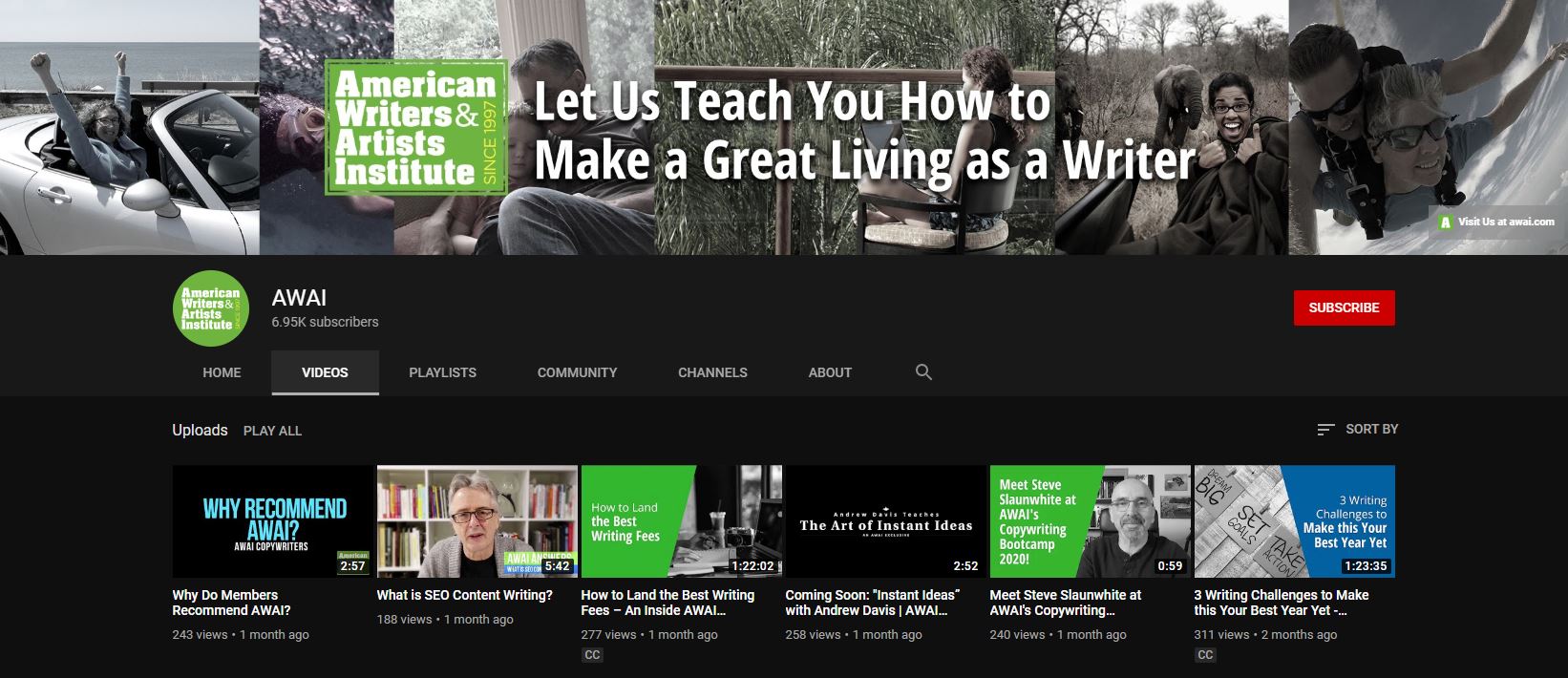 They uploaded a new video approximately every month.
They compose of hour-long videos on getting clients, making six figures, overcoming procrastination, choosing a niche, and more.
5. Project Life Mastery
If you're into self-development, you've probably come across Stefan at Project Life Mastery.
If not, let me give you a refresher.
Stefen James runs a YouTube channel about making money, transforming your life, business models, and—you guessed it—copywriting.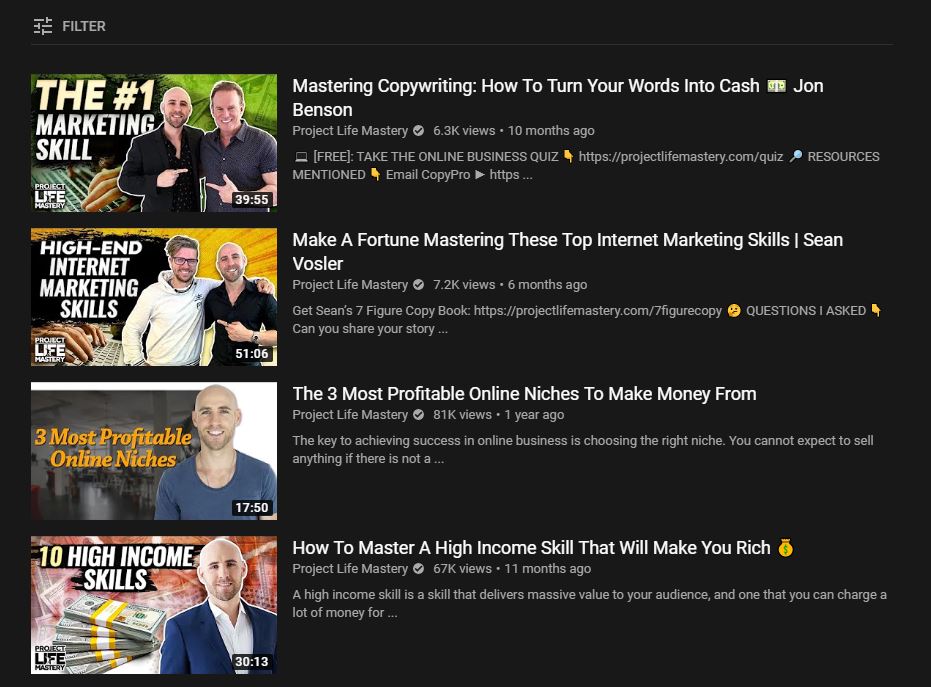 You will find videos on copywriting, self-publishing, and writing affiliate content.
Outside of that, Stefen teaches about investing, health, and mindfulness.
6. Brian Dean
The SEO king himself.
Brian Dean runs a wildly (if not the most) successful SEO blog on the internet called Backlinko.
While the focus of his brand is search engine optimization, good content and copy come along with that.
This is why his YouTube channel has several videos on copywriting, content marketing and writing content that will crush it in the SERPs.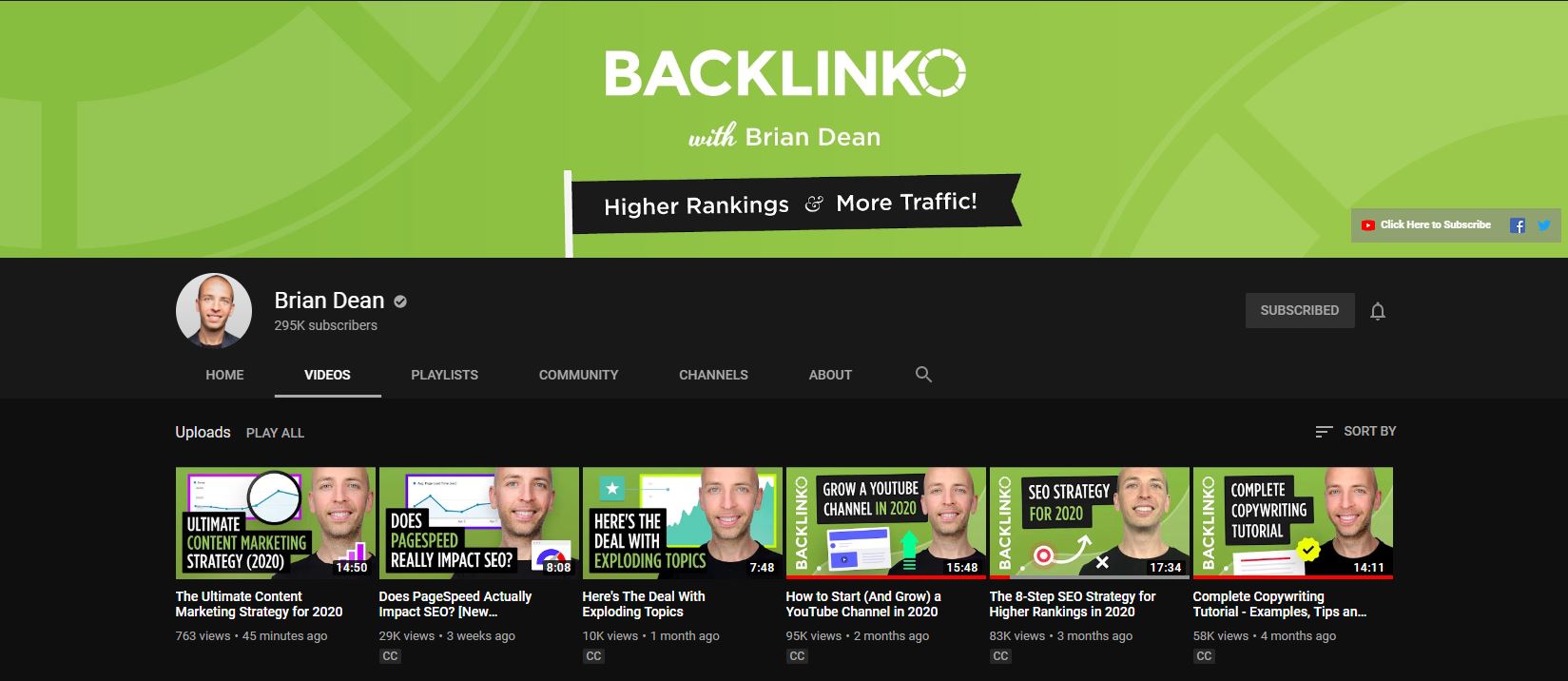 Brian will teach you about other subjects that indirectly make you a better copywriter, too.
These include growing a YouTube channel of your own, traffic generation, and making effective squeeze pages.
7. Sarah Turner Agency
Sarah Turner is a freelance copywriter and a new kid on the block.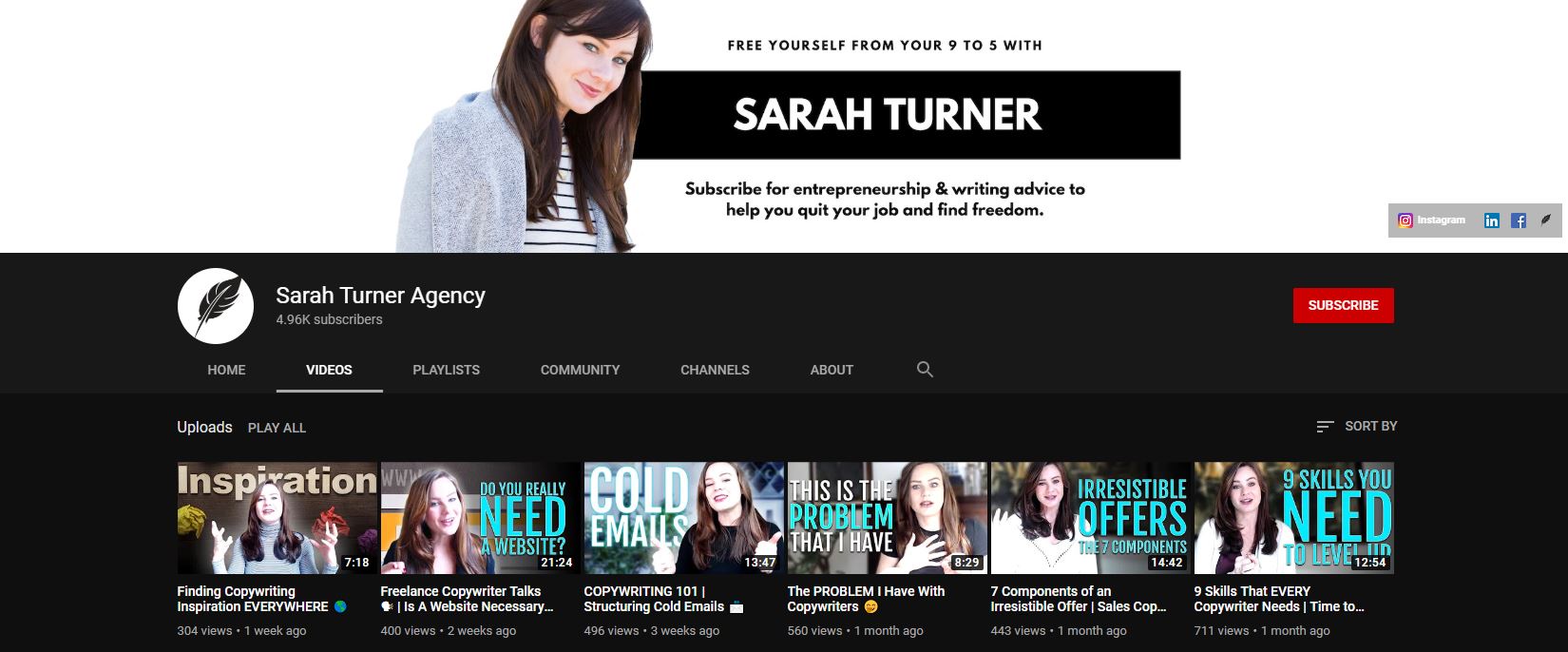 She produces vlog-style videos that run anywhere from 5–20 minutes.
They cover topics like cold emailing to get clients, the best copywriting skills, writing exercises, and avoiding burnout.
Overall, her channel will give you the knowledge to improve your skills and get paid more.
Expect a new video approximately every week.
8. Start Copywriting
Start Copywriting is a brand that helps entrepreneurs become better writers while making more money from their craft.
Their website includes articles, courses, and other resources to make you a talented copywriter.
They also have a nice archive of videos on their YouTube channel.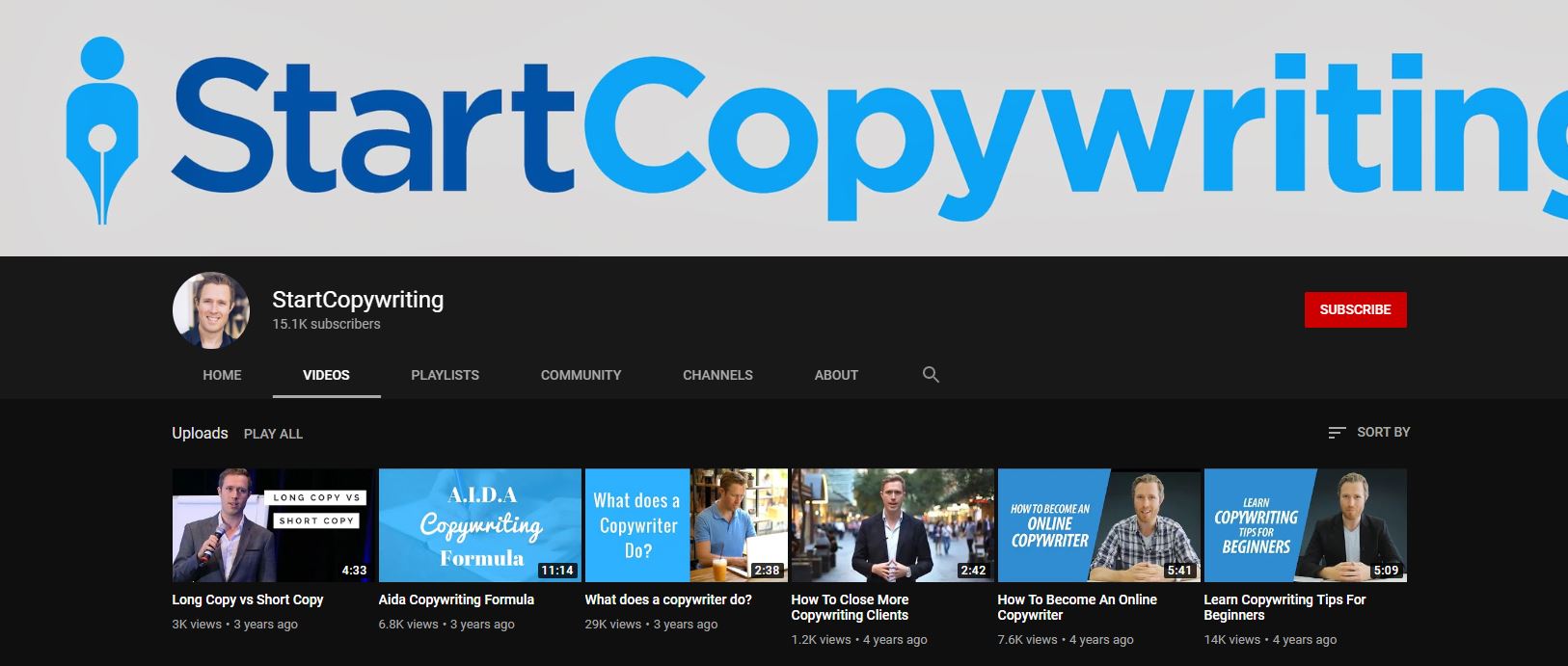 It's a great place to learn the fundamentals.
Videos cover copywriting tips, finding work, avoiding writer's block, and producing specific material like landing pages.
Unfortunately, the last time they uploaded a video was three years ago!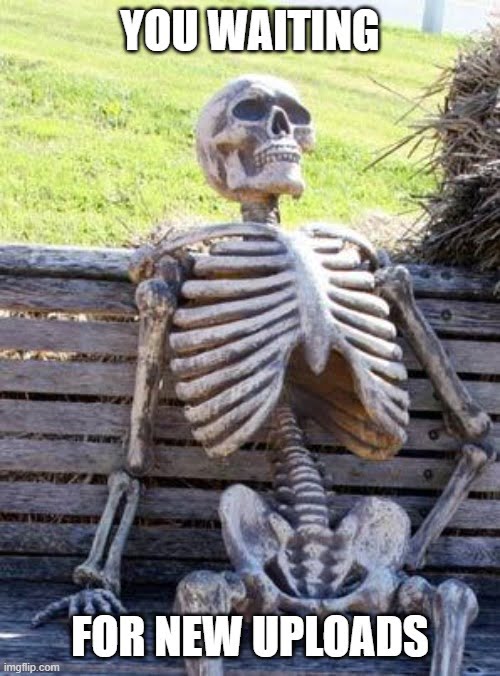 So, I wouldn't hold your breath waiting for new uploads. But, go through their old videos to sharpen the ax.
Yours truly!
Hey, this list wouldn't be complete without a shameless plug. Hence why I included it last.
I run a copywriting YouTube channel that teaches subscribers how to write effective sales copy, get high-paying clients, and more.
Some of my videos also dabble into search engine optimization, content marketing, and related topics.
I like to teach people about everything I know.
Subscribe today and comment on what videos you'd like to see.
Wrapping up the best copywriting YouTube channels
YouTube is awesome.
You can passively learn new things while kicking your feet up or during commutes.
But, there aren't many channels that touch on copywriting.
Strange, huh?
You'd think it would have a larger following.
Nonetheless, the eight channels I covered today will be your best bets.
Feel free to check out my copywriting courses if you'd like mentorship and guidance.