When I first started cold emailing, I could barely get a response from anybody.
I had to have sent out about 100 emails, only to get one reply that said, "Not interested."
I began fine-tuning my strategy, and now I get so much work from cold emailing that I get in over my head sometimes.
And seeing as 86% of business professionals prefer email, it's the perfect medium for contacting your ideal clients.
Gone are the days when you need to pick up the phone and hammer local businesses. When done right, cold emailing is far more effective and scalable.
You're going to learn how to write cold emails that get responses and double your clients ahead.
Enroll in my copywriting training after if you'd like to create a profitable writing business and get free mentorship.
You can also watch my YouTube video on this topic. 👇
What is cold emailing?
Cold emailing is reaching out to a prospect that you've yet to have established contact with. You don't know each other. Thus the relationship is cold. It's a lot less invasive than a cold call, which has been steadily proven to not work as well as it used to.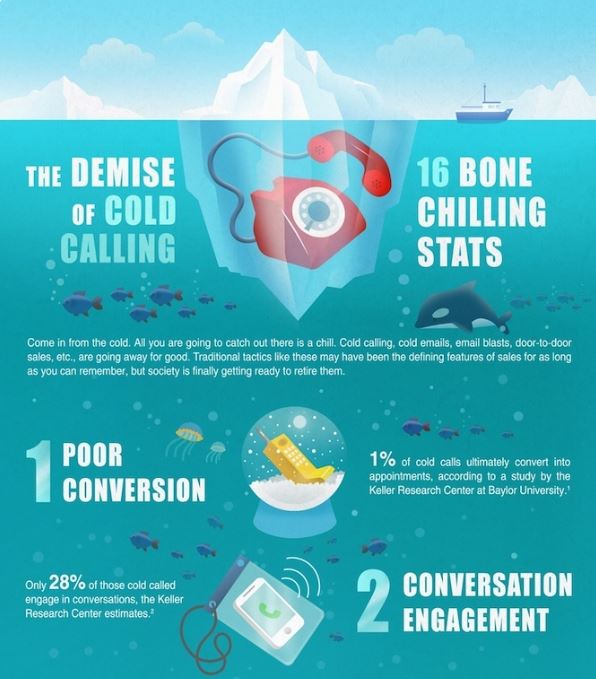 If you were to cold call 100 times, you might get one person interested in setting up a further meeting. And if every call takes 5 to 10 minutes, that's many hours of work for such a small conversion rate.
However, I shouldn't bash cold calling too much. You will eventually hop on the phone with a lead once you've emailed them, which is also why you should read my blog post on cold calling tips once you do.
But isn't cold emailing spam? Not quite. Just follow these FTC rules, and you're in the clear:
Don't misrepresent yourself: Your email address, "from," and other parts of an email need to accurately detail who you are and who you work for.
Use honest subject lines: Avoid "re:" subject lines or those that imply you already had some contact with the prospect beforehand.
Ads disguised as emails: Does your email offer a coupon or promotion? The subject line needs to disclose this.
Business address: Your email needs to include the address of your business. The signature is the best place to put it in.
Offer an opt-out: You are required to offer an option to opt out of being emailed again. This can be done with a standard unsubscribe link or by manually asking if they would like to be removed from the email list.
Honour their privacy: If a prospect has opted out of your email list, do not send them any more emails in the future. If you do, you are breaking the CAN-SPAM act.
Employees and team members: Do you have workers sending out emails on your behalf? Ensure that they are aware of these rules so they do not break them by accident.
Does cold emailing work?
Can you get clients by cold emailing and grow your business doing so? Without question. The problem is that everyone takes the wrong approach.
They try selling right away, and it's like we suddenly forget basic social skills once we get into the business. You wouldn't ask a woman to be your girlfriend the first time you meet, so why are you trying to sell to a client before you've even gotten to know one another?
Look at the software company Ambition, for example. They are used by companies like Lyft and Carbonite and used cold emailing to land 77 leads in one campaign. They began by emailing 578 prospects.
Their original numbers weren't too shabby, but Ambition knew it needed work.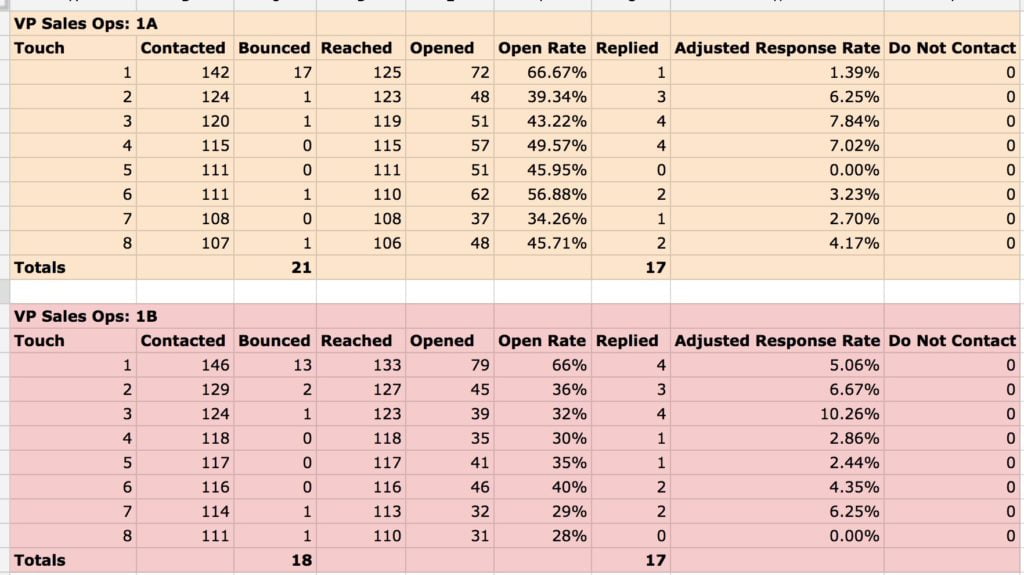 The emails were being opened, and they had a decent response rate, but only six converted into high-quality leads. Want to know the secret of how they turned six into over 70? By following up.
They sent follow-up emails (6 or more times) and found touchpoints were established when 1 to 5 follow-ups were sent.
Another lesson they learned was the time they sent the email was heavily affecting their response rates. You'll be learning the best times to cold email ahead to achieve similar results.
All in all, yes. Cold email marketing works with persistence, targeting the right people, and following up. You can research countless other successful case studies that prove it again and again.
Cold email follow up templates
90% of salespeople don't follow up. Let's all take a moment of silence for the loss of their potential revenue. 🙁
If you haven't been following up with leads, you're missing out on clients BIG TIME. Stop losing out on easy money and use these simple follow-up templates from HubSpot (try for free here).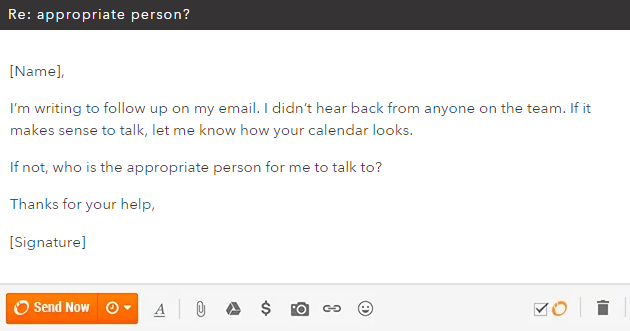 This is one of my favourites, and the first follow-up email that I always use. It shows that you respect their time, and you might not always have the right person, so getting forwarded to the ideal team member helps a lot.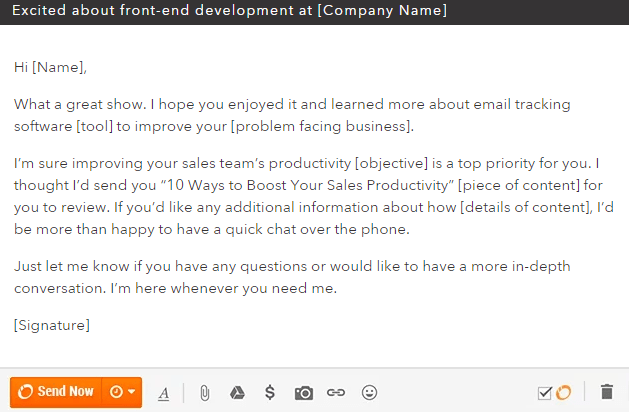 This follow-up can be used after someone attends your webinar or similar event. It uses an extra piece of content to add more value to their interaction and proposes a phone call you can use as a discovery opportunity.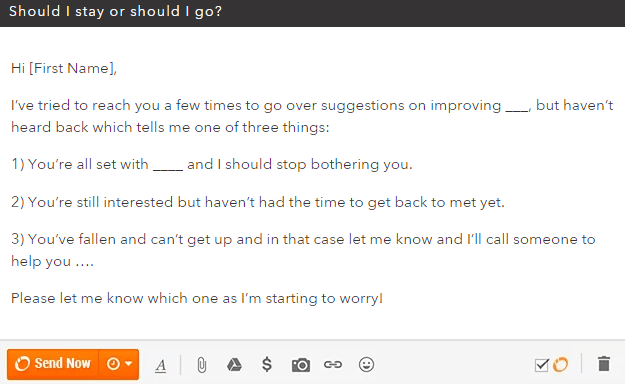 Sometimes you will follow up and hear nothing several times. That's when you'd use a template like this one. I have to admit, it's quite humorous, and I think the personality of it will have a solid response rate. After all, people want to talk to people, not robots, sequences, or automated responses.
On that note, don't miss out on my article dedicated to effective email follow-ups.
How many cold emails per day?
The amount of cold emails you should send per day depends on your own resources and goals. You could potentially send out hundreds if you have the right prospect list, time, or employees to do it for you.
But, I would also suggest switching your mindset from mass emailing to focusing on quality. I'll show you in one of the next sections how to write a good cold email, and there's one thing you need to understand — it takes time.
A great cold email is researched and personable. I get tons of cold emails every day, and do you know what happens to all of them? They get deleted. Not because I don't need their services, but because the pitch sucks, and it's obvious 99% of the emails are copied and pasted spam.
With that being said, I wouldn't worry too much about how many cold emails you should send every day. Get a good system down first, then scale it up to any number you like.
If you sent out 100 emails every day and had a 1% conversion rate, that's one person that might convert into a paying customer. But if you sent out 50 emails and had a 10% conversion rate, that's five times the results in half of the work.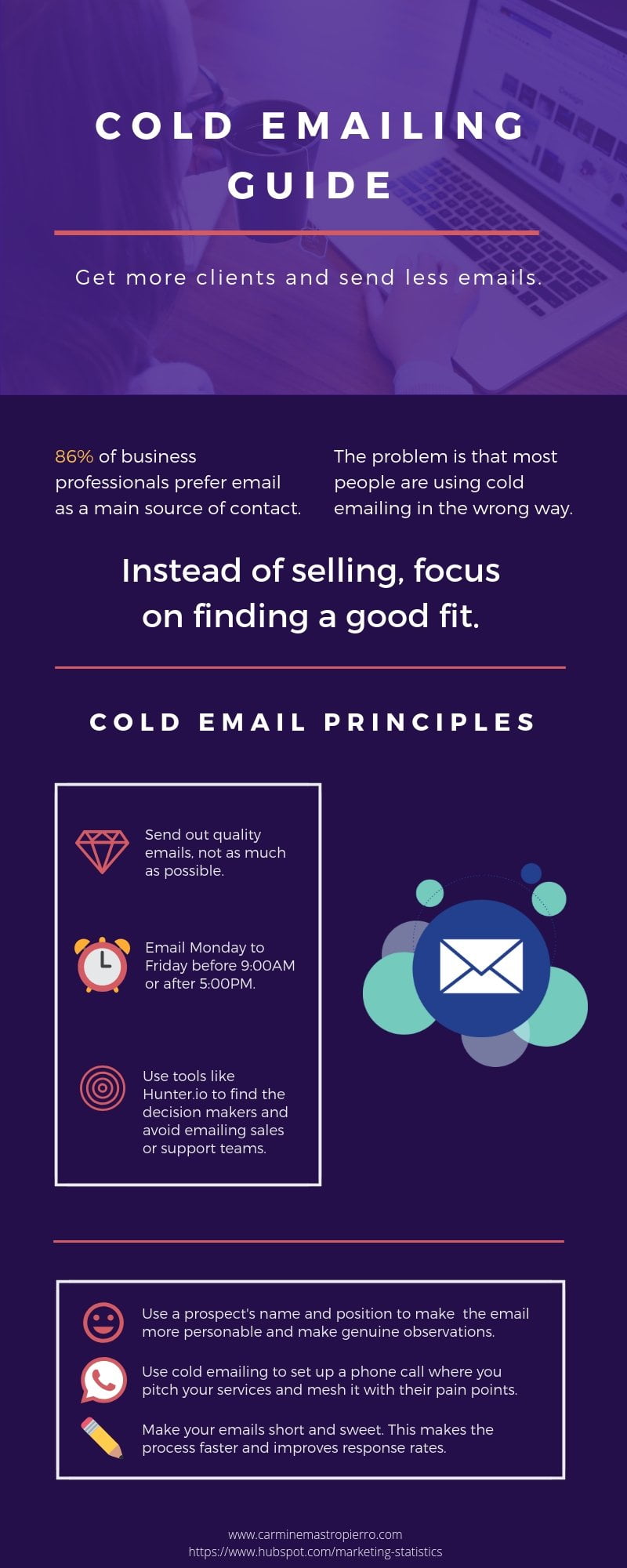 Best time to email prospects
Not every day or time is a good time to cold email a prospect. I read this incredible book called Predictable Revenue by Aaron Ross, and what he said about email times has stuck with me ever since.
Monday through Friday are the best days of the week to send out a cold email. During these days, try to send out an email before 9:00 AM or after 5:00 PM. The logic behind this is that you end up being one of the first emails they see once they return to work. Genius!
You can email on the weekend, but it should only be Sunday. Once again, if you email before they come into the office on Monday, your Sunday message will be one of the first things they see.
Cold email subject lines
69% of people will report an email as spam based on the subject line. What impression do you think yours is giving?
The subject is equivalent to getting your foot in the door. It will get them to click the email and read the rest of it. If they don't click, to begin with, you're not going to gain any new clients.
These are some of the best cold email subject lines to increase open rates and avoid getting trashed.
Include their name
I've found a subject line like "Quick question, John" or "To John" to be simple yet very effective.
Using someone's name instantly gets their attention and piques their interest. It always shows that you put effort into finding out who they are, and hopefully, you're not another copy-pasted message.
Offer a useful observation
Let's say that you offer SEO services. You could include an interesting observation about their website in the subject line, such as "You're only ranking for 198 keywords, company name."
It's specific and once again shows that you've done your research. It also creates the opportunity to elaborate on that discovery and how your services can help improve it.
"Question about [company name]+[part of their business]"
This subject line brings awareness to a specific area of a prospect's business that you're targeting. For example, are you pitching lead generation services? Then you could use the subject line "Question about Apple's pipeline."
Offer a quick win
You can get your foot in the door and begin a conversation by helping prospects out with a quick tip. Perhaps you noticed that they misspelled a word on their homepage or forgot to optimize their blog post URL. Bringing this up to their attention helps them out and creates an excellent first impression.
[Referral's name] asked me to contact you
One of the best ways to succeed in cold emailing is to get referred to the right person. It instantly creates social proof when a CEO or just a colleague gives you another prospect's contact information.
How to write a cold email for sales
Now time for the fun stuff. Let's learn how to write a cold email for sales, acquiring clients, and for business in general.
The first step is to acquire a prospect's email. I like using a free tool called Hunter.io. You just enter a URL, and it will find every email associated with that domain. Try it here for free.
It also will display their name and position to make finding the decision-makers of a business extremely easy.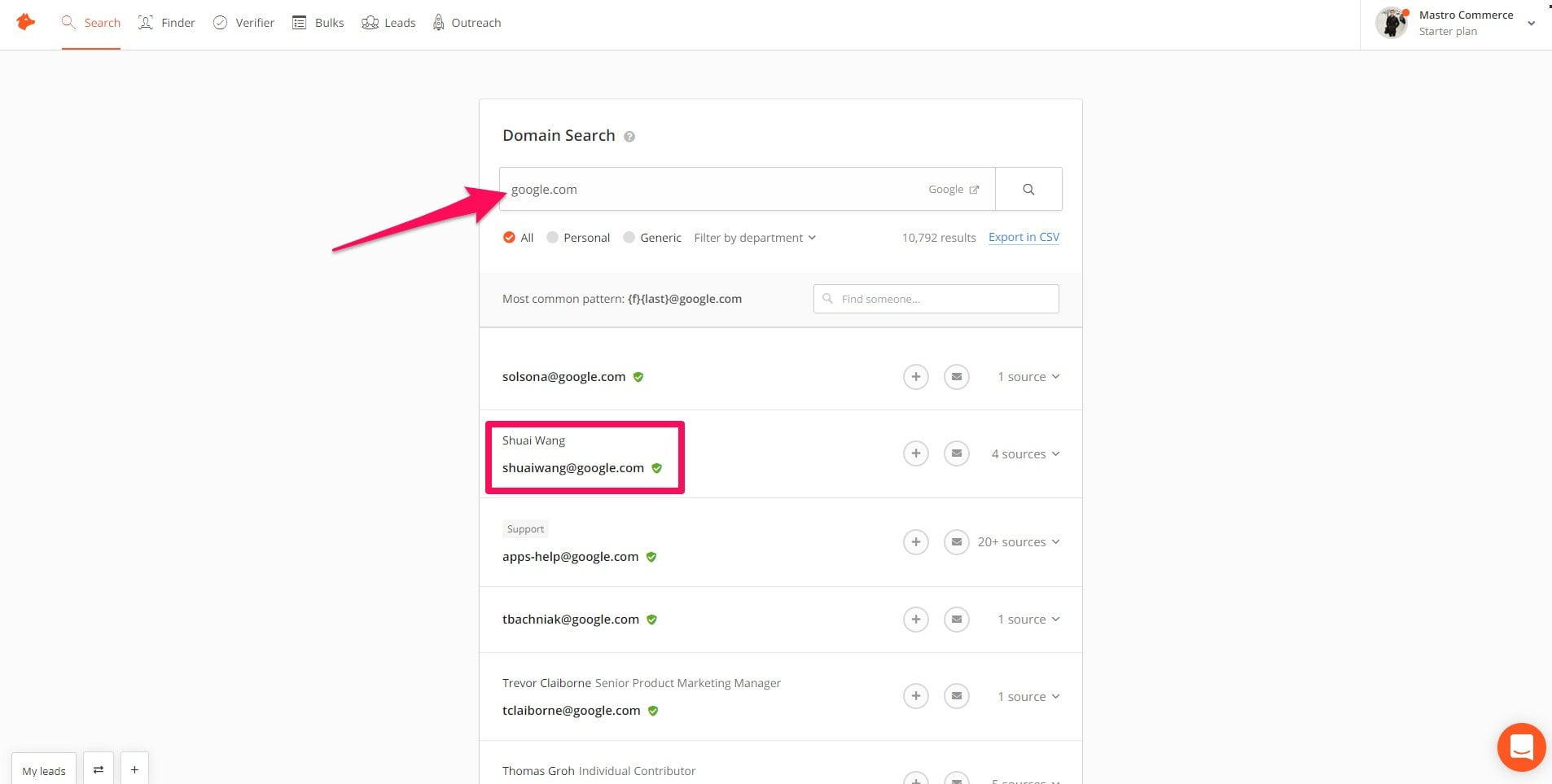 Never, ever, ever, ever email sales or support addresses like "info@example.com" or "sales@example.ca."
The individuals using those emails answer general questions and help with sales, obviously. You need to hunt down(no pun intended) the people in charge of what you're trying to pitch.
Offering content marketing? Find the vice president of marketing.
Pitching SEO? Narrow down who handles digital presence.
Make sure to read my article on the best email marketing tools to make sure you are equipped properly for these strategies, as well.
Then it's time to do some research on your target.
Let's say that I wanted to pitch services to this random agency. I could take a look at their portfolio and congratulate them on a recent accomplishment.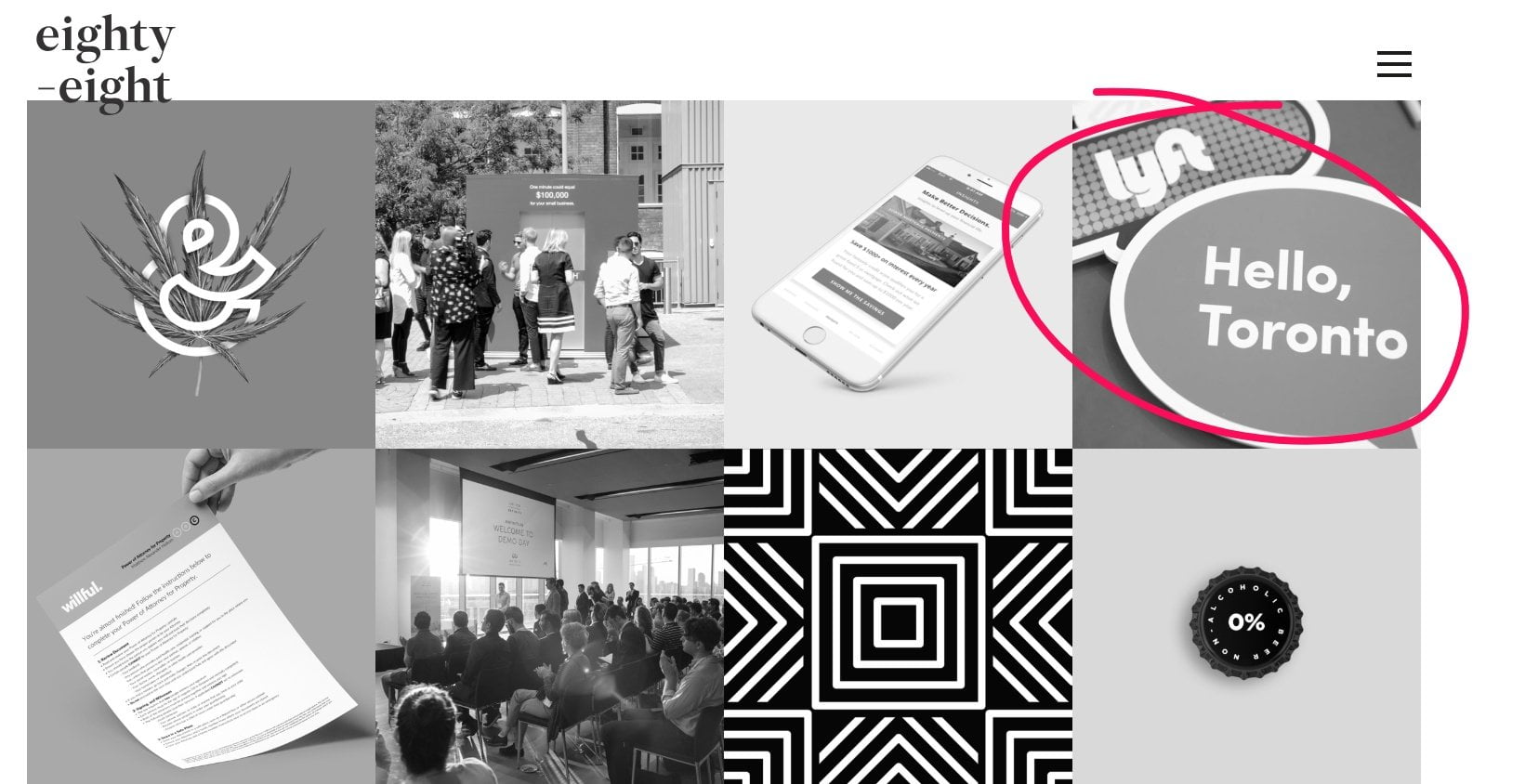 Your emails should always follow these rules:
Use the first name of the person you're contacting
Mention a recent accomplishment or observation about their business
Make it short and sweet
Don't try selling right away(this comes later)
Use it as a way to schedule a discovery call
With these ideas in mind, a cold email might look something like this:
Hey Paul,

Congratulations on working with Lyft, that's really impressive for a local company.

I just read your blog post "5 Ways to Improve SEO" and noticed that your company only posts an article once per month. Is there anything with content marketing that you currently need help with?

Best regards,

Carmine
You're not trying to pitch your services instantly but rather probe about a problem that aligns with what you offer. Many times the prospect will respond by letting you know their position. If it seems like there's an opportunity to further the relationships, ask to schedule a phone call. That's when you listen to their business issues and mesh in how your services solve them.
When you use Hunter.io, you're also able to set up automated follow-ups to maximize conversion rate and success.
If copywriting isn't your strong point, use Jasper's AI copywriting software to automate the process.
Web design cold email template
Web design can be one of the most difficult services to pitch through email. I've done it many times, and the last thing you want to do is send a generic message saying you offer websites for a certain price. Those get deleted faster than Sonic the Hedgehog runs.
Going off of the strategies I mentioned earlier in the article, here's a simple web design email pitch that has landed me a lot of web design clients.
Hey Prospect Name,

Sorry to bother you, but I have a quick question. Would you be kind enough to tell me who is in charge of the website for Prospect's Business Name and how I can contact them?

Best regards,

Your Name
This will get you directed to the individual that does the web design themselves, or more likely, the CEO or other higher-up executives in my experience. That is when you would send them a web design cold email like the following.
Hey Prospect's Name,

First Prospect's Name told me to contact you in regards of a question I had about your website. I noticed it wasn't mobile responsive and had low scores on Google's PageSpeed Insights that could be limiting your lead generation.

Is this something you've considered fixing?

Best regards,

Your Name
Remember, you're in it for the long haul. If you try selling your services right away before finding a match between you and the prospect, you're wasting everyone's time. If this gets you a positive response, then you can get on a phone call and mention your services.
Trust me, this has infinitely better conversion rates. Hard work pays off, so don't get impatient and get out of your comfort zone if you want to land the high-paying clients.
If you want to learn other strategies for acquiring digital marketing clients, read my guide to generating agency leads afterward, too.
Graphic design cold email template
Pitching graphic design is similar to web design in the sense that you want to find if there's a fit between you and the business before pitching your services. Here's a graphic design cold email script to test out.
Hey Prospect Name,

Sorry to bother you, but I have a quick question. Would you be kind enough to tell me who is in charge of branding for Prospect's Business Name and how I can contact them?

Best regards,

Your Name
This will get you forwarded to the VP of marketing or someone in a similar position. That's when you'd follow up with an email like this.
Hey Prospect's Name,

First Prospect's Name told me to contact you in regards of a question I had about your branding. I noticed that you don't have a logo and it's a great way to establish brand awareness and loyalty.

Is this something you've considered doing?

Best regards,

Your Name
More often than not, they will respond by saying it's something they've been planning and ask if it's something you offer. Hook, line, and sinker!
Get them on the phone and close the deal, baby. 🙂
SEO cold email template
What the heck does an SEO agency even do, anyway? That's the question that goes through a lot of business owners' minds when they get a pitch from SEO companies. Let me tell you something I learned from reading the book The McKinsey Way.
You need to turn the intangible into something tangible.
Saying you offer SEO services doesn't really tell a prospect anything. Instead, you should tell them how SEO:
Helps generate more revenue and leads
Improves their brand awareness
Gets them in front of a bigger audience than their competition
Doesn't that sound better than saying, "We offer link building and on-page optimization"? Of course, it does. Now, you should state the exact services, but always keep in mind what a prospect cares about — results.
I'd recommend offering insight into the prospect's SEO by using tools like SEMrush.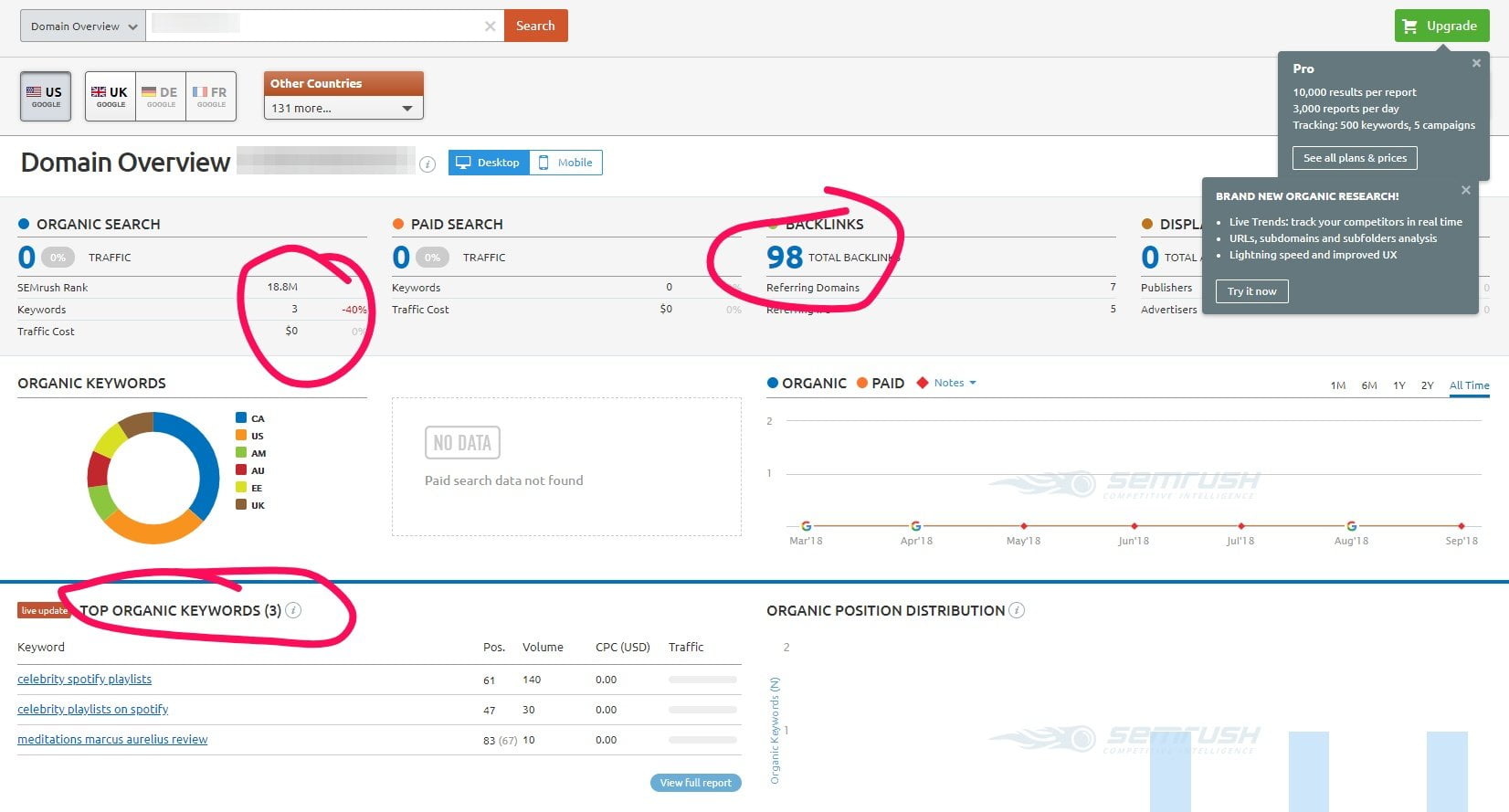 Based on the above data, you could use the following SEO cold email script.
Hey Prospect Name,

Sorry to bother you, but I have a quick question. Your website is ranking for a total of 3 keywords and has approximately 98 backlinks. There's room for improvement for your SEO to generate more traffic and leads.

Would you be kind enough to tell me who is in charge of your SEO and how I could contact them?

Best regards,

Your Name
You could also input their traffic levels or other information that you believe is important regarding search engine performance.
Summing up cold emailing
Cold emailing is a very effective strategy for acquiring clients, but you need to be patient.
The first step is finding the correct people to establish a conversation with. These should be the decision-makers about whatever you offer as a service company. Hunter.io is a great tool to use for this, but there are many others available.
Never sell in the first email, or even the second for that matter, either. Make a genuine observation about their business and get on the phone to discuss how to improve it and to listen to any issues they've been facing. Like my good friend Evan from WiseMedia said, you need to be a business therapist in a way.
If there seems to be a fit between what their experiencing and your services, close the deal. Send in a proposal that outlines pricing, deadlines, and all that good stuff.
Once you get a good system down, you can begin scaling with a team and software like Hubspot. Check out this video on how I like to cold email myself to learn a bit more about this approach.