As I began to scale my outbound marketing, I needed a tool that would help me with my email outreach process. I tried out a few, but none of them really clicked.
That's when I stumbled upon Hunter.io.
It's an email hunter tool that allows you to enter any domain and find all of the emails attached to it.
I've only been using it for around a month, but it's had a huge impact on my business. Here's a quick review of Hunter.io and what I think of it so far.
Hunter.io features
This is what the dashboard looks like. You have all of your tools on the top navigation and the search function right in the middle. There's lots of white space and it's really easy on the eyes.
Hunter.io search tool
I find myself almost exclusively using the search tool, but I'll dive into the other features in a second.
The search function is amazing for finding the decision makers in a business to start a conversation and get your foot in the door.
Imagine you want to find the VP of sales in a prospecting company. You type in the domain and it will give you the individuals name, position, email, phone number, and even social media links.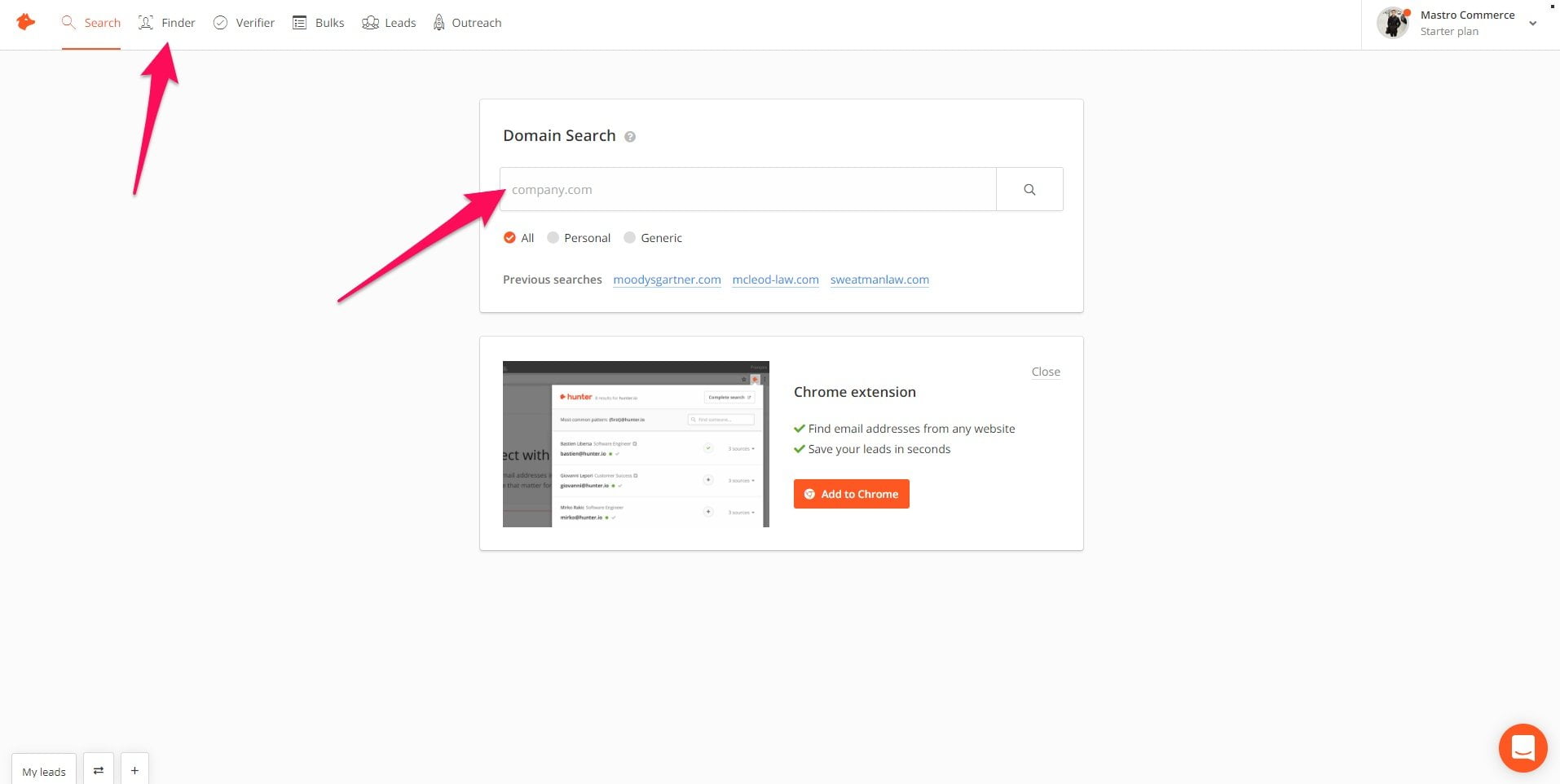 It even gives you sources for the emails that it finds to give you an idea of how fresh and accurate they are.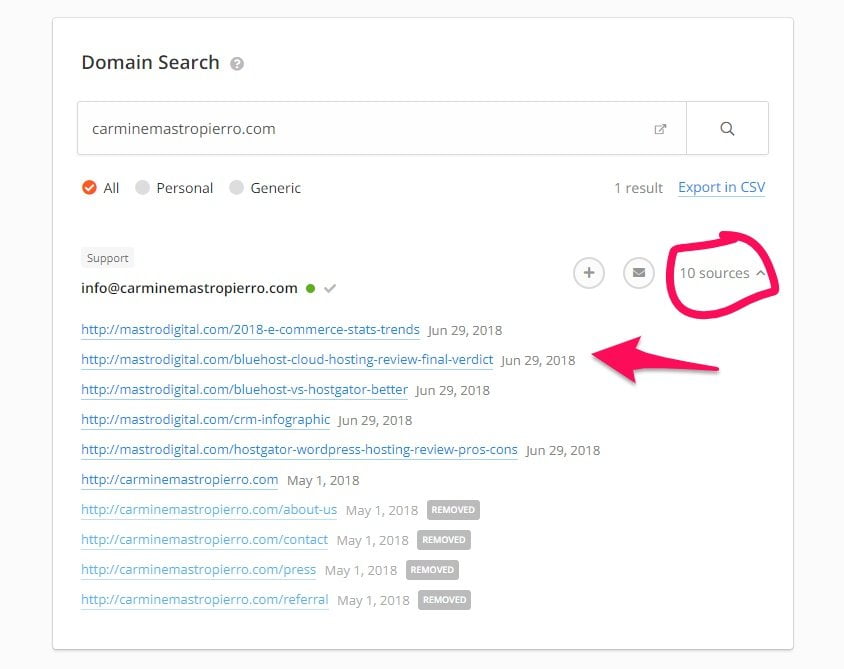 Export it out as a spreadsheet if you need to load it into a CRM or other software from the top right. Hunter.io actually has it's own CRM we'll be looking at soon.
Hunter.io email finder
Next up, there is the email finder feature. This is pretty similar to the search function, except that you're entering an exact name and domain to discover if it's real.
I jokingly looked up Joe Bob at Google and apparently he's a real person.

Hi, Bob!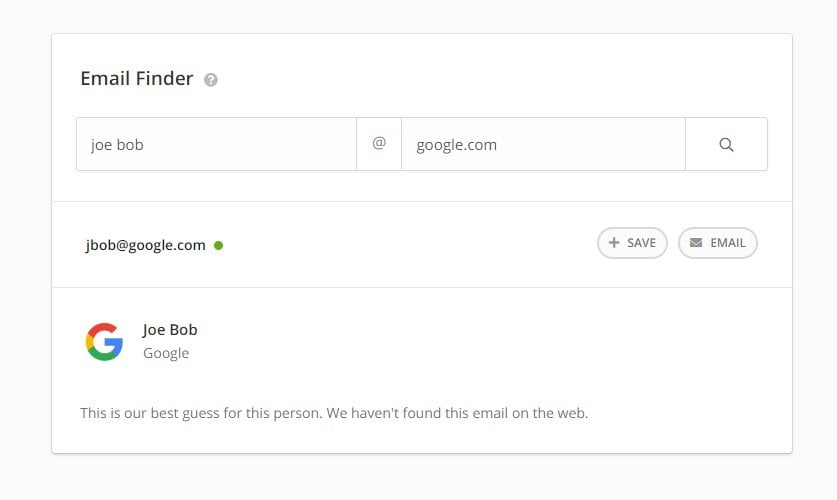 I've also heard some people ask "Is Hunter.io legal?" and while it might seem like a silly question, it has some merit. Hunter.io works by scraping the internet for results that contain the email you're looking for. This is perfectly legal and as a user of the software, you are responsible for how you use the results.
I wrote about the CAN-SPAM law in my cold emailing guide, which covers what you're legally obligated to do when emailing businesses you've never been in contact with before. Give that a read to ensure that you won't land yourself in any legal trouble by emailing prospects.
Hunter.io email verifier
Do you have an email and want to check if it will bounce or not? Because the email verifier tool will do just that.
Just type in the email you'd like to verify and click the button.

Apparently this might actually be Bill Gate's email. Maybe I should pitch him a guest post?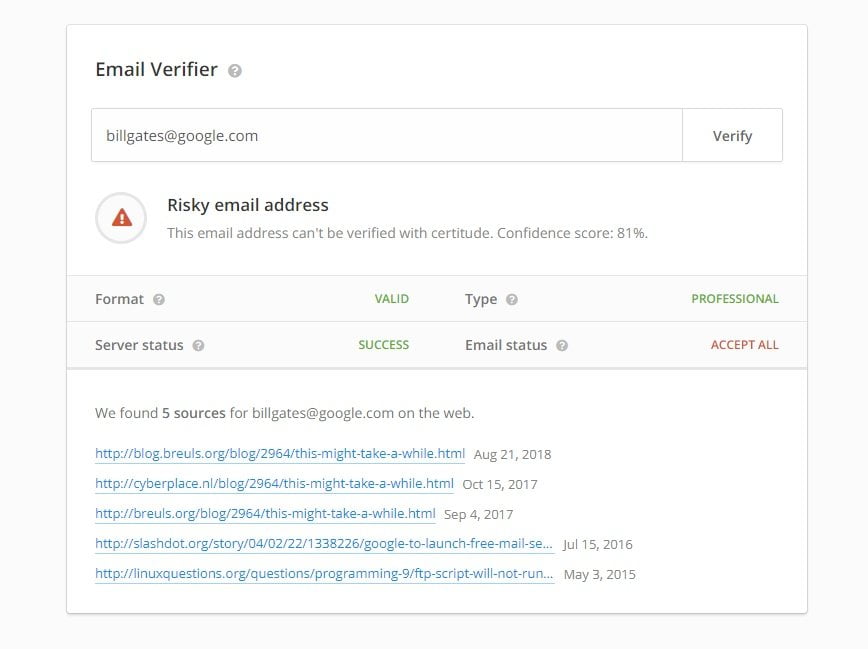 Hunter.io bulk tasks
Nowadays it's all about automation and getting more done in less time. Hunter.io has a bulk email finder, verifier, and domain search that you can use if you already have a list of leads.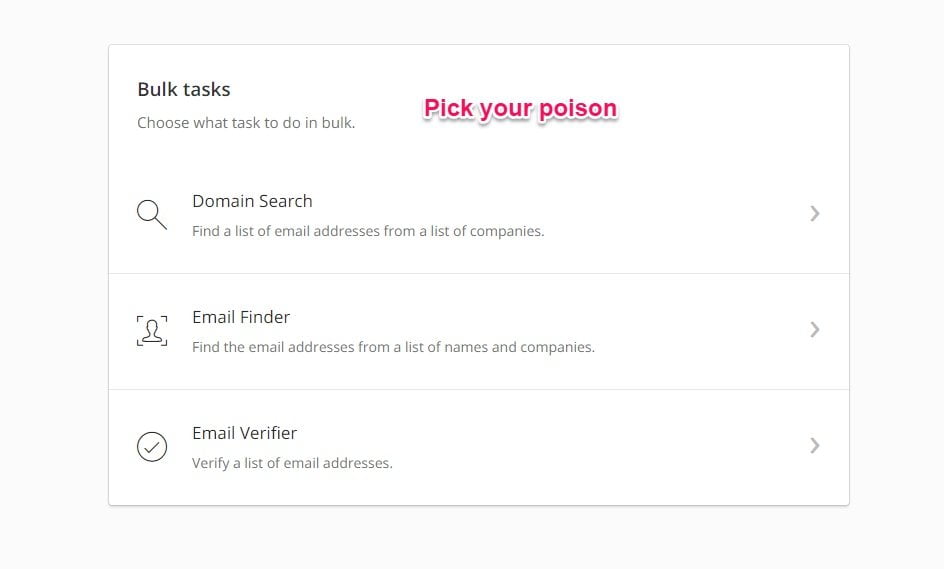 I'm going to choose the bulk domain search as an example. Upon starting a new bulk, I'm prompted to enter the following information:
A name for the list
The list type
The domain names or a CSV file
Filters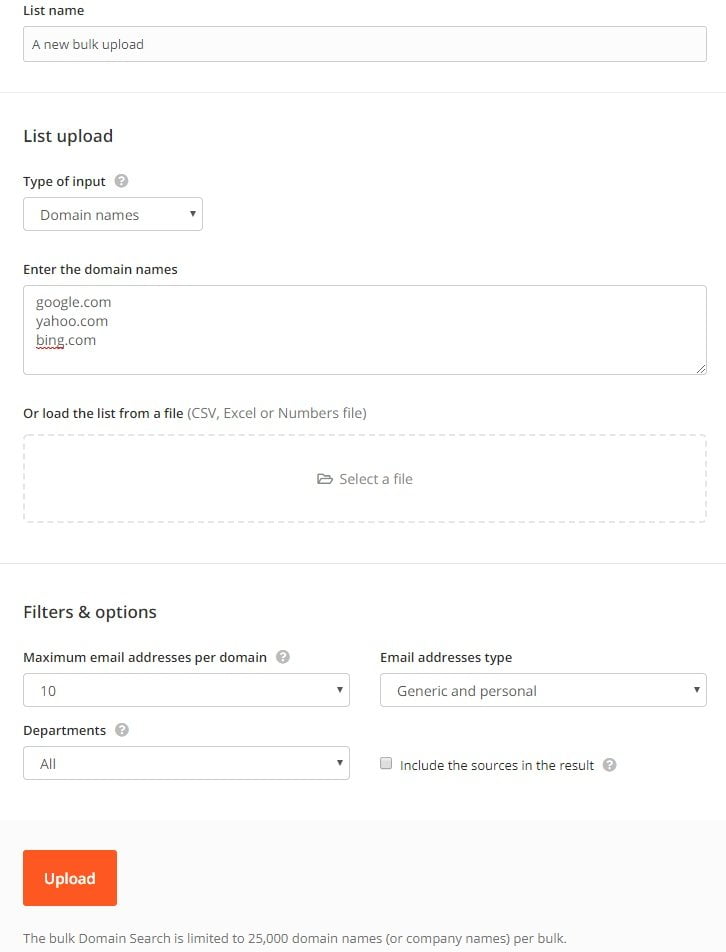 Hunter.io leads
As I mentioned earlier, Hunter.io does have it's own CRM built into the platform. It's very versatile and can save you money from investing into separate software if you're looking to boostrap.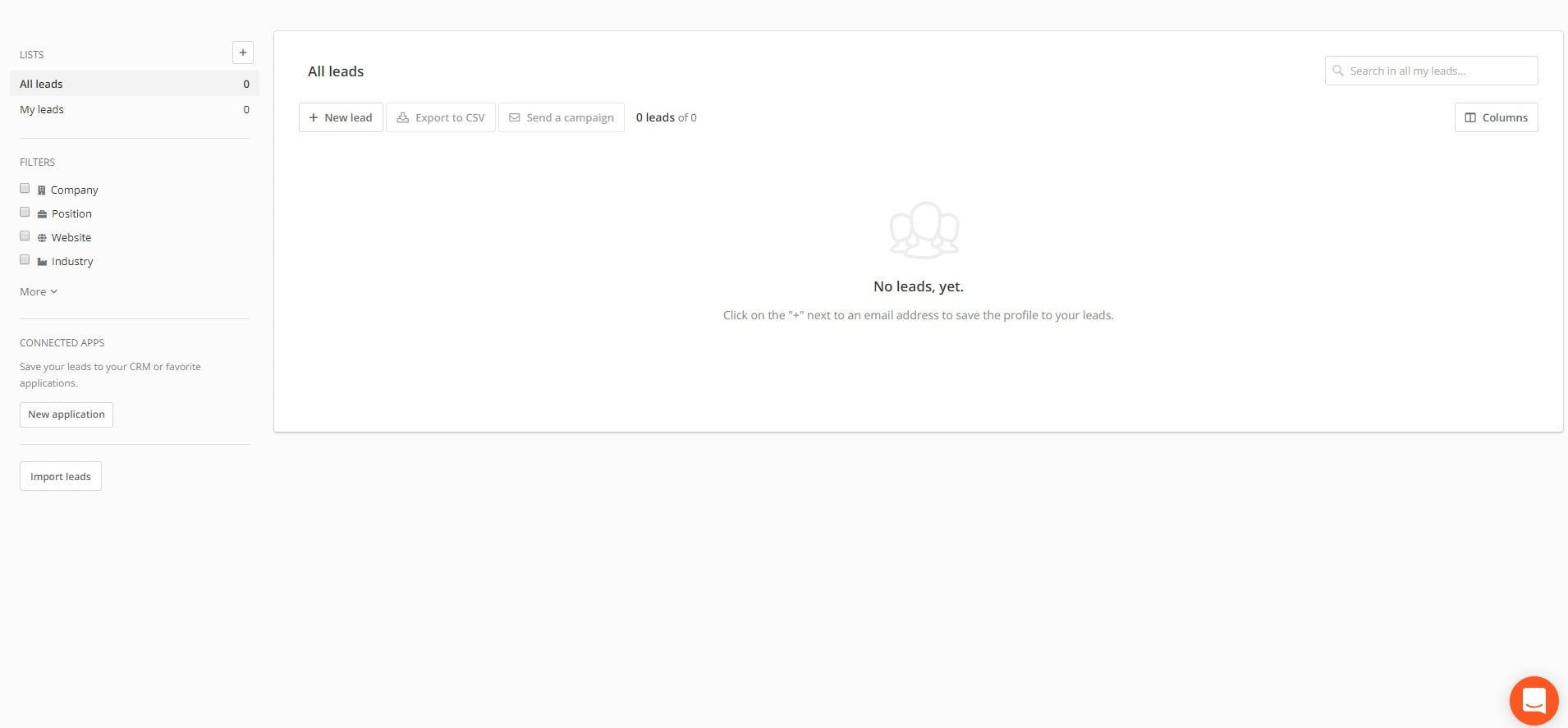 I'll be honest, though. I've yet to use it and I probably won't because I primarily use Hubspot. But, here's some things that it can do for you:
Add leads manually or import them
Filter them by company, position, website, and industry
Export them out
Connects with other applications
Hunter.io outreach
Lastly, Hunter.io has an email outreach feature that you can connect to Gmail with. If I used Gmail, I'd probably be testing this feature out, but I use a different email provider.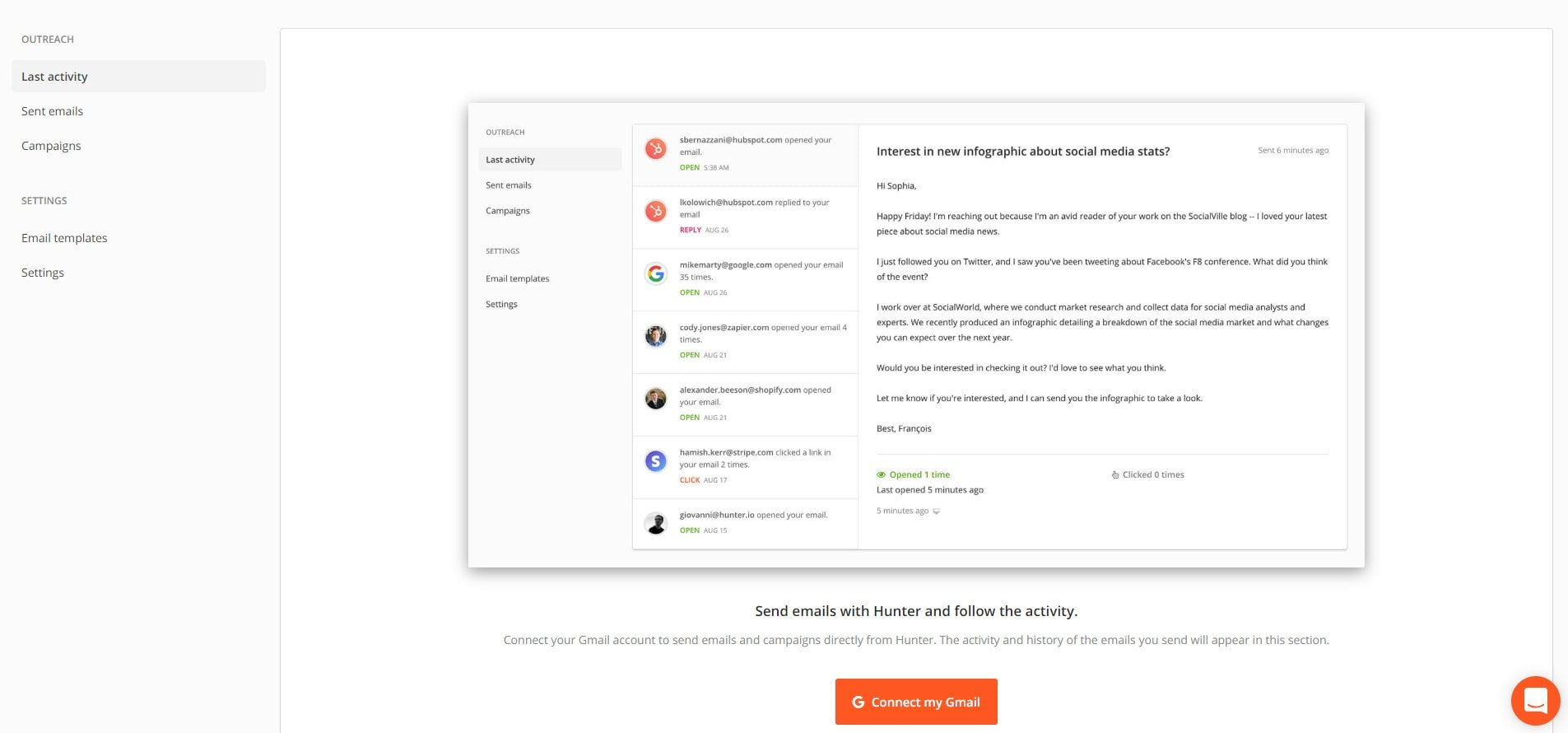 You can create email templates that speeds up the outreach process and it labels whether a lead opened, clicked, or replied to your messages.
The campaign function allows you to create individual campaigns to serve different purposes or to target specific leads.
Hunter.io pricing
Is Hunter.io free? Yes, for the first 100 searches per month. Past that, you'll need to upgrade to a paid plan.
I chose the starter plan that is $50/month. Seeing as it's landed me clients worth thousands of dollars, the ROI has been pretty decent 😉
With the starter plan, I also get 1,000 searchers per month. I aim for about 250 outreaches per week, so that works perfectly. When I begin scaling further past that, I'll need to upgrade.
These are the plans that they currently offer.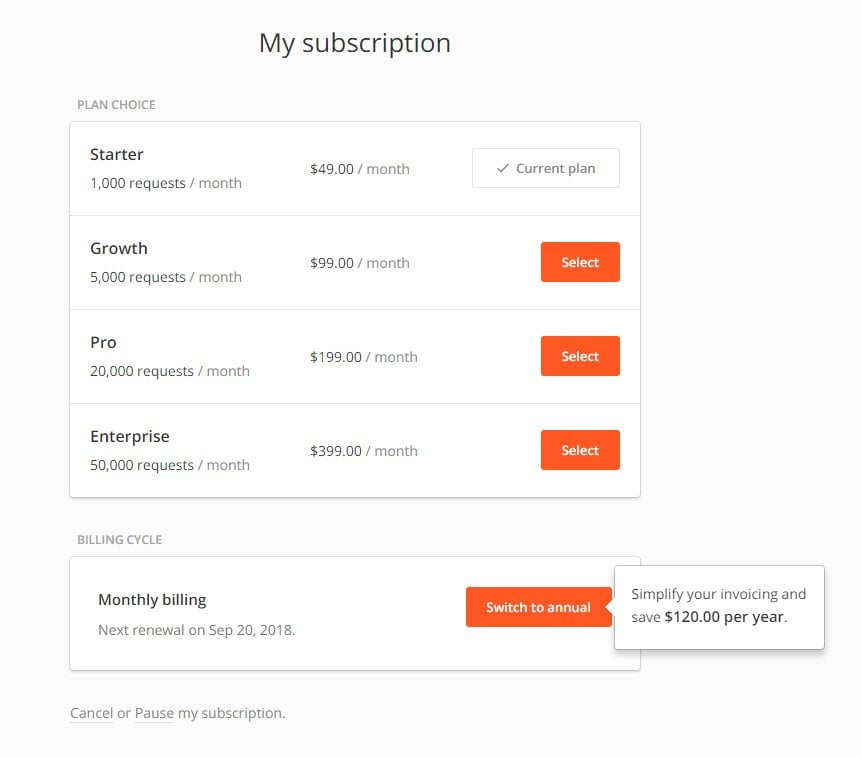 Like any other software, Hunter.io is a tool and will be only as good as you use it. I've had an awesome experience so far and have no issue paying the monthly subscription and I'll definitely be upgrading in the future.
Ensure that you have some good cold emailing principles down before investing into a service like this, you don't want to pay the money and not get a good ROI.
Overall, Hunter.io is an awesome tool, easy to use, and will be in my toolbox for years to come.
Please follow and like us: