Guest posting is the best way to acquire backlinks, grow your brand's name, and become an authority.
Look at Syed Ajmal.
He helped increase one of his e-commerce client's revenue by 23.85%, mostly through the power of guest posting.
(Not to mention traffic, average order value, etc.)

Don't you want results like that?
Of course, you do.
That's why I've put together a list of websites that accept guest posts, so you can begin skyrocketing your SEO.
Let's dive in!
Business guest post websites
These are business websites that accept guest posts. Pitch them if you're interested in becoming well-known in this space.
Business Insider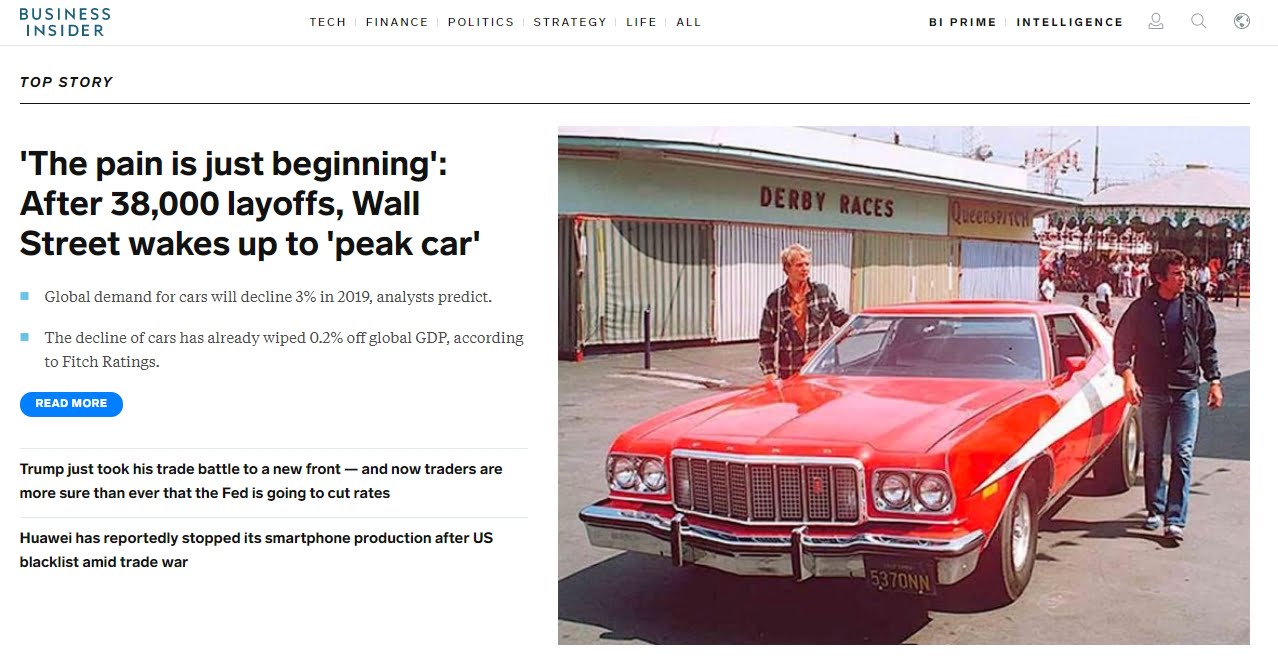 115 million people read Business Insider every month. Imagine the reach you would have if you got the opportunity to write for them!
It's not uncommon for freelancers to write for publications like these and have streams of clients coming in over time.
That's why I'd also recommend reading my article on the best five freelance websites to earn big cash.
Business Insider contributors are typically an expert on a single subject or more related to entrepreneurship, investing, venture capitalism, writing, technology, and other topics you can read about here.
Fast Company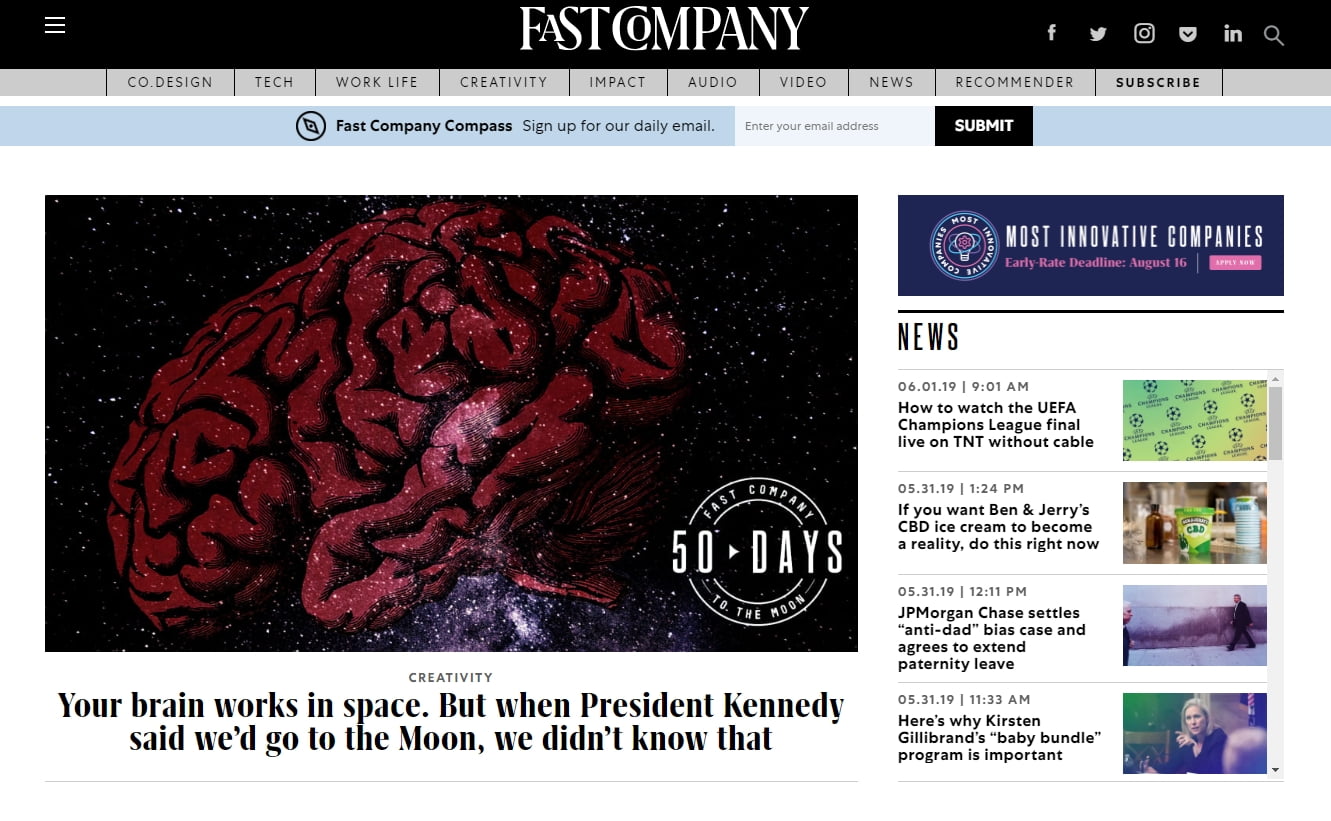 Fast Company is interested in having you contribute to their Leadership section. The content needs to have the correct tone and be written by an individual, not an agency.
Additionally, the topic should appeal to the Leadership category readers and introduce fresh ideas that haven't been spoken about already. However, they do enjoy it when writers advance prior conversations and subjects with a new twist.
Avoid self-promotion as much as possible since Fast Company doesn't like it, and you will lower your odds of getting published. This also applies to vague content and articles that can't be backed up.
Articles must be 600-900 words long and must be sent in complete format to the Assistant Editor Anisa Purbasari Horton. They aren't looking for pitches or tossing around ideas — only completed posts.
Harvard Business Review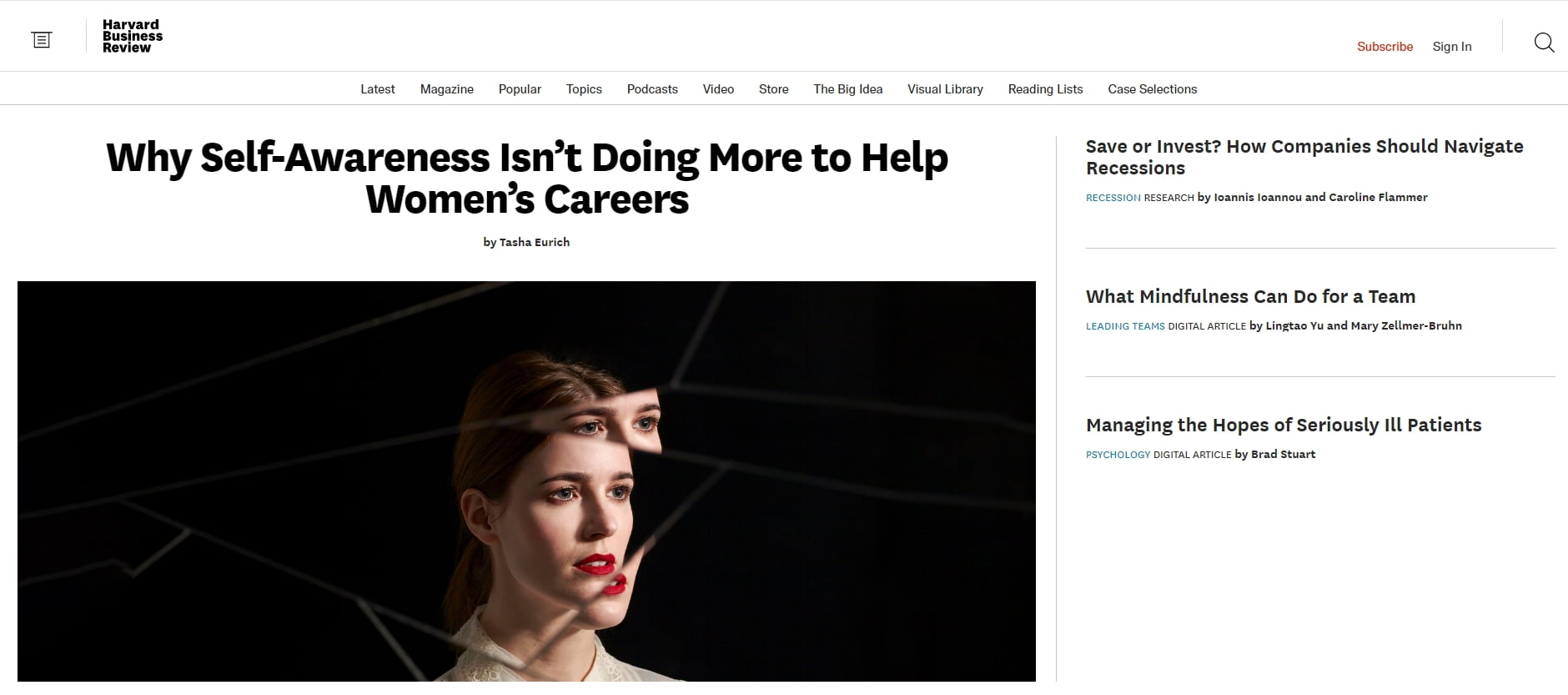 Harvard Business Review is trying to change business management as we know it. Their goal is to help institutions run more effectively, make better decisions, and become more productive.
That's why they publish content that ultimately helps the reader become more creative, intelligent, and happier. These are some things to keep in mind when pitching them for a guest post.
In terms of topics, they publish everything along the lines of:
Strategy
Leadership
Negotiations
Operations
Innovations
Management
Work-life balance
Marketing
Finance
The five main things they look for in a guest post submission are expertise, evidence, originality, usefulness, and persuasiveness.
Create an account on their submission manager page to begin the pitching process.
ShoutMeLoud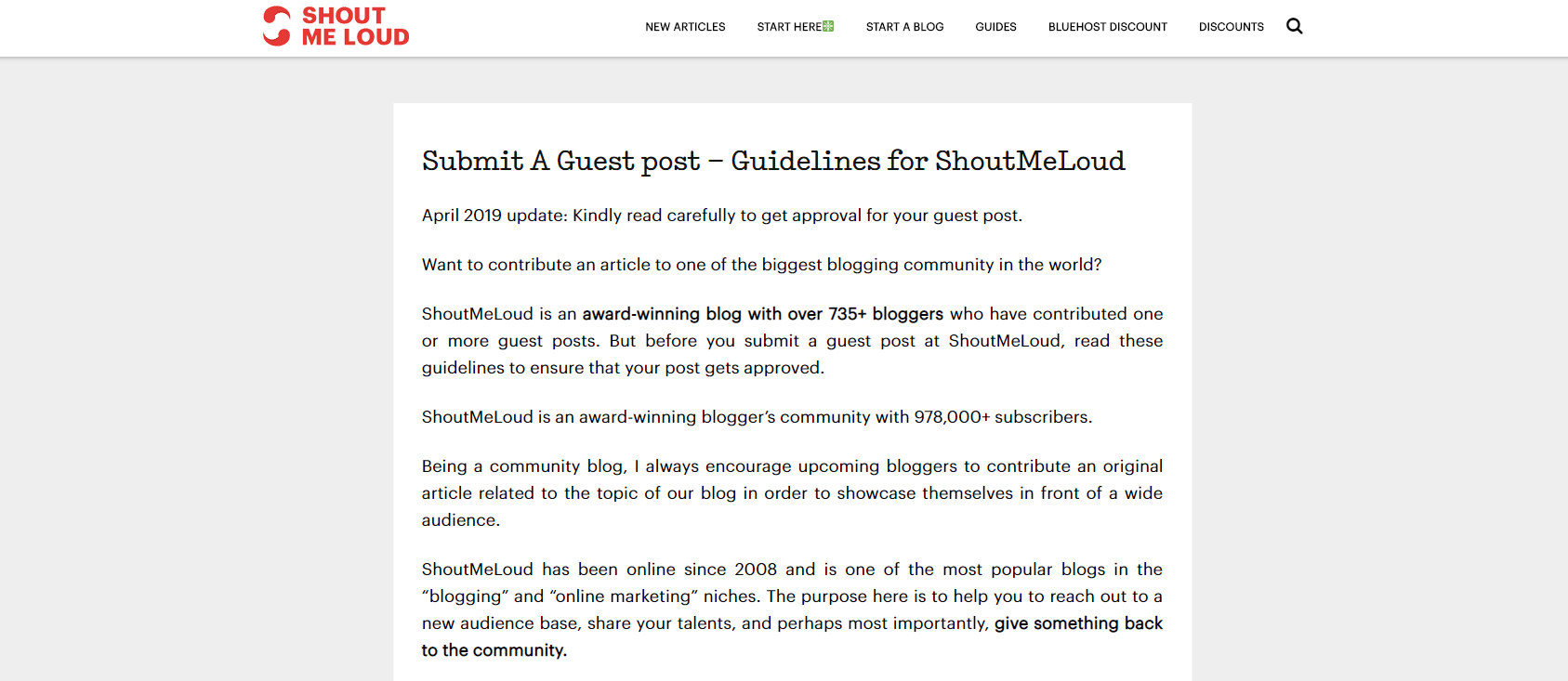 Interesting in guest posting on an award-winning digital marketing blog? ShoutMeLoud has had over 735 bloggers contribute to their guest posting website, and over 978,000 readers subscribe to them.
ShoutMeLoud is built on community, so they look for topics that will reach a large audience.
If this sounds up your alley, then give ShoutMeLoud's blog a quick read to understand what topics they touch on and how they write. Quality over quantity is a big focus for them.
They look for writers who blog themselves and are active within the community. Subjects they commonly publish are:
WordPress tutorials
Managing teams and companies
Growing a podcast
Social media marketing
Articles can be no shorter than 2,000 words. While this might seem like quite a bit, long-form content packs tons of value and helps readers more than shorter pieces.
You must give credit to the images you use, and they ask that you use images, videos, screenshots, and other visuals to make content detailed.
While you will get an author profile by contributing to ShoutMeLoud, they aren't interested in overly self-promoting content, which means avoiding backlinking to your site within articles.
Learn more about their contribution guidelines.
Since ShoutMeLoud requires you to be an excellent content writer, you should check out these previous articles of mine to improve your skills before contributing:
Business2Community
I've had the pleasure to write for Business2Community in the past, and they are a great website to guest post for. Their categories include:
Digital & Social
Sales & Marketing
Life & Entertainment
Technology & Innovation
US & World News
If you're an expert on any of these topics, you can read their submission guidelines here.
Matthew Woodward
If you've ever looked up tutorials for SEO, you probably came across Matthew at some point. He's one of the most respected internet marketers in the community, and he accepts guest authors, as well.
Pitch him via the contact form with your idea about a detailed tutorial or case study, as that's what he normally publishes.
Monitor Backlinks
Monitor Backlinks is one of the largest SEO websites on the internet. They post actionable and practical content on SEO strategies, case studies, and trends.
If you know a thing or two about these topics, check out their submission guidelines for more details.
MarketingProfs
MarketingProfs' motto is learning changes lives. Their goal with content, courses, and other resources is to teach readers valuable information. You will need to be an excellent writer and submit an impressive pitch to get onto this revered website.
Read more on their guidelines page about how to get accepted and who to send your emails to.
Kissmetrics
This is one of Neil Patel's businesses that you can contribute towards. Kissmetrics has a form you can fill out if you'd like to become a guest author, and it includes what topics they like, info about their audience, and more.
Technology guest post websites
Emerging trends, the latest gadgets, and interesting news are a few of the topics that tech blogs publish. If you enjoy geeky things like me, pitch one of the following technology sites to gain exposure as a writer.
Wired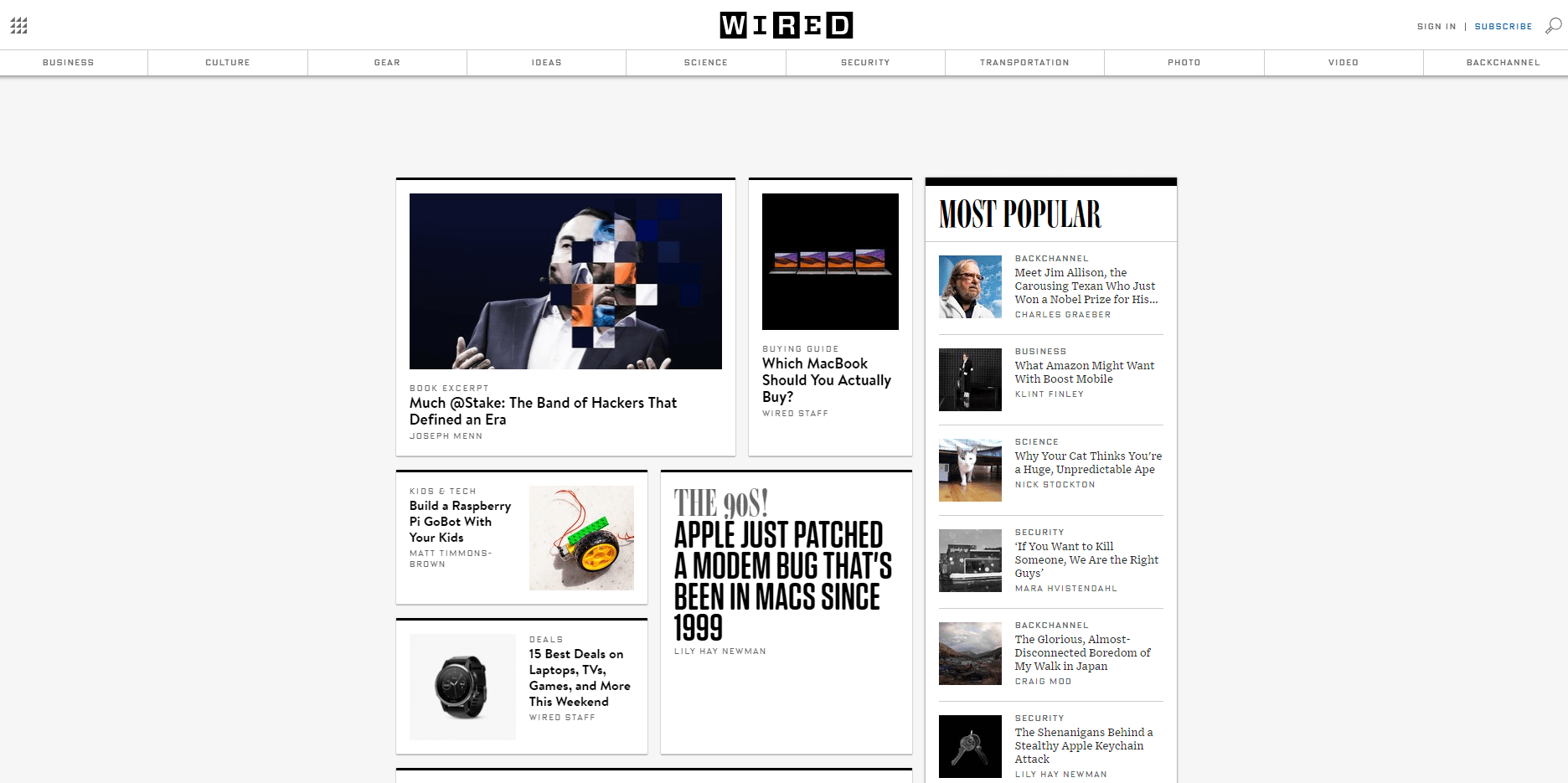 Wired accepts guest posts for their Opinion section.
They enjoy articles that have a specific and strong point of view. Deeper analysis, studies, and data will help get your idea accepted because of this.
Wired also loves topics that will promote further conversations and engagement on their website. Their content is typically proactively framed versus reactively.
What this means is that it isn't responding to something but rather proposing a new idea or perspective first to be reacted to itself.
If you want to write for Wired, you will need to narrow down the contact on their contribution page, and send them a pitch idea.
TechCrunch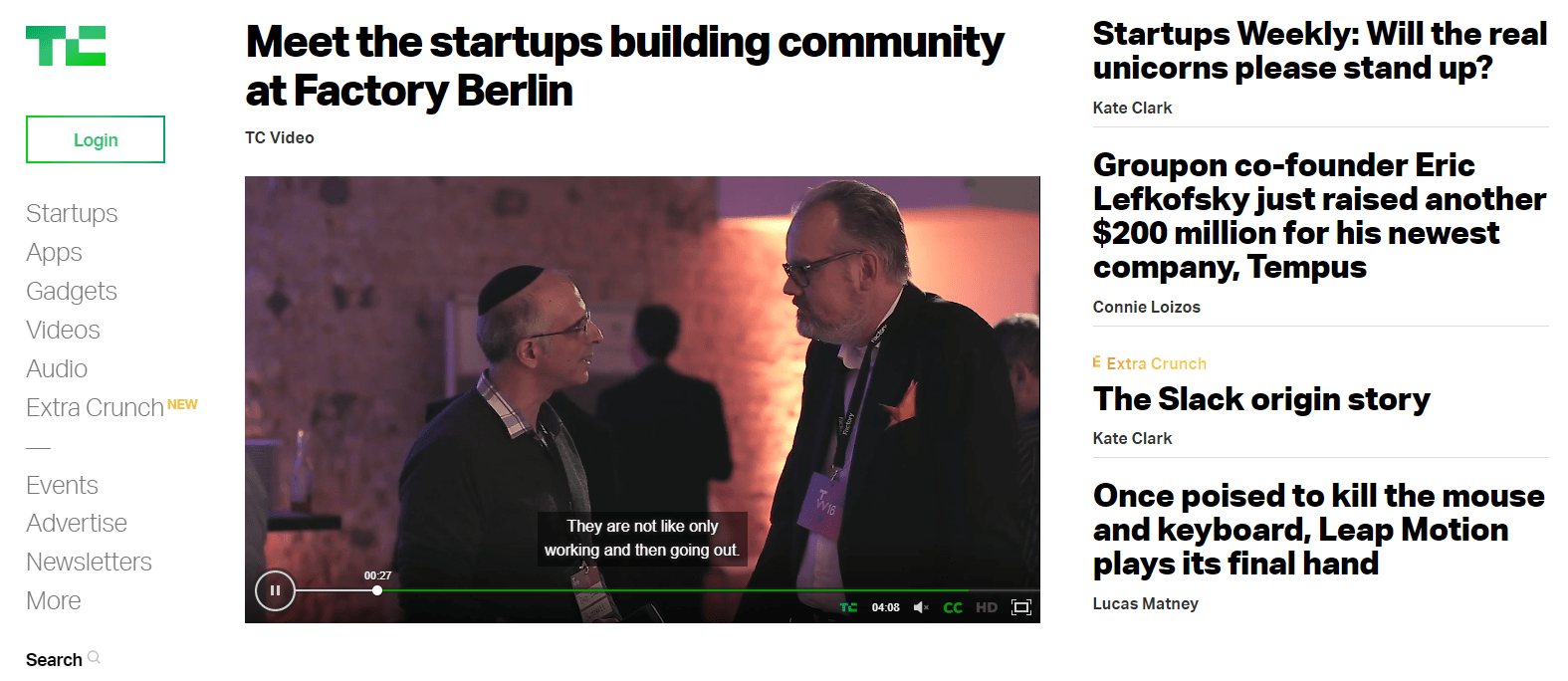 Do you love everything about startups, gadgets, and apps?
Great! Because TechCrunch would love to have, you contribute to their technology publication.
Visit their contact page here to get the submission's email address.
Send them a pitch with a suggested topic, your background as a writer, and samples.
TechRepublic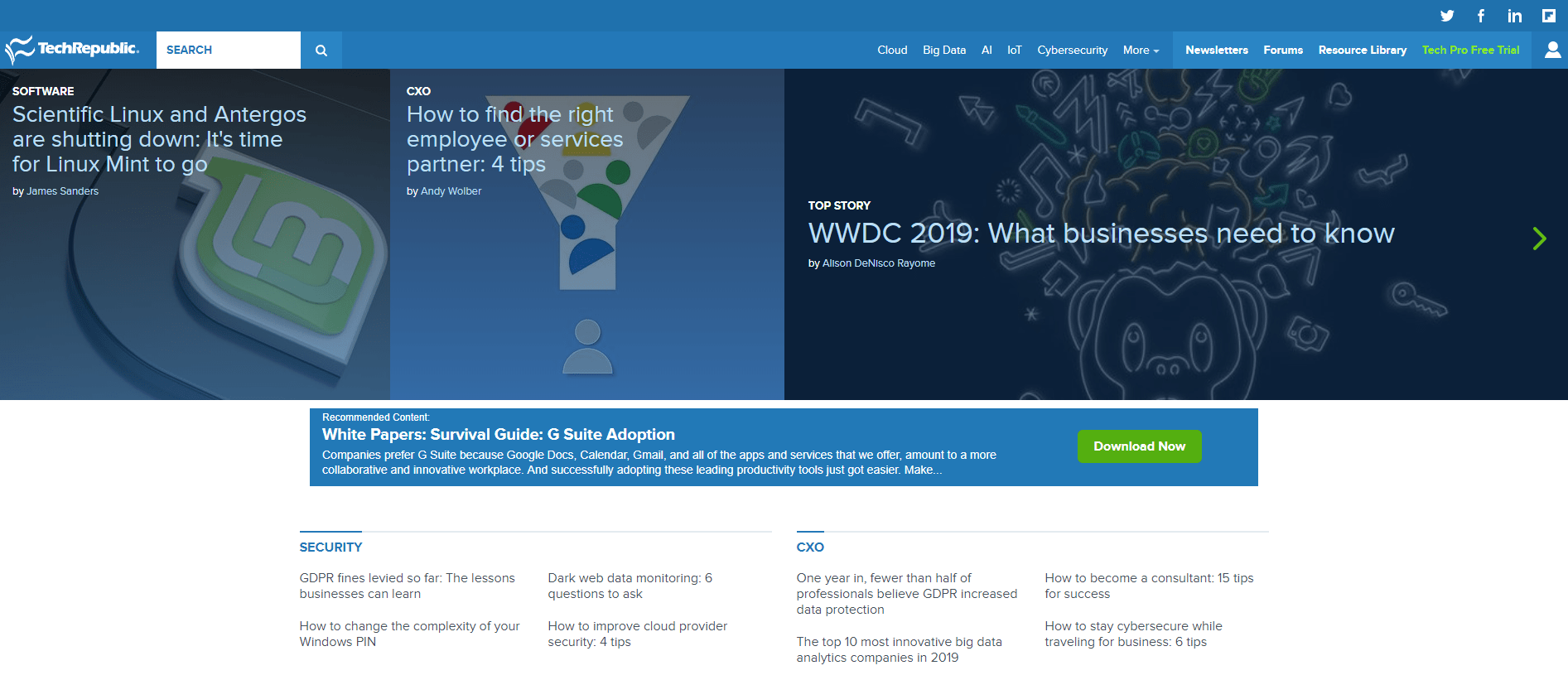 TechRepublic is a publication that helps the lives of technology professionals become easier through tips, news, and trends.
Writing for TechRepublic is a great way to share your ideas with the world while also adding a great portfolio piece to your name.
They specifically take contributions for their Developer Republic section, which is dedicated to programmers. If you know a thing or two about coding, then this is for you.
It's an all-new community they launched to help enterprise-level developers become better at their craft. Whether it's useful insight or interesting experiences related to the field, TechRepublic would love to have you contribute.
Email them with your qualifications and ideas for articles here.
CallingAllGeeks
CallingAllGeeks is one of the leading tech blogs in India. They normally publish content about Android devices, iPhones, gadgets, software, reviews, and more.
Contact Harsh through the website form with your pitch, but first, read the submission guidelines to increase your chances of getting approved.
The Wonder of Tech
The Wonder of Tech is run by Carolyn Mohr and is dedicated to both tech lovers and haters. Carolyn has been a huge fan of technology for the last 20 years, inspiring the creation of her website.
It's dedicated to helping readers learn about advancements in tech, new trends, and everything interesting in between. Check out her guest post policies to better understand what will make an excellent submission.
Creately
Creately is a SaaS company that's trusted by PayPal, City, Amazon, and other large companies. They have an active blog that focuses on technology, workflow, productivity, and related topics.
They are a well-known business in their space, so having a byline can be great exposure for tech writers. Check out their guest post guidelines to learn more about writing for them because they are currently accepting guest posts.
Lifestyle guest post websites
Lifestyle websites publish content about health, wealth, hacks, and everything in between.
If you have a lot of well-rounded knowledge to share, pitch these websites.
Lifehacker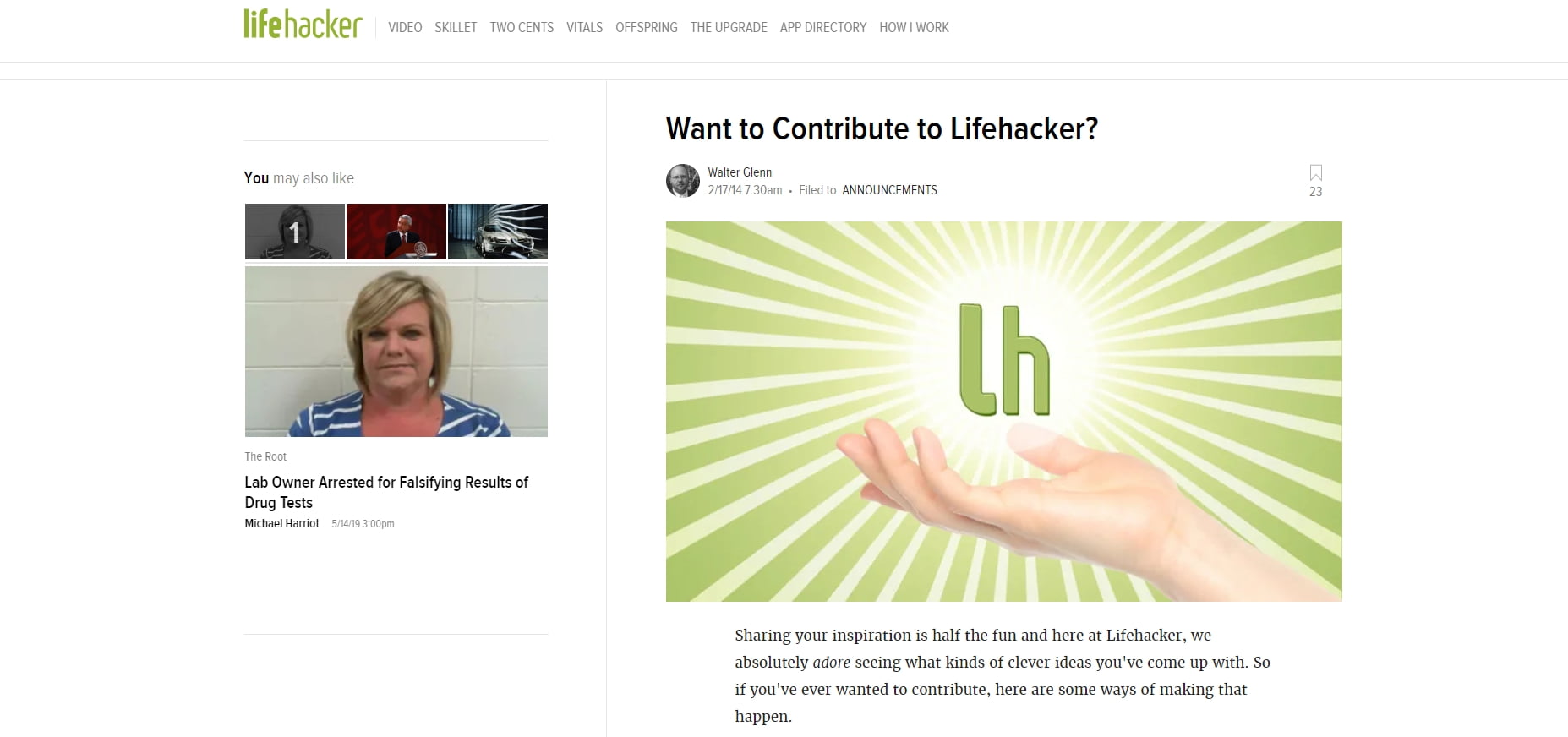 Lifehacker is a lifestyle publication that touches on almost every topic under the sun. Everything from cooking to finance and career is written about on their site.
They try to provide practical and entertaining content that improves the lives of readers while also brightening their day.
If you'd like to submit to this free guest posting site, send your article to submissions@lifehacker.com.
wikiHow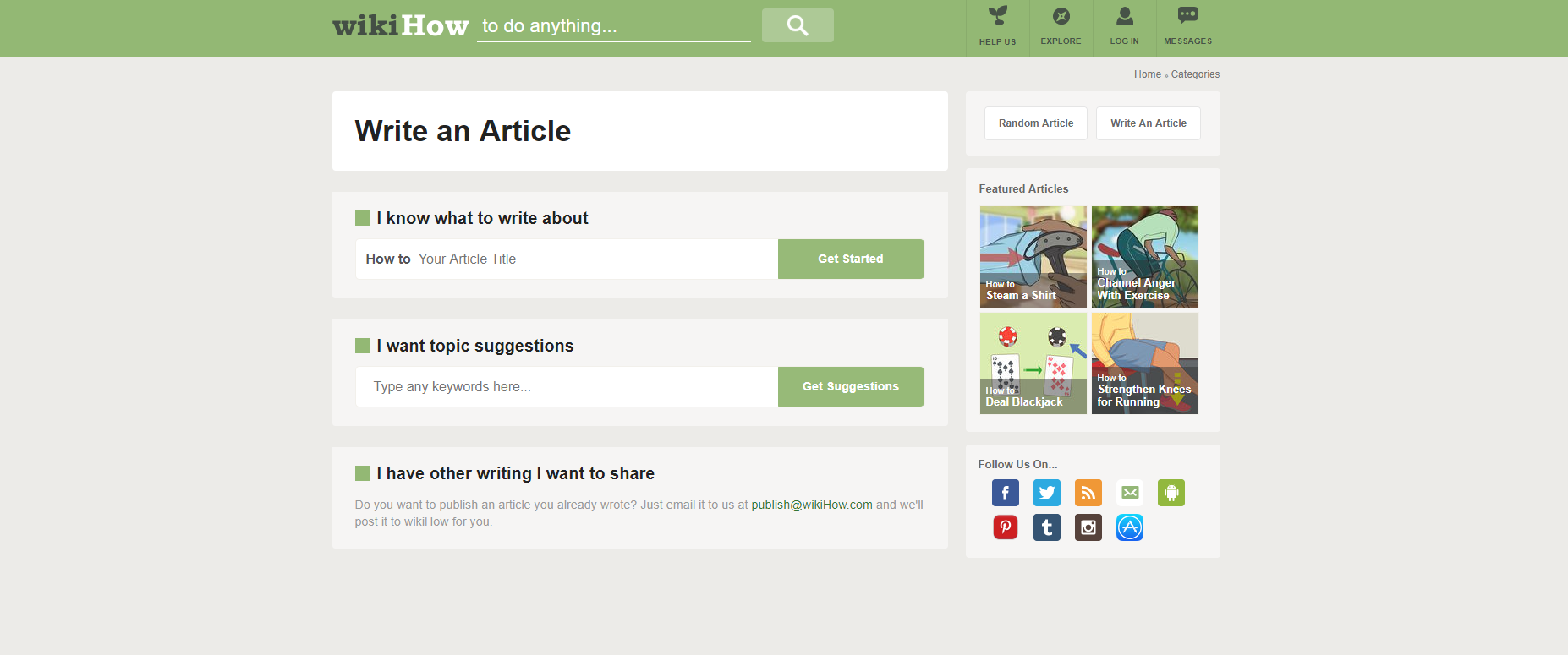 Let's be real. We've all looked up instructions on how to do something via wikiHow at some point.
But did you know that you can create one of those how-to style posts to share with the world?
You can begin by registering for an account, typing in a topic idea on the submissions page, and clicking "Get Started."
Food blogs that accept guest posts
Are you a chef, a food lover, or just enjoy blogging about food? Great! Because these food blogs accept contributions that you won't want to miss out on.
Menuism
Menuism is a website dedicated to helping people find the best restaurants and food. They encourage users to review what they are most important, and they also have a blog you can contribute towards.
Read their guidelines for more details.
Disney Food Blog
The Disney Food Blog is run by AJ Wolfe, and he is super passionate about visiting Disney Parks to find new food. His website revolves around the best places to eat at Disney Land, reviews, and user guides.
Check out his guest post guidelines for more information on pitching.
Food Sense
Food Sense is all about plant-based diets. It's a website dedicated to helping people eat healthier, learn delicious recipes, and teach them about the benefits of eating vegan.
The website is run by Kulie, who adopted a plant based diet back in 2006. She started this lifestyle change to help clear her skin, and it worked better than anything the dermatologist ever gave her!
She's turned her experience into a resource to help others achieve the same thing, and you can become a guest author if you're an expert on related topics.
Fashion blogs that accept guest posts
Check out these style sites if you want to contribute fashion-related content as a guest author.
Focus On Style
Sharon Haver is the founder of Focus On Style, a website dedicated to fashion, style consulting, and her podcast.
It's one of the highest domain authority fashion websites that accept contributions, so don't miss out on this amazing opportunity! Read her guidelines to get a better idea of how to send the perfect pitch.
The Fashion Supernova
The Fashion Supernova covers fashion shows, celebrity fashion, and everything about style. They have a calendar that they follow, which you can learn about on their about page here.
Send a pitch that aligns with this, and I'm sure you'll land yourself a guest post.
Inside Out Style
Inside Out Style focuses on topics related to color, style, beauty, and body image. You must have an existing fashion business to be considered as a guest author.
Read their submission guidelines and pitch them an idea through the contact form on their website.
Health blogs that accept guest posts
I don't know about you, but I love working out! Weights, running, yoga, you name it. If you're on the same page, you should send health-related pitches to these websites, as they accept outside contributions.
The Master Cleanse
The Master Cleanse is all about detoxing, cleansing the body, and nutrition. Their blog commonly covers topics around cleansing foods/spices, detoxifying teas, and similar.
Visit their write for us page to learn more about how to become a contributor.
Hive Health Media
The goal of Hive Health Media is to help readers become more healthy through weight loss. They provide breaking news, health tips, recipes, and stories.
This means you can pitch a wide variety of topics to get accepted. Check out their submission page to learn more.
Science-Based Medicine
This website is dedicated to the best medical treatments and products supported by scientific evidence and studies. They promote only the best health care to help people and institutions make better choices.
Mainstream media and schools often don't answer the hard questions, which is what Science-Based Medicine tries to do. Read their guidelines to learn how to properly send a pitch to them.
Photography blogs that accept guest posts
Do you love photography, editing, and everything involved with taking beautiful photos? Then check out these photography sites that accept guest posts.
Steve's Digicams
This website was launched back in 1997, making it one of the oldest and most popular photography websites on the internet.
It has a very high domain authority, so a backlink from them would give your site a huge boost.
Steve Sanders is the founder, hence the name, and has been a photographer for over 35 years. His website teaches photographers how to take better photos, the best gear to get, and more. You can read the submission guidelines here for more information.
Digital Photography School
Digital Photography School is run by Darren Rowse, and is one of the longest-running photography blogs. They've since expanded into selling courses, and books, and teaching people to be better photographers.
Darren ran a review website for a couple of years and commonly got asked questions about how to shoot better, use cameras properly, etc. This inspired him to launch Digital Photography School, and you can become a guest author to help out, too.
InstantShift
InstantShift is a website that educates web designers on how to become better at their craft, however, one category they publish blog posts under is photography.
This section typically covers listicle style articles, so pitch something along the lines of that. Of course, ensure that you read their guidelines before pitching to boost your chance of getting accepted.
Christian blogs that accept guest posts
The following websites are based on the Christian faith. Pitch them if you believe you have wonderful insight into this religion and its teachings.
Redeeming God
This is a website that teaches readers all of the essential teachings and workings of Jesus.
Jeremy, the blog's founder, helps readers understand the scripture, gain theological insight, and offers extensive resources.
Guest blogs are allowed, but they must be no shorter than 300 words or longer than 800.
It must be original work and not previously published anywhere else in print or on the web.
Read their guest post guidelines to learn more.
OurChurch
Do you want to see Christians improving their lives, schools, ministries, and churches with technology?
Then OurChurch needs to be a website you pitch.
They welcome tech-savvy Christians to share their insights into Christian web trends and related topics.
They distribute guest posts to their 10,000+ Twitter followers, 2,000+ Facebook fans, and other channels.
Read their guest post guidelines to learn more about how to pitch them and what they accept.
Premier Christianity
This is the UK's leading Christian magazine that reaches up to 30,000 people every month through print and hundreds of thousands through their blog.
They are one of the top resources for understanding what's happening within the United Kingdom Christianity community. Keep them at the top of your list if you have knowledge about this faith, specifically in the UK.
Premier Christianity receives a large number of inquiries, so you must send an outline of 200–300 words that highlights your article idea.
It can take up to six weeks to hear a response, and you can learn more here.
Faithful Bloggers
Want to submit an article to the Faithful Bloggers and Faithful Devotions Network? Fill in the form on their website here.
You will receive two emails; the first is an opt-in and you must confirm your email afterward.
The second email gives you their submission guidelines to get your article published.
They are interested in topics related to bible study, service, mission, ministry, faith, marriage, parenting, and related.
Before The Cross
Before The Cross is a blog about biblical teaching, devotion, encouragement, and anything else related to Christianity. They are not interested in advertising or sponsored posts, however.
Guest blogs must be original and can not be posted anywhere else.
Email your completed post to them here for consideration.
Submissions must include a featured image, information about your blog, and an SEO meta description.
Travel blogs that accept guest posts
Love traveling? Have tips for getting the most out of vacations and seeing the world? Check out the following websites for guest authorship opportunities.
Anew Traveller
Are you a writer, photographer, or videographer that loves sharing your passion for different cultures and countries?
Anew Traveller accepts guest posts but advises you first read their previous content to get an idea of what topics they publish.
They aim to offer an inspiring and unique perspective on travel. It should be new, fresh, and informative. Added research and depth are recommended.
Pitch them a title, outline, and description with any media. Include an author bio, social media handles, and links to previous work.
Check out their guidelines here to learn more.
Global Grasshopper
Genuine travel bloggers with a history of writing in the travel space should pitch Global Grasshopper.
There's a waiting list for publishing guest posts due to the volume of requests they receive. Don't be surprised if you receive a late reply.
You must link to your travel blog if you wish to be accepted, as well.
Posts need to be over 850 words, and a title should be pitched before an article is sent in to confirm the topic.
Indie Travel Podcast
The Indie Travel Podcast accepts pre-written articles on how to visit local festivals and city guides for destinations.
Articles must be 800–1,200 words long with a personal but informative style.
They list the exact structure each post should use on their guidelines page here.
Legal blogs that accept guest posts
Are you a law student, attorney, or an individual in a similar position? Great. Because there are many legal blogs that accept
1stCounsel
Share opinions on legal matters to showcase expertise by guest authoring on 1stCounsel's legal blog.
They educate readers on a range of legal issues and look for contributions, specifically from lawyers.
You will gain an author card with links to your social handles for exposure when an article is published.
Contact their Editor-in-Chief Alan Gray with your article or idea. Find more information here.
Before the Bar
Before the Bar is a legal blog from the website ABA for Law Students.
They bring together a wide diversity of experiences and voices from those associated with the law anywhere in the world. It's mostly targeted toward law students, though.
Blog posts should be 1,000 words, but if they can be summarized in a shorter piece, that's okay, too.
Author bios feature a biography, headshot or logo, and social media links. All of which give you great exposure and PR.
Read Before the Bar's full contributor guidelines here.
Final thoughts on guest posting websites
Growing a brand through guest posting remains one of the most effective strategies to date.
You need to put in some good elbow grease, though.
Pitching, writing articles, and waiting for them to get published is daunting, right?
Not if you do it right.
The key is to create a system in which you pitch a certain amount of sites per day (or week), follow-up regularly, and outsource the content.
Use the websites accepting guest posting I listed today to start skyrocketing your SEO fast!
Alternatively, learn more about writing and marketing in my online courses.