Trying to find the best tool to improve your content marketing game?
Then BuzzSumo might be for you.
But before you invest in their software, you should know every detail to make an informed purchasing decision.
That's why I'm writing this BuzzSumo review today.
I'll be covering BuzzSumo's features, pricing, and alternatives, so you can decide if it's right for you.
Follow along 🙂
What is BuzzSumo?
No, BuzzSumo isn't a sumo wrestler.
It's a content marketing tool that helps businesses like you hit your KPIs quicker and easier.
BuzzSumo achieves this by assisting you in finding viral topic ideas, analyzing competitors, connecting with influencers, and more.

I'll be touching on the features more deeply in a moment.
Overall it's a well rounded tool that any company performing content marketing should consider.
It will save you countless hours from searching Google for ideas.
You can instantly know what users are interested in reading about within your niche in seconds.
The brand monitoring feature allows you to track how people are talking about your brand, too. This creates the opportunity to engage with these users, and make meaningful relationships.
With influencer marketing on the rise, BuzzSumo also includes a portal for you to connect and contact industry influencers.
That means you don't need external tools and services — you do it all from one hub. This further saves time, money, and energy.
Now let's take an in-depth look at what BuzzSumo has to offer.
BuzzSumo features
BuzzSumo offers many different features and tools to make your life easier as a content marketer.
It will speed up how you execute content campaigns along with their performance.
Let me explain.
Content discovery

Coming up with topic ideas can be tough.
You sit there for hours typing something out, only to smash the backspace button afterward in frustration.
What if you could come up with endless content ideas and never have to experience that struggle again?
Enter the content discovery feature of BuzzSumo.
In a couple of clicks, you can find the most viral content in any niche within the past few hours or years.
Try it yourself for free. Simply type in any term and click the search button.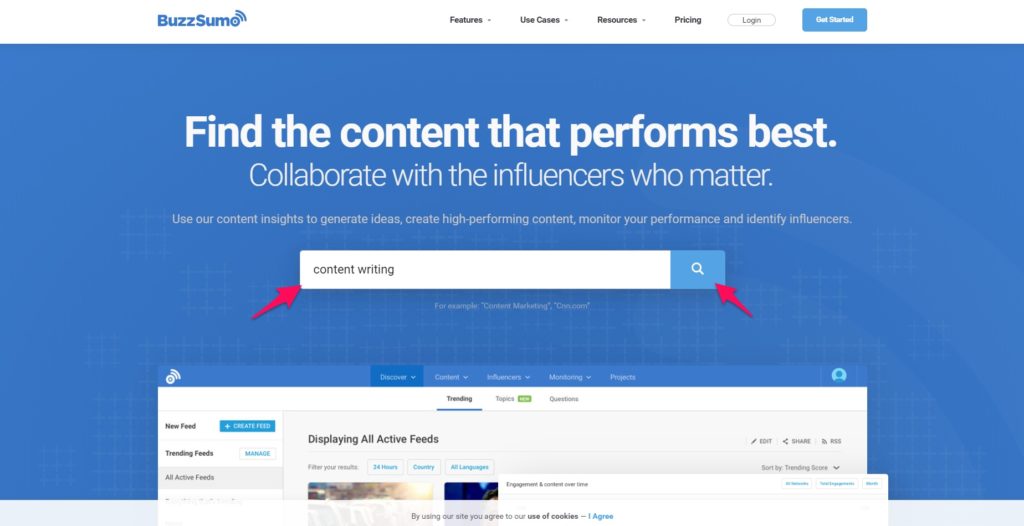 Results can be filtered by social platform, too. This allows marketers to discover what content is performing the best on each network, allowing them to refine their social strategies.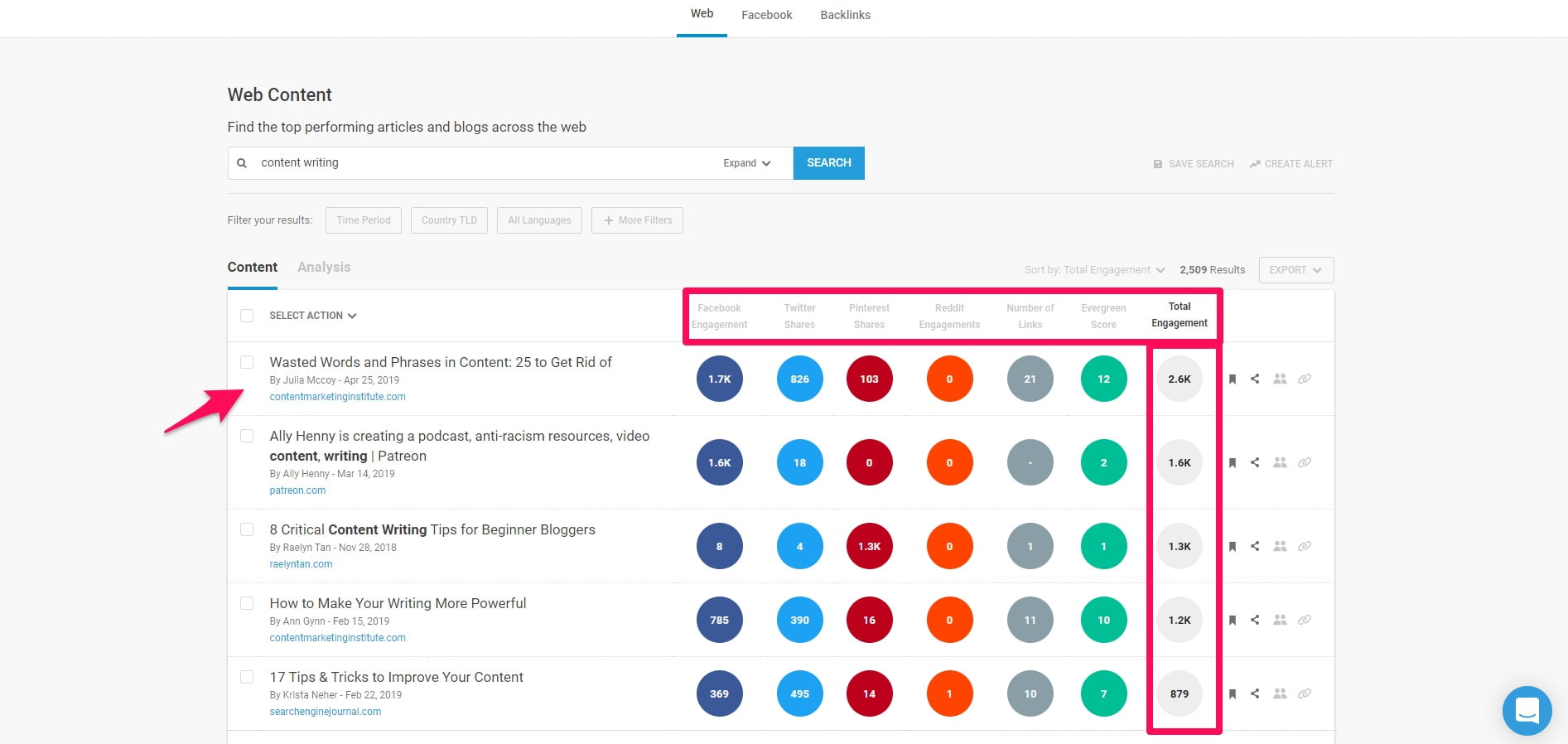 Tailor your searches down to a science with operators and keywords, unlike other simplified tools on the market that don't allow you to do this.
BuzzSumo doesn't just analyze blog posts, either. It determines if video, audio, and other forms of content are doing well, giving you no shortage of ideas and format limitations.
Content curation

BuzzSumo doesn't just help you find content ideas, it also assists the curation of content, too.
It does this by allowing you to set real-time alerts for competitors, keywords, or topics. You'll be the first person to see new content being published for the freshest possible inspiration.
Users of BuzzSumo can share content directly through the web app or schedule it by connecting to Buffer.
Notifications can be made for when a specific author or publication releases content, as well. This is useful to keep an eye out for competitors or simply reading your favorite influencer's posts.
Content insights

BuzzSumo provides heaps of detailed analytics about content, keywords, and individual authors.
You can generate reports about specific topics to determine how much content was produced regarding that subject, how many social shares were made, and more.
This data can be used as benchmarks to determine how well your own content marketing efforts are working.
Additionally, BuzzSumo displays what networks and content formats are doing the best. Use this to add new types of content and platforms to your overall strategy.
It's common for businesses to run campaigns full throttle without ever hitting the breaks to stop and check for oil leaks.
And by oil leaks, I mean lagging content, poor performing keywords, etc.
Are you guilty of this? Don't worry if so.
All of the analytics that BuzzSumo will provide you with can transform the performance of your content marketing.
Competitive analysis

Some times you have to be a private detective and snoop on competitors in your market.
This allows you to identify new trends, opportunities, and ways to surpass them.
BuzzSumo can be used for exactly that.
Simply type in the URL to any competitor, and you will be able to sift through:
Their best performing content.
The number of social shares they generate.
Which networks they're involved with the most.
What content format they produce the most often.
More!
After you're done taking notes on a competitor, create an alert to get their latest content sent straight to your inbox.
Lastly, users of BuzzSumo can directly compare another website to their own for benchmarking and analysis.
If you're in a competitive market like digital marketing or SaaS, this is a huge feature you won't want to miss out on.
Competition is quickly rising and new companies are popping up like pimples.
If you don't study them and find a way to differentiate yourself, your content will collect dust.
Brand monitoring

Wouldn't it be nice if every time someone talked crap about your brand you could instantly give em' the ole 1-2?
Obviously I'm kidding but stay with me.
BuzzSumo has an easy-to-use brand monitoring feature that keeps tabs on how customers are mentioning your company.
This is done by setting alerts for your brand name or content you've published. Every time someone mentions these things, you can instantly respond and gauge how your business is being talked about.
Similarly, alerts can be made for when new backlinks pointing towards your website and content.
You can quickly thank those websites via social media and share the piece of content as a token of appreciation. Who knows what kind of connections and relationships you can make thanks to this feature 🙂
Influencer marketing
Last but not least is influencer marketing.
This industry has been on a steady rise for the past several years, and odds are you might use it as a marketing strategy yourself.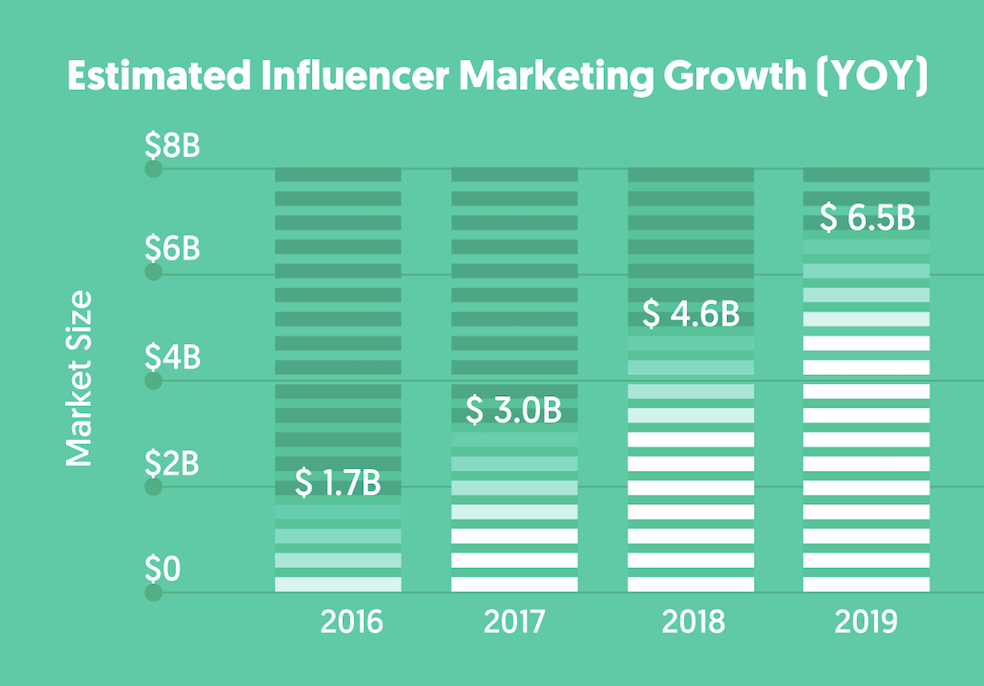 This is why BuzzSumo includes influencer marketing and outreach tools, so you can connect with industry giants to scale your company.
Search for influencers based on keywords, topics, or other filters, and follow them on social media directly through the app.
Build lists and engage with these individuals without ever leaving the BuzzSumo dashboard while you're at it.
Get the scoop on backlinks
It goes without saying that backlinks are very important for ranking.
Without them, you'll be hanging out on the tenth page of Google.
Do you know how much traffic that will drive? Zero!
That's why BuzzSumo offers the ability for users to type in a URL and see all of the links a piece of content has received.
This can be used to study how competitors are building links to replicate their strategy and boost your own SEO.
It's also effective because users can monitor how their backlink building efforts are paying off.
Simply enter the URL of your website or a specific piece of content and view all of the links pointing to it.
Is BuzzSumo free?
Yes, BuzzSumo does offer a free version of their software that allows you to find content inspiration, analyze competitors, and more.
However, it is slightly limited.
You won't be able to change the filters or options beyond the default settings.
I still find it to be very useful, though.
If you're interested in unlocking the full potential of this app, check out their pricing: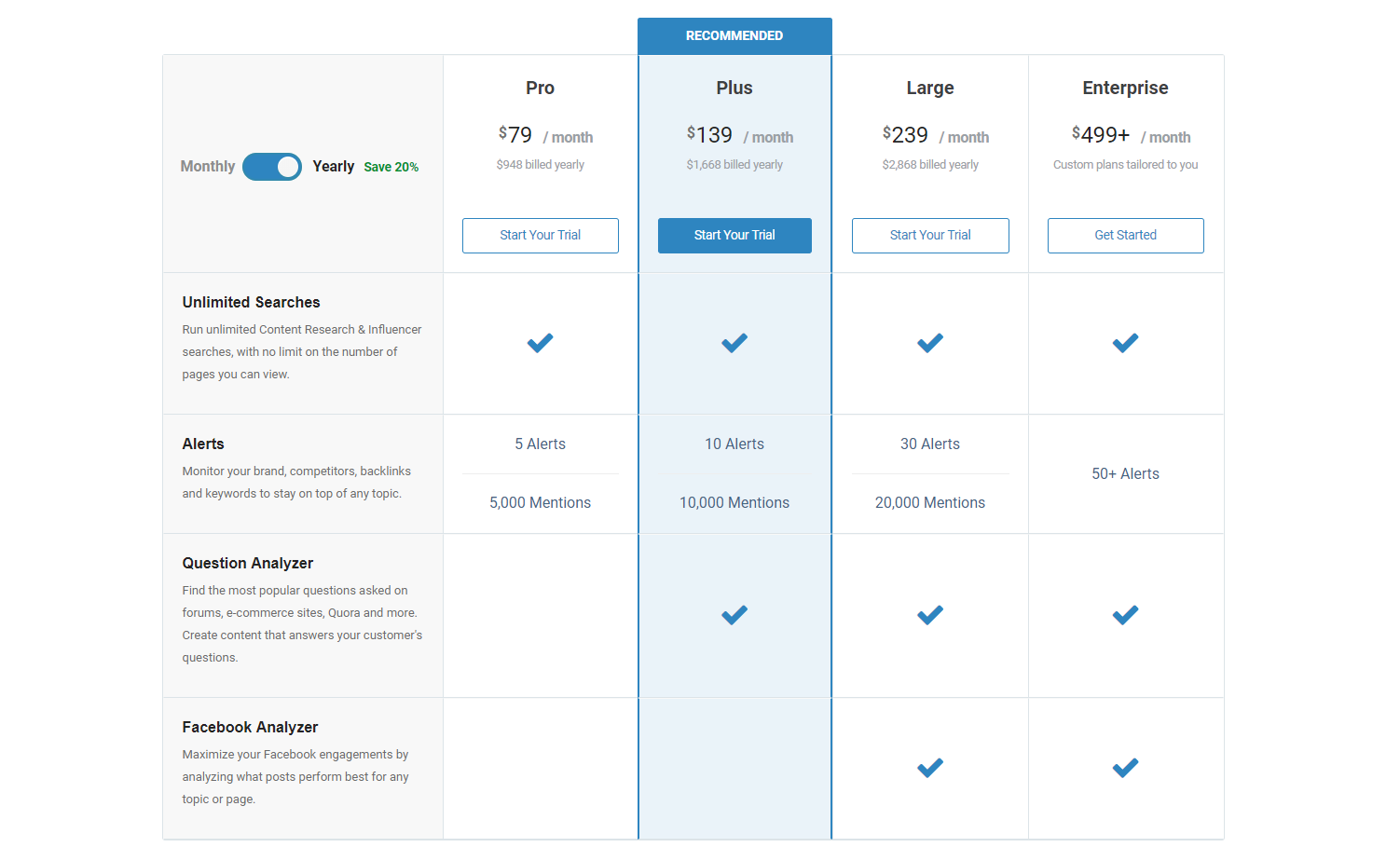 Here's a breakdown of the plans they offer more in-depth:
Pro – $79/month: Unlimited searches, five alerts, 5,000 mentions, one year of data, one to five users, 50 exports, five projects with 1,000 URLs, 10 trending feeds, content analysis reports, and domain reports.
Plus – $139/month: Unlimited searches, 10 alerts, 10,000 mentions, question analyzer, one year of data, 10 users, 150 exports, 10 projects with 5,000 URLs, twenty trending feeds, content analysis reports, domain reports, and top author search.
Large – $239/month: Unlimited searches, thirty alerts, 20,000 mentions, question analyzer, Facebook analyzer, two years of data, fifteen users, 200 exports, thirty projects with 10,000 URLs, fifty trending feeds, content analysis reports, domain reports, top author search, and advanced trending filters.
Enterprise – $499+/month: Unlimited searches, over fifty alerts, 20,000 mentions, question analyzer, Facebook analyzer, five years of data, custom users, custom exports, custom projects, custom trending feeds, content analysis reports, domain reports, top author search, and advanced trending filters.
No matter your budget or goals, there is a pricing plan that is suitable for your business.
But maybe BuzzSumo isn't for you. That brings me to my next point.
BuzzSumo alternatives
There are other tools you can use to enhance your content marketing strategy if you'd like to look at different options besides BuzzSumo. These include:
Some of these specialize in SEO or outreach but still offer many of the features you'll get with BuzzSumo.
I always recommend trying out a bunch of different tools to see which ones stick.
Often you may jump the gun and buy one, only to figure out later another is better.
Wrapping up this BuzzSumo review
Is BuzzSumo worth it? Is it safe?
Absolutely!
It's trusted by some of the largest companies in the world like IBM, Yahoo, and Expedia.
There are heaps of positive reviews and testimonials online about their product and the wonders it's done to help businesses grow.
If you have a content marketing strategy and you want to scale it to the next level, you need a tool like BuzzSumo.
I suggest trying out the free version for a while to get a feel for it, and to determine if it's right for you.
It will help you find untapped content ideas, get ahead of competitors, and connect with industry giants.
What's your experience with BuzzSumo so far?