60% of marketers are committed to producing content on a regular basis. Are you?
Content marketing is the practice of distributing relevant and high quality content to attract a particular audience and then converting them into long-term clients. It is the future of business as we know it.
It doesn't matter if your product is cooler than sliced bread. You still need exceptional marketing to get it in front of people, and content is the perfect way to do so.
Paired with a solid lead generation funnel and SEO, content marketing will have users pouring into your site like people rushing into WalMart on Black Friday.
Today we are going to take a look at some successful examples of content marketing, and how you can replicate their success. Enjoy!
1. Virgin Mobile's campaign with Buzzfeed
Virgin Mobile was one of the initial mobile communication companies to use content marketing via social media. Their goal wasn't just to use content for growing their brand equity, but also for providing enhanced customer service.
So, what did they do? Well, Virgin teamed up with Buzzfeed, an online media company, to create one of the most unique content marketing campaigns in the world.
The collaboration team created a newsroom strategy that ran 24/7. They analyzed social conversations and created brand-relevant and interesting content in response to that. The content was marketing oriented, yet very much aligned to the pop culture.
At the time when the competitors of Virgin were geared more on campaigns for social reach, this company was focused on enhancing their social engagement. This was achieved by highlighting the experience of Virgin customers on social media platforms like Facebook and Twitter.
It gave a sense of importance to users, as they were directly engaging with the business and their voice was heard. The company also gave rewards to its followers on Twitter and Facebook for being apart of the campaign. This strategy is a fantastic example of building trust and relationships with your customers.
In fact, 78% of consumers believe that companies publishing custom content are building a relationship with them.
Main takeaways
The most important thing to take away from this content marketing case study is that brands should focus on user engagement rather than more effort into gaining vanity metrics like followers on social media.
In the end, it is all about impressing your customers with your offers and services rather than fish baiting them into following the brand page. Investing your time and other resources in interacting with followers will definitely pay off in the long run.
2. Toshiba's smart community
Toshiba smashed the conservative beliefs of content marketing only being effective for B2C markets, as they were able to use it effectively in a B2B campaign.
Toshiba started a "smart community" campaign in the year 2011; a campaign focused on renewable energy solutions offered by the company.
The brand used their new group to promote renewable energy content while making people aware of how they can make environmentally friendly choices.
This project turned into a huge success by putting an emphasis on SEO techniques. The phrase "smart community" was one of many search terms that Toshiba targeted, for example.
They also invested in scaling their off-site search engine tactics, which led to a gain over 160,000 followers on Linkedin alone.
Furthermore, Toshiba once again came up with a master plan to promote the company. They have been educating customers on the Affordable-Care Act and other different medical issues by collaborating with a popular economist.
This was a remarkable social awareness campaign and made Toshiba stand out among its competitors.
Main takeaways
The major takeaway from this case is that SEO techniques, when used wisely, can drastically boost the ROI of your content marketing plan.
The first step is to use keyword research tools to find phrases you can center the campaign on.
From there, you need to build exceptional content and execute backlink build campaigns. These include guest posting, broken link building, and general outreach.
Check out my Toronto content writing services if you need this done on your behalf.
3. IBM
IBM is a pioneer in the B2B and technology industries. With many different products and services, they needed a way to stand out and attract more customers.
Also, IBM is known to have a different strategy and a unique campaign every year. This is why they began investing in various forms of content marketing, as it helped them generate leads and increase brand awareness.
If there is one form of content that IBM has no shortage of, its educational content. Their accumulation of knowledge and expertise over the years was funneled into content that users could enjoy.
This included blog posts and videos, but most importantly they focused on working with influencers.
Leslie Reiser, the director of digital marketing at IBM, said "We're identifying the right influencers that align with our business priorities. Those priorities align with our product and service portfolio. For example, we have identified and nurtured relationships with bloggers who specifically focus on cloud computing, or business analytics, or data security in that mid-size business space."
The company's useful content has made it a leading authority today. It is a great example of how producing content can completely reshape how your business operates and is viewed.
IBM has circulated high-quality educational videos to various sharing platforms, further propelling their reach, as well.
Main takeaways
Ensure that you take advantage of influencers in your industry to have them promote your content. Working together with related brands will place your content in front of a much larger audience. As a result, you gain referral traffic, leads, backlinks, and other benefits.
I wrote an article recently on partnership marketing that touches on this topic in-depth if you'd like to learn more.
Secondly, not how IBM published various types of content, from videos to blog posts and guides. You should, too.
Creating the same kind of content over and over can become boring for both you and your audience. To circumvent this, create a balance of different styles and formats of content.
For example, you can write blog posts on certain days, but put together videos on others.
You should also read my SaaS marketing article to learn more about growing your company.
Do you use Linkedin? Of course, you do! It is the most used marketing channel in the B2B market, as you can see from this infographic.
The platform has emerged as an internationally-recognized website in such a short time span. It has become one of the top media networks in the world among professionals and business owners.
Initially, the struggle was real for LinkedIn when its biggest competitor was Facebook.
Competing with a giant phenomenon like them was not easy, but with some smart content marketing ideas, LinkedIn has grown exponentially in a little amount of time.
But Linkedin didn't go the standard route of producing blog posts, podcast episodes, or YouTube videos. They did something much, much different.
What do you ask?
Offering tools.
Creating software and giving them to your user base is essentially the final frontier of inbound and content marketing. There aren't much better things you can give than that.
That isn't to say that LinkedIn didn't create many kinds of content forms like advertisements, articles, images, infographics, informational videos, and GIFs.
These are the base of any solid content strategy, and need to be made, but the marketing wizards at LinkedIn wanted to do something special.
This is why they created tools like TeamLink and Sales Navigator for improving the productivity and lead gen efforts of its users. The company understands that heaps of marketers use the platform to find opportunities, and they aligned their new tool with that.
Want to know what the result of their campaign was? A 50% rise in how many leads converted to meetings!.
Main takeaways
The major takeaway from this successful content marketing case study is that offering useful tools can be one of the greatest things you implement into your content plan.
What do your customers, clients, or users enjoy or want? This information should reflect the type of tool you make. For example, Neil Patel acquired the keyword research tool Ubersuggest and has made it an integral part of his inbound strategy.
5. Microsoft's Channel 9

Channel 9 is one of Microsoft's best content marketing campaigns.
It's a platform run by developers and technicians who work for Microsoft and want to share information about development.
You can see on the front page that content focuses on API, machine learning, and computer security. They've niched down and found a small audience to please.
Furthermore, they are very adamant about Channel 9 being value driven and not used as a lead gen tool as you can see on the about page.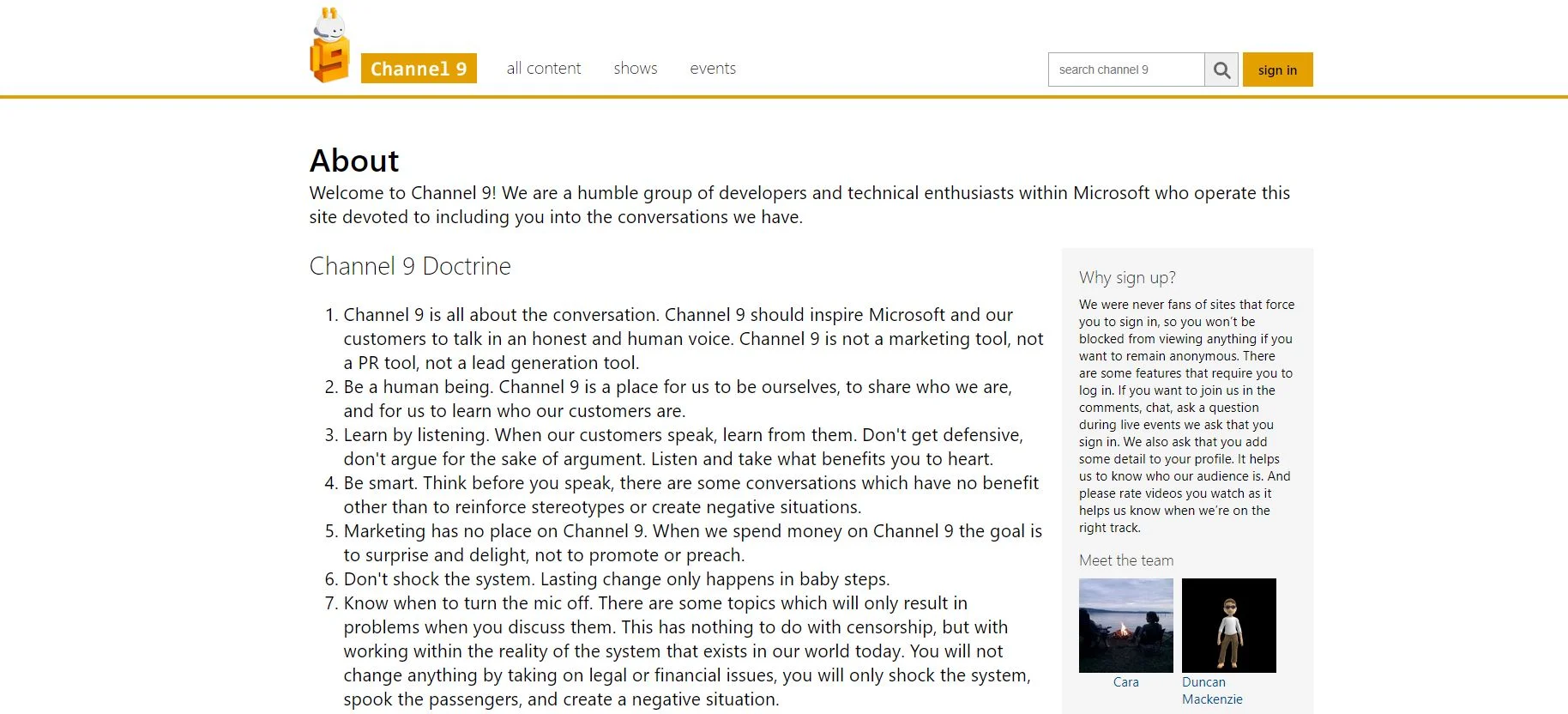 This a great example of being transparent with your audience and laying down your values so they understand what the website is about.
And Channel 9 is nothing new. It started back in 2004.
That's right. They've been growing this blog for 15 years! How long have you been?
Besides consistent content on the website, Channel 9 also hosts events customers can attend like summits and conferences.
These further allow Microsoft to promote their products and services while improving the lives of customers.
Main takeaways
Finding a small audience to target is crucial for content marketing. You don't want to cast too wide of a net or you risk attracting lots of irrelevant users to a website.
That's where a buyers persona comes in. Brainstorm the demographics, interests, values, and problems of your customers. Reference it every time you produce content to ensure it aligns.
Additionally, companies need to consider hosting live events as they are becoming much more popular in modern marketing.
Even a small Meetup group is a great way to begin. If you're going that route, don't miss my previous article on how to grow your business with Meetup.
WyseTrade is a company that offers a course on how to trade the Forex markets effectively.
They teache day and swing traders how to improve their trading strategies, risk management, and more.
While WyseTrade could've spent heaps of money on PPC ads or other forms of native advertising, they decided to educate instead.
They were able to go viral on YouTube by producing actionable and simple trading videos.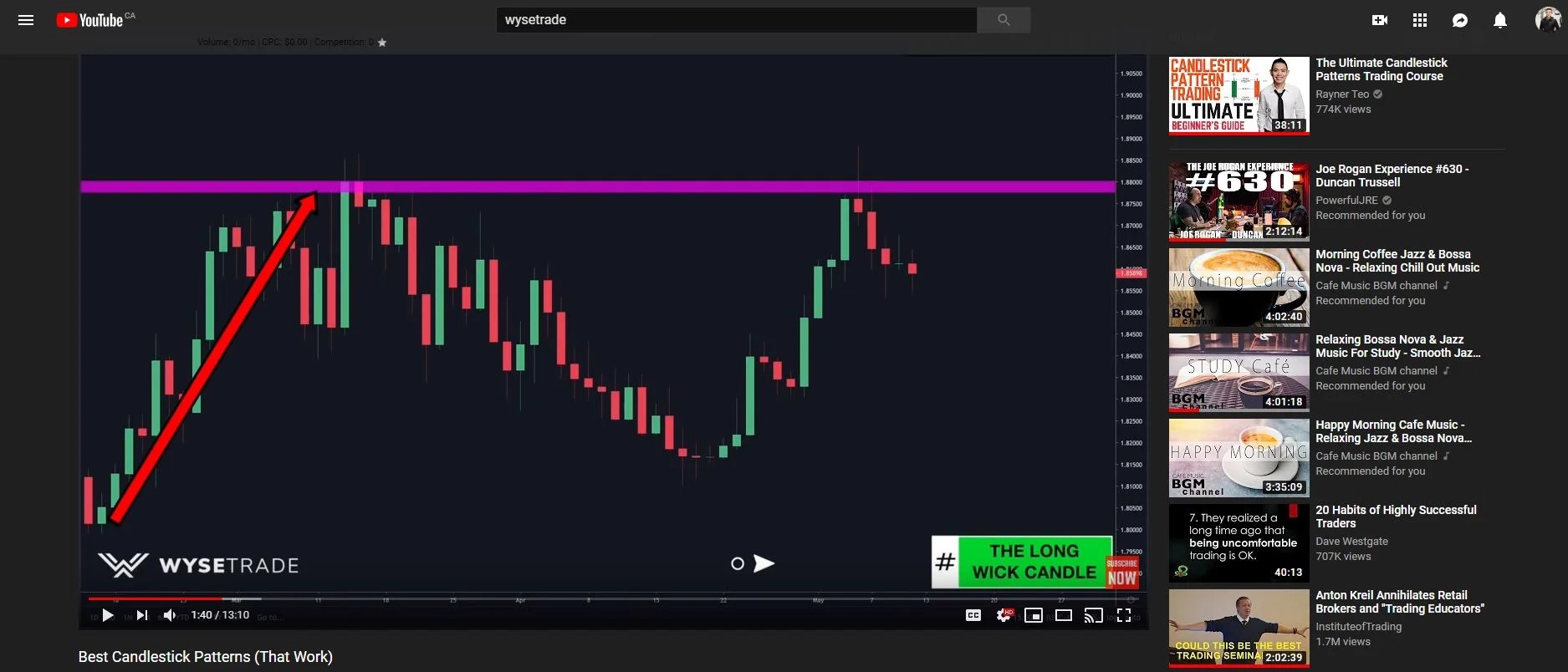 I can tell you as someone who trades myself that YouTube is cluttered with boring and useless trading content.
WyseTrade is a breath of fresh air.
Some of their videos have surpassed the one million viewer mark and they have amassed a huge email list thanks to the traffic.
You can tell a lot of time goes into the editing and production of these videos because they flow so effortlessly.
Main takeaways
Some times simplicity is best. If you don't want to do something out of the box, just publish extremely great content for a niche audience.
Make it practical by showing users how to perform strategies and techniques step-by-step, as well. With so much fluff on the market, you'll stand out like a sore thumb this way.
Another lesson to learn from this content marketing study is capturing users.
Don't let viewers and website visitors leave without taking some form of action to stay in touch with you. In the case of WyseTrade, they built a massive email list with a simple optin form.
7. Anton Kreil's contrarian content marketing strategy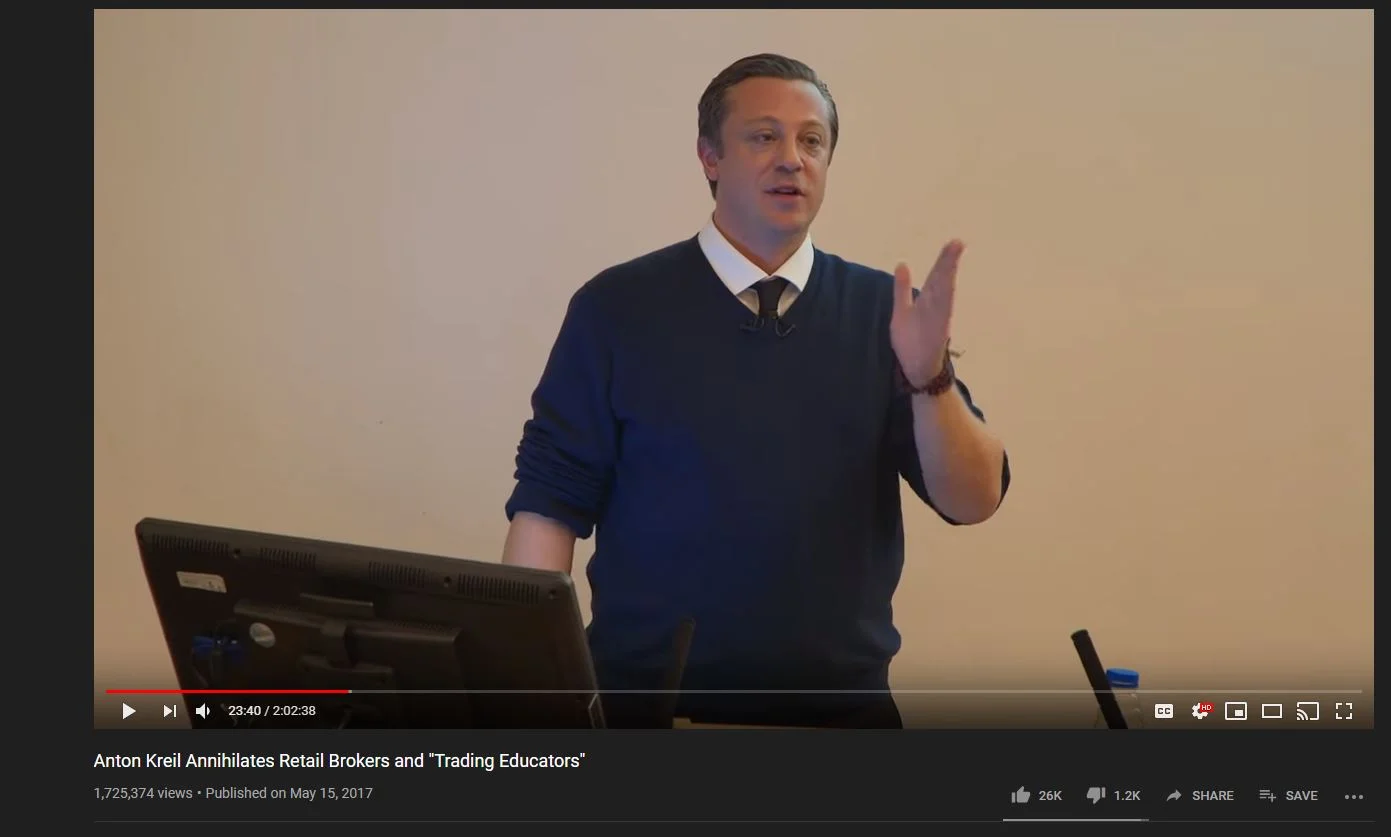 Anton Kreil is an ex-Goldman Sachs trader who has been exposing the retail trading industry for nearly a decade.
Instead of publishing content about typical strategies and ideas like the rest of traders on YouTube, Anton goes against the grain.
He claims that everything you find online is incorrect and will lead you to losing money based on his experience trading with some of the largest financial institutions in the world.
Kreil's following is mostly built through YouTube but he also hosts live talks and meetups afterward.
This works very effectively because it's different. He's one of the few financial instructors on YouTube that doesn't spew out the same information over and over.
His strategies and ideas are very unique and not talked about much in the retail trading community. He also drops a lot of hard truths related to patience, hard work, and sacrifice.
I've watched hours of his content and I can confidently say as a marketer that even I get hooked. It's that great.
Everything from the data backing up his claims to the contrarian viewpoints makes you drool for more.
Main takeaways
Leverage your authority to build trust with an audience and don't be afraid to name drop.
In the case of Anton, he had traded for some of the largest banks and clearly knew his stuff. Imagine how hard it would've been for him to grow a brand if he never traded professionally.
Secondly, going against the grain can be a very effective approach for content marketing. This is because you instantly separate yourself from the industry and create a unique brand image.
If you're a financial company like the one Anton runs, don't miss out on my financial copywriting guide, as well.
8. Salesforce webinars

Unless you've been living under a rock, you know that Salesforce is the largest CRM company in the world.
They're also a huge advocate of content marketing for growing a brand, especially through the use of webinars.
Webinars are free or paid live video seminars that an audience about a relevant topic.
In the case of Salesforce, they touch on CRMs, digital transformation, and employee satisfaction.
Note how these topics directly relate to the product they sell, too 🙂 This means they attract high quality users who may be interested in trying a demo later.
They also ask for your contact information when you register for a webinar, getting you into their funnel.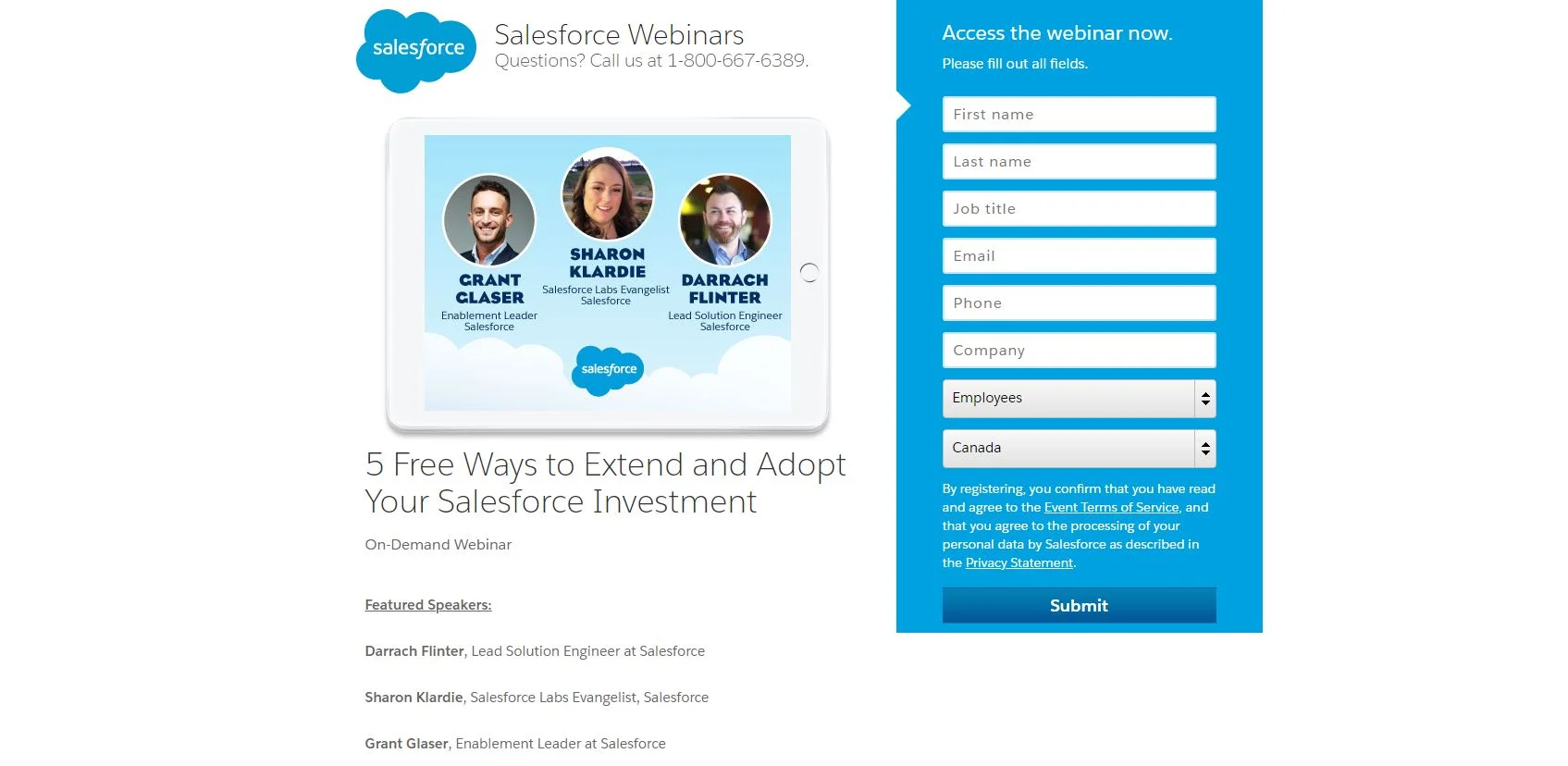 You can begin offering webinars to your audience like Salesforce for free via YouTube. Simply choose the "Go Live" option and share your screen with a slideshow planned out ahead of time.
Main takeaways
Webinars are becoming one of the most widely used forms of content.
Whether you want to invest in paid software or keep it simple with a platform like YouTube, businesses can easily start hosting their own webinars for customers to attend.
Cover topics that relate to what you sell so you can intertwine it with your funnel, as well. One of the easiest ways to do so is via collecting information during the webinar registration.
I recommend reading my article on content marketing trends to stay current with what works and what doesn't, too.
Wrapping up
Content marketing is essential for any modern business. It helps attract backlinks for SEO, higher levels of website traffic, and ultimately paying customers.
There are many things we can learn from the top performing companies that take advantage of producing content.
The first of which is to put an emphasis on community and user engagement like Virgin Mobile did. This can be accomplished through social media engagement and giving customer's a voice.
Secondly, businesses can tie their content marketing strategy to a cause like Toshiba did. Whether it's about the environment or a social issue, consider how you can change the world and educate people on an important subject while marketing content.
You should also work with influencers in your industry to have your content promoted in front of a wider audience. It has to be mutually beneficial, so brainstorm ways you can help the partnering business grow at the same time.
Lastly, take a note from Linkedin and produce free tools that will attract users to your business.