Generating enough leads to sustain a business is a common struggle.
As a matter of fact, 85% of marketers agree that lead generation is their biggest marketing priority.
Is it for you?
If so, you're in luck.
Because today I'm going to be showing you how to create lead magnets, set up a funnel, and explode the number of leads you get on a regular basis.
Let's get into it.
What is a lead magnet?
A lead magnet is a free resource that is offered in exchange for contact information.
It gets leads into your sales funnel without lifting a finger.
You might've noticed that some websites will ask for your information before downloading certain material.
That's a lead magnet 🙂

The best part about taking this approach is that everyone wins.
You get a high quality prospect's information while subscribers get free resources to improve their lives and businesses.
Get a free e-book lead magnet template here.
Since leads took the time to sign up, they have a much higher buying temperature, too.
But here's the thing…
Lead magnets aren't going to get you a nonstop stream of leads simply because you publish them.
You need to set up an optimized funnel along with it. Let me explain…
Lead magnet marketing explained
Marketing with lead magnets involves creating a funnel that takes users from one place to a squeeze page.
You collect their information in between and use it for marketing later on to turn these leads into paying clients.
Here's how these funnels are typically set up.
Step 1: User sees a call to action for the magnet
While the lead magnet funnels can be set up in different ways to align with your individual business and audience, it typically starts with a call to action.
This is a phrase which tells the user to navigate to another page for a free download.
It can be done in the form of text, a popup, a banner, or another design element.
It's common to place a call to action within content that guides users to the page for downloading the magnet.
Look how Marketo creates several offers at the end of this blog post, one of which is a lead magnet business report:
This brings them to the second step…
Step 2: User lands on the lead magnet landing page
Once a user has clicked through to the lead magnet landing page, this is where the magic happens.
Often these pages are just a few hundred words maximum to collect users information as fast as possible.
If the resource is good enough, it will sell itself but good copy is always mandatory.
Here's an example from MessengerPeople for a whitepaper they offer: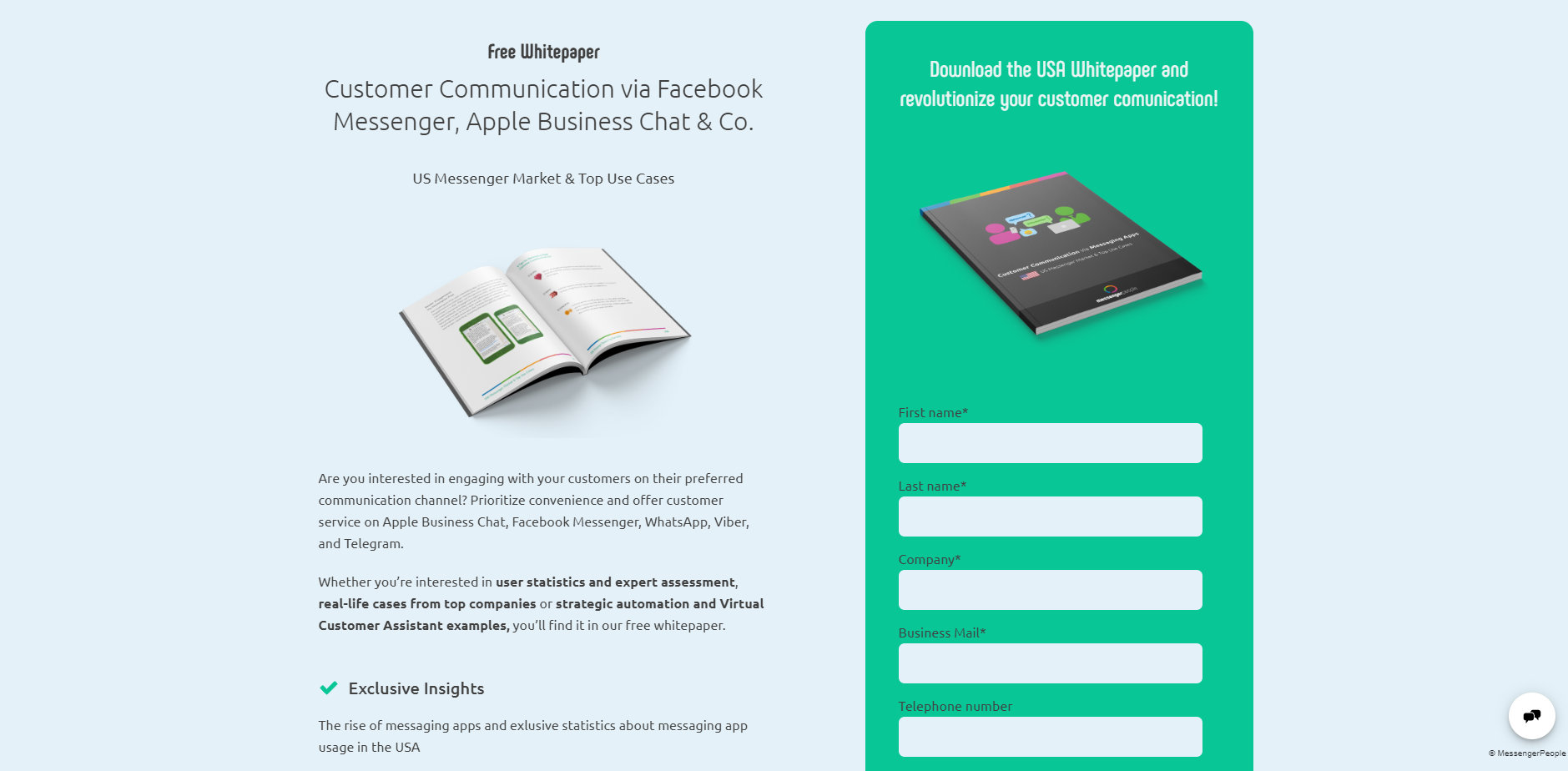 The squeeze page is very simple.
The left side contains a couple of hundred words about what the user will learn by reading the whitepaper.
Once again, you don't need tons of content on a squeeze page. Write enough copy to cover the benefits of the resource to increase conversions and that's it.
Continuing, the right side of the page has the lead magnet form. I recommend that you keep them as simple as possible. This will reduce the chance of users bouncing because you're asking for too much information.
Alternatively, you can include numerous fields but make some of them optional.
Learn more about landing pages here.
That brings me to my next point.
Step 3: You send them an automated email campaign
Your subscriber list is like a loaded gun.
If you're not careful with it, you must just shoot yourself in the foot.
What I mean by this is that you have to respect subscribers privacy and only send valuable emails.
Otherwise, you risk experiencing a high churn rate and many people opting out of the list.
With that in mind, however, you can now successfully push these users through an automated email campaign.
a consensus performed by the companies Econsultancy and Adestra found that a majority of respondents experienced good to excellent ROI with email.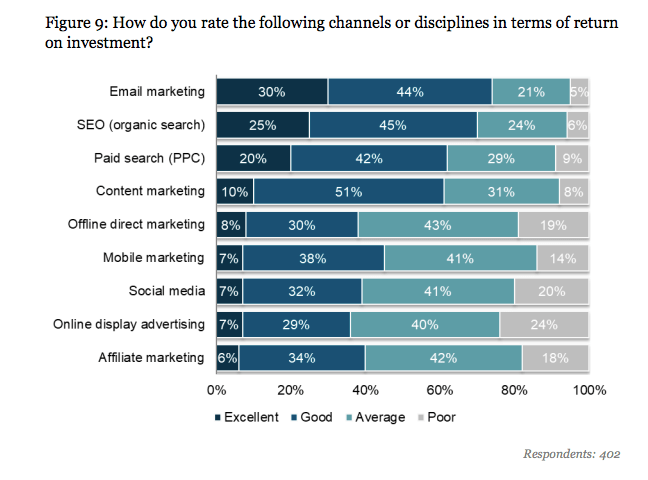 This is important to note because some entrepreneurs think email marketing is dead.
The truth is that it's very far from ineffective.
Managing a basic automated email campaign can get you the leads you've been so desperately trying to acquire.
But there's one major rule when it comes to email that you need to remember:
You have to offer as much value as possible and then ask for the sale later.
It might be you pitching your services or promoting your latest product after sending several blog posts, tips, and stories, for example.
Gary Vaynerchuk calls this the "Jab, jab, jab, right hook" approach. You can hear him talk more about it in this video:
Thanks to email marketing automation tools like Mailchimp, you can quickly set up drip campaigns that are set-and-forget.
You simply connect your email, create a new campaign, customize templates, and schedule it.
After this, you can kick your feet back while the leads roll in 🙂
I recommend watching this free email nurture webinar to get a better idea of this process, as well.
Next, I'd like to give you inspiration for lead magnets themselves.
Lead magnet ideas
Coming up with lead magnet ideas can cause a couple of grey hairs.
Don't worry, though. I've put together a list of different resources you can offer to collect lead information ahead.
One of the most common and effective lead magnets is a free e-book.
It's easy to create and consume which makes it convenient for both parties.
Seeing as e-book sales are steadily climbing each year, it's one of the most enjoyed forms of content.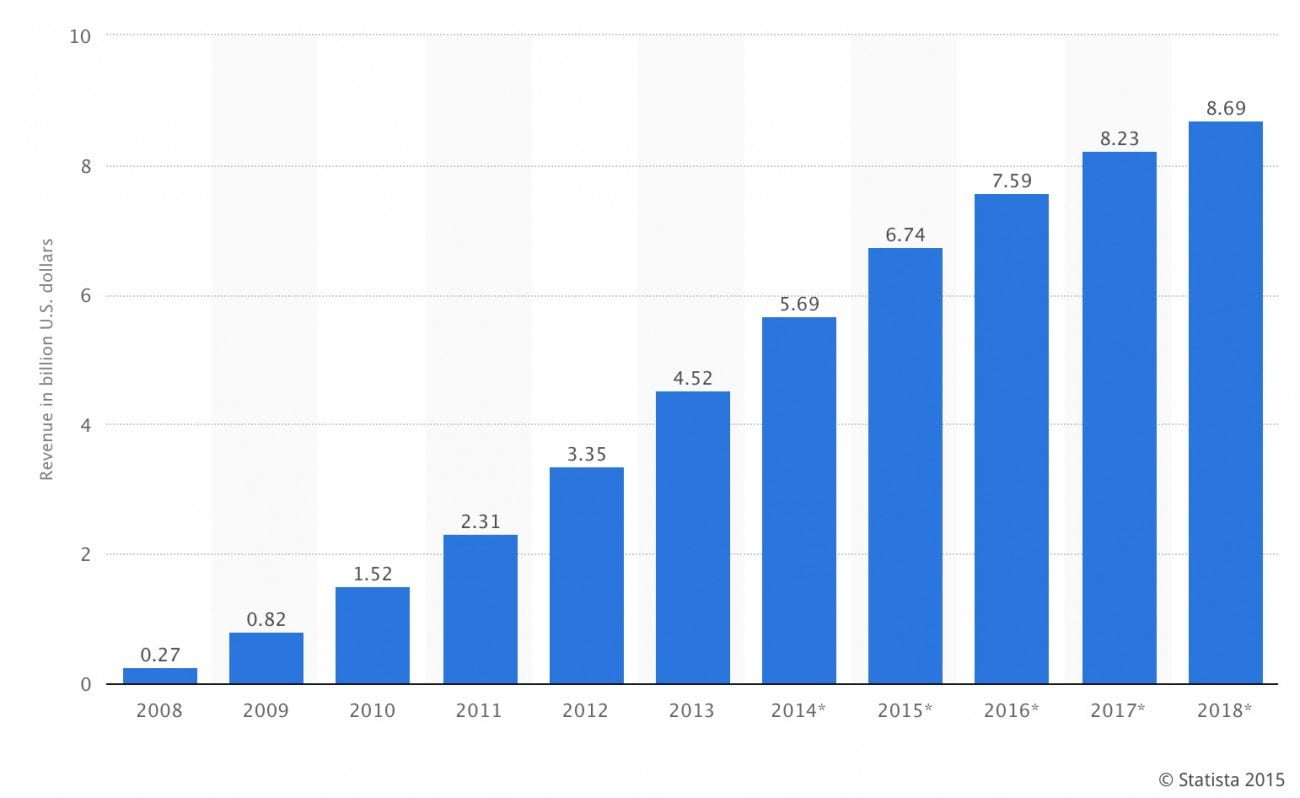 E-books don't have to be lengthy novels, either. They can often be 10-20 pages of bite sized wisdom.
I recommend creating an e-book around practical industry-related tips. This makes it more beneficial and enticing for the reader.
You can offer it to subscribers as a PDF file that's instantly downloaded or sent to them after opting in.
2. Put together a whitepaper
A whitepaper is an academic and authoritative paper that attempts to convince the reader about a particular subject.
It uses data, studies, and scientific sources to back up a major point which it covers.
Whitepapers are often used as middle-of-the-funnel lead magnets as they are more intense and informational compared to other forms of content.
This means that users who download a whitepaper are more likely to be serious about learning about the industry and topic, giving them a higher lead score.
Whitepapers can take weeks to months to finish, as well. They are supposed to be very well referenced, sourced, and professional.
Lots of energy and time goes into writing, formatting, and designing whitepapers.
Here's another reason why…
Let's imagine that you are an AI company, for example. You produce a whitepaper on how using machine learning is necessary for the future of business.
Wouldn't you want it to be the most absolute convincing piece of evidence to exist?
That means you'd convince more readers they need to use machine learning, and you can mention your services within the whitepaper to acquire clients.
3. Make a case study out of previous clients
A case study is a detailed study of how a business achieved certain results thanks to your services.
This acts as social proof and evidence of what you can generate for future clients.
Case studies typically give background on the business, what their problem was, and how you solved it.
The key to a case study that converts well is to use plenty of data and make it as relatable as possible to readers.
What I mean is that don't make generic statements, but rather display analytics, revenue increases, and other precise metrics.
Additionally, speak about the client's problem in detail and in a way that the readers can relate to.
4. Give them a handy cheat sheet
The easiest lead magnet any business can make is a cheat sheet.
This is a one or two page PDF file that contains a list of helpful tips, advice, and strategies.
It's often used to summarize blog posts and placed at the end as a download for users to reference later.
Imagine if you had 100 blog posts and placed a cheat sheet at the end of each article. That'd be 100 lead magnets collecting potential clients!
5. Educate subscribers with a free course
Knowledge is power.
Some courses also run for thousands of dollars, so users will be flocking to your squeeze page when you offer one for free.
You don't have to be a college professor to make a great online course, either.
They can be made in a couple of different ways.
The first, which I recommend for new course creators, is an email course.
This sends users a new course module every day via email and doesn't require any fancy software besides a free automation tool.
You could make a seven-day email course and drip a course unit every day for a week to subscribers.
The next option is to use a service like Thinkific.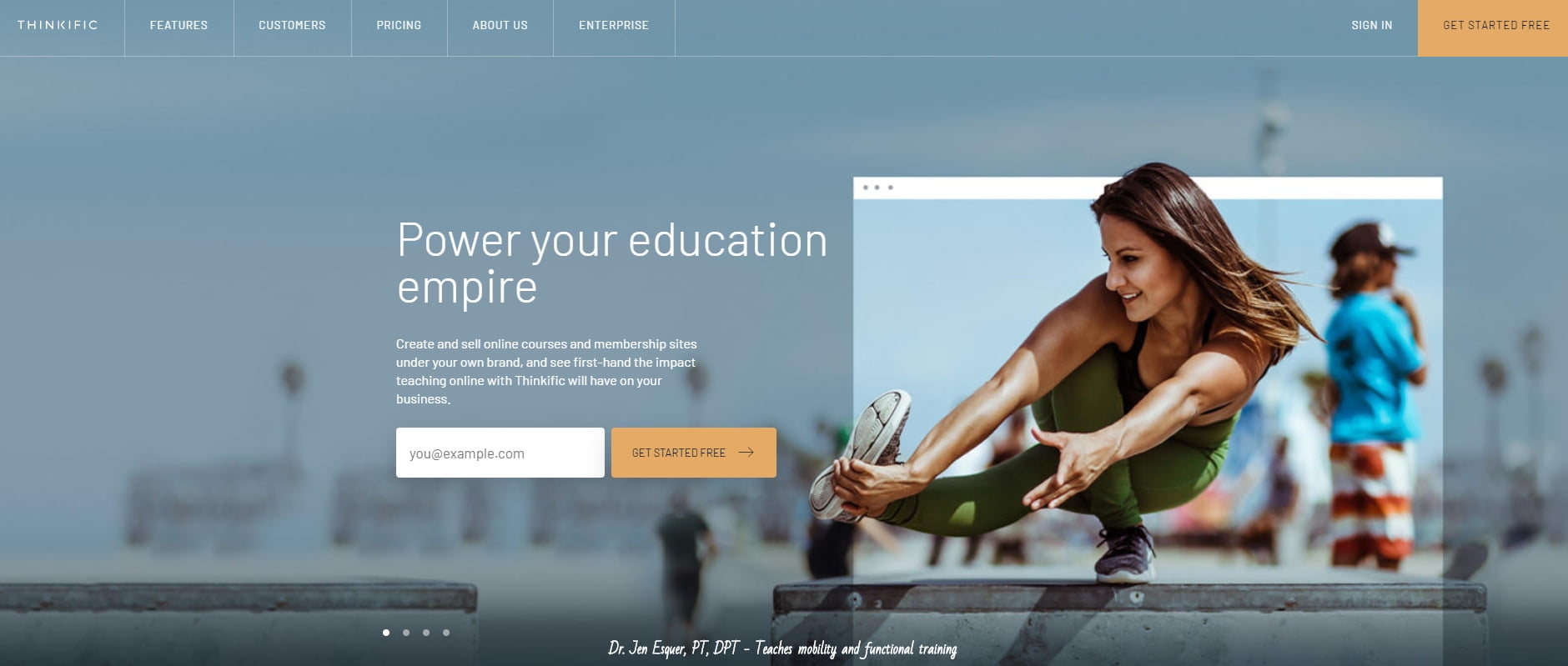 Platforms like this will give you a custom website and all of the tools you need to make professional and optimized video courses.
You can set the price to free and funnel users to the course after they've signed up.
6. Webinar
Last but not least is a webinar. These are live presentations you do to teach viewers about something related to their industry.
They can be pre-recorded or performed live to subscribers depending on what approach you'd like to take.
In fact, you can always do live webinars and then offer them later to users who weren't able to attend.
It's an excellent opportunity to upsell your services, as well.
Check out how Kapost uses their previous webinars to generate leads.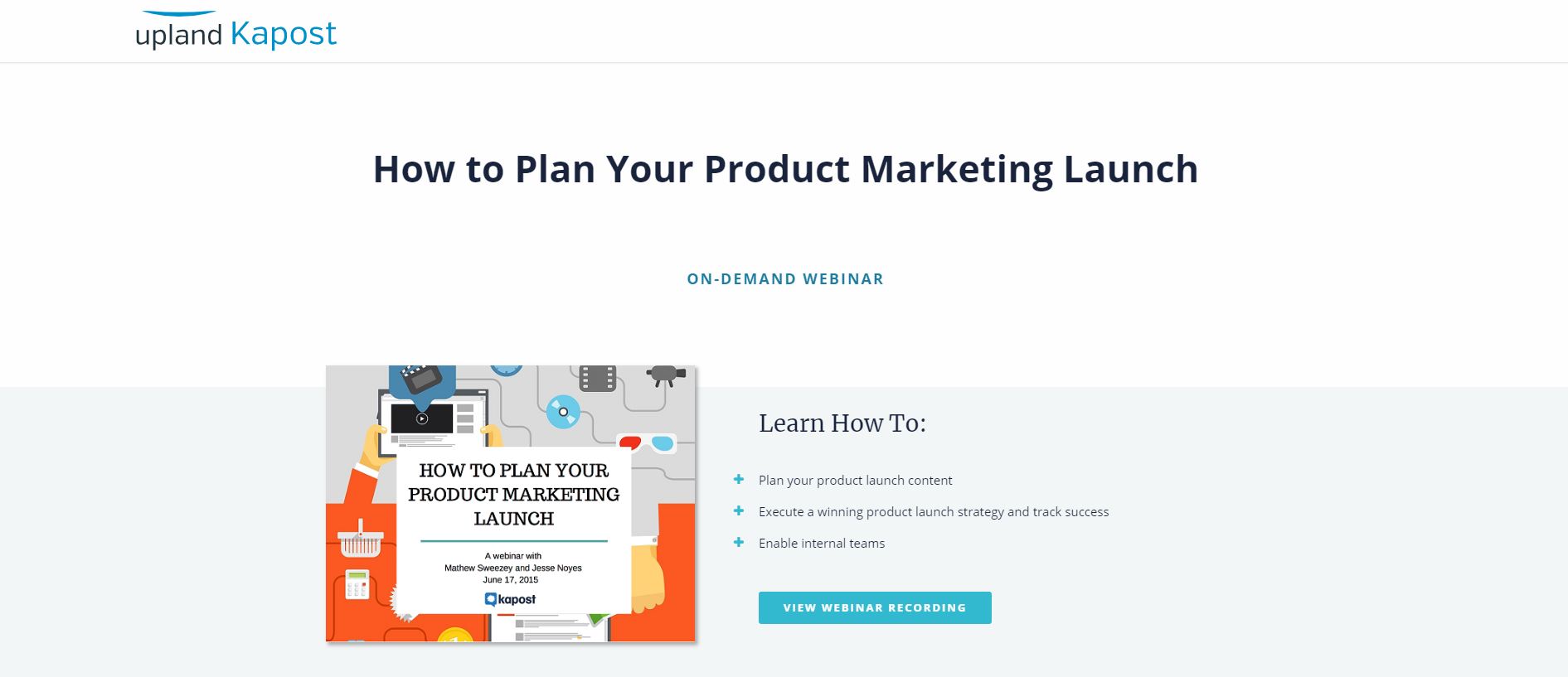 The squeeze page is very straight to the point. It features a title, image, and a quick description of what the webinar will teach.
Below this, there's a quick overview of the hosts, and finally the opt-in form.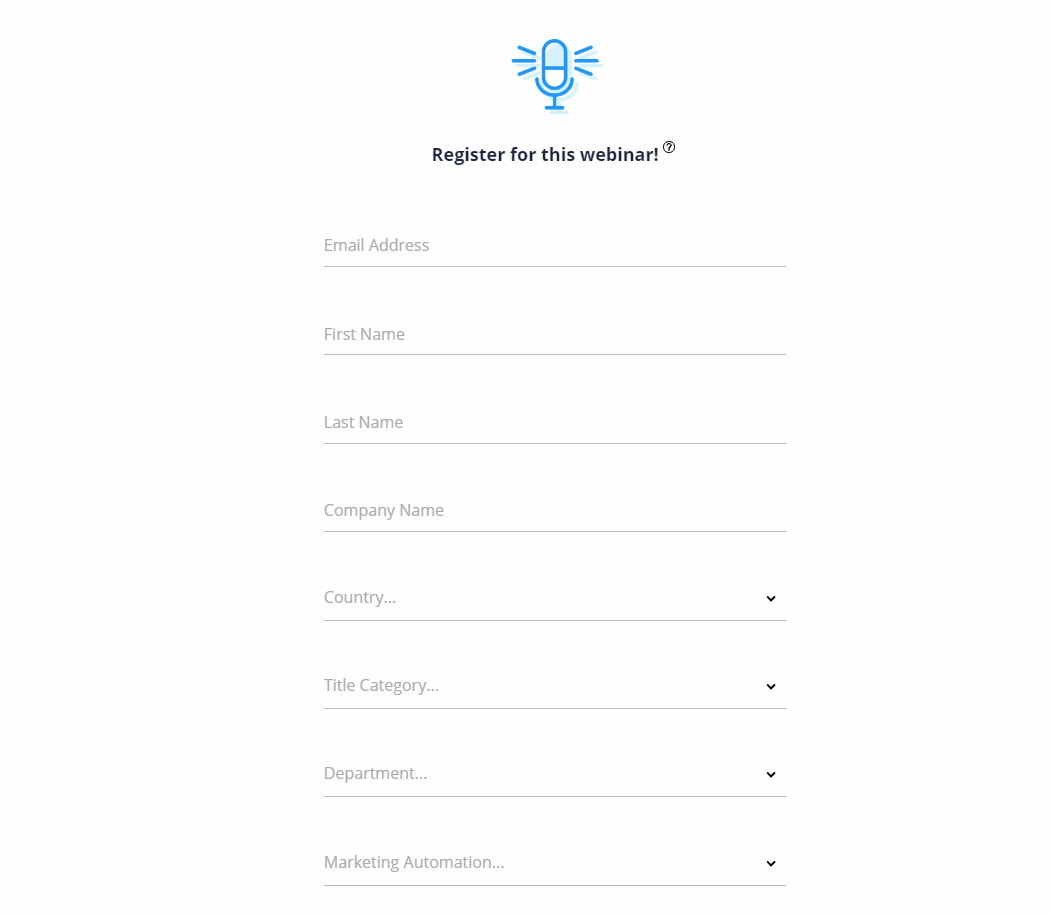 Now I know what you're thinking…
"How the heck do I even make a webinar to begin with?"
Simple.
You first need to sign up for a webinar tool like Zoho Meeting which you can try for free by the way.
Then you need to decide on a topic that leads would love to learn about.
It should solve a problem they're experiencing or make them more competitive in their niche.
Webinar tools will allow you to broadcast your screen, interact with a live chat, take polls, and more.
This also means that you need to be prepared before going live.
Keep things simple by creating a slideshow that you can narrate.
Every slide can cover a different point which you can elaborate on it as you do the webinar.
I suggest ending every webinar with a call to action for your services, product, or another resource such as a free consultation. This keeps the momentum of the lead gen funnel moving forward to a sale.
Final thoughts on using lead magnets
Lead magnets are a crucial and mandatory step for generating leads.
They allow you to improve the lives of users while also acquiring more clients.
Simply put, a lead magnet is a free resource such as an e-book, cheat sheet, or course that's exchanged for contact information.
Lead magnets can be promoted within the content, through popup boxes, or other marketing channels.
Make sure to get your free landing page templates to maximize lead magnet performance.
Then, focus on making straightforward squeeze pages to ensure that users sign up as quickly as possible, as well.
Additionally, you should optimize forms to ask for as little information as possible unless it's essential for your company.
If you follow these steps, I can guarantee that you can look forward to more leads 🙂