So you want to be a good copywriter, huh?
Then you'll have to learn from the pros.
There are countless professional copywriting courses you can enroll in to become an amazing writer practically overnight.
They teach you all of the strategies, techniques, and processes you need to know to be an amazing copywriter and turn it into a lucrative business.
Look at a copywriting training course as an investment. You spend a little bit of money now, and you get lifelong skills and high paying clients later.
That's why I'm going to be covering some of the best courses on copywriting available today.
Ready to become a professional copywriter?
Let's dive in!
AWAI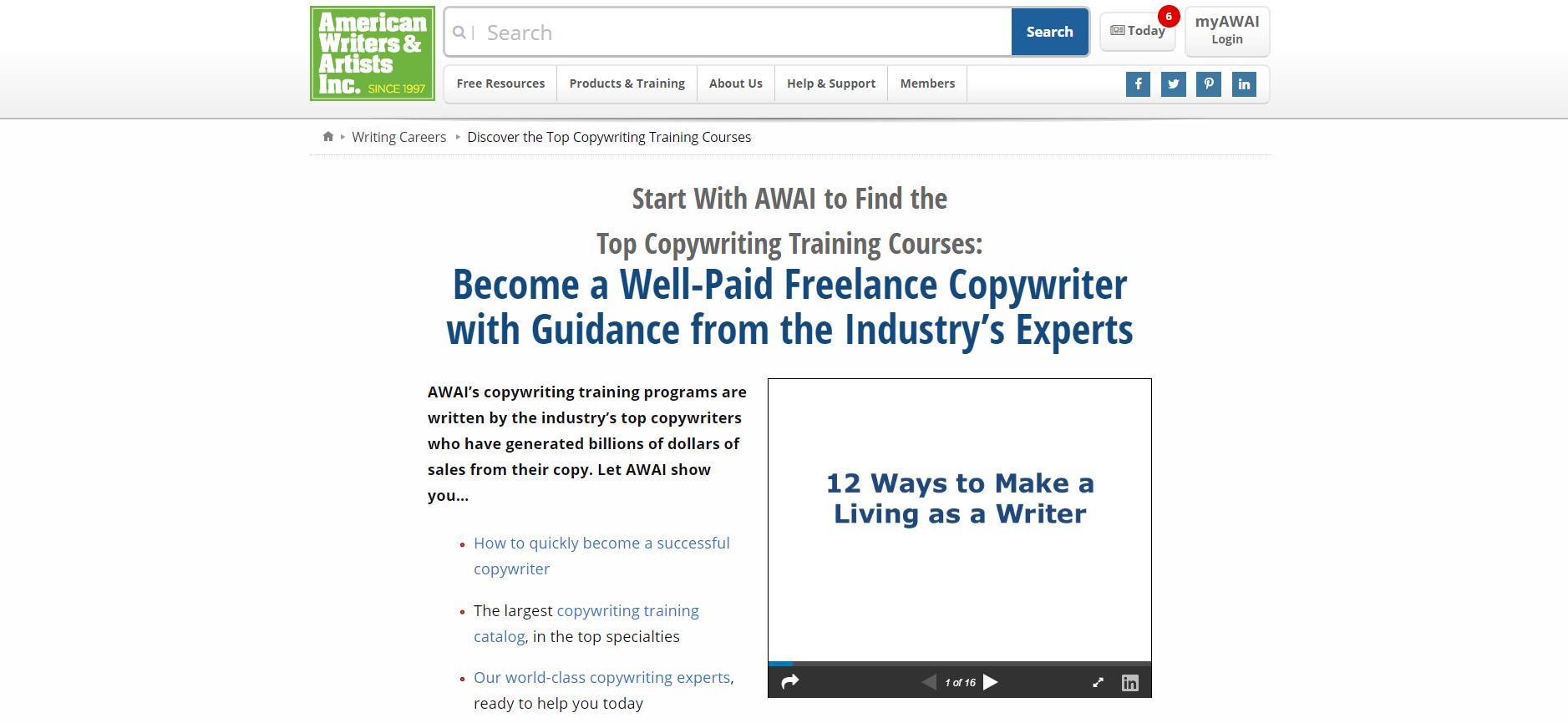 The American Writers & Artists Inc. copywriting course will show you how to become a high paid writer and is taught by some of the best copywriters in the world.
AWAI's course focuses on direct response copy, web content, business material, social media content, and more.
It will prepare you to work with a large number of clients and projects, making you very versatile.
You will also gain special access to their writer's community to network and ask questions.
How couldn't you be an incredible copywriter after learning from people like this?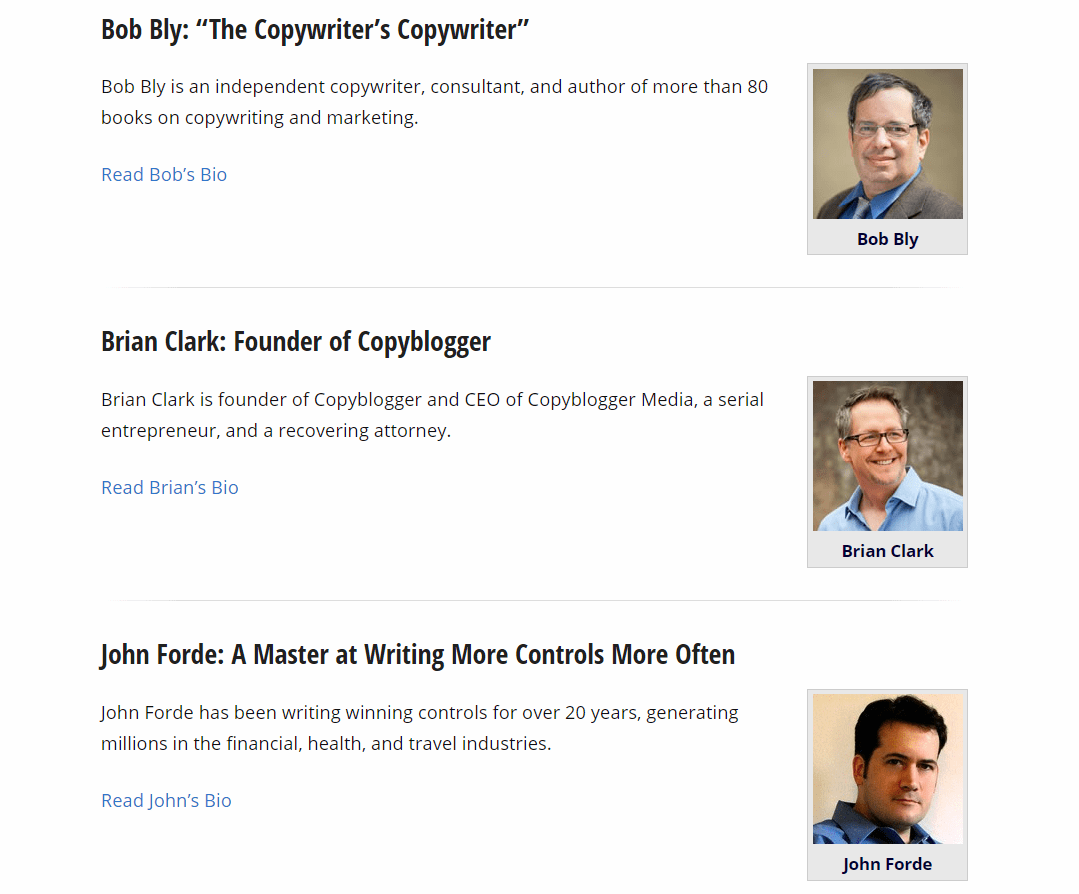 AWAI also offers several different levels of training depending on your skill level and goals.
Their "The Masters Program for Six-Figure Copywriting" is currently priced at $1150.00, but you can try it risk-free for two years.
Is the AWAI copywriting course worth it?
I get it. Justifying $1,150 for a course can be tough. You want to make sure you get your money's worth and don't get scammed.
Dan Furman from Clear Writing wrote a great review on AWAI's course stating the following: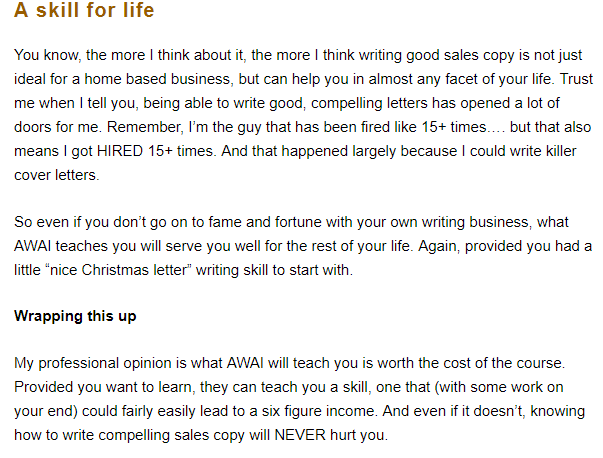 He makes a great point by stating that learning how to write compelling copy can't hurt, and it can turn into a six figure career.
Like any other digital product, it's all about what YOU put into it.
If you try very hard to learn, become a better writer, and get clients, then it will be worth it.
Heck, even Copyblogger recommends it.
Remember that you can always get a refund, too.
This means that you can try out the course to see if it feels right and get your money back if it isn't.
Copywriting Masterclass by CIM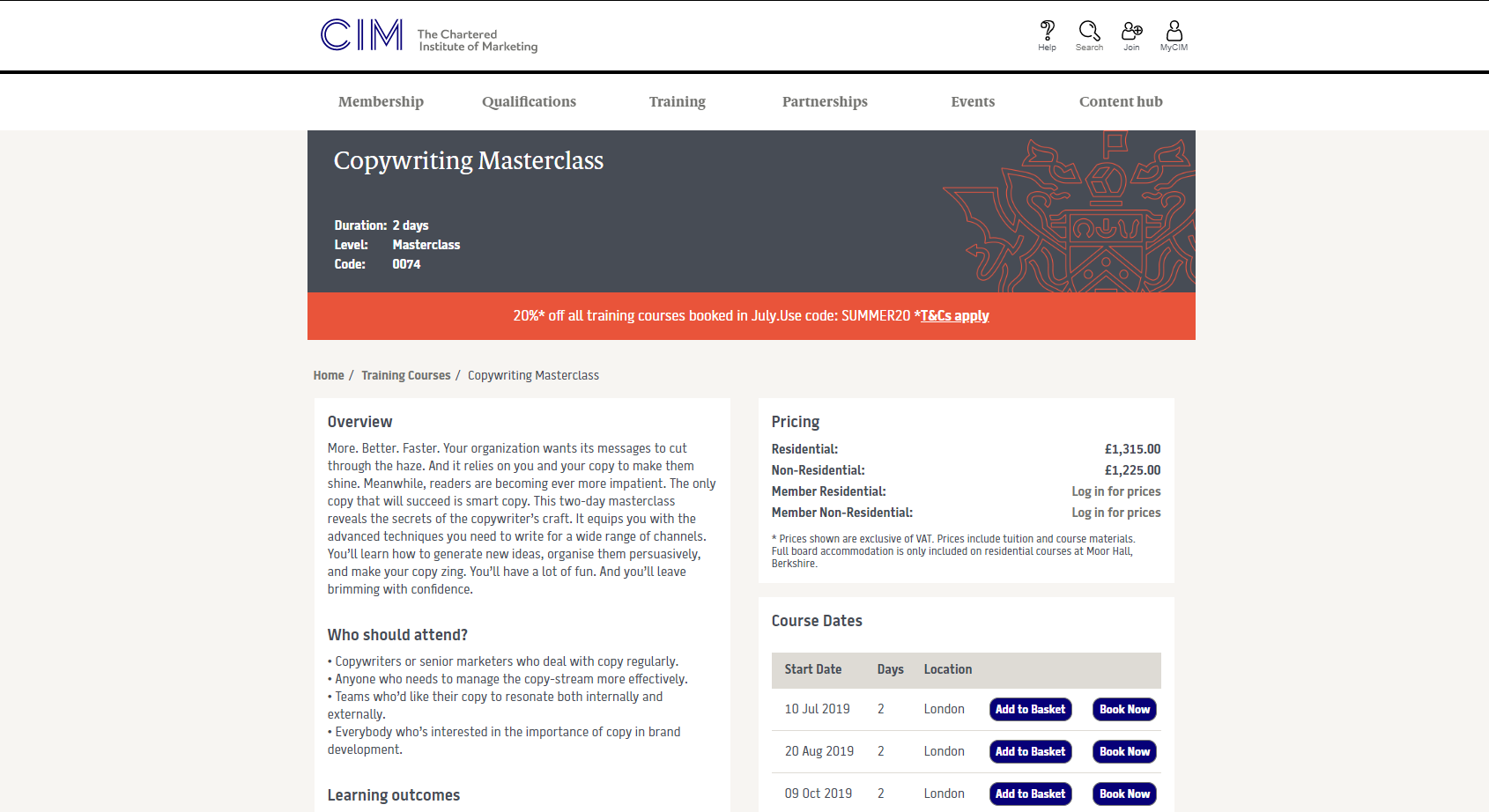 The Chartered Institute of Marketing offers a live copywriting masterclass of the course of two days.
It's made for copywriters, senior marketers, freelancers, and anyone that deals with copy on a regular basis.
The two-day class teaches students all of the industry's secrets to become the best copywriter. You will be able to write effectively for many different channels, persuade customers, and generate new ideas on the fly.
You will also learn about tone/voice, managing copy briefs, proper editing, and more.
The course is directed by Alan Barker, a specialist in communication skills with over 20 years of coaching experience. He frequently works in London as a consultant and has written 18 books.
The CMI copywriting course is currently priced at £1,315.00 for the residential package and £1,225.00 for the non-residential package.
Institute of Data & Marketing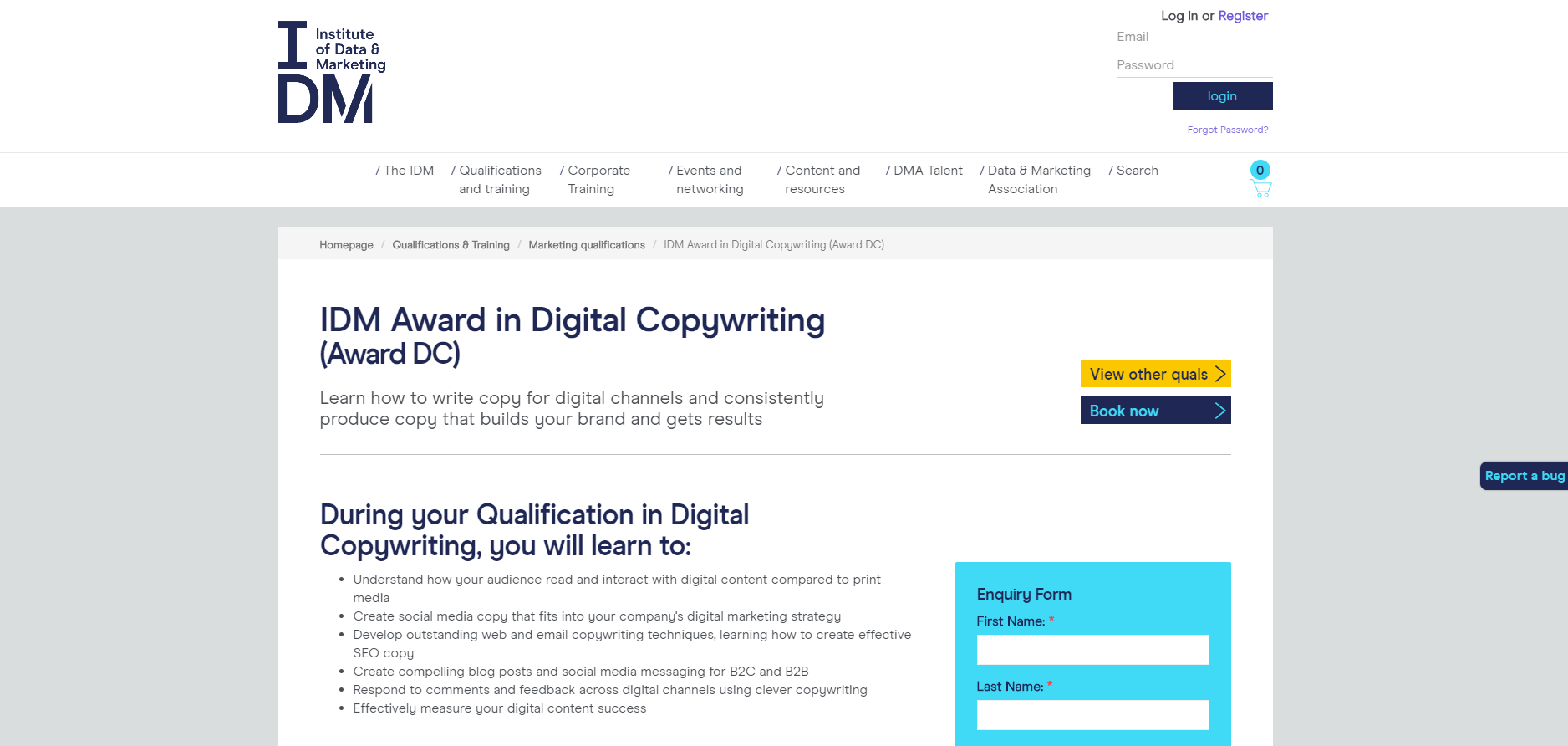 The Institute of Data & Marketing offers a web copywriting course that teaches students to write effectively for different channels.
You will learn skills such as:
Understanding how customers read and engage with copy.
Social media copywriting strategies.
Web, SEO, and email copywriting techniques.
B2B and B2C blog post writing.
How to measure your digital marketing efforts.
Check the course availability to determine when there's an open window for you to apply.
The course is held in London as it's a live event.
Currently the prices are £1,030.00 for members and £1,200.00 for non-members.
There course is broken down into the following 15 modules:
Introduction to Copywriting for Digital Channels
Breaking Down the Brief
Expanding the Content for Web Pages
Writing for Emails
Editing and Repurposing Content for Digital Channels
Copywriting for social media
Blogging: What Makes a Great Blog?
Taking the Blog Further
Social Media – think Strategically, not Tactically
The Key Players: Facebook, Twitter and more
Using Social Media for Search
Getting the Tone Right
Dealing with Comments and Feedback
Digital Copy Techniques Refresher
Building Successful Personas (including exercise)
SEO copywriting certificate from SuccessWorks

This is one of the only industry-endorsed SEO copywriting certificates you can currently earn.
It's trusted by Dow Jones, NBC, and countless other large companies.
The course teacher has been educating students on copywriting for 20+ years and has trained thousands of writers.
This certificate will teach you everything you need to know about optimizing content for search engines, increasing your rates, and get clients.
You will get to speak with some of the world's best writers via group training calls. Some of the speakers include:
Brian Clark
Bruce Clay
Duane Forrester
Eric Enge
Richard Hostler
Brian Massey
Debra Mastaler
Pam Foster
Ashley Ward
Roger Dooley
The course is currently priced at $995, as well.
Emarketeers "Writing For The Web" course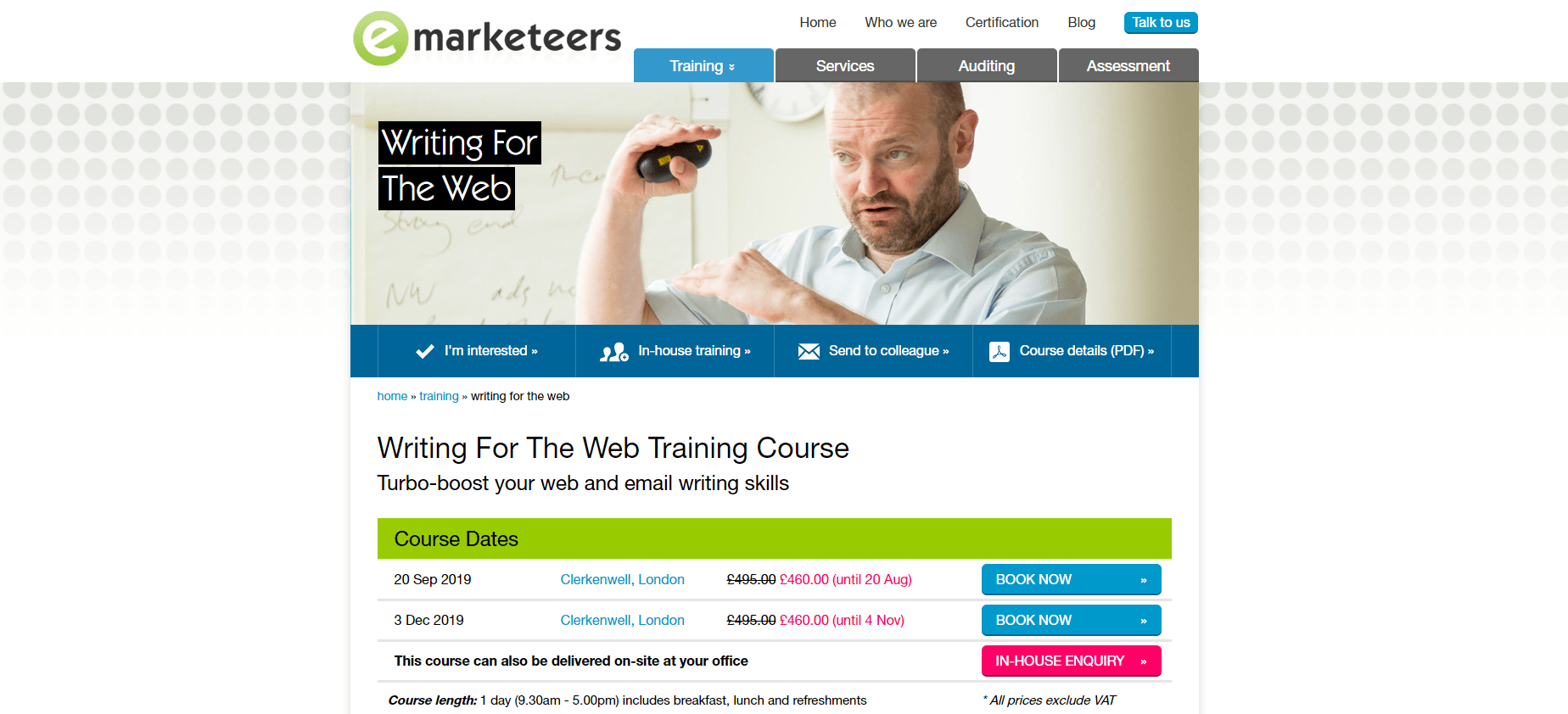 The Emarketeers courses on writing effective web and email copy are held in London or delivered at your office.
The course length is one full day and includes breakfast, lunch and refreshments. You will be treated like royalty as you become an expert copywriter 🙂
One single day of training will give you lifelong skills like:
Knowing how to persuade and sell via online copy.
Adapting copy to different channels like social networks and email.
Understanding how to get key points across and remove fluff from writing.
Processes and systems to make your business and copywriting process incredibly productive.
The course is broken down into the following sections:
Understanding Your Audience
Choosing The Right Language
Communicate, Persuade And Sell
Writing For…
Organizational Issues
It is priced at £495.00, but they also offer sales so keep an eye out for those.
Kopywriting Kourse's free course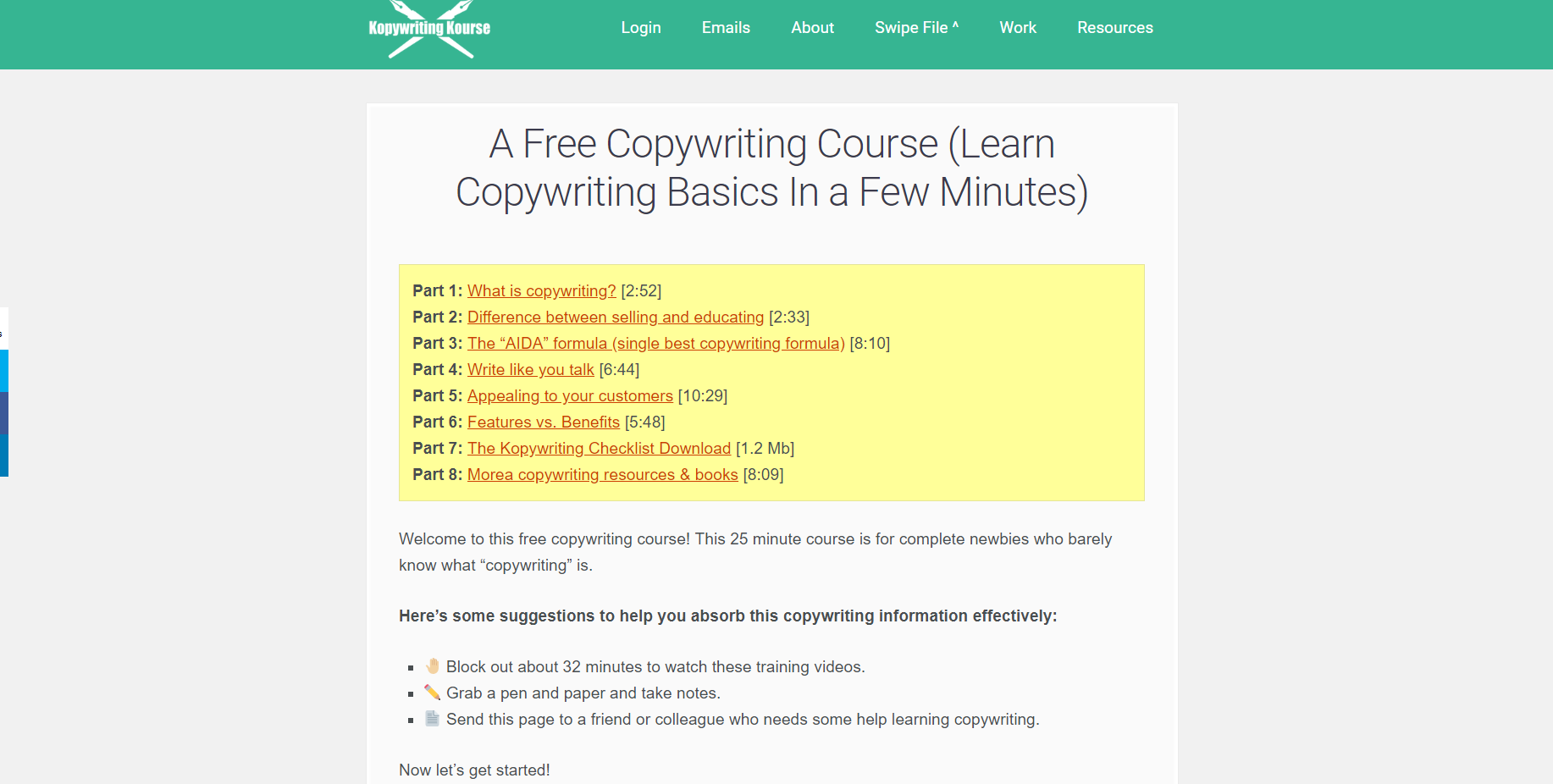 If you haven't read Neville's blog over at Kopywritingkourse.com then you've probably been living under a rock.
He's one of the best copywriters on the internet and has a blog packed with helpful information on writing effective copy.
I've also never seen someone use stick people so beautifully.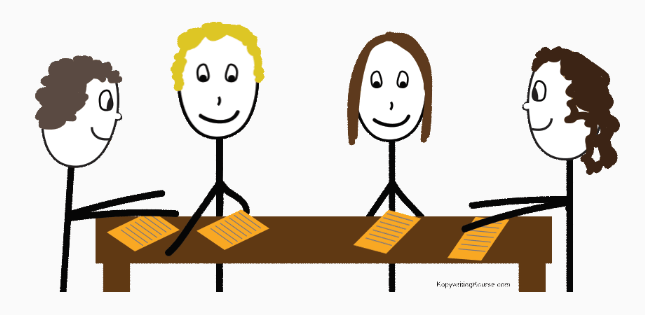 More importantly, he offers a free copywriting course that will only take 25 minutes of your time.
You will learn the fundamentals of copy and have a good foundation for creating a money-making machine.
The course is broken down into the following modules:
What is copywriting?
Difference between selling and educating
The "AIDA" formula (single best copywriting formula)
Write like you talk
Appealing to your customers
The Kopywriting Checklist Download
More copywriting resources & books
Carmine Mastropierro's free copywriting course
Guess who also offers a free course? Me!
At the time of this article, I offer a free copywriting, content marketing, and SEO course. Check them out here.
All of these teach you the skills and strategies to excel in each field with templates, examples, and further resources.
But, let's focus on the copywriting training I offer since that's the focus of today.
The outline of my course is as follows:
How much do copywriters make: This unit goes over the average rates that copywriters make to give you an idea of how much you should charge/pay.
Copywriting strategies: In-depth strategies that help increase conversions and sales along with real life examples to learn from.
How to write blog posts: In this unit you will learn how to write SEO focused blog posts that rank highly in Google and drive incredible amounts of organic traffic.
How to write sales letters: Learn how to write one of the most complicated and revered pieces of copy — the sales letter.
How to write landing pages: Write landing pages that generate leads and help you achieve your project goals.
How to write case studies: Learn how to write case studies that convert users into paying clients. This is especially useful for anyone offering services.
How to write white papers: Whitepapers are academic pieces of content that act as great middle-of-the-funnel lead magnets. Learn how to properly write and promote them.
Establishing an effective writing process: Overcoming writer's block and establishing a great writing process will make you into the Superman of copywriting. I teach you how to do both.
Final thoughts on copywriting courses
I personally believe that education is essential if you want to become great at anything.
You can take in the knowledge and strategies that took some writers decades to learn in a day.
That alone justifies the price for many of these courses.
You're saving massive amounts of time and mastering skills that will last you a lifetime.
I also suggest that you read books and watch videos pertaining to copywriting.
Have you taken a course on copywriting before? What was your experience?