Twitter is an effective channel to increase reach and nurture relationships with followers.
In fact, there are over 330 million active Twitter users every month.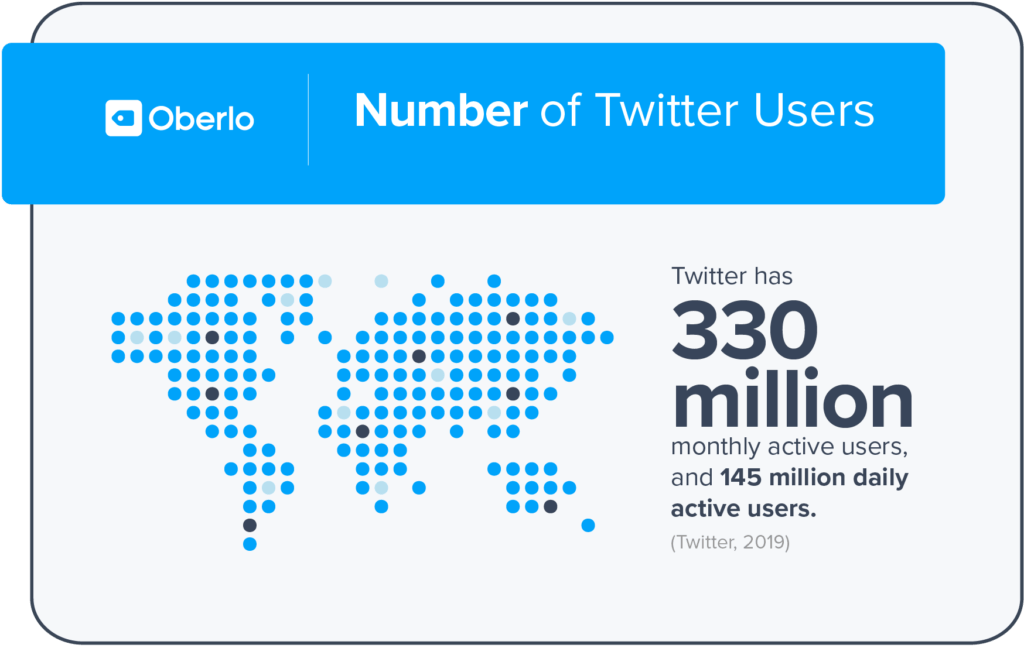 There are some challenges with Twitter marketing though; it has a very short life for content and limited character length.
You need facts about Twitter if you want to maximize the ROI and performance of marketing on this social network.
And that's exactly what I'll be sharing with you today: fascinating Twitter statistics that will help you improve your marketing.
Twitter usage statistics
Twitter holds 330 million active users monthly. Of this 40%, approximately 145 million people are using Twitter daily. There are 500 million tweets sent per day.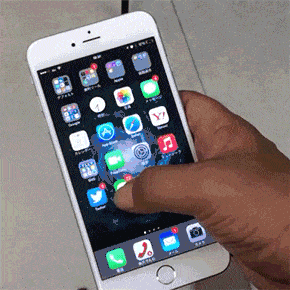 The average daily time spent on Twitter is 3 minutes 39 seconds. Almost 79% of people look forward to discovering or exploring new content. Nearly 42% of these users are new to the platform as well.
Use this as an opportunity to share content like blog posts, YouTube videos, podcasts, etc. It will increase the chances of people following you, engaging with your brand, and clicking back to your website.
However, Twitter cleared 70 million fake accounts in 2018. That's a tough part about Twitter … a lot of followers might be bots and spam accounts.
Remember that the number of followers you have is called a vanity metric.
Sure, it looks cool. You can show it off to friends and family. But if it isn't moving the needle, it doesn't matter. 🚫
Rather, focus on the quality of followers you have.
Do they engage with your content?
Do they tweet at you and create conversations?
You could have 1,000 very engaged followers which drives more traffic and leads versus 100,000 very unengaged people.
Listen to Neil Patel in this video talk about how to get viral traffic with Twitter to learn more:
Five hundred million people access Twitter without logging into an account which is 1.5 times the monthly active user count. If you want a massive reach on social media, look no further.
Once again this plays into what I just mentioned about followers being a vanity number.
There are hundreds of millions of people who don't have a Twitter account that can still check out your business profile, share content, and click links.
While social networks like Instagram and Snapchat have been adopted by young age groups, Twitter has its own audience.
28.9% of users are between the ages of 25–34. This is followed by 28.2% of users aged 35–49.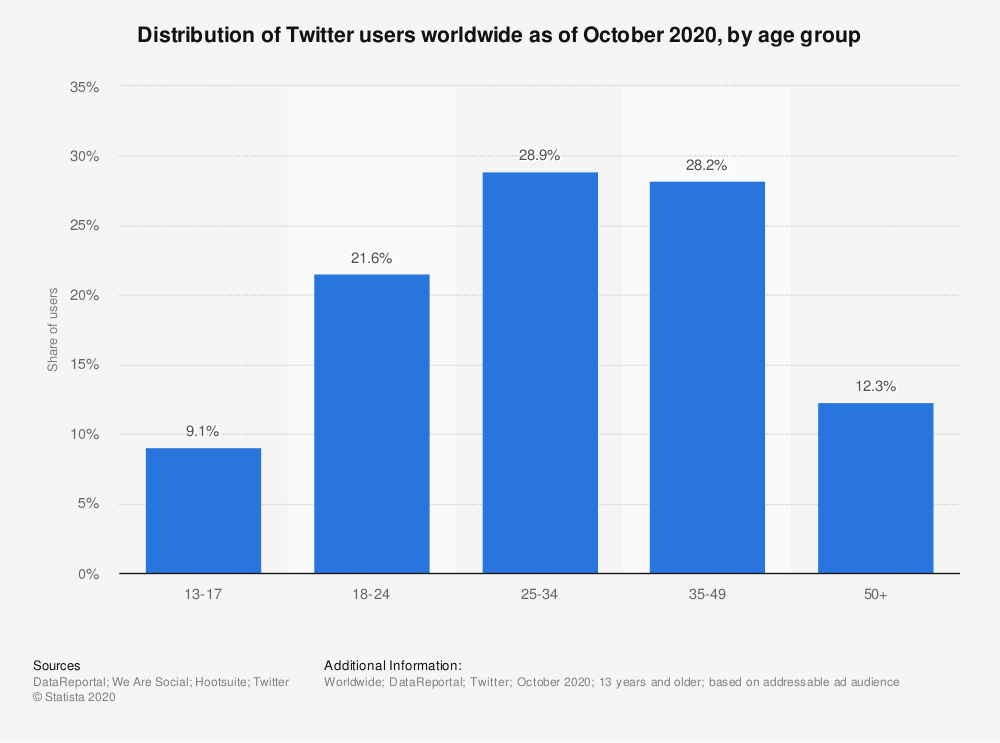 18–24 year old's make up 21.5% of Twitter's user base while the 50+ and 13–17 crowds make up 12.3% and 9.1% respectively.
If you're targeting Millennials, I would highly recommend that you leverage Twitter as a way to reach them, build relationships, and share content.
On that note, read my guide to FOMO statistics. Millennials are one of the biggest groups when it comes to experiencing and creating FOMO. It will greatly improve the response from Twitter marketing.
According to advertising data, 62% of Twitter users are male and 38% are female.
This means that if your primary buyer persona is male, Twitter may be a good channel to reach them.
Hootsuite's research concluded that U.S.A makes up the most amount of Twitter users followed by Japan, the United Kingdom, Saudi Arabia, and Brazil.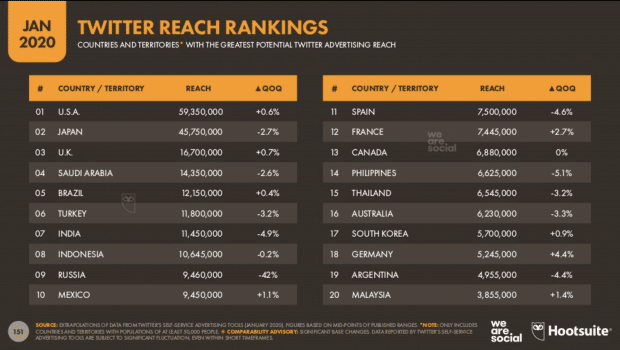 77% of Americans who earn $75,000 or more use Twitter.
What does this mean as a marketer?
If your ideal customer is in this income range, I suggest testing Twitter as a marketing channel.
Furthermore, 32% of American Twitter users have higher college degrees.
Share products and content that match these income and education levels to maximize engagement.
Twitter video statistics
Nowadays, people prefer to watch more video content not only on Twitter but on all platforms. For example, I love YouTube. I can watch or listen to videos while I work, hit the gym, and drive. Hence why Tweets with video get 10x engagement.
Some people visit Twitter only to watch videos. Video content is also beneficial if you run Twitter ads because it's low-cost with high engagement.
You can approach video marketing on Twitter in a couple of different ways.
The first technique is creating and publishong videosn on platforms like YouTube. Share the URL on Twitter with relevant hashtags and a call to action to funnel poeple to your channel.
Make sure that your video descriptions have links to your website, landing pages, and offers.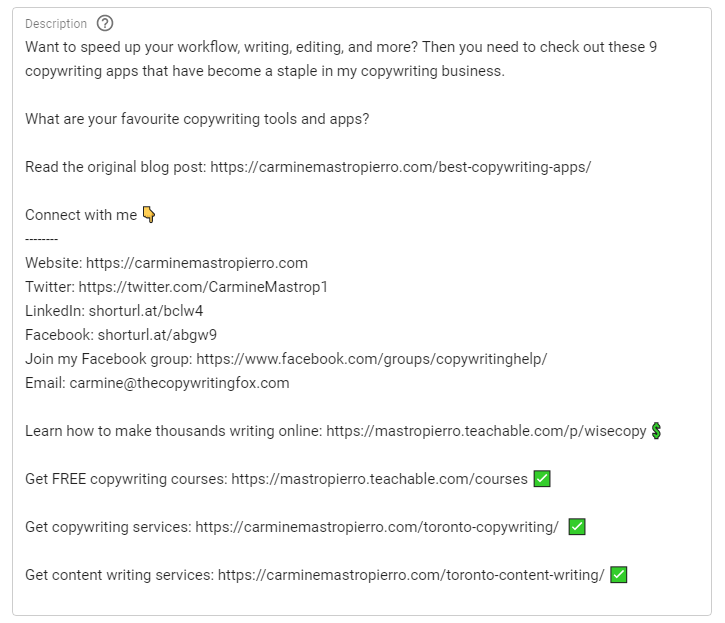 This increases the ROI you generate from sharing videos on Twitter.
The second approach is uploading videos showing behind the scenes footage, insights, or other content directly to Twitter.
After all, Twitter users like brands that are transparent and inclusive.
Showing your business behind the scenes creates an intimate connection with followers.
You're not trying to put on a show or only display certain aspects.
You're willing to show them every nook and cranny of how the business operates.
Do this with both videos and images.
Twitter marketing statistics 
Twitter isn't just a platform for having conversations and connecting with followers. Twitter users are big retail shoppers. 🛒
They plan to spend 21.7% more than non-users in the next six months. Twitter users also make purchases twice as often in the past month.
These individuals made purchased seven times per month while non-users only made four.
Marketers can take advantage of this by appealing to customers who use Twitter throughout the purchasing cycle.
Remember that these are the key stages: awareness, consideration, and decision.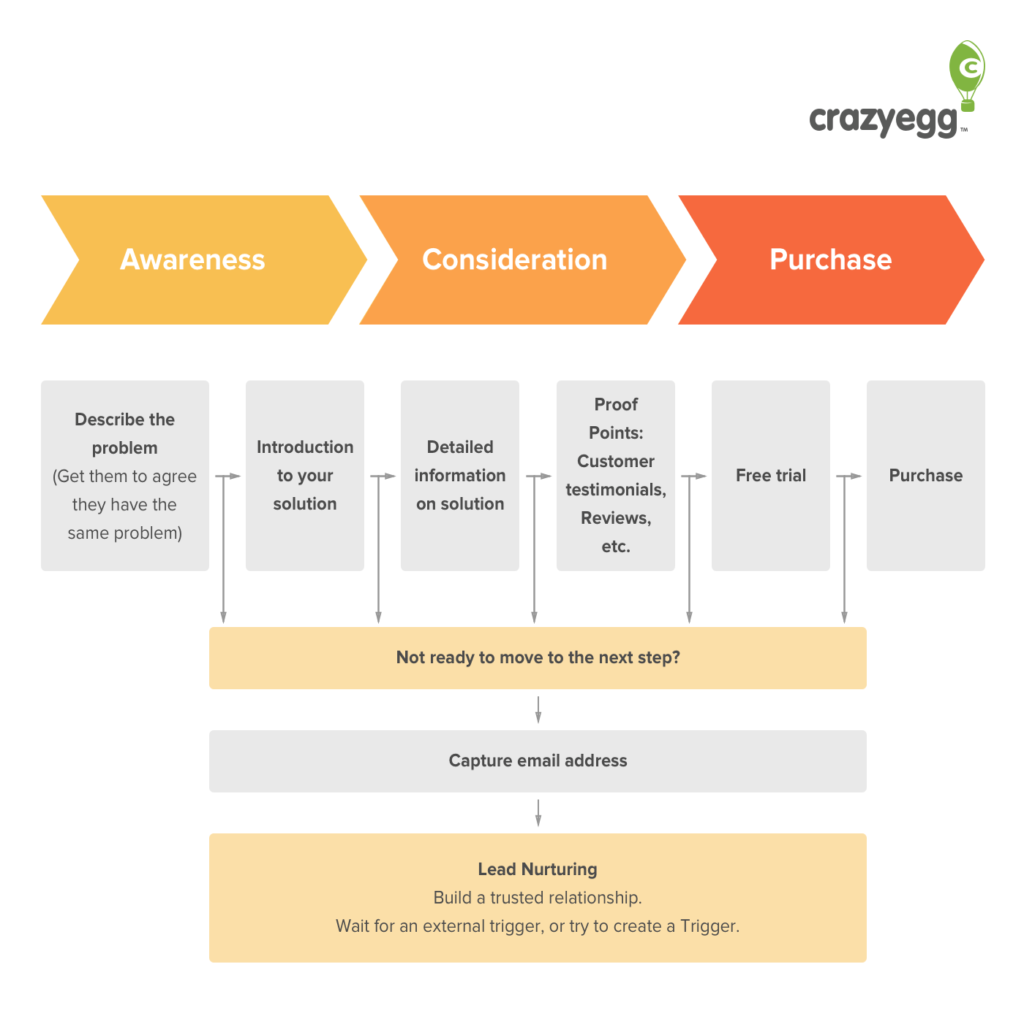 Help customers overcome problems and answers frequently asked questions.
Publish reviews and comparisons to assist them in making the best purchasing decision.
Lastly, offer free trials, demos, or consultations to appeal to customers on the edge of converting.
Keep in mind that Twitter isn't just for B2C. More than 67% of B2B marketers use Twitter as a digital marketing channel.
Twitter mobile statistics
Almost 80% of people use Twitter via a mobile device. I recommend that you optimize your website and any landing pages for mobile devices to accommodate for this.
This will ensure that people browsing on smartphones will have a delightful experience when visiting external links.
Otherwise, you might experience a high bounce rate and low conversion rate.
You can run your website or other assets through a tool like readyMobi to find bottlenecks and issues to fix.
Enter a URL to begin. It will scan the web page and display previews on different devices.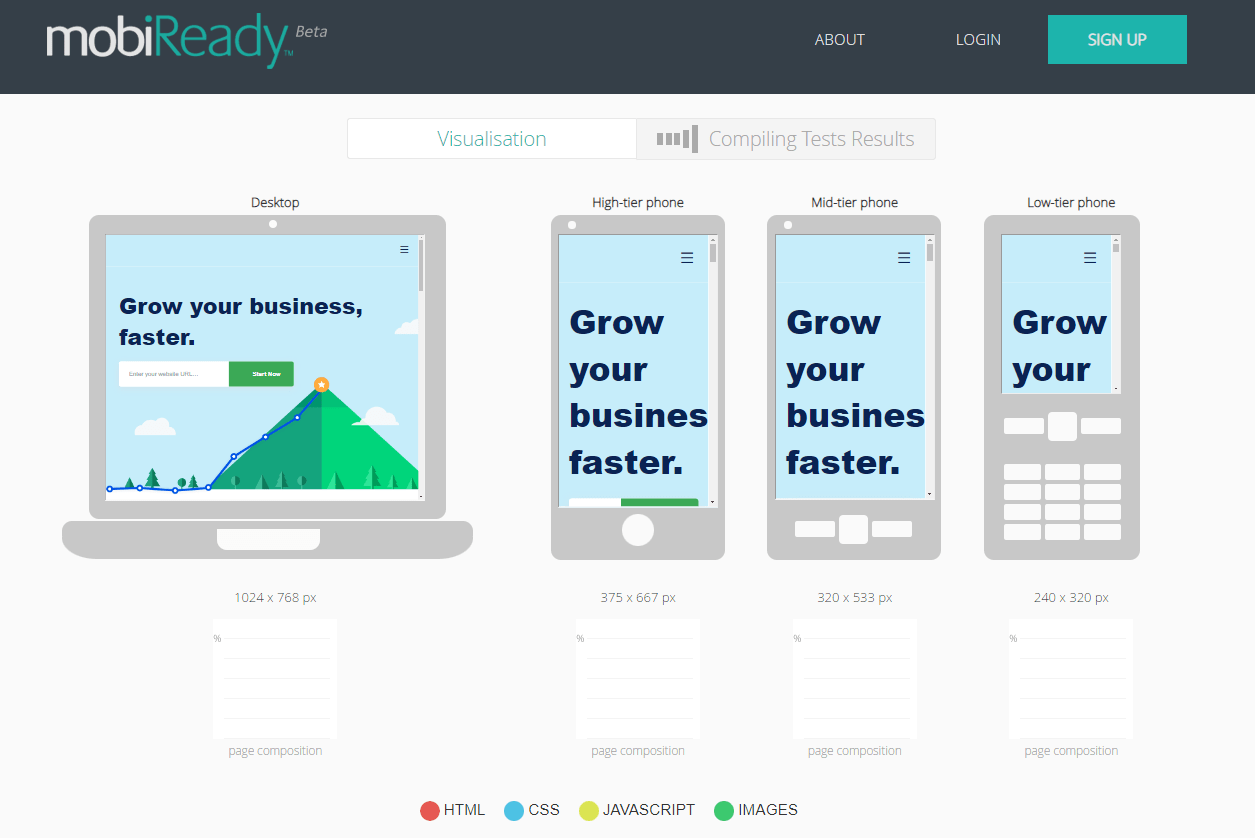 Scroll down to view details of the test including passes, minor fails, and major fails.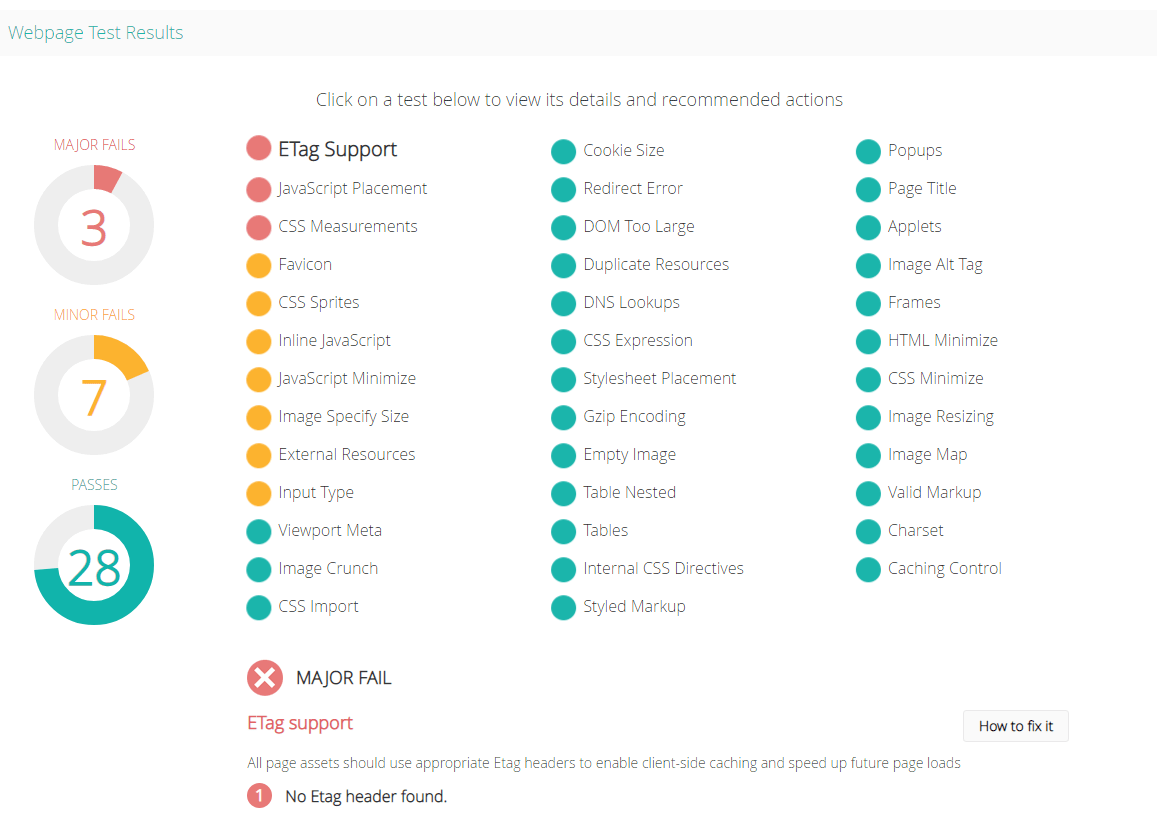 Another key Twitter statistic is 93% of video views on the platform are from mobile.
Optimize video formats to be easily displayed on smartphones with this in mind. 📱
Twitter is outpacing Facebook, YouTube, and Instagram as a top referral traffic source.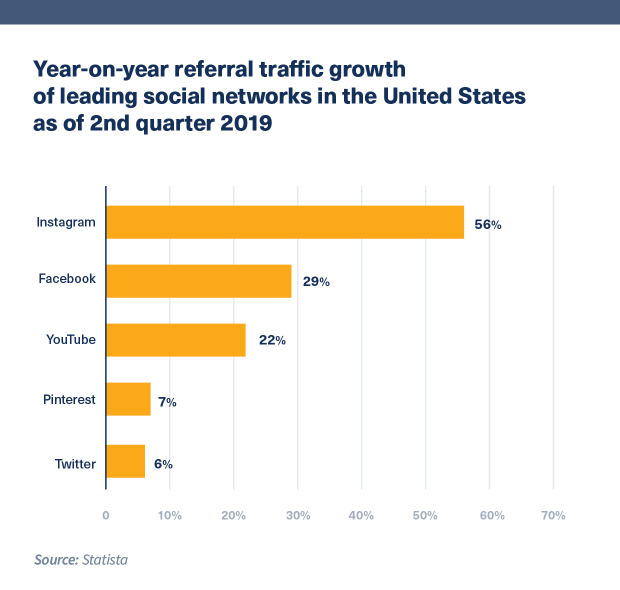 Focus on improving the click-through rate of your profile and tweets.
This can be achieved by including clear calls to action like:
"Learn more about X"
"Click here for X"
"Enroll here"
"Claim your X"
"Get the latest X"
"Buy here"
Twitter users are 38% more likely to post opinions about products and brands than other social media users.
Go out of your way to provide good customer service and people will rave about it.
This can create a viral effect in which customers share your product and generate new business for you.
Look at companies like Slack, Mailchimp, and others. They've grown almost entirely from offering a fantastic product and having people share it.
Twitter emoji statistics
There are over 3,000+ emojis but the laughing emoji with tears is the most widely used on Twitter. It has been used two billion times. 😂
Think of emojis as a way to communicate, emphasize points, and summarize emotion within a tweet.
Use them as a way to make tweets more entertaining and attention-grabbing.
You can also use emojis within your profile to make it jump from the page. 👀
For example, check out this tweet from Tony Robbins for a vritual event he hosted.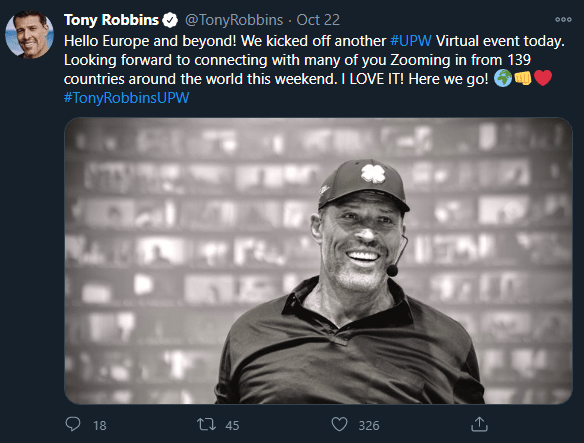 Emojis helped emphasize the power of the event as it connects people all around the world.
Twitter tweet statistics
There are approximately 9,200 tweets sent every second.
People are extremely active on Twitter and love having conversations and sharing their opinion.
That's why brands must use it as a way to have conversations with people.
Try not to push products or sell too hard.
Ask questions.
Make bold statements.
This will create engagement which is what Twitter is all about.
Share relevant content when tweeting followers and add as much value as possible.
Search for contextual topics and jump into existing conversations. It's a great way for people to build trust with you and find your business.
However, here's one downside to Twitter: the average lifespan of a tweet is 18 minutes.
Twitter moves FAST.
You have to be active and continually posting if you want to stay relevant and on customers' minds.
How do you do that without hurting your fingers from tweeting 100 times per day?
Scheduling.
Use Twitter's built-in scheduling feature by creating a post and clicking the schedule button.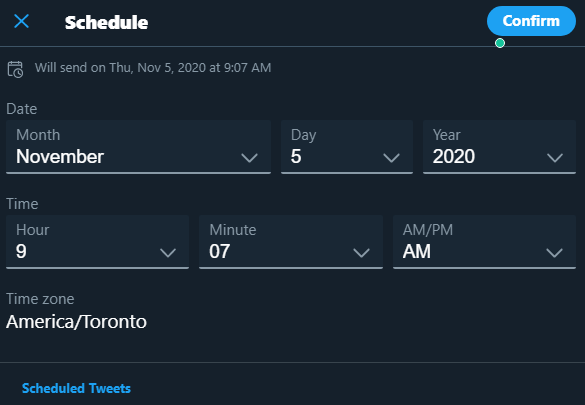 Choose a time and date for the tweet to be published.
Set aside time every week or more often to schedule several future tweets so your content stream is continually active.
Twitter financial statistics
Enough about Twitter's users and consumer behaviour, let's talk about some numbers!
Twitter's total revenue in the second quarter of 2020 reached $683 million. They are on their way to be a billion-dollar per year company.
This is important because if you're investing in Twitter or Twitter ads, you don't have to worry about the social network being the next Vine and disappearing. It's safe to say Twitter will be a worthwhile marketing channel for years to come.
Advertising revenue in Q2 totalled $562 million. While this was a 22% decrease year-over-come, it's still a massive part of Twitter's revenue.
Marketers should consider investing in Twitter ads to reach more users.
Moreover, the cost per engagement decreased by 25% in the second quarter of 2020.
That means you can generate more ROI with ads as it costs less to drive results.
The company itself is valued at approximately $36.48 billion. If you're looking for a new stock pick, consider parking money in Twitter stocks. 📊
Wrapping up these Twitter statistics
Twitter is an incredible platform to nurture relationships, drive traffic, and create engagement.
However, you have to know how to leverage it correctly for the best results.
That's why I put together today's key Twitter statistics.
Here are some of the main takeaways:
Optimize content and landing pages for mobile devices. Use a tool like readyMobi to find UX and speed issues to provide a better mobile experience.
Share content for all stages of the buyer journey on Twitter. (Awareness, consideration, and decision.)
Schedule tweets ahead of time to create a consistent pipeline of content.
Engage in natural conversations with customers and other brands.
Use emojis to add more emotion and personality to your tweets.
Upload and share video content on Twitter as it's heavily consumed.
Focus on the quality of followers, not the quantity.
Need a copywriter or content writer to help you out? Reach out to me for a free consultation.