Trying to figure out how much to pay a freelance writer or charge yourself?
No problem.
I've been freelance writing for over eight years, and I've also outsourced writing to various employees during my time as an entrepreneur.
Today you're going to learn benchmark rates for different areas like content writing, direct response copywriting, technical writing, and more.
Remember that rates differ based on industry, the writer's portfolio and skill level, and your budget, among many other factors.
With that being said, let's get into it!
Freelance copywriter rates
These are the rates that you should expect to charge as a copywriter or pay if you are outsourcing projects.
What is copywriting?
Copywriting is the practice of producing sales copy, which helps a business increase revenue, leads, or another important KPI.
In this instance, I'm particularly speaking about direct response copywriting.
This includes writing sales copy like:
Landing pages
Video sales letters
Brochures
Flyers
Advertisements
These pieces of material are as close to the point of sale as possible, which is why direct response copywriters get paid the most out of any field of freelance writing.
Their skill can easily generate a client incredible amounts of revenue, and it's easy to measure.
If you were to pay a writer $10,000 for a copywriting project and they netted you $100,000 in sales, that's a great ROI 🙂
Copywriting rates
Copywriting is typically billed on a per-project basis or by the hour.
PayScale has found that the average beginner freelance writer earns approximately $40/hour CAD.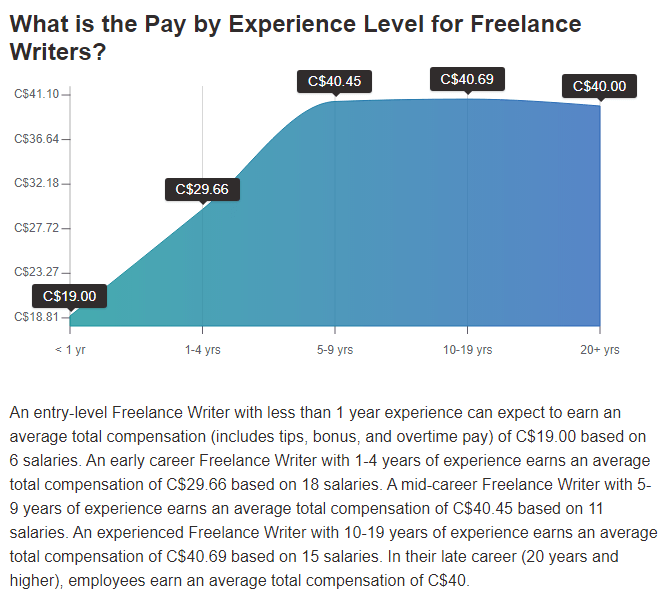 Not bad, right? Well, it gets better…
According to the Professional Writers Association of Canada, advertising material is normally billed at $75-150/hour.
Copywriters also commonly charges a day rate, which is their hourly rate multiplied by eight, as that's a full working day.
In the case of a copywriter that charges $75/hour, her day rate would be $600.
If a project were to take two weeks, the total cost for you would be $8,400.
This might seem a lot for some business owners, but remember that it's an investment.
A good copywriter doesn't write material for fun. They write it to produce results.
Per-project rates are based on the estimated amount of hours that a project will need to be completed multiplied by the copywriter's rate.
Some writers may charge a small royalty fee, as well. This could be anywhere from 1-10% of revenue or more.
If you need help growing a copywriting business, check out my training which includes mentorship.
Freelance editing rates
Don't underestimate the power of editing.
Copy and content often go through ruthless edits to make them completely polished and clean.
Editors specialize in fixing grammar mistakes, and spelling errors and rewriting copy to make it flow better.
Sometimes you have great material, but it lacks clear communication. An editor will revamp it so that it better resonates with customers and ultimately increases conversion rates.
According to PWAC, editors typically charge $30-60/hour or $500-20,000 per project.
Freelance proofreading rates
It's easy to get editing and proofreading confused. They are often performed together but can be done as separate services.
Proofreading comes after the editing process and involves re-reading the copy to correct inconsistencies.
While the editor actually makes the changes, the proofreader helps offer advice for communicating your message in a better way.
Hiring a proofreader will improve your branding and how well you sell a product. They will study your business and ideal customer down to a science, helping writers and editors as a team with their knowledge.
The amount you pay for a proofreader to complete a project will depend on many factors, such as:
The material: The complexity and type of content that needs to be proofread will change the project's price. Something like a business plan or scholarly article would be more expensive than a blog post, for example.
Length: The longer the material, the more you will pay. This is purely based on scale, as it will take the proofreader more time.
Qualifications: If the proofreader has an impressive portfolio and a history of results for previous clients, expect to pay a premium, as you will get a better ROI.
Generally, you can expect to pay $15-45/hour for proofreading services on average.
Some professional proofreaders will charge upwards of $100/hour, however.
Website copywriting rates
Website copywriting is the process of creating websites that accurately display a brand's message while improving how many customers they acquire.
Copywriters will create home pages, about pages, contact pages, service pages, and other key areas of a website for their clients.
They use strategies such as storytelling, calls to action, elaborating on product benefits, and more to increase the client's sales.
Website writing is typically billed between $1-3/word or $60-100/hour.
Learn more about my website copywriting services if you need high-converting web pages.
Some writers will bill based on the number of pages you need as well. For example, they might charge $400/page. A five-page website would cost $2,000 in that case.
Freelance journalist rates
Journalism is one of the best money-making niches as a writer.
Writing in magazines tends to have some of the highest rates available, ranging from $0.50-3/word.
If a writer were to produce a 1,000 word article at $3/word, that's $3,000!
Typically journalism is billed on a per-word or per-article basis since it's more of an ad-hoc industry.
You don't see many retainers being offered in journalism, although they can be done.
Read my list of magazines looking for freelancers to learn more.
Freelance technical writing rates
Interested in offering freelance technical writing services to clients? Here's what you need to know:
What is technical writing?
Technical writing is writing content that is technical in nature, such as reports, instructions, booklets, and similar material.
It requires the writer to be skilled in writing to a very specific audience while clearly laying out steps for using or achieving something.
They will also have savvy research skills, commonly conducting interviews, collecting resources like market reports, and ultimately becoming an expert on the given topic.
Average technical writing rates include:
$1-2/word
$300-12,000/project
$50-125/hour
ClearVoice performed a study on technical writing rates and found that experts are at $0.75/word.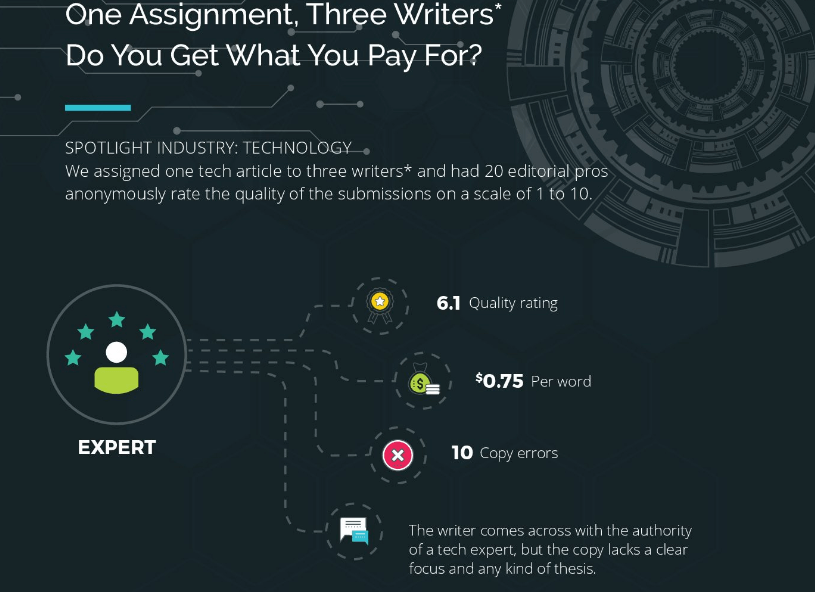 Note that the copy usually some up to 10 errors and lacks a clear focus or thesis. This is why editing and proofreading are so important!
Freelance content writer rates
My bread and butter.
I love producing SEO content for my clients because it improves their authority, organic traffic, and helps them naturally acquire customers without lifting a finger.
Freelance content writing is the practice of creating blog posts, whitepapers, case studies, and other website content for businesses.
It is regularly billed on a per-word basis, and I'm a firm believer you should not pay or charge any less than $0.10/word.
Data has found that the average content writer gets paid $500+ for a 1,000–2,000 word blog post.
If you're wondering, "How much charge do I charge for a 1,000 word article?" here's your answer. 🙂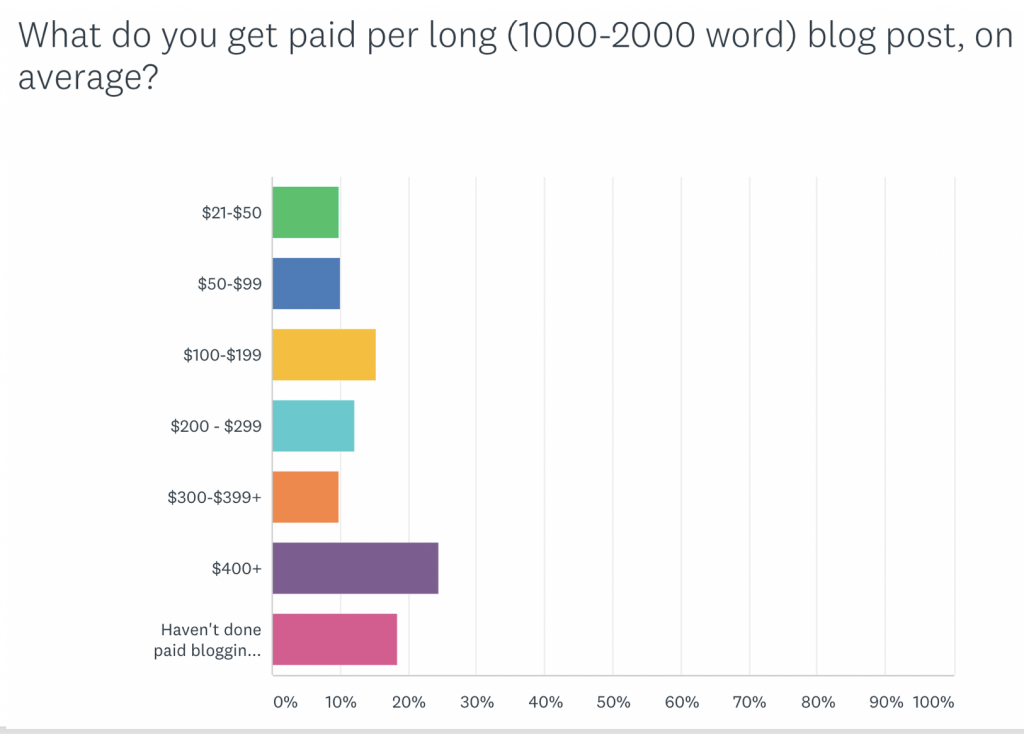 Similarly, how much should you charge for a 500 word article?
The same study discovered that content writers get paid $300–500 for short blog posts.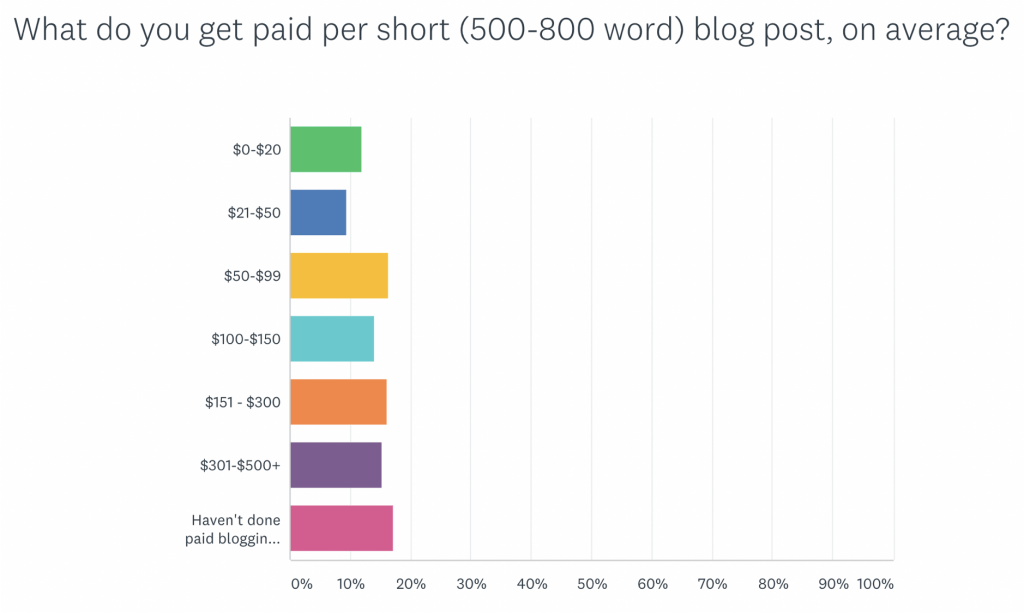 Remember that how much you pay will determine the quality of the writer you get, and ultimately the improvement in business performance.
A copywriter skilled in SEO, lead generation, and CRO will charge more because they can create more results for your company.
Some content writers like myself offer packages and retainers. This bundles up a variety of services, features, and benefits for my clients.
It also makes my income and revenue more predictable.
Enroll in my SEO copywriting course to take your search engine marketing skills to the next level.
Different copywriting rate structures
There are no one-size fits with deciding how much to charge for copywriting.
Every writer, client, and project is different.
Here are the most common ways to bill for copywriting and when each approach is appropriate:
Per-hour
Charging an hourly rate is one of the most common approaches to billing for copywriting.
I do it all of the time.
This is ideal when there may not be a set amount of deliverables, or the project is very flexible.
I recommend that you use a tool like Clockify to log how many hours you or a freelancer works.
This makes billing much more accurate and fair.
Visit Clockify's website and register for an account by clicking "Go to tracker."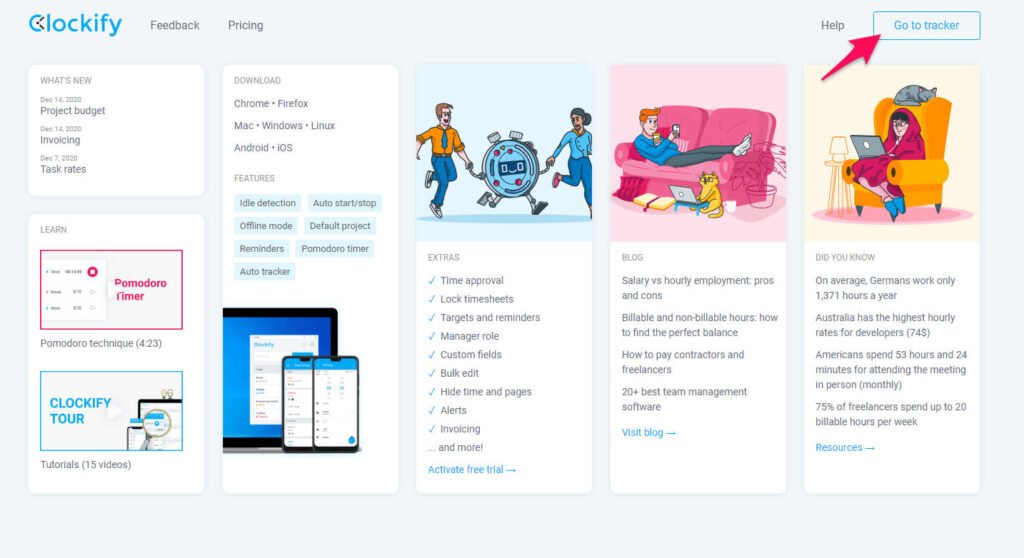 Name the task you're working on, assign it to a larger project, and click the start button.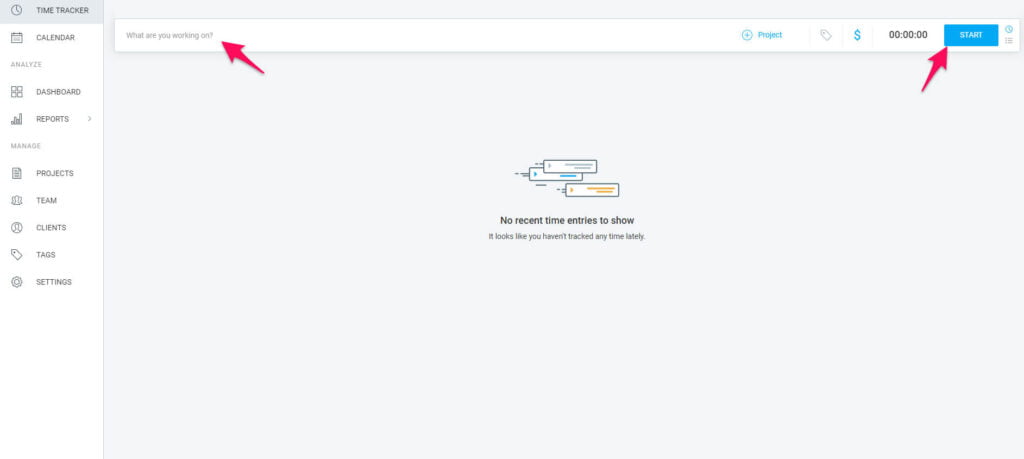 Use the reporting and dashboards to get in-depth data on how much you've worked and earned. You can also deliver this to clients.
Per-project
I recommend charging per-project when the scope of work is very clearly defined.
For instance, I use this type of project fee when I'm writing website copy, sales pages, etc.
This is because we know exactly how many pages and approximately how many words are needed.
What I like to do is calculate how many hours I will put into researching, writing, and editing the copy.
I will then bundle this up into a single fee while charging 50% upfront and the remaining after delivery.
Here's some interesting data on how much copywriters earn annually.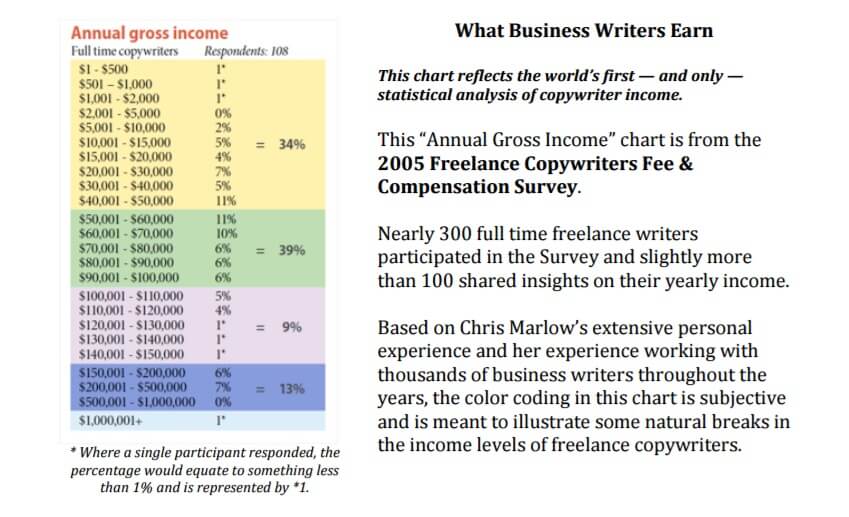 39% of writers are earning somewhere between $50,000–100,000. Pretty solid if you ask me.
The top 9% of writers generate $100,000–150,000.
13% earn $150,000–1,000,000 and one individual makes a jaw-dropping $1,000,000+! 🤯
But you don't get their billing per word or hour. This is achieved through high per-project rates.
Per-word
I do not recommend charging per-word as a copywriter. It's better suited for content as it's educational and not focused on selling.
However, you can use a per-word calculation to set per-project fees and retainers.
This is rewarding if you're a fast typer, and it's very easy to calculate how much you will earn. Clients gain predictability, as well.
Keep in mind it can create a conflict of interest.
What do I mean?
Well, think about it like this…
The client wants to spend as little as possible in some cases.
You want to earn as much as possible.
You might want to write 2,000 words, while the client wants 1,000.
Get my point?
Try to get away from per-word rates if possible. Watch this video from Dan Lok for further insights.
Tips for setting freelance writing rates
Now that you know what some ballpark numbers are for copywriting fees, I'm going to give you some practical advice for setting rates.
Never undercharge (especially early on!)
I recently received an email from an eager copywriter new to the game.
She landed her first big client and asked me if she should charge $50/hour despite it being her first project.
I said, "Hell yeah!"
Here's the thing…
Most copywriters make the gruelling mistake of doing work for free or very cheap in the beginning.
I get it.
You want to establish a portfolio and get the ball rolling.
The problem is that charging low rates is a guaranteed way to get pain-in-the-ass clients and poor referrals.
It's a thing every freelancer experiences.
Charging higher allows you to find more professional clients that respect your craft, it boosts income and gives you the confidence you can't find anywhere else.
Take my free courses on freelance writing and copywriting to learn more.
How much do you need to pay the bills?
What's the end goal? Six figures? Seven figures plus royalty checks?
Amazing. But, slow your horses.
Don't be so hasty in the beginning.
I suggest that you make some clear calculations about your life and business expenses.
How much would you need to generate from copywriting to live comfortably?
Aim for that first.
This will create a nice foundation and ensure that you're not thinking too far ahead.
Let me give you an example.
Let's say that your monthly expenses are $3,000. 💰
Charging $50/hour, you would need to bill 60 hours total.
Since I'm sure you want to have some money left over every month, that total might be more accurately 70–80 hours/month.
Hey, that's what some people put in every week! Not too shabby.
See what I mean? Crunch the numbers and find a way to make a living without working like a horse.
Continually increase it with time
I gradually increase how much I charge clients based on my portfolio, genuine skill, confidence, and the results I generate for previous projects.
I've always believed in the idea of working less but making more. Who doesn't want that?
You need to do the same.
Bump up how much you charge—per word, project, or hour—as you get better at your craft.
Give existing clients a heads-up that your rates are going up or remaining at the existing payment level.
Some clients won't mind if you're giving them their money's worth, but some may not have the budget.
Don't charge more for the heck of it. Increase your freelance writing rates as you genuinely deem fit. 📊
Wrapping up freelance writing rates
How much you pay for a freelance writer or charge yourself depends on a variety of factors.
Firstly, the scope of the individual project is a big one. Is it a single blog post? A 40 page sales letter? The type of copy or content being written, along with how much is needed, drastically changes pricing.
Similarly, the skill and experience of the writer will impact the project. Take a look at my content writing service rates as an example.
Just like anything, pricing usually reflects the quality of service you'll receive, presuming you're hiring a writer.
Going on Upwork or trying to hire cheap writers will get you that: cheap quality work.
That's why I recommend all business owners look at copywriting and content writing as an investment. Good writers will net you serious leads, traffic, and revenue.
The same goes for the opposite perspective as a writer. You shouldn't settle for cheap rates or clients who are difficult to work with.
Read my guide on how to cold email for getting clients and check out these other articles I've published on freelance writing for more information: