Technical writing is a very lucrative and fun form of copywriting.
Whether you pursue it as a career or do it freelance, you can earn a great income while making a big difference in the customer's experience.
But, what exactly is technical writing? How much money do technical writers make?
That and more is ahead if you keep reading 🙂
What is a technical writer?
A technical writer is an individual who produces material that informs and educates the reader. This is typically in the form of user guides, instruction manuals, installation guides, website help information, or directly on the packaging of a product.
The overall goal of technical writing is to guide the reader through safely and effectively using a product or service. It serves as a useful resource to ensure that they get the desired outcome.
In the case that a technical writer is creating material for something medical, engineering, or chemical related, it also is a safety factor.
I've done a fair amount of technical writing as a freelance copywriter, and I really enjoyed it. It felt a lot more laid back and casual compared to producing direct sales copy or SEO content.
Next I'll touch on the duties a technical writer has.
Technical writer responsibilities
You will wear many hats as a technical writer. Some of the main duties and responsibilities you will have include:
Study the ideal user of the product or service and plan how the documentation can be tailored to their needs.
Analyze and use the product itself to help you determine how you will write the instructions or other material. You may also need to collaborate with product designers and other departments to learn more about individual features.
Use your analysis to help product developers improve the user experience of the product, website, etc.
Write documents that instruct customers on how to safely and effectively use the product.
Create graphics, diagrams, and charts that support the instructions you write. You may also collaborate with designers in the company to have these produced for you.
Produce videos, audio material, and other content formats for the material.
Gather feedback from users and implement any interesting findings back into the material to improve it further.
Update material as new features and changes roll out.
Technical writer skills
Whether you're interesting in becoming a technical writer yourself or hire one, these are some of the skills to develop or look for in candidates.
The ability to follow instructions
Technical writing projects can be massive. I'm talking tens of thousands of words or more. This means that a writer needs the ability to follow instructions thoroughly.
The last thing you want is to get drafts from a writer, only to notice that it doesn't align with the product, end user, or value proposition.
On the flip side, you don't want to irritate your client or boss when you deliver a low-quality piece of content.
Make sure that you lay out instructions that guide writers in your company through the project from start to finish.
I've found when hiring and creating teams that the most important step is documentation. Instructions, templates, and guidelines make everybody's life easier within a company and prevent hiccups.
If you're a writer, I recommend that you ask for as many documents like writing guidelines, buyers persona, etc before starting a project.
Organization and time management
Similar to the ability to follow instructions is being organized and managing your time correctly. If you're an entrepreneur of any sorts, you know that time can be a hard thing to find. That means you need to maximize the 24 hours you have every day.
If you're spending half of your day on social media, playing games, and getting distracted, technical writing projects will fall behind fast.
One of the first steps I take when starting a new copywriting project is to organize myself because of that reason.
I take all of the resources, ideas, and information I've collected, and place it in a single folder. I usually brainstorm on the whiteboard right next to my desk, too.
The second step I take is to briefly plan out how I would like to execute the project. This usually involves calculating how many sections I need to write daily to hit the deadline.
Time management and staying productive are whole other beasts to tame, though.
I believe both of these come from experience and are a result of discipline.
However, you can use certain time management techniques like the Pomodoro method to stay focused.
Here's how to pull this method off:
The general idea is that you're taking extended breaks roughly every 25 minutes.
Personally, I have a daily schedule with every hour planned ahead of time, and there are breaks set up at specific parts of the day.
Breaks are very important for remaining productive because our brain loses energy and focus the longer we work on something.
Taking a quick break to grab coffee or go for a walk resets the brain and will give you more mental energy to be a better writer.
Being able to write clearly and concisely
Have you ever read an instruction manual or similar material, only to be frustrated because you couldn't understand what it was saying?
I've been there, too. Don't worry.
It's one of the biggest reasons technical writers need to be able to write in an easy-to-understand language.
Trying to put together an Ikea desk or new computer isn't the easiest task in the world, so the instructions don't need to make it any more difficult.
Is technical writing a good career?
Overall, I would say yes, technical writing is a rewarding and lucrative career for anyone interested in becoming a writer.
It's specifically great for those who are organized, precise, and enjoy breaking down things into a science.
Freelancing as a technical writer is a good way to test the waters if you're new to the industry. Check out these articles I wrote previously on freelance job boards to learn more:
Those who are sure it's a career path they wish to pursue can check out Indeed, ZipRecruiter, and other job boards to find full-time technical writing opportunities.
Salary of technical writers
So, how much money do technical writers make? I've gathered data from a few different job sites to get a good idea. Here's what I found…
The average salary of a technical writer is $56,125 according to PayScale.

Their average bonus is $2,560 and they typically earn $1,323 in profit sharing.
The high end of salaries for technical writers lies in the $79,000 range.
Glassdoor had similar data, stating that the average yearly salary is approximately $57,000 and $94,000 on the high end.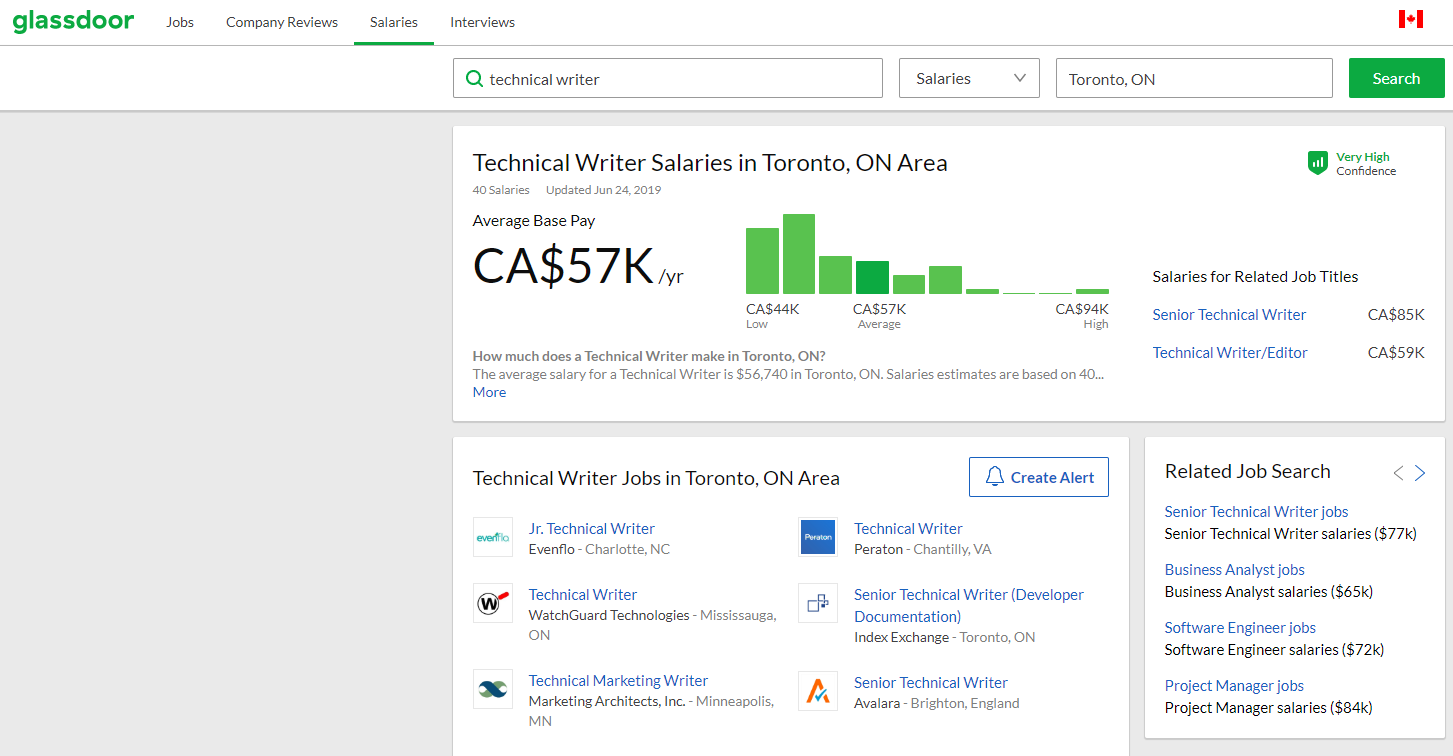 Overall it's clear that a technical writing career will provide great income with plenty of room to move up and improve.
Bonuses and profit sharing also add to how much you will earn.
Please follow and like us: