Building a team of freelancers can be just what you need to take your business to the next level.
Being able to focus on other tasks while staff take care of the grunt work is needed for any company that's scaling up.
The reality is you can't do everything yourself.
Heck, I've tried it myself.
You burn out really easily, but hiring a team of freelancers is the cure.
That's why today I'd like to guide you through the best freelance sites for hiring. (Alternatively they're awesome for landing freelance gigs!)
Follow along.
1. Upwork
You already knew this was going to be on the list.
I've been happily using Upwork now for many months to outsource content, CRM management, email marketing, and other tasks within my businesses.
And you know what?
I love it.
The people I've hired are professional, friendly, and complete tasks way ahead of deadlines.
If you outsource tasks to individuals overseas, you get to keep costs low while also giving someone abroad a great living 🙂
Visit Upwork.com and click "Sign Up" from the top navigation to begin.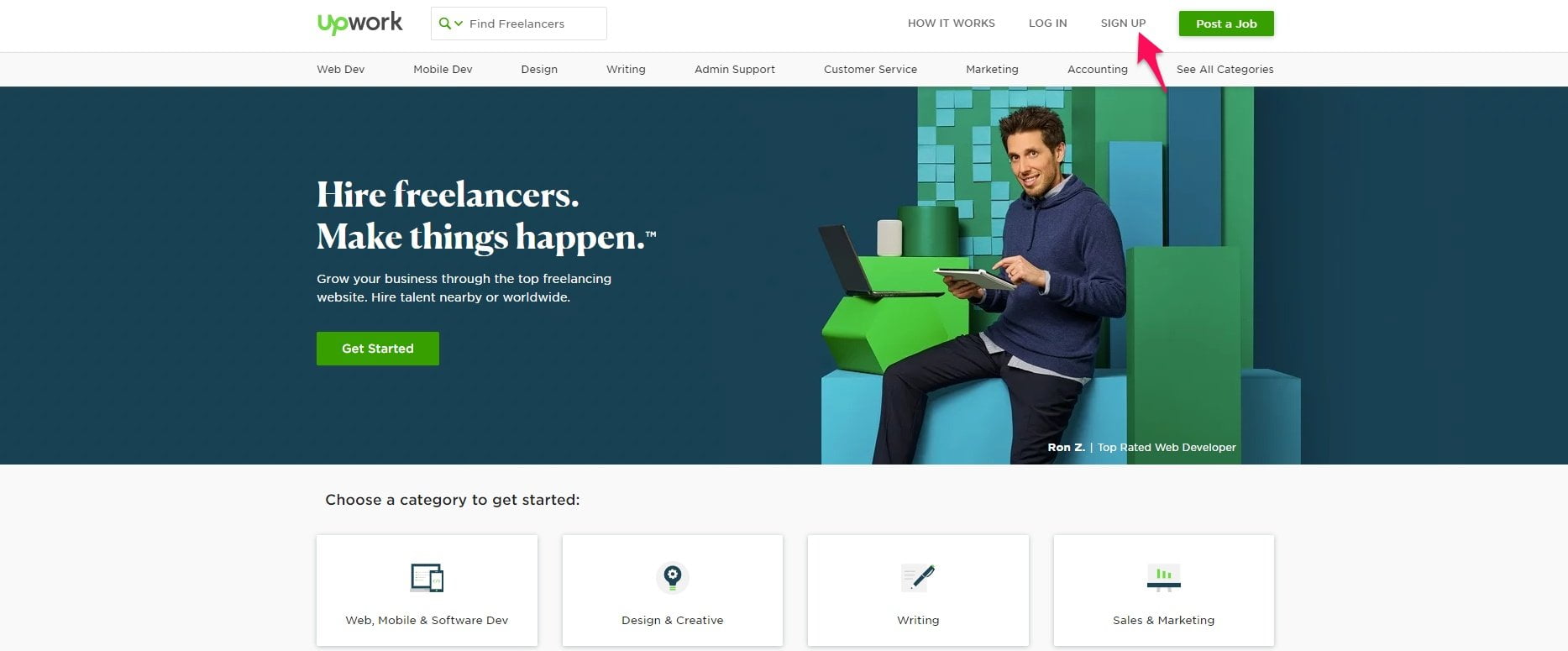 You will be prompted to enter some basic information about yourself before being tossed into the platform.
There are no requirements as an employer currently versus the strict filtering system for freelancers.
This means you can use Upwork to hire 100% guaranteed and won't get rejected.
Click the "Jobs" tab and "Post a Job" after to create your first listing.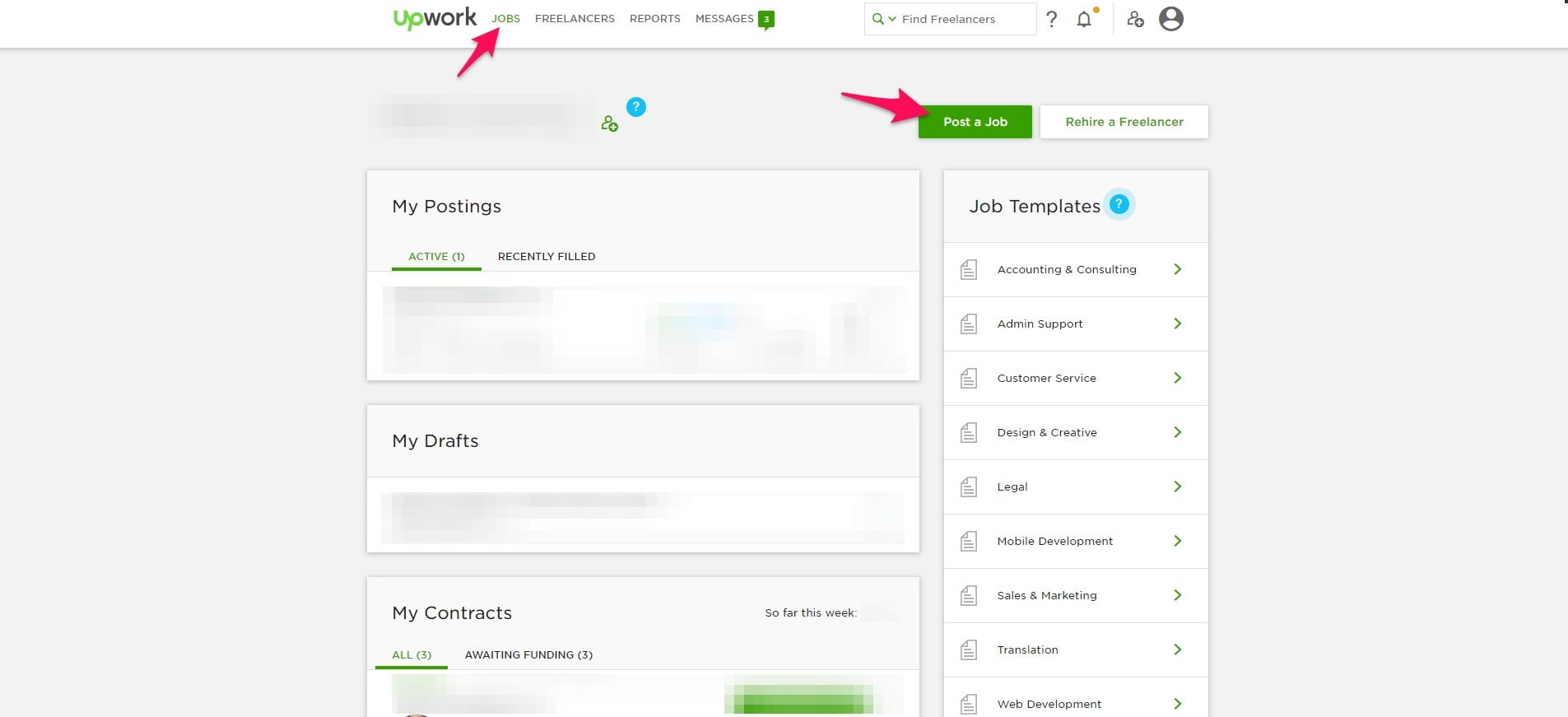 Select the type of listing you would like to make. The options are short or long term work.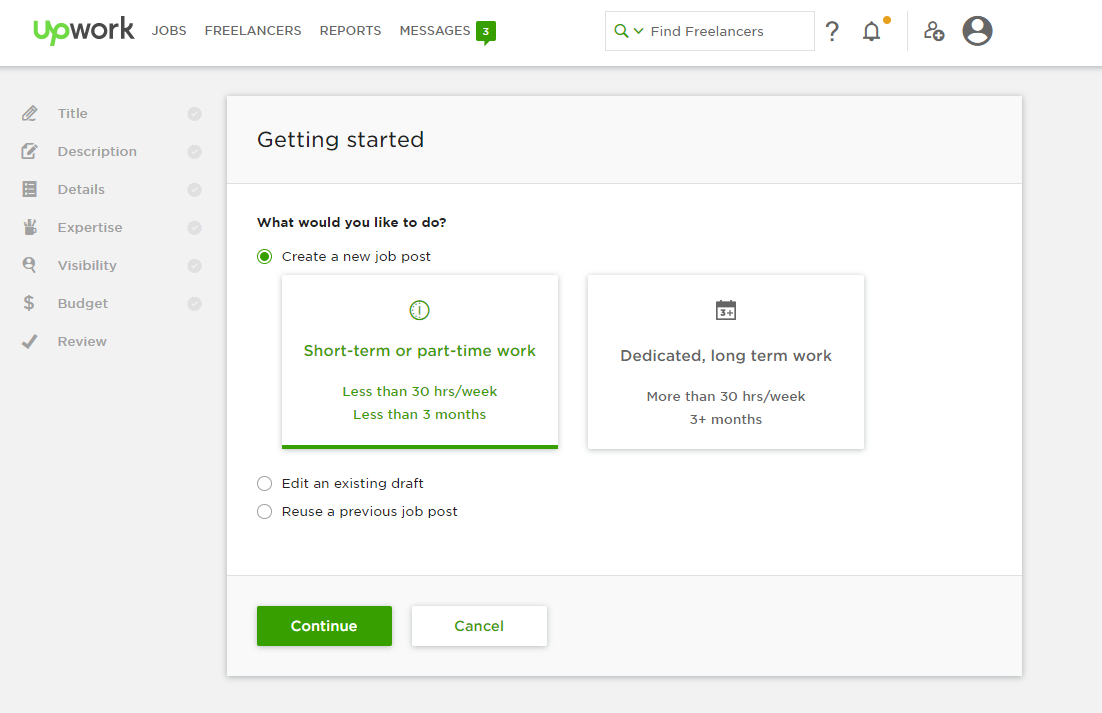 Next, enter a descriptive title for the job and choose an appropriate category. This will help freelancers find the gig more easily.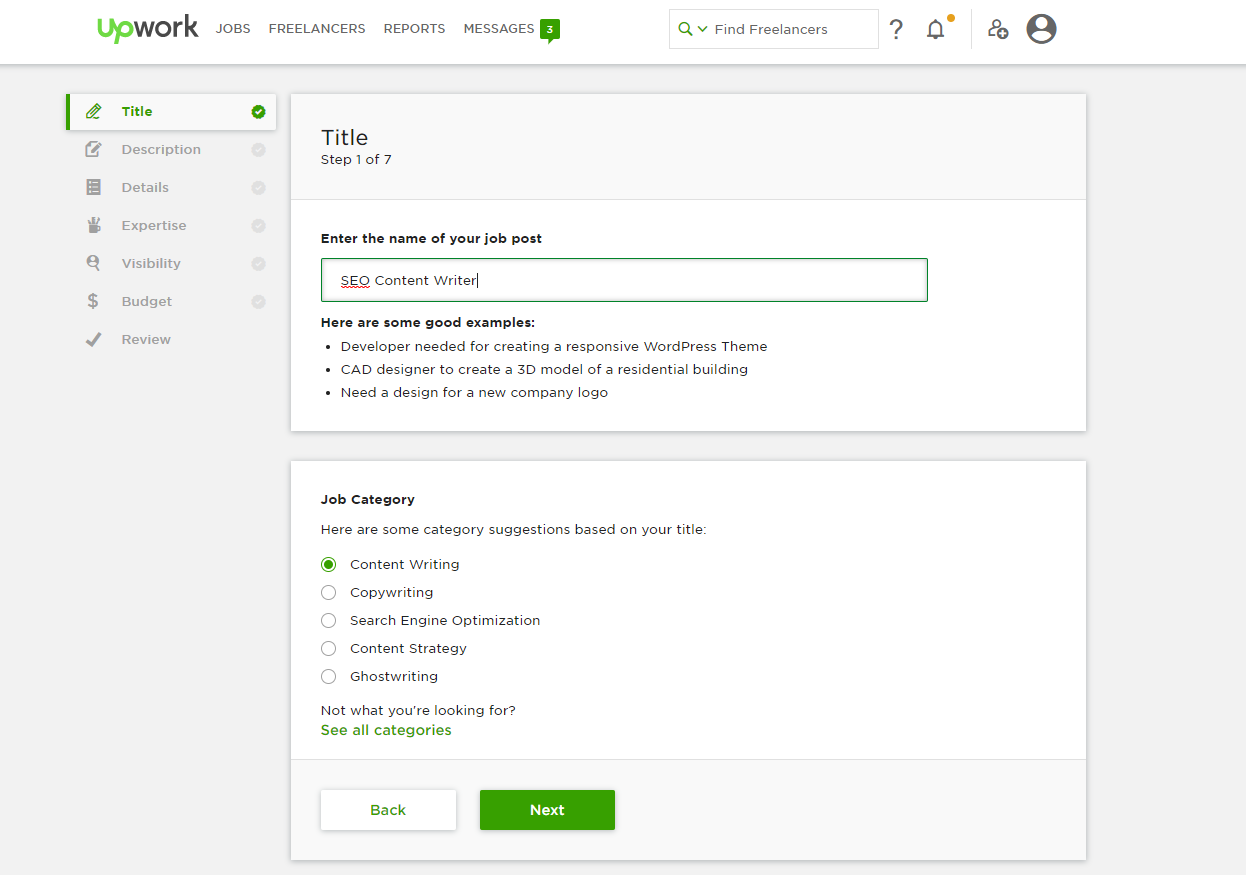 The steps for setting up the rest of the listing are relatively straightforward, as you will need to:
Write a thorough description that describes the job's duties, responsibilities, and required skills.
Add screening questions to find the best possible candidates.
Select skills that candidates need to apply.
Set the visibility of the job listing and how many freelancers you require.
Create a budget based on an hourly or fixed price basis.
Once you've done this, publish the job posting and you will be able to see proposals from the jobs page.

Hire any freelancers that you think are a good fit for your project and enjoy kicking your feet up!
2. Peopleperhour
PeoplePerHour is a community of 1.5 million+ remote workers that serve practically every industry, making it one of the best freelance job sites.
This platform is used by over 750,000 businesses to outsource and scale their operations, too.
Here's how to get started…
Click "Post Project" from the navigation.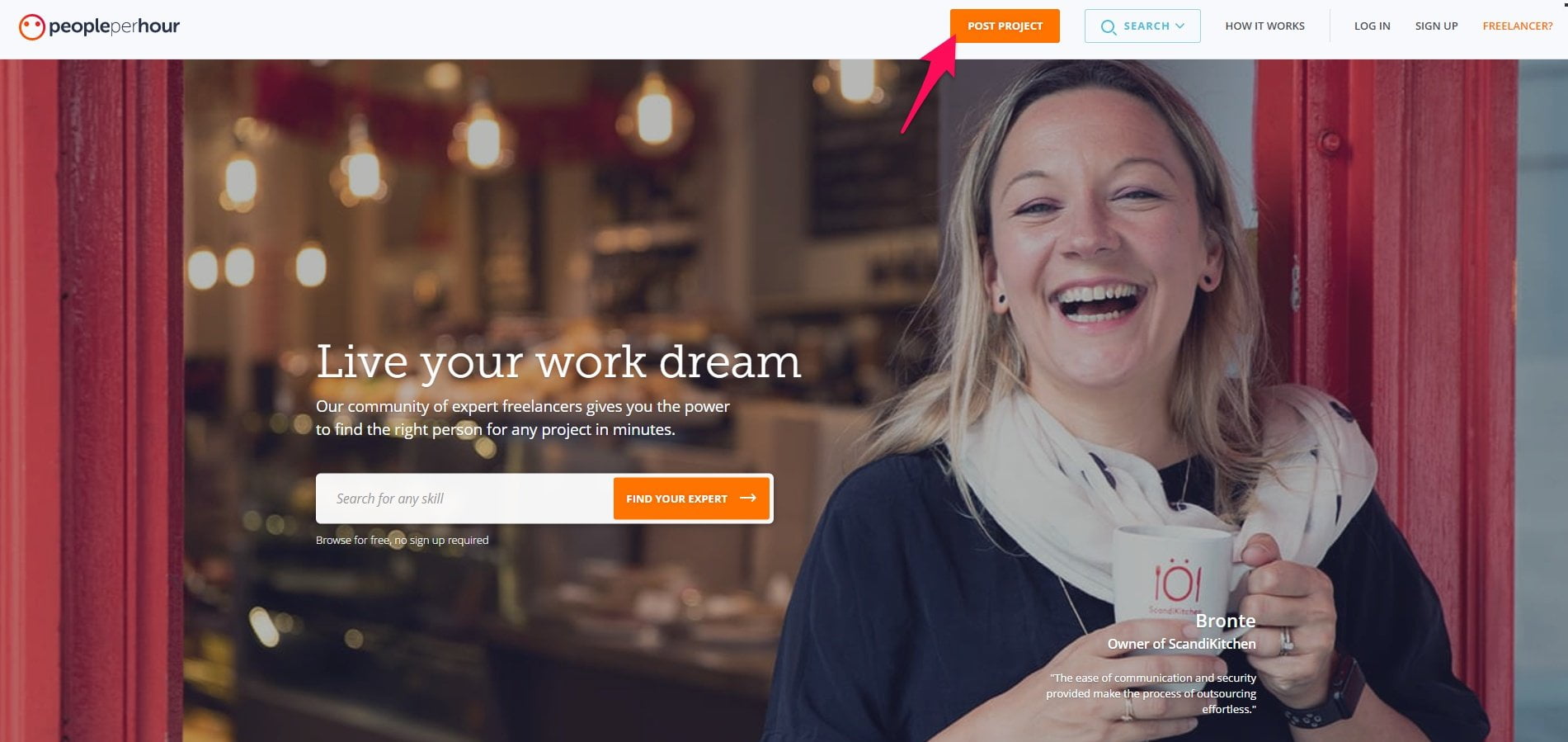 Enter your email, first name, and last name on the following page to register an account.
Alternatively you can sign up with Facebook.
Add a title and select a category for the job you're posting below this.
Write a description that clearly outlines that the job entails so freelancers have a solid idea of what they're getting themselves into.
One thing I really like about PPH is that you can upload files for freelancers like templates, guidelines, etc.
Finally, set the project's budget, currency, and work type.
Clicking the advanced settings button will allow you to set visibility options and interview questions if you wish.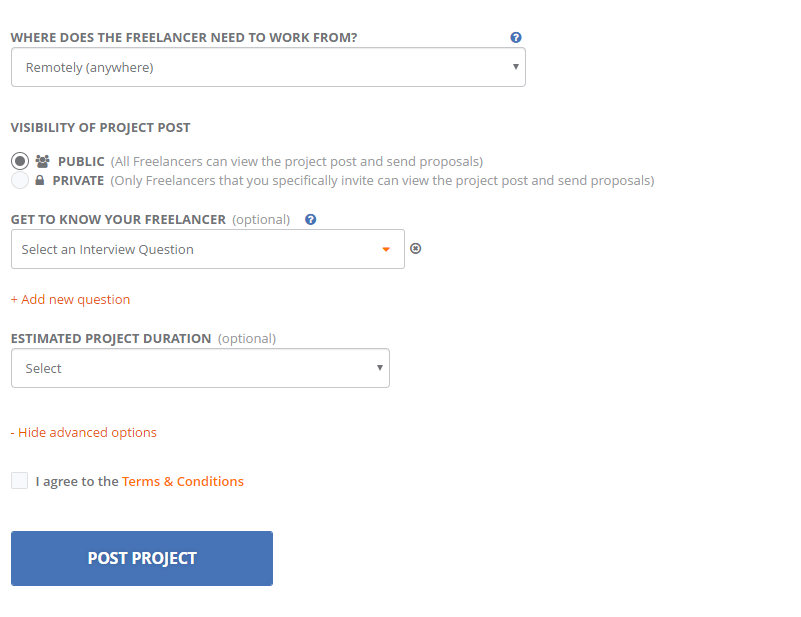 Hit the "Post Project" button when you're satisfied with your listing to make it live.
PeoplePerHour's artificial intelligence system will sort the best freelancers for the job and send them your way.
This saves you time from sifting through irrelevant or under qualified candidates.
Once you pick a freelancer, you simply pay a deposit and begin working together!
3. ProBlogger
Looking to hire a content writer?
Look no further.
ProBlogger is the most active and trusted freelance writing job board in existence.
I remember using it back in the day for finding freelance work myself 🙂 Now I hire on it!
It costs $70 for a 30 day listing, which weeds out the less serious employers.
If you're serious about finding an amazing content writer or copywriter, then it's well worth the investment.
Alternatively you can hire me. Shoot me an email to tell me about your project and needs.
You can create a listing by selecting the "Post a job now" text on the top of the page.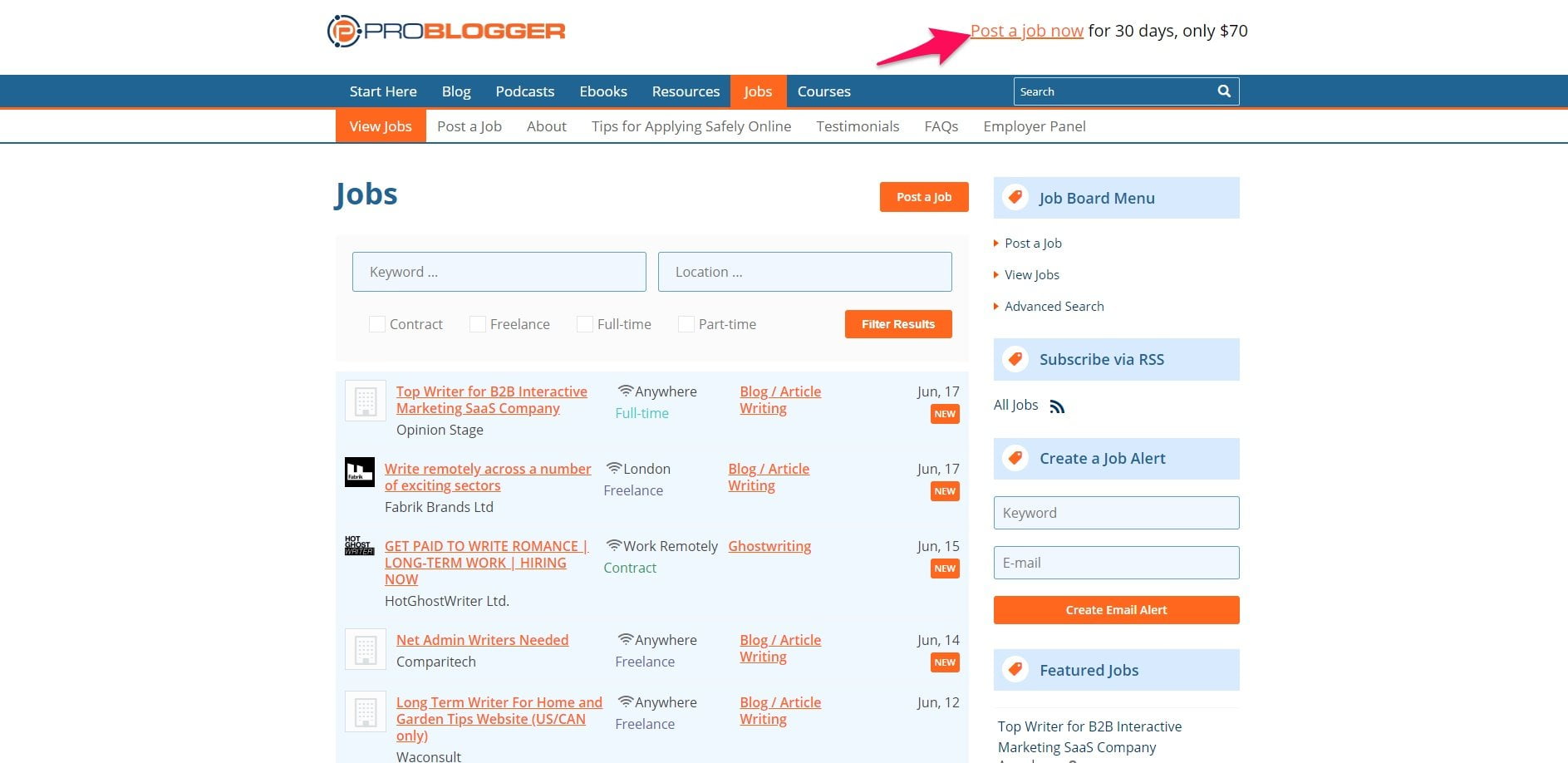 Enter a username and password, then fill out your company's information to register.
You will be required to add a title, description, location, and other details about the position.
Ensure that you lay out all of the information freelance writers need to know, including:
How to properly apply, and if they need to send in samples, rates, etc.
What level of experience they must have.
What your budget is for the project.
I haven't hired on ProBlogger myself, but I've heard from fellow entrepreneurs that you will get mountains of applications.
4. FlexJobs
No, FlexJobs isn't a job board for bodybuilders.
(Bad joke)
But it is an amazing freelancing website where you can hire full time or freelance remote employees.
They currently offer the following plans for employers: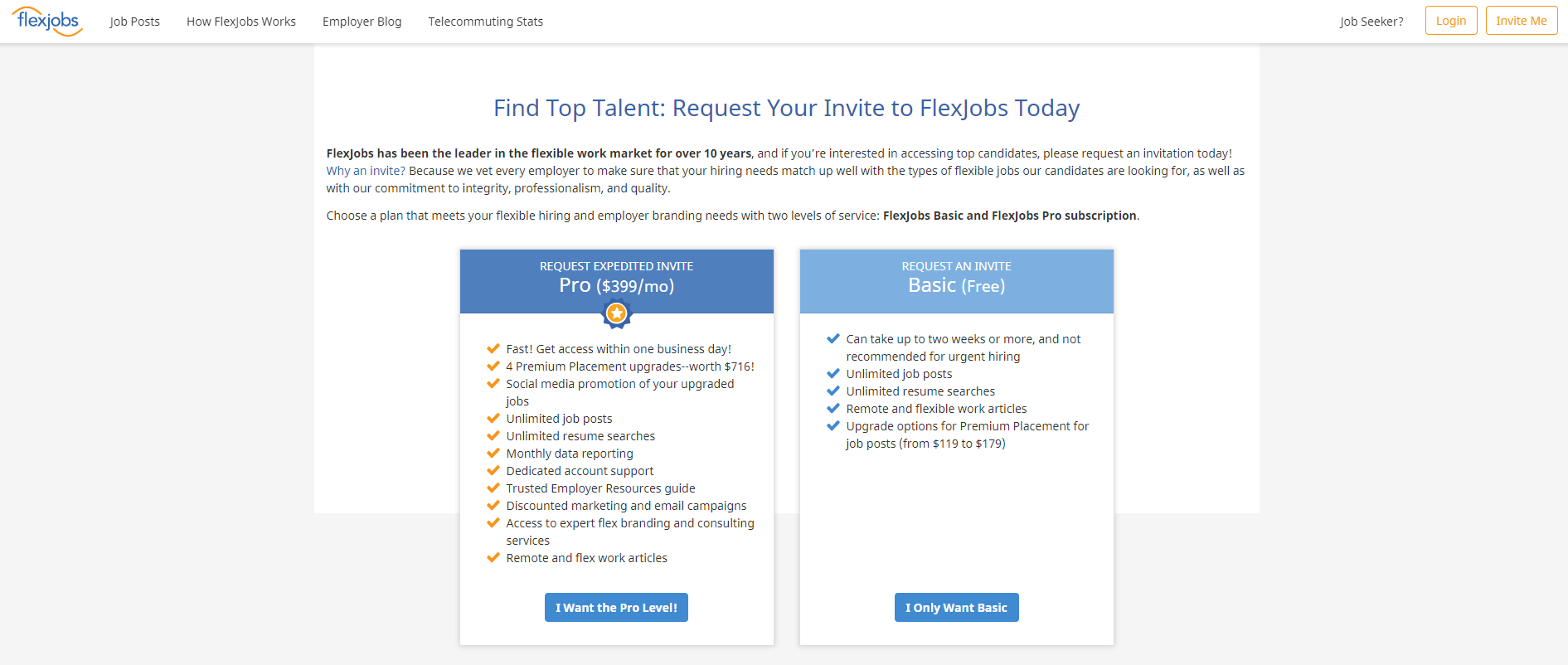 Pro:
$399/month
Quick access to the platform.
Four premium placement upgrades.
Social media promotion of your jobs.
Unlimited job postings.
Unlimited resume searches.
Monthly job reports.
A dedicated customer support team.
More
Basic:
Free
It can take upwards to two weeks before you get accepted into the platform.
Unlimited job postings.
Unlimited resume searches.
Upgrade options for placements.
If you're not in a rush to hire, then the free version is your best shot.
However, companies that are looking for employees ASAP should opt for the Pro package because they get nearly immediate access to FlexJobs along with many other perks.
And here's the kicker…
Freelancers have to pay to use the platform, as well.
This means that there are many more serious candidates on FlexJobs compared to other job boards.
Having a fee in place for freelancers instantly filters out casual job seekers.
If you're in search for long term employees, look no further.
5. Indeed
Indeed is the go-to job board in Canada, and it also doubles as a fantastic freelance job board.
You can sign up as an employer by clicking "Employers/Post Job" via the top navigation.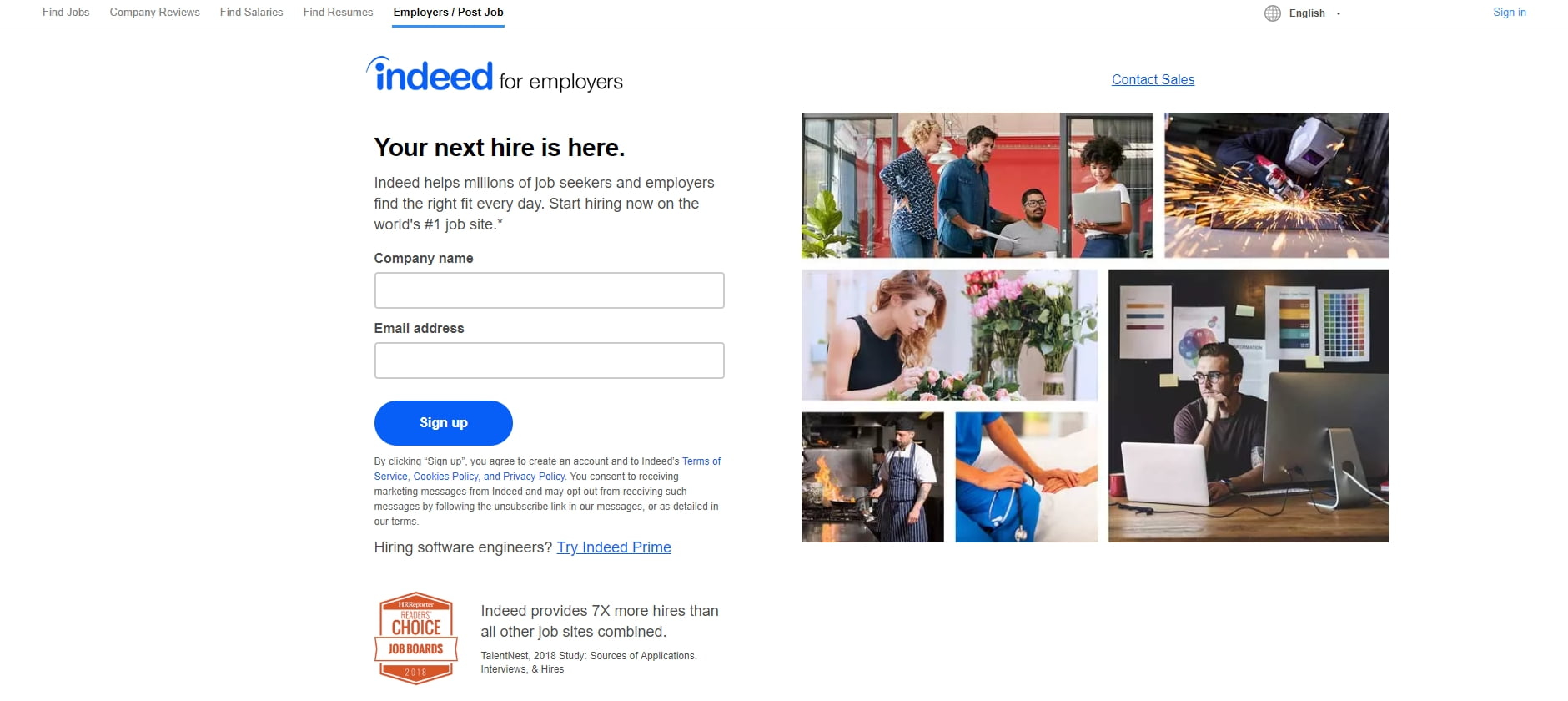 Enter your company name, email, and hit "Sign up."
You will be prompted to enter some other basic information about yourself and where the position is located.
Choose what type of job listing you'd like, freelance most likely in our case, and the salary.
You can change the salary between hourly, daily, weekly, monthly, and annually, as well.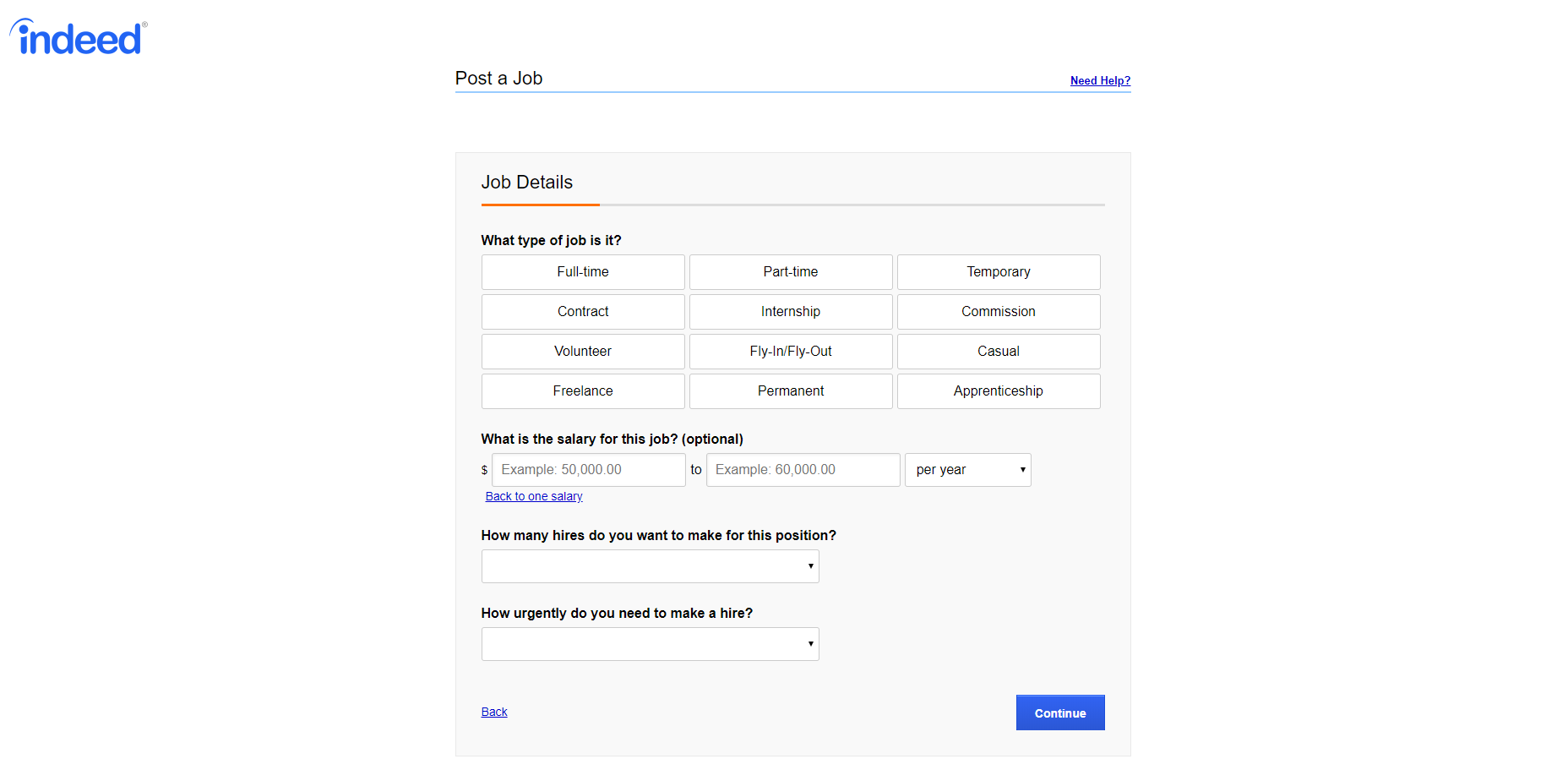 Set the amount of hires you need to fulfill the position and the urgency of it being filled after.
Click the continue button to write a job description on the next page.
The following pages will require you to refine application settings, experience requirements, and which assessment system you'd like to use.
Preview the job listing and confirm it when you're ready for it to go live 🙂
6. Guru
Over three million experts are waiting to get hired by you on Guru.
Over $250 million has been paid to freelancers on this platform, and it's a great platform to have in your hiring arsenal.
You can begin hiring by clicking "Post a Job (FREE)" on the home page.

Add a title for the job and a description outlining responsibilities.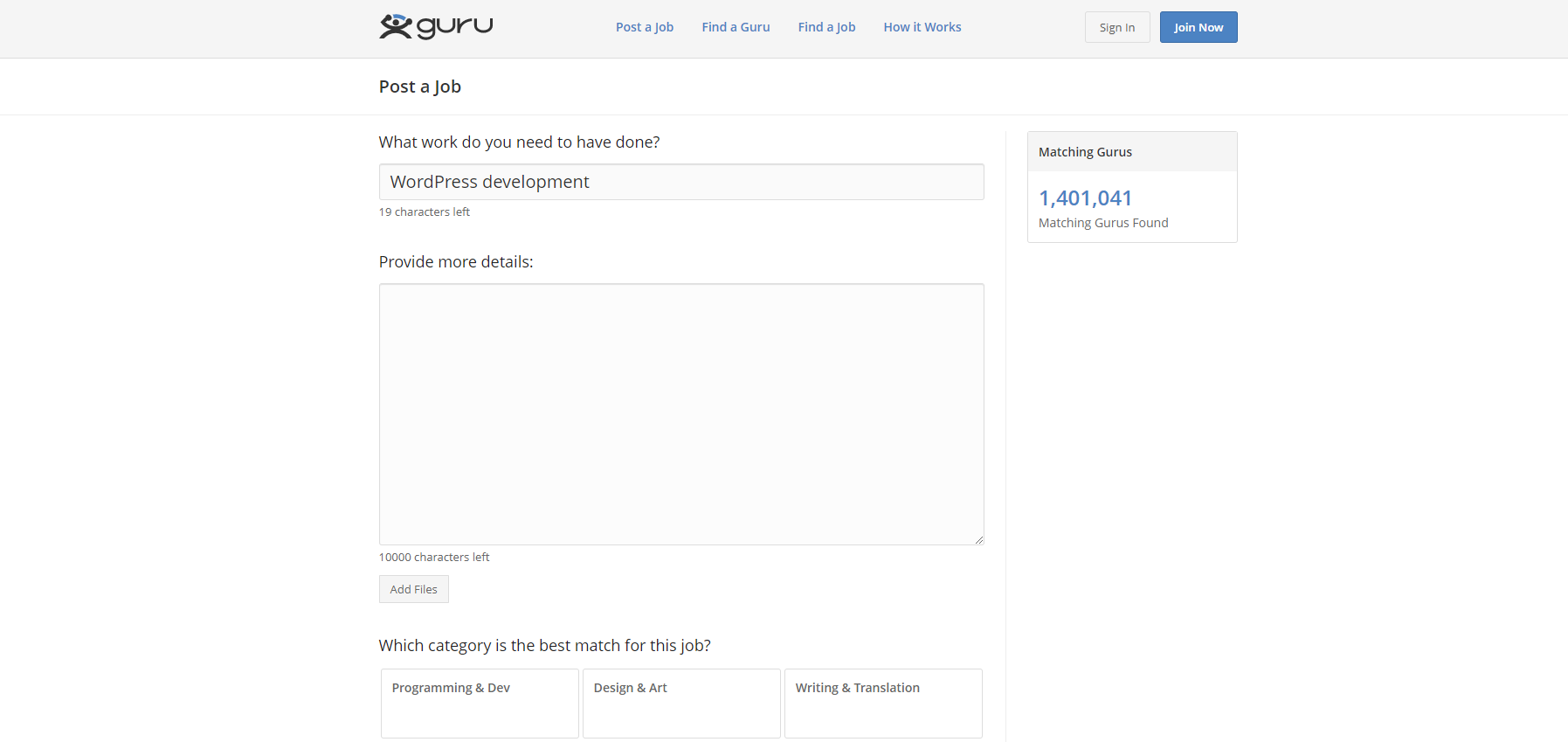 Guru will give you several categories to choose from based on what you enter.
Add keywords to further filter the job so it can be found in Guru's search engine by freelancers quicker.
Limit the job to certain zip codes or areas if you want only domestic workers or those from a certain country.
A budget can be set below this, and you can choose your exposure level, too.
Add a deadline to apply, register an account at the bottom of the page, and you're good to go!
Just like other freelance websites, you will receive proposals from interested gurus.
Hire those that are a good fit, and make sure that you have a good on-boarding process like:
A Skype interview to get to know each other.
A quick test project to gauge their skill level.
Their first real task.
7. Angel List
Facebook, Hinge, Medium, Yelp, and other huge companies use Angel List to hire.
Why don't you?
It's a startup database that you can use for finding freelancers, creating lists of prospects, and snooping on competitors.
Since we're on the topic of hiring today, click "Post a job" on the homepage.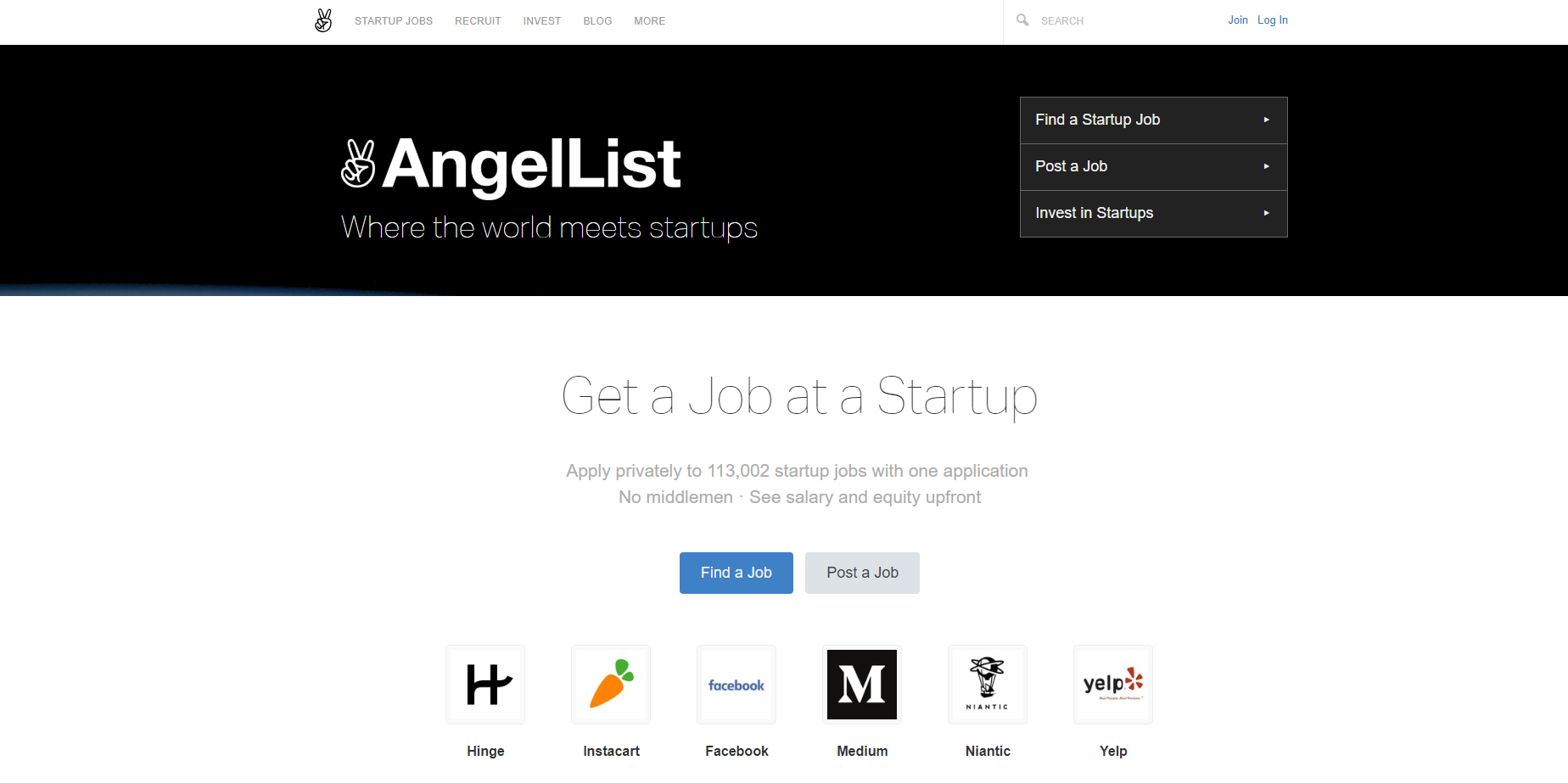 Register an account and fill out the details of your company afterwards.
This information will be shown on your company profile page, so take the time to polish it off good to make great impressions.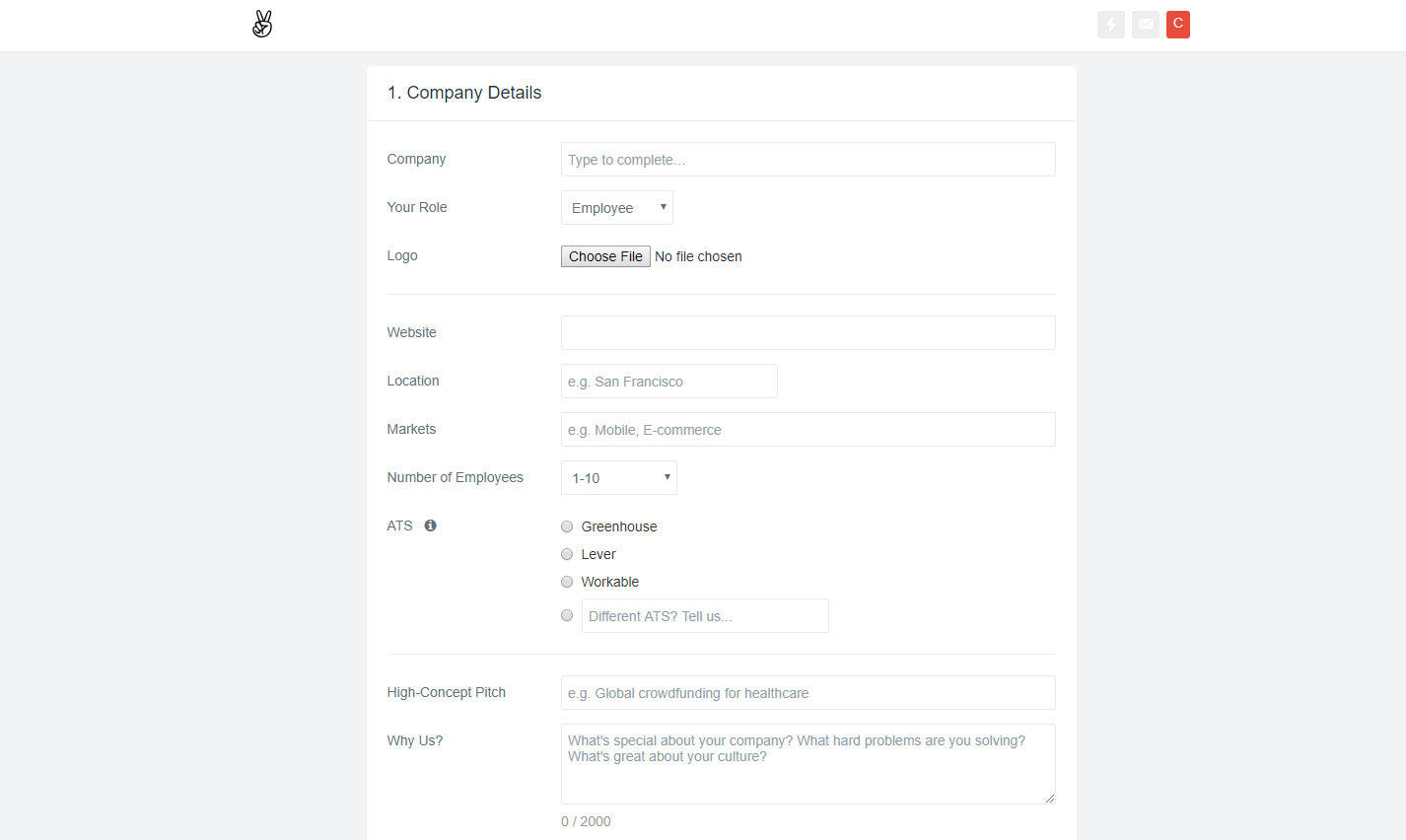 If your company is vague and empty, freelancers will be less likely to trust you and apply.
The second step is to create the job posting itself.
Here you will need to enter:
A title
A description
Type of position
Role
Work experience required
Skills needed
Location of job
Salary and equity
Visa sponsorship
Accept the terms of service and select "Post Job" once you're satisfied with your listing.
Applications will be sent to your primary email that you designate on the job creation page.
8. We Work Remotely
WWR is where the big boys play.
PayPal, Google, and some of the largest companies in the world use We Work Remotely to find the most talented freelancers globally.
If you're looking for top of the line workers, it doesn't get any better than this.
Click the big red job posting button on the home page to begin hiring.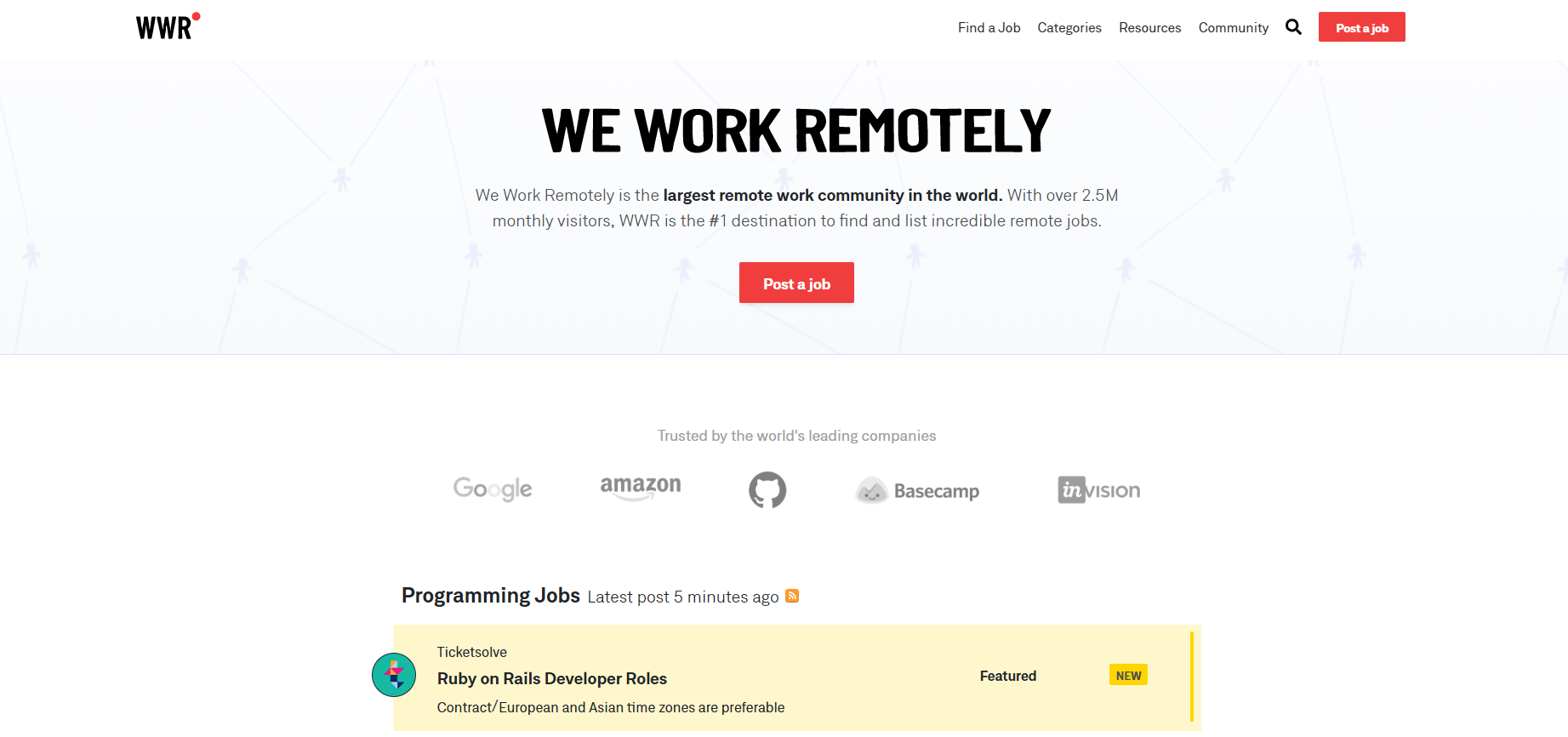 There are three steps to creating a listing:
Post a job: Enter a title, category, description, company statement, and other mandatory information.
Preview the ad: Preview the job ad before pushing it live.
Payment: You will have to pay $299 to have your job listing published.
Always look at platforms like these as an investment.
You're going to spend some money to find amazing candidates that will work for your company for years to come.
I think one of the best things you can do is use a mix of free and paid job boards to maximize applications.
9. BloggingPro
Another one of the best freelance websites for writers.
I've used this many times in my early days as a freelance copywriter.
I would visit it every day and pitch the new listings and you should too.
Click here to visit their job listing page.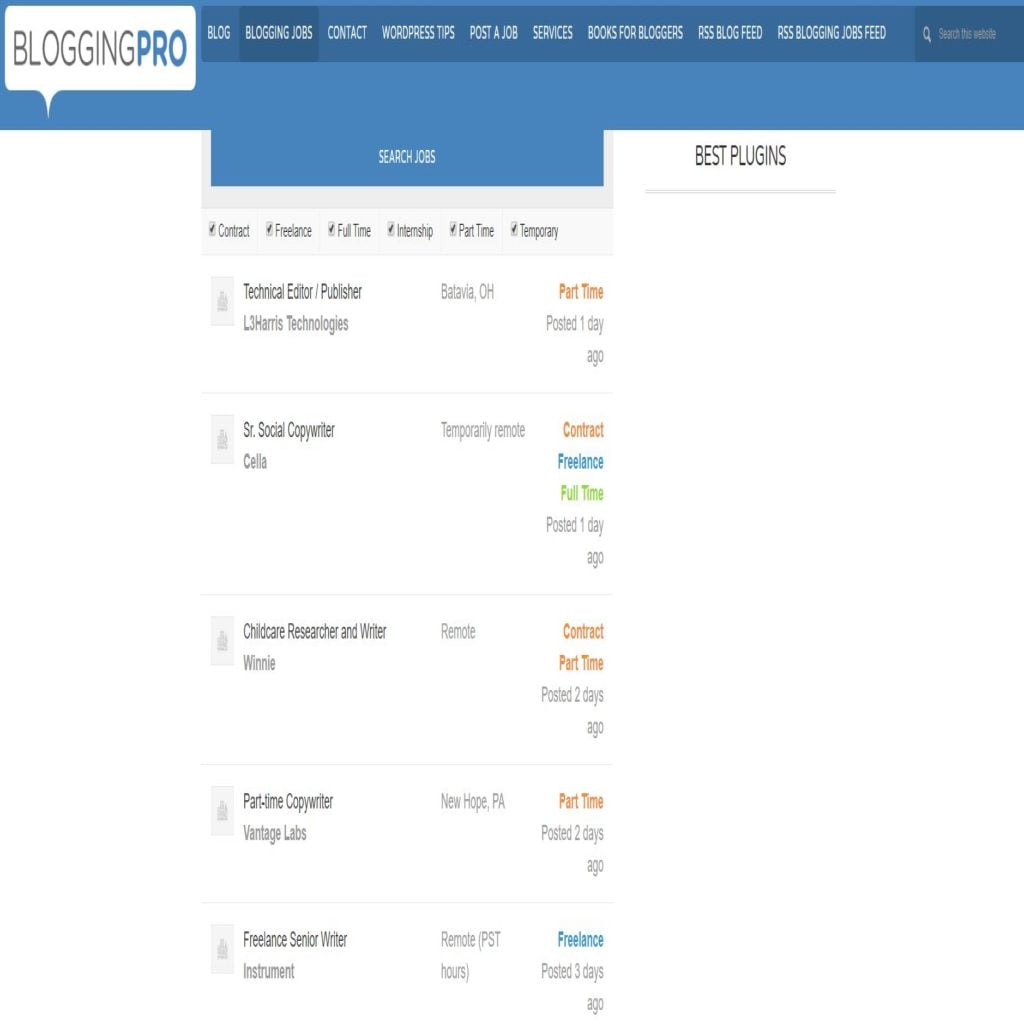 You can filter it by keywords, location, category, and job type.
There are contract, freelance, full time, internship, part time, and temporary gigs posted on a regular basis.
The left column lists the company name and position followed by the location and job type.
Click a job and it will bring you to the description page where you will find more information about responsibilities, qualifications, and how to apply.
Some will ask to see a resume, portfolio, or apply through a system like Typeform.
10. Contena
Contena has some of the highest-quality and well-paying freelance jobs available on the internet.
The cool part about their platform is that it's not just dedicated towards writers but content creators of all kinds including:
Writers
Editors
Tutors
Transcribers
Journalists
Proofreaders
Marketing managers
Etc.
There are jobs listed that pay up to $7,000/month!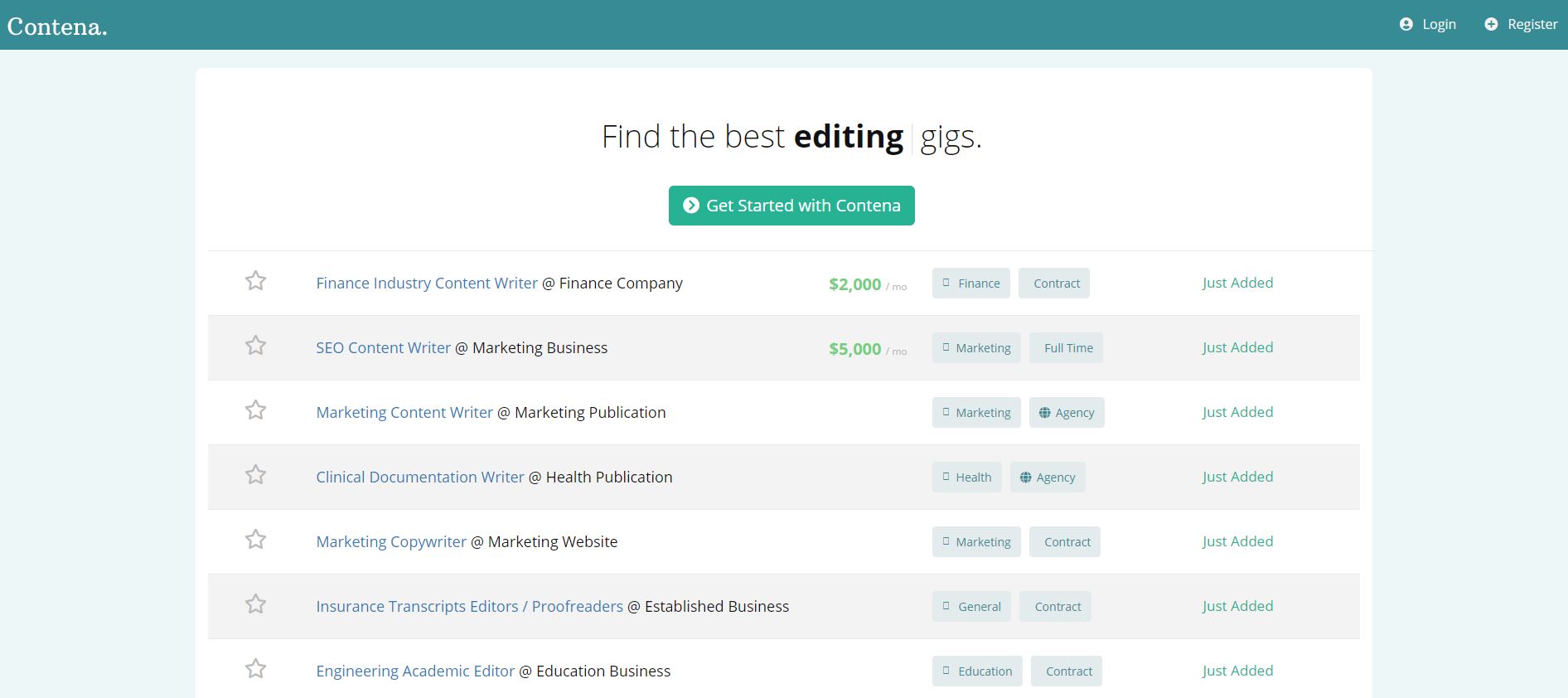 Imagine landing that. You'd be making a full-time living. 🙂
Please keep in mind that Contena requires a paid subscription to use their platform though.
If you're serious about finding high paying freelance jobs then it's worth the investment.
Think about it…
You spend $99/month for the Gold Membership and get a gig worth a few thousand per month. That's a fantastic ROI!
11. Fiverr
Fiverr received its name because every job starts as low as $5. But hold your horses.
Not every job you do will be that cheap.
There are jobs that are hundreds of dollars or more depending on the service you provide.
Create a free account and begin adding services you wish to provide for customers.
You can create tired pricing in which you add further deliverables for an increased price.
Freelancers can also add upsells to increase income.
12. SolidGigs
If you've been searching for freelance jobs, you need one thing.
…it takes A LOT of time to comb through websites and social media to find opportunit.es
Hours, in fact.
Wouldn't it be great if a website did all of the hard work for you and compiled high-paying gigs automatically?
Welcome to SolidGigs.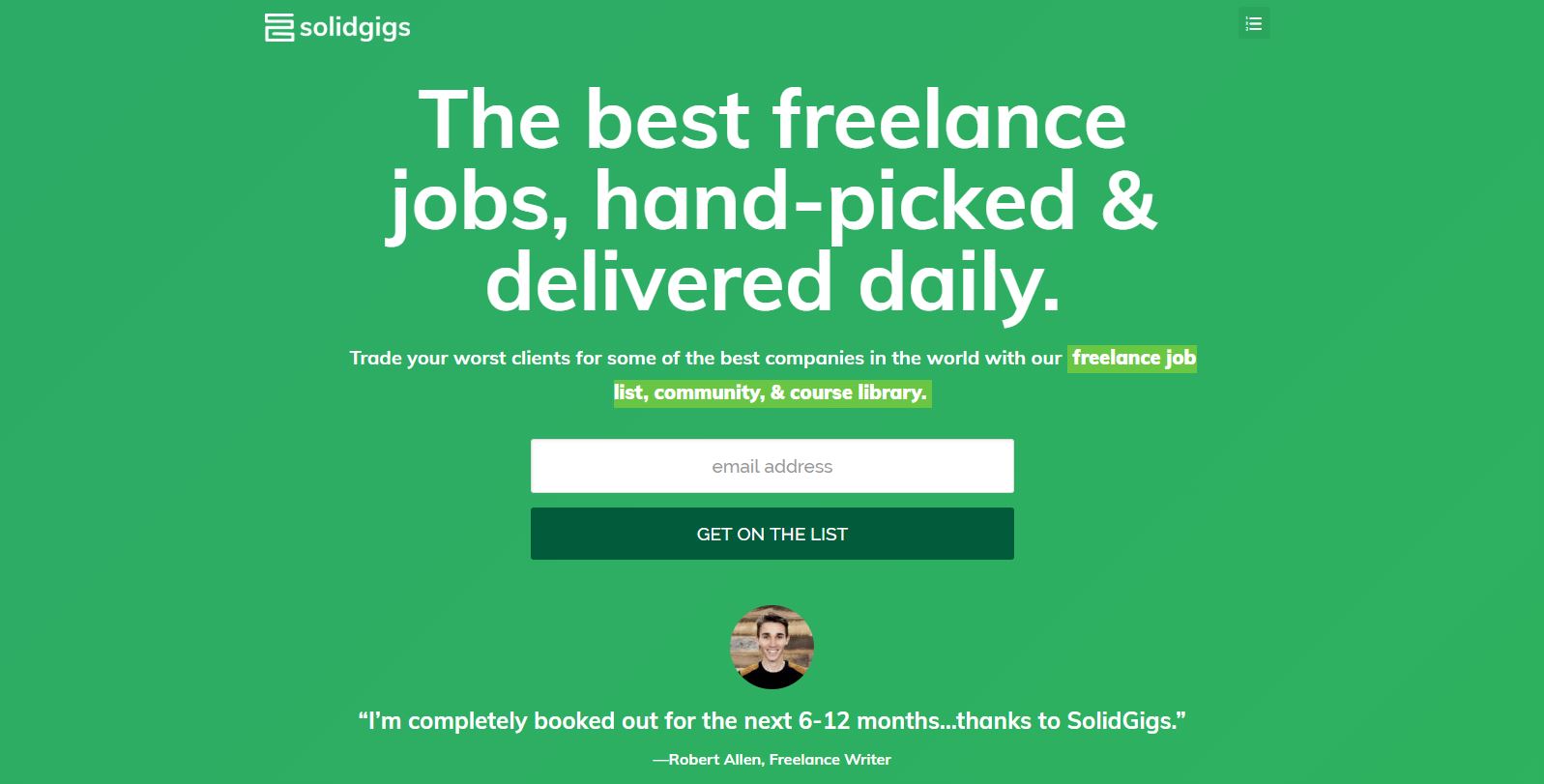 They find the top 2% of all freelance gigs on the website every week and sends them to you directly.
SolidGigs customers have gotten work with CBS, WordPress, BuzzFeed, Fox, and other large companies.
It starts at $2 for a 30 day trial and $19/month after that. Worth a shot!
13. Craigslist
Good ole' Craigslist.
The place where you get used stuff for cheap and find people for your weekend band.
However, did you know that it's also pretty good for finding freelance work?
I remember using it many years ago to get freelance writing work and it wasn't too shabby.
Naturally, it makes it spots on to my list today.
14. Freelance Writing Gigs
This was one of my favorite freelance writing websites back in the day.
As you could guess from the name, Freelance Writing Gigs curates high-quality writing jobs from all across the internet.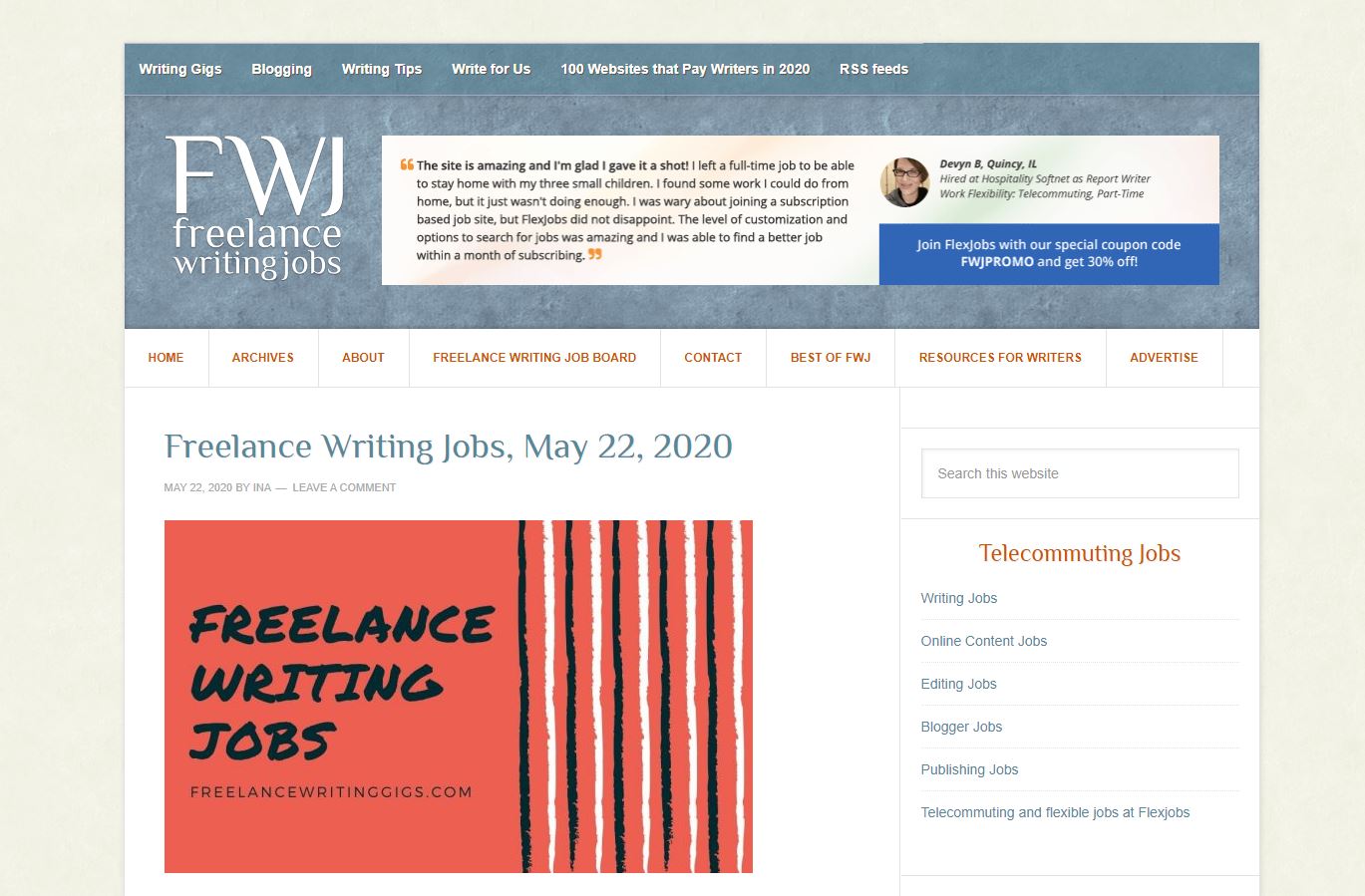 Every day they post a new article that's broken down into different categories like content writing, copywriting, grant writing, technical writing, and more.
They list the position, company, and job type (like full-time or part-time).
15. Journalism Jobs
Want to break into journalism and write for news publications?
Then you need to keep an eye on Journalism Jobs.
Large publications like Boston University, The Times, ConsumerAffairs, PBS, and others are constantly scouting out new talent.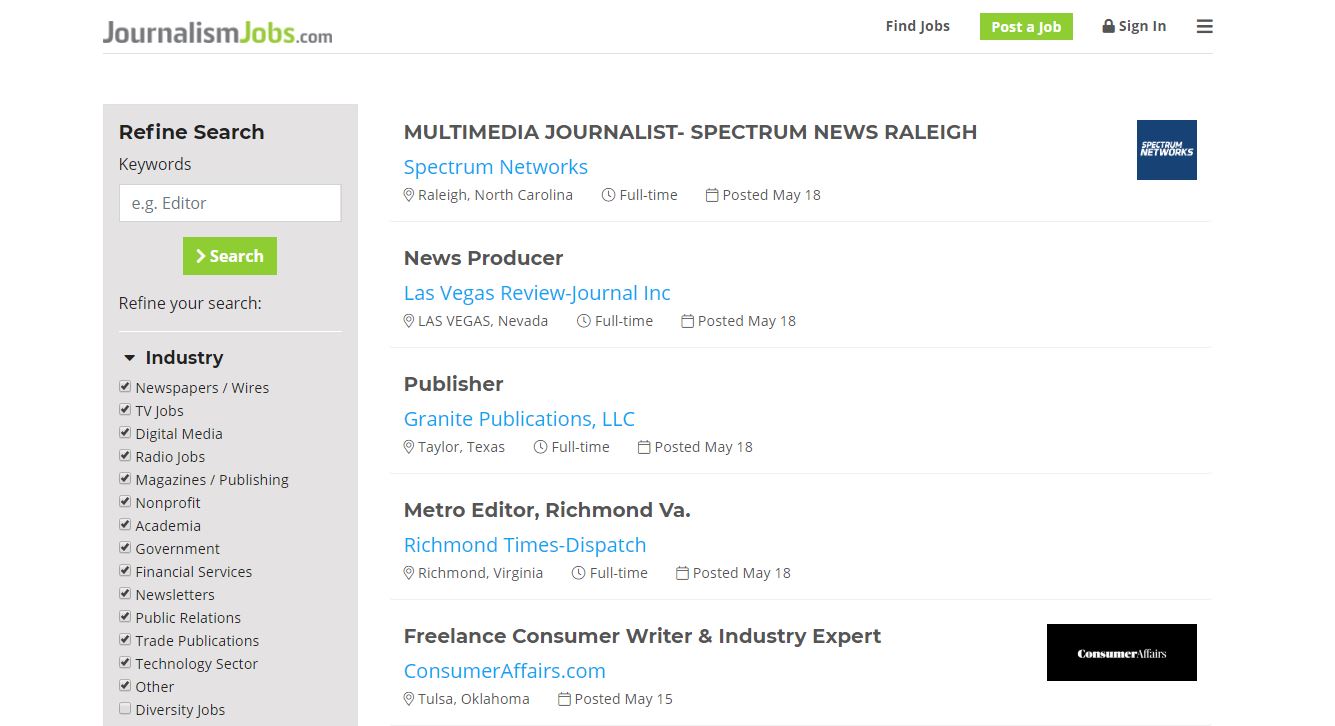 Refine your search from the left sidebar via keywords, position, salary, job type, and more.
Click a listing that interests you and it will describe the position, responsibilities, and how to apply.
16. Remotive
Remotive helps freelancers find remote work all over the world.
It's also a great way to reach up to 100,000 freelancers every month if you're trying to build a team or hire.
Choose from one of the categories or search a specific keyword to narrow down results.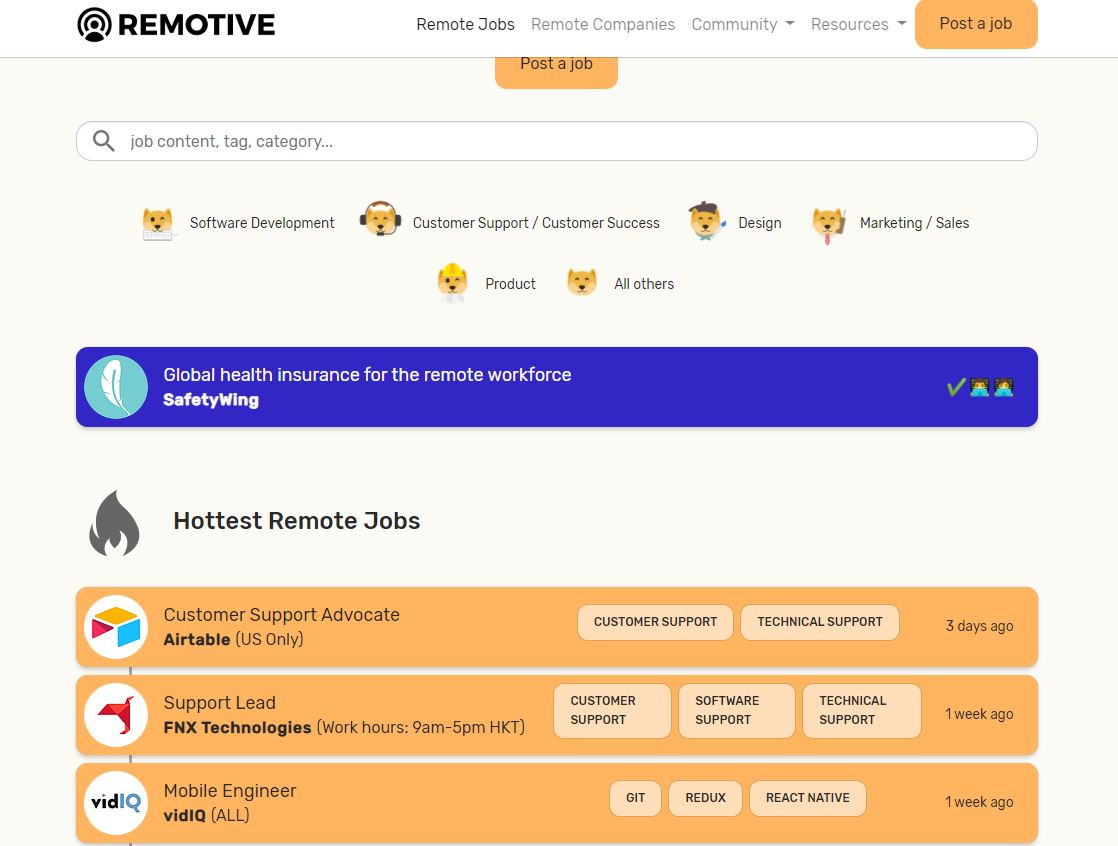 Listing pages detail the position, job type, location, and how to apply.
17. Aquent
Aquent is a service that helps marketers and creatives find satisfying work with great companies.
Filter results with keywords, location, or advanced options.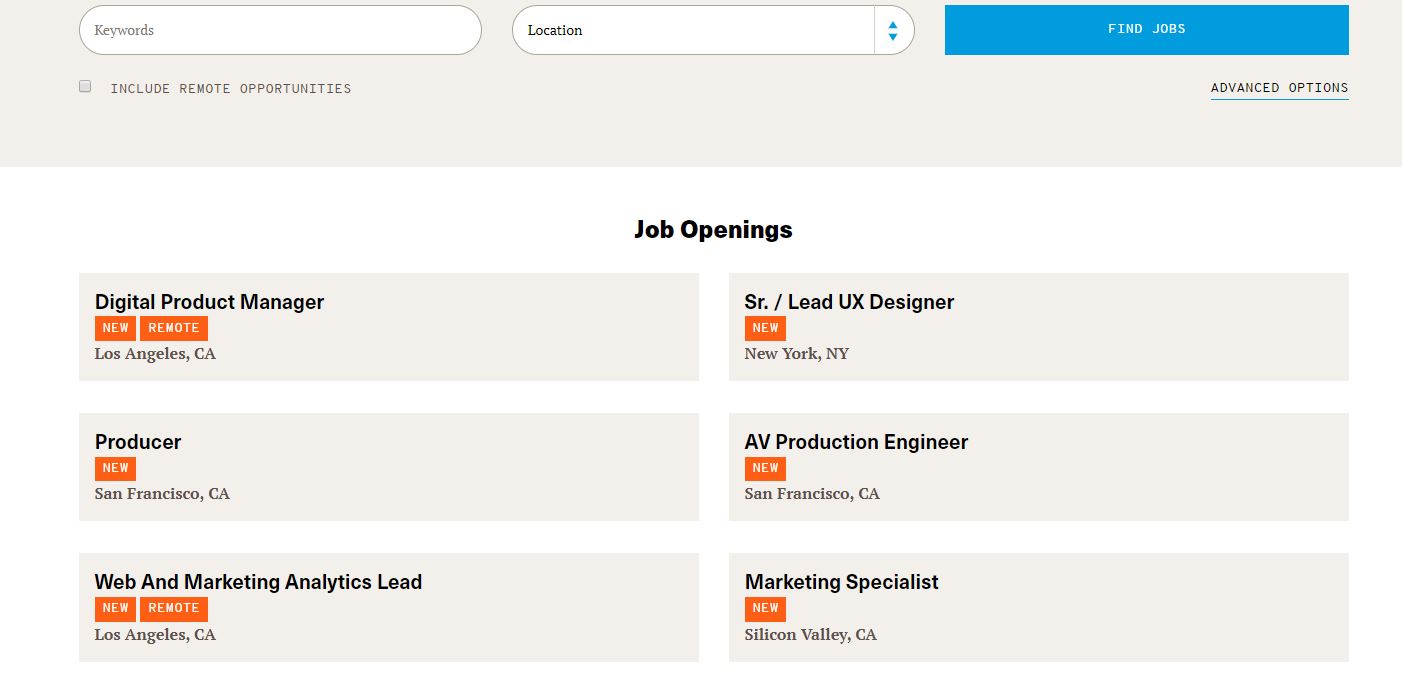 You will find job listings for data entry, marketing, engineering, consulting, and so much more.
The job description, terms, and client description can be found on each individual listing.
Click the apply button to begin the first step towards your new career!
18. Belay
Are you a virtual assistant or interested in performing VA work?
It's a great way to make money online while also learning different skills.
Being a virtual assistant includes everything from handling emails, data entry, and marketing.
Belay is a company that helps VA's connect with companies that need help outsourcing tasks.
Contact them to begin the onboarding process.
19. Time Etc.
This is one of the world's leading virtual assistant platforms for anyone that wants to earn a part-time or -full-time income as a freelancer.
They provide as much regular work as you need whether you treat it as a side hustle or full-time gig.
There are no overseas competition or bidding wars. You get guaranteed matches based on your skills.
Learn more and apply here.
Wrapping up the best freelance websites
Hiring can be a daunting experience.
You have to go through resumes, tons of applicants, and interview countless candidates.
It doesn't have to be that hard, though.
Use the freelance sites I covered today to begin building the remote team of your dreams.
Outsource and scale your company to new heights while having the free time to dedicate towards other important tasks.