Trying to land paid writing gigs or outsource content for your business?
You're in the right place.
Today I'm going to share the best writing job boards with you, and teach you how to get started on each of them.
Follow along!
ProBlogger
If there's one freelance writing job board that's the king of them all, it's ProBlogger.
This writing job site attracts some of the biggest websites looking for freelance writers.
There are non-stop jobs posted if you're trying to earn money as a writer, and no niche is out of bounds.
It doesn't matter if you're a technical, medical, or digital marketing writer, there's opportunities for you.
Visit ProBlogger's job section here.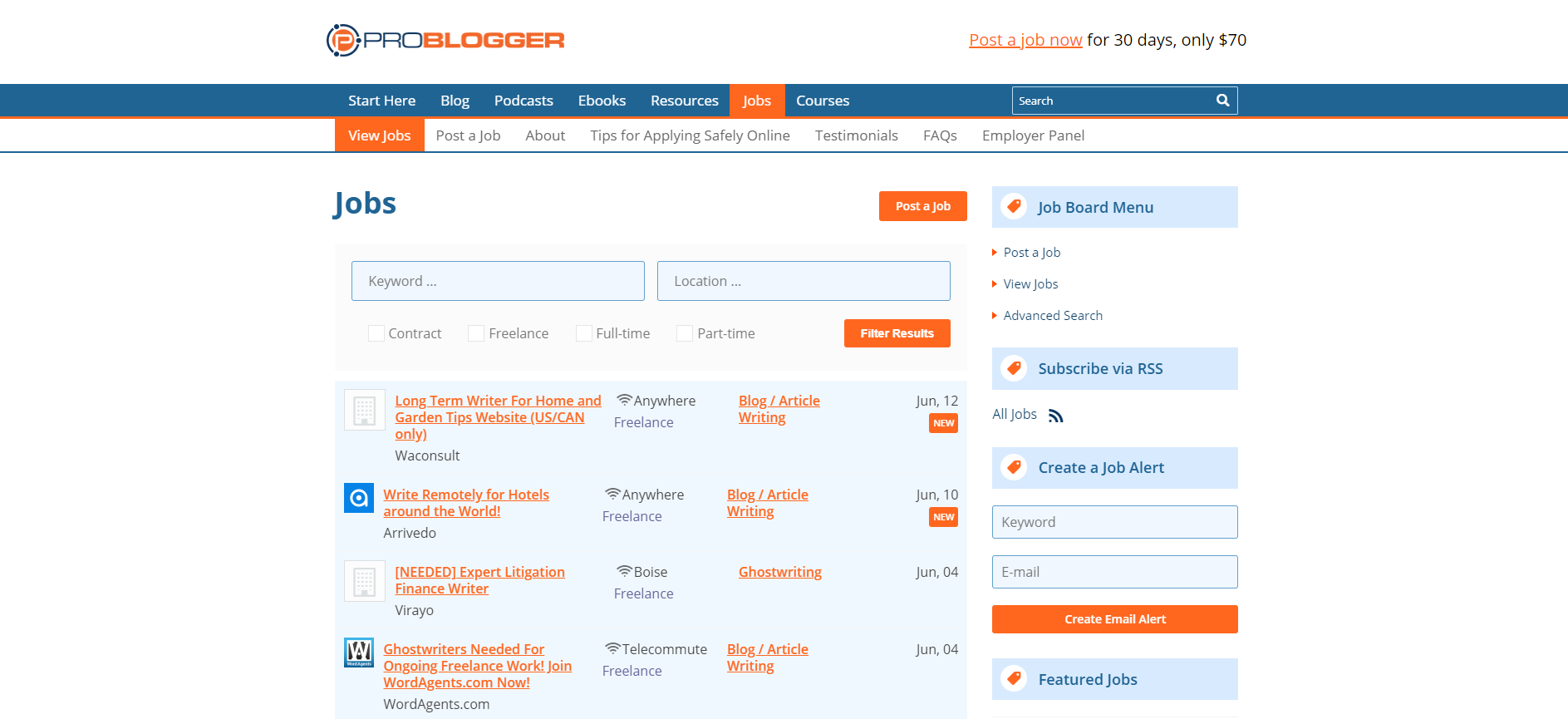 There is a list of jobs that you can filter by keyword, location, and job type.
The first column is the title of the job followed by the location, writing style, and date of posting.
Click any job that interests you.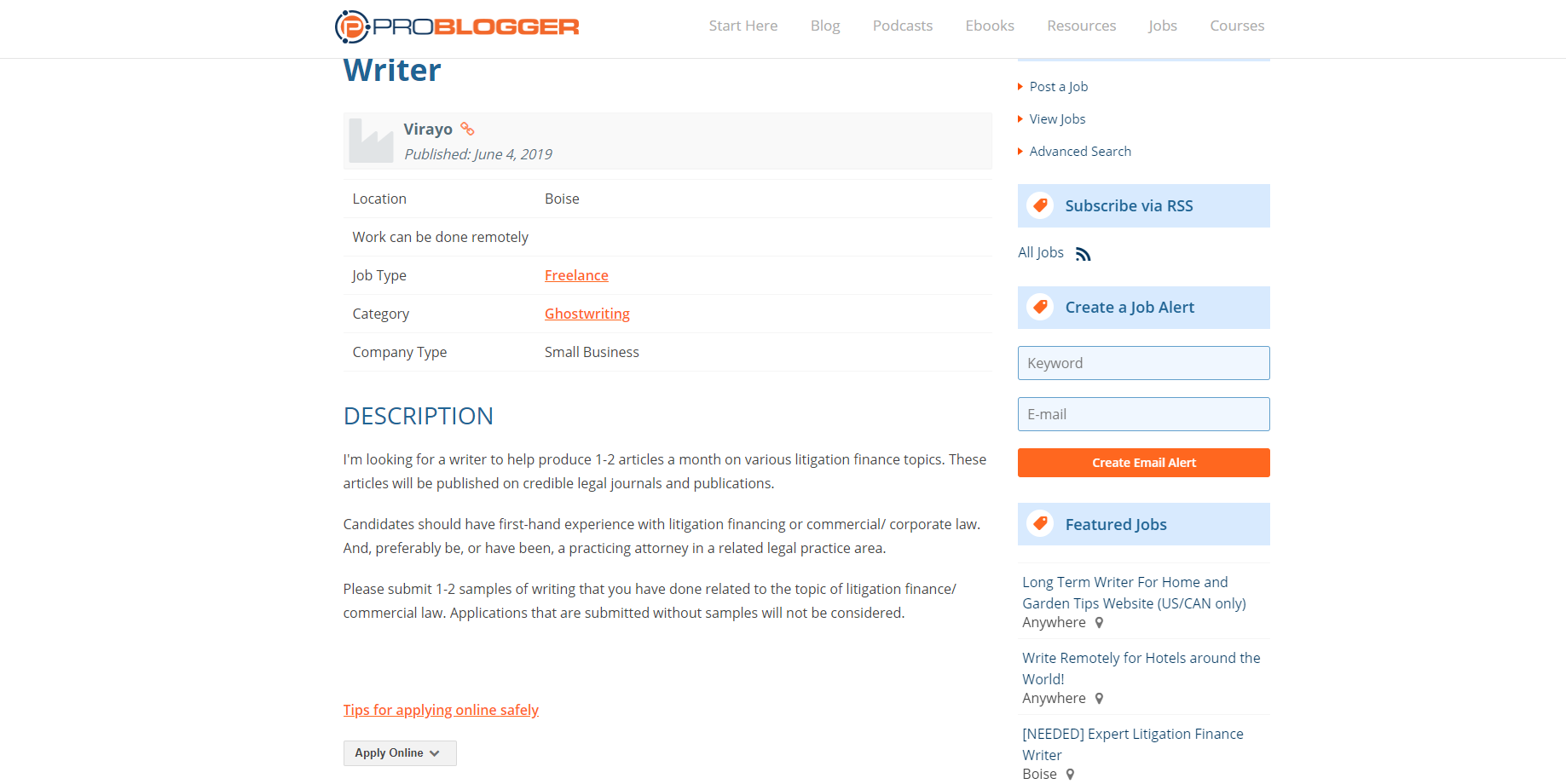 The individual job page has a summary at the top and a longer description of the position afterwards.
Job positing will either use the built-in application form or forward you to another site like a Google Typeform page.
Click the "Apply Online" button to send them a pitch.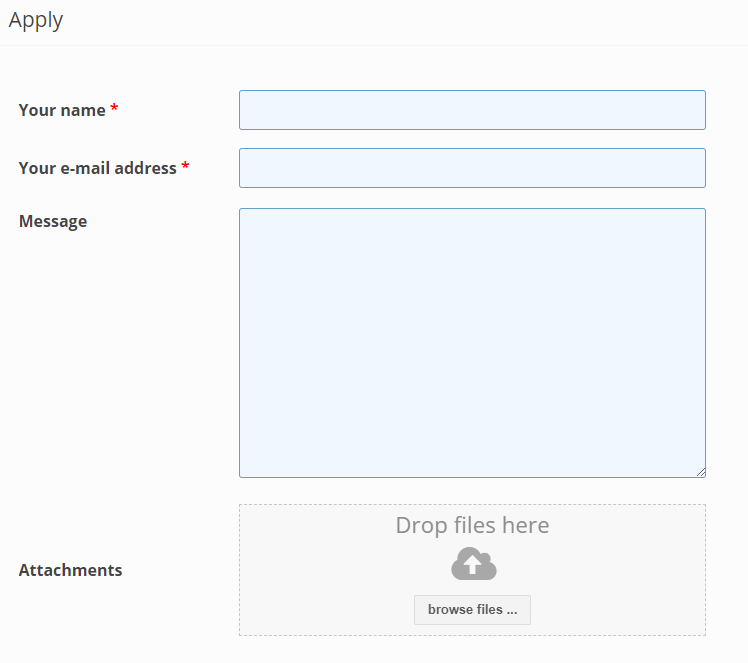 As a copywriter and business owner that hires writers, I recommend you craft a pitch which incorporates the following elements:
Don't beat around the bush and keep it relatively brief. Nobody wants or has the time to read several paragraphs. Slim it down to a few sentences if possible.
Focus on the benefits of what the employer will gain by working with you. Can you drive organic traffic and generate leads with content, for example? Mention that versus rambling about your experience.
Always attach a resume that is updated and elaborates on relevant skills like WordPress, SEO, time management, etc.
If you would like to post a job listing yourself, navigate to the employer registration page.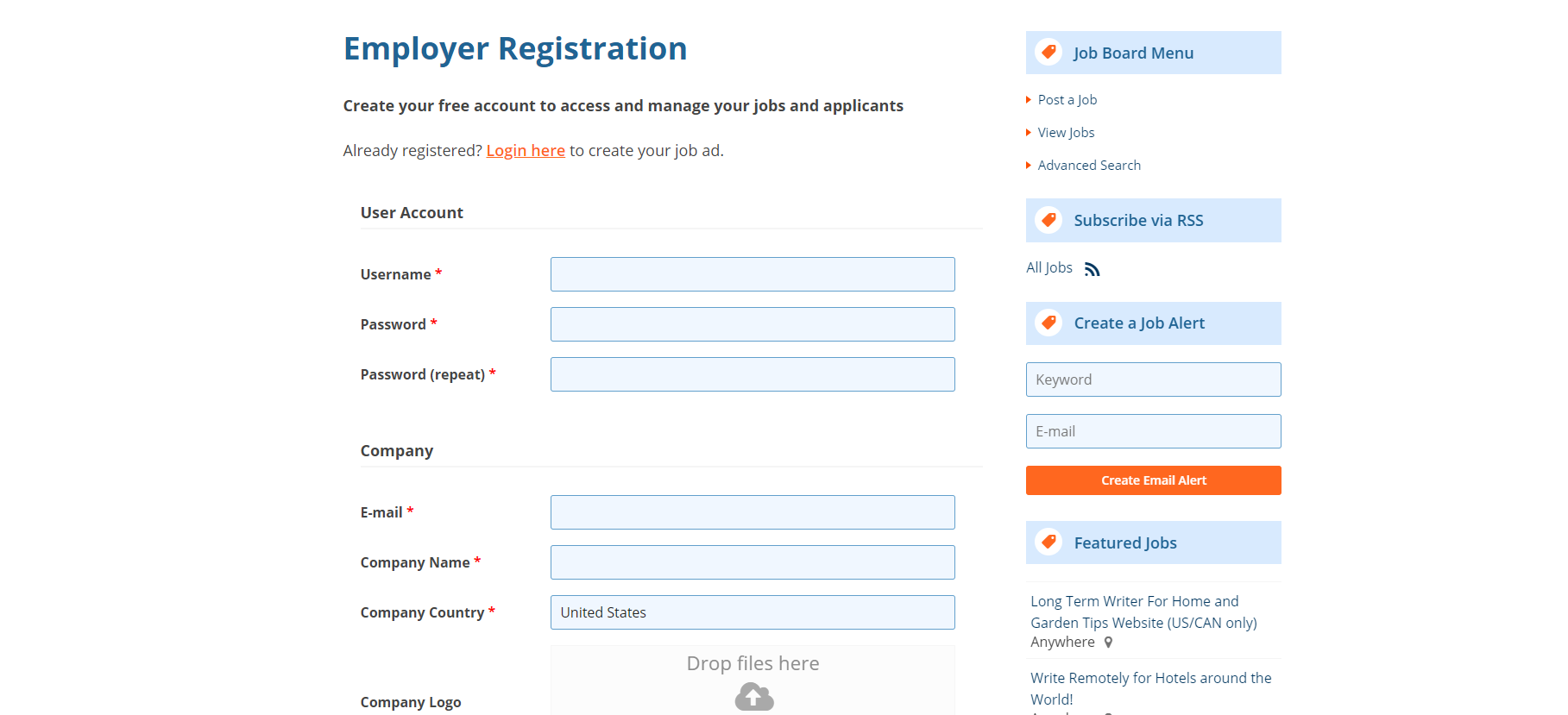 Sign up for a company account, and it will guide you through creating a posting.
Note that it costs $70/month to have a listing.
This is to weed out less serious businesses, and is well worth the investment because of the high quality writers that will apply to your gig.
BloggingPro
BloggingPro is updated every day with exciting writing opportunities.
They are also an excellent platform for finding skilled writers if you're looking to outsource content or copywriting.
Visit their job page here to begin.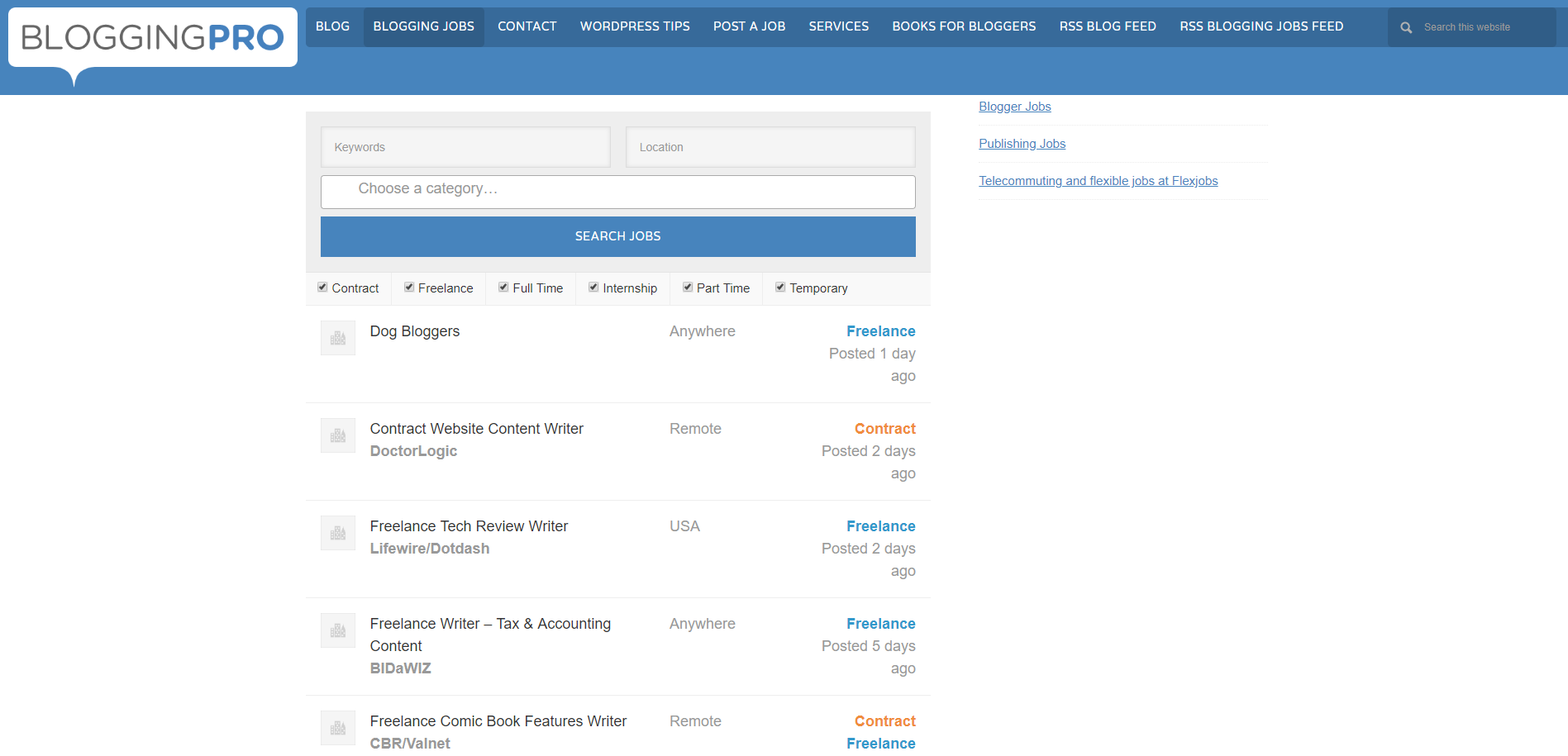 Similar to ProBlogger, you can filter the results by keywords, location, and job type.
The left column has the job title followed by the location and when the position was posted.
Click any job that seems interesting to learn more about it.
Here you will find the job description along with application instructions.
Ensure that you read these carefully. It might ask for you to submit portfolio pieces, rate per word, or other information to screen applicants.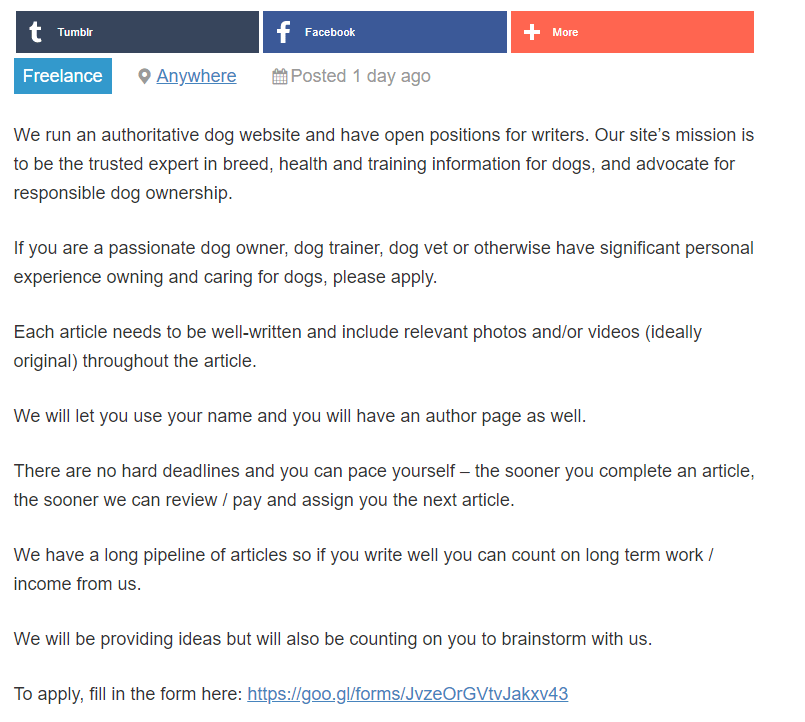 If you'd like to post a job, click here.
You will need to sign up for an account and enter the following information:
Job title
Location
Job type
Job category
Description
Application email/URL
Salary
Company details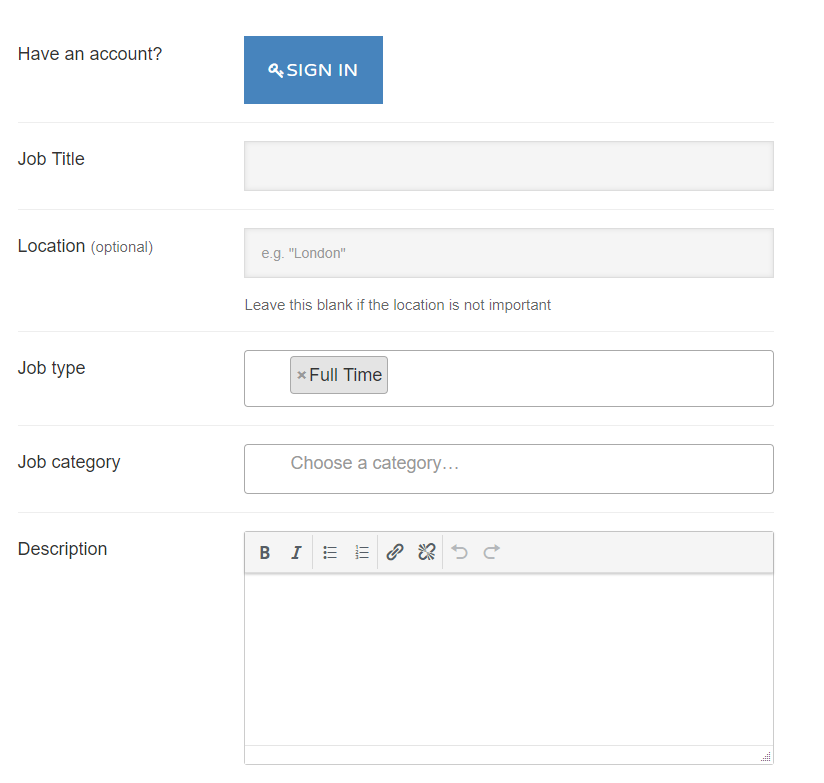 BloggingPro requires you to post jobs that are at least $15/hour or 500 words.
They will take a look at your posting and get back to you with 24-48 hours.
FlexJobs
FlexJobs is a remote job board to find full time, part time, or freelance work.
Their trained team works on a daily basis to find the best possible jobs and careers to post on their website.
This ensures that you get the highest paying and relevant opportunities.
FlexJobs also offers career related content, coaching, video introductions, checklists, and more to maximize your success at finding gigs.
Sign up for a membership if you'd like to get started.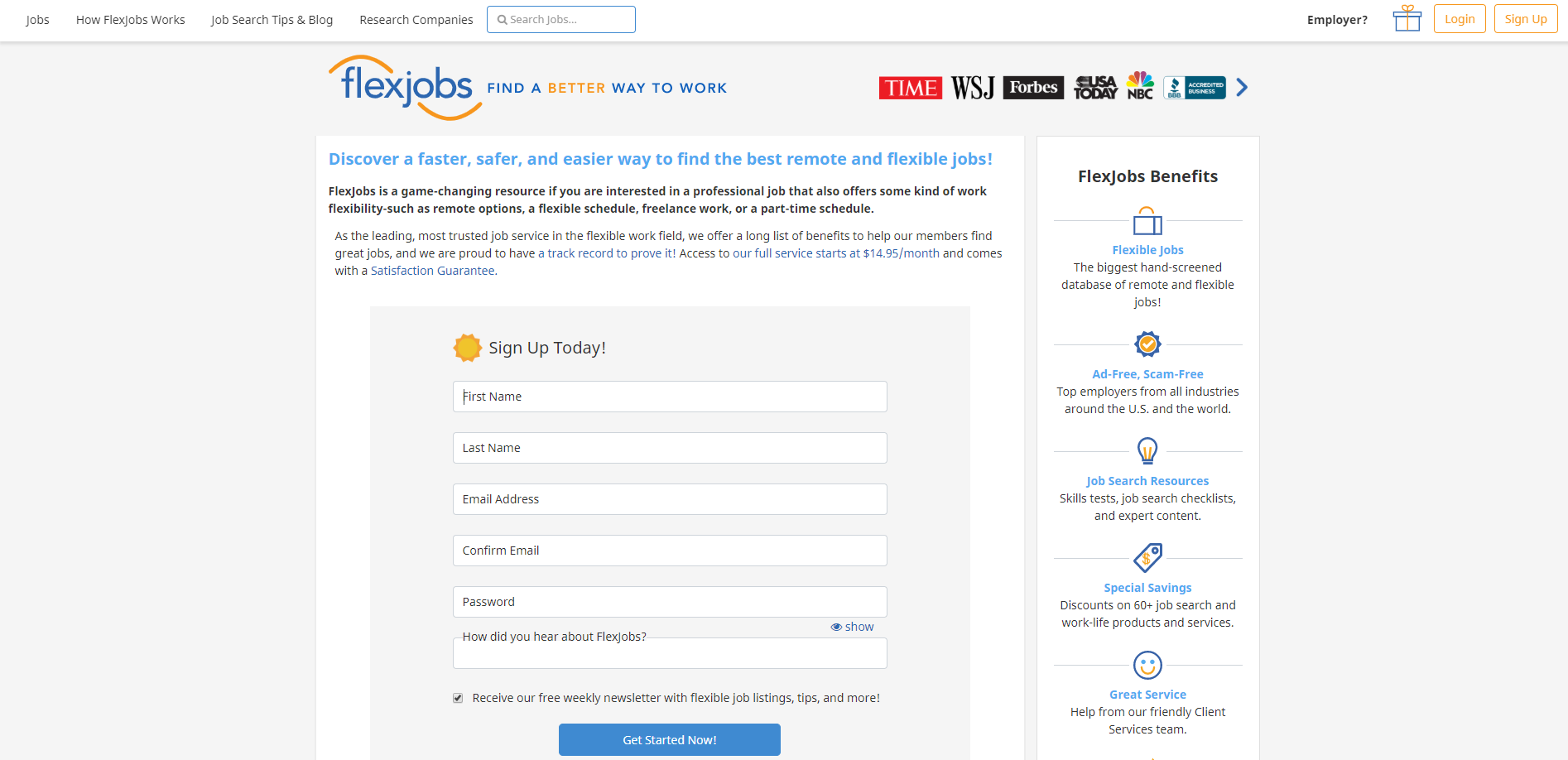 At $14.95/month, it's pretty reasonable if you think about it.
You're investing into finding high paying careers or gigs, and you'll earn much more than that anyways.
Since FlexJobs isn't dedicated to just writing opportunities, you will need to enter a writing related keyword in the search bar.
This will net all of the writing positions which you can further refine by filtering.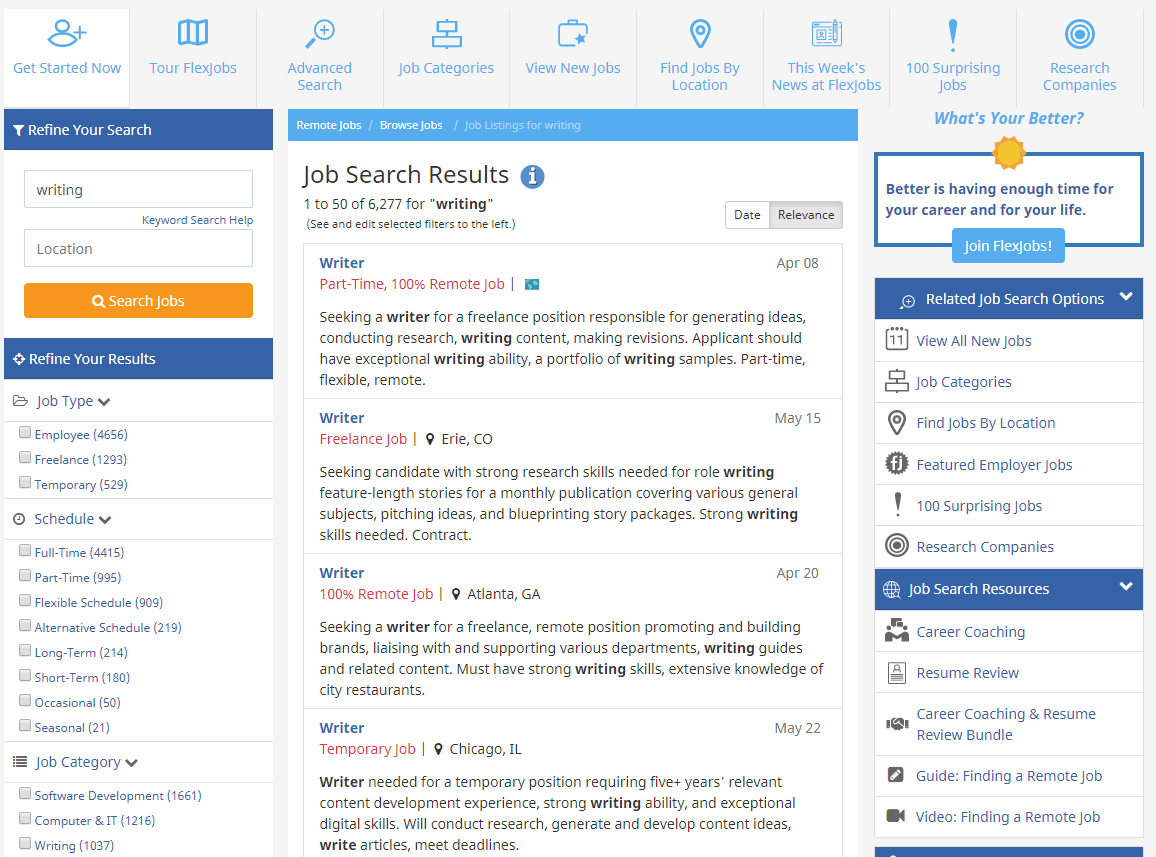 There are over 6,200 remote writing jobs on FlexJobs at the time of this article!
If you applied to many of these, you're bound to begin making some serious coin.
Clicking a job will prompt a sidebar popup that lists the details and application instructions.
Those that wish to post jobs can choose between the basic and pro plans.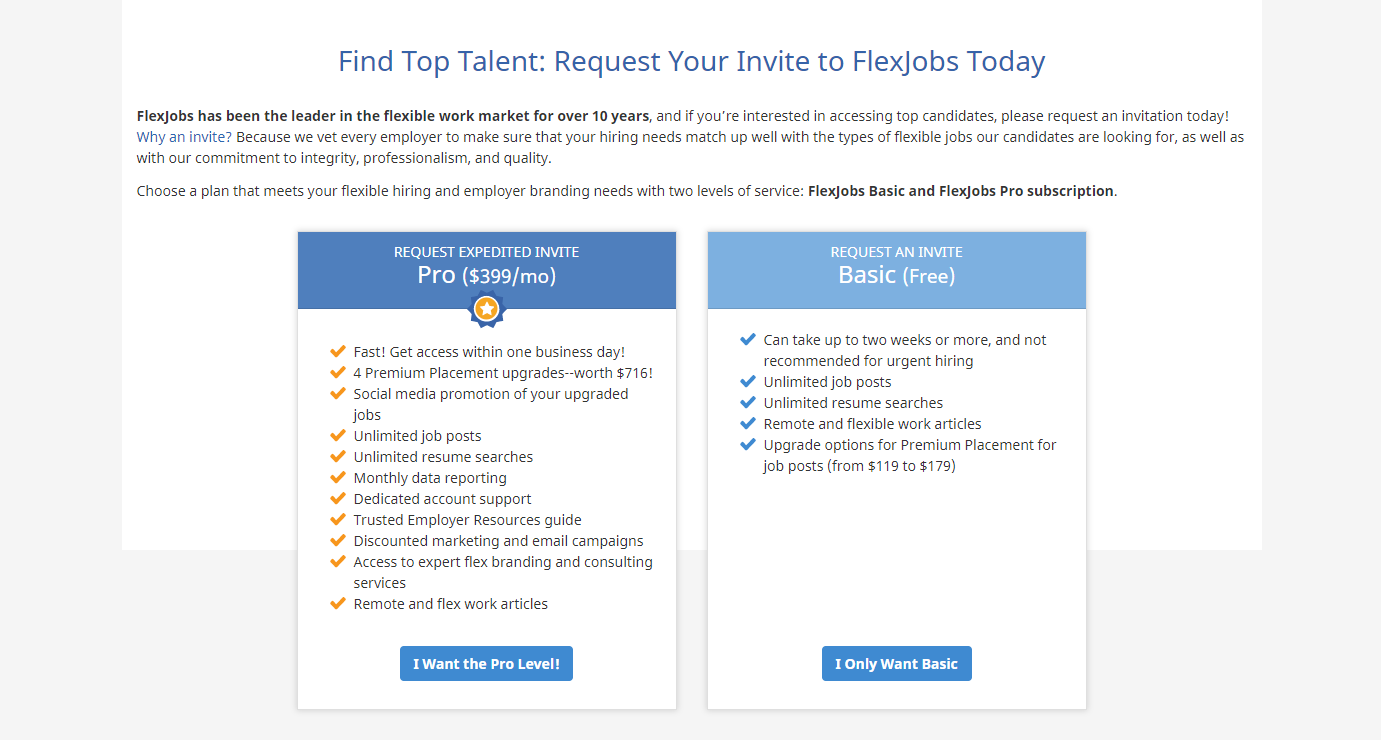 If you're not in a rush, choose the basic plan. It offers:
Unlimited job postings.
Unlimited resume searches.
Remote and flexible articles.
Options to upgrade later.
Those that are willing to dish out the $399/month for the pro package can look forward to:
One business day approval versus the two week or more of the basic plan.
Four premium placement upgrades.
Your jobs will be promoted on FlexJobs' social media.
Unlimited job posts.
Unlimited resume searches.
Analytics and monthly reports.
Dedicated customer support.
Resources to make you a better employer.
Marketing and email campaigns at a discounted rate.
WeWorkRemotely
WeWorkRemotely is a remote job board that is used by some of the biggest companies in the world like Amazon and Google.
Imagine being able to work for a business like that from the comfort of your home!
Navigate to their job listings to begin.
It's broken down into different categories, and you can scroll through or hover over "Categories" on the navigation.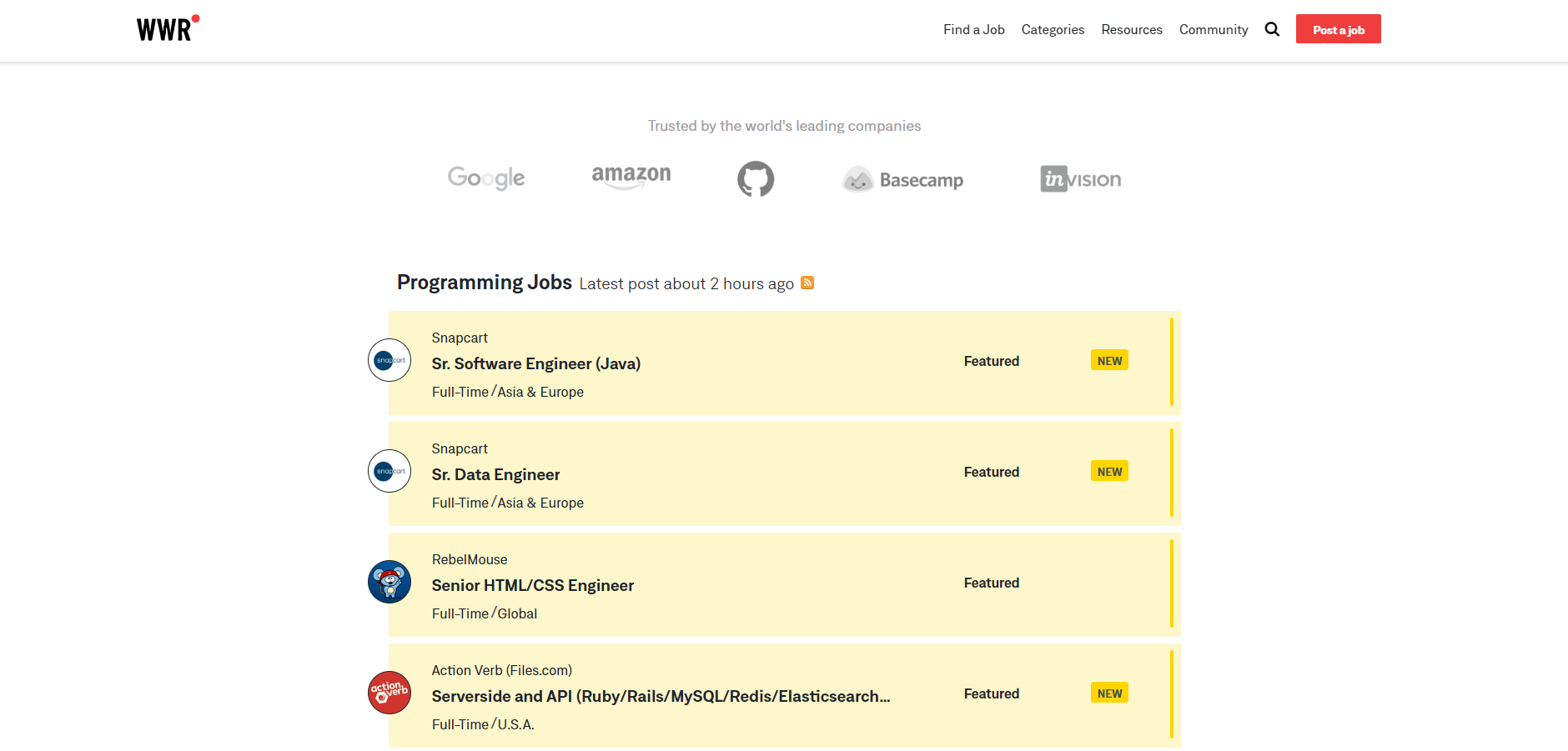 Clicking a job will bring you to the listing page.
It will detail the responsibilities, requirements, and qualifications for the position.
If it seems like a good fit, click the red "Apply for this position" button.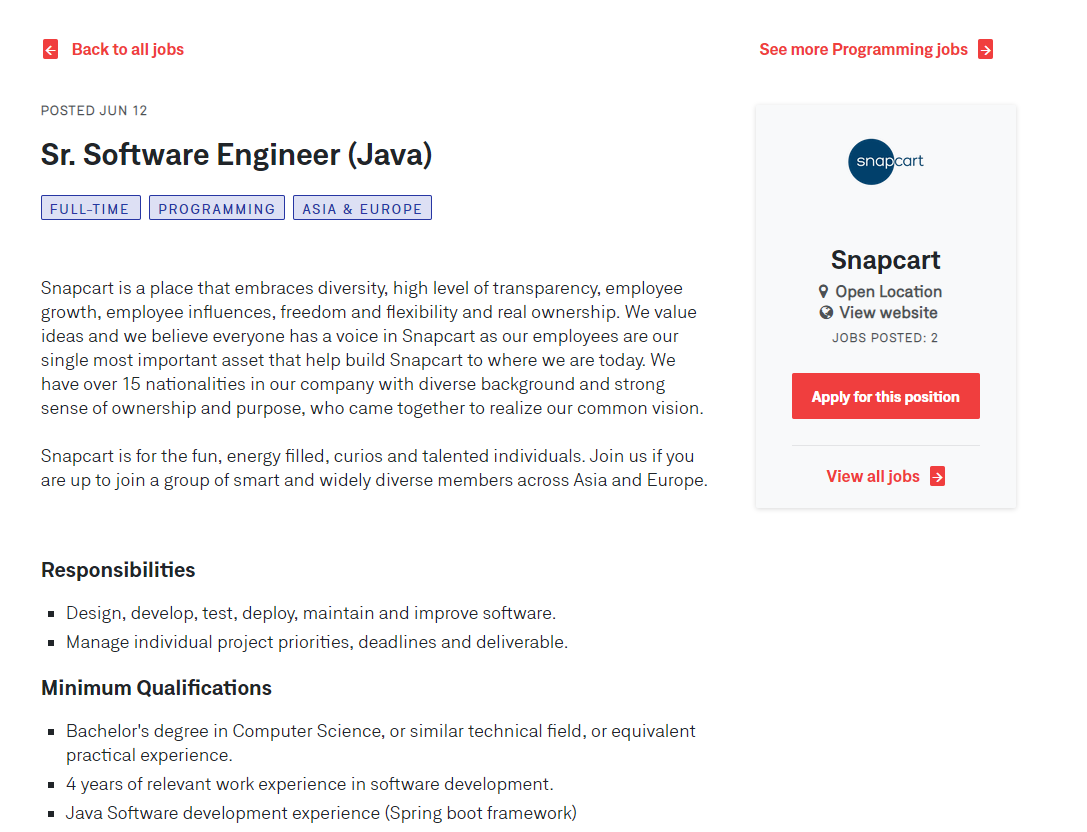 You can also post listings by creating a new job post here.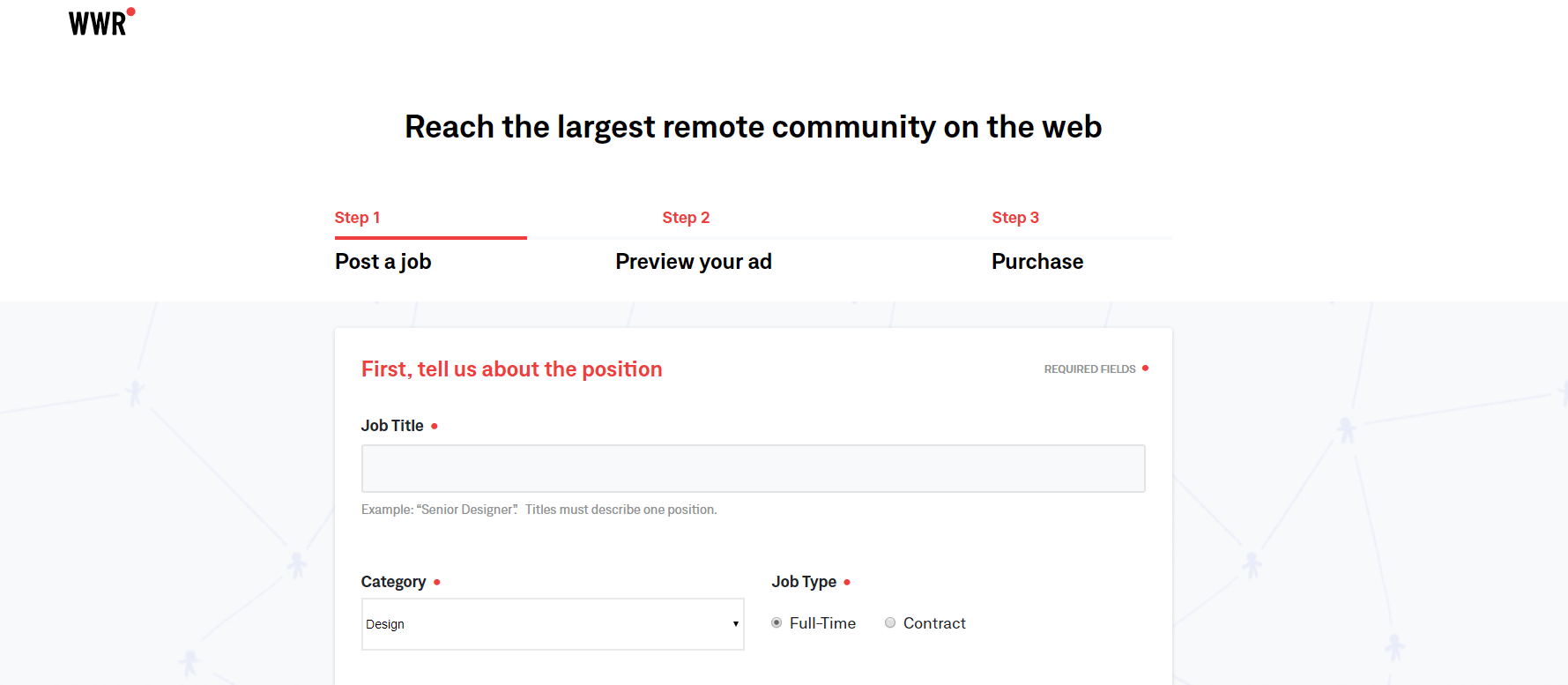 This requires you to enter information about the gig, your company, and you can preview the ad afterwards before publishing it.
It costs $299 for one month, so this is reserved for businesses that are serious about finding amazing candidates.
Upwork
While it's not exactly a job board, Upwork is still an awesome resource for writers trying to find opportunities or business owners interested in outsourcing.
You can sign up for an account on their homepage.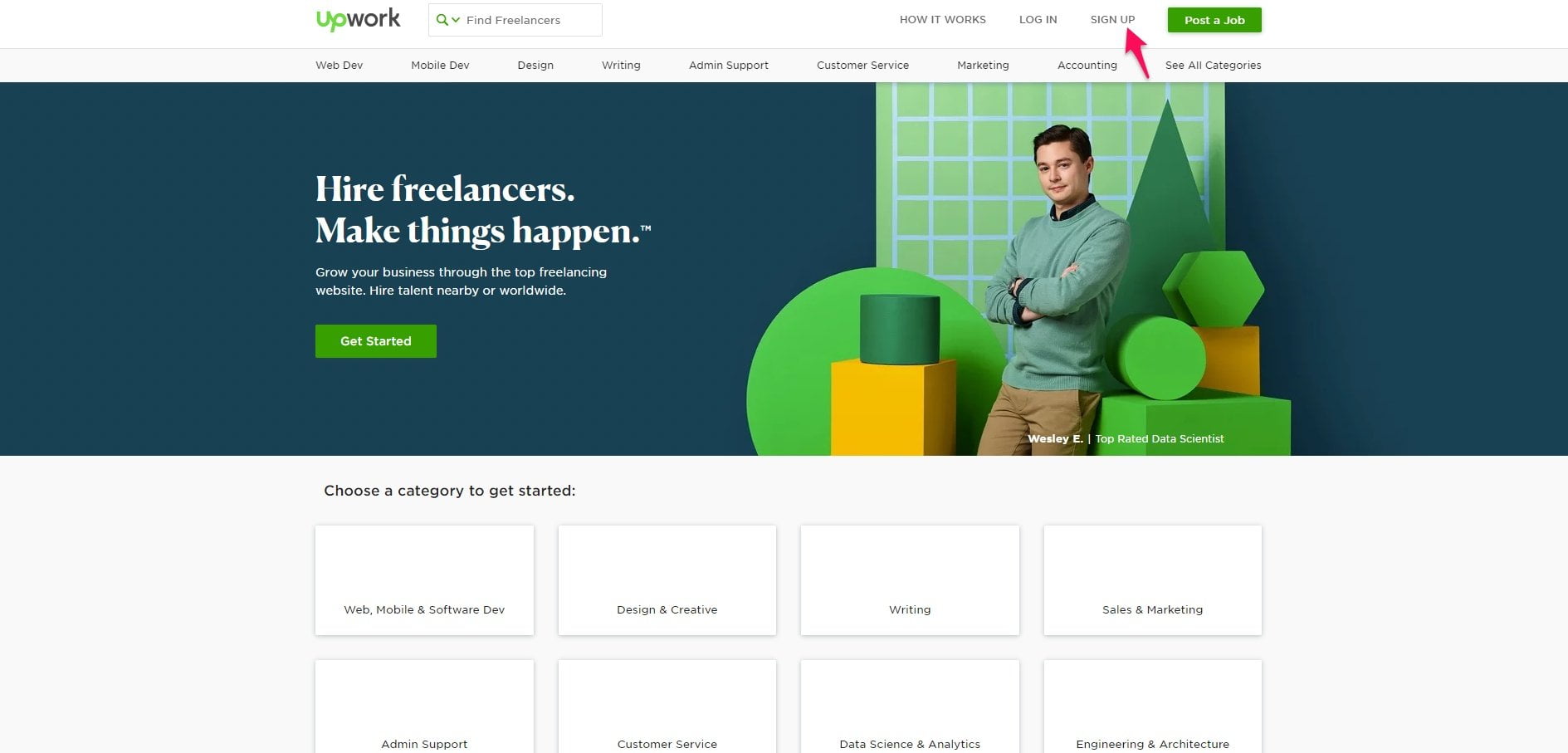 Enter your first name, last name, and email address on the following page.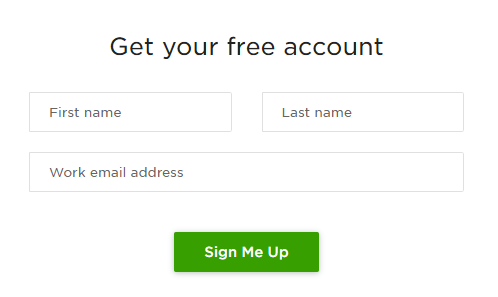 You will need to fill out a profile consisting of work experience, portfolio pieces, skills, and tests you can complete to showcase skill level.
Make your profile and expertise as detailed as possible, as well.
Upwork has been tightening up who they allow into the platform to ensure that only the highest quality freelancers have access.
Once you're been accepted, you can begin browsing for gigs for by searching for keywords like "writing" in the search bar.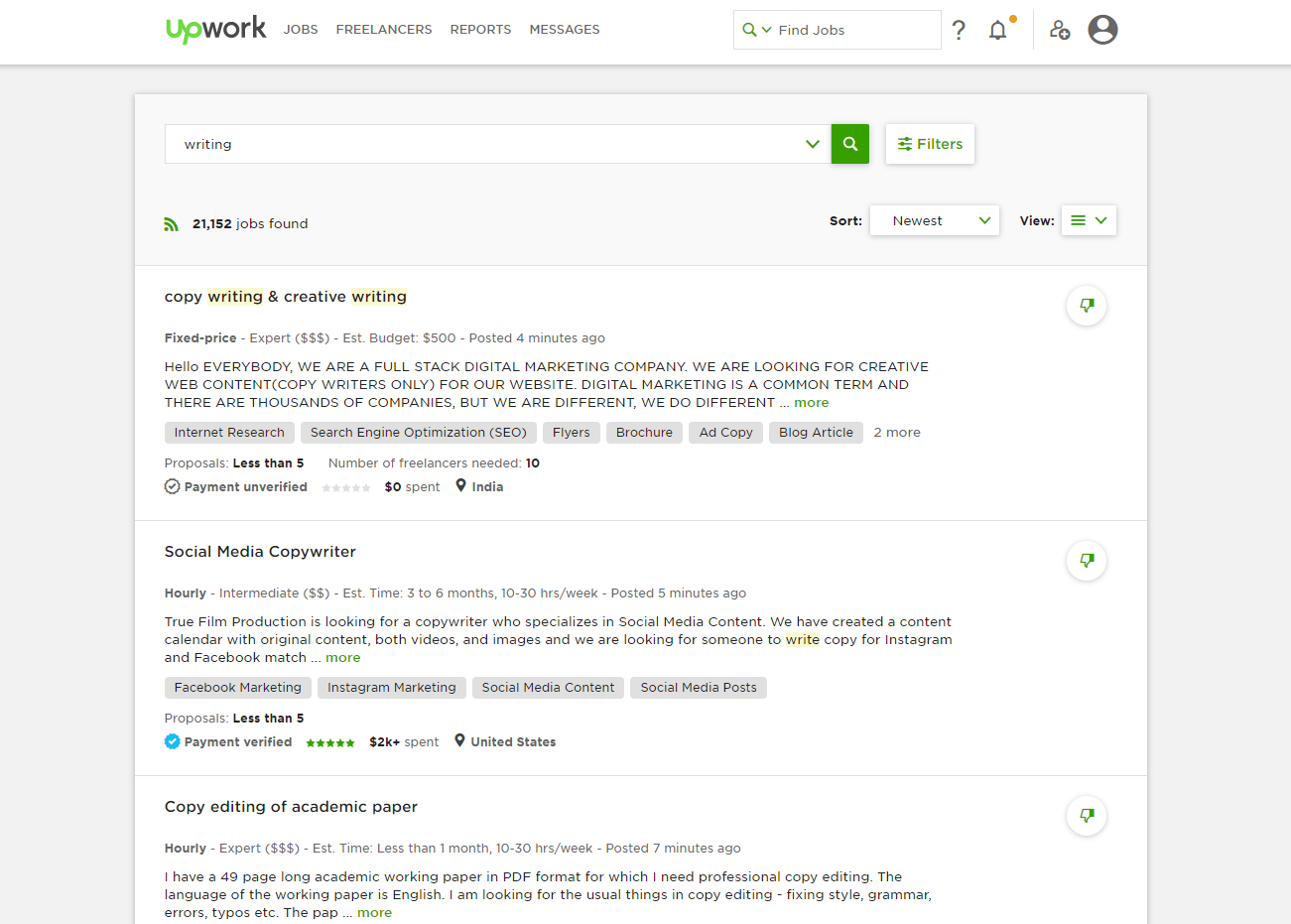 Send proposals to any jobs that seem interesting to you.
I recommend that you take the time to write out a unique proposal for each project or at least use a template.
I hire very frequently on Upwork, and it's obvious when someone is copy and pasting a generic message to everyone.
It makes the pitch appear disingenuous.
However, the messages I receive that are tailored to the job posting are much more likely to catch my eye.
Wrapping up
Freelance job boards are awesome resources to begin landing writing clients.
It doesn't matter if you're brand new to writing or a seasoned veteran, these job boards are always handy for making money.
On the flip side, you can use these job boards to hire content writers or copywriters for your business.
What's the best writing job board in your experience?
Please follow and like us: