B2B marketers have agreed that one single practice improved their overall success in the last year.
Do you know what it was?
Creating high quality content. A.K.A, copywriting.
This shouldn't be a surprise either. Writers are the hidden gems in the business world.
A few words can influence whether your customers buy or not, and only a copywriter with experience will know to adjust it perfectly.
I write this article as a business owner with employees and most of them being writers. I've had my fair share of experience interviewing, hiring, and working with copywriters because of this.
Ahead you'll learn why you need a copywriter, how to hire one, and what to look for to get the best one. Enjoy!
So, what does a copywriter do? To begin, copywriting is the practice of writing business material with the goal of achieving sales, traffic, or leads. The material is called copy, thus an individual skilled in writing copy is a copywriter.
Copy includes anything like magazines, blog posts, brochures, web pages, product descriptions, and similar. LoginRadius sums it up perfectly with this infographic.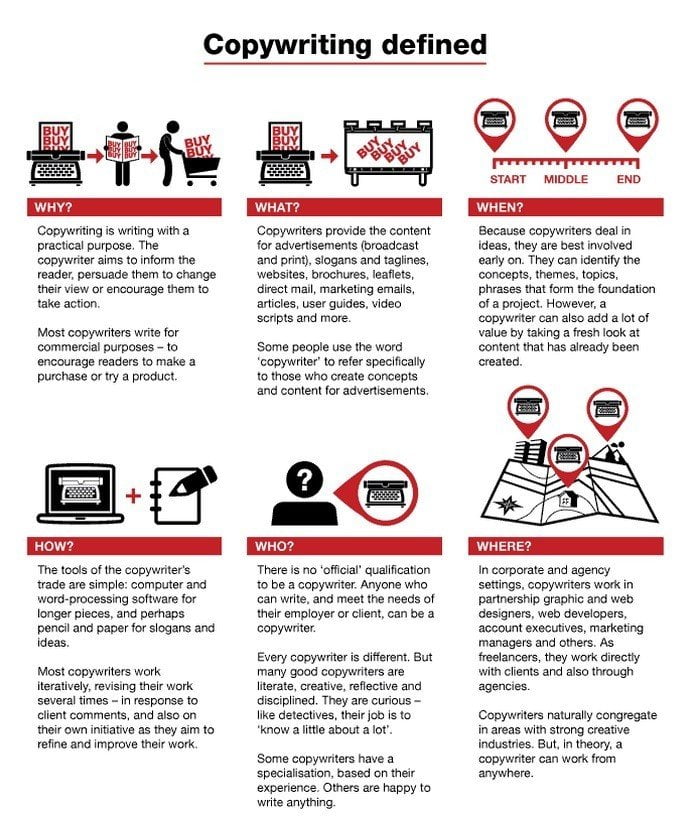 A writer that specializes in this field will have extensive knowledge of writing strategies that entice readers to take action and feel emotion when consuming copy. The purchasing process is heavily emotional, thus copywriters use tactics like storytelling, urgency, and scarcity to name a few.
These experts are also highly skilled at understanding the primal wants and needs of a target audience. They are excellent at market research and business psychology, as well. Some copywriters double down on a specific niche, like product description writing or direct response copy.
Do you need a copywriter?
Do you want to make more money? Then yes, it's wise to hire a copywriter.
You might think that writing copy is easy, but I can tell you from writing sales copy for GQ Magazine, Postmates, and other companies — it takes hard work. Every time I write, I improve a bit and it has compounded over time. I'm no where near the writer I was even a few months ago.
It can be easy to try to write the copy yourself, but if you want to fast-track to results, I highly recommend hiring a professional.
What to look for when hiring a copywriter
There are some very specific qualities to look for when hiring a copywriter. If you follow these tips, it will help you hire a copywriter that can generate the best results for your business and is the easiest work with.
Good attitude: I don't know about you, but I won't hire or work with someone unless they have a good attitude. Positivity, working well with a team, and gratitude are just a few things you should look for in a copywriter's personality. This may not necessarily reflect their quality of work, but it will ensure that working with them will be much easier. I've worked with some negative and ungrateful people in the past and it was the biggest mistake I probably ever made in business.
Experience: This is an obvious one. But, I don't mean just any experience. I mean producing actual results. Anyone can claim they are a copywriter, but very few can write copy that sells. Have they written for businesses and helped them achieve KPIs? Did they significantly improve on past writer's performance? Don't just hire any copywriter, look for someone with a great track record of results.
Portfolio: When you're hiring a copywriter, always look for a strong portfolio. They should have respectable names which shows that bigger companies trusted them with their work. Even if they don't have big names in their portfolio, confirm that they do have some work to show.
Team player: I mentioned this in the first point, but it's worth elaborating on more. I've worked with and hired quite a few people in my time and nothing is worse than having an employee that doesn't work well with others. I'd recommend asking how they work with a team and if they have any specific strategies or approaches for doing so. Even if you don't have a team per-se, it's good to see how they communicate. You'll be bouncing work and ideas off of each other, so it's a much needed skill.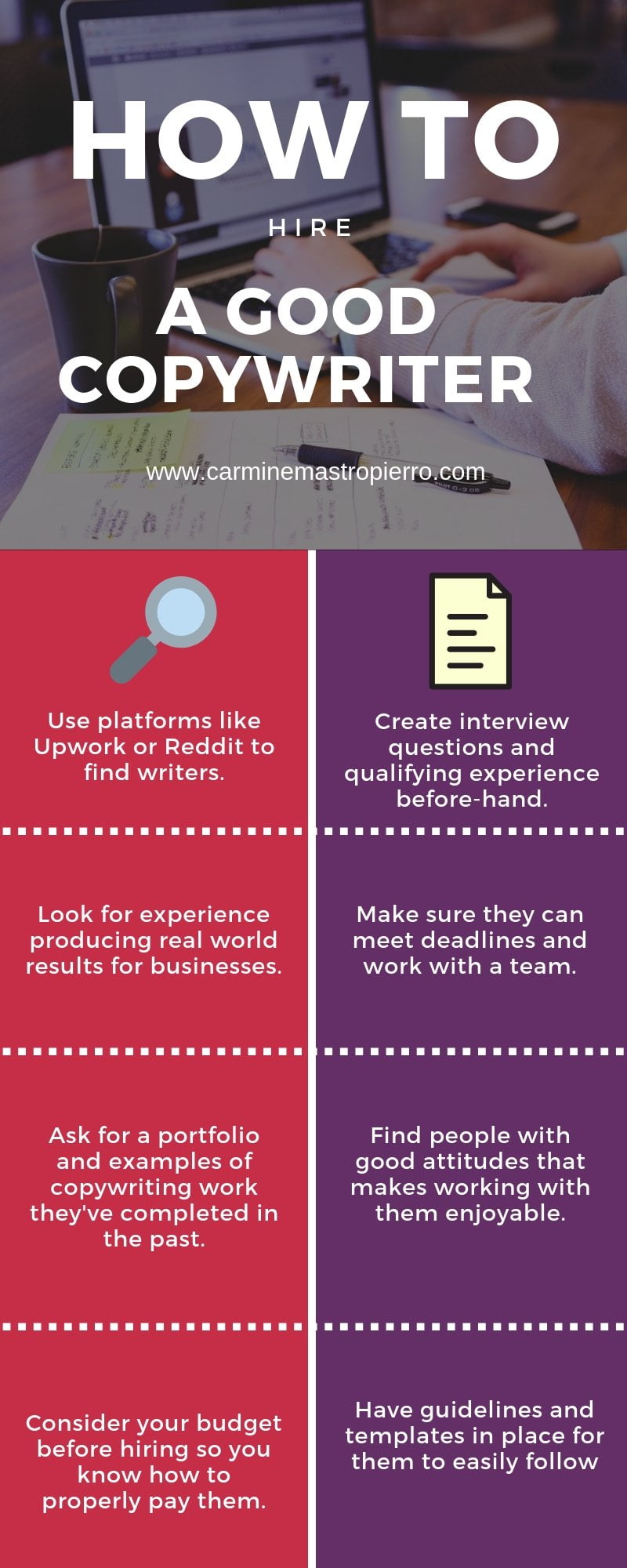 Copywriter interview questions
The copywriter has come to your office, you have Skype loaded up, or you're about to call them for an interview. What should you ask them? Here are a few questions to find the best possible candidate.
How do you manage your time and deadlines? You want to ask this because deadlines are very important to keep your business moving forward. A copywriter should have great time management skills and scheduling abilities. Not having these will result in barely making deadlines and potentially hurting your performance.
How do you optimize content for search engines? This is only necessary if you're hiring a writer that would be producing content for a website. SEO helps bring in more organic traffic, which can convert to paying customers. Because of this, it's ideal that your copywriter has some basic search engine optimization experience.
What types of copy have you written in the past? This is a good question to ensure that you're hiring someone with specific experience. Fields cross over of course, like direct response and product descriptions, but I like to ask this to uncover their exact expertise.
What's your typical turn around time? Writers need to produce great copy, but they also need to produce it in a reasonable time frame. You want a professional that can get you drafts and finished work within a respectable window. This is completely based on your own business and goals, so make sure that you give this thought before asking.
What's your writing process? I love asking this to get into the head of the writer. How do they plan their copy? How do they perform their research on the target audience? It's a red flag if they don't have much to say about their writing process, as they might be winging it.
Would you complete a short writing assignment? You don't need to ask or actually follow through with this, but it can be a great indicator of a writer's work ethic and willingness to succeed. Offering a writing assignment with specific guidelines will test their skills to see if they make a good fit. I know business owners that simply ask the question, just to see how they respond, though.
Benefits of hiring a copywriter
If you're not sold on hiring a copywriter just yet, here are some reasons that might make you change your mind.
They will increase your revenue
What business owner doesn't want to make more sales? A copywriter can use strategies to make readers of their copy want to purchase your product or service. This is especially important for e-commerce businesses, as product descriptions can make or break your conversion rates. Hiring a good writer can greatly improve how many users add to cart or convert to a paying customer during checkout.
It saves you time
You will have much more time on your hands to put into other business activities if you aren't the one writing copy. This could potentially lead to generating better performance, as focusing too much on writing may not be your best use of energy. By outsourcing it, you can put your focus into other tasks that make use of your own skill sets.
They turn the boring into exciting
Sales copy needs to bring out emotion the reader or they probably won't stick around to finish it. You could be in the most boring industry like manufacturing screws for dentist chairs, and a copywriter will find a way to make those screws sound like the most amazing thing in the world.
More organic traffic to your website
This is of course presuming that the writer is producing copy on your website. If they harness SEO knowledge, a copywriter can make content that brings in potential customers organically through search engines for years to come. They might only write once or twice for you, but the results will continue to last for ages.
Where to find a copywriter
Now that we've covered all of that, let's take a look at where you can find a copywriter. You could always just hire me, though 😉
Upwork
The biggest freelance marketplace is Upwork. It was originally called oDesk before it merged with Elance. You can sign up as a client and hire copywriters for very affordable prices if you're strapped for a budget. There are also writers that charge a premium for very high quality work, too. It makes for a very well rounded platform, no matter your goals.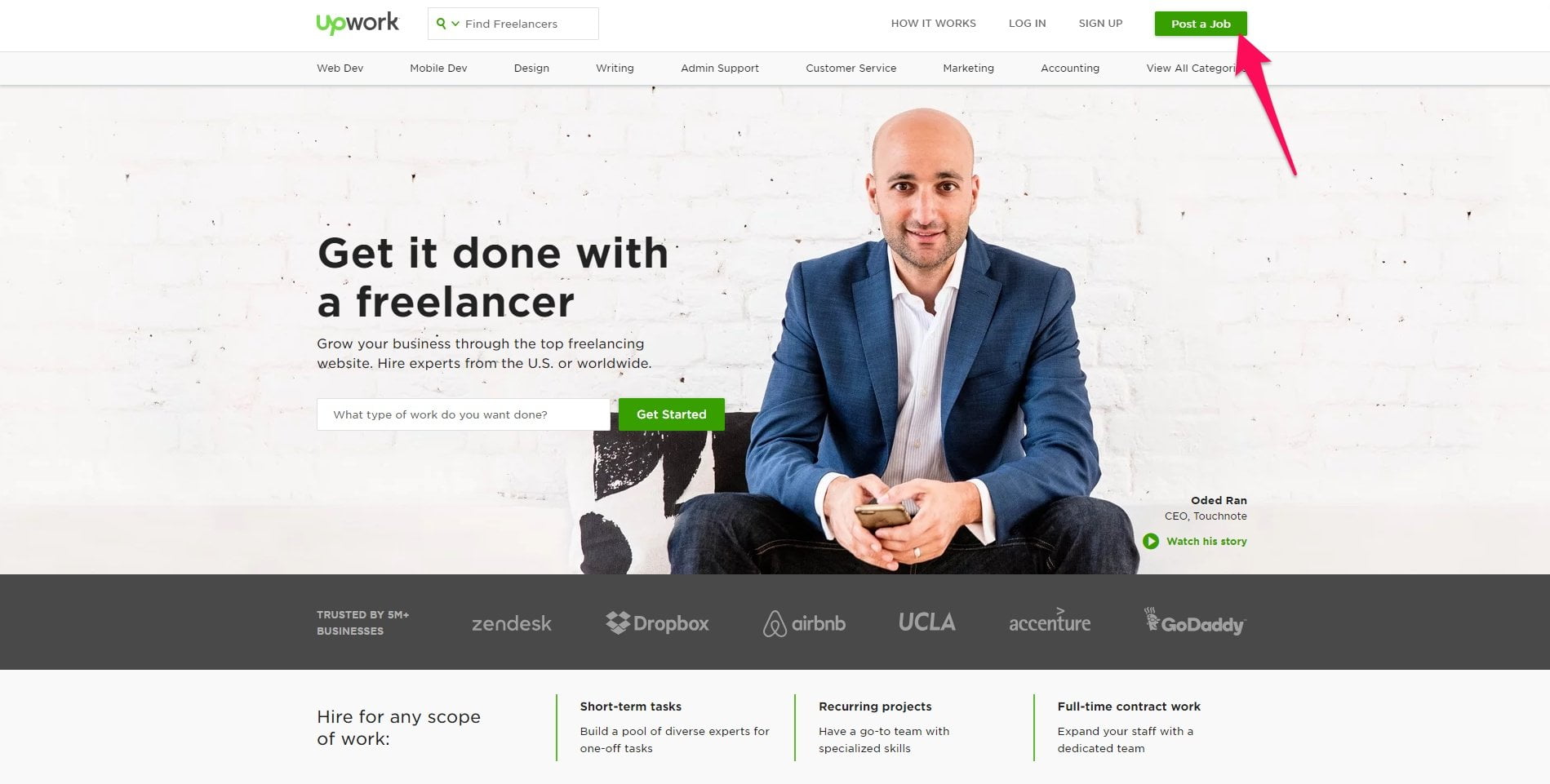 When you create a job listing, give it a descriptive title. This will help you attract the most qualified and relevant candidates. Also ensure that you narrow down the category to match what you're looking for.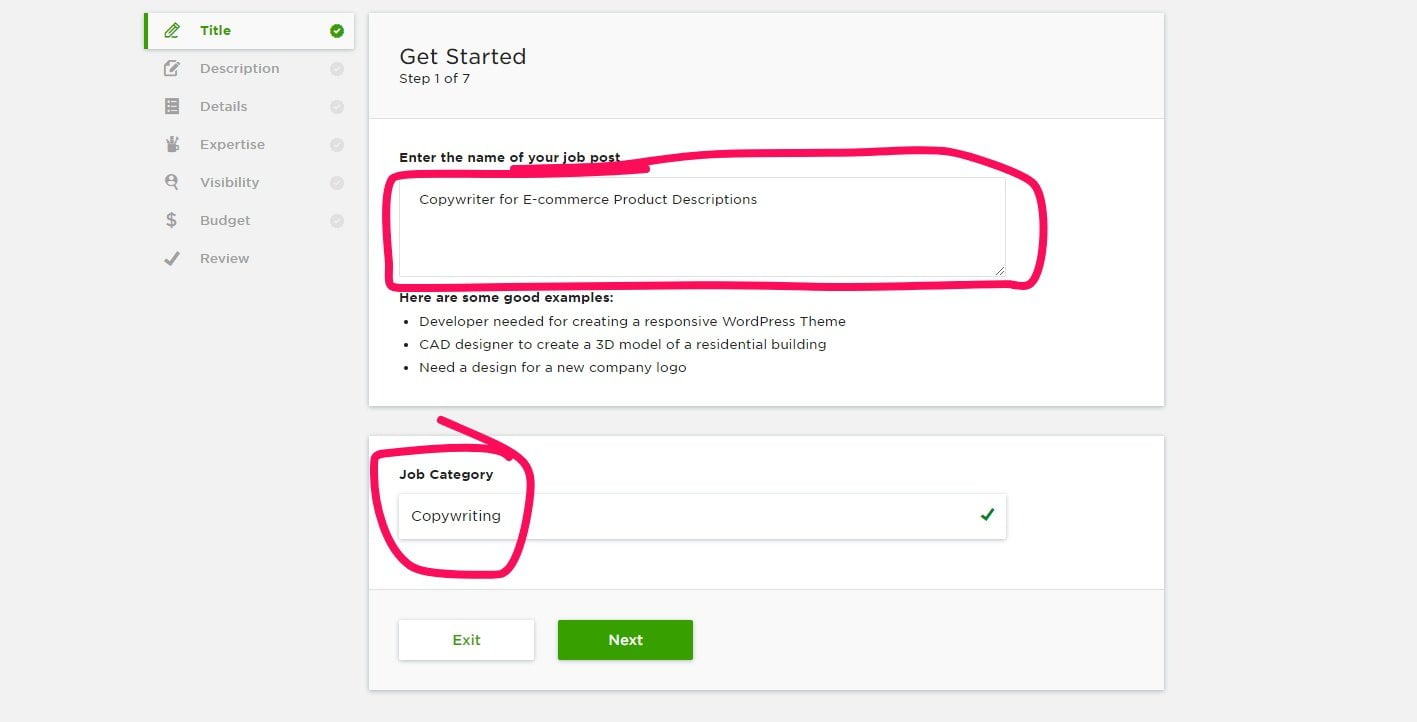 After this, you need to write a description for your listing. It should state the scope of work, what kind of copywriter you're looking for, and any other information you'd like to include.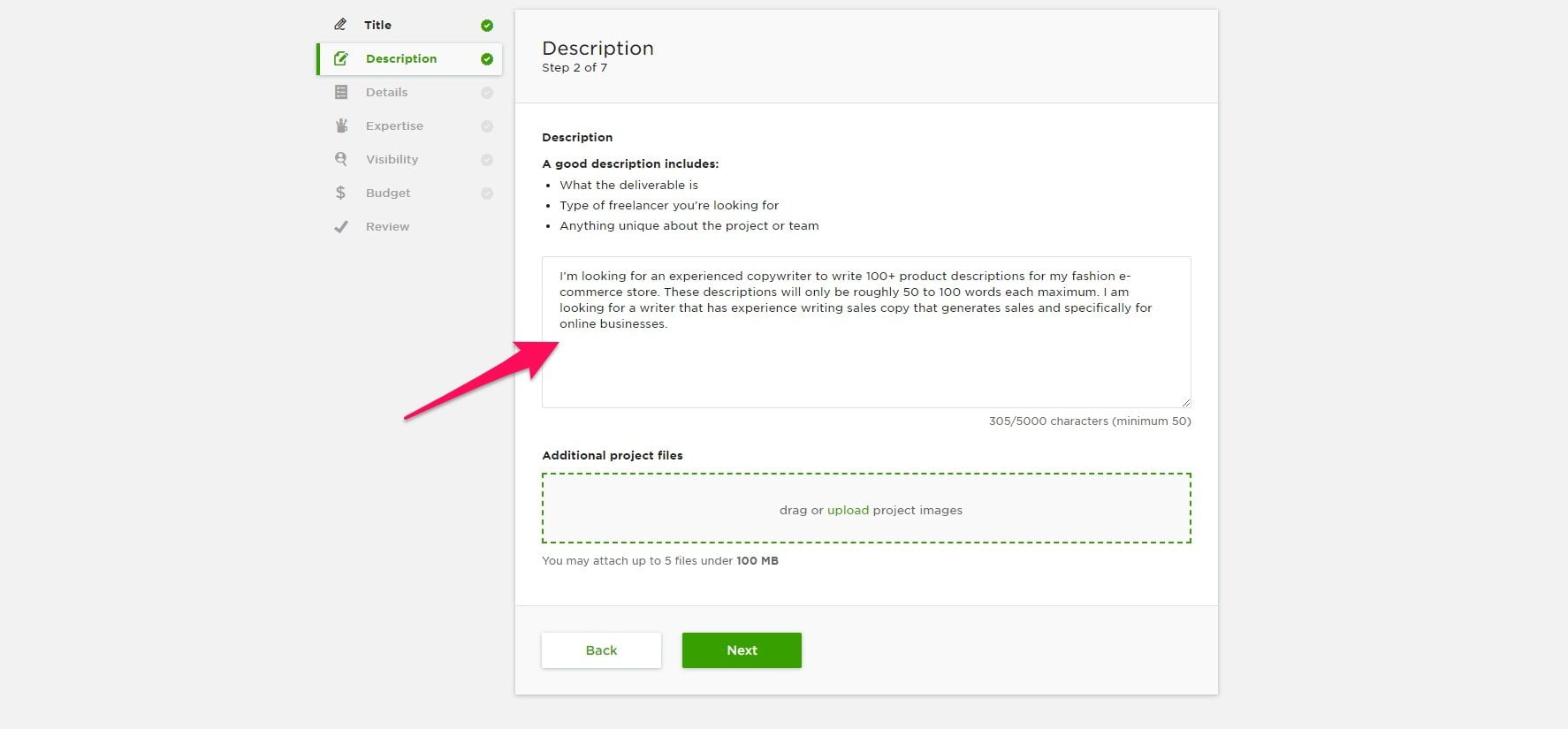 Next, select the type of project you are doing. If you only require a copywriter for a one-off job, use the first option. If it will be changing and ongoing, the second option is better.
You can also add additional questions to screen candidates if you want. This will help to find the best people suitable for the work.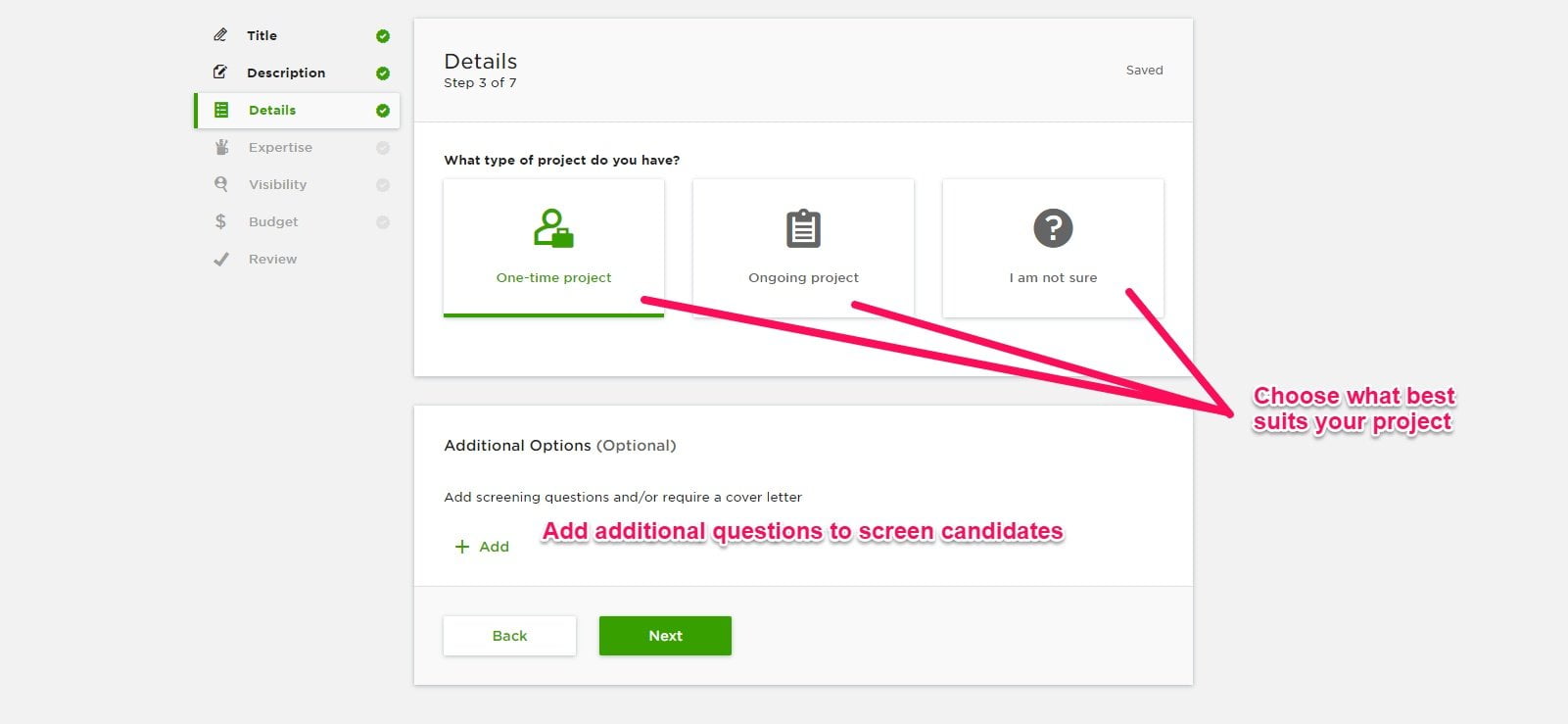 The 4th step is choosing skills that you'd like a copywriter to have. These can be specific to a platform like WordPress or fields of writing like SEO writing.

I recommend selecting to allow anyone to view your job listing, as it increases the amount of potential copywriters that will apply. As you begin using Upwork on a regular basis, you can invite specific writers.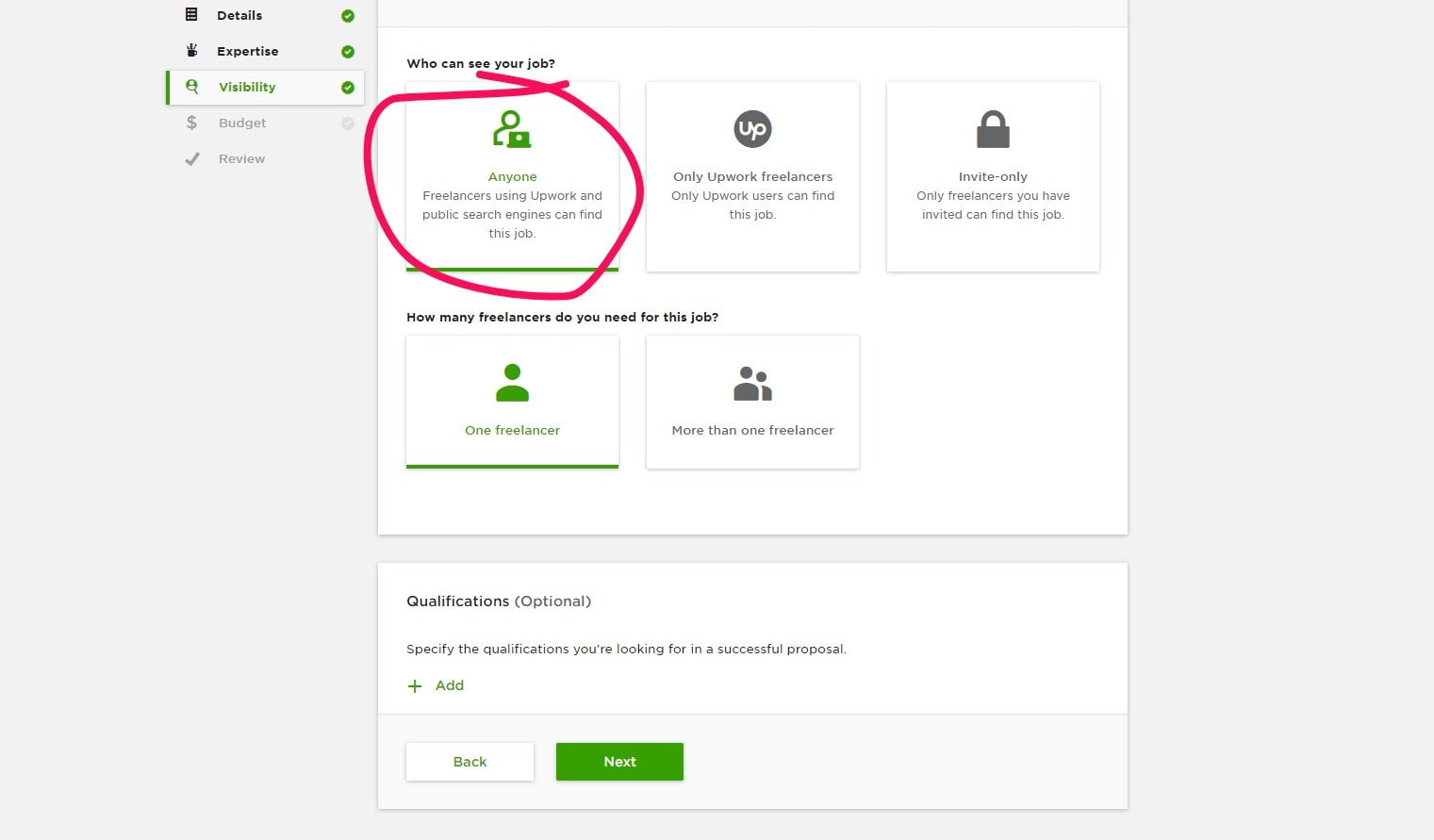 The last step is setting up your budget and how you'd like to pay writers. This can either by done by the hour or at a fixed price. You'll also be required to set how long the project will take and how much time a writer will need to dedicate to it.
Once you've completed all of these steps, review your listing and publish it!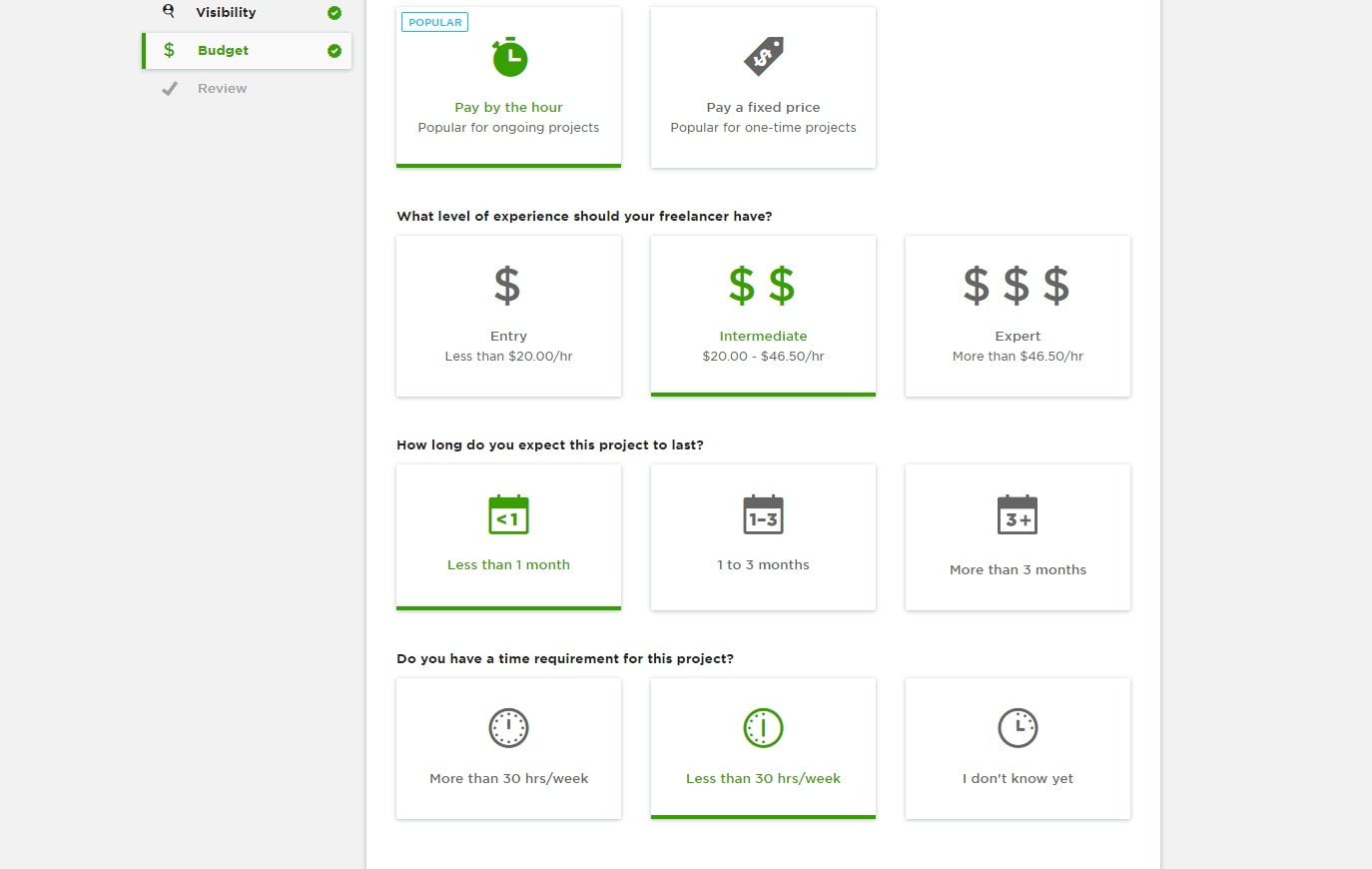 Sub-reddits
You'd be surprised how many great writers are hanging out on Reddit. There are at least a dozen sub-reddits dedicated to writing and freelance work that you can use as free platforms for advertising. First, sign up for an account if you haven't done so.
Then, visit one of the following parts of Reddit to submit a post:
/r/hiring
/r/forhire
/r/b2bforhire
/r/jobbit
/r/writersforhire
/r/freelance_forhire
/r/hireawriter
/r/Writingjobboard
Click the submit button on the right sidebar to create your post.

Every sub-reddit has different rules, such as minimum pay requirements and mandatory information to include. Check the sidebars to ensure that your post doesn't get deleted.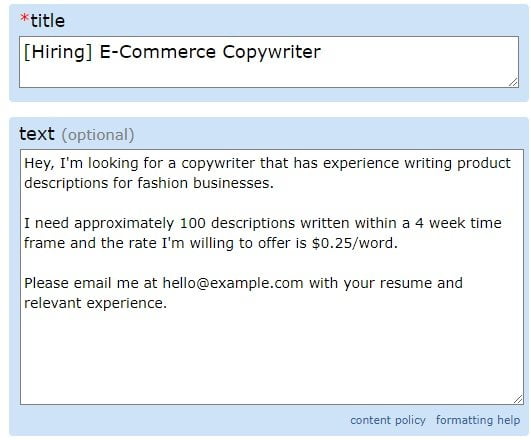 Submit it once you're satisfied and you're sure to get writers applying for the position.
Summing up hiring copywriters
Copywriters are useful for any business. It doesn't matter what industry you're in, you use some form of sales copy. It can be product descriptions, newspaper ads, or anything in between. Since this is the case, a professional writer can help spice up your writing to generate more sales and action.
The first step is understanding what to look for in a good writer. Experience and a strong portfolio is an absolute must. They should work well with a team, take orders fine, and be able to follow guidelines in a smooth manner.
Map out questions that you would like to ask them during the interview. These can pertain to their skills, writing process, and anything specific to your business goals.
Use platforms like Reddit, Upwork, and other job websites to create listings. A few can get you tons of candidates applying and on the way to working with a great copywriter.
If you need content writing services, feel free to contact me at any time to schedule a free consultation.
Please follow and like us: