Good copywriting can generate up to 8x more traffic.
Don't you want results like that?
You just have to master the essentials of good copy.
Like SEO or content marketing, it all comes with practice and time.
But, you may be holding yourself back from getting the sales and traffic you want. The culprit? Poor copy.
Small changes to your copywriting can make big increases in conversion rates.
Instead of showing you what to do, I'm going to show you want not to do.
Are you making these copywriting mistakes?
Download Your Free Copywriting Cheatsheet!
Less features, more benefits
One of the most common mistakes when writing sales copy is not focusing on the benefits of the product. Stating the features is necessary, but don't forget to speak about how the customer will benefit.
What do I mean by this?
I'll give you an example of when I ran a men's shoe e-commerce business.
I was selling high-end exotic dress shoes, some made of python, crocodile, and even stingray leather. They were all handmade and hand painted. Very pricey, as well.
The product description copy would like something like this:
Brown genuine calfskin leather
Hand painted upper and outer sole
Leather lining and insole
Goodyear welt construction
If I'm selling shoes, of course I have to mention the color, materials, etc. It only makes sense, right?
But, here's how I made the sales copy more feature-rich:
Brown genuine calfskin leather that will catch the eyes of everyone around.
Hand painted upper and outer sole, making your pair unique to you only.
Comfortable leather lining and insole that feels like walking on clouds.
Goodyear welt construction to make your shoes last decades.
See how much better that is?
I'm stating the feature, but also how the customer will benefit.
If they are buying expensive shoes, they want to get their moneys worth while feeling and looking like a million bucks. Customers all want shoes that feel great on their feet all day, too.
Here's another great example from Wayfair.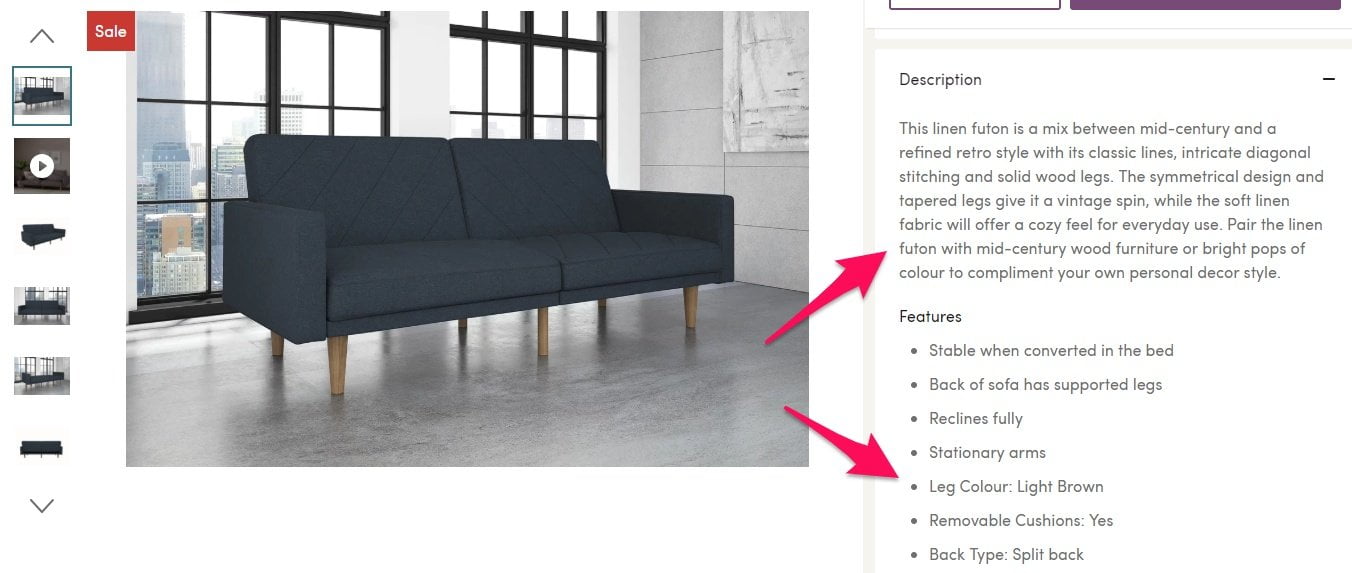 They list the features in bullet points so customers know exactly what to expect when they receive the product.
But, look at the product description. It talks about how it will match the customer's style while being comfortable for any activity. Take notes!
Good copywriting like this stems from knowing your customer, as you can adjust it to their wants and emotions.
I'd suggest creating a consumer persona to begin. This is a representation of your ideal customer. There's lots of great templates to work off of like this one from Xtensio.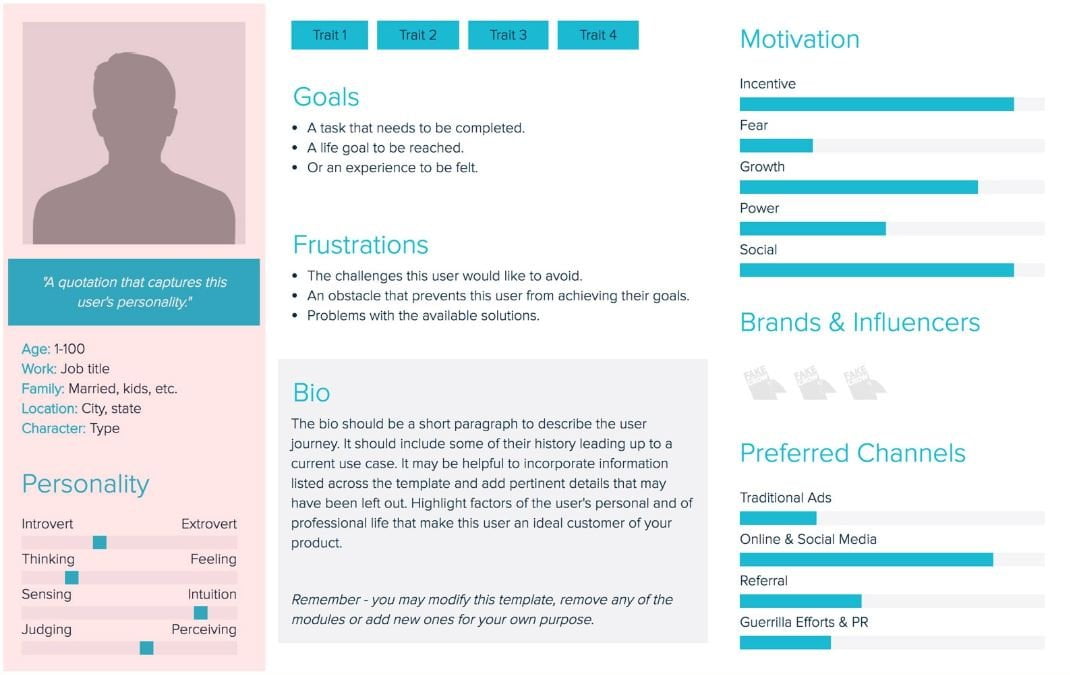 If you're starting out or don't have a lot of data on your customers, fill it in to the best of your ability. The whole point is to make a persona that you can refine and optimize over time.
Think about what your ideal customer struggles with, what they want in a product, how much money they make, and similar information.
With big data being all the craze these days, I think we are forgetting about different demographics. Everyone's focusing on age, gender, location, and the standard metrics.
But what about things you can't measure?
Like goals, values, emotions, interests, and skills?
You might find that your customers come from a variety of age groups and countries, but match when it comes to the above demographics.
What do your customers value the most? Comfort? Price? Style?
Do they want to achieve financial freedom and independence?
Which emotions are they feeling as a result of not having your product?
Brainstorm things like this and let it reflect in how you write benefits in sales copy. Also use this information to change how you speak to your audience.
Do they have a very deep and intelligent vocabulary? Or would they prefer simpler language?
Writing weak headlines
The goal of writing headlines is to do one thing…
Make the customer read the first sentence.
And the goal of the first sentence?
To make the customer read the second sentence.
I learned this from Joseph Sugarman's copywriting book, which if you haven't read, is one of the best books on developing copywriting skills to date.
If your headlines suck, nobody is going to visit your blog, product page, or whatever you may be promoting.
Let's look at what happens when you do it right.
Wilson HTM is an investment group that partnered up with Web Profits to improve their website copywriting. Specifically they wanted their headline copy improved.
This was the first variation that Web Profits tested.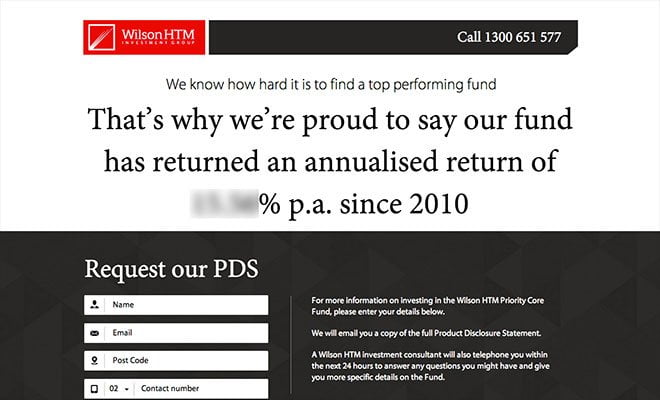 Then, they tested out this second variation.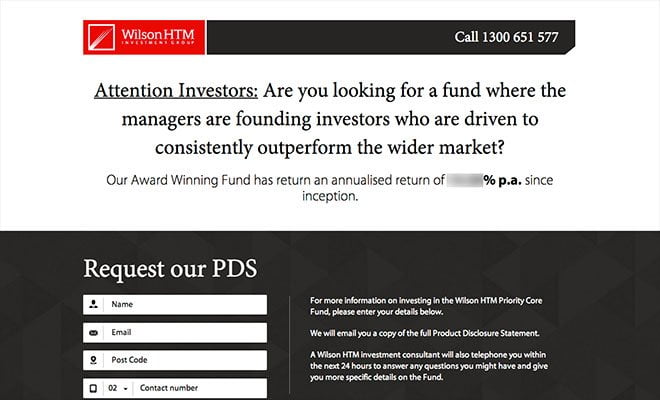 Nothing drastic or crazy, what do you think the results were?
If you guessed a 52.8% increase in conversion rates, then you're right!
Here's what I think this worked so well.
It address investors head on by using the call-out "Attention Investors" and asking them a direct question. It gets them saying yes and makes the message more personal.
As well, by stating that founding investors manage their funds, leads understand their money is in good hands.
Think about the revenue or leads you could generate if you fixed up your headlines.
Make sure to read my guide on website copywriting to learn more strategies like these.
State exact numbers
What sounds better, "10 SEO Tips to Improve Rankings" or "10 SEO Tips that Increased my Traffic by 67%"?
The second one of course.
Numbers are easy to process and gives the reader a heads up of what to expect if they read the article.
Mentioning exact numbers in your headlines makes them more enticing to click. Metrics like these helps you appear more credible and authoritative, too.
It's been proven that headlines with numbers are 36% more popular than those without.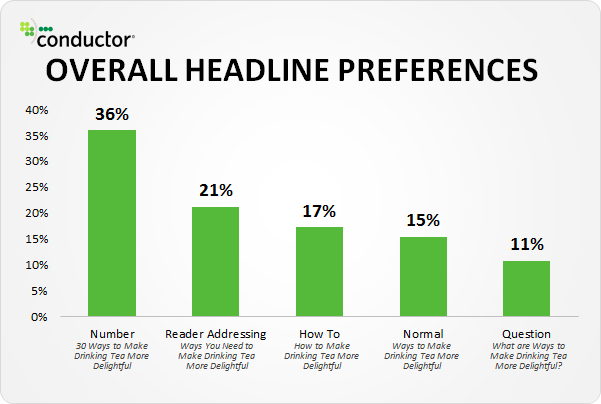 Use urgency
One of the most timeless copywriting strategies is the use of urgency.
It makes readers or customers feel that they must take action now or they'll miss out on something. Maybe it's knowledge, the latest sale, or an awesome product.
Want to know a great example of urgency being used in a headline?
Re-read the one I used for this article!
It promotes urgency because it makes you want to know if you're making the mistakes I'd be outlining.
Some words and phrases to include in headlines to achieve this are:
Hurry
Stop doing this
Start doing this
Before it's too late
Quickly
Soon
Are you doing X?
Today
Now
Marcus Taylor upped his sales by 332%(Yes, really) by making his sales copy incite urgency in customers.
Ask a question
One of the reasons that the Wilson HTM case study performed so well was because they used a question within the headline.
If you can get them saying yes, they will be more likely to say to your product. Another classic Joseph Sugarman strategy.
So, next time you are crafting a headline, try to form it into a question. Like:
Don't Know how to Make a Website? Step by Step Guide
Confused About Mutual and Index Funds? Full Comparison
Are you Making These Crucial SEO Errors?
Speaking too much about yourself
Imagine you walk into a retail store. It's a sunny afternoon on the weekend and you felt like doing some shopping.
As you enter the store, is your first thought "I can't wait for an employee to tell me bout this brand's history, timeline, and everything about them."
Probably not.
I bet it's more along the lines of "Where's the coupons? the sales? Are there any new products?"
The same thing applies to your business and copywriting.
It's a common mistake to talk too much about yourself and not enough about the customer.
The customer probably doesn't care all that much about your 20 years of history and little details. They want to know what's in it for them.
This is very common on about pages. It also means it's a great place to start for improving your copywriting.
Obviously you have to talk about where you brand came from, your values and similar, but always intertwine what this means for the customer.
Look at how Wayfair elegantly words theirs.

They state that customers will find any product they need at a price that's right for them. Wayfair also let's customers know they will experience great customer service and have a smooth shopping experience.
When you're writing sales copy from now, really hone in on making it all about the customer.
Lack of emotion or logic
The purchasing process is heavily emotion based.
While we may rationalize a purchase with logic, it tends to begin with some form of emotion. Here's how we usually balance logic and emotion when making a purchasing decision.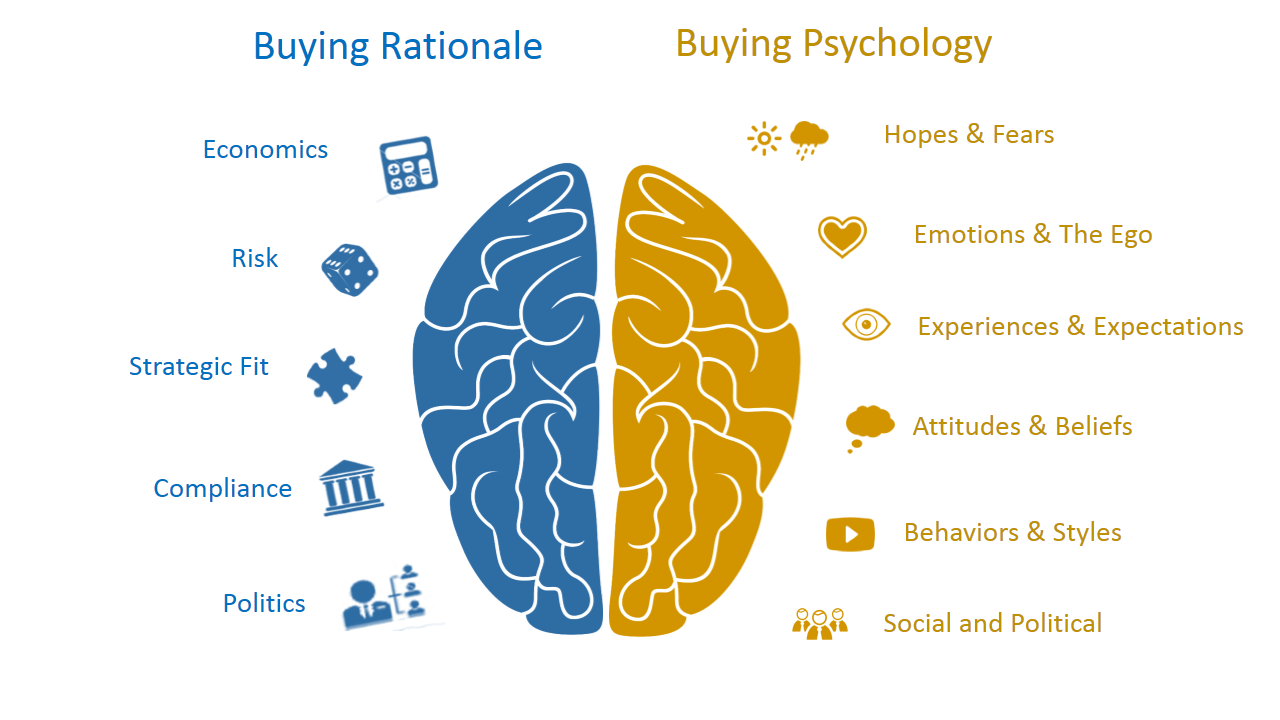 How can we use this to our advantage as marketers? Use more emotionally charged words and stories.
Like I mentioned earlier, this comes down to understanding your audience.
Let's imagine that we sell courses on how to start an e-commerce business. It goes over all of the details of starting a store, marketing it, and scaling it.
Our target audience are young professionals in their 20's and 30's. Why would they want to start an online business? Many reasons which stem from pure emotion.
Perhaps they want to be independent, financially free, and without an annoying boss. They want to sleep in and make their own hours. You would include this in your customer persona template.
When you go to write your copy, you can include these emotions and ideas. For example, a headline might be "Sick of Your Annoying Boss? Want to Quit Your Job and be an Independent Entrepreneur?"
Now here's the thing.
This goes both ways. You might be lacking emotion and using too much logic or the reverse in your copy. So, always back up emotional copywriting with logical statements. Smith Co made a neat infographic explaining this.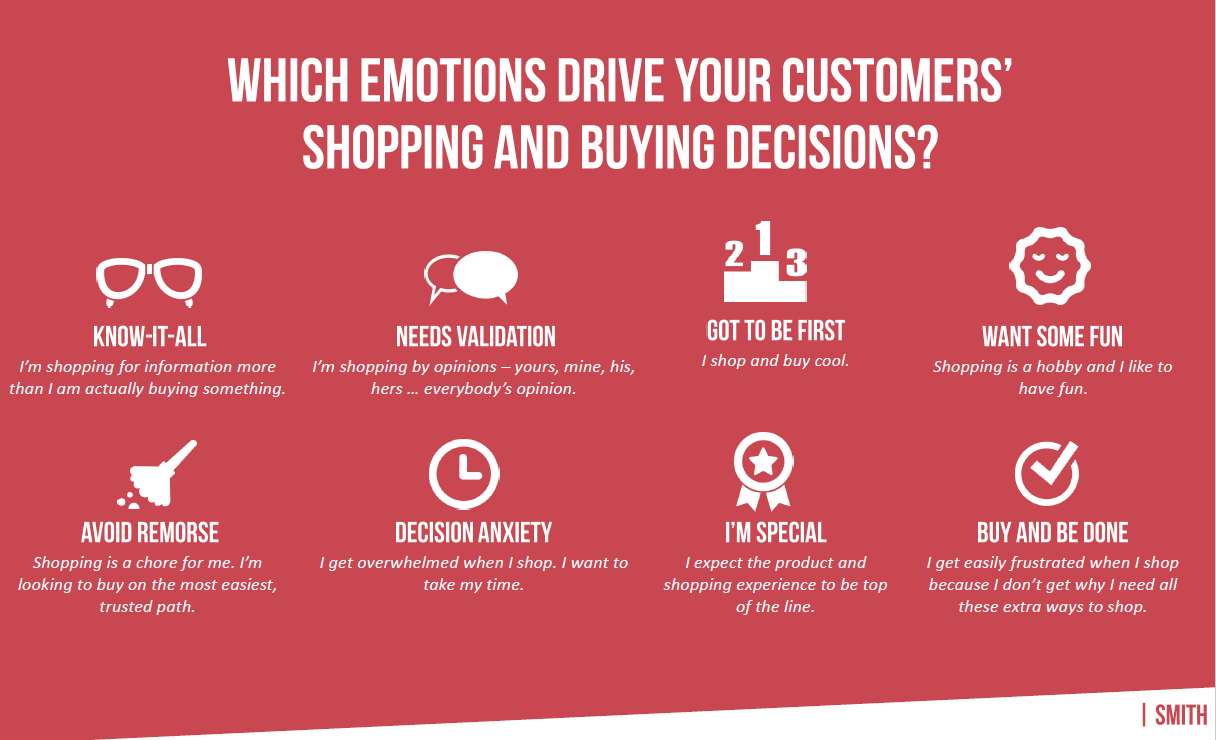 I know I've mentioned Joseph Sugarman a few times so far, but he's my favourite writer. He gave the example once of luxury cars.
Someone shopping for a high-end car most likely is interested in the status and image it gives them. A.K.A, it's all driven by emotion.
But, what do they justify it with? Logic!
They start looking at the gas mileage, seat warmers, high quality materials and believe that's why they are buying it.
Forgetting about SEO
Sure, copywriting is all about convincing and selling, but if you don't have people reading it, you don't make any money.
That's why I highly recommend always using SEO when writing. Product pages are a great place to nail good SEO practices because it's where all of the magic happens.
How do you make good SEO product pages? With keywords.
Open up Google's Keyword Planner and enter a keyword related to what you're selling.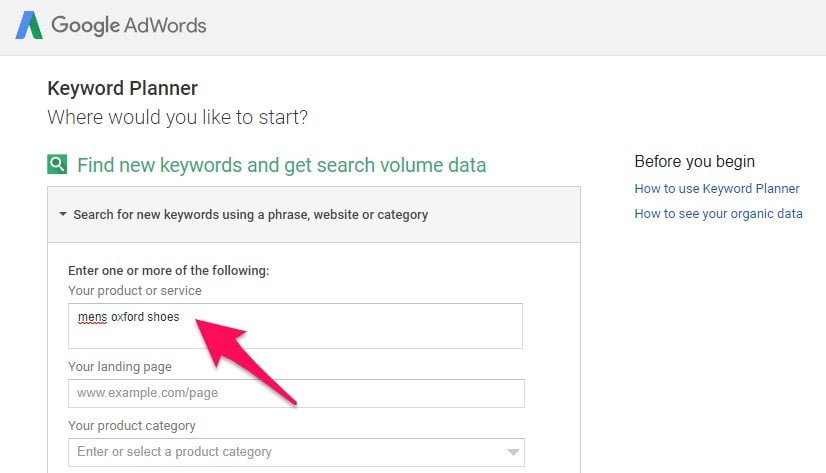 Narrow down the targeting and other options if you'd like, though it isn't usually necessary.
This will display tons of keyword ideas you can use on your product pages.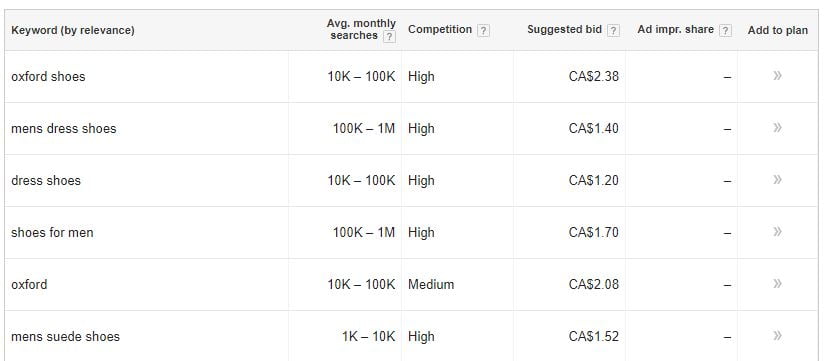 Where do you add them? Try:
In the title
In the URL
In the description
As product tags
For product categories
This will help you rank for these keywords and since they have high buying intent, they could very well translate to many sales.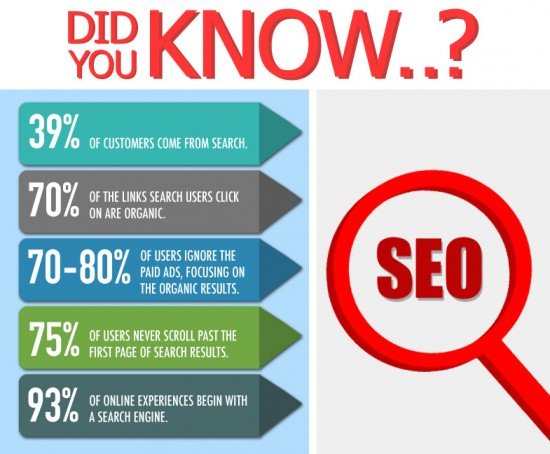 Almost 40% of sales are a result of organic search. That alone should motivate you to get your SEO in tact.
As consumers are becoming more aware of advertising, allowing them to organically navigate to your business is more crucial than ever.
Besides your product page, you can implement keywords into your about page, home page, and other sections. If you don't already, you should also be investing into content marketing which is based completely around SEO.
It helps drive traffic and sales to your website, especially as you can add your own products within articles.
It's really easy to begin, too.
Blog about topics that you believe your target audience would be interested in. Use the Keyword Planner to research a few different keywords to center every post around.
When it makes sense, promote your own products or service within the content. Don't do it too often or they will feel like they are being advertised to.
Writing consistent articles allows you to practice copywriting. You can test out different strategies and put everything you learn into action.
Check out these content marketing examples to learn from successful companies, too.
Wrapping up the worst copywriting mistakes to avoid
Copywriting can make or break your business.
Do it right and you will experience a huge growth in sales or leads.
Many times you might be making mistakes within your copy that you aren't even aware of. The first being that there is a lack of benefits.
Tell the customer what they are going to get out of it. Having only the features is dry and doesn't bring out any emotion in the audience.
Secondly, take the time to craft awesome headlines. Ones that catch attention and pique interest. Use urgency, numbers, or questions to achieve this.
Ensure that you don't speak too much about yourself or the business. Get the needed information in but speak in the customers language. Are they going to find affordable products? Will it solve their problems? Think like this.
The purchasing process is emotional. So, it only makes sense to include emotion within our copywriting. Tell stories, make the audience happy, excited, or nervous. This will make them crave more.
Lastly, don't forget about good ole' SEO. Research keywords related to your business and include them within your sales copy. Whether that's the product page or a blog post, make sure all of your base are covered.
What's your favorite copywriting strategy?