Freelance writing is a booming industry and career. Some freelancers generate six-figure incomes with their writing skills. And, some of the largest companies in the world are growing through publishing great content.
However, what does it take to become a freelance writer? How much do they earn on average? Continue reading to get those answers and more with freelance writing statistics.
Is Freelance Writing in Demand?
Yes, freelance writing is in demand, and the demand for freelance writers is expected to continue growing in the coming years. As businesses increasingly rely on content marketing to generate leads and build their brand online, there is a growing need for talented writers who can create engaging, high-quality content for blogs, social media, email newsletters, and other marketing channels.
In addition, the rise of remote work and the gig economy has made it easier than ever for businesses to connect with freelance writers from around the world, increasing the demand for freelance writers.
According to a survey conducted by Upwork, freelance copywriting was ranked as the most popular freelance job in 2022, with 19% of freelancers reporting that they worked as writers. The same survey also found that writers earn from $19-$45/hour on its platform, highlighting the growing need for writing talent.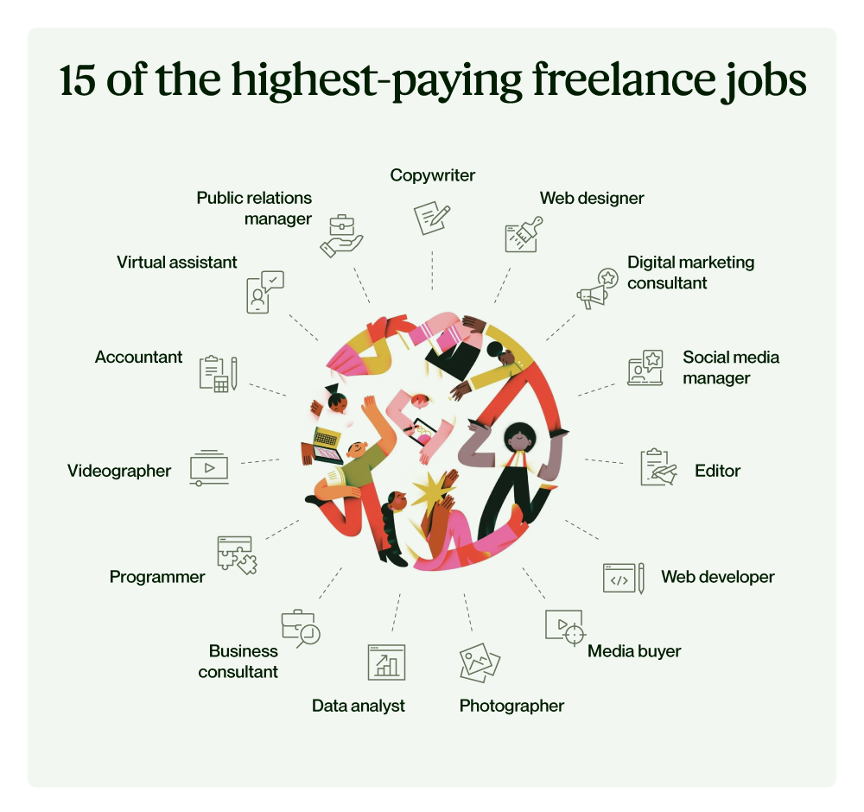 Moreover, the Bureau of Labor Statistics projects a 4% increase in employment for writers and authors from 2021 to 2031, indicating a positive outlook for the industry. This percentage equals about 5,900 new writing jobs over that time!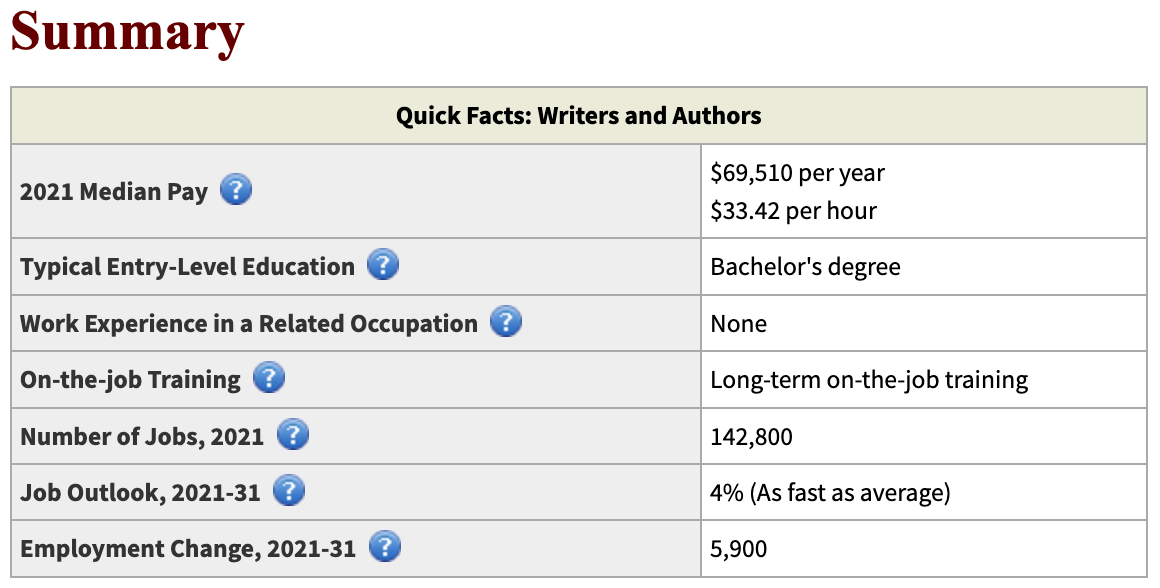 Overall, freelance writing can be a rewarding and lucrative career choice for those with strong writing skills and a passion for creating content.
How Much Can You Realistically Make as a Freelance Writer?
The amount of money a freelance writer can make varies depending on several factors, such as the writer's experience, skill level, niche, and location. However, according to industry data, freelance writers can earn anywhere from a few hundred to several thousand dollars per month.
According to writer Elna Cain, 34% of writers had rates between $.0.05/word to $0.20/word. However, it's important to note that there is a significant range in earnings, with some writers earning as little as $10,000 per year and others earning over $100,000 per year.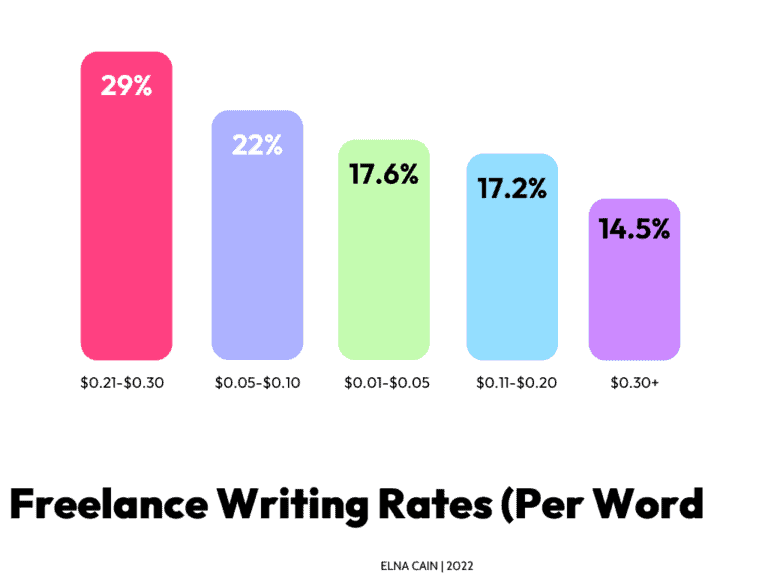 When I first started freelance writing almost a decade ago, I was charging similar rates. As I grew my portfolio, skills, and network, I was able to build my writing business to sustainable six-figures.
Freelance writing rates also vary by niche, with some niches commanding higher rates than others. For example, technical writing, legal writing, and financial writing are often the highest-paying niches, with rates ranging from $60-$200 per hour.
Another factor that can affect earnings is the type of work a freelance writer takes on. Writing longer-form content such as whitepapers, e-books, or case studies usually pays better than writing shorter-form content such as blog posts or social media updates.
Freelance writing can be a lucrative career choice for those with strong writing skills and the ability to market themselves effectively. However, it's important to recognize that earnings can vary widely based on several factors and that building a successful freelance writing career takes time and effort.
Is There a Shortage of Freelance Writers?
Quite the opposite! The number of freelance writers has been increasing in recent years, and the demand for freelance writing services continues to grow. In fact, the demand for blog writers increased by 55.2% during Q3 of 2022.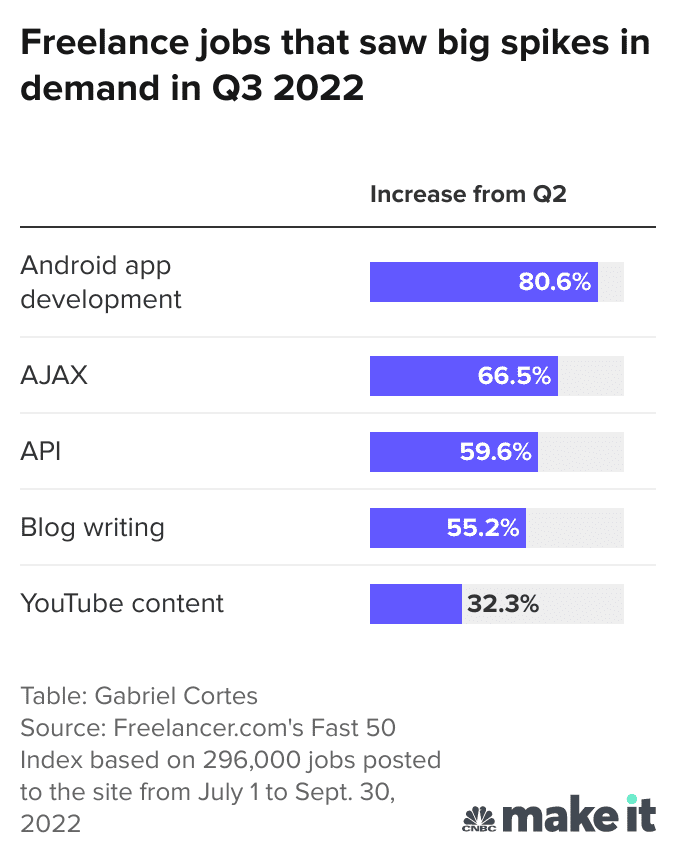 However, some businesses and organizations may experience difficulty finding high-quality freelance writers who can deliver quality work on time and within budget.
This shortage may be due to a lack of qualified writers in certain niches or regions, or the fact that some writers are in high demand and may be selective about the projects they take on.
Some freelance writers may struggle to find consistent work or to earn a sustainable income, especially if they are just starting in the industry or lack the necessary marketing and business skills to promote themselves effectively. It's the common cycle of feast and famine.
But while there may not be a shortage of freelance writers as a whole, businesses and individuals looking to hire freelance writers may need to put in the effort to find the right writers for their specific needs and budget.
Ask for samples and portfolios, and don't be afraid to ask them to write something as a test. On the flipside, writers need to build strong references and examples of their work.
How Competitive is Freelance Writing?
Freelance writing is no walk in the park. In fact, it's one of the most competitive fields out there. With so many talented writers vying for clients and projects, you need to be at the top of your game if you want to succeed.
But don't let that discourage you. With the right skills, attitude, and work ethic, you can stand out from the crowd and build a thriving freelance writing business. You need to be able to write high-quality content that engages readers and meets the needs of your clients.
You also need to be able to market yourself effectively, build your online presence, and develop a network of clients and colleagues who can refer work to you.
One of the keys to success in freelance writing is to specialize in a particular niche or area of expertise. By developing a deep understanding of a particular topic, you can offer unique insights and perspectives that set you apart from other writers. This can help you attract more high-paying clients and build a reputation as an expert in your field.
Trust me. With hard work, dedication, and a commitment to excellence, you can achieve success and build a rewarding career. So keep honing your skills, stay up-to-date with industry trends, and never stop learning and growing as a writer!
Freelance Writing Statistics
Without further ado, here are freelance writing statistics to help you better understand the industry and future outlook.
The number of freelance writers in the US increased from 53 million in 2014 to 59 million in 2020. (Source: Statista)
82% of freelancers in the United States are freelance writers. (Source: Zippia)
According to Payoneer's 2020 global freelance income survey, freelance writers worldwide earn between $15-$16/hr on average (Source: Payoneer)
The demand for freelance writers is expected to continue growing, with the Bureau of Labor Statistics projecting a 4% increase in employment for writers and authors from 2021 to 2031. (Source: Bureau of Labor Statistics)
The highest-paying freelance writing niches include technical writing, with the average pay being $60,000/year. (Source: Carmine Mastropierro)
In 2021, the top industries for freelance writing were marketing and advertising, with 48% of writers reporting that they worked in these fields. Other popular industries for freelance writing include education, media and publishing, and healthcare. (Source: Upwork)
Freelance writers often work from home, with 87% of self-employed individuals reporting that they work remotely. (Source: iPSE)
Other important skills for freelance writers include programming, graphic design and illustration, web/mobile development, and marketing and sales. (Source: PayPal)
In a survey of freelance writers conducted by the Freelancers Union, 77% of respondents reported that they felt positive about their freelance careers. (Source: Upwork)
According to a survey conducted by the Content Marketing Institute, 86% of B2B marketers use content marketing to generate leads and drive sales, creating a significant demand for freelance writers who specialize in creating content for these campaigns. (Source: Nectafy)
In a survey conducted by Wripple, 50% of respondents reported that they had been freelancing for six years or more, indicating that freelance writing is a popular choice for new and aspiring writers. (Source: Wripple)
The top skills that clients look for in freelance writers include the ability to write well, meet deadlines, communicate effectively, and work independently. (Source: Make a Living Writing)
Freelance writers often use a variety of tools and software to manage their work, including project management software, writing tools, invoicing software, and social media management tools. (Source: Writing Revolt)
In 2021, the top platforms for finding freelance writing work were Upwork, ProBlogger's job board, and Freelancer.com. (Source: ProsperityForAll)
Freelance copywriters charge an average rate of $3,200 for a website copy project, $4,000 for an email sequence, $1,750 for sales letters, and $2,175 for landing page copy. (Source: Ashley Cummings)
The most common challenges that freelance writers face include finding clients, negotiating rates, managing their workload, and dealing with non-paying clients. (Source: Freelancermap)
97% of marketing pros surveyed by SEMrush achieved success with their content marketing, meaning there is a growing demand for high-quality content from freelance writers. (Source: SEMrush)
In a survey conducted by Upwork, 44% of freelance writers reported that they had higher earning potential as freelancers than they did in traditional employment. (Source: Upwork)
54% of businesses will increase their content marketing budgets this year. (Source: Siege Media)
A survey conducted by the Freelancers Union found that 59% of freelancers in the US were women, with women representing a significant portion of the freelance writing workforce. (Source: Forbes)
81% of small businesses, including freelancers, reported that they use social media for marketing their services and finding clients. (Source: Entrepreneur)
A study by the Pew Research Center found that 16% of Americans had earned money through the gig economy, telling us that there is growing popularity of freelance work across all industries. (Source: Pew Research Center)
Takeaways From These Freelance Writing Statistics
Phew! That's a lot of freelance writing stats to cover. But, let's go over the main takeaways that you can apply to your business or freelance writing career:
Freelance writing can be very lucrative, presuming you raise your rates and charge enough.
Freelance writers primarily remote remotely and enjoy their work.
Freelancers use channels like social media to promote their services and get clients.
The majority of business leverage content marketing to generate traffic and leads.
The demand for freelance writers is increasing year over year.
You will make the most money from technical writing, legal writing, and financial writing.
Statistic Sources