So, you want to be a copywriter, huh?
Cool.
Then you're probably wondering, "How much do copywriters make?"
That's what I'm going to show you today based on raw data.
There are many different fields of copywriting, ranging from agency to freelance and they all earn a different amount.
However, I've performed the research and determined the average copywriter's salary and rates.
Let's take a look.
Copywriter salaries overview
Pay
Company
Creative copywriter salary
$26k–88k/year
IntelliPro Group Inc.
Email copywriter salary
$39k–60k/year
Mondo
Personal finance copywriter copywriter salary
$29k–120k/year
Nerd Wallet
Senior copywriter salary
$126,635/year
Google
Associate copywriter salary
$39k–83k/year
T-Mobile
E-commerce
copywriter salary
$47k–94k/year
Meredith Corporation
Advertising copywriter salary
$55k–83k/year
The Snow Agency
Digital copywriter salary
$38k–68k/year
TEKsystems
Marketing copywriter salary
$28k–80k/year
OMG National
SEO copywriter salary
$30k–45k
Dealer Inspire
Data according to Google.com.
Copywriter salary
Let's begin by pulling data from some popular job websites, beginning with PayScale.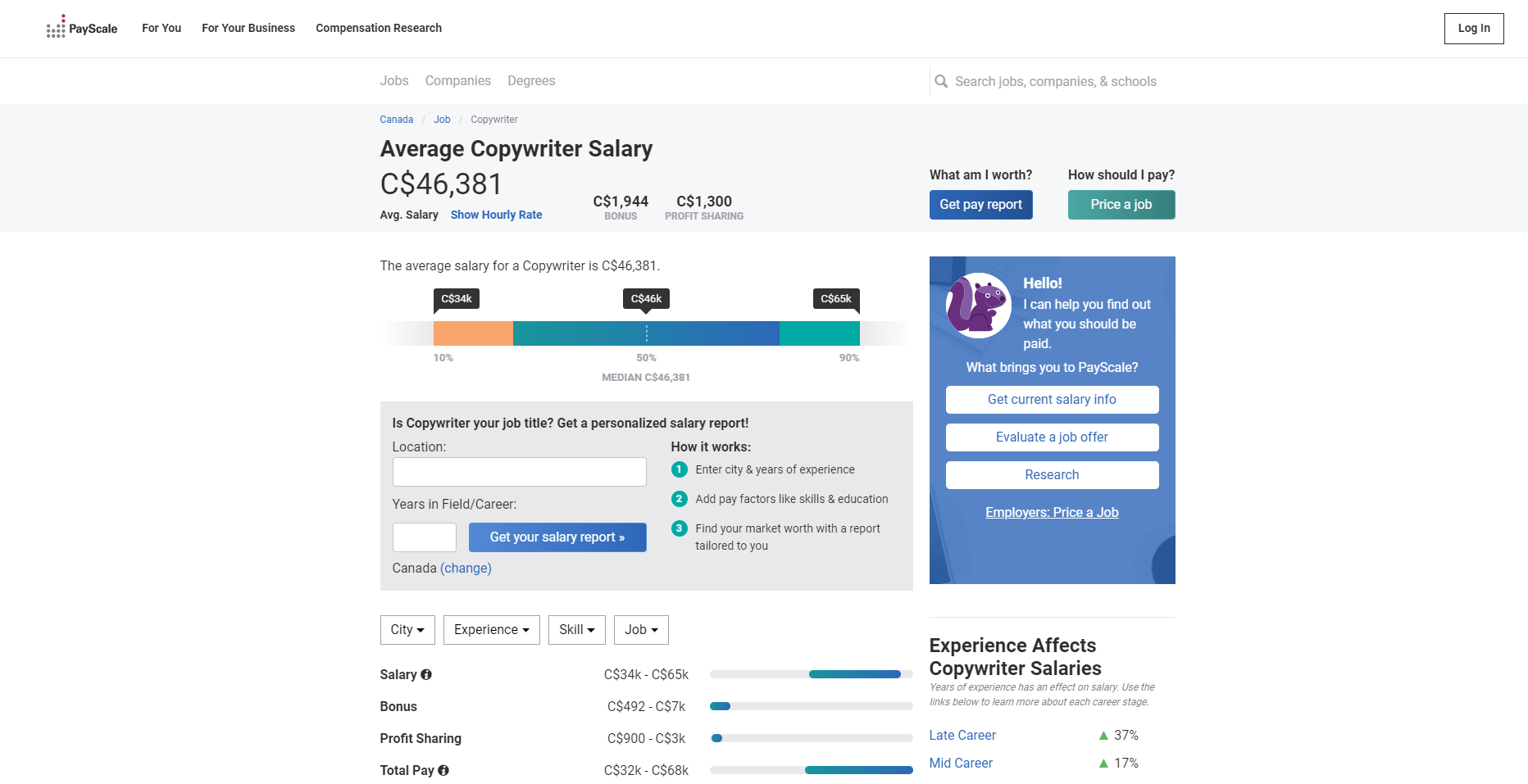 According to their database, the average Canadian copywriter pulls in $46,381 annually.
Bonuses range from $492–7,000, and profit-sharing is $900-3,000.
In total, the average copywriting salary ranges from $32-68k.
Not bad.
Depending on where and how you live, this could be a decent living.
Switching over the hourly rate, PayScale has found that the average copywriter makes $20.48/hour.

Once again, that's pretty solid. I bet a lot of you reading this could live pretty well earning that kind of money.
Here's Glassdoor's page on copywriter salaries: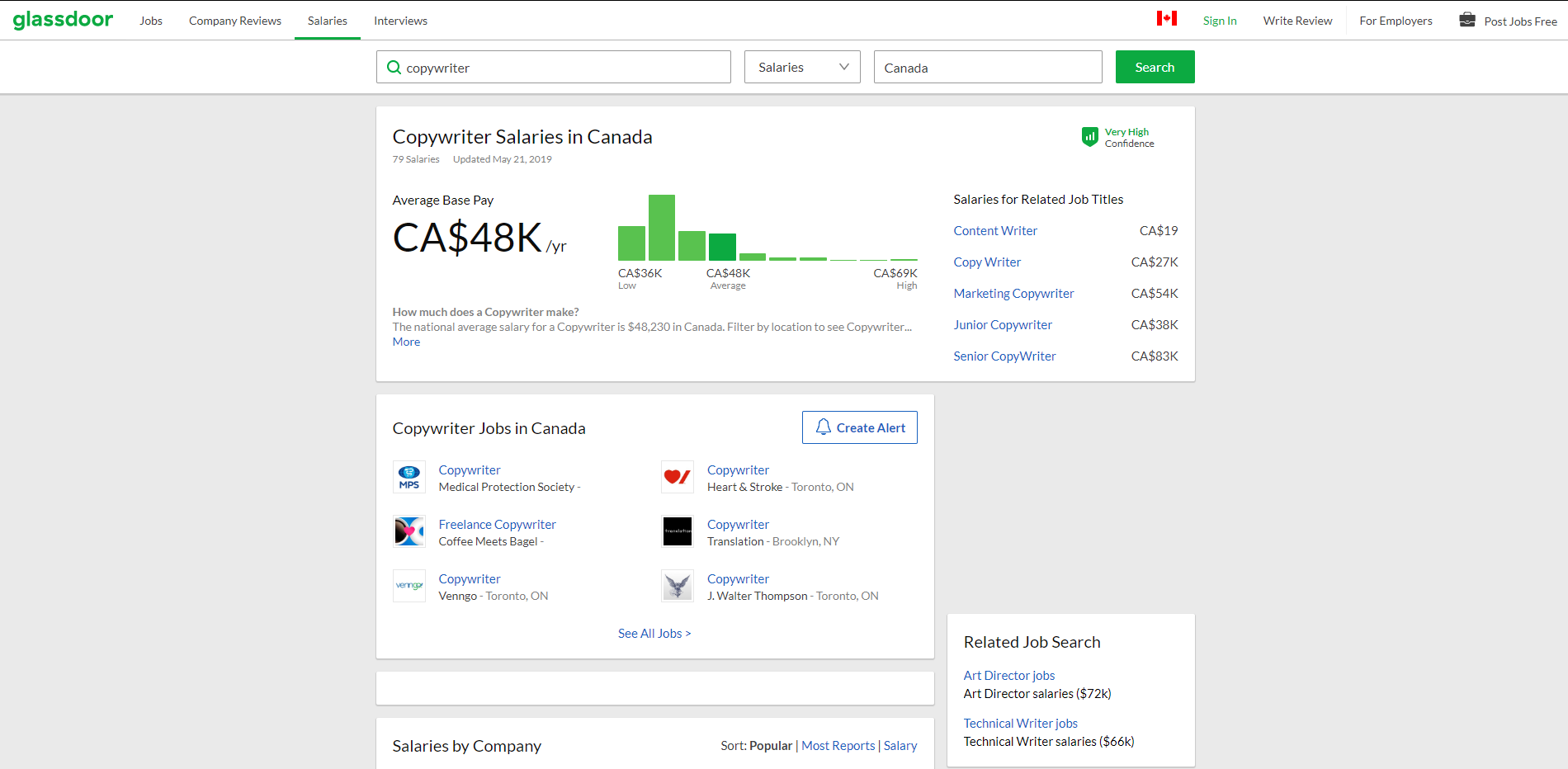 It's not far off from PayScale, finding that the average copywriter brings in $48k per year in CAD.
This is based on 79 different positions that were submitted to Glassdoor at the time of this article.
Neuvoo gives us a few different numbers. Their data points to the average copywriter salary being $52,650 and $84k on the high end.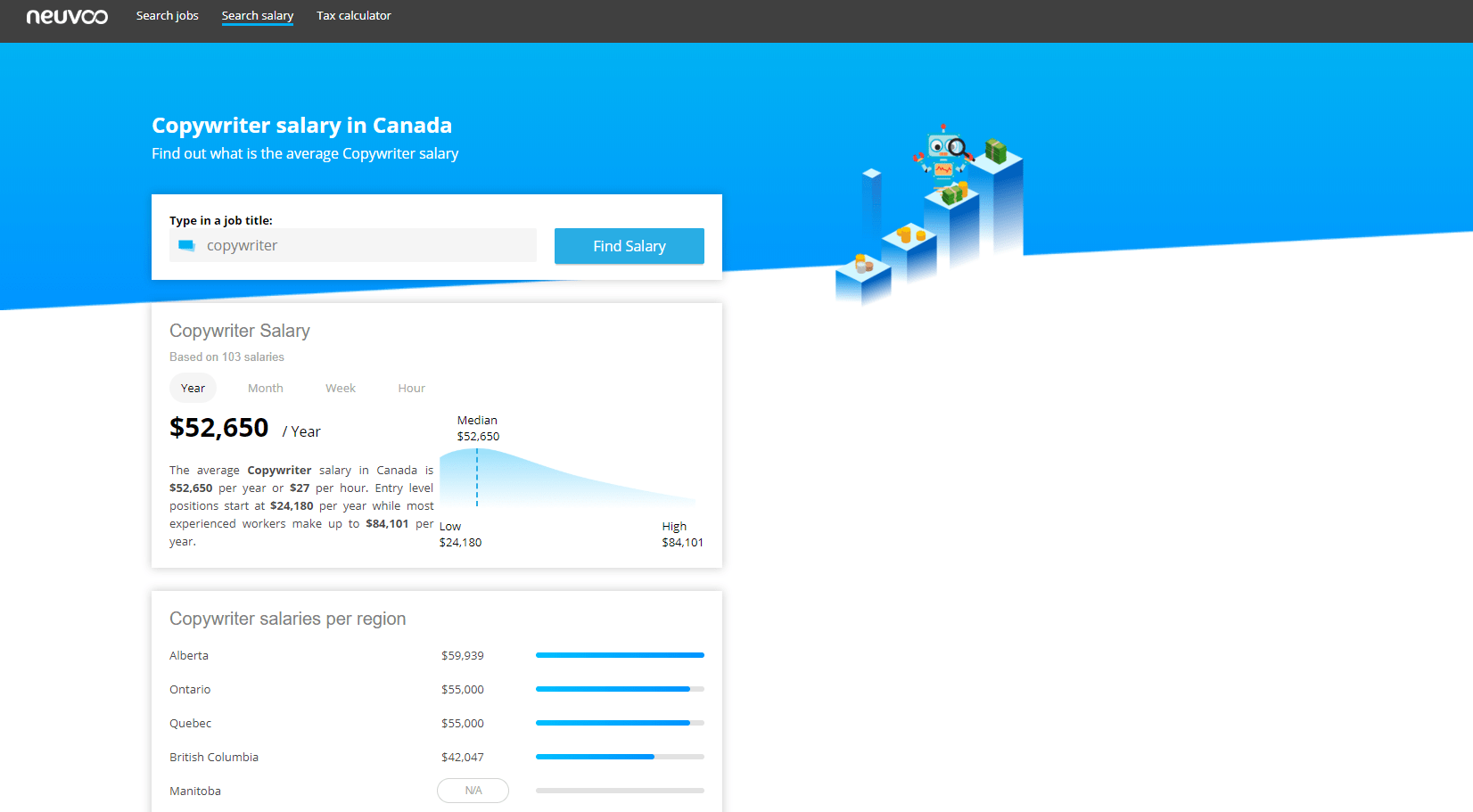 Naturally, you can expect a junior copywriter salary to be less than a senior copywriter salary as well.
That brings me to my next point.
Large agency copywriter salaries
This is where the big bucks are at.
Copywriters making six figures aren't always business owners, but rather have high paying copywriting gigs in huge agencies.
In fact, senior copywriters at Ogilvy & Mather make up to $115,834 per year.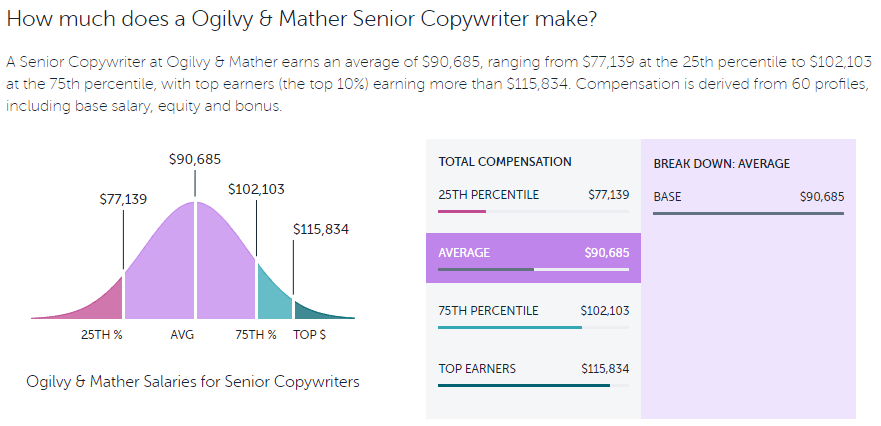 They spend years climbing the ranks until they've proved their skill and generated enough results for an agency to be placed in an advanced position.
This also leads to royalties, partnership cuts, and other earnings outside of a standard salary.
It requires you to be extremely hard-working, patient, and good at networking.
You won't land one of these jobs by accident.
Expect to spend at least three to five years at a big agency before getting the opportunity to be a high-level in-house writer.
However, once you do, you can look forward to perks like:
The average advertising copywriter salary is in the six figure range.
Being able to witness first-hand how large companies write copy for clients and their own services.
Resources that will make you one of the best copywriters around.
Being around other successful and like minded individuals.
It's not uncommon for seasoned copywriters to be able to jump up to other jobs like marketing director, marketing manager, and similar positions.
Freelance copywriter salary
The sky is the limit as an entrepreneur.
Nobody caps your copywriter pay at a certain level besides you.
Your effort and discipline will ultimately determine how much you earn, which is why freelance copywriting easily has the most earning potential.
For instance, I generate anywhere from $100–250/hour as a freelance copywriter. And that's nothing compared to guys that millions per year in royalties!
However, it's also the most difficult path.
You won't be showing up at an office every day with instructions on what to do and how to do it.
You're all on your own.
And that can be a lot to stomach.
You have to do all of the marketing, advertising, getting clients, and work.
But that's also what it makes a freelance copywriter salary infinite. You can make five figures, six figures, or millions! It's all up to you.
Here's how to get started if you're interested in freelance copywriting.
Step 1: Determine your niche
There's no shortage of niches in writing.
Technical writing, direct response copywriting, and SEO content writing are just a few to name out of dozens or more.
This is why you must first choose what you'd like to focus on.
By singling in one on area, you become well known in that industry and become a master of one trade.
It reminds me of this Bruce Lee quote: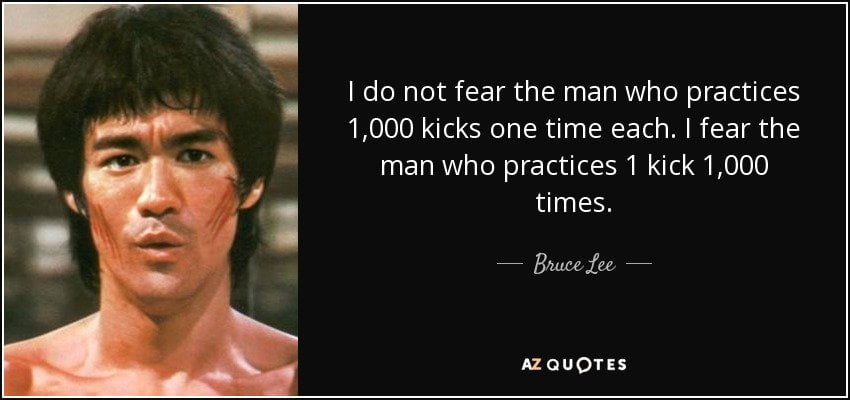 Take a look at your greatest strengths and interests.
Are you amazing at writing captivating copy that sells?
Then focus on being a direct response copywriter.
Do you like telling stories?
Then be a brand copywriter or author.
Once you've decided on this, it's time for step #2.
Step 2: Build a basic portfolio
Don't be afraid to do work for cheap or free in the beginning.
You need to bulk up a portfolio and get experience, which requires some sacrifice and effort.
Additionally, you may also already have portfolio pieces without realizing.
Check your Google Drive or computer files to see if you have any papers, reports, or other materials that could be organized.
All of these things can show your level of skill and writing style to potential clients.
I would also suggest getting into guest posting, which is posting content for free on other websites.
This gives you free exposure, and many copywriters build their brand and exposure doing so.
Step 3: Pitch clients and scale the business
There are an infinite amount of ways to get writing clients. It's best if you choose a couple of strategies and put all of your energy into those instead of trying ten things at once.
Here are some ways you can begin getting clients:
Cold call or cold email businesses that you believe would be a good match for your services.
Attend networking events and conferences with business cards to meet leads.
Learn to blog and perform SEO. This will generate traffic to your website, which can convert into paying clients.
Partner up with other companies to write copy for them when they have an overflow of work.
As you get the ball rolling, start reinvesting into your business.
This can be done in a multitude of ways. For example, you could spend money on PPC ads, employees, or tools to improve business processes.
I recommend investing my WiseCopy course that teaches you how to build a six-figure copywriting agency if you're interested in going this route, too.
What do copywriters do, exactly?
Copywriters have one of the most impactful positions within the market department of a business.
They help generate sales, brand awareness and leads with their words which is an insanely powerful skill.
Advertisements wouldn't produce any results if it wasn't for great copy placed on them.
This means that there's a lot of responsibility as a copywriter since a company's success during a campaign can rest on your shoulder.
The writing process typically looks something like this:
The writer is briefed by their client or boss on a project, its deadlines, and goals.
The copywriter collects resources like buyers persona, memos, market reports, testimonials, competitors copy, and more.
Visuals and copy ideas are brainstormed and the outline of the project is created.
The writer produces the first draft and presents it to determine what edits and revisions need to be made.
Copy is modified until it satisfies the project's requirements.
You will produce the following material, and many others, as a copywriter:
Landing pages
Brochures
Direct mail ads
Flyers
Web pages
Blog posts
White papers
Case studies
Business plans
Email newsletters
What skills do copywriters need?
There are very precise skills that copywriters need to be effective in a business environment.
The ultimate goal of copy is to produce results. Not be creative or fancy. That's why there's the saying "Ugly and simple sells" because it's true.
Look at some of the greatest landing pages that exist, they are often white backgrounds with black text and very minimal.
Back to the topic at hand…
Being a copywriter will require you to harness some of the following skills to drive sales with your words.
Emotional intelligence
I personally believe that emotional intelligence and related skills are seriously underrated in business.
The reality is that if you are marketing to someone, then you need to touch on emotions and put yourself in their shoes.
I do this every time I produce copy. I think about what the customer would be feeling and experiencing to make them desire the product to begin with.
While this is great, you also need the next skill to go with it.
Research abilities
You need to stay massively organized as a writer.
When I begin a new project with a client, I instantly begin collecting blog posts, memos, documents, and as much information on them, their product, and target audience as possible.
That's precisely why you need to ensure that you can stay organized and find the right information to base projects off of.
I highly recommend that you look into the book Getting Things Done by David Allen. I base my entire productivity and time management processes around it, and it's been life-changing.
Everything you read in that book will apply to copywriting tasks and other areas of your life.
Well-rounded writing skills
You need to be good at writing to be a copywriter, who would've guessed?
That's pretty vague, so let me elaborate. As a copywriter you will need to be able to pull off the following things:
Make content and copy easy to read by any audience through the use of short sentences, simple words, and flow.
Transition between ideas and pointless smoothly and organize copy in a logical sequence.
Write headlines that make people want to read the rest of the copy.
Align copy with the specific audience's interests and demographics.
Use calls to action that make readers convert into leads or paying customers.
Use storytelling and emotional statements to grab the attention and heart's of readers which makes them invested into the copy.
Get the reader saying yes as much as possible so when you ask for the sale they're more likely to convert.
Understand the difference between features versus benefits and how to implement it into sales copy.
Conclusion on copywriting salaries
Being a copywriter is amazing.
Your words can literally make or break whether a customer buys a product or not.
It's a fun and rewarding career path or business if you decide to take the freelance route.
According to the data we looked at today, copywriter earnings are approximately $48k on average.
Those with more experience at a larger agency can ramp up their salary by quite a bit, however.
I'd recommend auditing your goals and skills to determine which path you wish to go down.
Some would be amazing at SEO copywriting while others could become the Chuck Norris of direct response.
Keep in mind the exact position and company also affects how much copywriters make.
Best wishes on your copywriting career journey!