SEO is the foundation of any internet business.
Without it, you won't rank for specific search terms that will bring organic customers to your website.
But with a bit of research and elbow grease, you can look forward to heaps of traffic from search engines that convert into customers.
The SEO landscape is also always changing.
You need to keep up to date if you want to know what strategies and approaches work the best, and what doesn't anymore.
That's why I've put together this list if interesting SEO statistics that will help you become a better search marketer. Enjoy 🙂
50% of all searches on Google are four words or longer (Source)
Half of all users using Google search for terms that are what we consider long tail. This means that there are several words that complete the phrase, giving it a tail.
Why is this important?
Because it means that marketers should emphasize targeting keywords that come in the form of questions or longer strings.
Typically long tail keywords don't have as much competition, and it creates an easier opportunity to rank.
For example, look at the SERPs for the term "SEO."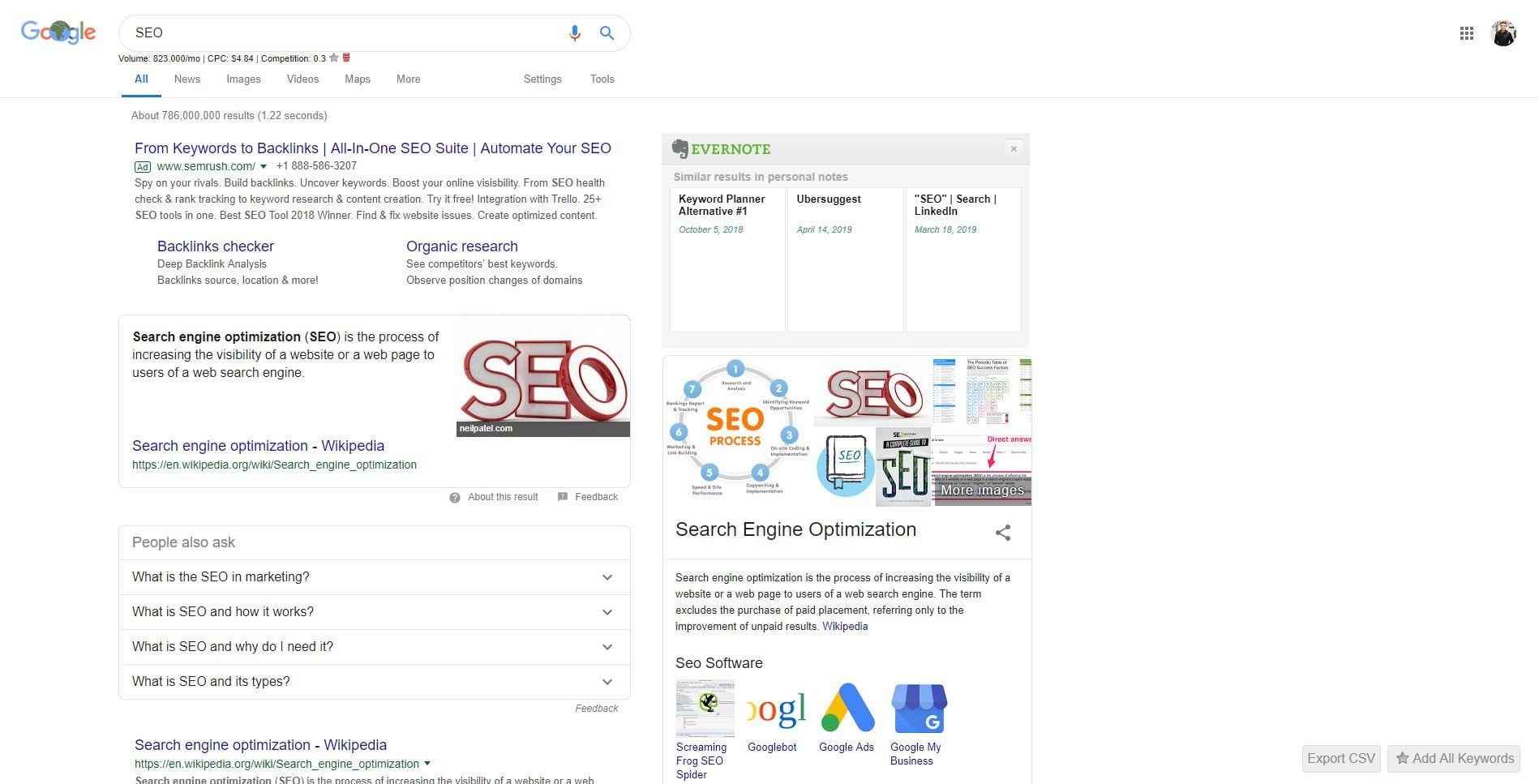 There are 786 million results!
But if I search for "SEO tools WordPress" there are only 69 million.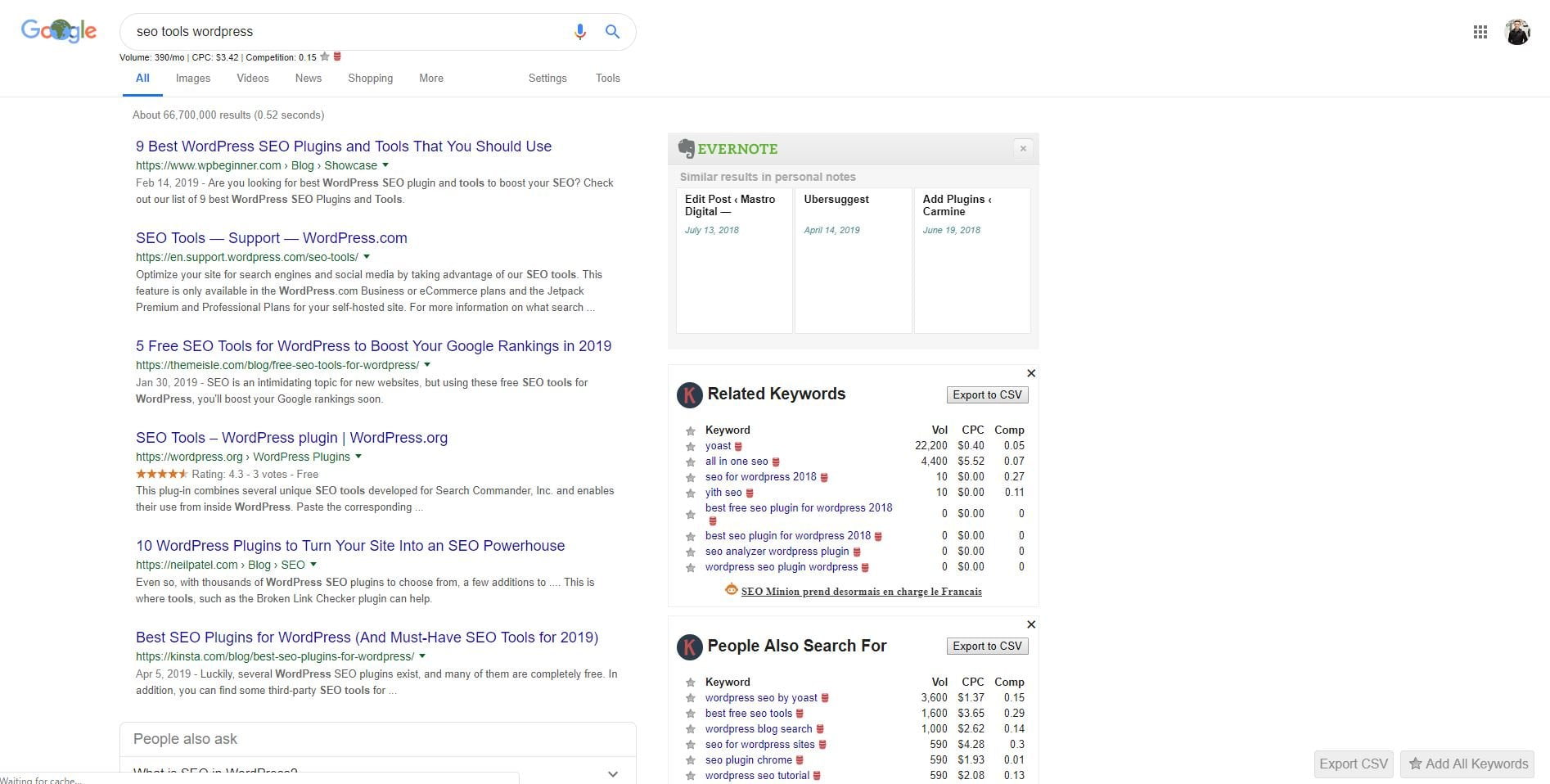 Don't get me wrong. That's still a ton of competition, but it goes to show that adding a couple of extra words can make a big difference.
High quality content and backlinks are the most important ranking factors (Source)
It's no secret that great content is one of the most important factors that Google looks at when ranking your website.
It makes sense.
Google makes their revenue from advertisers.
This means that they rely on having a steady stream of users on their platform to generate advertisers money, which keeps these advertisers coming back.
As a result, they only want to show users the highest quality content or they'll be displeased with the search results and use Yahoo or another engine.
But what exactly makes great content?
There are many different elements, including:
A high word count, which allows you to add more value, tools, and resources.
Internal and external linking to other valuable resources.
Images, visuals, graphs, etc.
Good formatting through headers, font size, lists, etc.
Actionable and practical advice users can apply straight away.
Once you have this down-pat, backlinks are the next important thing to focus on.
Think of links to your website like an SEO voting system. It tells Google what pieces of content are the most important and liked.
Backlinks can be built in many different ways. Some of the most popular methods are:
Guest posting: Reach out to websites that accept guest authors and contribute an article. This will typically include a link to your website in the author bio or within the post itself.
Broken backlink building: Using a tool like Ahrefs, marketers find broken links on websites, and then pitch them to replace the URL with one of theirs.
Skyscraper: This is a strategy that was coined by Brian Dean of Backlinko. It involves finding trending content, and searching for all of the other websites that are linking to it. You then reach out to these websites with an even better piece of content, and ask them to link to it instead.
PBN: This is technically against Google's guidelines, but it still remains as a popular choice by some marketers. I'm by no means promoting or encouraging it. A private blog network is a collection of sites ran by one company with the purpose of linking to one another for improved SERP performance.
There are also entrepreneurs like Jim and Ricky from Income School that don't build any links. They believe in creating amazing content, and letting that do all of the hard work. Check out this video where they speak about it more in-depth.
The average first result on Google is 1,890 words (Source)
Long form content is king.
Gone are the times where you could rank on the first page with a spun 500 word article.
Google's algorithm is far too advanced for shenanigans like that to work any more.
That's why high word count is the name of the game.
If you look at a lot of the big websites, especially in the digital space, most are posting 2,000 to 3,000 word articles or longer.
High word count allows them to remain competitive for keywords, while providing more value to readers.
It pleases both the end user and Google at the same time. Win-win!
I'd recommend every time you produce content to flesh out an outline, and calculate how many words each section would have to be for roughly 2,000 words.
Let's say including an introduction and conclusion that you have ten points. That means you need to write 200 words for each section to hit 2k.
This is an less daunting way to approach creating long form content in my experience.
"Near me" searches have doubled over the past year (Source)
Have you ever been driving around looking for a bite to eat, so you whipped out your phone and asked Google "What's the best pizza place near me?"
This is becoming more and more common, as voice search is on the rise.
In fact, a study of 2,000 mobile phone users found that voice search is used 52.8% of the time while driving.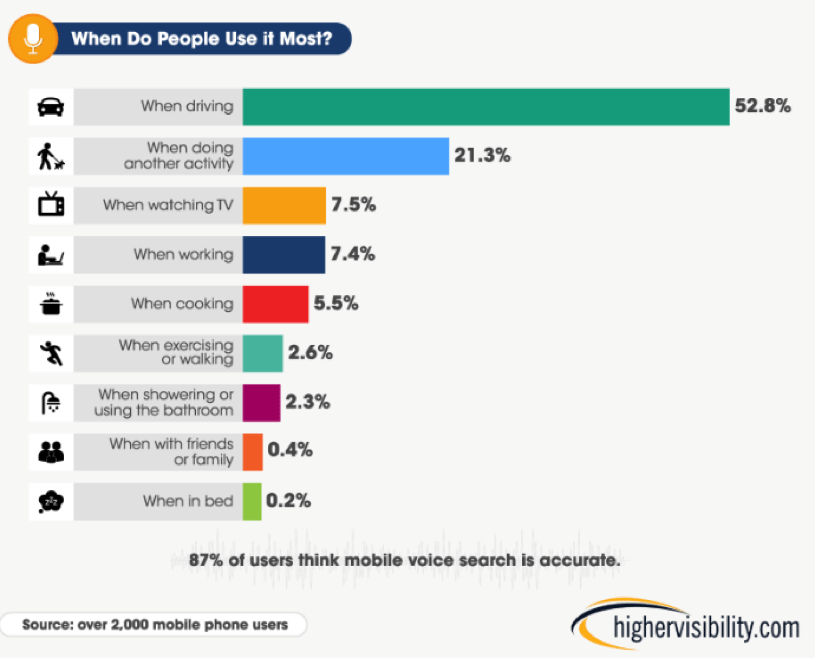 Local businesses need to ensure that their SEO is in good shape to take advantage of this. With some tweaking, you can appear higher on the results page for local terms.
This, of course, implies that you've researched local keywords using a tool like Ubersuggest. These would look like:
Niagara Falls copywriter
New York City dentist
Boston ice cream shop
Keywords like these need to be inserted into areas of a website like the page title, URL, meta description, and inner content.
Updating older content can increase organic traffic by 111% (Source)
A common dilemma marketers face is deciding whether to produce new content or update older ones.
It's been found that updating old blog posts with new content and images can result in a 111% increase in organic traffic.
If you have a good foundation of articles on your website, especially some performing very well, it can be wise to go back and space them up.
Consider increasing their word count, even if it's by a couple hundred. Add new data, cast studies, stats, or images, as well.
This signals to Google that the content has been improved, and they will crawl it to readjust its rankings.
87% of people with smartphones use a search engine once per day (Source)
Mobile devices have become the go-to platform for surfing the internet, using social media, and checking emails.
Seeing as 87% of smartphone users find themselves searching for something via a search engine every day, it's critical that you optimize websites for mobile users.
Here's an example of how a desktop website should look when shown on mobile, for example.

Note how the logo, title, content, and everything on the page is still easy to view.
If a website isn't optimized like this, it ends up looking broken. This deters users from staying, and can hurt metrics like bounce rate and average time spent on page.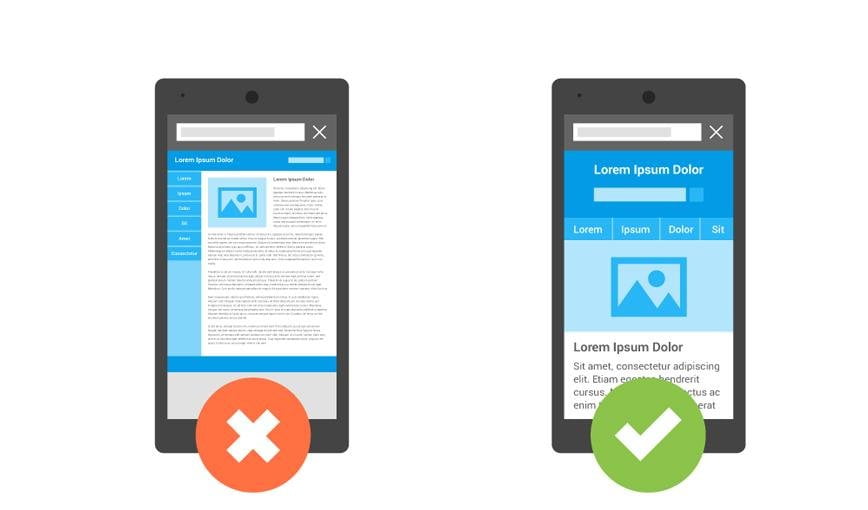 Most platforms like Shopify or WordPress come equipped with themes that are mobile optimized. However, I'd still take the due diligence to check forms, pages, and other elements to ensure they look good on mobile.
Google also has the mobile testing tool you can use to grade your performance.
Simply enter the URL of a website and click the "Test URL" button.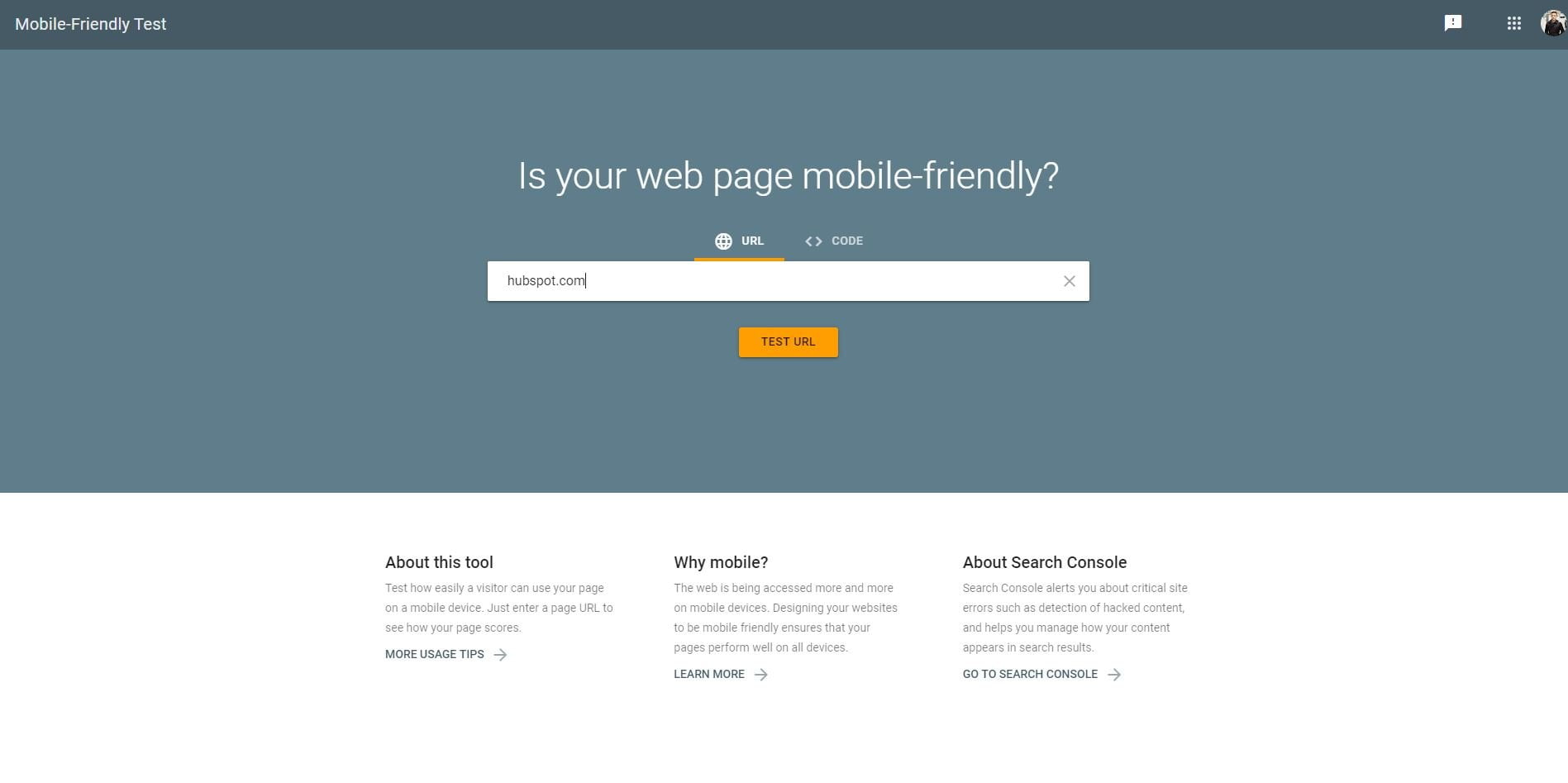 This tool will scan your website to find any issues when viewed on a mobile device, and brings them up to your awareness to fix.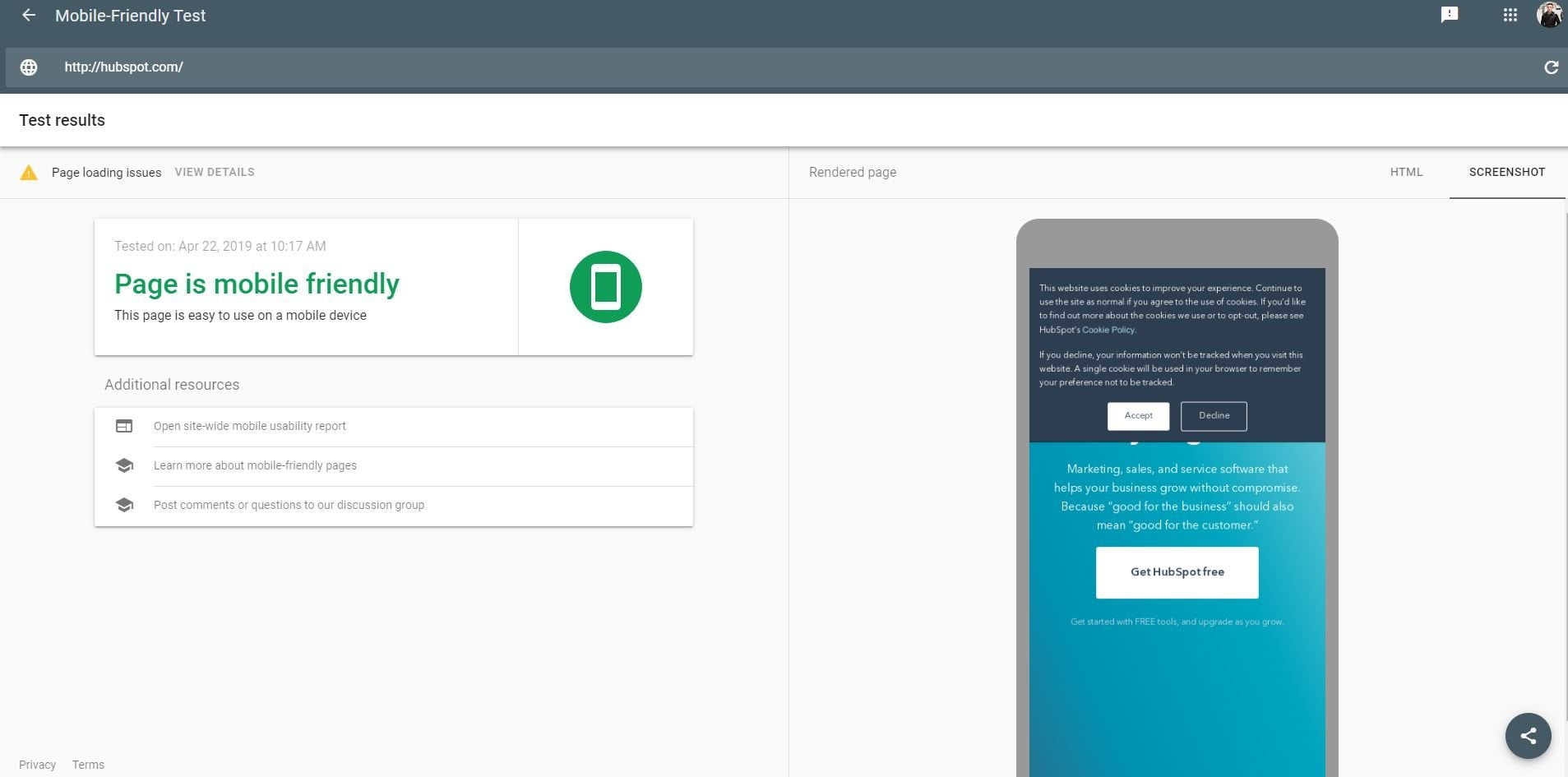 Click the "View Details" button by the warning text on the top left to see what can be improved on your website.
Leads from search engines have a 14.6% close rate versus 1.7% of outbound leads (Source)
I personally believe that every business needs a healthy balance of inbound and outbound marketing.
Outbound like cold emailing and cold calling helps fill your pipeline quickly, while inbound builds a solid foundation that will generate leads organically for years to come.
Leads from search engines close up to 8.5x more because targeting a buyers persona and related keywords attracts more relevant users.
While you can have very targeted outbound campaigns, nothing beats having a lead come to you and qualify them self.
I would recommend for all marketers to begin building SEO focused content, whether it's blog posts, videos, or podcast episodes.
At the same time, don't neglect performing some form of outbound to get your pipeline full in the mean while.
Mobile searches including the word "Best" have increased by 80% (Source)
Similar to the rise of "Near me" keywords via voice search, phrases including "Best" have blown up.
These would be searches like:
Best car polishers under $200
Best SEO tools
Best free car wash in Tokyo
Most of the time these will be either transactional keywords or informational. This means that the end user is interesting in purchasing a product or seeking knowledge.
If someone is looking up "Best car polishers under $200," it's safe to presume they are trying to find a polisher that suits their budget.
Similarly, a user searching "Best free car wash in Tokyo" is simply trying to narrow down their options to clean their vehicle locally.
Marketers can take advantage of this trend by targeting more keywords that include the word "Best" moving forward.
Final thoughts
SEO is the bread and butter of most businesses around the world.
Even a sprinkle of proper search engine optimization can result in organic traffic, leads, and authority.
However, trends and markets are in a constant flux. This is why you need to stay up to date on the latest SEO stats like I've outlined today to readjust your strategies.
Here's a summary of the main ideas I covered today.
Key takeaways
50% of searches are longer than four words, which means you need to consider targeting more long tail keywords.
High quality content and backlinks are still the most important factors Google looks at when ranking your website.
The average first result on Google is 1,890 words long. Produce longer form content to improve your SERP rankings in the future.
Search terms with "Near me" and "Best" are on the rise.
Updating old pieces of content can make drastic changes in organic traffic. Try beefing up your older blog posts instead of constantly making something new for once.