Neil Patel acquired Ubersuggest on February 13th, 2017 for $120,000.
It had over 38,000 backlinks, 8,400 referring domains, and 110,000 monthly visitors when he bought it.
Those looking for a keyword research tool have probably come across it while searching for one.
I've used it dozens of times myself while producing content, as I like to try out new tools and see how they pair up against each other.
That's why today I'm doing this Ubersuggest review.
I'm going to show you how to use it, check out what others have said about it, and give you a final conclusion at the end.
Let's get into it!
What is Ubersuggest?
Ubersuggest is a free keyword research tool that was originally called Ubersuggest.io.
It was purchased by the digital marketer Neil Patel as an experiment. He wanted to see if he could grow his business without any content marketing, but rather by offering free tools.
Ubersuggest has many different features, helping you find keyword ideas, data, and analyzing the competition.
It's a priceless tool to have in your arsenal, even if you have access to premium paid software.
You will be able to gain an edge over competitors, dig deeper into their strategies, and discover what content is popular in your industry.
Is Ubersuggest free?
Yes, Ubersuggest does have a free version.
It will give you all of the necessary tools to track keyword rankings, research content ideas, scan domains for SEO audits, and more!
However, I'd suggest checking out the seven-day free trial of the Pro plan which offers increased resources and limits.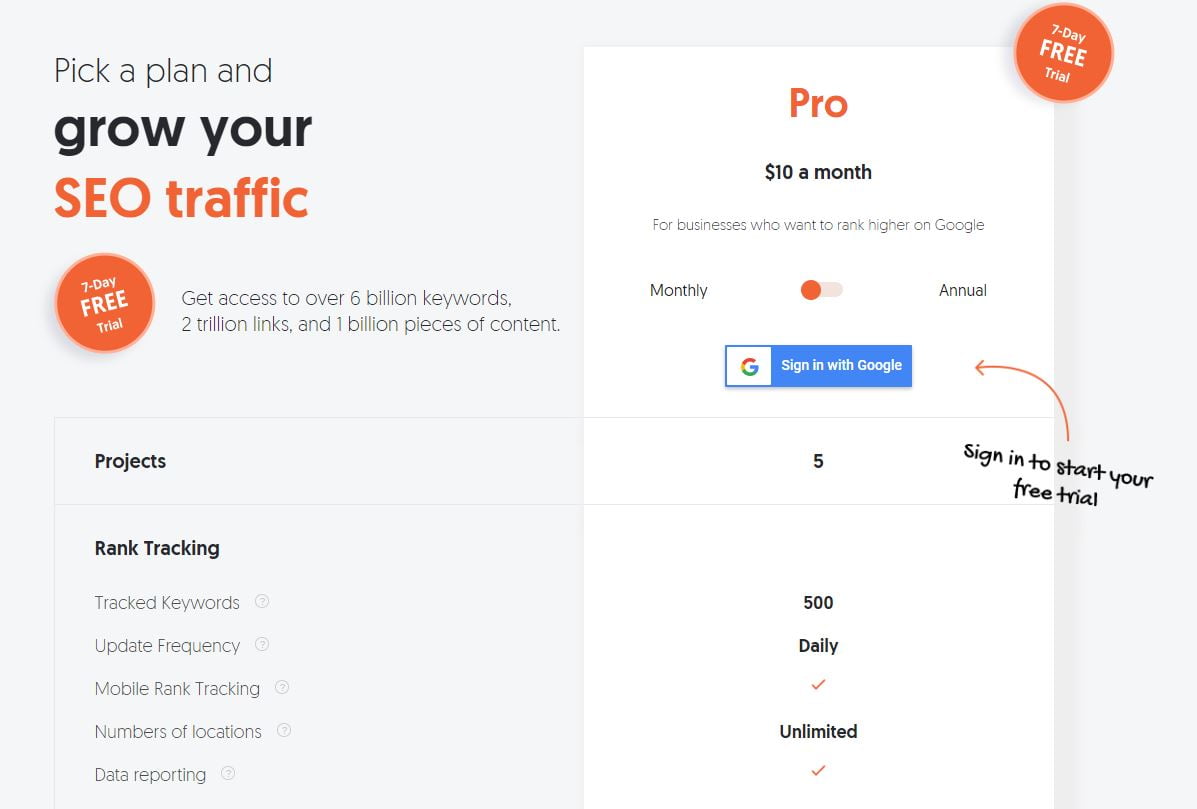 It comes in at $10/month or discounted at $100 for an annual subscription.
This gives you features like:
Five projects
500 tracked keywords
Daily updates
Mobile rank tracking
Data reporting
Unlimited daily site audit reports
10,000-page monthly crawl limit
Historical data
100,000 keyword suggestions
Three years of backlink history
A.K.A you will know every nook and cranny of a site's SEO performance.
This is perfect for skyrocketing your rankings and always staying one step ahead of competitors.
Is Ubersuggest accurate?
The last thing you want is to research keywords or competitors and get inaccurate data.
It would trickle all the way down your marketing plan, and create poor results.
That's why I decided to put Ubersuggest to the test against Google's Keyword Planner.
If you want to get the best information, it only makes sense to go straight to the search engine itself.
I'm going to search for the term "content marketing" on both Ubersuggest and Keyword Planner to see how they differ.
According to Ubersuggest, "content marketing" has a monthly search volume of 14,800.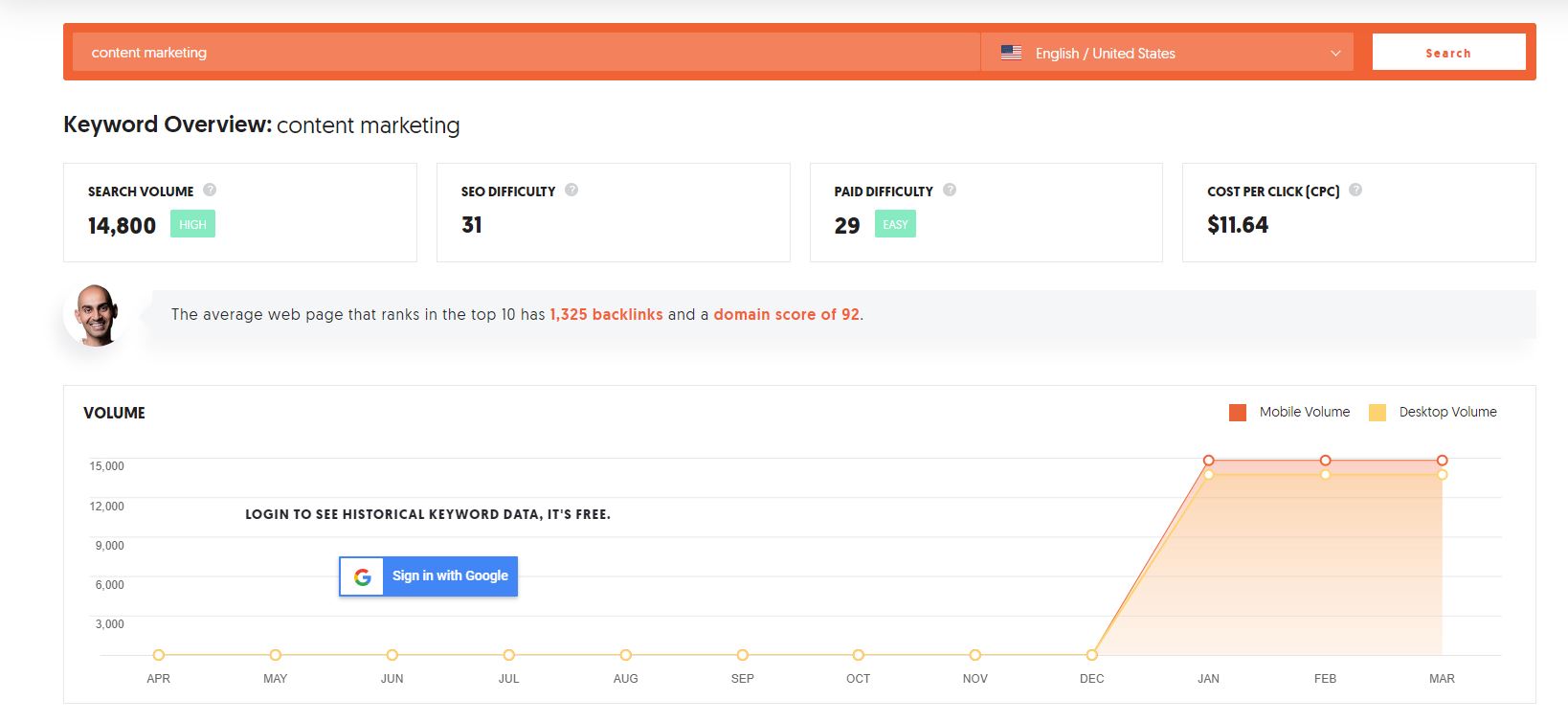 When I searched for the same term on Google's Keyword Planner, their data claims it's searched 10,000–100,000 times per month.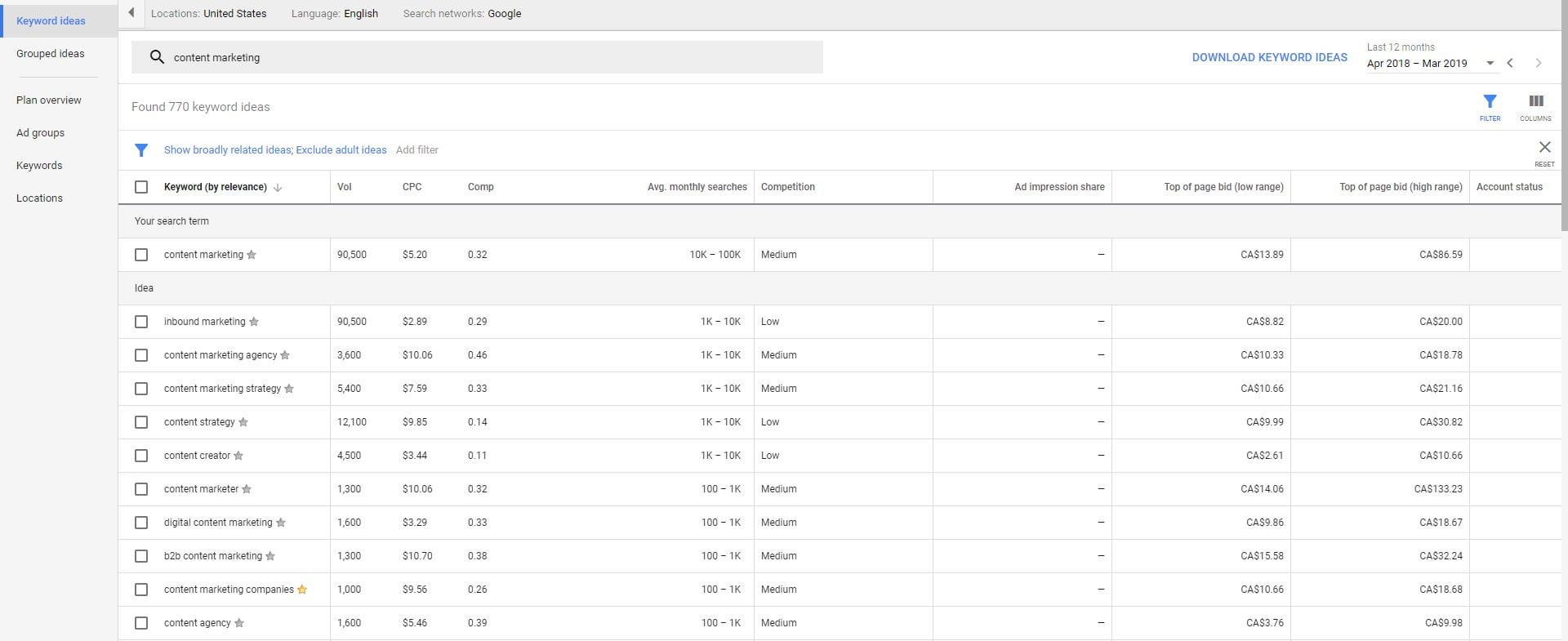 Keep in mind that Google gives ranges, not exact numbers. However, 14,800 does fall into this range, so it's safe to say that Ubersuggest is accurate. 🙂
March 2020 update: Neil brought it to my attention that I accidentally compared Canadian data to US data, thus my original review was off. Ubersuggest is far more accurate than I previously stated.
How to use Ubersuggest
Follow these steps to begin using Ubersuggest to take your SEO and keyword research to the next level.
Enter a keyword into the search bar on the homepage of Ubersuggest and click "Search" to begin.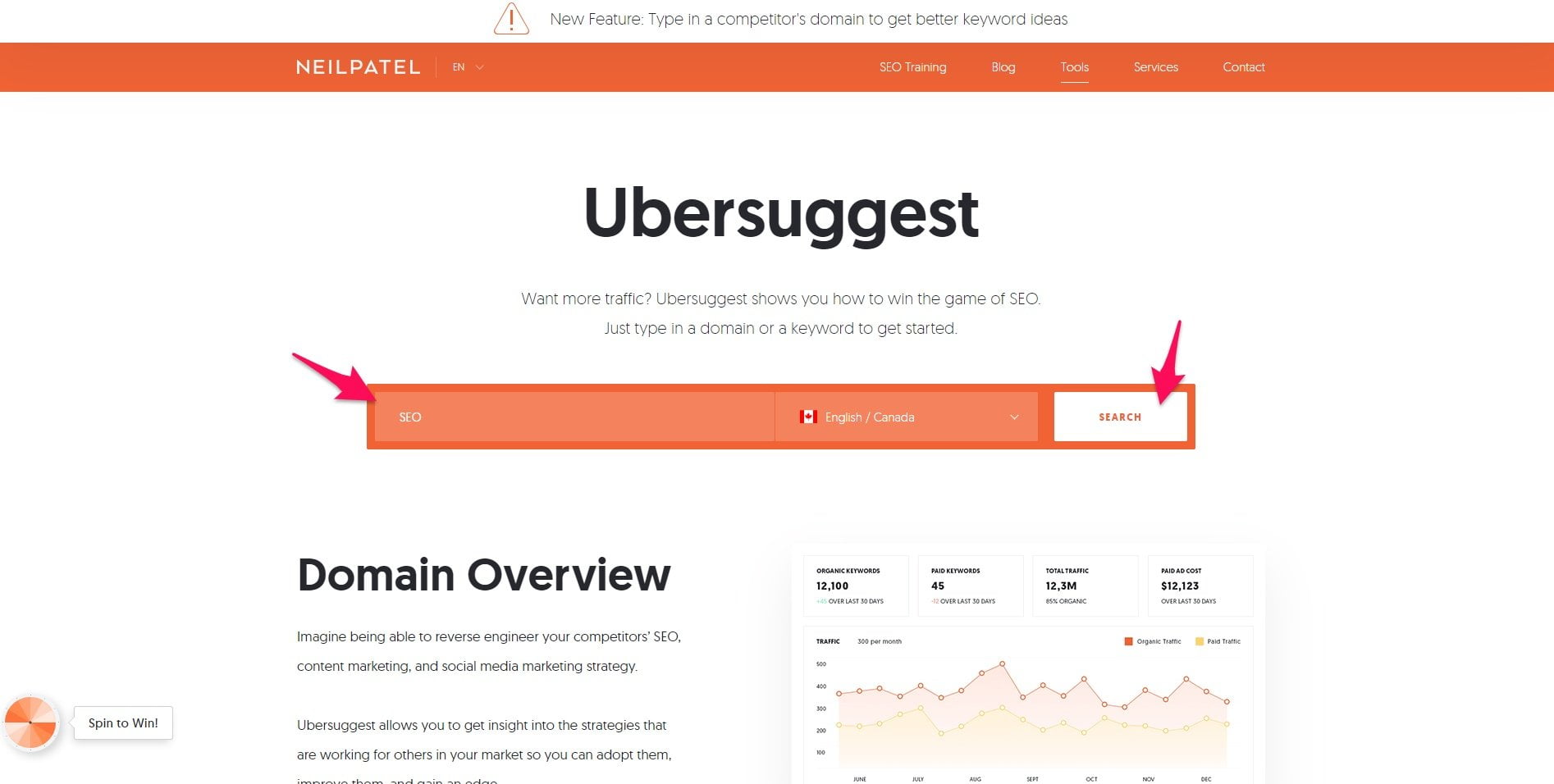 This will forward you to the keyword overview page. Here you will find all of the main metrics about the search term you entered.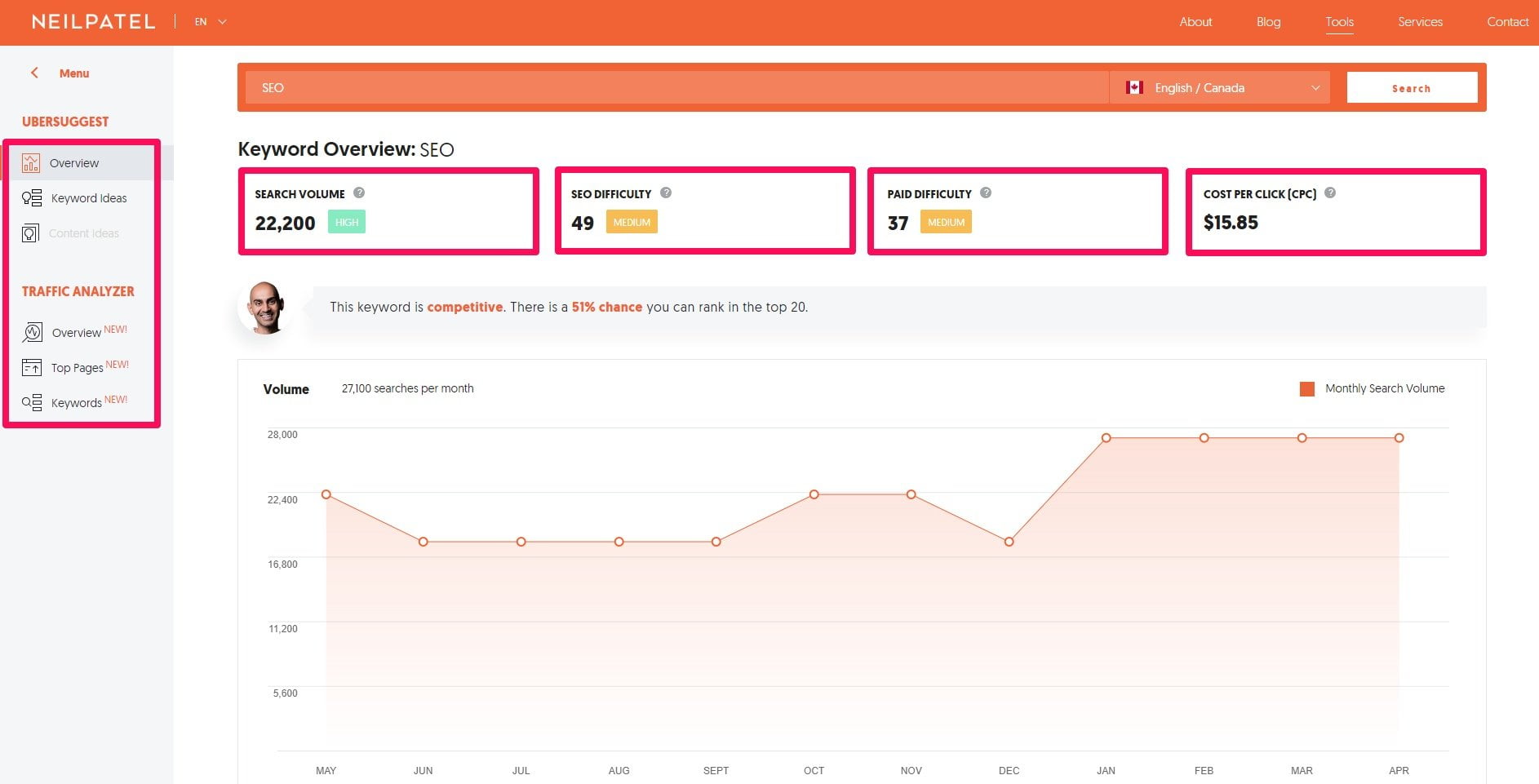 Search volume, as you could presume, is the amount of searches the keyword is queried on a monthly basis.
This is an important metric to analyze, as it allows you to find phrases that will drive plenty of organic traffic to your website.
The SEO difficulty score is how difficult it is to rank for that chosen term organically. It's also good to have a blend of low, medium, and high competition phrases in every piece of content.
Paid difficulty is the amount of competition marketers will face when using a keyword for paid Google ads. Those that invest in PPC will want to keep an eye out for this number.
Lastly, the CPC is also recorded, which is the average price per click for paid ads.
Below these numbers, there is a chart showing the history of the search volume. This is useful to determine if a search term is seasonal or has a growing interest.
Click the "Keyword Ideas" tab from the left sidebar to find new terms to target.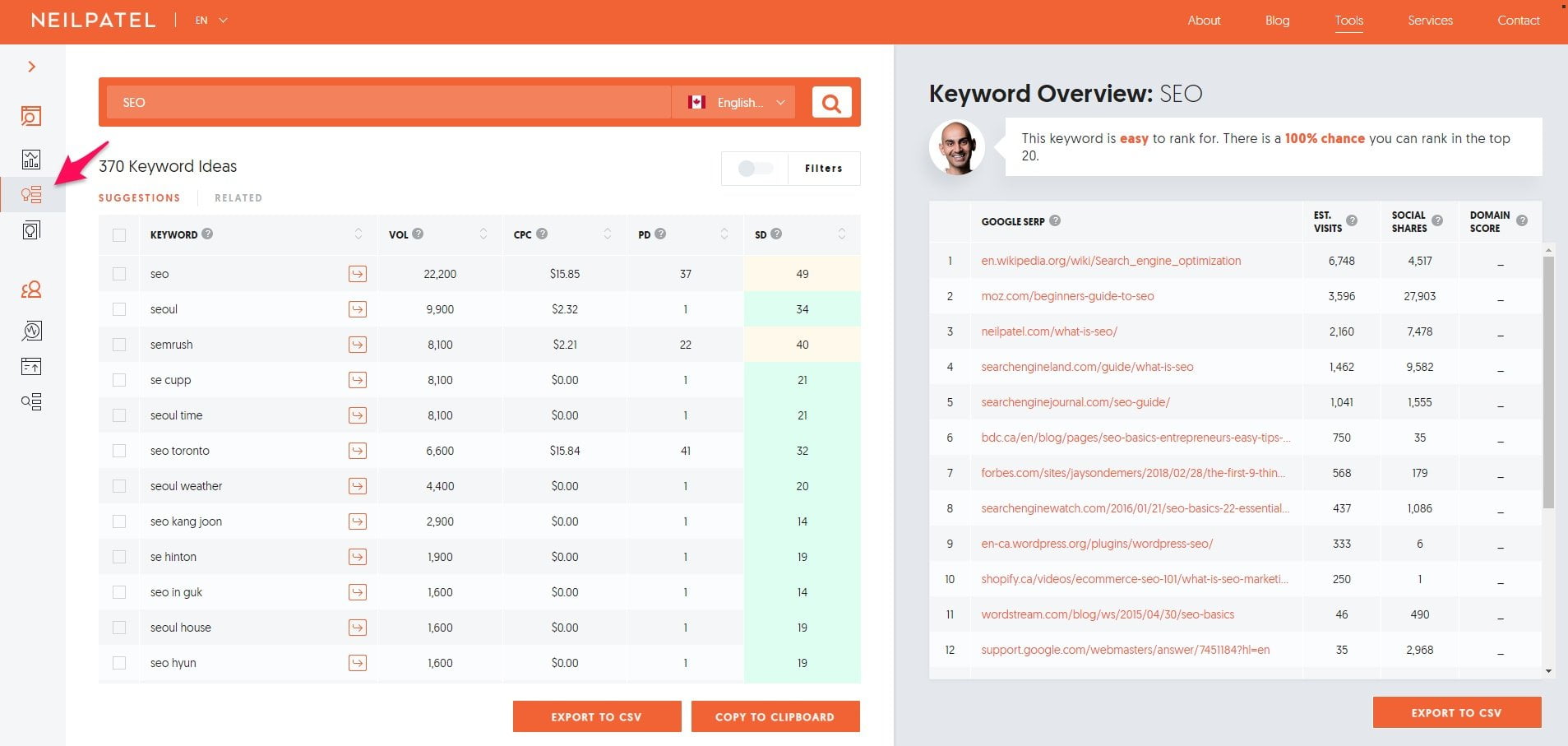 The list displays the same metrics as the overview page, and the results can be either exported out as a CSV file or copied to clipboard.
This makes it convenient to search for new keywords, and organize them in another tool like Google Drive.
On the right side is where the real magic happens. These are the top performing pages for the main keyword you entered.
Analyze all of these pages to determine what word count, formatting, keywords, and other elements authorities are using.
Most importantly, use this information to make something better.
I love using this page to also figure out what style of content is popular. For example, I searched "SEO" and mostly guides are ranking highly.
I recommend that you read my guide to content marketing to learn more about publishing epic content that drives traffic, too.
Let's move onto some new features of Ubersuggest, beginning with the domain overview.
Enter the URL of a website you'd like to analyze. I'll use one of my favorite blogs to read, Copyblogger.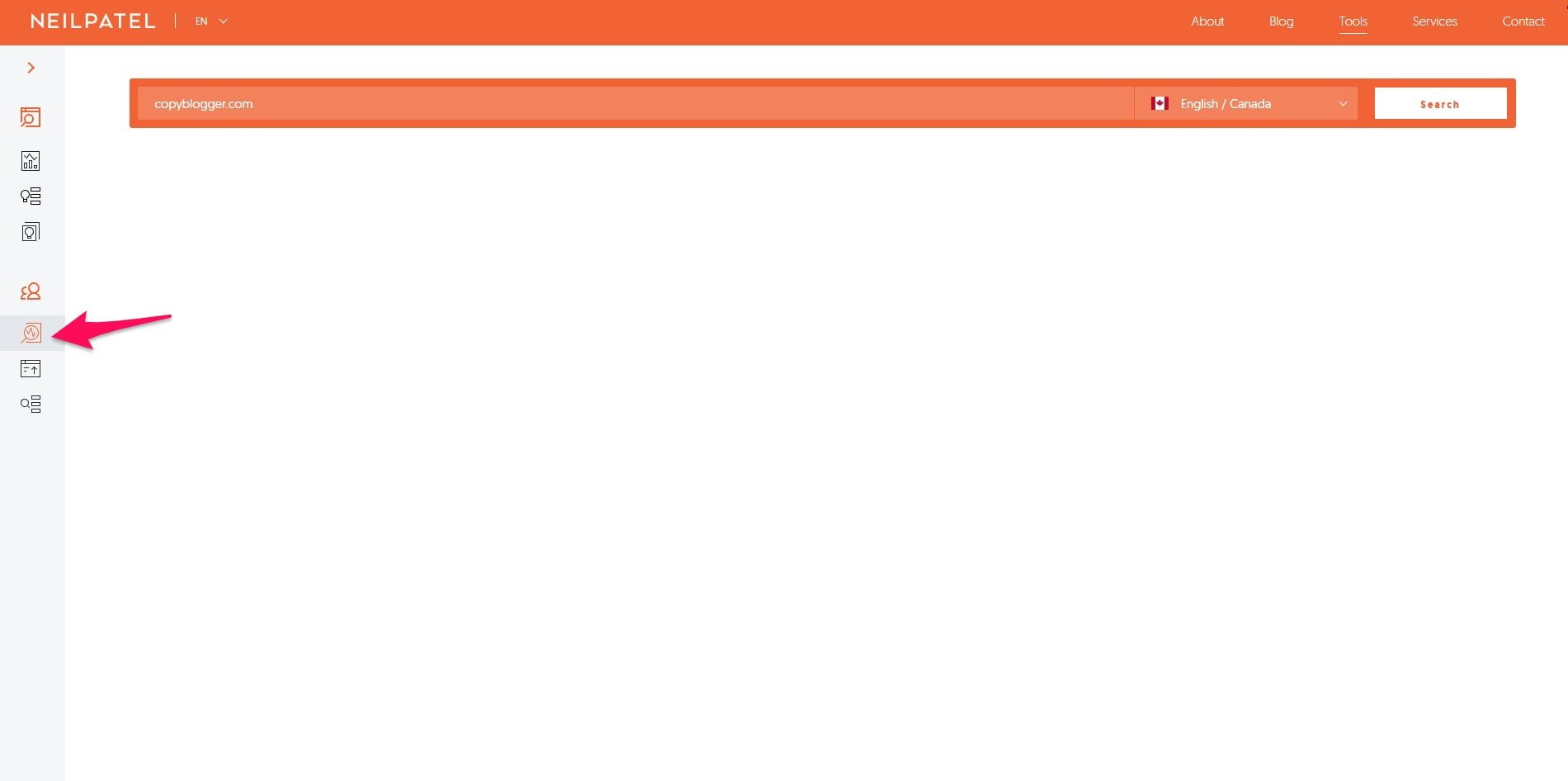 It displays the organic traffic, amount of keywords they are ranking for, paid keywords, and paid costs.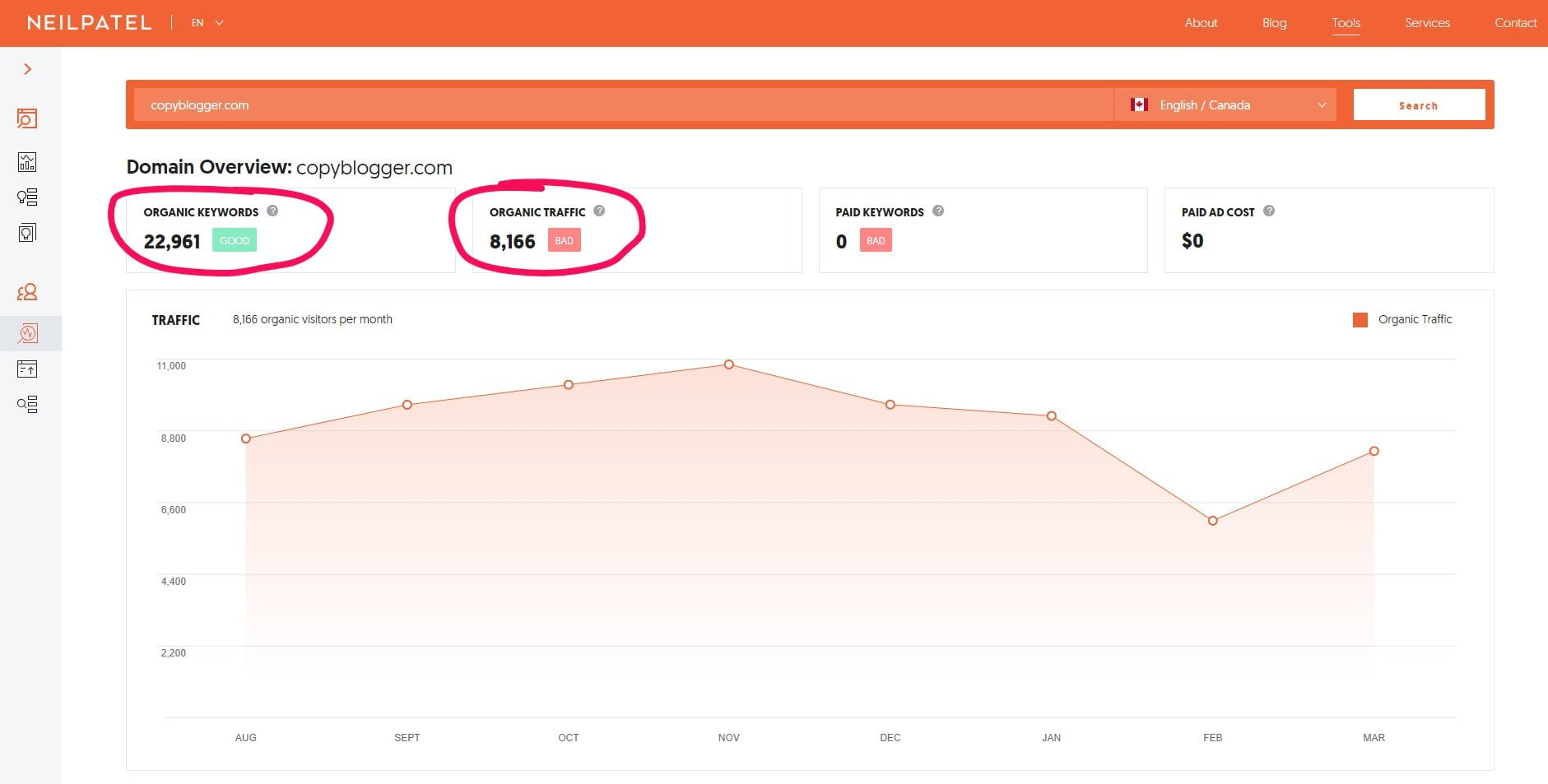 So many tools on the market will make you pay a hefty monthly fee to get this kind of data, so I have to say I am very impressed with Ubersuggest because of this.
Just like with the keyword overview page, you will find a graph that outlines the history of traffic on the domain you entered.
Scroll down and Ubersuggest displays a breakdown of ranking positions, and the website's top pages. The rankings help determine how much of an authority a website is, and the top pages are awesome for coming up with more content/keyword ideas.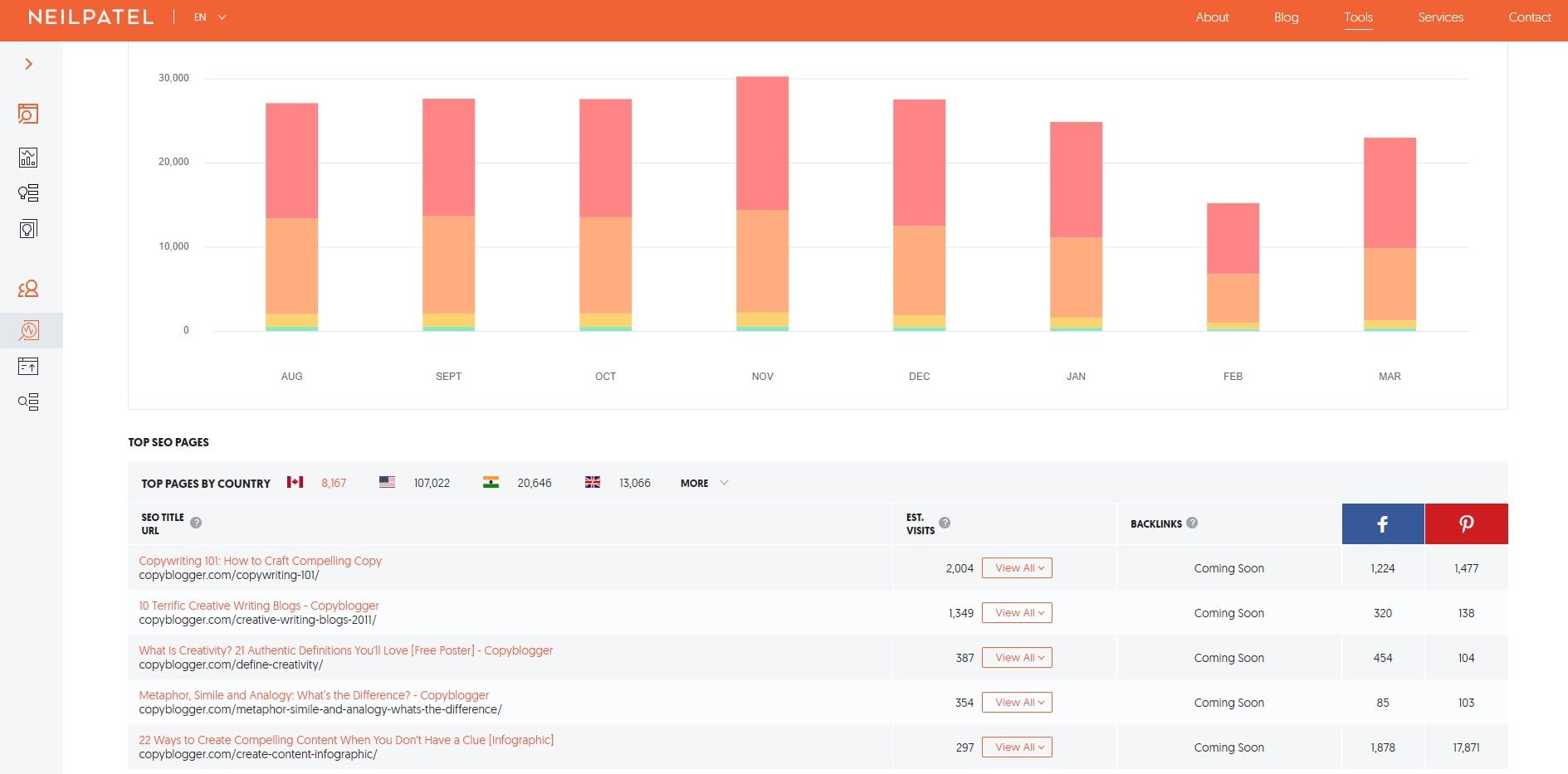 On the bottom of the page, there are the main keywords the website is ranking for, as well.

You can view all of this information more in-depth by clicking the "View All" buttons underneath the respective charts.
Understanding the different types of keywords
Since we're on the topic of SEO, I'd like to touch on the various types of keywords you will find through Ubersuggest and how they are used differently.
Transactional keywords
These are search terms that have buying intent. The user searching for them most likely some level of interest in purchasing a product.
Examples of transactional keywords would be:
Best CRM software under $50
Affordable SEO services
Best business laptop for $1,000
Etc
You will notice that these search terms typically consist of a product or service, price, and modifier like "Best" or "Cheap".
These keywords are suitable for roundup-style posts like this one from Tom's Guide: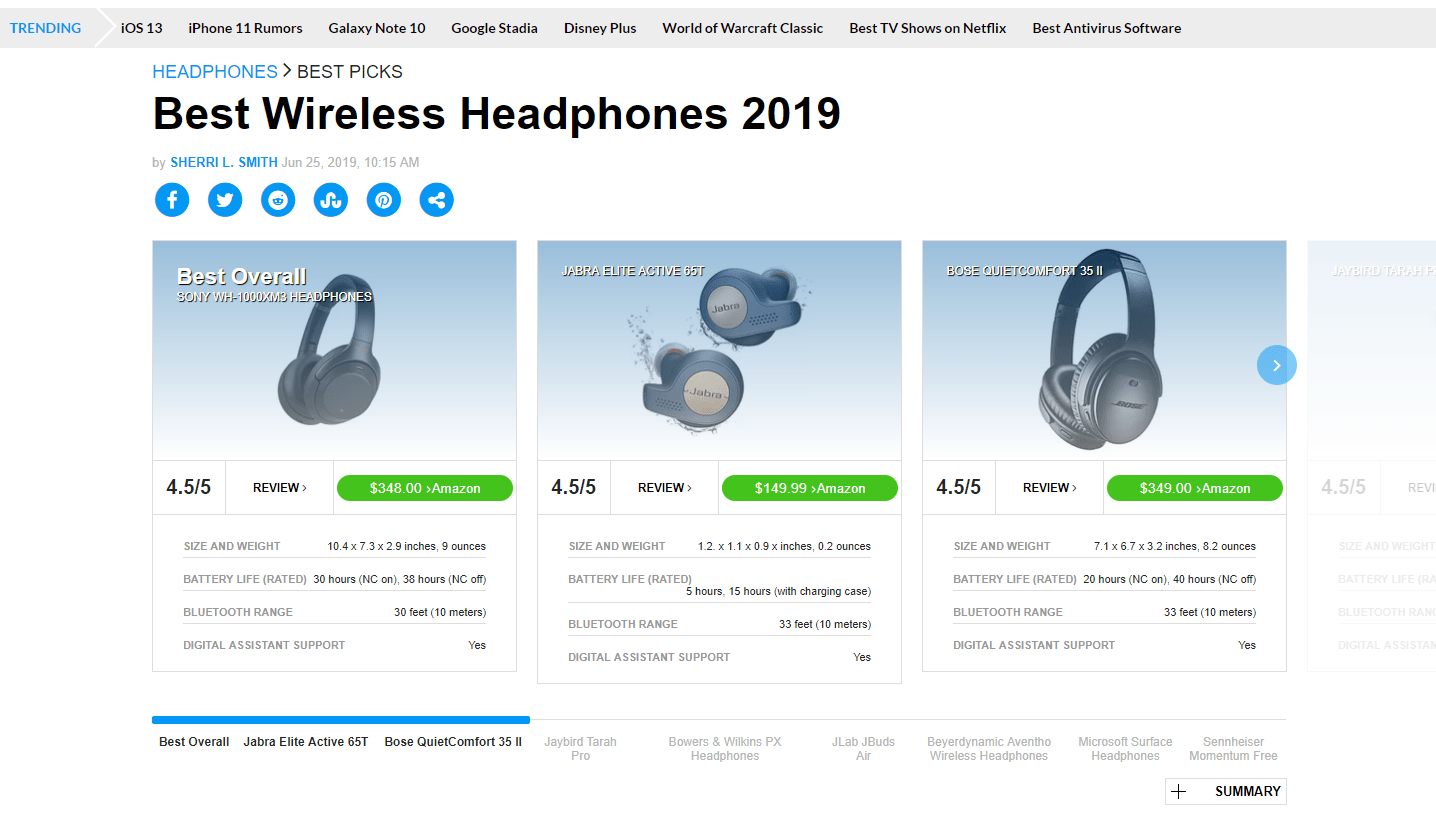 E-commerce companies can also take advantage of transaction keywords by using them for categories, product descriptions, and other key SEO locations on web pages.
Informational keywords
Search terms with the goal of learning something are called informational keywords.
These are keywords you would use for blog posts and other pages that offer tutorials, guides, or other forms of knowledge.
Remember that users searching for these types of keywords aren't necessarily interested in being sold to, however, they can be educated to learn about your product.
Look at Content Marketing Institute's blog, for example: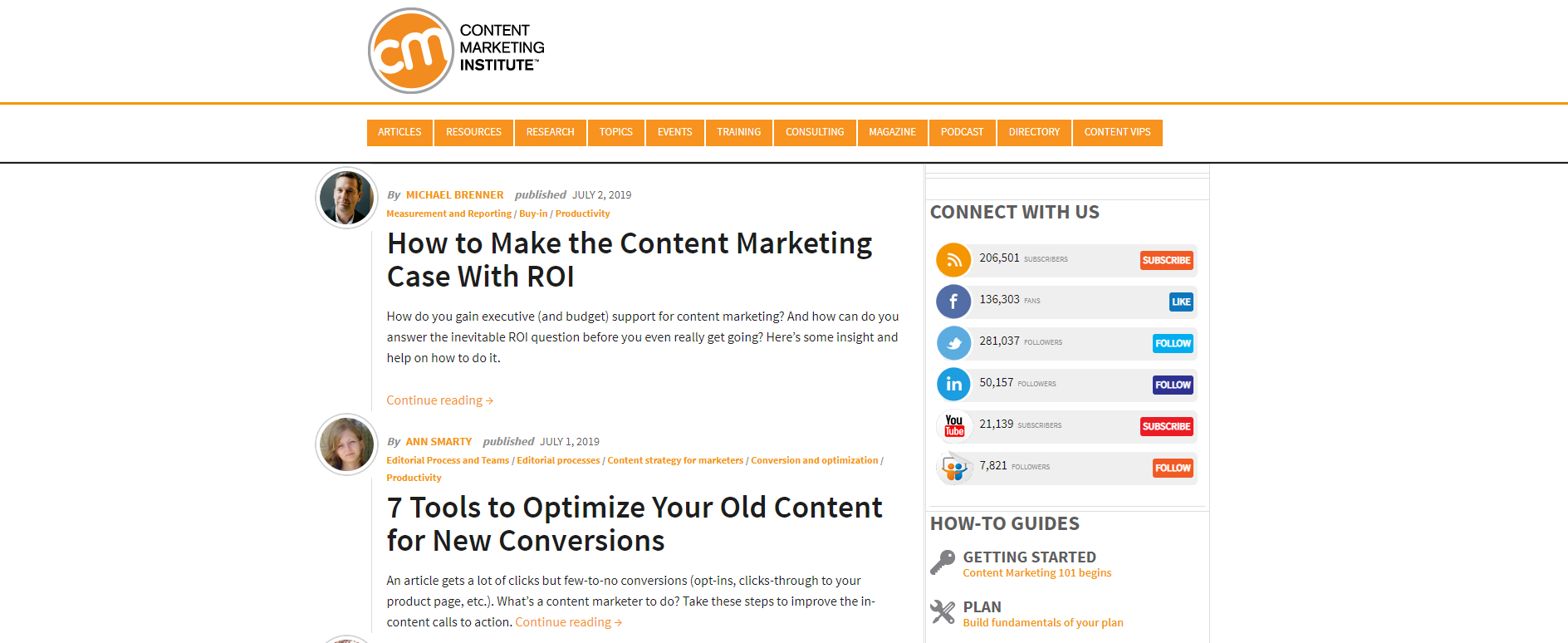 They target informational keywords that bring users to their website who want to learn about content marketing or related topics.
As these readers learn about the importance and power of content marketing, they get drawn into CMI's funnel, potentially converting into a magazine subscriber, client, etc.
Once your brand becomes well known, users will begin searching for your website and business name.
These are called navigational keywords since the user is trying to navigate to a specific web page.
As long as you have branded keywords in places like title tags, social media accounts, etc, then most of the work is done.
However, some companies take it a step further and pay to show ads for their brand's keywords, as well.
Look at Adidas for example: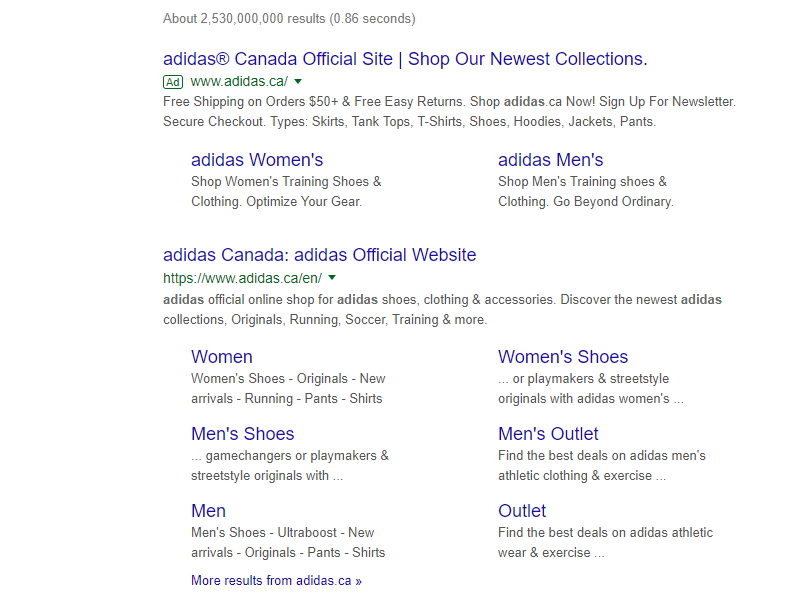 If you search for their brand name through Google, you see the organic result and a paid ad above it.
This allows them to have more search engine market share for their business.
Ubersuggest alternatives
Honestly, I can't recommend Ubersuggest enough. It's helped me countless times in my content marketing and SEO career, but I also suggest having several tools in your arsenal.
This will maximize the amount of keyword and content ideas you can find. Here are some alternatives to Ubersuggest with that being said.
Final thoughts on Ubersuggest
Ubersuggest will remain in my toolbelt indefinitely.
Being able to conveniently research keywords, content ideas, and competitors on the fly is priceless.
You can't beat that it has a free version, too.
The Pro plan gives search marketers extra resources and features to take their SEO to the next level.
And, it's only $10/month!
Give the seven-day free trial a shot. You have nothing to lose.
If you enjoyed today's review of Ubersuggest, make sure to read my previous related content: