SEO is more time-consuming than studying for a Harvard exam sometimes, huh?
You have to research keywords, content, fix bugs, and audit sites; you name it.
It'd be wicked if a tool could do all of that for us…
Oh, wait. There is!
Ubersuggest and SEMrush are two of the most popular SEO tools available right now.
And for a good reason.
They offer heaps of robust features that will improve your SEO strategies and performance.
I use both of them on a daily basis, so I'll be comparing the two in a head-to-head battle today.
Which is better? Who should use which one?
Keep reading to find out!
Ubersuggest
Unless you've been living under a rock, you know that Neil Patel acquired the SEO suite Ubersuggest a couple of years ago.
Or should I say, Neil Patek…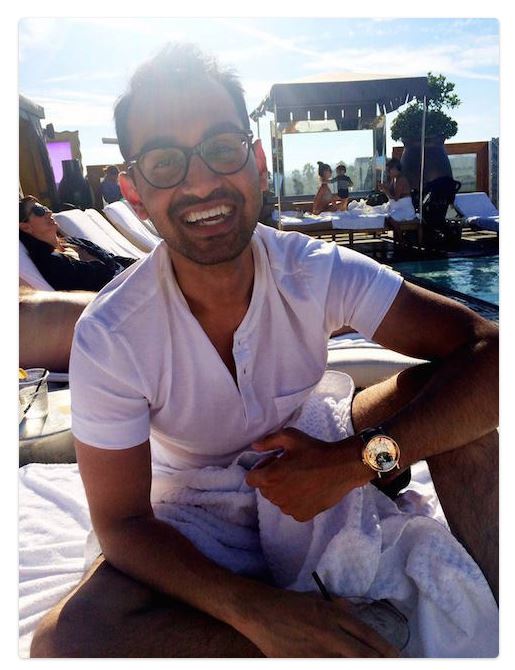 (Patek's are expensive watches, and he bought one.)
Yeah, corny joke. Anyways…
He gave it a facelift, and new features, and it's one of his biggest traffic drivers right now.
Let's talk about its capabilities, pricing, and more.
Ubersuggest features
What I really like about Ubersuggest is that it's simple.
It's streamlined.
It's very easy to use, and there are no confusing elements.
You log on, get your SEO data, and get back to the grind.
Here's what stands out in particular:
Projects
The project feature of Ubersuggest allows search marketers to track individual domains and organize all of their data into one dashboard.
No more jumping between URLs and websites when you can track everything and continually reference it.
That also means it's easier to track performance, share findings with your team, etc.
Sign up for free with your Google account to begin.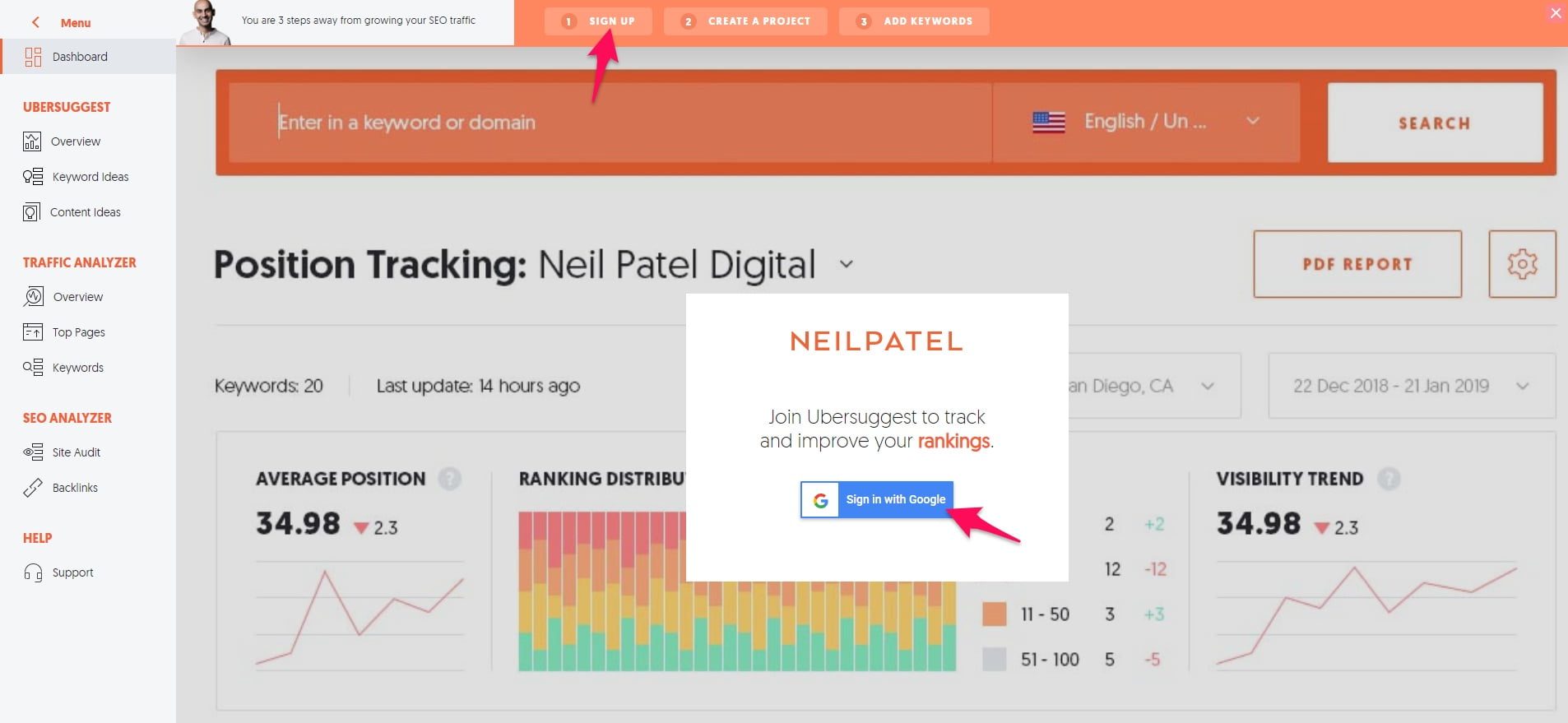 Then, create your first project from the dashboard.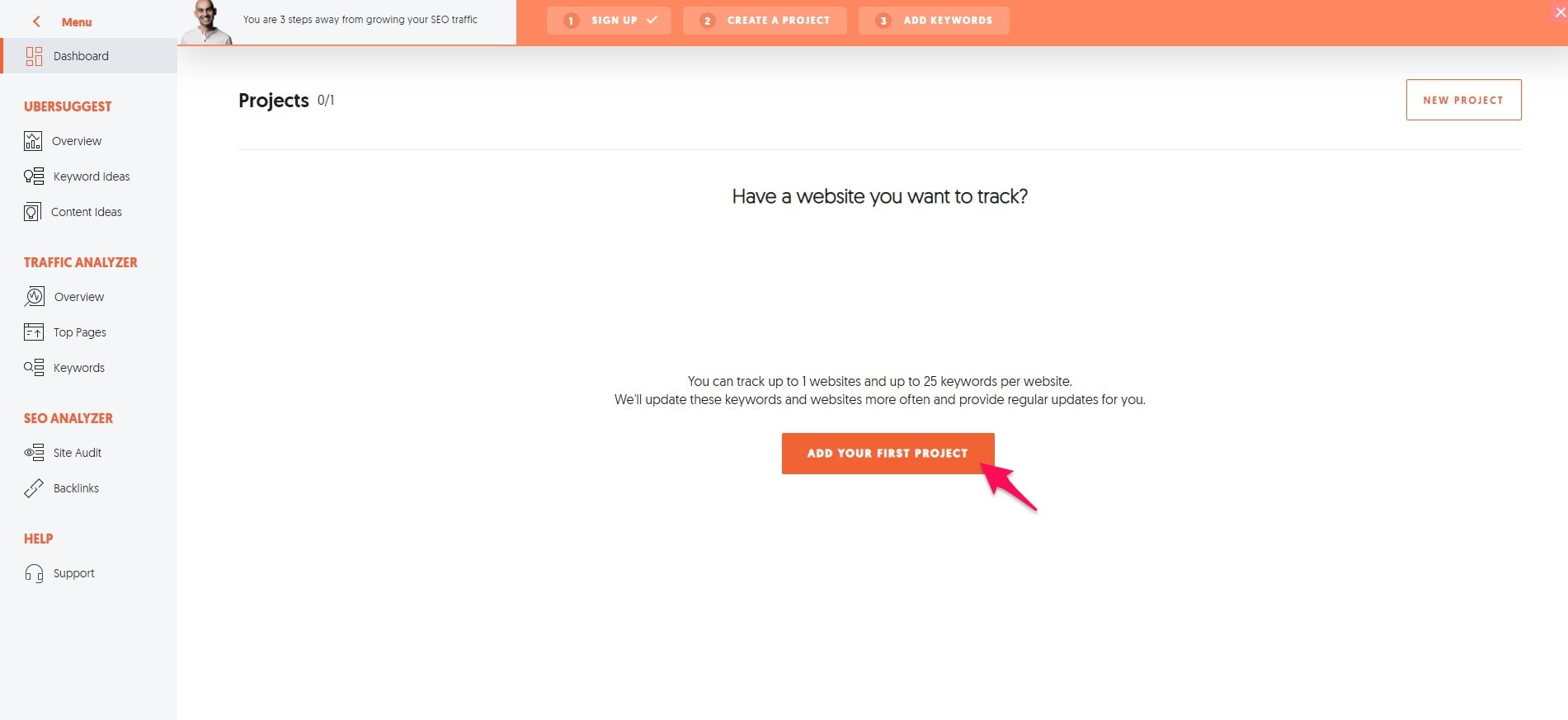 Enter a domain and project title.

Choose the country you'd like to track keyword data from next.

Select which keywords you'd like to track (25 in the free version) by accepting Ubersuggest's findings or importing a CSV file.
Use this to track organic traffic, keywords, links, and referring domains.
That brings me to the next feature.
Site audit
The site audit tool puts your website under a scalpel like a surgeon.
It finds all of the things that are good and bad that need to be addressed.
It presents you with an on-page SEO score, health check, and more.
Enter a URL into the search bar, and the results will look like this: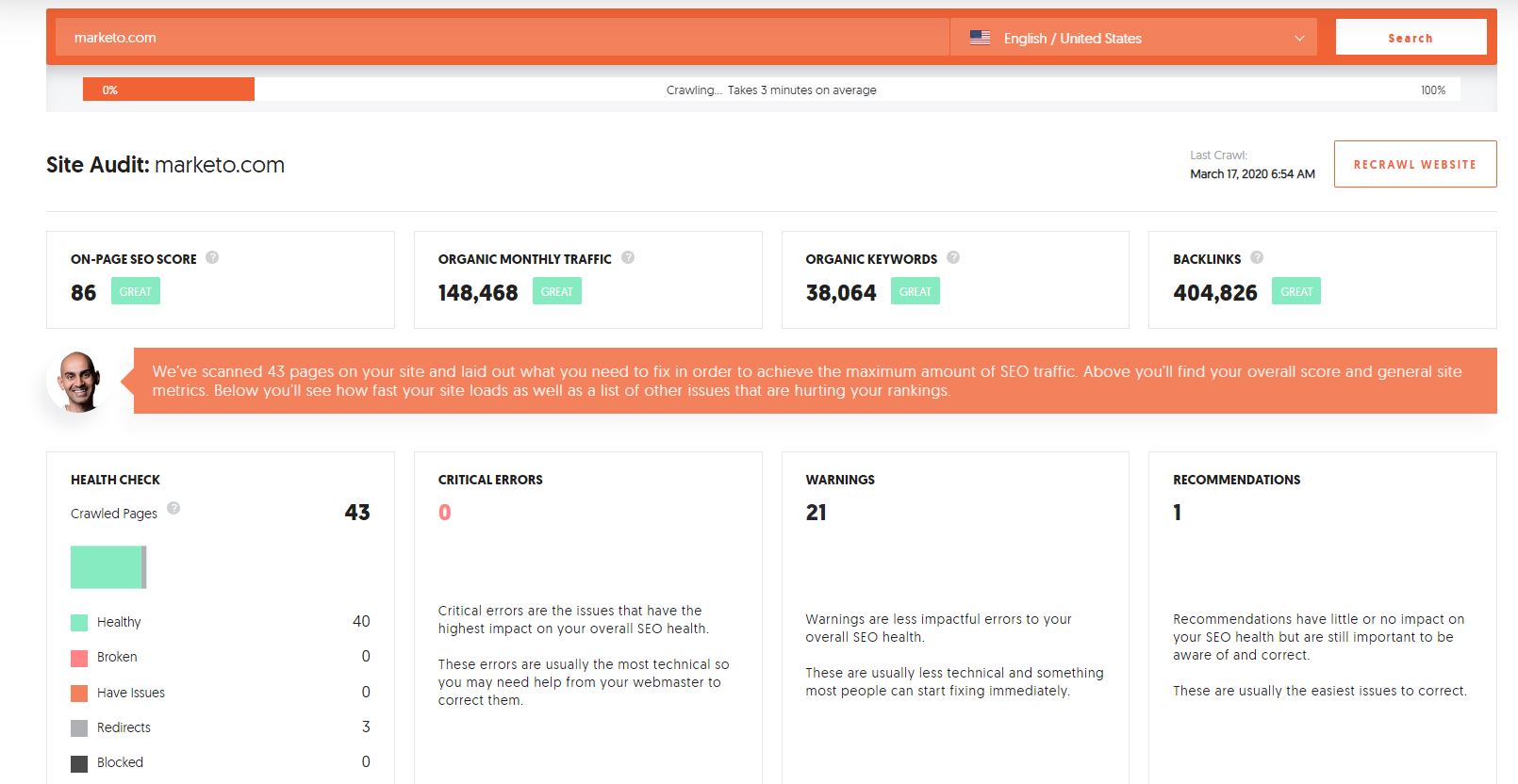 I enjoy using this for a quick overview of me and my client's websites.
However, it's very simple.
It gives you the fundamentals: meta descriptions, title tags, page speed, etc.
Nothing overly technical yet.
But since he's constantly updating Ubersuggest, keep an eye out. 👀
Keyword research
One of the main functions of Ubersuggest is its keyword research feature.
This gives search marketers data on keywords and suggestions for others.
This ultimately saves you time and helps you find valuable keywords to rank for.
Type a word into the search bar and click the search button.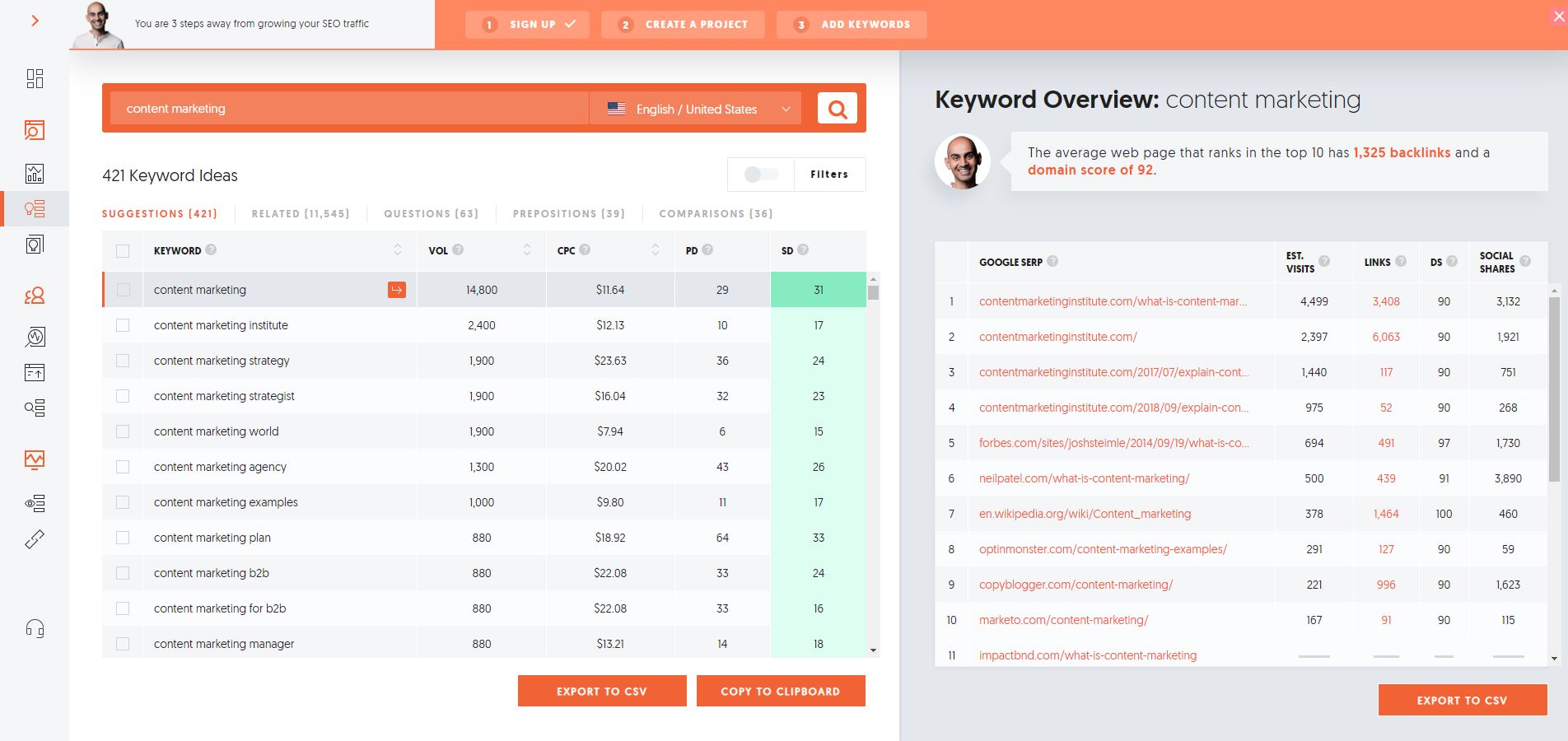 The left side includes keyword ideas with their metrics like volume and CPC.
Click the boxes on the left to select them for copying or exporting via the bottom buttons.
Look over to the right side now. That's where Neil displays the top SERP links for the keyword you entered.
Use this to discover new content ideas and understand what competitors are doing.
And, on that note…
Competitive analysis
Ubersuggest is an effective tool for keeping tabs on competitors.
Otherwise, they will be slowly inching ahead of you.
It also saves time. A lot, in fact.
Who wants to do all of the leg work when you can snoop on another domain and get inspiration for keywords and content?
Simply plug any domain into the "Overview" page and take a look under the hood.
The top of the page shows their organic keyword, traffic, domain score, and links.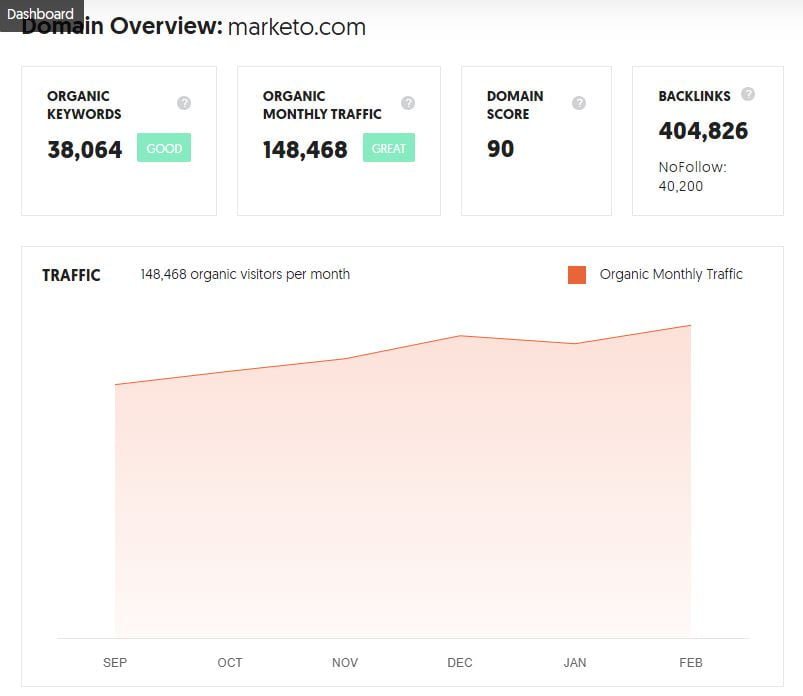 It gives you a fast idea of how they're performing.
Below this, you'll see an organic traffic chart.
This is followed by SEO keyword rankings, top SEO pages, and top search phrases.
Use this information to benchmark.
How are you performing compared to others?
Can you learn something from their strategies to boost your search game?
Backlinks
The backlinks page—as you could presume—is where you'll see all of the links pointing to a domain.
The free version displays the last four months of link acquisition.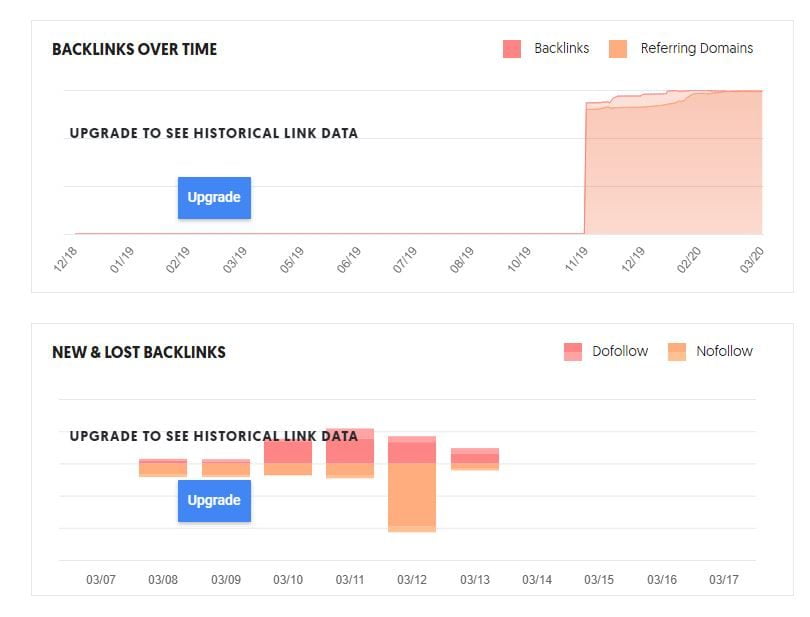 It also records the last week of new and lost backlinks.
The total link profile is also limited at the bottom of the page before upgrading.
The link profile section includes columns for:
Source page
Domain score
Page score
Link type
Anchor text
First seen
Last seen
I like using this to find more link-building opportunities.
Furthermore, I can see what anchor text and keywords others are targeting.
Overall, Ubersuggest has all of the basics and it's very simple.
It's not as in-depth as SEMrush or other tools like Ahrefs, but it gets the job done if you're looking for a simple SEO tool.
Keep in mind it's constantly being upgraded, so I wouldn't be surprised to see it look like a NASA dashboard one day.
Ubersuggest pricing
How many cold hard Benjamins do you need to drop for Ubersuggest?
None!
If you don't need to, at least.
This is because Ubersuggest has a free version with many of the features you get in the paid version, albeit limited.
If you're feeling like a millionaire, you can drop the $10/month and get the new Pro package.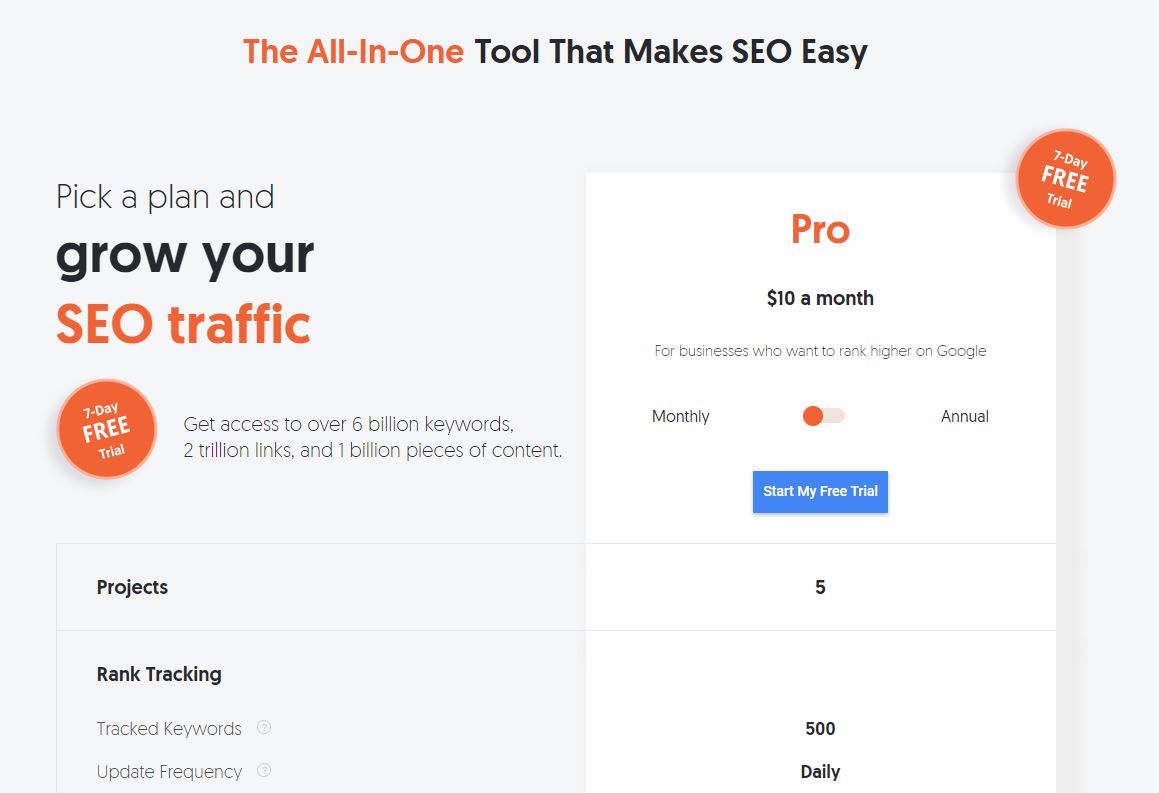 This is much, much cheaper than SEMrush if you're bootstrapping and trying to stay lean.
The Pro plan includes more limits and resources, including:
Five projects
500 tracked keywords updated daily
Unlimited site audit reports with 10,000 crawls per month
Historical keyword data
100,000 keyword suggestions
10,000 content ideas
500 daily backlink reports with three years of historical data
And more!
Oh. There's also a seven-day free trial.
Give it a shot. You have nothing to lose.
Ubersuggest pros and cons
Okay, so what's good and bad overall about Ubersuggest?
Here's a summary:
Ubersuggest advantages
More price friendly compared to SEMrush.
Free seven day trial to test the Pro plan.
Easy to use and simple dashboards.
Find new content, keyword, and link ideas instantly.
Constantly being ugpraded with new features.
Ubersuggest disadvantages
Nowhere as technical and in-depth as SEMrush right now.
No social media tracking.
Lack of integrations.
No brand monitoring.
No custom reports.
SEMrush
SEMrush is an all-in-one marketing toolkit that goes beyond SEO.
Although, as you can guess by its name, it has a focus on search engine optimization.
But, it gives you features to improve your paid ads, social media, content, PR, and more.
SEMrush features
In terms of SEO, you will gain access to features like:
Deep backlink analysis
Traffic analytics
Side-by-side domain comparisons
SEO writing assistant
Projects like Ubersuggest (but more in-depth)
Site audits
On-page SEO checker
There are so many SEO-related features that I suggest you visit their official site here to learn more.
In sum, it's much more technical than Ubersuggest.
Instead of touching on the exact same features, I want to elaborate on unique ones compared to Neil's tool.
Display and paid advertising research
You literally pay a platform, get traffic, and make boatloads of money!
Okay.
Maybe it's not that simple.
But, that's what SEMrush is for.
If you want an overview of how you or other companies are doing PPC, begin by entering a domain in the top search bar.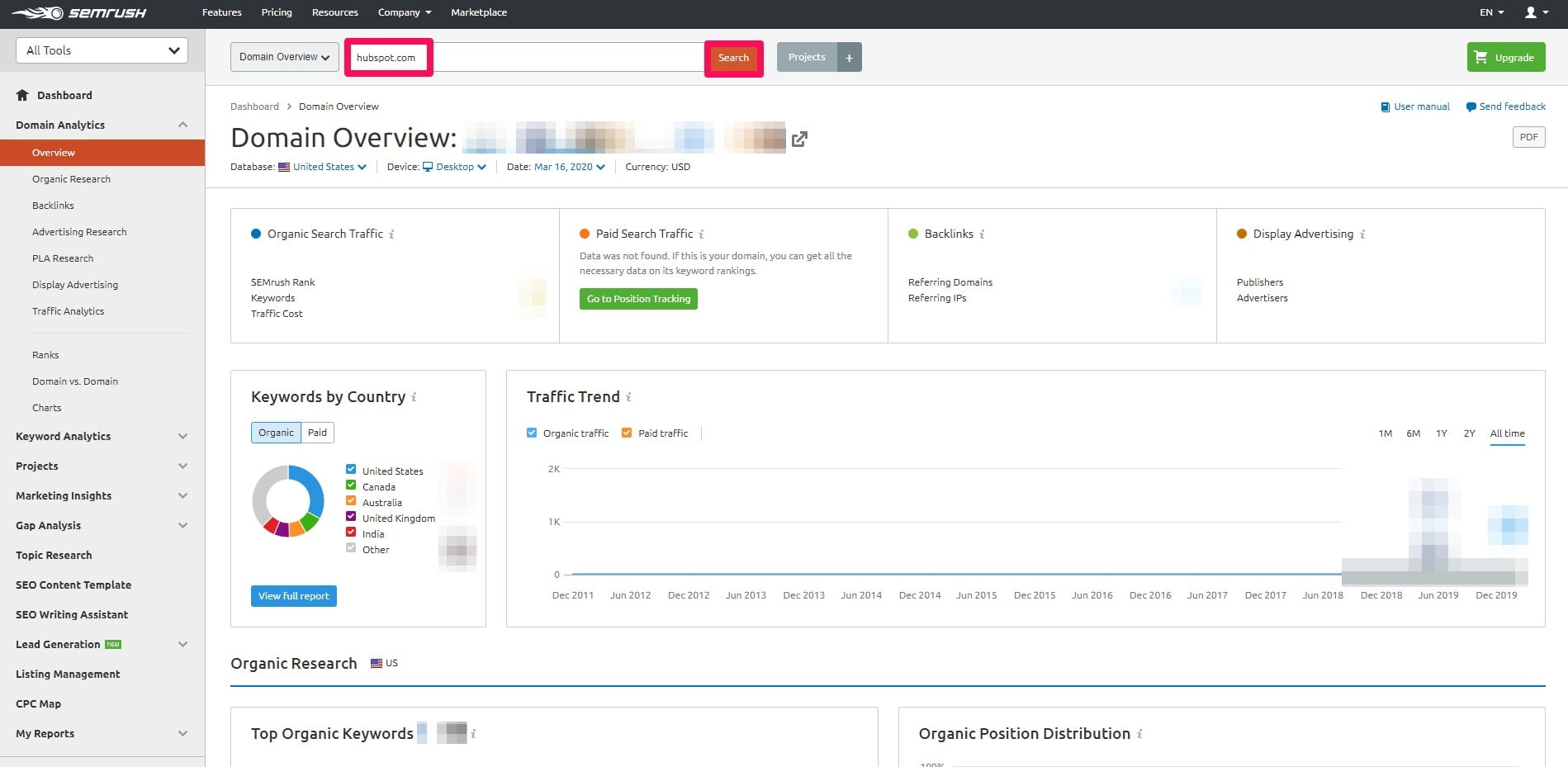 Scroll down to the "Advertising Research" section.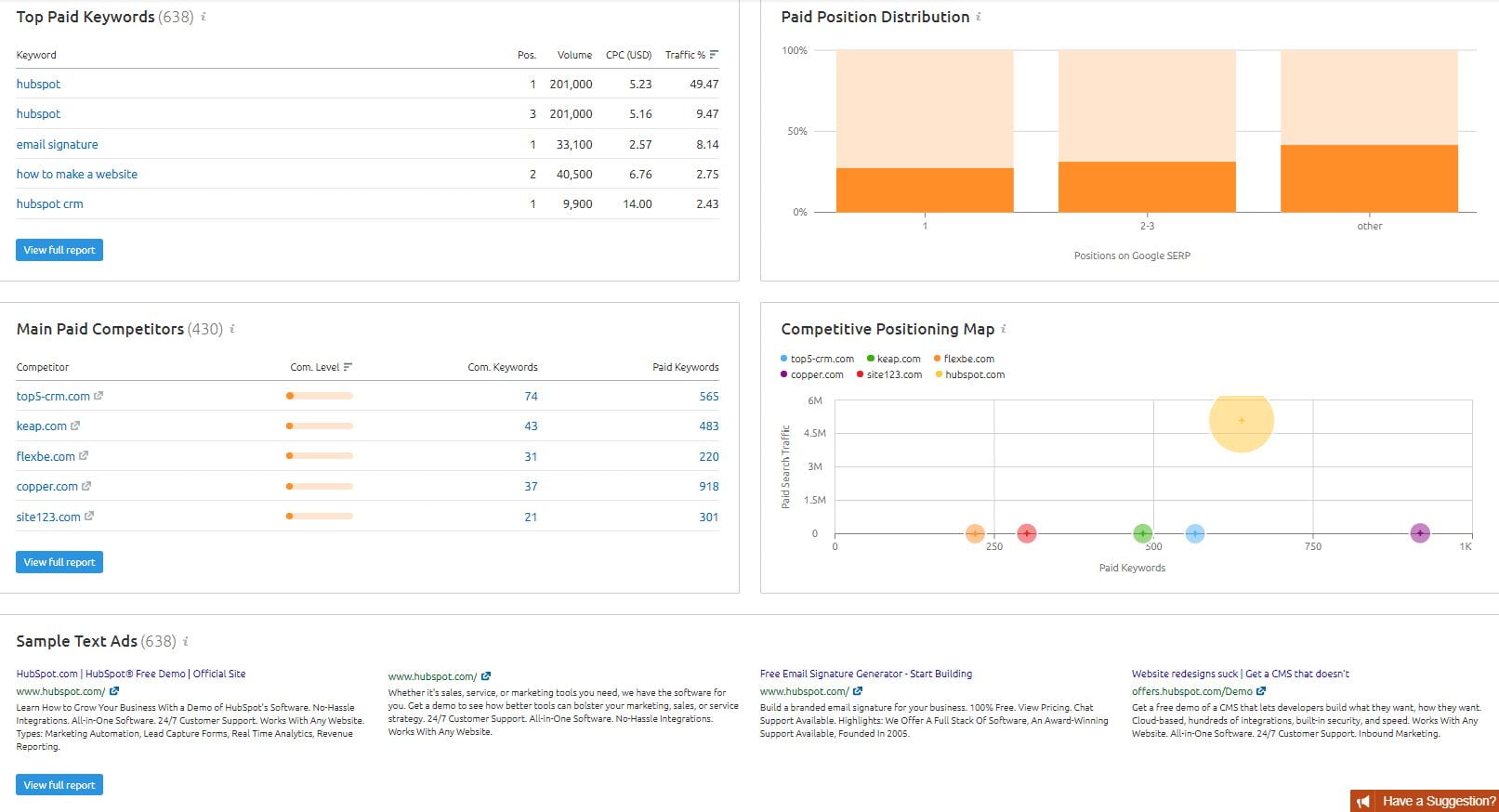 The first widget lists the top paid keywords along with their position distribution.
Use this for new keyword ideas or tracking your own display ad execution.
Below these, SEMrush lists the main paid competitors and a position map.
This should also be leveraged to find more competitors to learn from and dominate.
Finally, the sample text ads area displays recent ads that you can use for swiping.
Ubersuggest does not offer this, so if you're investing in PPC, SEMrush takes the cake here.
Market explorer
Sometimes you need new ideas.
New inspiration.
Especially when you're launching a fresh business or product.
That's where the Market Explorer tool comes in handy.
Type in a domain to begin. You'll be given a list of competing businesses with their traffic and growth sources.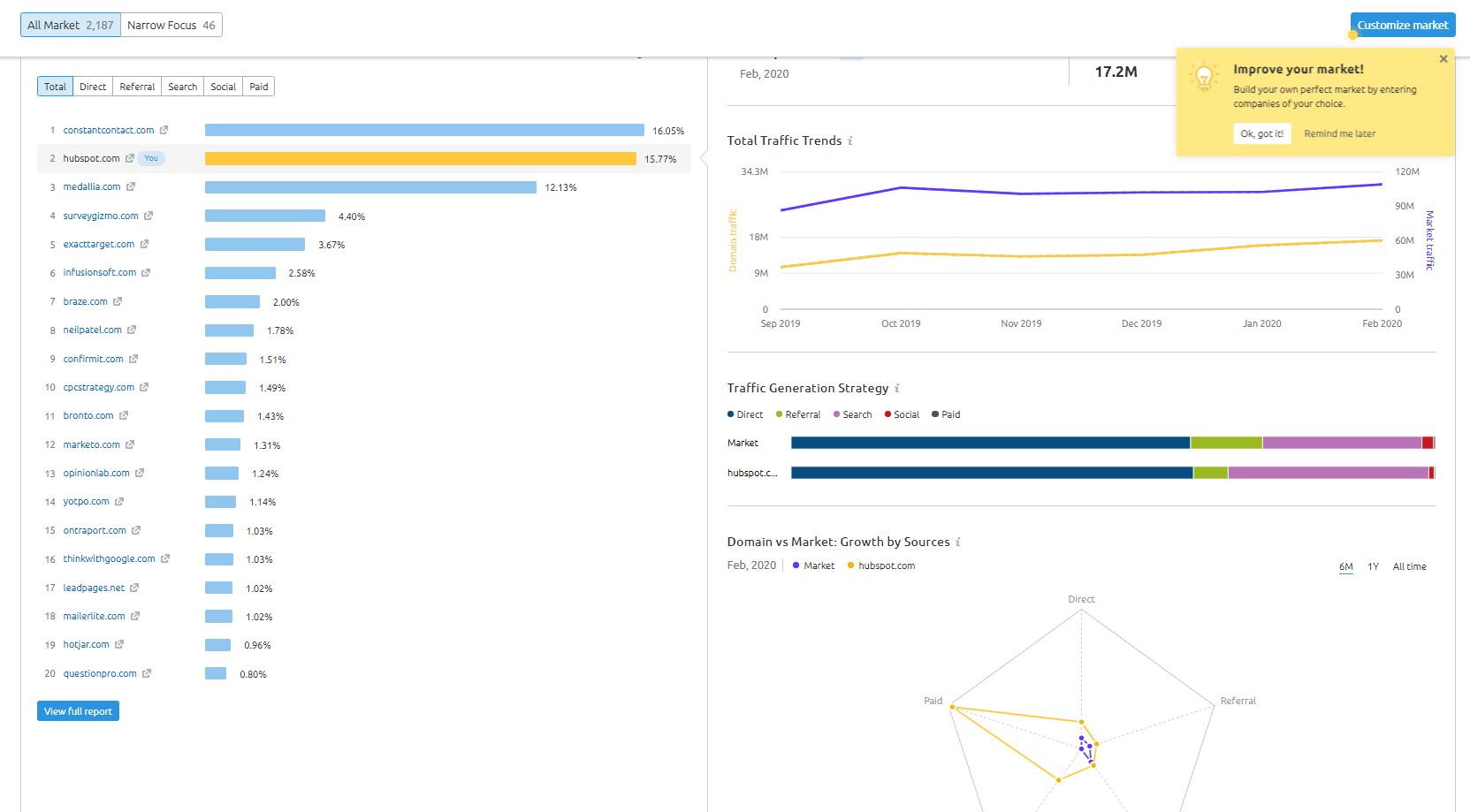 Cool, huh?
Scroll down, and you also see in-market audience interests that can be used to better understand buyer persona demographics.

Once again, Ubersuggest doesn't offer this feature.
However, it does find competing websites for keywords and content which is similar.
Social media tracker and poster
Social media marketing is powerful.
Really powerful.
In fact, Facebook video, Instagram, and Snapchat are some of the most prioritized channels right now.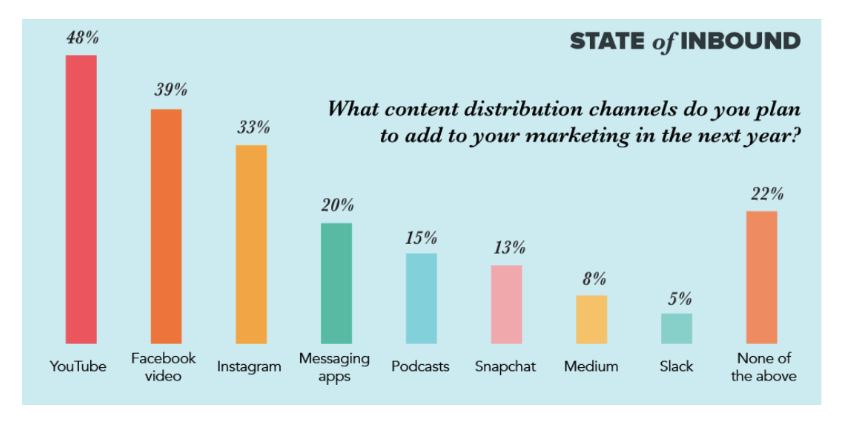 If you like tweeting until your thumbs hurt, you'll be happy to hear that SEMrush includes two neat social media tools:
A social media tracker.
A social media poster.
Begin by navigating to the "Social Media Poster" tab under "Projects" to begin.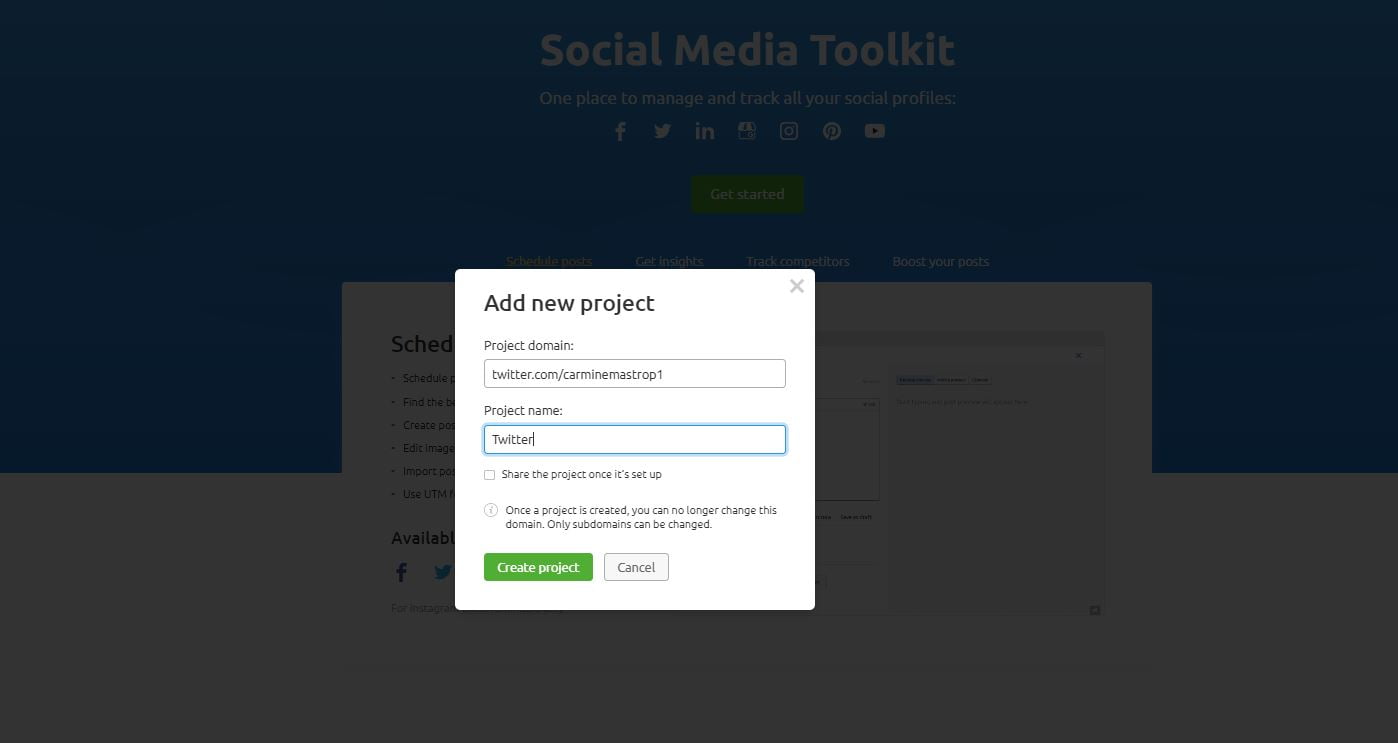 I'll connect to Twitter, for instance.
After authorizing my account, I can create a new post, check my calendar, or track competitors.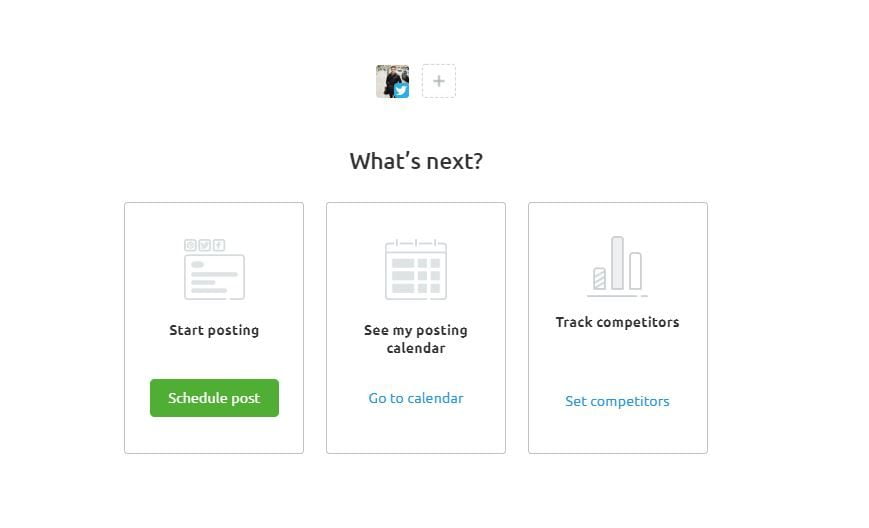 Let's create a post.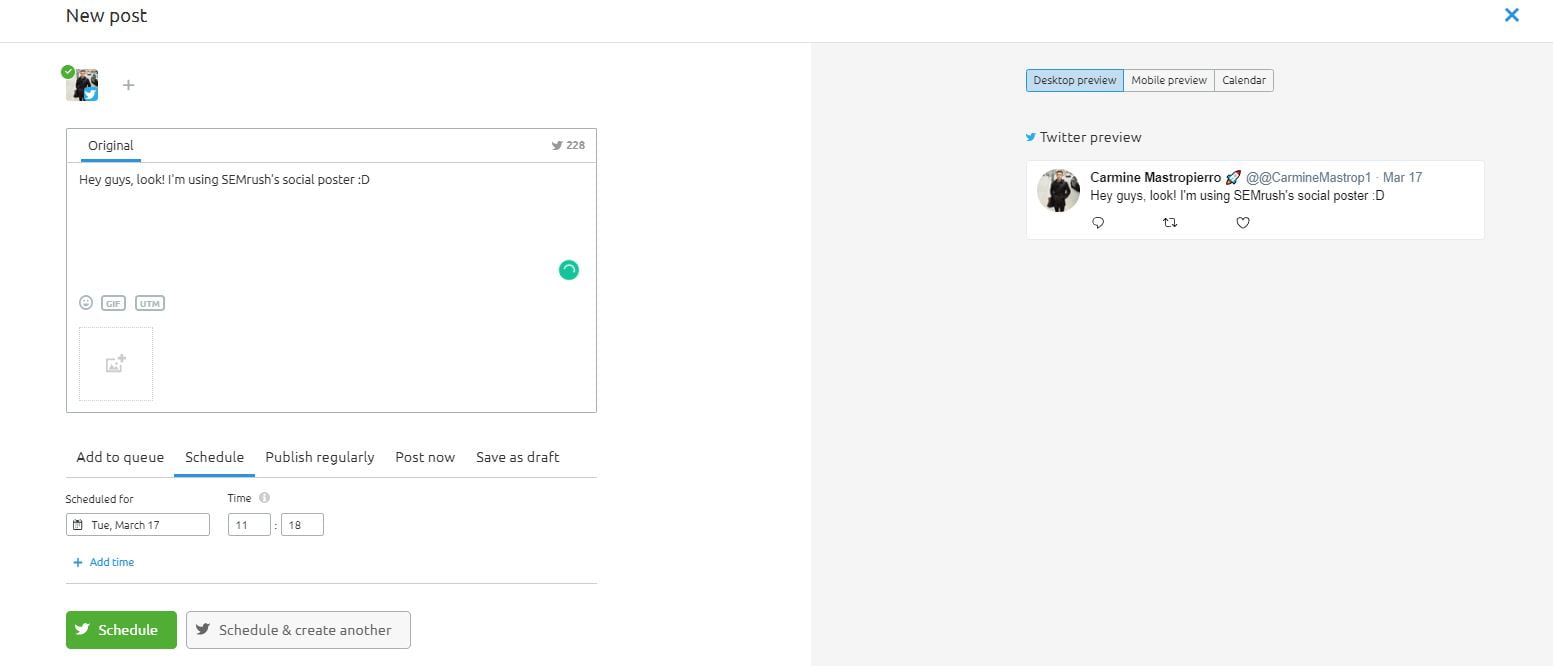 You can add text, images, and anything else you'd normally include in a tweet.
Choose the date, time, and hit the schedule button once you're done.
This will begin collecting analytics directly through SEMrush to track progress and performance.
Marketers should use this to determine what content gets the most engagement and what sinks down the drain.
Brand monitoring
Your reputation is everything.
Remember that one weird kid from elementary school?
We all knew one.
Yeah, you're entire class still recalls all the weird things he did even though he's in 40's now with a family.
What you do sticks.
So, your online reputation is no different.
What are people saying about your organization on social media?
How about other blogs?
If you don't know, you're in trouble.
Because people could be talking smack, and you're doing nothing about it.
Unless, of course, you use the SEMrush brand monitoring feature!
Accessible from the projects tab once you've created one, click the "Branding Monitoring" tab and enter a name and location.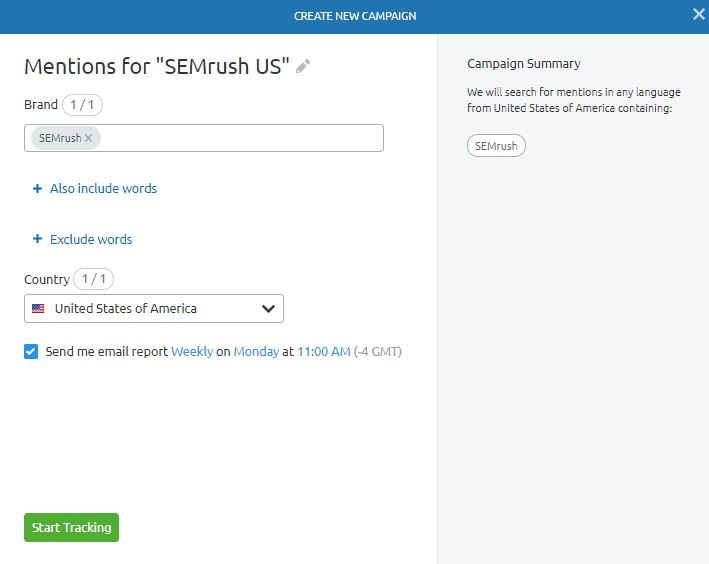 It will then collect mentions on social media and other platforms like this:
Respond to both positive and negative feedback to enhance your company's image all over the web.
SEMrush pricing
Alright. That's a lot to take in.
Take a breather, stretch, and let's get back to it.
You're amazed by what SEMrush could do and dying to try it, right?
Luckily there's a free version that gives you ten searches per day.
This is enough for casual marketers or for getting a feel that the software is right for you.
Once you wish to upgrade to a paid plan for extra features, limits, and resources, here's what you'll be pulling out of your piggy bank: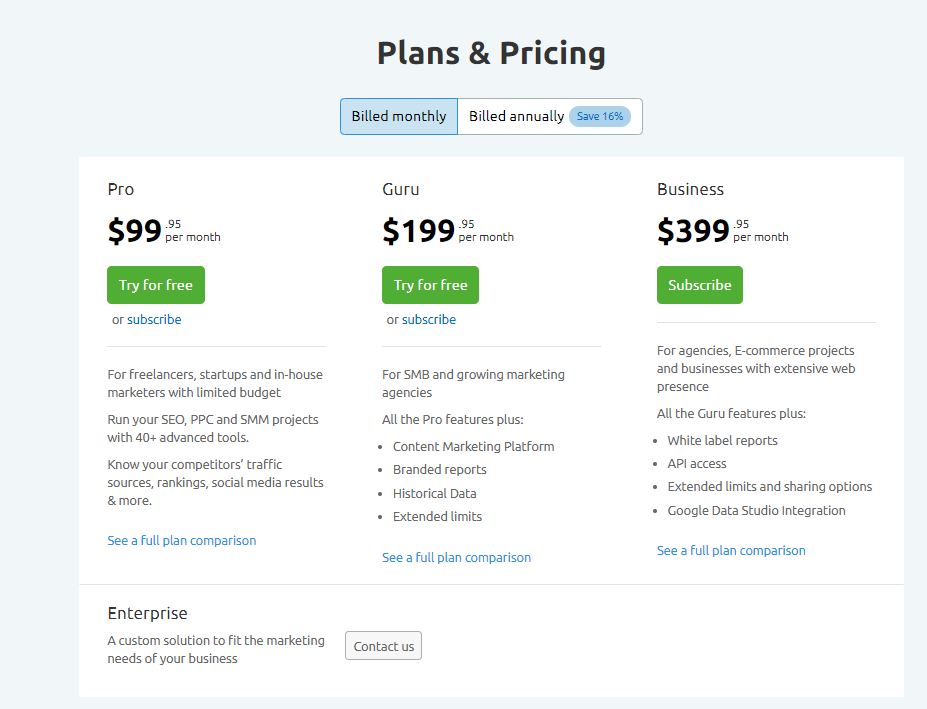 The current packages are:
Pro ($99.95/month): Offers 40+ advanced tools that are ideal for startups, in-house marketers, and bootstrapping freelancers.
Guru ($199.95): All of the features of the Pro plan with branded reports, historical data, extended limits, and the content marketing platform.
Business ($399.95): All of the features of the Guru plan with white label reports, API, extended limits, and Google Data Studi0 integration.
Ubersuggest crushes SEMrush in terms of free plans.
Neil gives you way more, and he doesn't limit your daily searches like his competitor.
Additionally, Ubersuggest's Pro plan is $10!
That's like a coffee at Starbucks.
Do you want the caffeine jitters or better SEO?
I'll let you decide.
SEMrush pros and cons
These are the main advantages and disadvantages of SEMrush:
SEMrush advantages
Display ad research and data.
Social media posting and analytics.
Much more SEO and content information.
Branding monitoring capabilities.
Market explorer to discover new ideas.
SEMrush disadvantages
Much more expensive than Ubersuggest and the free version is very limited.
Takes more time to adopt and maximize since it's in-depth.
May have to share logins due to limited users.
Complaints of tracking issues.
Complaints of inaccurate data.
Wrapping up SEMrush vs Ubersuggest
You made it all the way to the end. Give yourself a pat on the back. 🙌
Ubersuggest and SEMrush are both incredible tools for skyrocketing rankings, learning from competitors, and measuring performance.
But, they both have their ups and downs.
Firstly, Ubersuggest is simpler and cheaper. It gives you all of the fundamental SEO tools like site audits, link analysis, and keyword research.
The free version is much less limited than SEMrush, as well.
Nonetheless, SEMrush has way more marketing features to improve a company's social media, PPC, content, and PR.
The SEO features are also more comprehensive.
So, here's the deal…
Ubersuggest is ideal for businesses that need simple search marketing tools and a limited budget.
Try SEMrush today if you have expertise in SEO dashboards and require a full-blown marketing suite.
I recommend trying the free version and taking them both for a test drive.