KWFinder is a keyword research tool that helps SEOs discover search terms they can easily rank for.
It's used by AirBnB, Adidas, Alexa, and countless other huge companies to improve their search engine visibility.
Interested in using it yourself?
Great.
Because today I'm going to show you how to use KWFinder while covering its pricing, features, and alternatives.
Let's get into it!
How to use KWFinder
Begin by signing up for a free account from the homepage of KWFinder.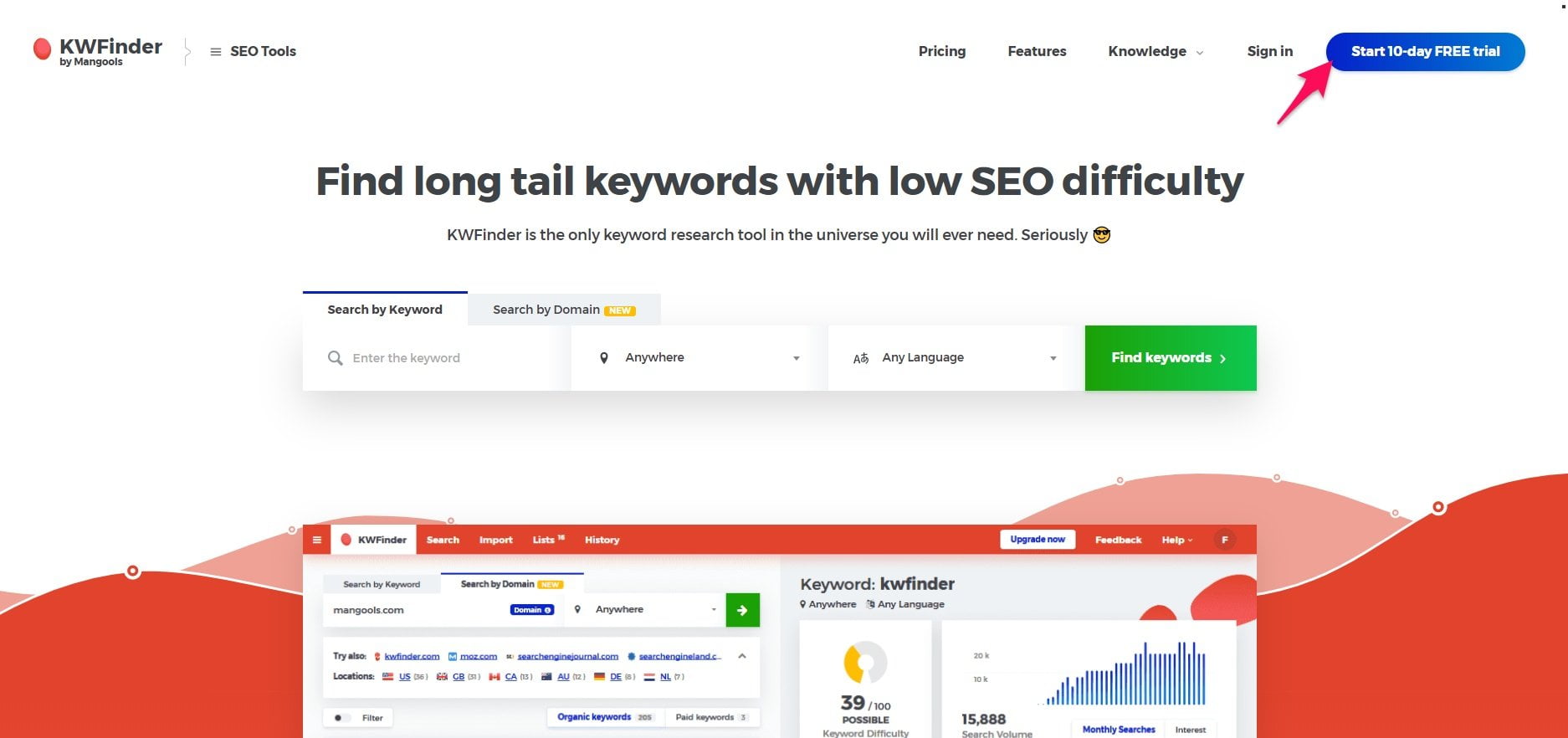 You will need to enter in your email, a secure password, then verify your email afterward.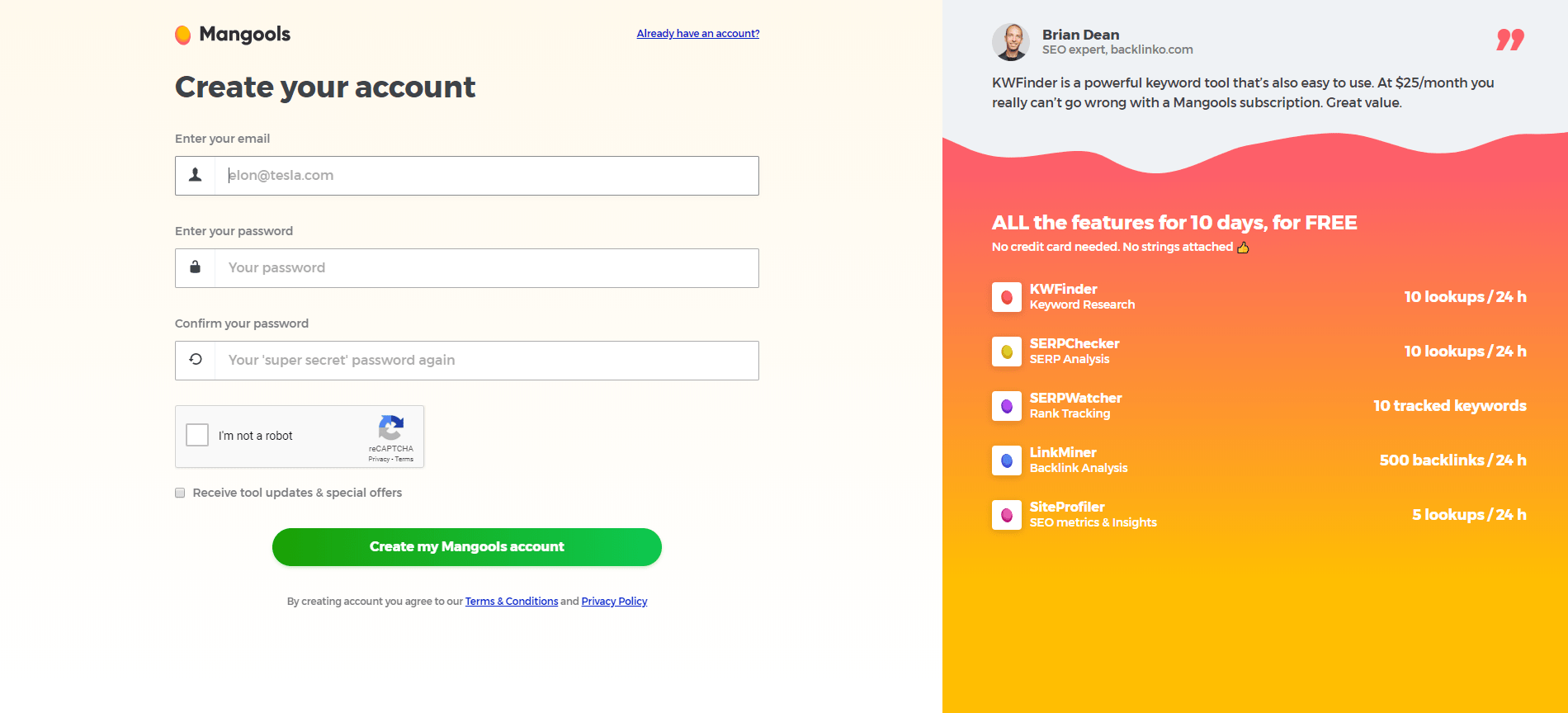 This will bring you to the Mangools dashboard where you can choose which tool you'd like to use, KWFinder in this case, among upgrading your plan and other options.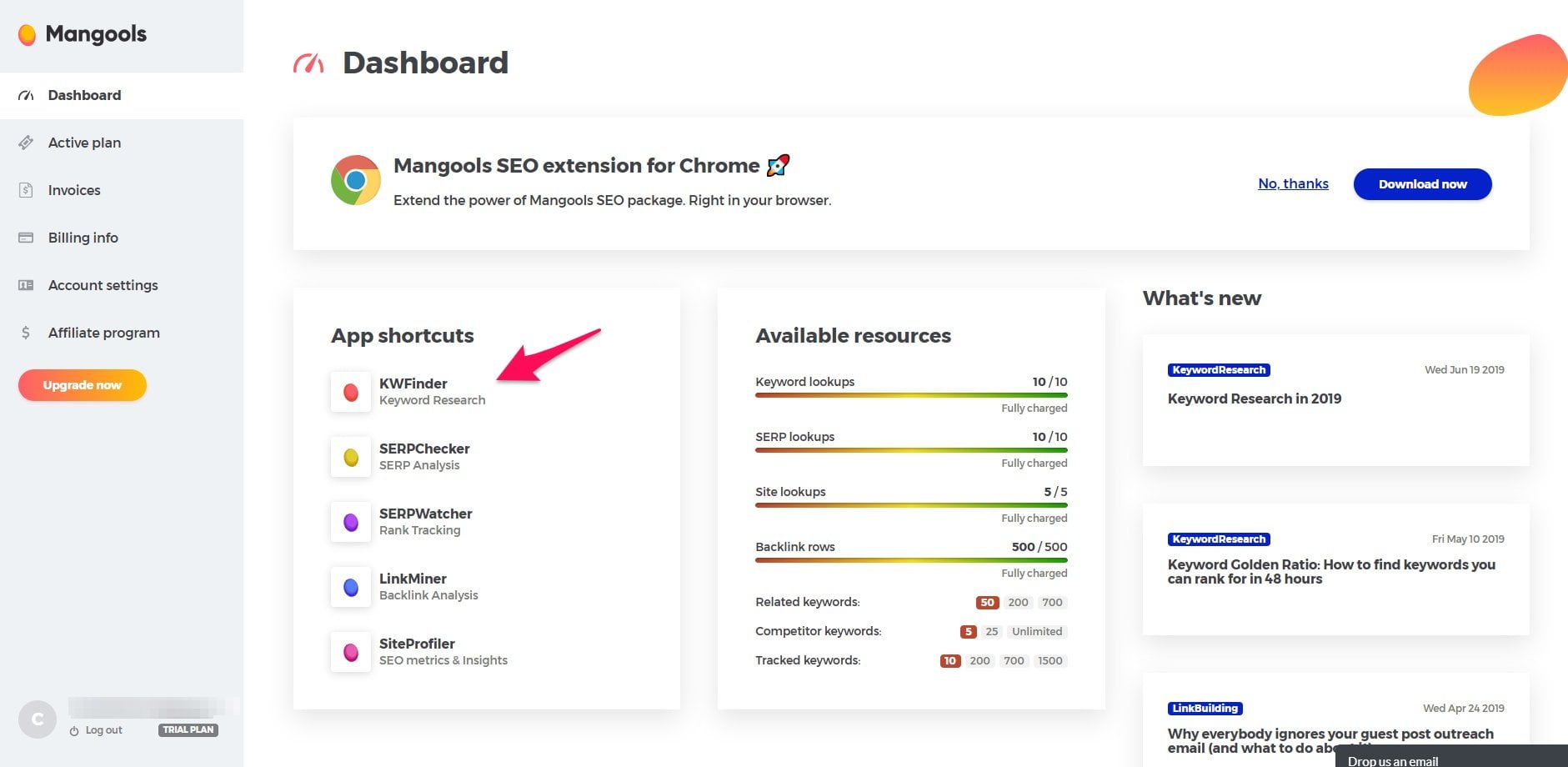 Click the KWFinder shortcut under "App shortcuts" and it will forward you to the keyword research page.
Enter in a search term, select the language and location, and hit "Find keywords."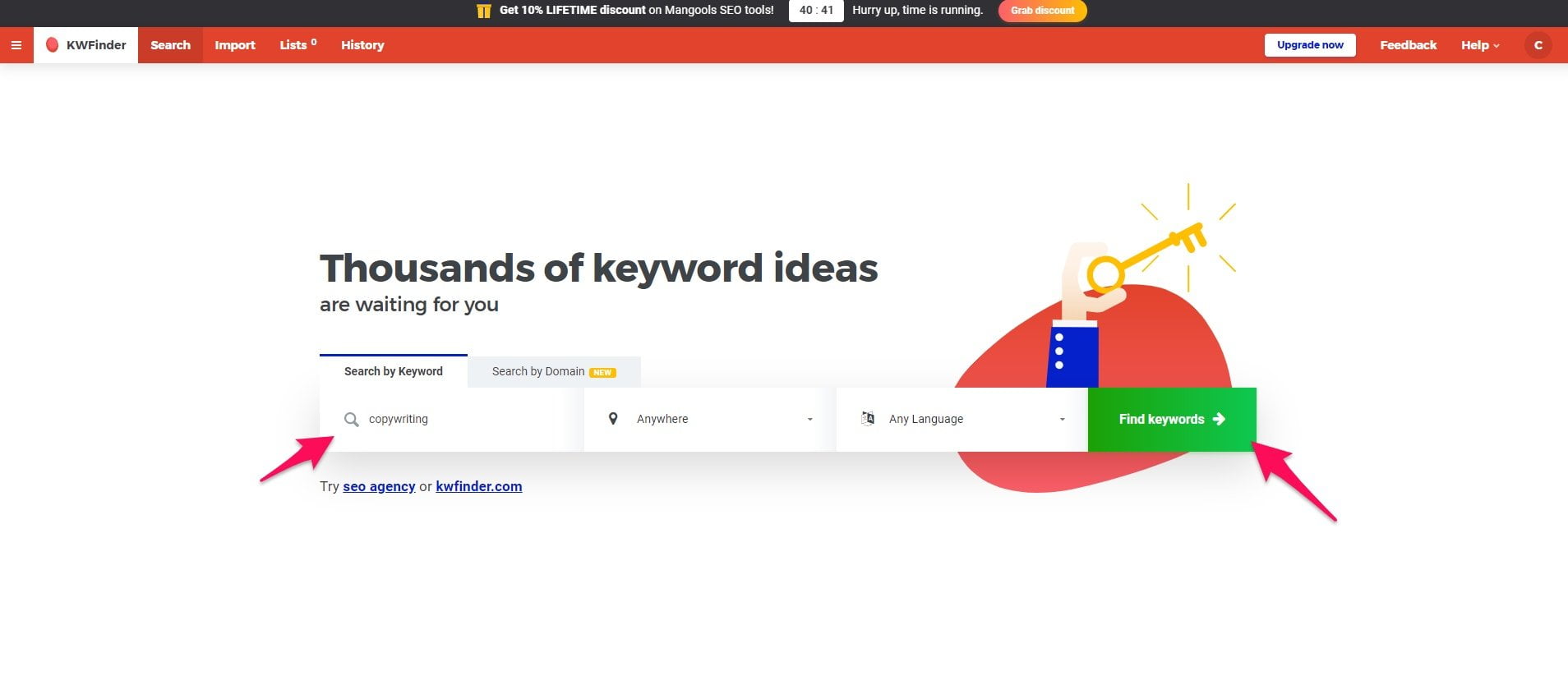 The results page displays keyword ideas on the left along with metrics like:
Trend analysis
Search volume
CPC
PPC
Keyword difficulty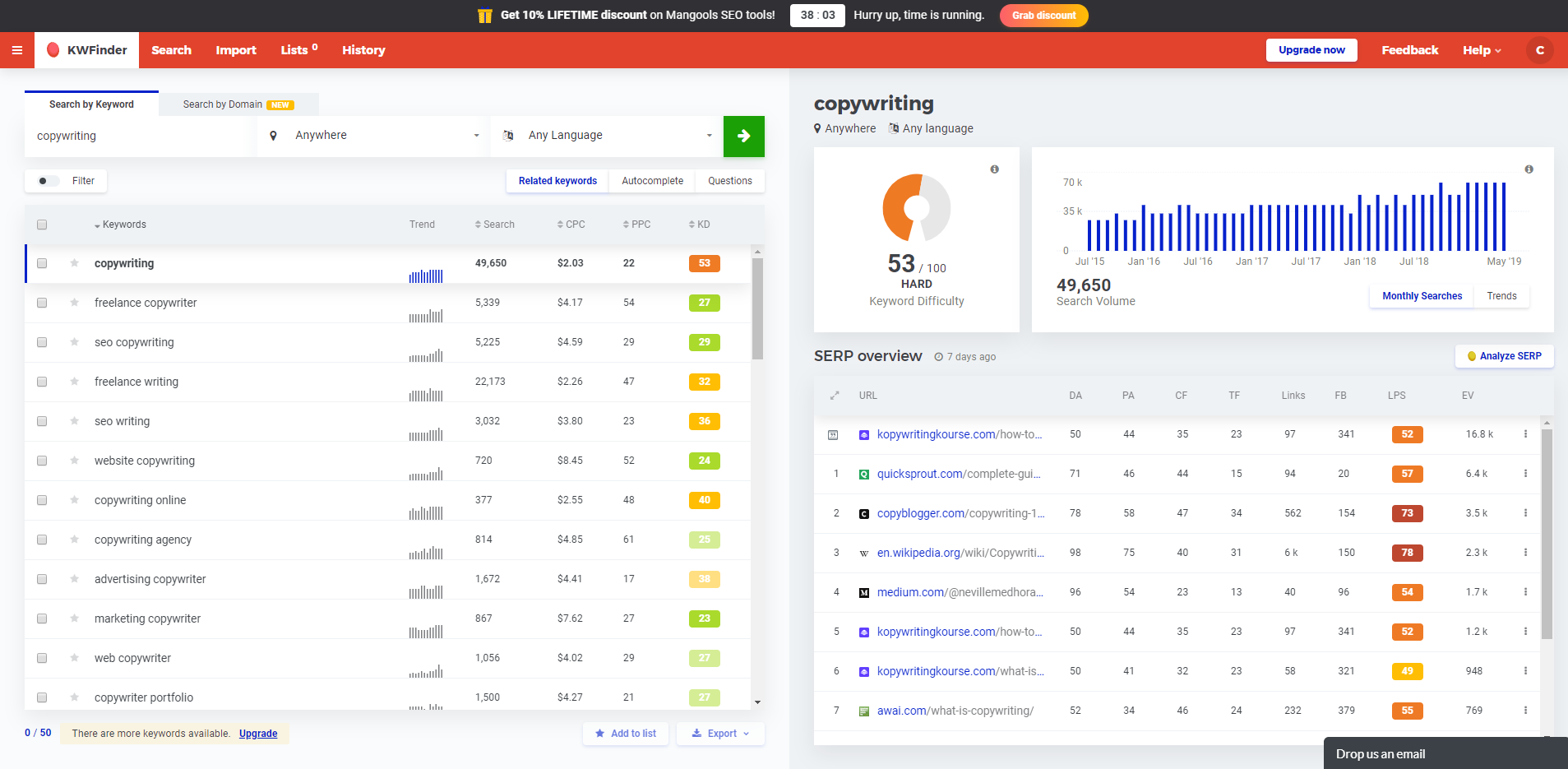 Switching over to the "Autocomplete" option will give you alphabetical keyword suggestions.
I talked about using this method called alphabet soup in my post on coming up with blog ideas if you want to learn more about it.
Similarly, you can opt for the questions tab where it will display keyword suggestions in the form of questions.
These are great to use as header tags to break up content and to add more insight.
Selecting an individual keyword will display the keyword difficulty and search volume trend on the right.
Below this are the top results for that search term in Google. Use this to study the top performing websites and how they are producing content, doing their SEO, etc.
You can also click the checkbox next to keywords to either add them to a custom list or export them out as a CSV.
This is useful when if you wish to add search terms to other software.
KWFinder pricing
There are several plans you can choose from if you wish to use KWFinder with its full potential, as the free account only lasts ten days.
Here are their current plans at the time of this article: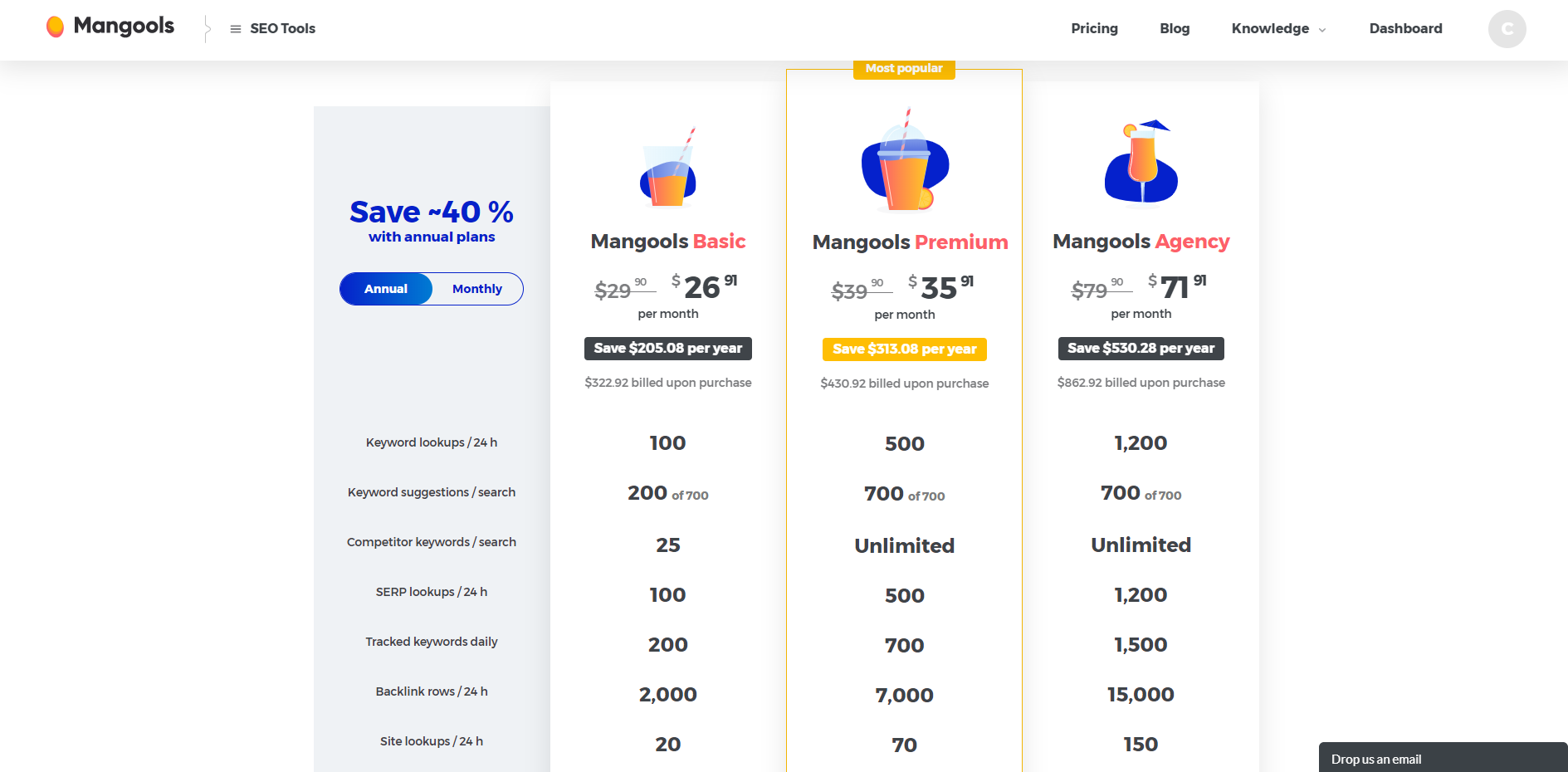 Mangools Basic costs $26.91/month and you can save $205.08 per year by opting for annual billing.
This plan gives you access to:
100 keyword searches per day.
200 keyword suggestions.
25 competitors keywords.
100 SERPs lookups every day.
200 tracked keywords every day.
2,000 rows of backlinks.
20 site lookups every day.
Mangools Premium costs $35.91/month and you can save up to $313.08 per year with annual billing. It offers:
500 keyword searches per day.
700 keyword suggestions.
Unlimited competitors keywords.
500 SERPs lookups every day.
700 tracked keywords every day.
7,000 rows of backlinks.
70 site lookups every day.
Three simultaneous logins.
Lastly, Mangools Agency costs $71.91/month and agencies can save $530.28 per year with annual billing. This package offers:
1,200 keyword searches per day.
700 keyword suggestions.
Unlimited competitors keywords.
1,200 SERPs lookups every day.
1,500 tracked keywords every day.
15,000 rows of backlinks.
150 site lookups every day.
Ten simultaneous logins.
The best plan is the one that suits your current goals and needs. Most entrepreneurs and small businesses will benefit from starting with Mangools Basic and upgrading later if necessary.
I also suggest giving the ten-day trial a run to ensure that you enjoy the platform and it aligns with your SEO needs.
Let's take a look at another unique feature of their software which is their browser extension.
KWFinder Chrome extension
Visit Mangool's browser extension page and choose between the Chrome or Mozilla option.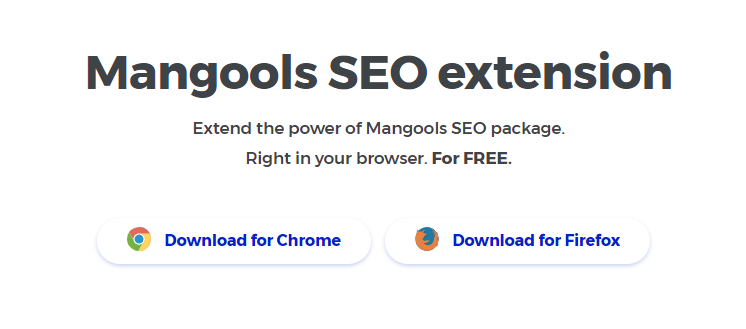 You can use it by clicking the extension icon while on any page it will display the following popup: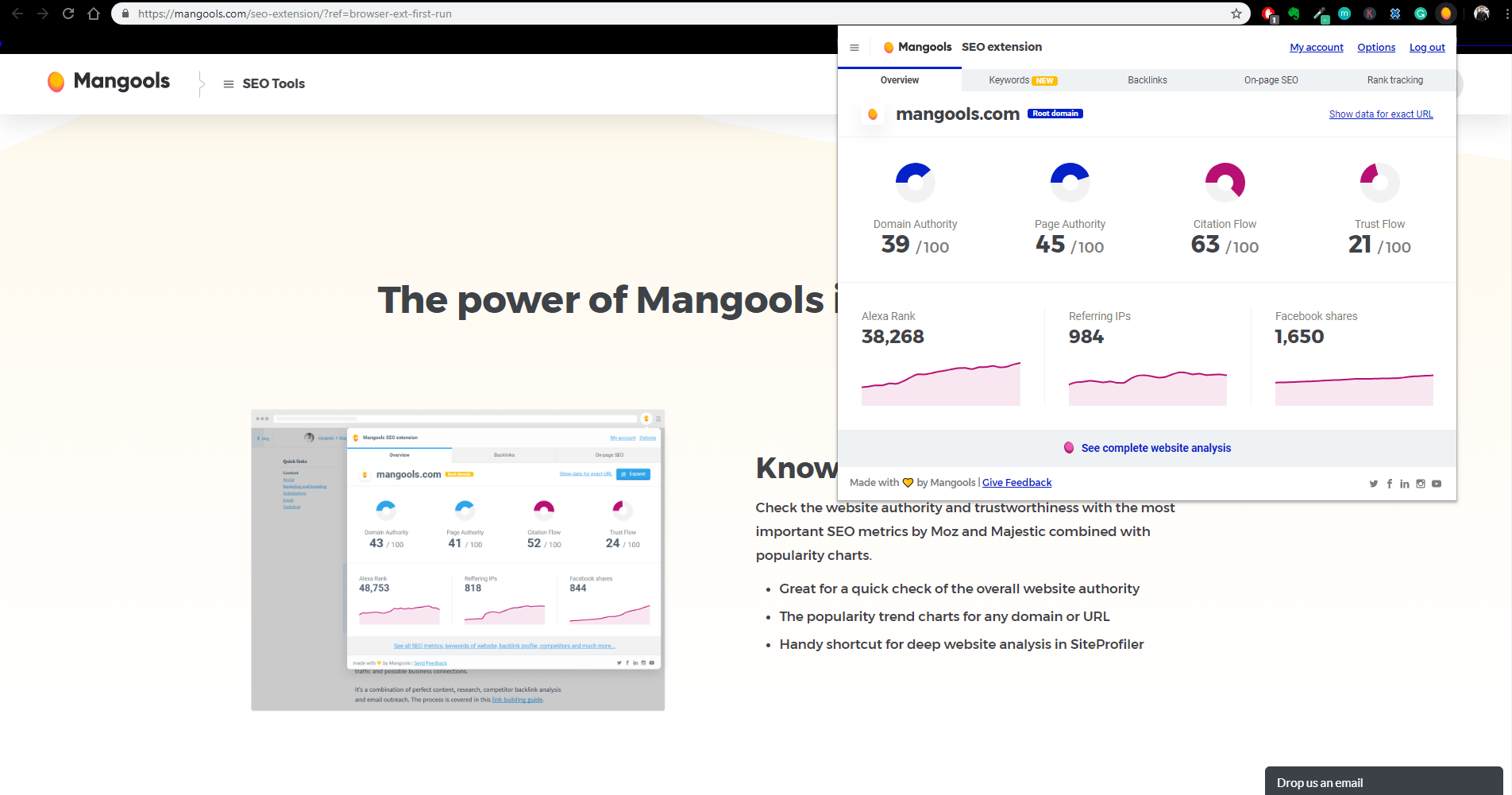 The extension will display website metrics such as domain authority, page authority, and citation flow.
I like using it to study competitors and get an idea of how well they and individual pages are performing.
KWFinder alternatives
Hey, maybe KWFinder isn't for you and that's fine! There's plenty of other SEO tools you can try out until you discover the right one.
Here are some alternatives to KWFinder that you should check out.
SpyFu
SpyFu is a well-rounded SEO tool that offers SEO, PPC, and keyword research features. It's effective for both those focusing on ranking in search engines and optimizing paid advertising campaigns.
You can use this tool for discovering new keyword ideas, studying competitors, and analyzing backlinks.
Since measuring campaigns is essential for success, you'll love the ability to track rankings and determine how well your SEO efforts are paying off.
Their domain comparison is another convenient feature to see how well you pair up against competitors on the fly.
They currently offer three plans you can choose from:
Basic: $33/month
Professional: $58/month
Team: $199/month
Ubersuggest
Who doesn't know Neil Patel? He acquired the SEO tool Ubersuggest in recent years, and it's easily one of the best keyword research tools on the market.
Especially because it's free.
Ubersuggest will allow you to analyze any search terms to find out more about its search volume, trend, and who's ranking for it.
I love using this to check out the top performing content for any keywords, and planning how I can replicate their success.
You can read my Ubersuggest review to learn more about how to use it properly, as well.
Besides that, you can also use it to view the overview of any domain which covers its backlinks, total traffic, and rankings.
Google's Keyword Planner
Another free SEO tool you'd be crazy not to use is Google's keyword planning feature in the Google Ads platform.
Sign up for a free account and access it via the tools drop down menu.
It will give you the option of either discovering new keywords or receiving search volume forecasts for specific terms.
Keyword ideas from this tool can be used for generating organic traffic or placed into Google Ads campaigns.
I use this as the fundamental tool for my keyword research, and every SEO should have it in their tool belt.
AnswerThePublic
AnswerThePublic is another great free website you should use to find keywords, content ideas, and questions to answer for readers.
(Don't mind the strange guy in the background)
This tool breaks down keyword suggestions into a few different categories:
Questions
Prepositions
Comparisons
Alphabeticals
Related
The maps of results can also be downloaded if you wish to keep them handy for further inspiration and analysis.
You can learn more about AnswerThePublic and how to use it in my previous review.