Keyword research is mandatory if you want to rank highly in the SERPs.
Organic traffic easily converts into paying customers once you get the ball rolling, too.
Don't you want customers coming to you without lifting a finger?
As a matter of fact, it's been found that SEO has some of the best work to reward ratio for inbound marketing strategies.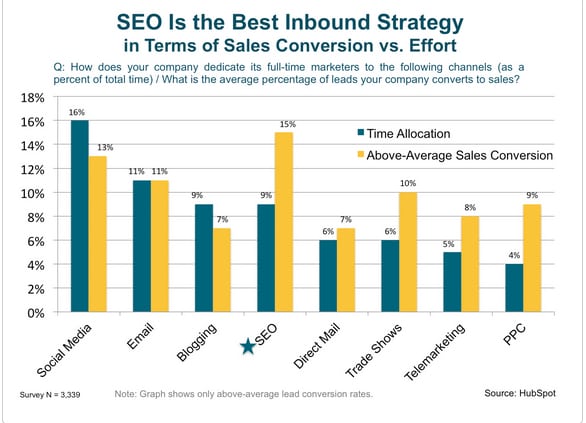 Unfortunately, there are many businesses still not optimizing their websites for search engines.
Don't be one of them.
That's why today I'm going to do an honest review of the keyword research tool Wordtracker and show you how to use it.
Let's dive in!
What is Wordtracker?
Wordtracker is a free keyword research tool that helps marketers find search terms to boost traffic and rankings.
It also offers competitive analysis to discover which keywords other companies use which opens up more opportunities to rank.
Keywords and content go hand-in-hand, so Wordtracker indirectly acts as a content marketing tool, as well.
Use all of the search engine data and suggestions as inspiration for new blog posts, videos, or other forms of content.
A unique feature about Wordtracker is that they don't only display Google search data, but YouTube and Amazon, too.
This is perfect if you produce videos to grow your business or sell products on Amazon.
Let's touch on how to use their platform now.
How to use Wordtracker
Begin by entering a search term on the homepage and clicking the red button.
This will take you to the results page where Wordtracker will display keyword suggestions along with their individual metrics.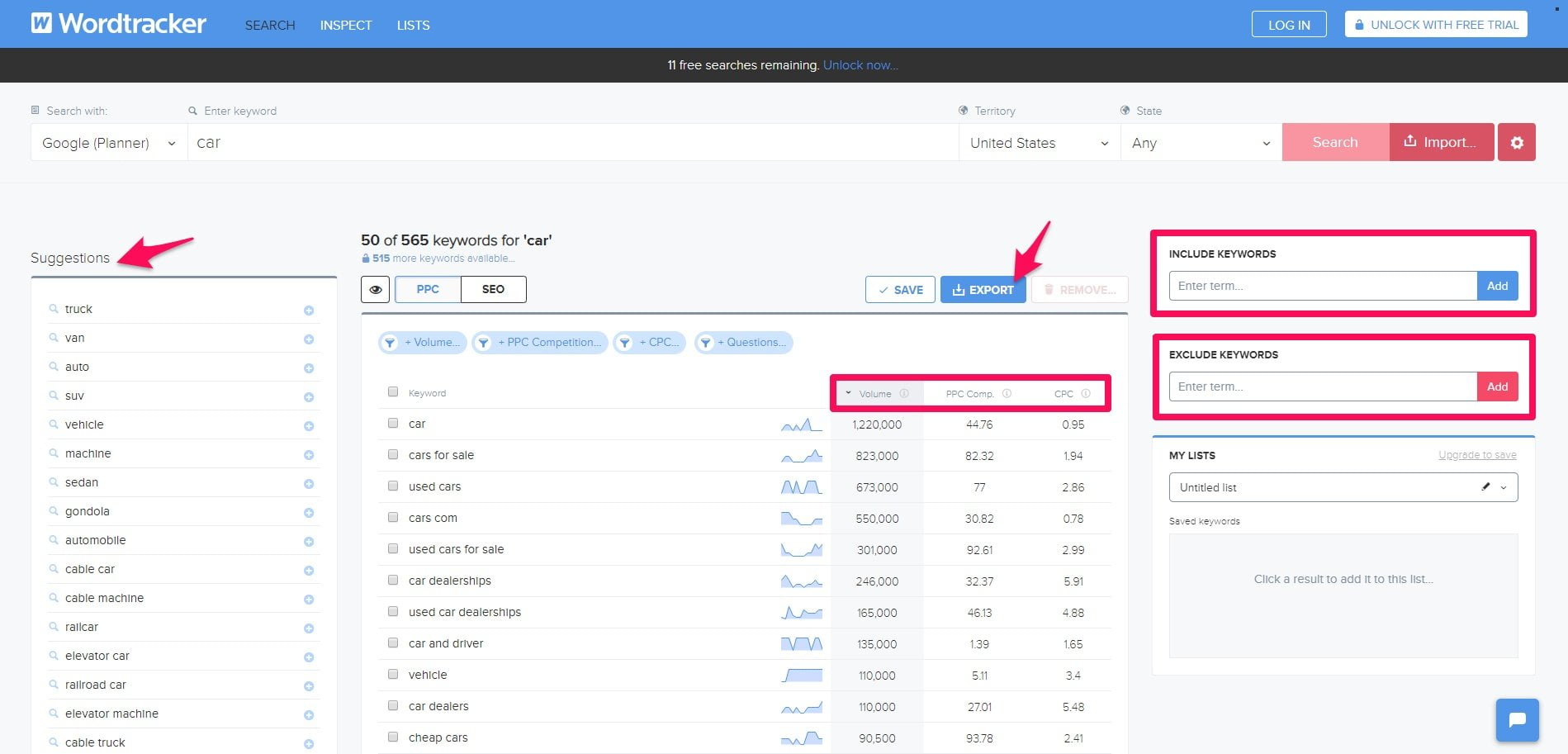 The left sidebar is where you will find keyword recommendations. Use these as further brain-food for other terms you can target.
Additionally you can click the plus symbol beside any suggestion to add it to the middle list.
The volume, CPC, and competition level for search terms is displayed there.
I always suggest that marketers target a mix of low, medium, and high competition keywords.
This allows you to grab the low hanging fruit to boost Google's trust, drive traffic, and remain competitive for larger terms as you gain authority.
Click the export button if you wish to download the results as CSV file to upload to another software or platform.
The keyword results can be filtered from the right side via included and excluded terms.
If you wish for the results to contain a very specific word or phrase, enter it in the first box.
You can use the second box like Google Ads negative keywords by removing any results that include an exact word.
The top left is where you can change between Google, Amazon, YouTube, eBay, and other platforms depending on where you're implementing these keywords.
Similarly the country and state can be changed on the right side.
Researching competitors can be done via the "Inspect" page from the top navigation. Enter in the URL of a website to begin.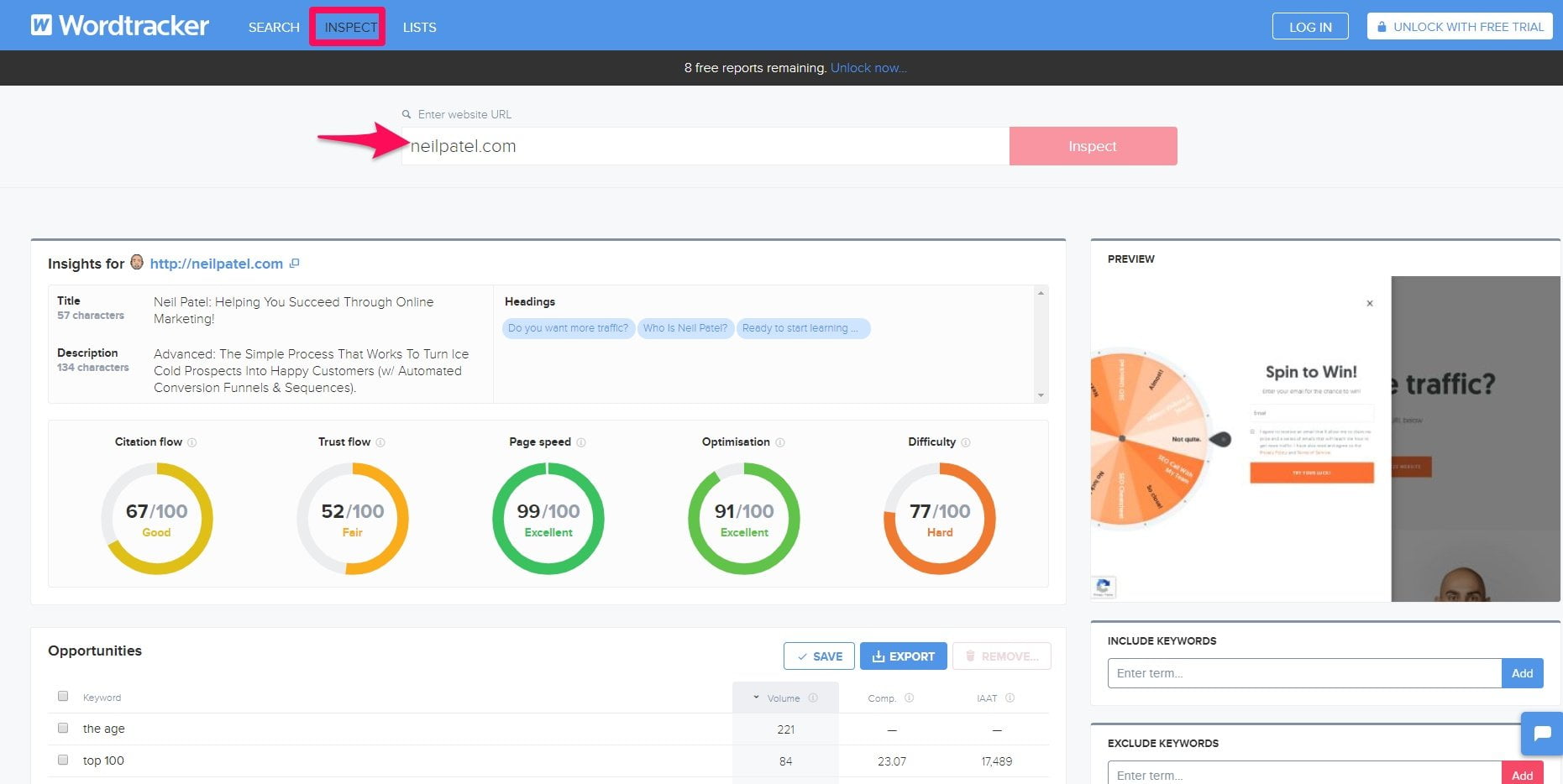 Domain insights from Wordtracker include:
Title tag: Analyze this to determine if they are targeting any specific keywords, using certain copywriting techniques, and how many characters make up their title tag.
Meta description: How many characters are they using for their meta description and do you notice any unique strategy such as a call to action?
Headings: These are used to break up pages and content, so they are useful to analyze for content and search term ideas.
Citation flow: This is a metric used to determine the number and strength of backlinks they have.
Trust flow: The trustworthiness of the backlinks they've earned.
Page speed: A very important user experience and SEO metric. Benchmark your website against competitors performance.
Optimization: A score which rates a website's overall optimization for search engines. Great for comparing two websites to determine which one has better SEO.
Difficulty: How hard it will be to outrank this domain.
A preview of the website will be displayed on the right side of Wordtracker, and all of the competitor's keywords will be found in the below boxes.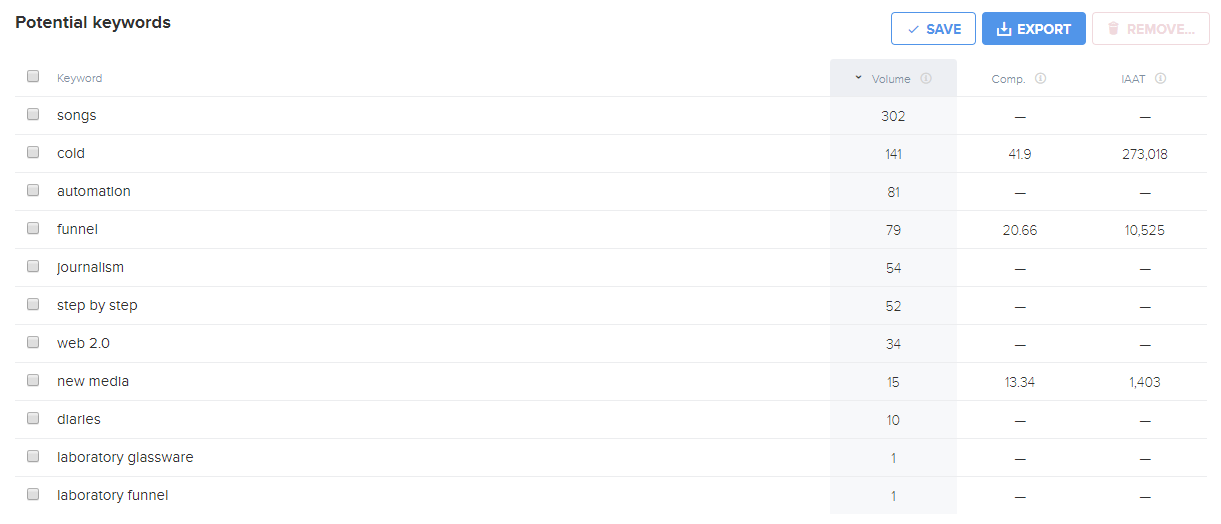 Across the various pages and features of Wordtracker the UI and experience are very streamlined.
Unlike other tools that can take days to learn inside and out, Wordtracker is very straightforward.
Even new digital marketers can jump right into this platform and start improving their SEO with it.
Let's touch on how much Wordtracker is next.
Wordtracker pricing
Pricing is a big deal. You want to get your money's worth and see a clear ROI, right?
That's why you'll be pleased to hear that you can get a seven day free trial of Wordtracker's plans before committing. Here's what they offer: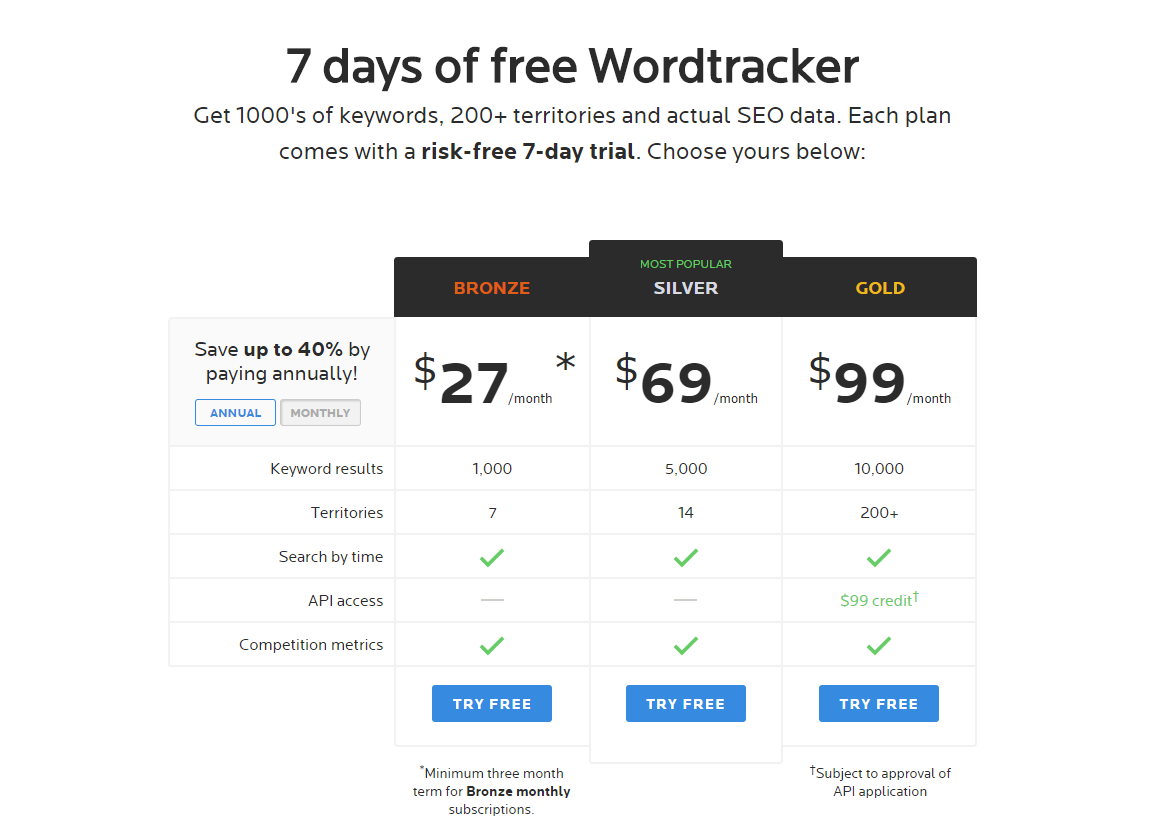 The Bronze plan offers up to 1,000 keyword results, seven territory selections, time search, and competition metrics.
Moving up to the Silver plan will give you access to 5,000 keyword results and 14 territories to choose from.
The Gold plan offers 10,000 keyword results, 200+ territories, and $99 in API credits.
Take into consideration that you can save 40% by choosing to be billed annually. If you enjoy the free trial, definitely consider paying upfront to save a huge amount of money.
Wordtracker Scout
Wouldn't it awesome if you could do keyword research on the fly instead of constantly visiting a website?
Well, you can.
Wordtracker has a Google Chrome extension called Scout which allows you to analyze any page for keyword data.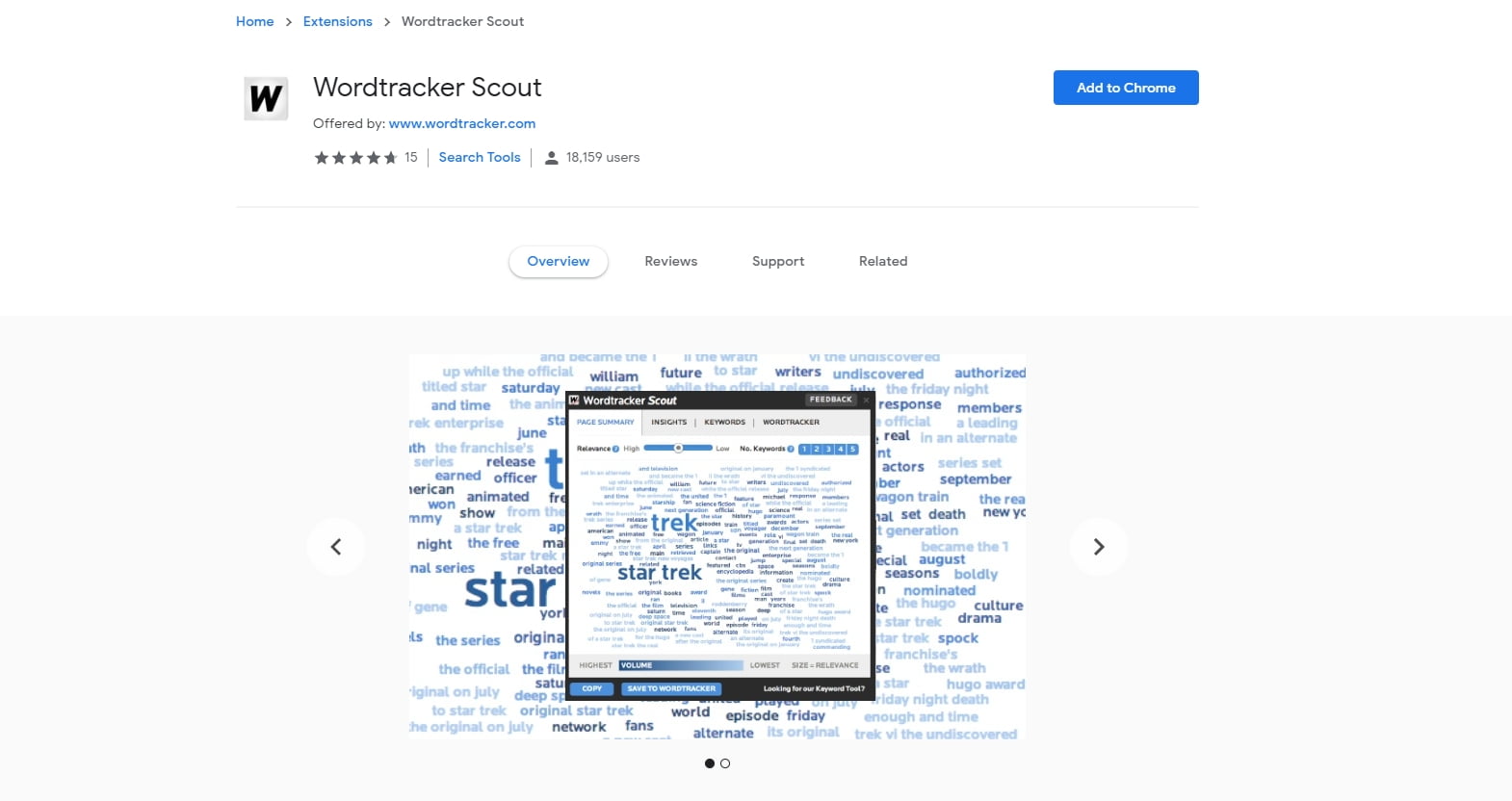 Visit any website and click the new Wordtracker icon from the extensions bar on the top right of your browser.
This will prompt a small window with four pages: page summary, insights, keywords, and Wordtracker.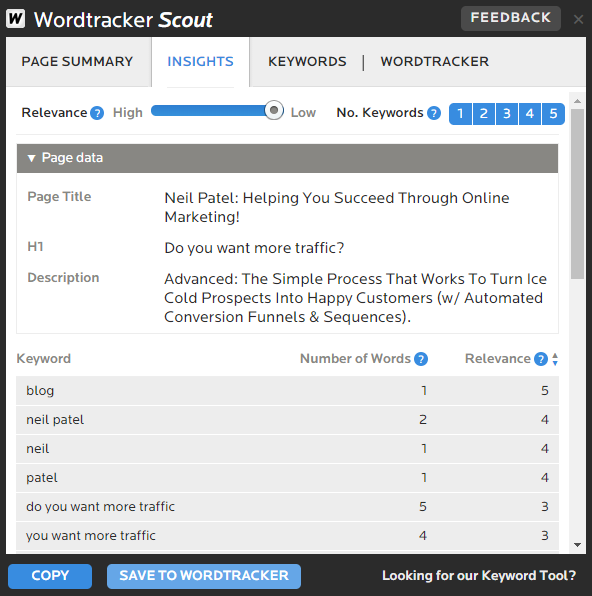 The page summary shows a visual representation of which terms make up a majority of the content. I like using this to figure out the topical relevancy of a competitor and if I can take a similar approach.
Insights include the page's title, H1 tag, and meta description. You'll find keywords within these elements and Wordtracker Scout also lists the most used terms below this data.
The keywords page lists all of the search terms it can find on the page along with their SEO metrics. These can be saved directly to your Wordtracker account for later analysis.
Final thoughts on Wordtracker
Overall Wordtracker is an awesome freemium tool to keep in your rotation as a digital marketer.
I find it very useful for coming up with new search term and content ideas while also gaining inspiration from competitors.
The UI is clean and there's nothing difficult about learning how to use it which is a huge plus.
I don't know about you, but I've definitely come across SEO tools that feel like they require a university education to understand!
Your best bet is to try out the free version first to ensure that it suits your goals.
Consider upgrading to one of their paid plans if you enjoy it as you gain full access to its features.
If you are looking for other search engine tools, check out these previous reviews I did: