Did you know that 92% of searchers will work with a business on the first page of search results?
That means if your SEO isn't in amazing shape, you're not going to be on the first page, and you're not going to get customers.
But you don't have to worry about that.
Today I'm going to be teaching you how to use a nifty keyword research tool called Keywordtool.io.
It will help you find valuable search terms to target which will ultimately drive traffic and leads to your business.
Follow along 🙂
What is Keywordtool.io?
Keywordtool.io is a keyword research tool that will generate up to 750 long tail keywords for any search you make.
It has an incredible up-time, so you can always rely on it, too.
Search engines like Google receive billions of searches per day, and that includes your target audience.
Don't you want customers coming to your doorstep?
It can only happen with great SEO, and proper keyword research is at the heart of it.
You never want to write content or build a website around random search terms.
You need to be precise as Stephan Curry's jump shot.
One of the best features of Keywordtool.io is that it integrates with Google, YouTube, Amazon, and many other search engines.
That means it can help you grow search engine authority on several different platforms.
It doesn't matter if you sell books on Amazon or sell services on a WordPress website, this tool will boost your SEO.
Let me show you how to use it now.
How to use Keywordtool.io
Visit the homepage of Keyword Tool and enter in a search term.
Set which search engine, format, and language you'd like to filter the results with, as well.
Click the orange search button when you're done.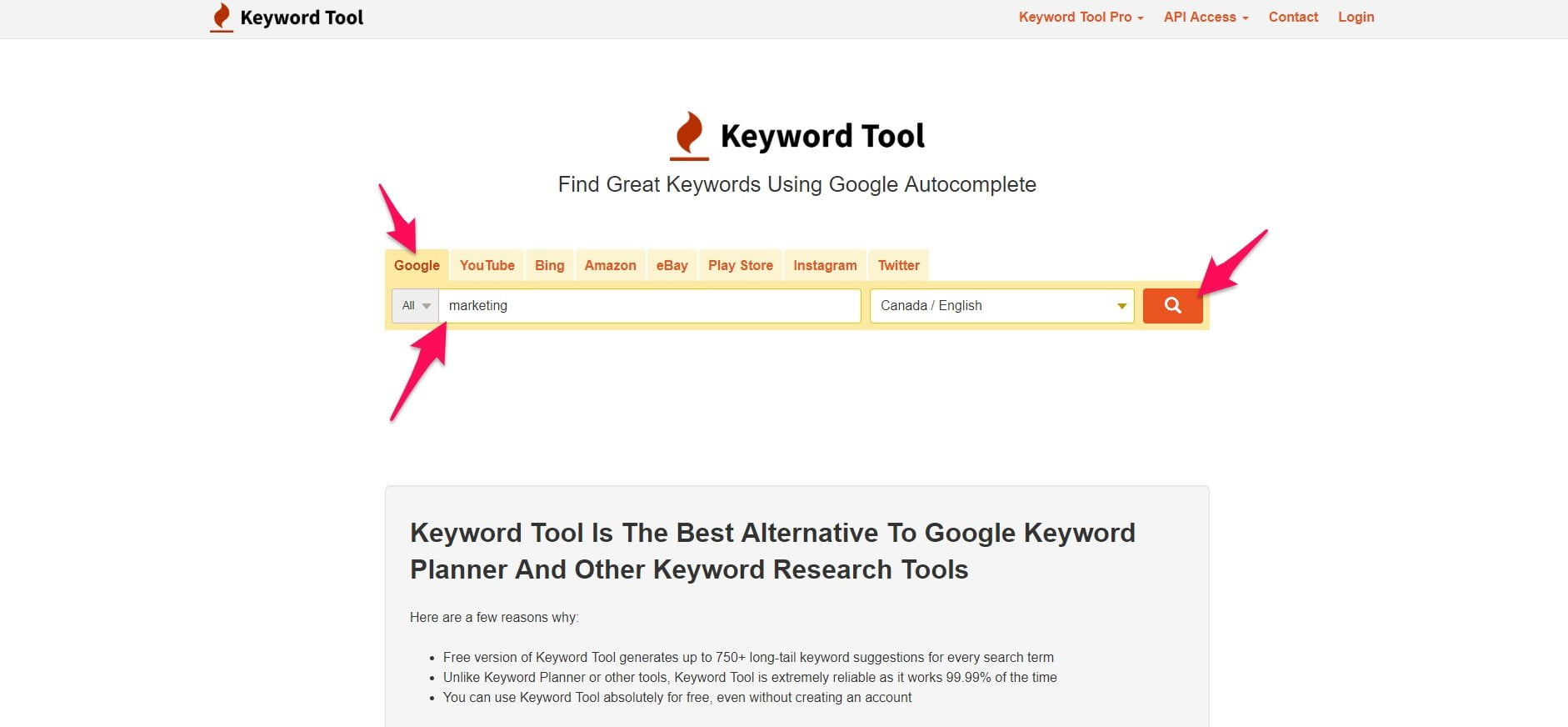 This will bring you to the following results page where metrics like volume, CPC, trend, and competition are displayed with each keyword.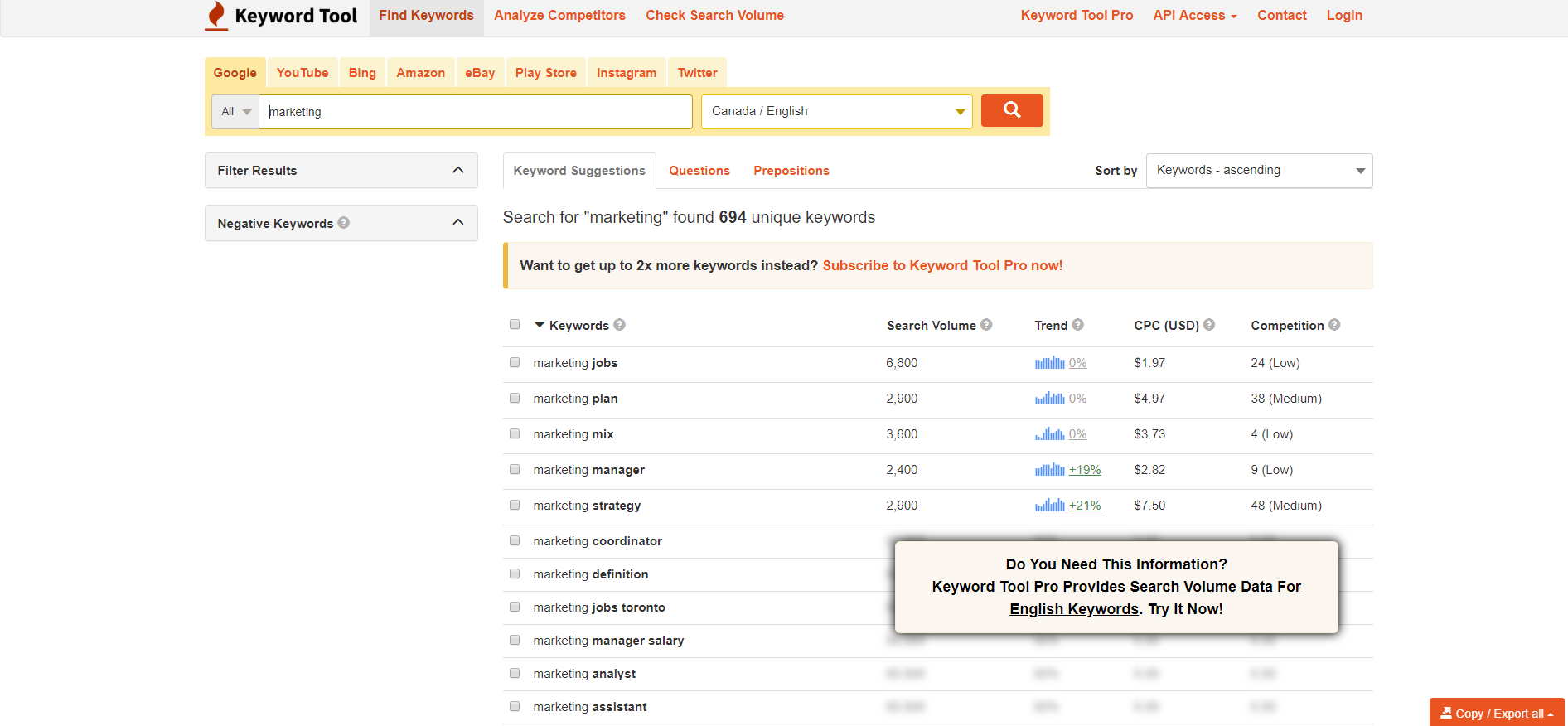 Clicking the "Filter Results" box will give you the option of filtering the suggestions by other words.
Alternatively you can click "Negative Keywords" to add terms that you don't wan't to appear.
A newer feature that was added is the question and preposition tabs. Clicking these will find auto suggestions based on these two forms.
This is handy for when you want to find questions to answer in long form content or statements to be used as header tags.
You can select individual keywords or one by one before exporting them via the "Copy/Export all" button on the bottom right.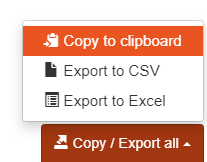 There are also the options to copy the search terms if you wish to paste them into a spreadsheet or other software.
Overall Keyword Tool is a straightforward tool that every marketer should have in their SEO arsenal.
The free version is awesome, but has its limitations. That's why the paid version can be a great investment, so let's talk about that next.
Keywordtool.io pricing
Keyword Tool Pro offers three different plans with increasing amount of features, requests, and data as you can see here: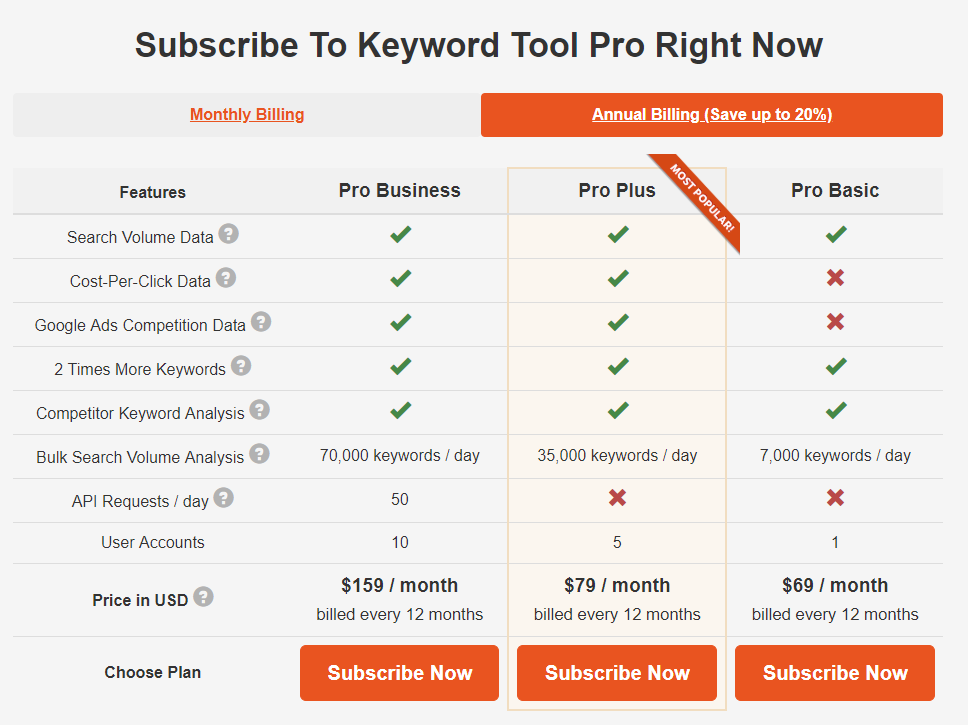 The Pro Business plan costs $159/month and will give you:
70,000 keyword results per day.
50 API requests per day.
Up to ten user accounts for your team.
The Pro Plus plan costs $79/month and will give you:
35,000 keyword results per day.
Up to five user accounts for your team.
The Pro Basic plan costs $79/month and will give you:
Search volume data.
Twice the amount of keyword suggestions.
Competitor analysis for keywords.
7,000 keyword results per day.
A single user account for you.
As usual, plans work on a case to case basis. Those with smaller budgets and less extreme SEO needs will benefit from starting with the Pro Basic plan.
You can always upgrade to a different package when needed, too.
Compared to other search engine marketing tools, their pricing is fair and inline with what a lot of other companies offer.
Keywordtool.io alternatives
Not every tool is right for everybody. We all have different budgets, strategies, and needs which is why I'd like to go over some alternatives to Keyword Tool so you have more ideas.
SEMrush
I use the free version of SEMrush every day. I love using it as a way to get a quick and general overview of how my websites are progressing.
It gives you everything you need to track organic traffic, paid traffic, backlinks, rankings, and more.
SEMrush also includes a keyword analysis feature where you can find search term suggestions and useful metrics.
Yeah, I know. This tool has a hilariously weird name, but don't judge it too quickly.
It's completely free and compiles thousands of keywords based on any terms you enter.
The results can be exported as a text file to important into other tools, and I use it to this day for coming up with content ideas.
There are no metrics like search volume, so you will need to place the results in another tool for those.
Google's Keyword Planner
If you want search engine data from Google, it only makes sense to go straight to the source, right?
That's precisely why you need to make sure that you've singed up for a Google Ads account and use the free keyword planner tool.
There are no paid upgrades, and it's universally used by some of the biggest marketers and companies in the world because of its effectiveness.
Google's Keyword Planner offers search term data like monthly volume, CPC, competition level, and more.
Results can be quickly exported out into other tools or software, and it's very easy to navigate.
I use it for the foundation of my keyword research to this day.
Keywords Everywhere
This Google Chrome extension is extremely convenient and powerful.
Like other tools I've mentioned, it's completely free and I did a review on it you can read here.
Keywords Everwhere integrates with Google, Google's Keyword Planner, Amazon, YouTube, UberSuggest, and many other platforms.
This means that you can pull data from all of these other tools and sites, giving you much more SEO ideas than another single tool can offer.
Wrapping up this Keywordtool.io review
Keyword Tool is a priceless keyword research app to keep under your belt.
I find that the free version is nice for some inspiration and ideas that you can plug into other tools, but upgrading is a wise investment, too.
Overall I suggest that you try out the free version to determine if it's right for you, then purchase the paid version if it is.
Feel free to contact me if you need SEO services to help boost rankings and traffic as well.
---
Featured image credit: Diggity Marketing