The state of inbound digital marketing is always in flux, and while getting caught up in the latest trends is a good idea, a better idea is to master the basics. So in our list of 5 inbound marketing tips you B2B company should use, we chose to focus on the foundation. Read on to see why!
Develop buyer personas

You can't implement an effective inbound marketing strategy without developing solid buyer personas.
A buyer persona is a partially fictional portrayal of your ideal customer. To develop one, you will use a combination of real-world market research and data to identify their pain points, interests, and objectives.
One method of building a buyer persona is to interview your existing clients.
You can ask them about…
Their job role
How their day pans out

Their skills and education

Who they're accountable to
The size of their company
Their industry
Their objectives at work (e.g., a CFO cares about generating profit)
Their biggest challenges
And others
In addition to understanding who they are, you must also understand how they think from an inbound perspective. For example, what publications or websites do they read when it comes to learning about their job or industry, i.e., watering holes.
Conduct keyword research

That previous point about watering holes ties into the need to conduct keyword research.
This is a critical part of an effective B2B or enterprise SEO strategy. The goal is to find the queries and questions your persona is asking online, especially on Google.
Why?
A big part of your inbound strategy rests on attaining a high rank (ideally first page) on Google for the questions your prospective leads are asking.
The benefit of ranking for the right keywords is that if the person asking the question finds your website and the answers they need, they will not only return but give their contact information (i.e., become a lead).
The keyword research process requires understanding your persona's online habits and using tools (e.g., SEMRush, Ahrefs, Screaming Frog, etc) to identify keywords, see how difficult it would be to rank for those keywords, find related keywords, and see how your competition is using those keywords.
Create compelling content

Getting the prospective lead to reach your website is only part of the battle. As noted in the previous section, you need to deliver by giving the answers your reader is expecting.
This is where content and regular content audits are a vital component of your inbound strategy. Overall, content can be boiled down into two main pillars: informational and sales.
Informational
Be it blogs, eBooks, whitepapers, infographics, webinars, or how-to videos, there is a myriad of ways you can answer your persona's questions. A great example of this is content that answers every question a buyer persona may have on a particular subject, here's a great example of cybersecurity for small to medium-sized businesses.
However, to best ensure your chances of getting your readers into becoming leads — and leads into sales — you must invest in quality. You will not get far with superficial, cookie-cutter content; rather, you may end up harming your inbound efforts instead.
Sales
In parallel with upping your informational content, you will also need to spruce-up your sales copy. These are primarily your sales/product pages.
Writing effective copy sounds much, much easier than it actually is, but there are several key benchmarks to be mindful of when writing. One of these is ensuring that your pages' reading difficulty aligns with your persona's reading preferences.
For example in the business consulting space, pages written at the 7th-grade level are able to generate 25% more conversions than university-level pages.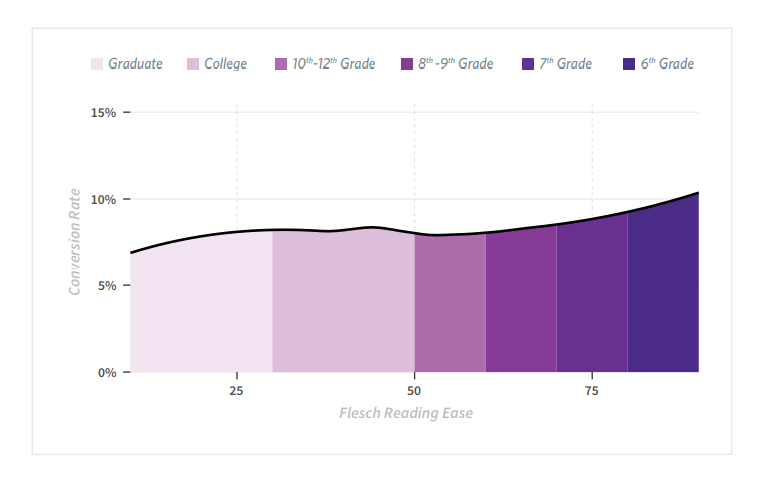 This is not to say you're 'dumbing' pages down, but rather, you're using clear language with direct points about benefits, not empty buzzwords or cliche statements.
Use calls-to-action

Think of calls-to-action (CTA) as the bridge that transforms a reader into a lead.
If your CTAs succeed, then the reader will provide their contact information (and other sales relevant information) in exchange for an eBook. In the case of a sales page, the lead will respond to the CTA in order to talk to your salespeople.
There are specific CTA types for each form of content. Your job is to ensure that they're both well-written and targeted at the right people. For example, a sales-oriented CTA is no good for a prospective reader who doesn't actually understand their problem.
Measure with analytics

Finally, you must ensure that you are actually tracking the effectiveness of your inbound efforts across each of the areas above.
You can use a range of tools — starting with Google Analytics, HubSpot, and others — to see which of your content is attracting readers, which of your CTAs are converting leads, etc. This is where A/B testing is useful to implement and test improvements across your entire inbound marketing strategy.
Conclusion
It should be apparent that each of the tips outlined above is an intensive, full-time responsibility in of itself. In fact, internal marketing departments and agency-based B2B inbound marketing services maintain complete full-time teams to spearhead inbound marketing work.
The first thing marketers need to focus on is creating a buyers persona, which is a personification of ideal customers. This includes their demographics, beliefs, values, company size, and other critical information for targeting.
Secondly, performing keyword research is a must. I recommend using tools like SEMrush or Google's Keyword Planner to find search terms that you can use in all of your content. As a result, you will rank higher in Google and generate more organic traffic.
All of this then allows you to create epic content. You want an even blend of informational and sales style pieces with your content marketing plan. Informational content involves tutorials and guides, while sales content promotes your products and services.
Throughout content, advertisements, and other areas of your B2B business, ensure that you're also using calls to action. These are phrases that tell the audience to take action, removing the barrier of thought and pushing them towards the sale.
Once you have all of this on lock, it's time to measure it. Use tools like Google Analytics, Google Search Console,