No, ghostwriting isn't Caspar the Friendly Ghost churning out blog posts on a daily basis.
But you hear this term all of the time in different industries.
What is ghostwriting? Why does it matter?
I'm going to be answering these questions, covering typical fees, and explaining the benefits of hiring or becoming one yourself in today's article.
What is ghostwriting?
So, what is ghostwriting exactly?
Ghostwriting is defined as having work written on your behalf by another writer, but you take credit for it. The public believes that you produced the content, but it was actually made by another individual.
Since ghostwriters do not receive credit for their work, they typically charge a premium. 💰
I can tell you, as a copywriter who has done plenty of ghostwriting, that bylines are insanely effective.
They allow me to grow my brand, get referral traffic, and generate leads organically.
So if I'm not gaining that benefit by writing for another publication, it's only fair for me to ask for extra compensation. This is an industry standard.
Anything can be ghostwritten, as well. This includes material such as:
Social media content
Songs
Movie scripts
Etc
That means that as a writer, you will be able to ghostwrite any material that you specialize in. It also opens the door for you to try out different niches you haven't dabbled in before.
Make sure to read my guide on how to become a ghostwriter to learn about acquiring clients and building a solid brand.
On the flip-side, businesses will be able to outsource any kind of work to ghostwriters with ease.
This brings me to my next point.
Who uses ghostwriters?
From my experience in the last eight years offering copywriting services, there are very specific types of businesses and clients that opt for ghostwriting.
I don't know the exact figure. I can't say any names.
But, I will say that most of the high-level digital marketing content on the internet is ghostwritten.
Many successful direct mail campaigns are written by someone other than the person organizing the campaign.
50% of best selling e-books are written with the help of a ghostwriter.
In terms of roles, I've noticed the following individuals receive a lot of ghostwriting:
CEOs: Chief executive officers are busy running a company, so they often don't have the time to write content themselves. I've done C-level writing for Forbes, Business.com, and other publications, so I have behind-the-scenes experience with this. They need writers that can clearly communicate their organization's strategies and expertise to a specific audience.
Celebrities: Another very busy individual who doesn't have the time to write something of their own, so they outsource it.
Public figures: Speeches are a common material that is ghostwritten for clients. Some public figures use a ghostwriter to have the best possibly structured and impact speech before speaking with an audience.
That brings me to my next point.
Ghostwriting rates
Ghostwriting fees vary from writer to writer. The Writer's Union of Canada states that ghostwriting books should cost a minimum of $40,000 for 60-90,000 words.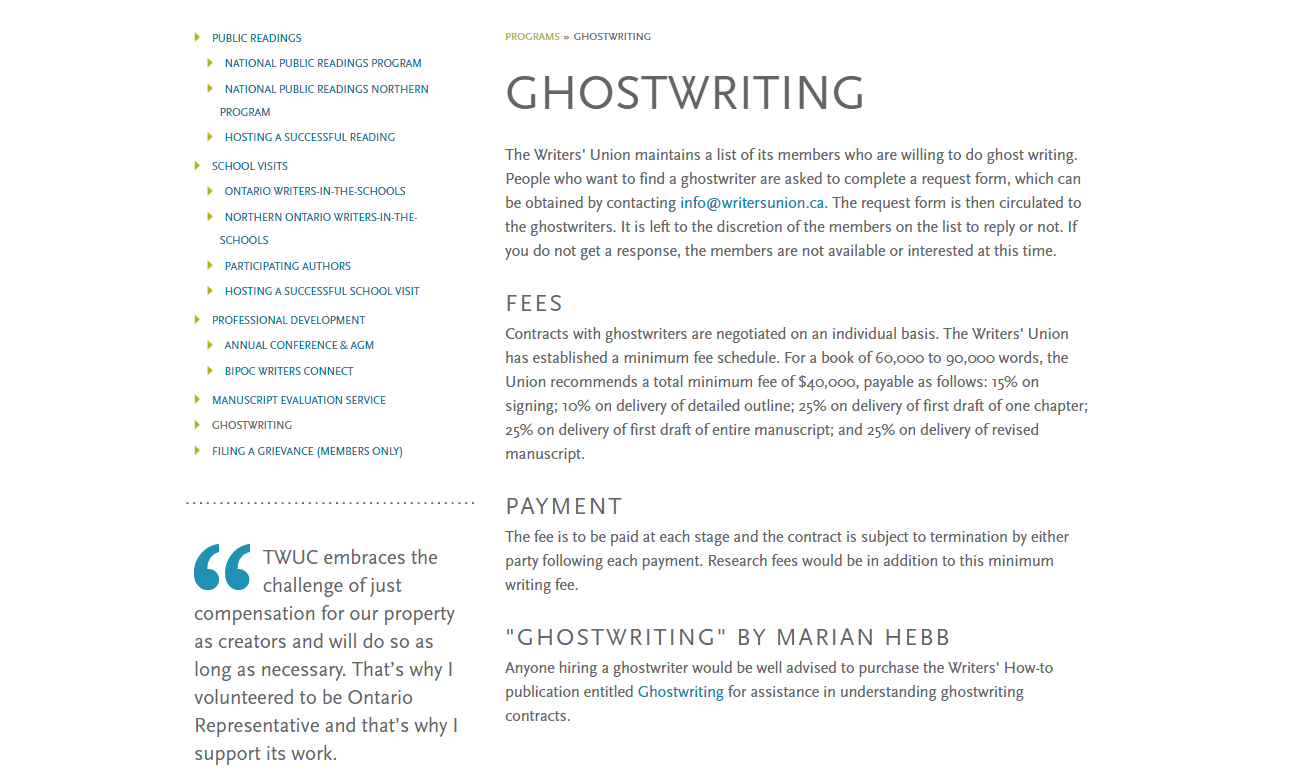 But what if you're trying to outsource website content? Well, according to the Professional Writers Association of Canada, ghostwriting requires two to three times normal rates.

Ghostwriting prices, like all forms of copywriting, will depend on the client's budget, individual writer, and project scope.
Additionally, Content Wonk performed a study in 2018 to determine the average freelance writer's rates. Here's what they found: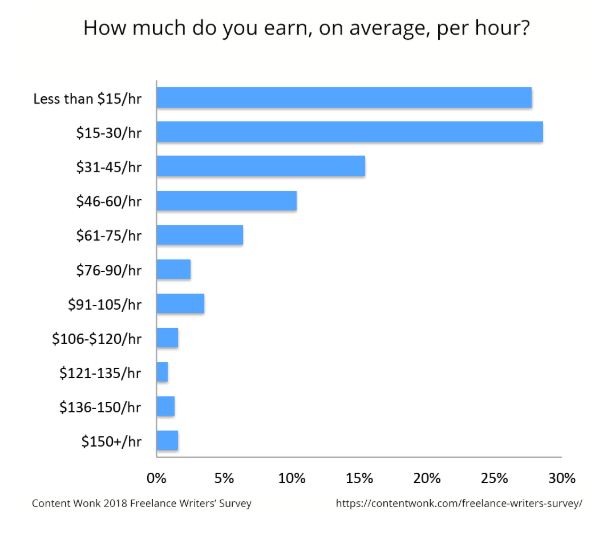 28% of respondents charge less than $15/hour, and the top percentile demand $150+/hour.
Follow the rule of thumb that you get what you pay for. Talented writers will always charge more and generate a larger return while cheap writers can be a headache.
Use these as benchmarks and the foundation of how much you charge/pay.
You can also explore my online courses to learn more about earning money as a writer.
Benefits of becoming a ghostwriter
If you're a freelancer interested in becoming a ghostwriter, there are mountains of advantages you will gain by pursuing this niche. They include the following.
You get to command higher rates
Who doesn't want to earn more money? Ghostwriting often yields some of the highest paying projects due to the fact that you gain royalties and get to charge a premium for your work.
One downside that I've experienced myself with ghostwriting is that you may eventually lack bylines, however. It's tough to prove that you've ghostwritten certain material unless you keep records of contracts, conversations, and have good references.
That's why I also suggest that you include byline pieces in your portfolio to act as social proof. These will help build trust with clients so you don't have to run around trying to prove you've worked with big names before since you're publicly associated with others.
Once you get around this small loophole, you'll be racking in the big bucks as a ghostwriter 🙂
Royalties on royalties
Not only do you get to charge more upfront as a ghostwriter, but you also normally get royalties for certain pieces of work. These include books, landing pages, direct mail, and other sales copy that generates sales.
Royalties typically hover around the 3% range, but some writers charge more if they have a track record of creating huge results for prior clients.
Imagine you help a client generate $1,000,000 in revenue from a new sales campaign. 3% of that is $30,000 in your pocket on top of the other fees you charge. You would be making nearly six figures per month off of a single project!
You will network and create a name for yourself
Companies will always need business material written. It doesn't matter if it's advertisements, books, or website content. There will never be a time in the near future in which businesses don't require ghostwriting.
That means with enough elbow grease, you will create a name for yourself in whichever industry you position yourself in. This will lead to constant new opportunities and referrals, meaning consistent earnings.
Benefits of hiring a ghostwriter
I've been talking about ghostwriting from the perspective of a writer, but how about from the angle of businesses? These are some of the many benefits you can look forward to by outsourcing work to ghostwriters.
You will work with the best
Ghostwriters charge a premium for a reason, and that reason is that they are exceptional at what they do. You will network and hire some of the industry's best writers that will produce massive results for your company.
This also allows you to create a Rolodex of writers to reach out to when you require material to be written.
They have skills that you don't
Do you have a decade or more of copywriting, SEO, lead generation, CRO, and other marketing experience? Ghostwriters do.
Hiring a ghostwriter means that you don't have to take years mastering different skills yourself. Being a great writer doesn't mean you're good with words, but rather can sell a product, rank websites, or whatever the goal might be.
This comes from experience and mastery in different fields.
They are professional and easy to work with
While there are always a couple of bad apples, if a writer has worked with big publications and is a successful ghostwriter, they won't get there for no reason.
Odds are they will be professional and easy to work with. Personally, I pride myself on being a friendly, good person and creating genuine relationships with clients I work with before anything else.
Save time and energy
I run several businesses. I also invest, trade, and constantly network. That means my time is very valuable, and I bet you would agree to the same with yourself, right?
Running a business means that you need to spend every minute wisely. Hiring a ghostwriter will allow you to outsource tasks and spend more time on things that matter.
The reality is that not everyone is a good writer. I've been told since I was a child that writing was one of my greatest strengths, so it's no surprise I became a fantastic copywriter.
Maybe writing isn't for you. In that case, it'd be a smart decision to outsource to someone like me and focus on what you do best.
Downsides of being a ghostwriter
Not everything that glitters is gold. Being a ghostwriter myself for many years, I want to be honest with some of the downsides so you can make an informed decision.
You lose out on bylines
I previously mentioned that bylines are like crack to writers. Even if you've only written for a month, you will agree with this.
Having your name, face, and URL on content drives traffic, improves SEO, and helps build your brand.
I like to think of it as PR management and search engine equity. The more places you're seen, the better.
However, you lose out on that as a ghostwriter. Someone else takes credit for your blood, sweat, and tears. Although, you do get a fatter paycheck for it 😉
I highly recommend that you do a blend of byline and ghostwritten work to get the best of both worlds.
This means that you command higher rates for material without your name slapped on it but still grow your brand with bylines at the same time.
Check out this list of websites that accept guest authors to start getting more bylined articles out there for people to see.
Some question the ethics of it
I've heard the argument that ghostwriting is unethical or causes moral dilemmas. What do you think?
You're essentially writing a piece of content or sales copy and allowing another person or business to claim it as their own.
Between you and the client, everything's great. You get paid, they get their project done. Everybody's happy.
But, what about the readers that think they're getting propriety content from their favorite website when really you wrote it?
Is that tricking people? Is it deceiving? I would argue that it isn't since everyone gets what they want at the end of the day and it's mutually agreed upon.
Similarly, you could always use brainstorming and inspiration from the client to help mold the content or copy. In that situation, you're still ghostwriting, but more helping their ideas come to life.
It can be painful seeing your content published without your name
Let's be real. When you pour hours of writing, researching, and editing a piece of content, you feel proud when you're finished.
It's all too easy to think that copywriting and content writing is quick and effortless. It's actually one of the most time consuming forms of marketing and advertising.
That's why one of the other downsides of being a ghostwriter, which is similar to not having a byline, is simply not getting credit.
Besides the SEO and PR benefits, it's nice having your name and face tied to something you created.
Unfortunately, you miss out on that as a ghostwriter.
Final thoughts on ghostwriting
Ghosting is a very lucrative path for writers based on the fact you normally charge two to three times normal rates and earn royalties.
Larger brands commonly hire ghostwriters, so there's a great chance you will network with high-level executives as you pursue this path.
Businesses can also greatly benefit from hiring ghostwriters as they are experienced in generating results like sales, leads, and traffic.
I can tell you, as a ghostwriter and hiring them myself, that they tend to be more professional and organized, as well.
Check out my online copywriting courses to master ghostwriting and related skills.