Interested in becoming a content marketing manager or hiring one for your company?
You've come to the right place.
I will be covering what a content marketing manager is, their average salary, and daily responsibilities in this article.
This will give you a better overview of where this career path can take you or what to expect when hiring new managers.
What is a content marketing manager?
A content marketing manager is in charge of a company's content strategy, campaigns, and overall performance.
Seeing as content marketing is growing exponentially across all industries, people capable of managing these efforts are needed more than ever.
In fact, 90% of B2C marketers use content to grow their companies.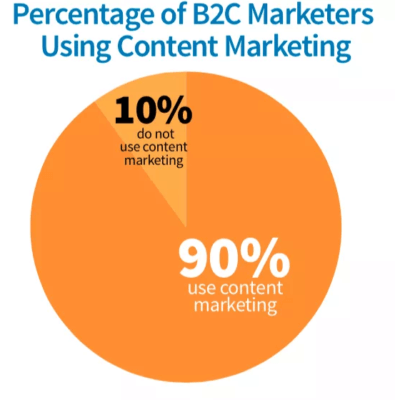 Content marketing also comes with responsibilities such as organizing content calendars, researching topics, discovering SEO keywords, setting KPIs, and more.
One individual must oversee all of these procedures and ensure they are working at peak performance, which is exactly what the content marketing manager does.
Let's talk more about what content managers do next.
Content marketing manager responsibilities
The daily responsibilities of content managers include the following:
Write content for websites, blogs, social media accounts, and email newsletters.
Produce videos, podcast episodes, or other forms of content for the business.
Direct the production of content and oversee team members progress. This also involves setting deadlines and managing individual content creators.
Creating a content calendar which maps out the next month of content with deadlines, appointed writers, etc.
Work together with various departments like SEO, social media, and PR.
Track KPIs and metrics for content campaigns to determine if they are reaching specified goals.
Content marketing manager salary
How much money do content marketing managers make?
Well, I've gone ahead and compiled a few different resources I found that detail the salaries of these individuals.
Let's begin with PayScale.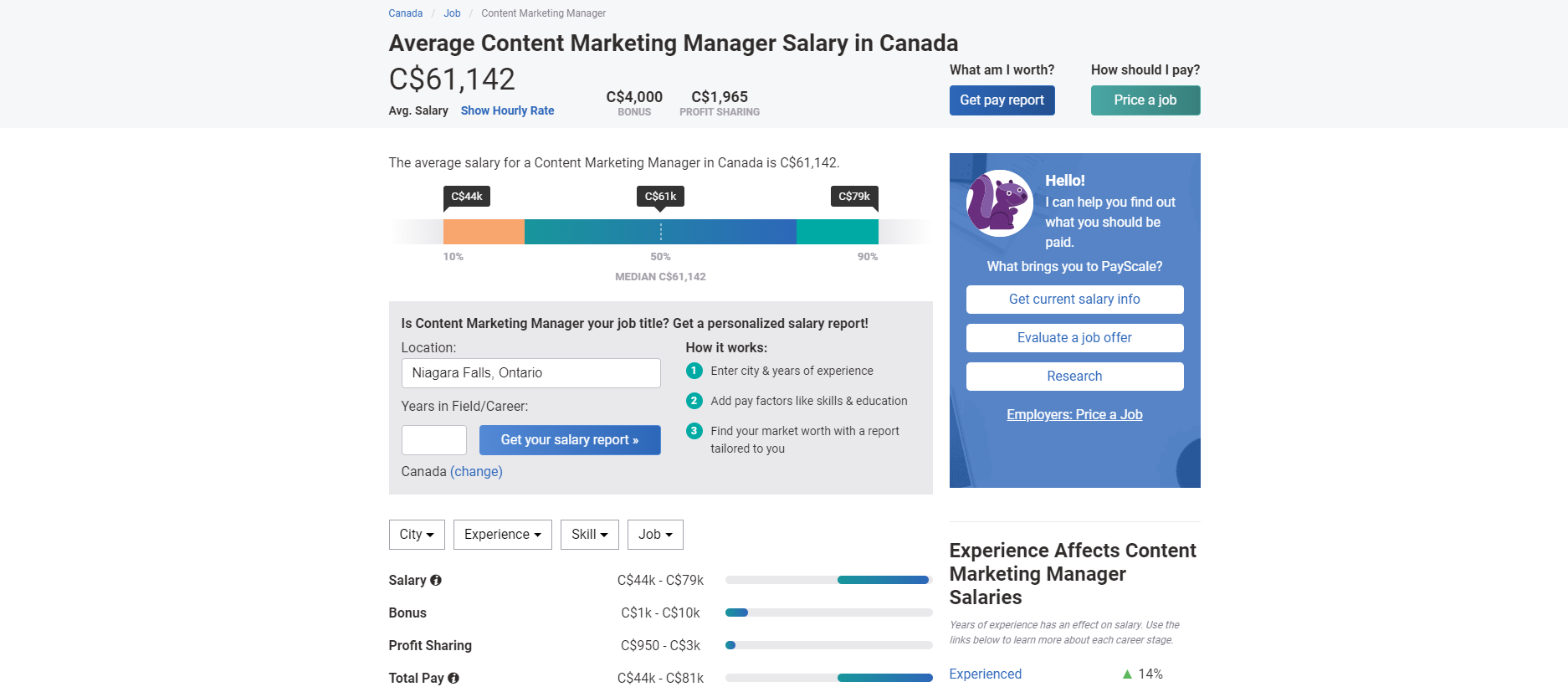 The average salary for a content marketing manager based on their findings is $61,142. This also comes along with an average bonus of $4,000 and $1,965 in profit sharing.
This position is capable of helping you land a job as a marketing director, editor in chief, vice president of marketing, and similar roles, too.
You will have the skills and experience with marketing and managing teams that will set you up for more lucrative careers later on if you wish.
Glassdoor's findings are based on nine salaries in their database, but points towards content managers being a higher paid than PayScale's data.

They state the average salary is $74,000 and $90,000 on the high end.
Furthermore, Neuvoo claims that content marketing managers earn $85,500 per year.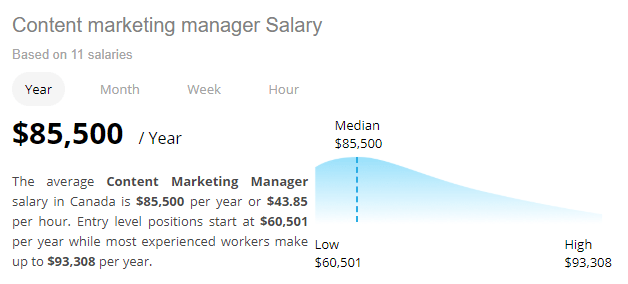 Their data found that the low end is $60,501 which aligns with PayScale's salary estimates, as well.
Overall, this position pays great and offers bonuses and profit sharing.
I also went ahead and compiled content manager salaries from a variety of companies to give you a further idea of how much the job offers.
Company
Pay
Electronic Arts
CA $54k – CA$78k
Sporting Life
CA $13 – CA$18hourly


Nelson
CA $49k – CA$66k
Global Eagle
CA $52k – CA$61k
Rogers Communications
CA $63k – CA$68k
BlackBerry
CA $90k – CA$97k
Ryerson University
CA $62k – CA$67k


Yellow Pages
CA $54k – CA$59k
CBC/Radio-Canada
CA $72k – CA$79k
Mackenzie Investments
CA$66k – CA$72k
TC Media
CA$83k – CA$91k



CA$83k

Canon Canada
CA$46k – CA$50k
IGLOO Software
CA$37k – CA$40k
Ruby
CA$64k – CA$69k
PressReader
CA$99k – CA$108k
EventMobi
CA$65k – CA$72k
Next, you're going to learn how to improve the odds of you landing a position like this and maximizing income.
Content marketing manager requirements
There are many different requirements that businesses will ask for when applying for a content marketing manager position.
These are some of the main skills you need to develop to increase your odds of landing a high paying position.
Content marketing experience
Who would've thought a content marketing manager would need to be good at content marketing?
Experience producing content across a variety of platforms and formats is crucial if you want to make it in this career.
Companies don't produce content on a single platform anymore, either. They're omnichannel.
That means you need to understand blogging, video marketing, podcasting, etc.
Furthermore, you need to understand content distribution. You can't just kick your feet up after publishing content and call it a day.
It's mandatory that you know how to promote content and get it seen by a large audience quickly. I'll be touching on other skills you will need as a manager which relate to this in a moment.
Search engine optimization
What goes hand in hand with content? SEO.
While most companies will have a department or team dedicated to SEO, it's still an extremely valuable skill as a content manager.
You'll be able to show that you're capable of researching keywords, optimizing content, and recognizing opportunities to outrank competitors.
I recommend learning more about on-page SEO through my previous articles here:
The other side, off-page SEO, can be learned via these articles:
Do you know the fundamentals of generating leads?
Businesses don't produce content for no reason. I hope not, at least.
One of the main reasons content marketing is so popular is because it generates leads and builds trust with consumers.
However, it's not that easy.
There are very specific strategies content marketers need to grasp if they want their content to generate meaningful results.
One of the first is lead magnets. I wrote an entire guide to lead magnets if you want to read that first.
A lead magnet is a free resource you offer in exchange for a user's information.
It allows a business to keep in touch with their users while potentially selling them later.
Lead magnets can be generic, such as a course and e-book, or made specifically for each piece of content you publish like a checklist.
Content managers need to ensure that their team creates relevant lead magnets for their content calendar.
Email marketing is still relevant
Sure, email is decades old, but it's effectiveness has barely aged.
That's why 93% of B2B marketers use it as a marketing channel. If you're in the remaining 7%, you need to join the club!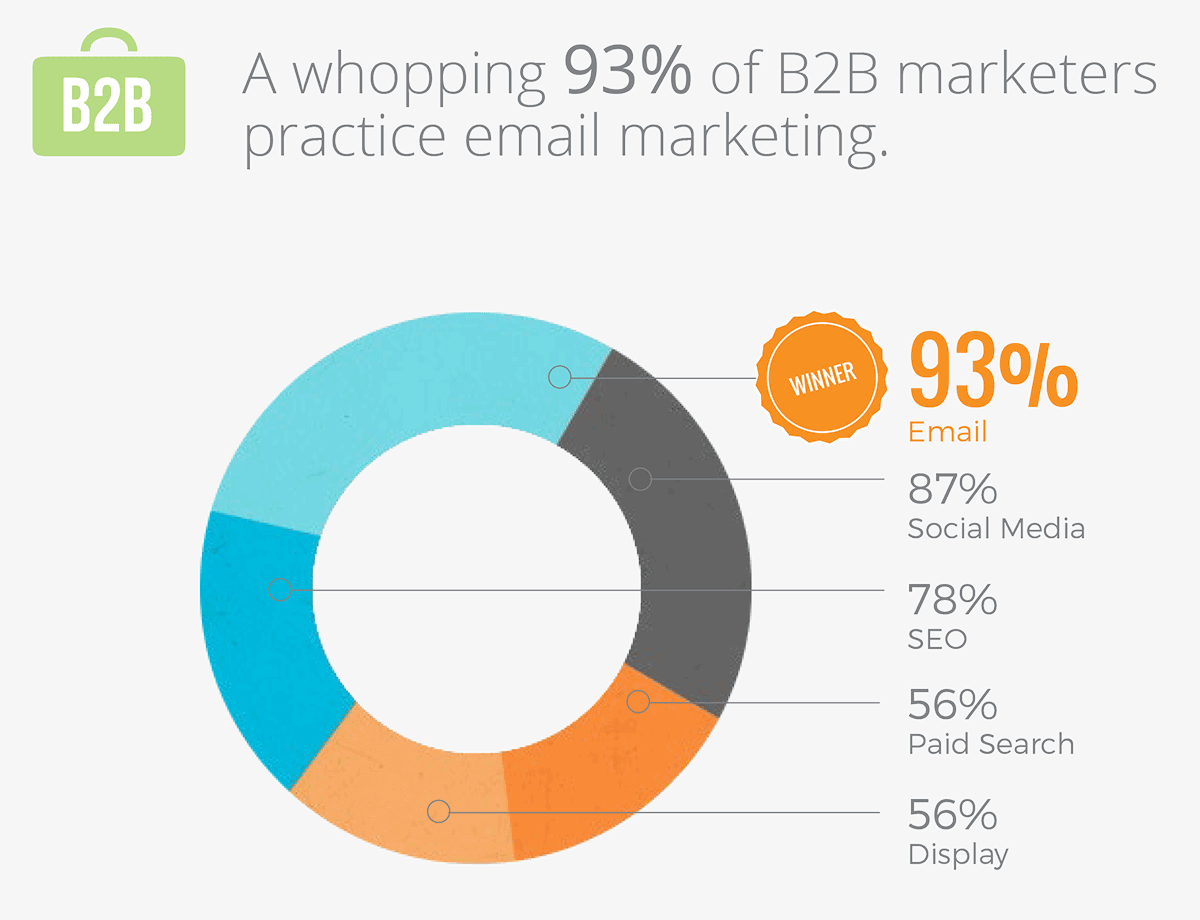 Email marketing will play an integral part in your day as a content marketing manager from sending out newsletters to updating customers.
Being an effective email marketer means you understand copywriting strategies, the best times to send emails, and can use email software effortlessly.
Read my previous on email marketing to sharpen your knowledge before applying for managing positions:
Social media marketing
You use social media, don't you? But can you use it to grow a business?
Personal and business use are two completely different fields.
Employers won't be very impressed by your 800 Instagram followers, but they will be if you know how to increase engagement and drive sales via social channels.
That's why a common requirement is experience using all of the major social networks and grasping the individual strategies used for each one.
For example, how you manage content on Twitter won't be the same way you do on LinkedIn. They're vastly different platforms with unique audiences.
Technical sophistication
The geekier you are the better. In other words, if you know how to code, navigate any new software, and quickly learn computer skills, you'll be an excellent content marketing manager.
This skillset is also known as technical sophistication.
Millennials and the future generation who are practically born onto smartphones, computers, and tablets will have no issue becoming a good content marketing manager in this sense.
Every day there's a new software people are raving about and you need to figure it out in the snap of a finger if your company adopts it.
Working well with people
You're going to be managing plenty of people. And I mean a lot.
Content writers, SEOs, designers, marketers, you name it. You'll be leading them through projects and tasks on a daily basis.
That's why a typical requirement for content managing positions is being a people person.
I highly recommend you read the book How to Win Friends and Influence People. Despite it being written in 1936, the advice still holds up today.
It covers practical ideas about being liked by people and becoming charismatic. A lot of it heavily applies to entrepreneurship and the corporate world.
I've read it twice and can confidently say it changed how I interact with people and network.
How to get a better salary as a content manager
Educating yourself about how much content marketing managers make, similar positions, and duties allow you to benchmark job openings you apply for.
Having this knowledge beforehand ensures that you will find the best possible deal while also being able to negotiate better because you know what you should be getting.
Here are some tips for achieving that and more.
Showcase results you've previously generated
Have you grown your own websites, clients, or a business you worked for in the past?
This is critical to show and will help you stand out among other applicants.
Results are what matter the most for business at the end of the day, so don't be afraid to brag.
Things to talk about would include content marketing campaign successes, website traffic increases, and any other relevant stats.
This will display that not only can you generate results for the potential employer, but you clearly have the skills to do so which will transfer over to the position.
Create a presentation that displays your knowledge
Presentations can be used to land a new job as a content marketer or ask for a raise if you've already begun your career.
They can be presented during performance reviews to propose a percentage or dollar increase in salary. Leverage the revenue or results you've accumulated during your time at the company to justify the pay raise.
Include references and other people in the company that can vouch for your teamwork, performance, and skills.
Take on extra projects
Most content marketing manager positions include bonuses and profit sharing. This means that the better work you do, the more you make. Your base salary might be $74,000 but it could easily total $100,000 with the right bonus and shares of profit.
This is why you should always ask if there are any other projects you could help out with, as it will allow you to increase your salary.
Know your worth and market rates
You now know some benchmark salary rates for when you apply for content manager positions. Once the day comes you are offered a job, make sure to negotiate pay based on the information I covered previously.
If you know that the average is $64,000 but they propose $50,000, it'd be wise of you to counteroffer with a higher amount because you know what other content marketing managers are being paid.
Similarly, if you truly have the skills and experience to help a company grow through content marketing, you are worth the investment as an employee and should demand higher rates.
Wrapping up content marketing manager jobs
Being a content marketing manager is a very rewarding and lucrative career. It suits anyone interested in producing content, managing teams, and optimizing campaigns.
The base salary is between $60-70,000 based on the data we looked at today, but it can easily go up to $100,000 with the right experience and negotiating.
This isn't taking into account profit sharing or bonuses, either.
Use the information you learned today to hire a great content marketing manager or jumpstart a new career!