55% of marketers agree that their top marketing priority is producing blog posts.
Does that ring a bell?
Blogging increases organic traffic, how many leads your business generates, and changes how customers view your brand.
However, writing a blog post is only half of the battle.
So many marketers and bloggers publish an article, kick up their feet, and call it a day.
Not so quick.
A wise marketer once said that content creation is 20% creating and 80% promotion. That man is Neil Patel.
That's why today I'm going to be teaching you effective blog promotion strategies you can start using right away.
Furthermore, look at websites like Buffer for inspiration. They collected data from 2011 to 2017 and concluded that their blogging efforts resulted in 1.5 million monthly sessions!
Don't you want numbers like that?
Keep reading if you want to learn how 🙂
I'm sure you're on social networks. But, are you using them correctly?
They can be seriously powerful tools to promote blog posts and get them seen by a larger audience.
Here's how you can use social media platforms more effectively to grow your blog.
Linkedin and Linkedin groups
Did you know that Linkedin is the most effective B2B social network?
Even if you aren't in a B2B industry, it's a platform you absolutely need to use for promoting your content. Your target audience is bound to be on there with the immense amount of users.
I wrote a guide to marketing on LinkedIn you should also read before moving onto the next steps.
It all begins with a great profile, so let's breakdown what one looks like first.
Use a high quality picture
A picture is worth a thousand words. If you use a photo of you after three shots of tequila with your friends at bar, don't expect to make a good impression.
That's why you need to get professional photos taken, or at least use ones that are formal in nature. Look at this guy.
He's smiling, has a suit on, and it's a high quality photo. It's not a selfie or low resolution picture. Take some notes.
Work experience and education
People like to read content from influencers and experts. That's why the influencer industry is expected to grow to $10 billion by next year in 2020.
It's also why you need to fill out the work experience and education section of Linkedin carefully. Continuing off of Patrick's profile, look what he has:
He's neatly laid out all of the major occupations he's worked for that relates to what he currently does now.
You don't have to be a NASA scientist that graduated from Yale and drives a Lamborghini to be someone that knows their stuff, either.
Simply fill out this section of your profile with as much detail as possible, so you appear knowledgeable and authoritative.
Write a wicked description
The description area of your profile is an opportunity to use storytelling or showcase what makes you special.
Here's an example of a great Linkedin profile description:
It begins with a personal story that draws you in, but also mixes in how they become an entrepreneur, along with notable achievements. This is a great template to try for yourself.
Now it's time to get down and dirty.
When you content mark on Linkedin, it's crucial that you use a call to action to invite users to click through.
Calls to action are psychologically proven to be effective at making people make choices.
I wrote an entire guide to calls to action you need to read some time, too. You'll love it.
It might look something like this.
Here are some more examples of calls to action you can use:
[fusion_alert type="success" accent_color="#808080″ background_color="#ffffff" border_size="" icon="" text_align="left" text_transform="" dismissable="" box_shadow="" hide_on_mobile="small-visibility,medium-visibility,large-visibility" class="" id="" animation_type="" animation_direction="left" animation_speed="0.3″ animation_offset=""]
Act right now
Add to ___
Apply today
Be sure to ___
Book now
Buy now
Call us today for a free ___
Check our ___
Check out this ___
Choose ___
Click the button
Click to read more
Learn about ___
Come see ___
Compare ___ and ___
Contact us
Discover ___
Don't forget to ___
Don't miss out on ___
Don't wait
[/fusion_alert]
Additionally, you want to take advantage of hashtags, as these will place your content in front of more users on Linkedin. Those searching for hashtags you use will find your content, read it, and share it.
When you're ready to share a blog post, type the pound symbol followed by a relevant phrase. Linkedin will give you some ideas via a dropdown menu, as well. Use a few at max to avoid looking like spam.
The key to success on Linkedin isn't just promoting a blog via the feed, though. You need to join groups, and post your articles there, too.
That brings me to my next point.
Promoting via Linkedin groups
Groups can have hundreds of thousands of members that will eat up your content like a turkey on Thanks Giving.
Begin by clicking the "Work" tab on the top navigation and clicking "Groups" on the sidebar popup.
Here you can search for groups that are relevant to your industry. For example, you may want to search for "SEO" if you primarily publish content on search engine marketing. That way you hyper-target the best audience to interact with.
Join as many of these groups as you like. The maximum amount you can be a part of is 50. Imagine the audience you will have when you reach this cap.
Once you're ready to share a blog post, click the "Start a post" button and use the strategies you learned earlier about calls to actions and hashtags.
Every time you publish a new article, share it in every group that you are a part of. Ensure that you reply to comments and remain as an active member of the group, otherwise, it looks like you're spamming.
Facebook and Facebook groups
Facebook remains as the largest social networking site, and you'd be crazy not to be using it to promote blog posts. Heck, the average active monthly users is still compounding greatly.
You can use it very similarly to Linkedin, where both the news feed and groups act as useful channels to share your content. Here's how to pull it off correctly.
Create a Facebook page for your brand
Navigate to the "Pages" section of Facebook here. Click the "Create Page" from the top right afterward.
Next, choose the correct type of page you'd like to make. If you're an agency or brand, choose the first option. Public speakers or solopreneurs may be better choosing the second one.
Enter a page name, choose a category, and fill out the address of your business on the next page if you chose the first option. The required information isn't much different for community or public figures.
Upload your logo or a high quality photo for your page on the next step.
The cover photo is the image that acts as a banner for your page, and should directly relate to what you specialize in. I recommend using it as a way to promote lead magnets or special offers, as well.
Lastly, it's time to drive traffic! Click the "Create Post" button and paste in the URL to your blog post.
Use relevant hashtags to get it in front of more people, and choose an interesting preview image.
Become active in Facebook groups
You can grow a name for yourself and drive users to your blog through Facebook groups, similar to Linkedin earlier.
Begin by typing in a phrase that relates to your industry or niche, and filtering the results by groups.
Click the "Join" button on any active large groups. Once you're accepted, you can share content as you normally would on Facebook.
It is crucial that you remain active, responding to comments, and providing further insight if anyone asks for it.
Twitter
A study performed by the Pew Research Center concluded that 46% of Twitter users are active on their accounts daily.
This is great news for bloggers and marketers.
Twitter is the perfect platform to share articles, get feedback, and jump into conversations. Here's how to promote a blog via Twitter.
Slide into conversations
You probably thought I was going to say slide in someone's DMs. That's for another day.
Instead, you want to focus on finding conversations that are already started about something relevant to your niche and joining them.
Search Twitter for a phrase related to your brand or a recent blog post, and click the "Latest" filter.
Reply to users that are talking about something you can chime in on, like such.
You don't need to interject your content like this straight away if you don't want to, though. You can strike up a good conversation, then add a link to your blog when it makes sense.
I recommend using a free Twitter hashtag research tool like Socialert. Tools like this will help you discover high performing hashtags to use when you promote a blog post.
Begin by typing in a hashtag you would like to analyze.
The following page will display data for the last 500 tweets, including:
How many posts included the hashtag
How many impressions it made, along with its reach
Top mention
The countries that used the hashtag the most
More
Use a few hashtags that have large reaches and impressions in every post you share on Twitter. Don't go overboard, though. Three is a good amount to aim for, but not more.
Pinterest
Blogging is a heavily visual based activity. You have images, graphs, screenshots, and more pictures commonly placed throughout the content.
This is why it mixes perfectly with Pinterest.
With over 250 million active monthly users, you'd be nuts not be using it as a way to grow your blog.
Specifically, you want to post infographics that link back to your articles. Here's how to make beautiful infographics and share them on Pinterest.
Step 1: Use Canva to make infographics
I've recommended Canva many times on my site because it's plain old awesome!
It's completely free and empowers bloggers to create stunning graphics to impress their visitors with.
Sign up for an account and click the infographic option or search for it.
Choose a template from the sidebar, and replace the text and images to sum up one of your blog posts.
The "Elements" tab from the left sidebar is where you fill find cartoons, shapes, lines, and other things to spice up your graphic.
Once you're finished, click the download button from the top right.
Step 2: Create a board on Pinterest
Navigate to your profile page, and click the "Boards" tab. Select the "Create board" option alongside your existing boards if you have some already.
Give it a descriptive name that sums up all of the images you will pin to it. It's wise to separate every topic into different boards, so users can easily navigate your page.
Step 3: Upload your graphic!
Click the red plus button on the top right of Pinterest and hit "Create Pin." Upload your infographic, and give it an exciting name.
Make sure that you add the URL of the original article at the bottom of the pin, and attach it to the correct board. Once you're finished, hit the save button!
Check out my guide on using Pinterest to increase blog traffic to learn more about this method.
Search Engine Journal defines content syndication as such.
There are heaps of websites that will allow you to republish your content, or links to it, completely for free. Ahead are some content syndication sites you need to use in your blog promotion strategy.
Y Combinator
Y Combinator is a seed funding company for startups, but they also have their famous Hacker News section.
Here you can submit content for the whole world to see, and an upvote system can help it go viral.
Simply enter a title and paste in the URL, and you're done 🙂
Yep, it's really that easy!
Reddit
Oh, Reddit. It's such a great website, but the community can be absolutely ruthless. If your content isn't top notch, expect to get some interesting critique.
Most traffic on Reddit comes from the United States, and users spend approximately 16 minutes on the site at a time.
And as they like to say, there's a subreddit for everything. Yes, everything 😉 I'll let your imagination go wild.
Sign up for an account and search for a subreddit related to your blog from the top right search bar.
Let's say you blog about dogs; you would head over to the /r/dogs section.
You would then click the "Submit a new text post" from the sidebar.
Make sure that you follow all of the subreddit's rules, as you can easily get banned or your post deleted if you don't.
Use the same title for your Reddit post as the original article. Introduce yourself, and paste the content of the article directly into Reddit's editor. You should include a link at the end if it's allowed on the specific subreddit.
Certain parts of Reddit also allow you to create a link post, which makes the process much easier. Keep an eye out if that's available.
The key to success on Reddit is to respond to other users, answer questions, and not use subreddits as a spam promotion tactic. Moderators will see right through it, and delete your post if so.
Polish off your on-page SEO
Imagine promoting a blog post, getting tons of new readers, and you didn't have to lift a finger.
That's possible and it isn't a secret. It's called SEO.
You see it all of the time: amazing content and talented writers but they neglect SEO and get poor results.
Don't be like them.
All you need to learn are two things… keyword research and on-page SEO.
Before moving onto the next steps, here are some recommended readings from my blog on SEO:
Here's how to do both of them.
Researching keywords with Ubersuggest
Keywords are the foundation of your blog post. They tell search engines what the content is about and they'll rank you accordingly.
I recommend using the free keyword research tool Ubersuggest by Neil Patel.
Begin by entering a search term and clicking the "Search" button.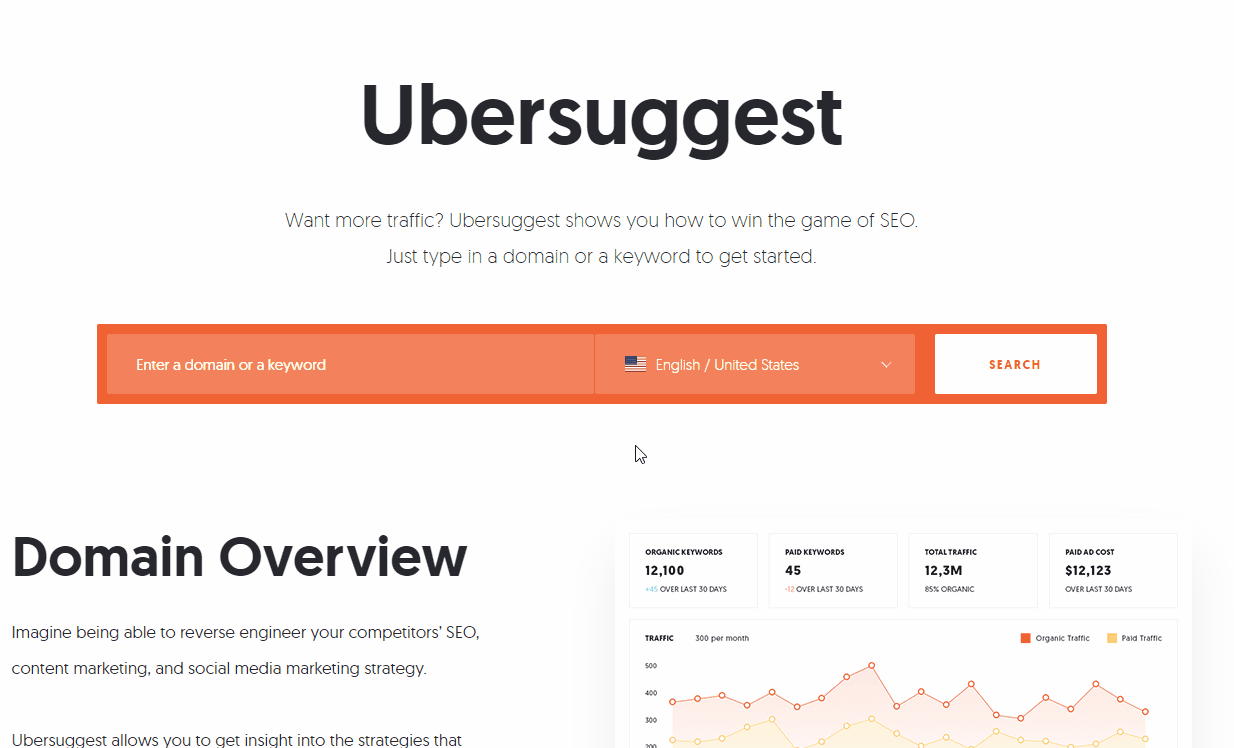 This will display metrics for the search term you entered along with keyword ideas. You can get more inspiration from the "Keyword Ideas" tab.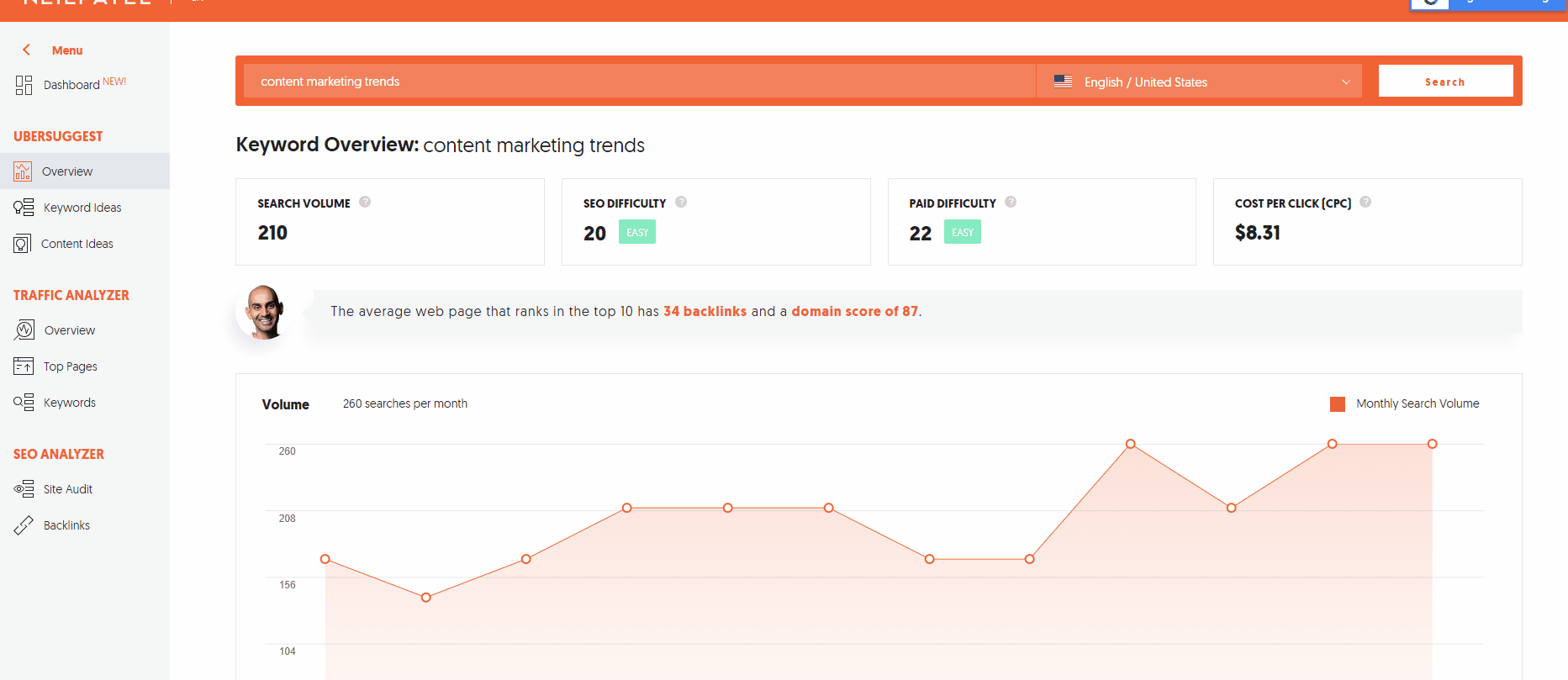 These keywords have to be placed in very specific areas of your website for them to be found by search engine crawlers. They include:
The URL
The headline of the blog post
Within the title tag and meta description
As header tags
Within the body of the article
File names and alt text for media
Perform these steps every time you write a blog post and it will greatly boost its performance in the SERPs.
I also recommend you read my review of Ubersuggest to learn how to use it more in-depth.
You can also reach out to me to learn more about my Toronto SEO services.
Wrapping up promoting blog posts
As great as it would be to publish a blog post and have waves of traffic come in without any extra effort… it's just not how it works.
You need a solid blog post promotion plan if you want to grow your blog or use it as a way to generate customers for a business.
It all begins with making sure that you have your bases covered on social media.
Begin with LinkedIn, especially if you're in the B2B market. Create an impressive profile, share content, and make sure that you post articles in related groups.
Similarly, create a Facebook page and join Facebook groups to use in the same manner.
Twitter should be used as a way to join conversations and interact one-on-one with a target audience.
I'd recommend using Pinterest to share infographics that link back to the original blog post and creating boards for all of the topics you write about.
Then, it's all about content syndication, baby. Reddit and Hacker News are just a couple of the content promotion websites on the internet you can use for article promotion.
Check out my content writing services if you need help writing epic blog posts.