Do you blog?
You should.
It's an effective way to generate organic traffic and leads to your website.
Every business needs to integrate a blog if they want to succeed in the long term.
That's why I've put together these interesting blogging stats that will help you shape a better strategy.
Let's dive in!
#1 – 53% of marketers agree that blogging is their biggest priority (Source)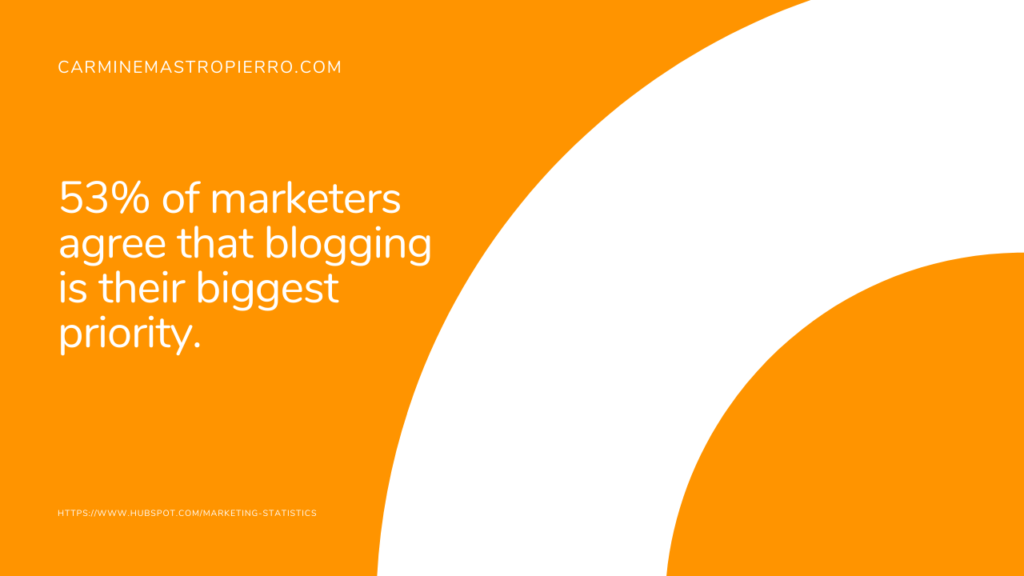 This shouldn't be much of a surprise.
Companies are waking up to the fact that they need to produce meaningful content and value if they want to grow.
Blogging offers your customers resources, information, and entertainment all for free. More users will find your business through organic search, and great content makes your brand look appear reputable.
No matter what your marketing strategy consists of, you should consider moving blogging up your list of priorities.
#2 – 65% of marketers plan to blog more often (Source)
You need to publish content on a regular basis if you wish to generate followers and fans of your blog posts.
That's why a majority of marketers are beginning to gradually ramp up how much content they produce.
I'd recommend beginning at once per week if you haven't regularly published articles. You can slowly raise this to two or three times per week once you have a consistent strategy down pat.
It's also wise to research your competitors. How often are they posting? Use this as a benchmark and as a way to determine if you're being left in the dust or doing better than them.
#3 – Websites with blogs have over 434% more indexed pages on average (Source)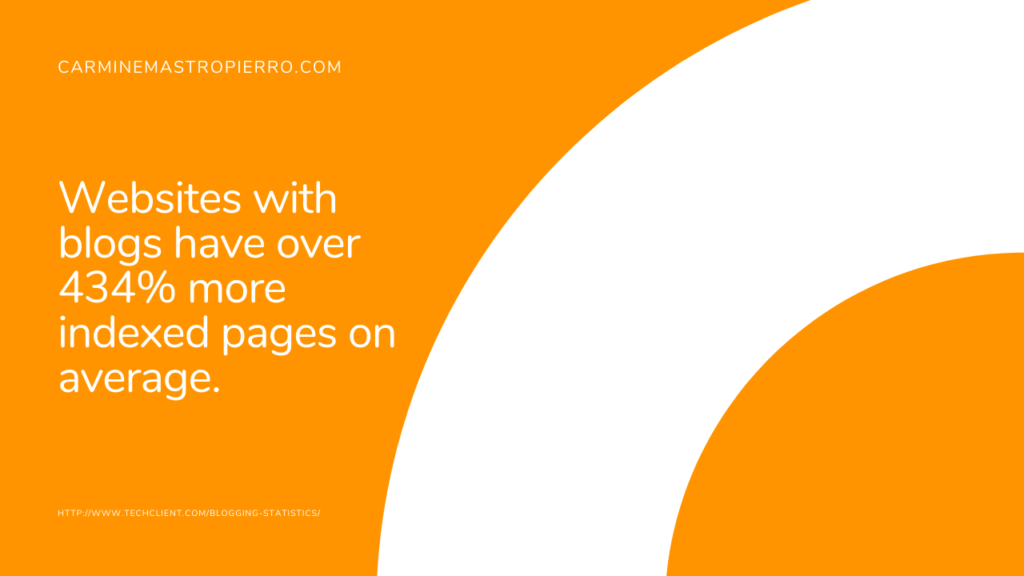 SEO goes hand-in-hand with blogging.
Every blog post should be centred around a few different keywords. You can use tools like SEMrush to find search phrases.
Place these in the title, URL, body, and header tags of articles. Google will send crawlers to your site and help rank you higher for these terms.
The more indexed pages you have on search engines, the more traffic you will gain. The more traffic you gain, the more potential money you can make. Simple as that.
#4 – 47% of consumers read 3-5 pieces of content before they contact a sales rep (Source)
Publishing blog posts shows customers that you are trustworthy, authoritative, and knowledgeable about your industry.
This is why almost half of all buyers will consume several pieces of content before contacting your business.
Focus on top-of-the-funnel content like guides, tutorials, and general articles on niche related topics. This helps draw in as many people as possible, which you can direct towards whitepapers and case studies for more serious prospects.
#5 – Blog posts that contain images get up to 94% more views (Source)
Blog posts aren't newspaper articles.
They need to be entertaining to read even if they're informational.
They shouldn't be several blocks of text without any visuals.
That's why nearly all articles that contain images get more attention.
Use tools like Canva to add interesting graphics, charts, and cartoons to your content.
It will make it more appealing to the eye, and visuals can also contain more resources like with infographics, for example.
Don't just blog to get content out there or to make money.
Blog because you want to help people and improve their lives.
That will cause a viral effect, where users share your content because it's genuinely useful and interesting.
94% of your audience is willing to share blog posts via social media, email, and other channels, but you have to make it worthy of sharing first.
I suggest focusing on making content as practical as possible. This means adding in step-by-step instructions, case studies, and real data to support points.
Do this and watch your social shares fly through the roof!
#7 – B2B companies that blog generate 67% more leads (Source)
Do you want more clients and revenue?
Of course, you do!
Businesses that blog gain upwards to 67% more leads compared to those that don't.
Going off of the previous blogging stats we've touched on, this makes sense because:
You're proving thought leadership and authority.
Content showcases knowledge and expertise in a specific field.
It builds trust with buyers.
Blog posts drive organic traffic, which consists of potential leads.
However, you need to ensure that you target a precise buyers persona. This is a personification of your ideal client.
Having a documented persona ensures you generate the highest quality leads with your articles.
Unfortunately, most businesses run amuck without one. They're essentially shooting in the dark and hoping for the best. Don't be like that.
Here's an example of one for inspiration: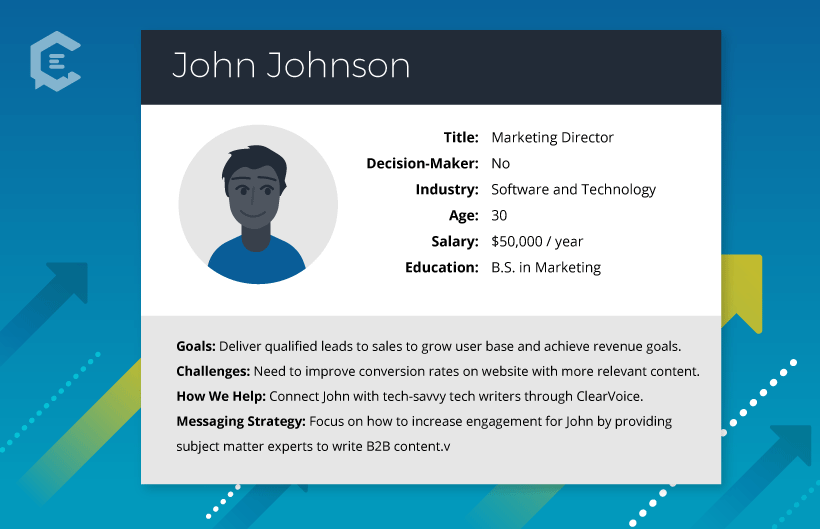 A persona typically consists of elements like:
Demographics
Psychographics
Questions
Strengths
Weaknesses
Don't worry if you lack extremely detailed data about your clients, either. You can improve your persona over time as you collect data.
Every time you're researching topics and writing an article, reference the persona to ensure it matches. Doing this will guarantee that you're attracting and targeting the correct audience.
#8 – Leads from search engines having a closing rate of 14.6% (Source)
Outbound leads have a 1.7% closing rate versus 14.6% from search engines. That's almost 14x!
Why is this so? Because if a user looked up a specific keyword and came across your website, they're much more qualified.
They're coming to you, not the other way around.
You don't need to be the Bill Gates of SEO to begin seeing results like this. It simply begins with grasping the fundamentals of on-page SEO first.
I've written a guide to on-page SEO you should read to get in-depth knowledge on fortifying your site for search engines.
However, I won't leave you hanging. These are some of the main ways you can instantly improve your rankings and search engine visibility:
Increase the page speed of your website with image compression, caching, and a good web host. This will make the user experience better and helps Google crawl your site faster. Check out a free plugin like W3 Cache to achieve all of these things at once.
Target a mix of low, medium, and high competition search terms with a tool like Ubersuggest or Wordtracker.
Optimize title tags, URLS, file names, alt text, and meta descriptions. Search engine spiders check all of these small details to guage the topic of your website and content.
On the flip side, there's off-page SEO. It can get a little murky since building backlinks, which is the core of off-page, is technically gray hat at best.
According to Google's terms of service, you shouldn't be building any backlinks to your website intentionally to improve rankings.
That's why I suggest learning how to scale guest posting. It's the process of becoming a guest author on another website which results in referral traffic and brand exposure.
Think of it as leverage.
Why build up your website to 500,000 visitors per month when you can take advantage of another business that's already done the work?
For example, I recently wrote a guest post for Search Engine Watch on landing page copywriting.
While I don't receive a direct backlink from the article, my name and writing abilities are on a massive website for the world to see 🙂
Imagine if you become a guest author on dozens of publications in your industry. Your phone would be ringing non-stop for work!
#9 – 70-80% of users will ignore paid ads and only look at organic content (Source)
We're used to seeing mountains of ads every day. Hence why outbound tactics don't work as well as they did in the past.
The average consumer can see right through traditional advertisements faster than Usain Bolt.
That's why a large majority of them are ignoring paid ads they see in search engines and only looking at the organic results.
This should act as more incentive for your company to begin blogging and building search engine market share versus dumping money into paid ads.
Similarly, content you produce acts as a business asset that will remain on the internet indefinitely versus an ad that only generates results when you pay it.
#10 – Compounding blog posts bring 38% of all traffic to a website (Source)
You might notice that a few of your articles drive the most traffic to your site. This is very common.
In fact, 10% of your blog posts will generate up to 38% of the traffic you gain.
These are what we call pillar posts. They are typically in the 3,000 to 4,000 word range, and are absolute beasts of content.
They're super interesting, practical, and edited to perfection. Pillar posts are engineered to go viral and be shared.
When you're producing content, aim to create something that will compound for years to come and never go out of use. Some people also call these evergreen posts.
They aren't based on trends or fads. Instead, these articles give readers knowledge that will never go out of style.
#11 – Only 8% of marketers use Medium in their content marketing strategy (Source)
Yes, you need a blog on your own website and domain.
However, you also need to be promoting your content on other channels, such as Medium.
I mean, who doesn't want extra traffic?
Medium is a blogging platform that you can use to republish content to reach a wider audience. Here's how to use it yourself.
Step 1: Register and make your first post
Create an account, fill out the profile, and click "New story" from the dropdown menu on the top right to begin.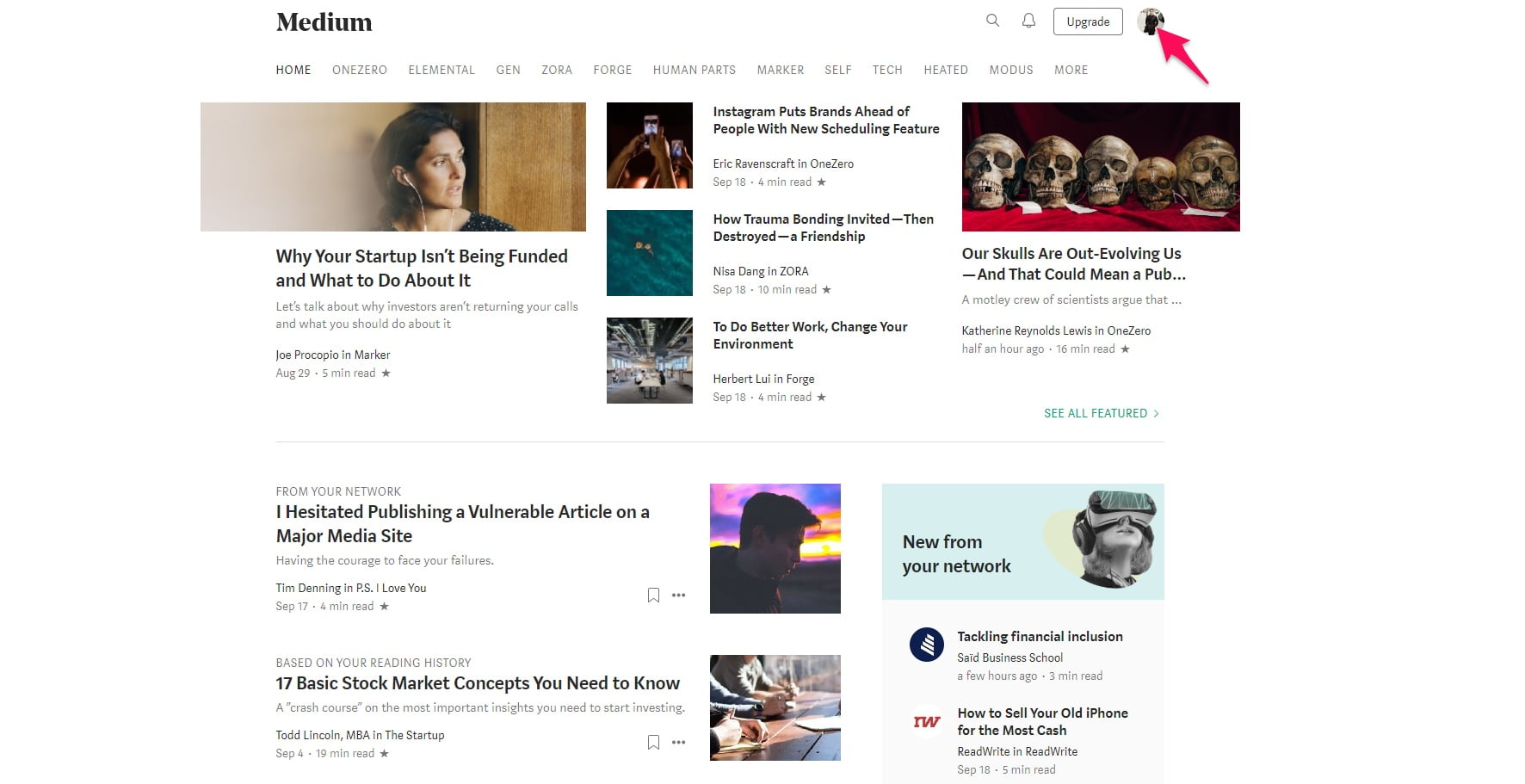 Paste over the title and body of your existing article here.
It's recommended to mention that the original blog post can be found on your website, as well.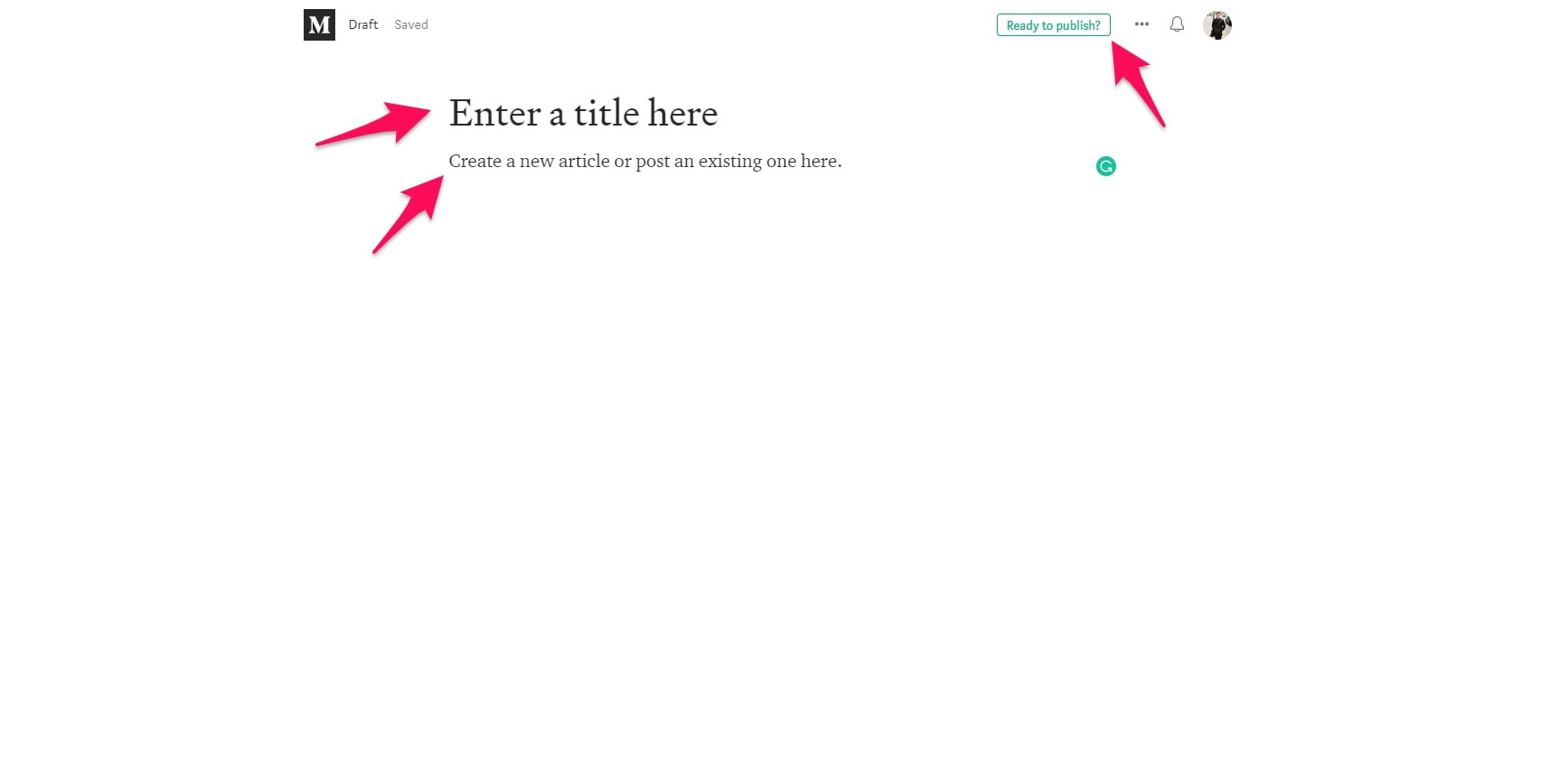 This will help funnel more users to your site, where they can find your products, services, etc.
Once you're satisfied with the Medium article, click the green publish button and it will prompt you to enter up to five hashtags.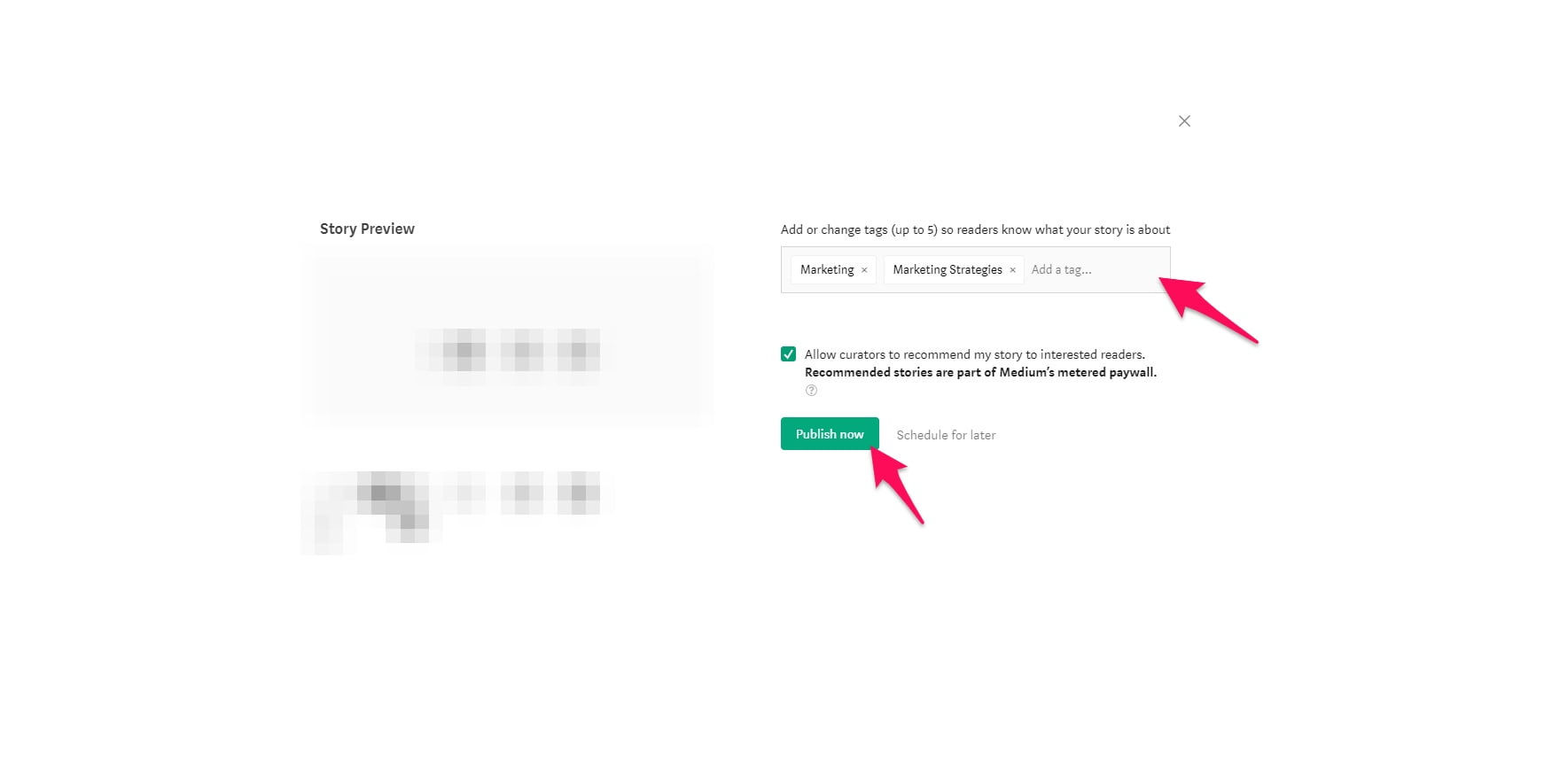 Using all five will maximize your reach, so don't skimp out here.
Click the "Publish now" button to offer your masterpiece to the world or schedule it for later if you wish.
#12 – Businesses that blog receive 97% more backlinks (Source)
Not only do you need to optimize content for on-page SEO, but it's crucial that you acquire high quality backlinks, too.
Links are like a voting system.
They inform search engines like Google that other websites trust you. If a single large website with authority link to you, it can be equivalent to hundreds of lesser quality links.
As a matter of fact, it's been proven that backlinks remain as one of the single greatest ranking factors.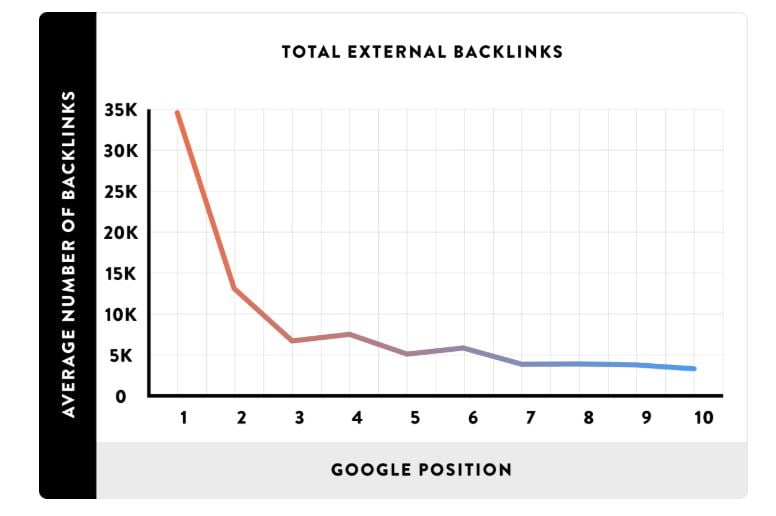 While you can perform link building campaigns, always remember the saying "build it and they will come."
Publishing high quality blog posts will naturally attract backlinks as webmasters search for resources to share in their own content.
As I mentioned earlier, it's also effective to guest blog on other websites to build links and boost PR.
#13 – The average reader only spends 37 seconds on an article (Source)
Have you ever looked at your bounce rate or average time spent on page and cringed?
Don't worry, it's probably not your fault.
The average reader is spending slightly more than half a minute on any given blog post.
People are crunched for time and don't want to read every single word. They're trying to extract as much value from content as quickly as possible.
To align with this behavior, you should format articles with header tags, lists, images, and bullet points.
This makes sure that readers can easily digest and navigate posts versus scrolling through big blocks of text.
#14 – The average blog post will take 3.5 hours to complete (Source)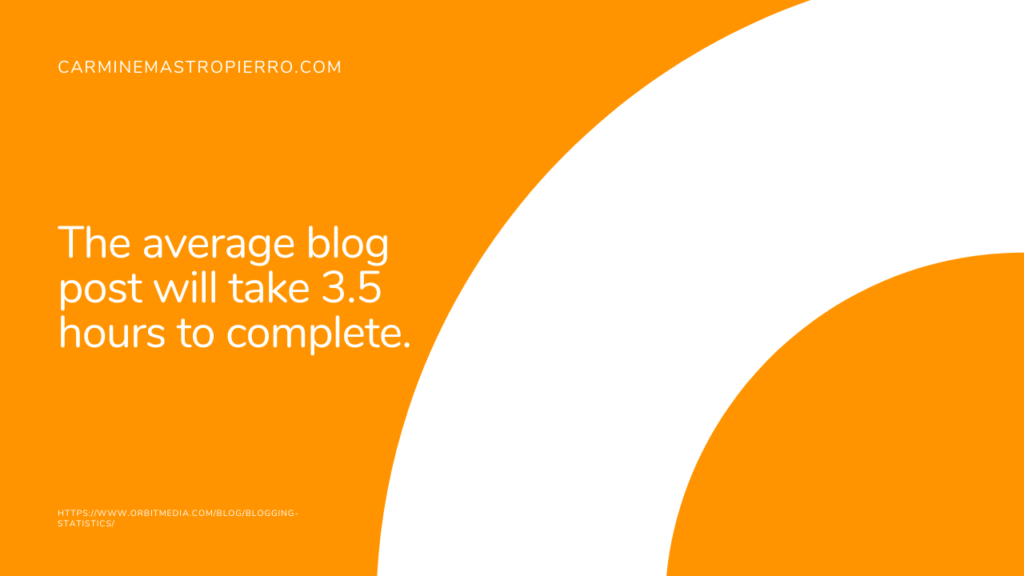 Blogging isn't quick or easy.
You first need to research topic ideas and plan out each individual piece of content.
From there, you write it and go through the editing and proofreading process.
You might want to kick your feet up after, but it's only begun. Now marketers need to purpose and promote the article.
I really wanted to include this blogging statistic in today's piece because it's a reminder that creating valuable content takes time. Think of it as an investment.
You should check out my two previous articles on building a proper writing process and overcoming writers block. They will enhance your writing capabilities tenfold.
#15 – The #1 result on Google tends to be 1,890 words (Source)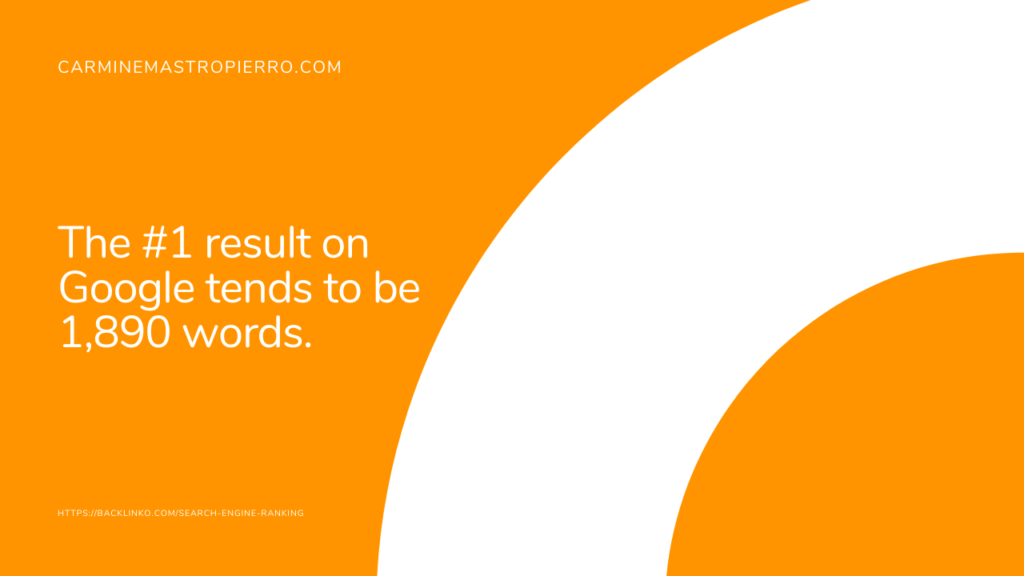 Backlinko did a study where they analyzed one million Google results and found that the first position was 1,890 words on average.
Long form content is all the craze right now. Everyone is talking about it and implementing it into their content strategy.
Why? Because frankly, it just works.
Longer articles allow a business to rank for more keywords, improve UX metrics like average time spent on page, and increase social sharing.
Besides all of that, it's also more valuable to the reader. They get more information and resources versus a ashort form article.
As I previously mentioned, focus on developing a great writing process and be patient. Epic content that changes lives takes time to make.
#16 – Users read pages in an F-shaped pattern (Source)
The Nielsen Norman group identifed one of the most well-known user experience patterns on the web known as the F-shaped reading pattern.
This ,as the name suggests, is the scaanning of a web page in the shape of the letter "F."
It begins by looking at the top of left of a webpage and moving to the right. (Typically the logo and navigation.)
Then, the eyes move down and perfrom the same movement typically where a hero image and call to aciton can be found.
After that, readers continue down the page. Watch this video from Nielson Norman's study to see what I mean:
The research group concluded that this isn't always a good thing, however.
Readers can easily skip out on improtant information, preventing them from purchasing products or taking other transactional steps.
So, what's a blog to do?
The group recommends businesses take these actions:
Place the most important information first on every page so readers see it immediately.
Use headings and subheadings to organize a page and allow them to distinguish different points fast.
Use different color backgrounds, borders, or other visual elements to section off different areas and ideas so readers know when the topic is changing.
Bold important words and phrases for emphasis.
Optimize anchor text to be descriptive and information-bearing.
Use bullet points and lists to neatly organize steps and information.
Remove fluff and content that doesn't contribute to the bigger picture.
#17 – Concise content improves usability by 58% (Source)
Content needs to be easy to read. It needs to be digestible.
Otherwise, as I've touched on with previous data, readers will be less likely to enjoy or finish the content.
And that means less action taken. 🙅‍♂️
The Nielsen Norman Group discovered that in a test of five different writing styles that concise pages scored 58% higher in measured usability.
81 users across three studies were given the task of reading web pages. The first two were exploratory and qualitative to see what users liked and disliked.
The third study quantified the benefits of different writing styles found in the first two studies.
Users were asked to navigate to a specific website and find certain information. This allowed the research group to analyze reading and user experience patterns.
The first study concluded that:
Nearly all participants want to find specific keywords on a page through a search function. They used the browser's "Find" command if it wasn't available.
More than half o the participants mentioned that waiting for downloads or search results were boring and a waste of time.
Users enjoyed carefully organized information, vocabulary that resonated with them, topical relevance, and limiting each paragraph to one idea.
The second study discovered that:
Simple and informal writing is preferred. It makes it easier to understand and sounds like a conversation with someone. It's also believed to speed up the reading process versus formal writing.
Qualifications and credibility is an important concern by readers. They want to know if the information is coming from a reputable source.
Outbound links to other trustworthy websites build credibility and enhance the existing information on a page.
Humour can increase the entertainment value of a website but easily annoy users unless it directly relates to their sense of humour. Know your audience.
Users want information quickly and in a concise manner. The text should be scannable and summaries are highly sought after.
Graphics and visuals should complement the text and add further resources.
#18 – The inverted-pyramid style works (Source)
Another fascinating finding from the Nielsen Norman Group during 1996 that has remained in-tact over two decades later.
The inverted-pyramid writing style begins with the conclusion first and then gets into the fundamentals after.
This clearly allows readers to know what they will be learning about on the page and getting the most important piece of information first.
Journalists do this all of the time.
News stories and opinion pieces regularly feature the big enchilada of information in the first paragraph as a teaser.
Bloggers can take advantage of this user experience trend by clearly summarizing the main information at the beginning of each article.
Or, at least, explaining to readers the main points they will learn by continuing down the page.
Blog posts need to be shared and promoted to drive the most return.
This is because they will collect dust before they are indexed on Google and pick up a significant amount of organic traffic.
Why not get immediate users to the page and gain traction?
That's why most B2B companies use up to five different works to share content.
Some of the ones I suggest include Facebook, Twitter, LinkedIn, Medium, and Reddit.
These are fantastic for generating traffic quickly and receiving feedback.
Use hashtags and share content within groups on these platforms to increase the performance, as well.
#20 – Prioritizing business blogging increases ROI by 13x (Source)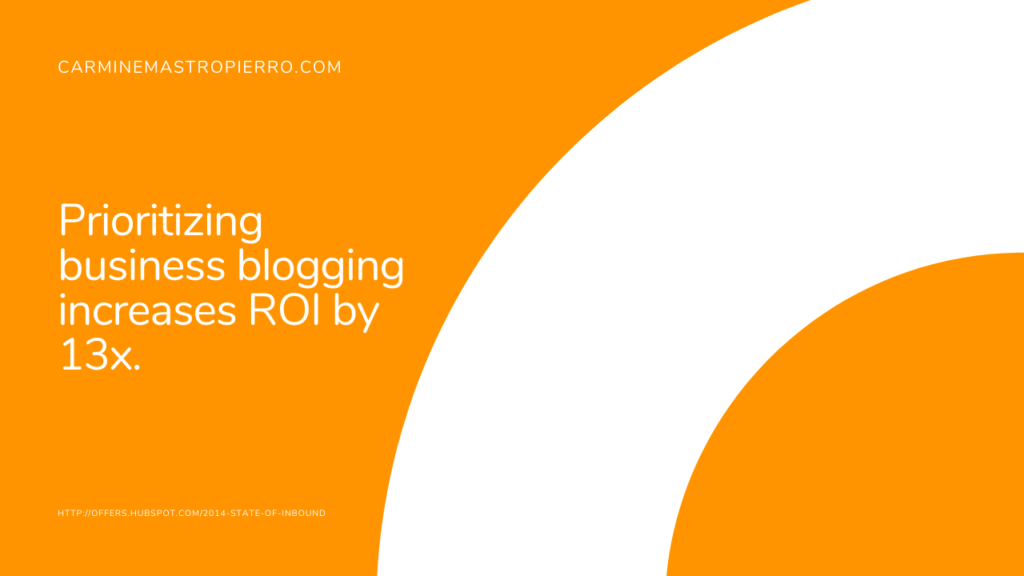 You have to double-down on a blog to get the most out of it.
The reality is that most organizations are blogging. You're no different.
This means that you have to make it a regular habit to publish contextual and high-quality posts.
Firstly, this establishes a regular readership of people who consume your content and engage with it.
Secondly, it compounds all of the benefits like traffic, brand awareness, and inbound leads.
Set a clear schedule for your writing team to produce content. Download my free content calendar if you need help with this process.
#21 – Each business blog post takes 3 hours and 16 minutes to complete (Source)
Don't rush content. It takes time.
In fact, it takes a little more than three hours to complete the average business blog post.
This includes writing, editing, and proofreading.
The time to do this can drastically increase when you're producing long-form content or more in-depth pieces.
Speed up the process by making a clear outline of all of the major and minor points you'll be making.
Collect resources and references to use during the writing process too.
Break blogging into three sections: writing, editing, and proofreading.
All three require different skills and processes, so mixing them can slow down productivity.
#22 – The top 200 Fortune 500 companies have a corporate blog (Source)
Surprise, surprise.
Nearly half of Fortune 500 companies had a corproate blog as of 2018.
Let that sink in.
The biggest companies in the world are aware that blogging and content marketing are a necessity in today's world.
This allows them to generate traffic, build trust, and increase authority.
#23 – The Huffington Post generates $14 million in monthly revenue during 2018 (Source)
Can blogs earn money? Hell yeah!
The Huffington Post pulled in $14 million/month in 2018. That's approximately $168 million annually recurring revenue.
How did they do that?
Primarily through advertising.
Bloggers can embed advertisements through networks like Google AdSense that pay them every time they're clicked.
You can also do custom banner ads for businesses that want to establish partnerships. You charge them based on CPM and the potential ROI they could geerate.
Blogs are great if you sell products or services too.
Use calls to action for relevant offers within content. Drive traffic to landing pages and deliver lead magnets.
Remarket to prospects through email marketing and paid ads.
Other ideas include affiliate marketing, e-books, and courses.
#24 – 70% of consumers would rather learn about a business through content than ads (Source)
Consumer behavior is constantly changing.
Companies have to keep up to date for the best results.
In fact, a large majority of people would rather learn about your busines through articles than advertisements.
This is because we are more resourceful than ever as shoppers.
We are bombarded with ads every day when we don't need them. 👎
People are more interested in learning about a business, building a relationship, and conducting their own due diligence.
Articles allow them to peak behind the curtain, get to know you, and generate trust.
Read my blog post on top of the funnel content to learn more.
#25 – 70% of marketers agree visuals perform best in articles (Source)
Content shouldn't be bland.
It needs images, visuals, and graphics. These provide more information, value, and context.
A majority of content marketers say that visuals perform the best when placed within content.
For example, take this article you're reading right now.
It has a variety of in-house and outsourced visuals.
Not only does this make the blog post better, it creates the opportunity to connect with other businesses and generate inbound backlinks.
I recommend adding relevant images and attributing the source.
Make your own as well with a tool like Canva.
#26 – List articles are the most popular blog post format (Source)
According to HubSpot, listicles (list articles) are the most popular format of blog post.
These are simply roundups of steps, tools, strategies, data, tips, etc.
Why is this?
I believe it's because they are convenient.
It saves people time from having to research items included in the list themselves.
Heck, take this article you're reading right now!
It's a listicle of blogging stats. 🙂
#27 – 52% of bloggers say it's getting more difficult to engage with readers (Source)
Do you find it's hard to engage with blog readers?
You're not alone.
As a matter of fact, you're in the majority.
I think there are two ways to solve this.
One is by enabling comments.
Be careful not to let a lot of spam through your door, however. It's commonly used by bots.
Secondly, ensure that you are collecting emails through a landing page or form.
You can send more content and ask questions through newsletters which allows you to connect with readers.
#28 – 64% of B2B marketers outsource blog copywriting (Source)
Blogging takes a lot of time.
Take it from me, a copywriter for hire.
You have to research topics/keywords, create outlines, write, edit, revise, and repeat.
Imagine writing thousands of words per day. That's my life!
That's also precisely why 64% of marketers in the B2B space outsource blog writing.
It allows you to generea traffic and leads while saving mountains of time.
Reinvest that free energy into building products, managing your team, and other high ROI tasks.
#29 – 60% of marketers reuse blog content 2-3 times (Source)
Do you let old content collect dust?
Don't worry.
You can maximize the ROI of blog posts by reusing them.
Let me explain.
A majority of website visitors are going to be new.
That means most people haven't read your old content. It's still technically new.
That's why 60% of marketers reuse blog posts by sharing them again in the future.
Promote it on social media. Send out it via email newsletter. Reach out to influencers and have them five feedback.
#30 – 34.5% of all websites are powered by WordPress (Source)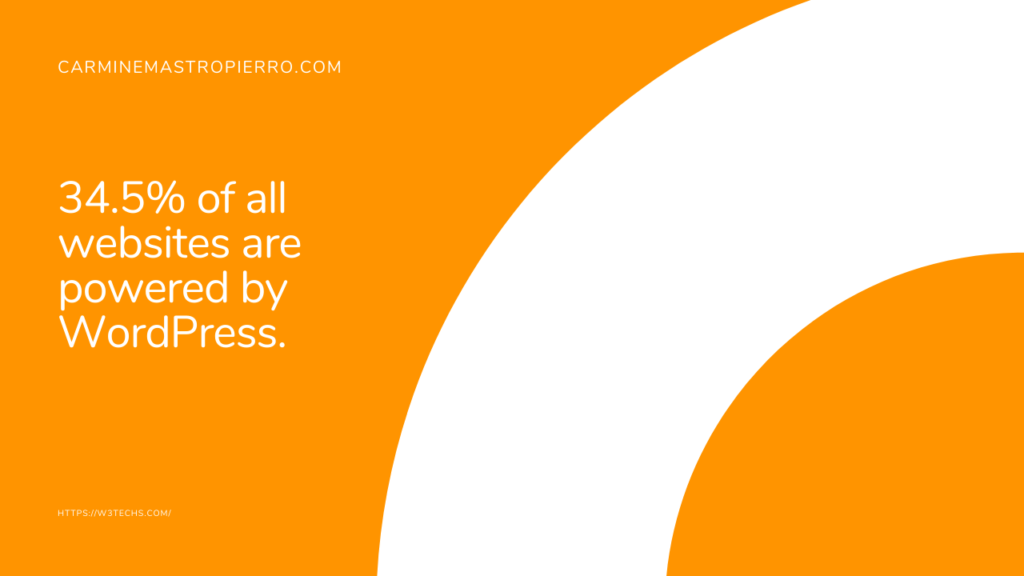 If I ask you what CMS you use, there's a big chance it's WordPress.
This is because it powers 34.5% of all websites on the internet!
How crazy is that?
It's fast, customizable, and easy to use.
You can use the built-in blog editor or a plugin like Elementor for creating rich content.
Wrapping up blogging stats
Blogging is important if you want to grow your business.
Every business needs to produce content on a regular basis if they'd like to generate more organic traffic and leads.
It also helps build rapport and trust with buyers, who are consuming more content than ever before.
Apply the main takeaways from today's article and see the results for yourself 🙂
Alternatively learn more about my Toronto content writing services if you need a freelance writer to help out.
Key takeaways
Blogging is becoming the top priority for most marketesr. It should be for you, too.
Marketers are planning to blog more often, so consider increasing your publishing schedule.
Blogging increases how many pages are indexed, increasing search engine traffic and visibility.
Most consumers read content before contacting a sales rep. Ensure that you have a healthy amount of blog posts and other resources to educate customers.
Visuals greatly improve the performance of blog posts.
Readers are more likely to share content if they believe others will benefit from it. Make articles as actionable and practical as possible to align with this behaviour.
B2B companies who blog generate up to 67% more leads, so don't neglect inbound if you run a B2B business.
Leads from search engines have a much higher closing rate. Learning on-page and off-page SEO is a must because of this.
Long form content ranks for more keywords and offers increased amounts of valuable.
Use Medium as a way to repurpose content and expand your reach.