What is an advertorial?
It is a mish-mash of the words advertising and editorial.
Advertorials take the best of both worlds from copywriting and article writing, combining them to create a whole separate beast.
They are written to entertain, persuade, and ultimately sell something. Since an advertorial is not just copy or an article, it is one of the most difficult sales materials to produce.
Consumers are more aware than ever about how often they are advertised to, and traditional forms are no longer working as they used to in the past.
This is why businesses have begun investing in advertorials, as it acts as a soft sell, using stories and valuable content to attract customers.
Look at what Merkle found in Q4 of 2017, for example.
The volume for search ad clicks slowed by 9%, yet the average cost per click rose by 14%. Spending increased by 24% year over year on top of this.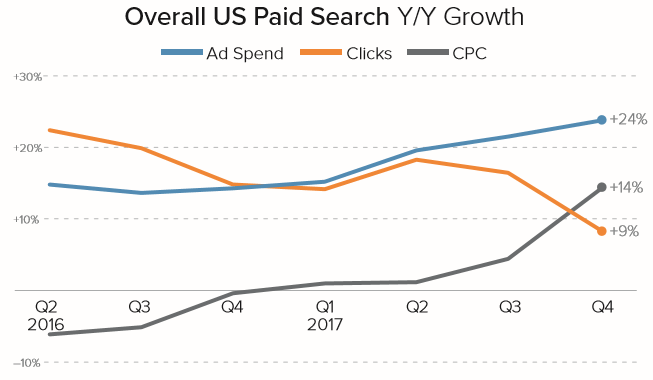 Being able to write good advertorials is a skill that every serious writer needs.
Even if you don't plan to write them yourself, and need content writing services from someone like me, it's key to understand how they work, so you can grade what a writer creates for you.
Follow along as I teach you how to write an advertorial and real world examples of them in action.
Advertorial examples
AB Magazine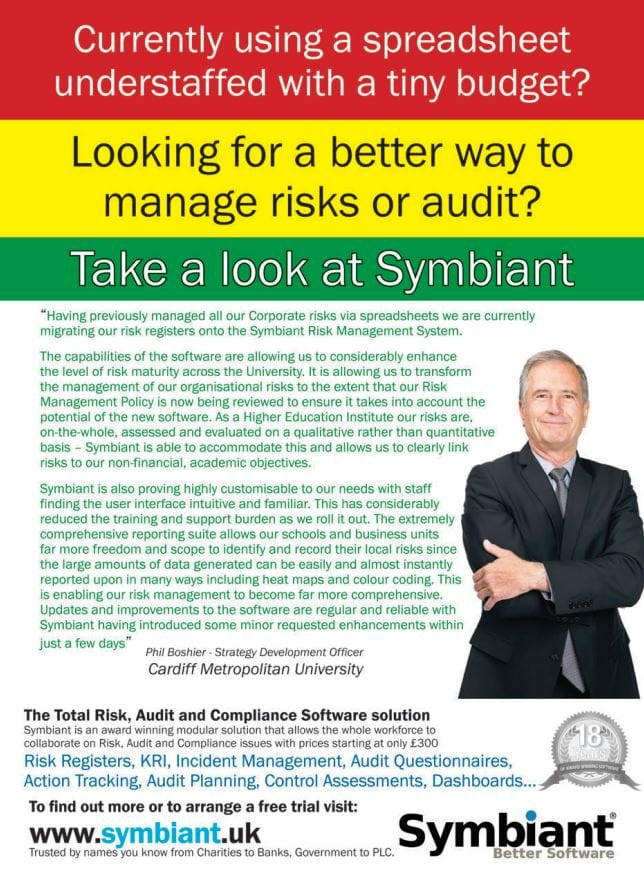 This is an advertorial from the Accounting and Business magazine.
It is a bit more bold and in-your-face than some other advertorials, but it gets the job done.
Note how the ad leads in with big headlines that ask questions which would relate to the reader's experience of being understaffed, having a low budget, and needing to manage risk.
This instantly gets the attention of anyone reading it.
The content of the advertorial itself is actually a testimonial from Phil Boshier, the strategy developer officer at Cardiff University.
Mr. Boshier talks about how Symbiant helped transform the management and organizational risks at his university.
He also speaks on how staff enjoys using the service, the amount of data and reports, and how convenient updates are.
Main takeaways:
Use contrasting colors and bold headlines to grab the attention of readers.
Take advantage of testimonials to build trust with potential customers.
Use a clear call to action like Symbiant did at the end of their article.
Stanford Business Magazine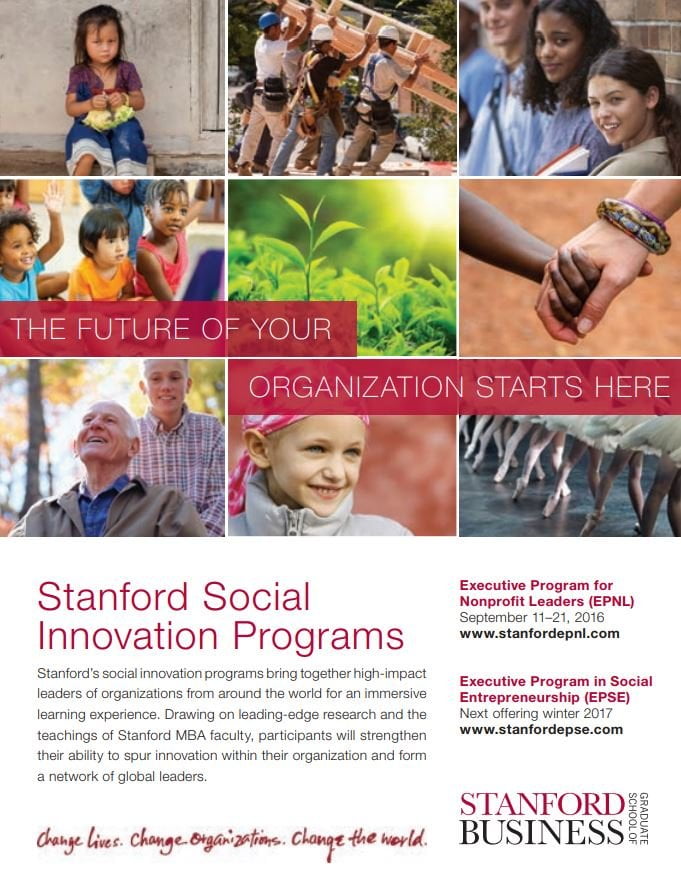 The Stanford Business Magazine is published three times per year by the marketing and communications editorial team.
It covers important issues in business, the school itself, and includes stories from students and faculty.
I was going through their 2016 edition and found a short and sweet advertorial sample about their innovation program.
This advertorial touches on Stanford's program that brings together leaders and organizers to impact the world in a positive way.
It also mentions that participants in their program will network and be a part of global innovation.
Their slogan acts as a call to action at the same time, too:
Changes lives. Change organizations. Change the world.
Main takeaways:
Include links or resources for readers to continue down the funnel.
Align the voice and content length with the rest of the publication.
Make advertorials blend in seamlessly by using the same design and layout as the rest of the publication. The Stanford innovation ad doesn't look or feel any different than the rest of the magazine, for example.
Digital parenting magazine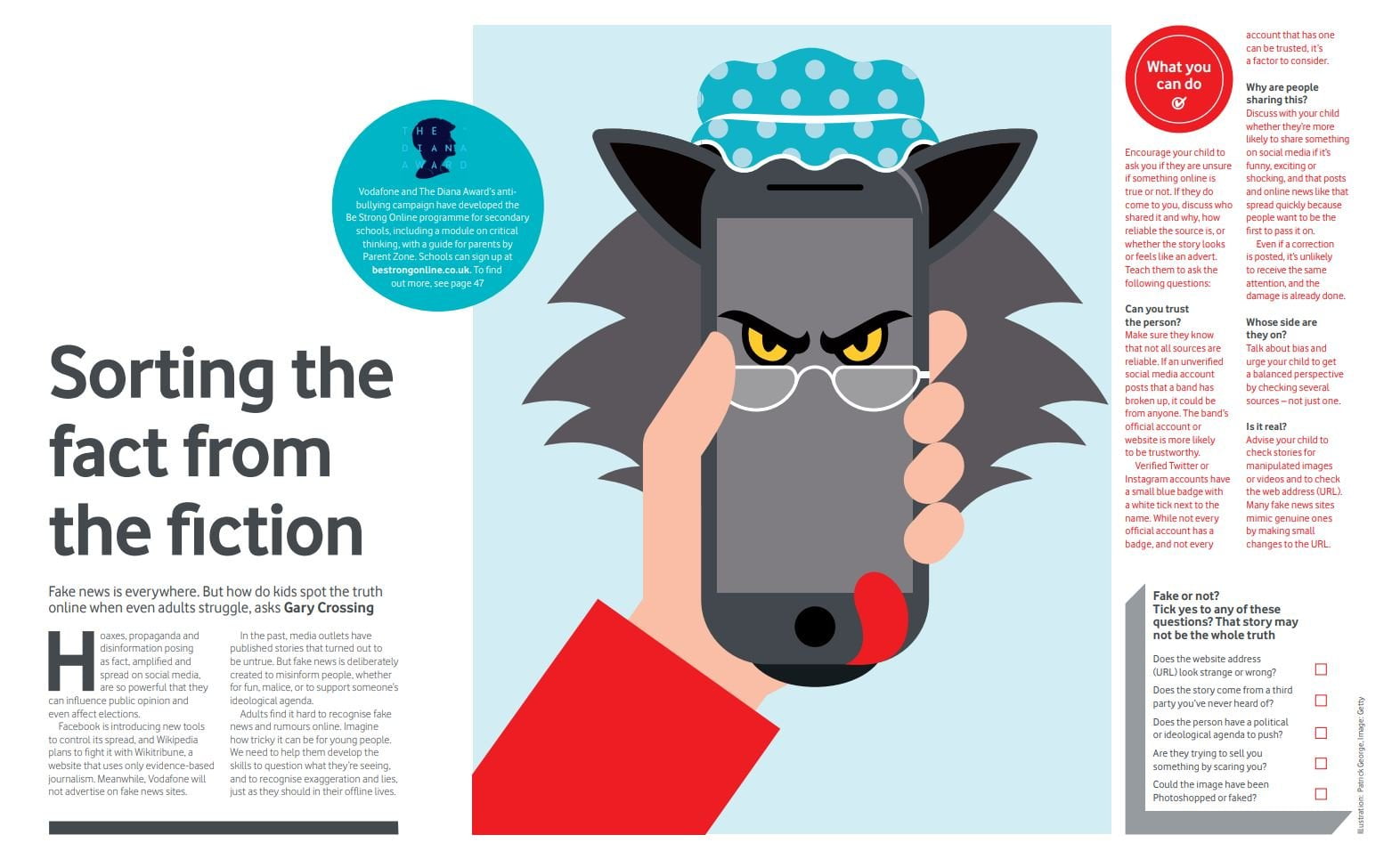 The digital parenting magazine by Vodafone helps parents teach their kids how to use technology responsibly.
In a digital age where children are practically being born with phones and computers, it's crucial that parents understand how to properly handle such situations.
Vodafone very smoothly integrates its own products into the advertorial copy without making it invasive.
There is a small blue circle with a call to action for parents and schools to learn more about Vodafone's anti-bullying system.
They could've made it the whole page or much larger, but instead made it integrate into the page and content.
Main takeaways:
Don't make advertorials all about you. Focus on helping the reader, educating them, and then leading into the product.
Use graphics and images to accompany copy.
Use a call to action and explain the benefit of following through like Vodafone explains how their service helps schools.
Advertorial writing tips
Now that you understand what an advertorial is and saw some examples, let's dive into some tips and advertorial guidelines 🙂
Understand the publication you're writing for
Every magazine and business has a unique voice, tone, and audience. This is why it's crucial that you study how the magazine typically voices its content.
Is it casual and personal like friends talking? Is it serious and professional? Read previous issues, articles, etc to determine the standard voice they use.
I would also recommend consulting with an editor to get further insight on writing guidelines, which any major publication will have on hand.
Similar to the Stanford example I outlined earlier, writers need to pay close to attention to the structure and aesthetics of a publication, as well.
The Stanford innovation program practically didn't even look like an ad because it blended in so well.
Understanding how a business structures and designs their pages will allow you to craft an advertorial that looks the same way.
Study the publication. Take notes, brainstorm, and don't be afraid to ask questions with clients you are working with.
Research is one of the most underrated steps in copywriting, so don't jump straight into writing without doing it first.
Research the audience
Did you know that 58% of B2B marketers agree that having a clear buyers persona is the most important element of content marketing effectiveness?
This means that if you don't have a good understanding of a publication's audience, you very likely to write an advertorial that doesn't resonate with them.
When I write copy for clients, one of the first things I like to learn about is their target audience. What are their demographics? What do they struggle with? What are they trying to learn?
All of this information is at your fingertips. You simply have to ask the client for it. They should have more than enough data and material to give you to get into the heads of readers.
Another place I'd go to is the comments section, presuming it's a digital publication. Here you will gain insight into the reader's questions, concerns, and ideas.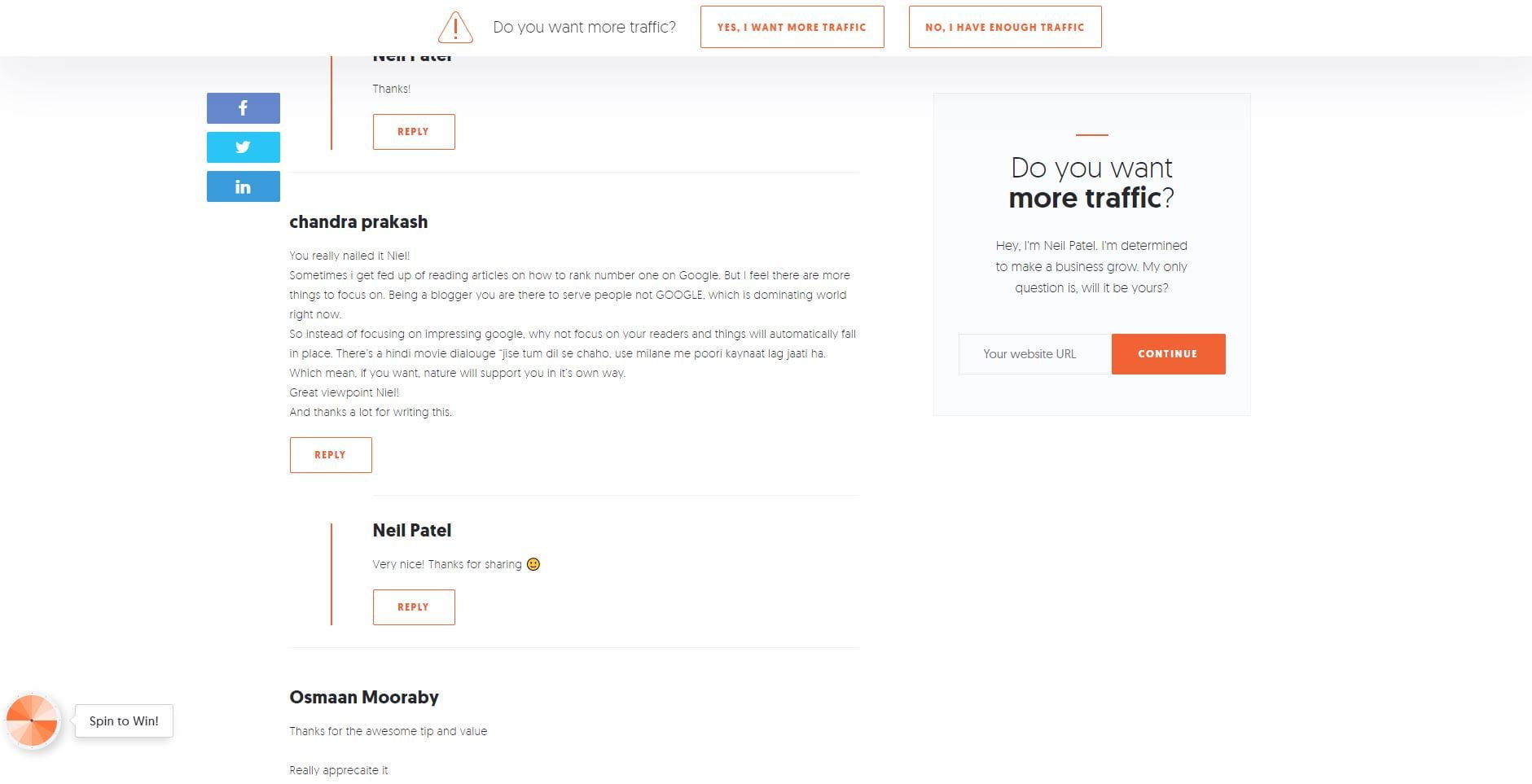 Similarly, you can go onto networks like Twitter, and search for keywords to find relevant discussions.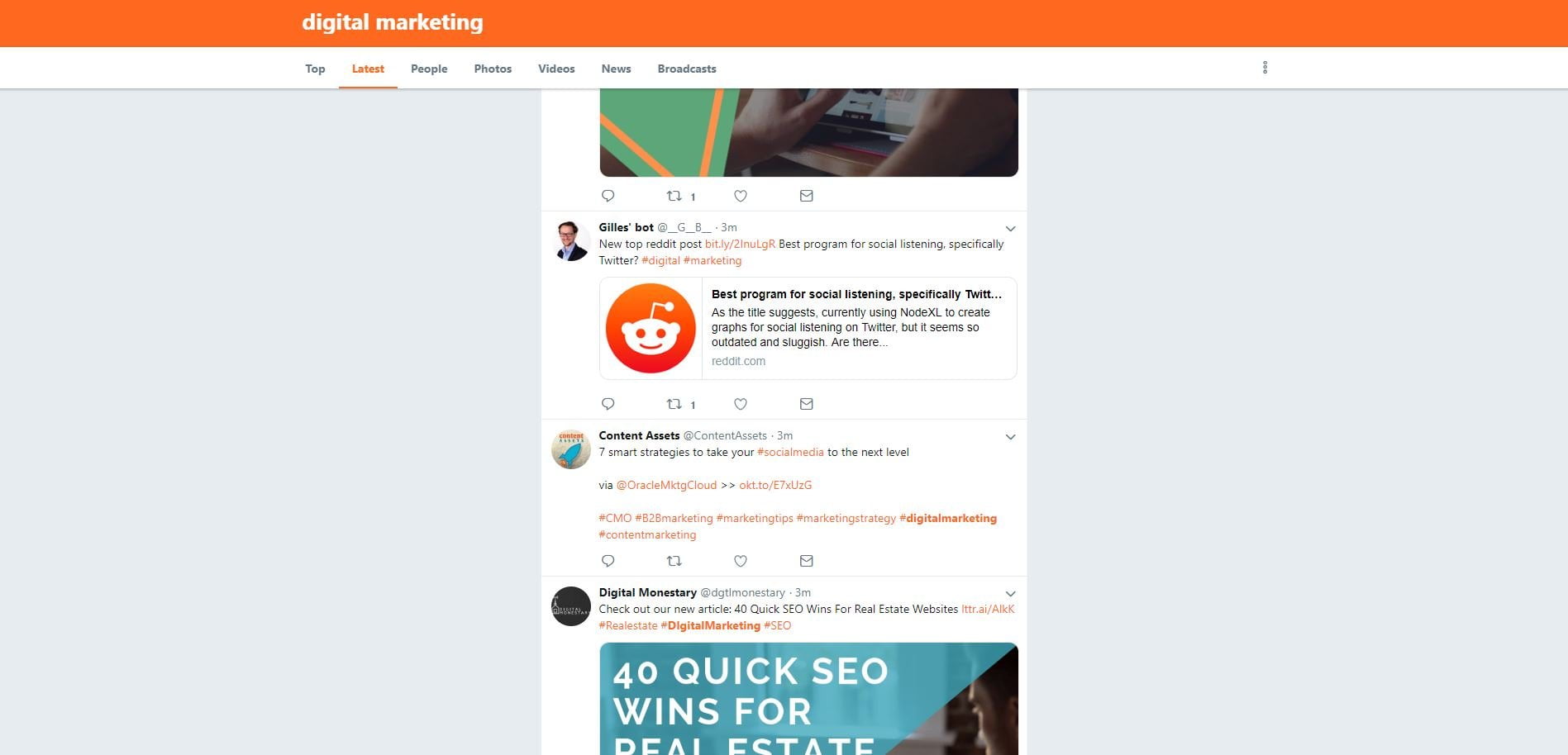 Pay attention to what trends you see in terms of audience, questions, or opinions. All of these will influence how you write an advertorial.
Master the headline
The average news consumer reads a headline, and that's it.
If your headline sucks, that means nobody is going to get drawn into the copy.
Think of it as a slippery slope. Every headline, sentence, and paragraph should lead smoothly into the next.
There are many different strategies you can use to write great headlines, but the first thing you should do is study the publication to look at previous ones.
This will give you a good idea of what headlines perform well, and what they normally like to publish.
Imagine you were writing for Chief Content Officer, for example. You could take a look at the features, and make notes on how headlines were produced.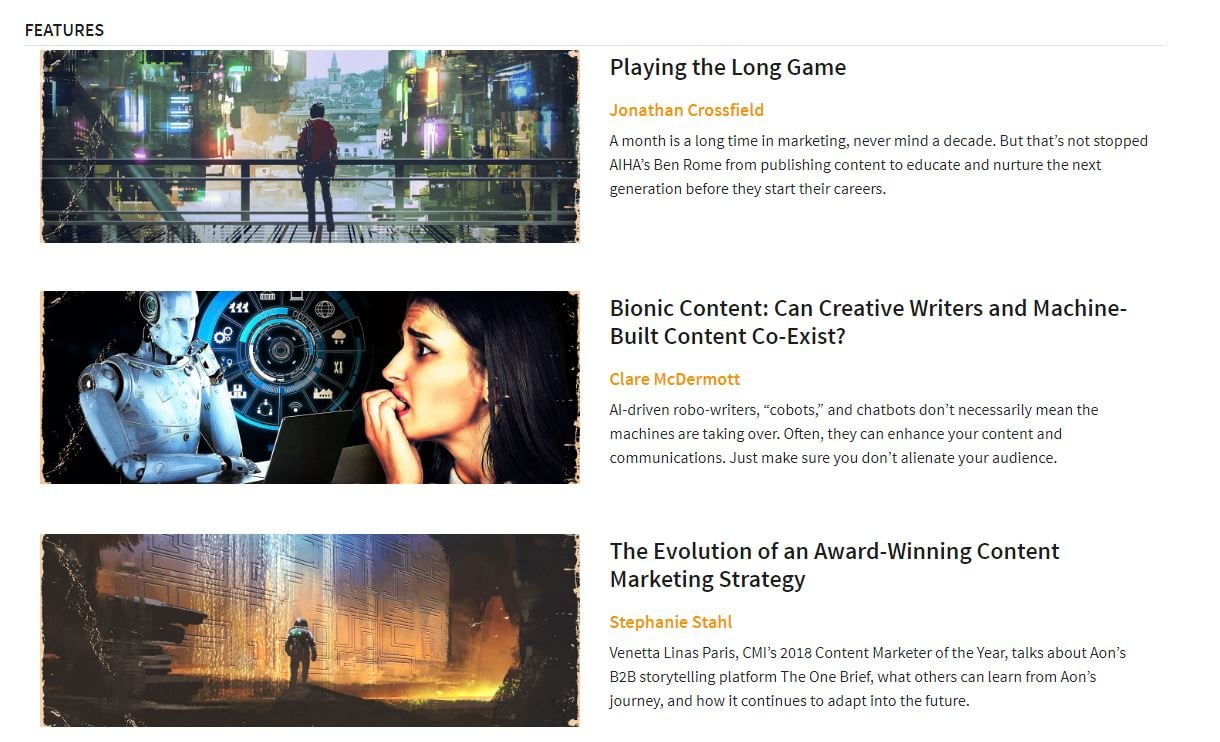 With that being said, here are some tried and true headline techniques to use when writing advertorials.
Urgency
Creating a sense of urgency makes readers want to read content because they feel like they will miss out on something great.
This is also called fear of missing out or FOMO for short.
Heck, it's been found that 60% of millennials make purchases based on FOMO alone.
You can create urgency in headlines by using phrases or words like:
Hurry
Quick
Now
Today
Soon
Limited
Secrets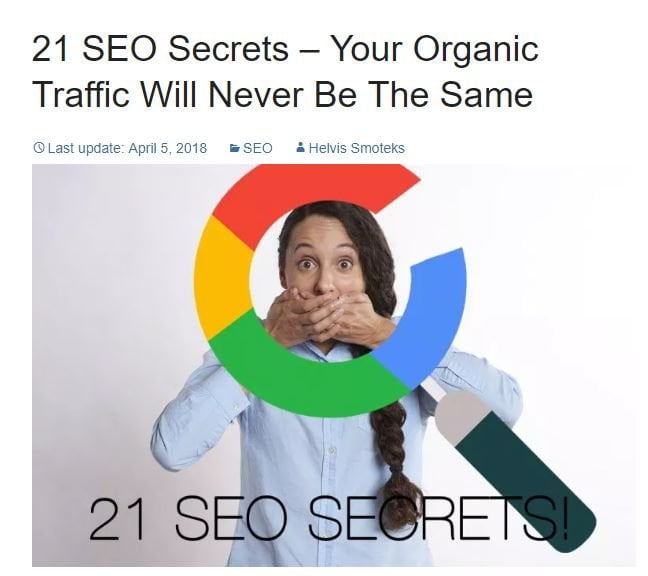 Ask a question
With knowledge about a target audience, you have the leverage to create a headline that asks a question they are thinking.
If you were writing an advertorial on web design and user experience, the headline could be "Trying to Optimize Your Website UX? Read These 5 Tips."
Remember that most people are seeking information or trying to solve a problem by reading content, so they obviously have a question on their mind.
If you can study a buyers persona well enough that you can predict these questions, you will easily hook them in with the headline and get them closer to the point of sale.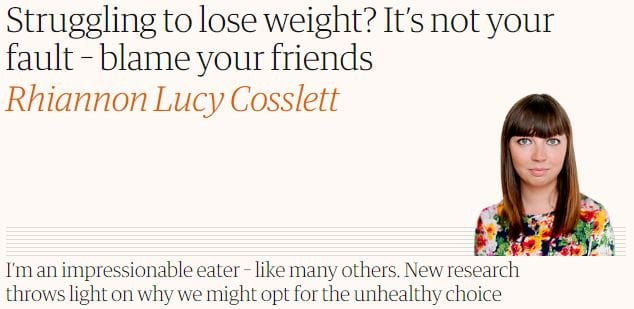 Learn from Buzzfeed
Clickbait headlines work.
I still fall for them from time to time myself.
Buzzfeed is known as the king of clickbait headlines, and while some people look down upon it, I think there's plenty to learn from them.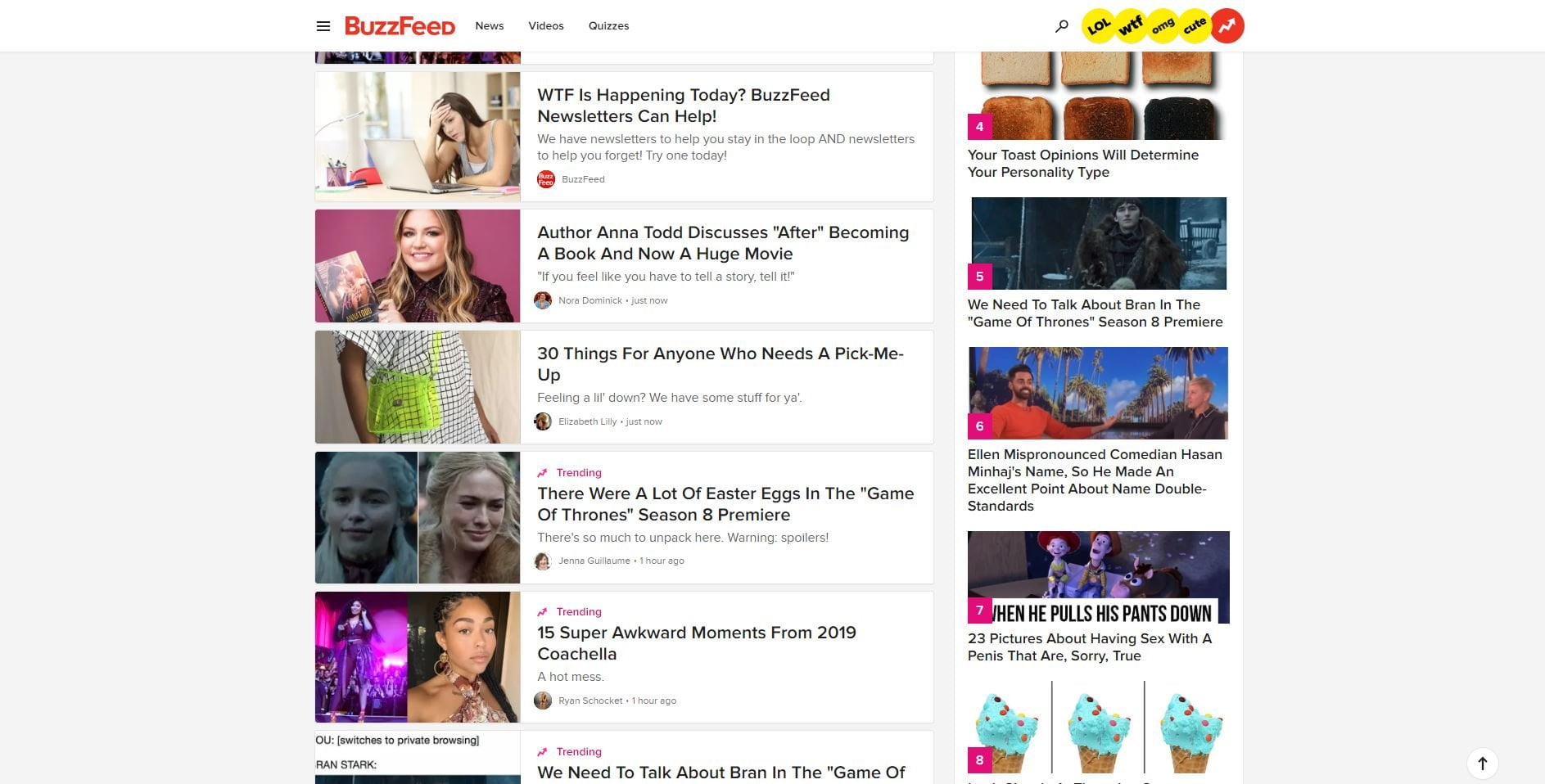 Look at the front page of their website, for example. Notice how their headlines ask questions, make bold statements, and some are flat-out controversial.
This snags people's attention and gets them into the meat and potatoes of content where the money is made.
End it with a call to action
No piece of copy in any form is complete without a call to action.
CTAs are phrases or words that instruct readers what to do next. Some times they need a little push in the right direction or don't know what to do next, which why they are so effective.
If you look at the advertorial examples I covered earlier, you will notice that they all include a call to action of some sort.
They can be used to generate sales, collect emails, or forward users to another part of a website. I wrote a guide on calls to action if you'd like to see examples and learn more about them.
Why are advertorials important?
Advertorials are incredible tools for generating leads and sales.
They are important for marketers because they allow you to sell a product while telling a story and offering value.
Take the average affiliate blog post, for example.
It's rittled with sneaky referral links in hopes to generate commissions.
I get it. You gotta make money. But, you don't have to be so sly about it.
Advertorials get around this by confidently discussing a product, its benefits, but not neglecting the end user.
It's the perfect piece of content to write when you want to promote a product but not lose value and information.
Advertorial checklist
Okay, so you rub your palms together, crack your knuckles, and you're ready to write an advertorial. Use this checklist before, during, and after to ensure that you've crafted the perfect advertorial:
An epic headline: Your headline will draw readers in, so it needs to be attention-grabbing. This means using strategies like urgency, mystery, stating benefits, and being very specific.
A great intro: The headline gets them in, but the introduction makes them stay. Write an intro that is easy to read and flows well into the rest of the article.
Relevant stories: Include a story about how the product changed the life of a previous customer. Mention precise numbers, stats, etc if available.
The product, of course: Go over the details of the product and the benefits of using it.
Data to back up claims: Use science, studies, and other resources to make your advertorial trustworthy and authoritative.
Images: Claude Hopkins said images are like salespeople. They can help sell a product or make a point more clear, so use photos strategically.
Call to action: Have a clear call to action, or many, that guide the reader towards the sale.
Final thoughts on writing advertorials
An advertorial is a combination of an advertisement and an editorial, hence the name.
The goal of one is to educate, entertain, and inspire an audience, while also selling a product.
The first step to write a good advertorial is to understand the publication you're writing for. This means researching their voice, audience, design, headlines, and every other detail to write something inline with their brand.
Secondly, copywriters need to take time to craft an excellent headline that draws readers in and stands out from the crowd. Urgency, questions, and clickbait titles work very well here.
Lastly, always end an advertorial with a call to action for purchasing a product, signing up for a newsletter, or other important steps in the sales funnel.
Need an advertorial copywriter? Contact me and I'll help you with your project.