There's no need to reinvent the wheel.
It's like they say, "Art is imitation mixed with innovation."
That means it's good to become inspired by others' work while making it better.
And, if you're a copywriter, you know that swiping is the name of the game.
You probably have a swipe file as big as a local library.
And, who better to swipe than some of the greatest copywriters of all time?
I've put together a fun and practical list of the best copywriters ever that will inspire you to keep grinding.
Enjoy writing better sales copy. 👌
1. David Ogilvy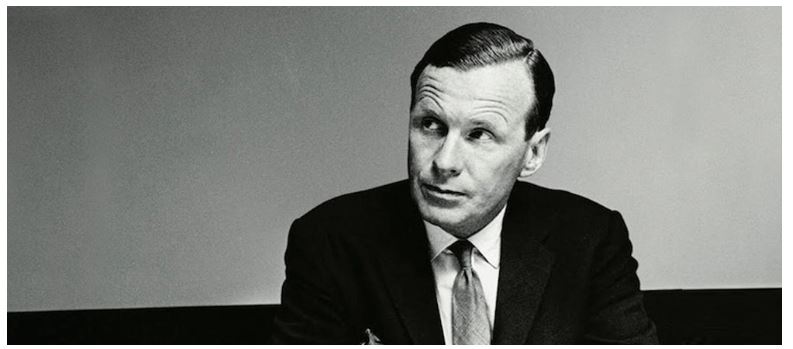 Ogilvy is one of—if not the—most successful advertising agencies of all time.
They were founded by David Ogilvy, better known as the "Father of Advertising."
Many of the strategies and processes we use daily were pioneered by him.
David had an interesting start in copywriting, too.
He worked as a chef in Paris after leaving Oxford, where he studied.
Then, he returned to Scotland and began selling cooking stoves door-to-door.
David excelled so much that his employer had him write an instruction manual.
Fortune called it the finest sales instruction manual ever written.
David Ogilvy was offered a position as an account executive at the advertising agency Mather & Crowther through word of mouth.
Cool fact: Ogilvy worked for the British Intelligence Service during World War II and was an alumnus of the secret Camp X.
There he mastered the art of sabotage and propaganda and completed tasks like running the reputation of businessmen supplying the Germans with materials.
How crazy is that?
David then went on to start his own agency with only $6,000 in his pocket.
The rest is history.
He worked with Rolls Royce, Schweppes, Mercedes; you name it.
Why is this important?
Because there are two camps in copywriting/advertising.
David once said:
I do not regard advertising as entertainment or an art form, but as a medium of information.
The first group focuses on being creative and the second on sales.
Think of Geico or any branding-driven campaigns where it's more about creativity.
Then, think of advertisements that hard-sell the benefits of the product.
Ogilvy fell into the latter.
He believed that advertising needs to be informational, and educational, and persuade the reader about the incredible aspects of a product enough to buy it.
We're not here to make people laugh, we're here to make them buy!
2. Gary Halbert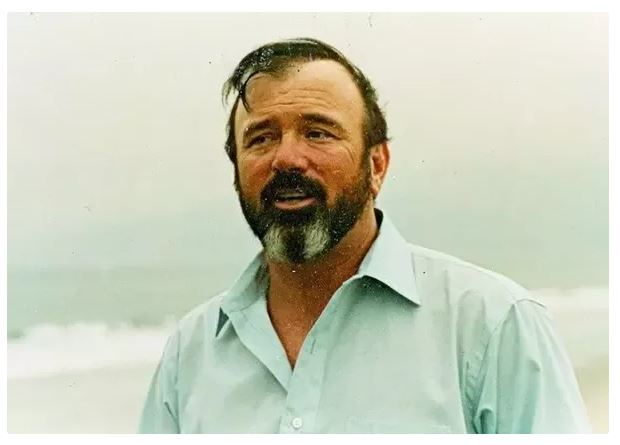 You've read Gary Halbert's sales letters.
…You have, right?
If not, you're missing out on some of the most legendary sales copy ever published!
For example, a famous advertisement he wrote is called "Million Dollar Smile."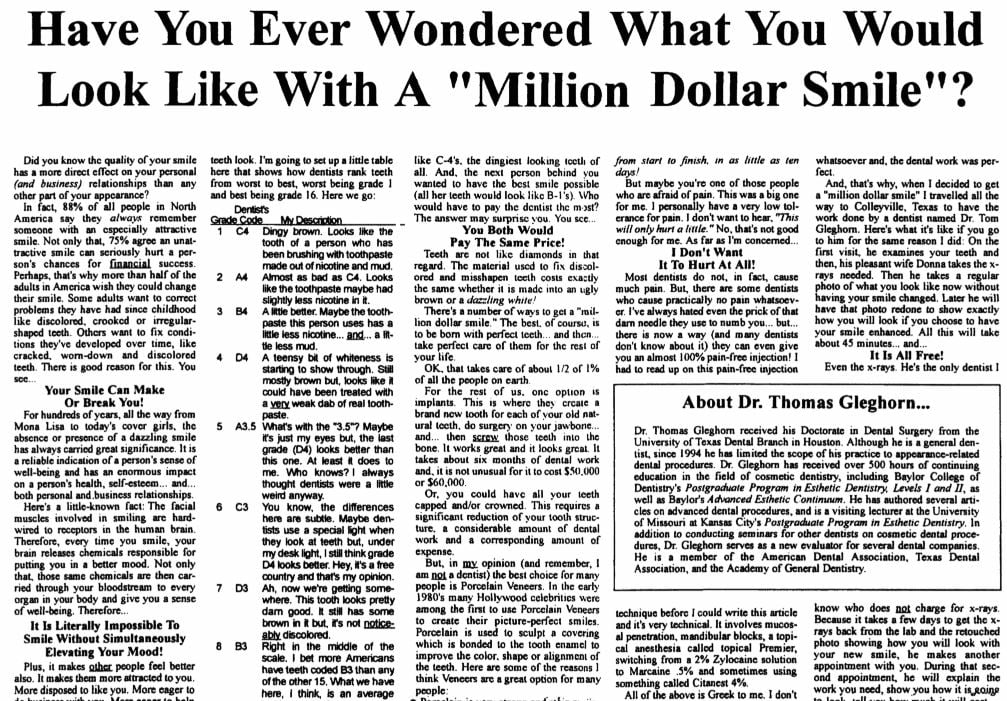 He was famous for writing killer sales letters that made any product appear irresistible.
His casual writing style would have you glued to the page.
Here's a website filled with all of his work to learn from.
He also once commented:
Everyone wants to climb the mountain, but the big difference between those at the top and those still on the bottom is simply a matter of showing up tomorrow to give it just one more shot.
It's a grind.
You have to be patient and show up every day.
As they say, it takes 20 years to become an overnight success.
3. Joseph Sugarman
Joseph Sugarman was one of the first copywriters I ever came across.
His book "The Adweek Copywriting Handbook" changed my writing forever.
He sold the world's first pocket calculator, cordless phone, and digital watch through direct marketing.
Oh, he also made millions while doing it!
One of my favourite lessons from his work is that you have to sell on emotion but justify it with logic.
As I covered in my emotional copywriting and persuasive copywriting articles, consumers don't buy rationally.
They purchase a product to solve an emotion or create an experience.
Afterward, they justify the purchase with rationale.
A great example is a luxury good like a sports car.
They want the wind in their hair, the roar of the engine, and people turning their heads.
However, they might think,w "It has great gas mileage, and it's reliable for the type of car that it is."
4. Joe Coleman
Joe Coleman has been writing award-winning copy for over 15 years.
His website is also hilarious.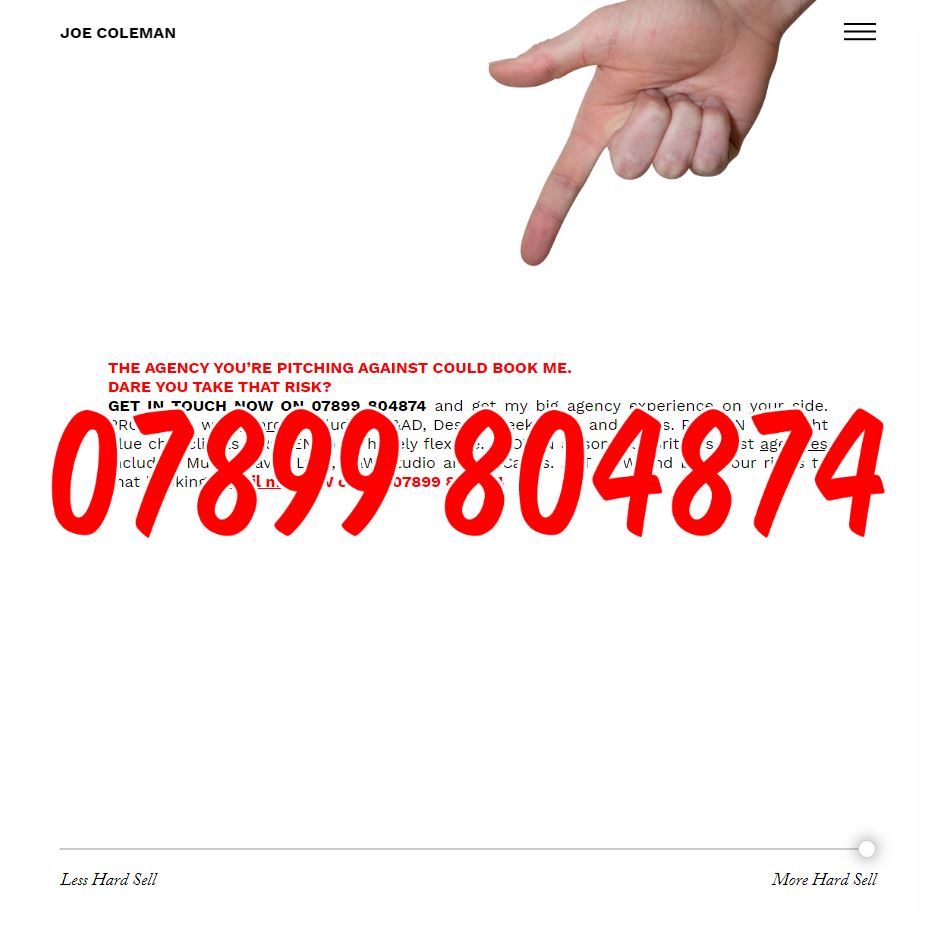 Slide the knob at the bottom to receive a soft or hard sell.
His portfolio includes Morrisons, British Heart Foundation, Heart Research UK, and many others.
He's worked on advertising, website, radio copy, and various different material.
If you want to build a freelance writing website for yourself, give Elementor and Bluehost a shot.
5. Robert Bly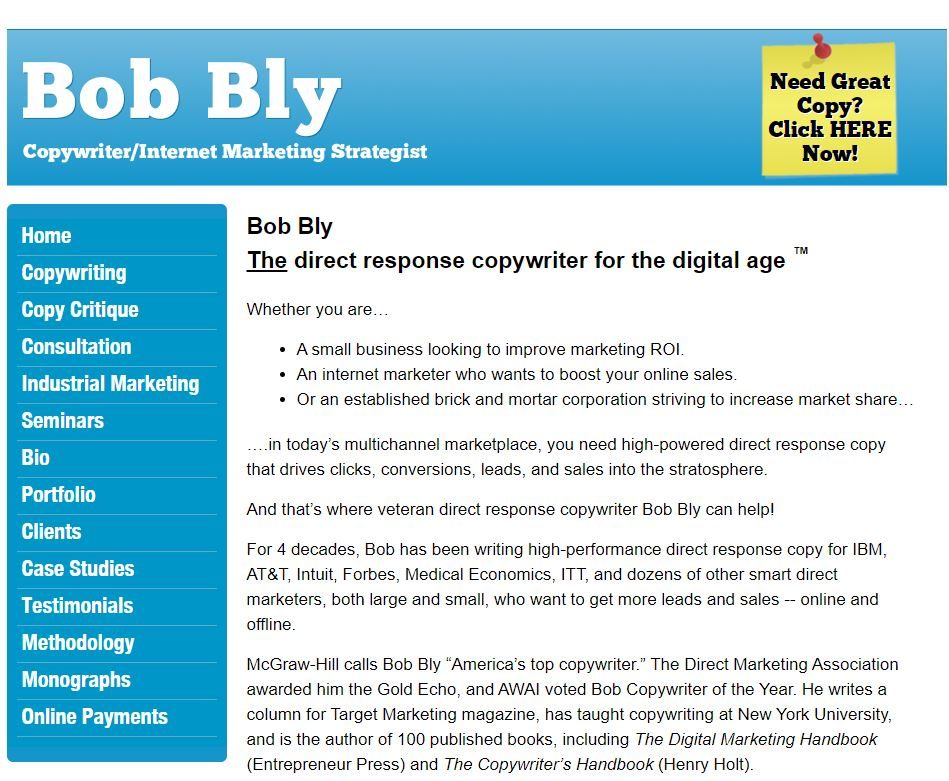 Robert "Bob" Bly started his copywriting career while writing for the University of Rochester school magazine in 1979.
He then began as a corporate writer for Westinghouse Electric and a New York engineering firm after graduating.
That's when he published his first book on technical writing in 1982 and "The Copywriter's Handbook" in 1985.
That was at the age of 27, as well!
He's worked with giants like IBM, AARP, and Lucent Technologies.
You can also find Bly on AWAI's website, where he publishes content and contributes to their course programs.
6. Laurence Blume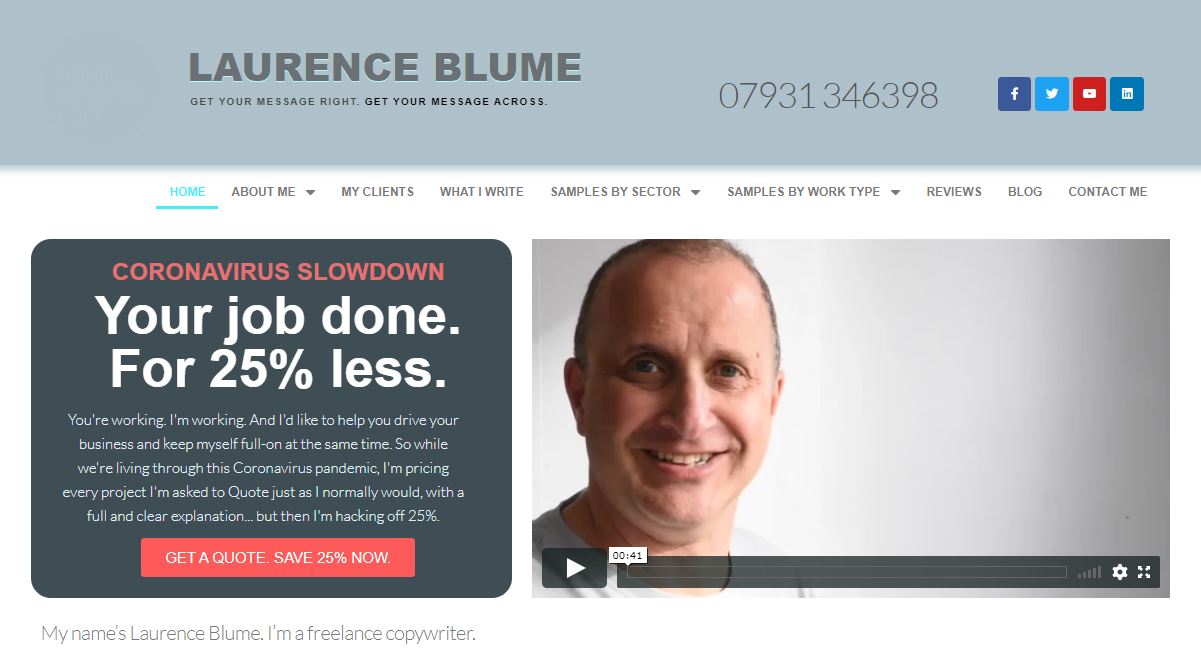 Laurence Blume is a UK copywriter that has worked with companies like Jeep, Panasonic, Sony, KPMG, and others.
Impressive, right?
He works on a variety of projects, including:
Websites
Landing pages
Sales letters
Video scripts
Social media ads
As he likes to put it, "I write absolutely everything that can form a part of your marketing, as well as many other assets for use in other parts of your business communications. This is not an overclaim, and nor is it based on ignorance of what each task really involves. It's simply the result of having been a professional copywriter for so many years!"
He's a great example that you don't have to niche down on a single service or industry, but rather offer a wide range of products to maximize reach.
7. Brian Clark
Have you ever read Copyblogger?
Of course, you have!
Brian Clark is the founder of Copyblogger, Further, and Unemployable.
He's started ten businesses over the last 20 years as a co-founder or solo founder.
Brian began publishing content in 1998 and created Copyblogger in 2006.
It's gone on to be one of the most influential digital marketing blow in the world.
Oh, Copyblogger also reached eight figures in annual revenue with ZERO venture capitalism or advertising.
All bootstrapped.
8. Claude Hopkins
Born in 1866, Claude C. Hopkins was an advertising pioneer that believed advertisements only exist to sell and should be measured by their results.
It's that simple.
He would test headlines, value propositions, and other elements of promotions to find those that performed best.
Claude was A/B split testing before it was a thing!
His book "Scientific Advertising" is a must-read for any writer or advertiser.
One of the main principles I pulled from the book is that images are salespeople.
What does this mean?
It implies that images have an effect on our decisions and emotions.
They contribute to the sales process just as much as the written word.
Think about it…
If you're buying a book on debt relief and there's the image of a person stressed out, you'd feel an emotional connection because it resonates with you.
Oppositely, an image of a person looking relieved would give you hope and inspiration.
You get my point.
9. Clayton Makepeace
Clayton Makepeace has earned $1 million or more every year since 1995 as a copywriter.
As he says, "If you can arrange it, be born into money; preferably a vast fortune. Failing that, be born with world-class good looks, with a heaping helping of acting, musical, or athletic talent. If you are unable to arrange for these things and still seek unlimited wealth and freedom, become a direct response copywriter."
Clayton wrote his first promotion in 1968 and took his first full-time job as a writer in 1974.
For instance, Makepeace took Security Rare Coin's monthly sales (originally $300,00) to $16 million one year after joining.
How insane is that?
That's just one example of the absolutely nuts results he generates for his clients.
Clayton is a wonderful example that if you do a good job, clients will continue to work with you and send referrals.
10. Drayton Bird
"Drayton Bird knows more about direct marketing than anyone in the world." – David Ogilvy.
Drayton is a British marketing expert and copywriter who started out as a journalist and became a creative director at a London agency in his early years.
He went on to create his own agency, which was later sold to Ogilvy and Mather.
Drayton became vice chairman and then published several marketing-related books on sales letters and direct marketing.
11. Leo Burnett
Leo Burnett, founder of Leo Burnett Company, Inc., is responsible for creating household names like:
Tony the Tiger
Marlboro Man
Allstate's "Good Hands"
And more!
That's not to mention he's worked with McDonald's, Coca-Cola, Hallmark, and other massive companies.
Like most writers, he had a humble start working as a reporter and running a dry goods store in his youth.
He secured a position as an advertising director and later launched his own company.
It now has over 85 offices globally and 9,000+ employees!
Final thoughts on the best copywriters of all time
There are so many amazing copywriters that have changed advertising and marketing forever.
Today's list is just the tip of the iceberg, too.
There are dozens, if not hundreds, or writers that make huge impacts on brands and industry trends.
I highly suggest that you study each of these individuals carefully.
How do they write?
How did they secure such big clients?
What strategies do they commonly deploy?
Answering these questions will set you on the path towards financial freedom and success as a writer.
Make sure to check out my online courses to learn more about copywriting and freelancing.